Today I received an email from WOW Air, Iceland's low cost airline, advertising $99 fares from California to Iceland. With a subject of "California! Europe is only $99 away!", it was a bit misleading. I should have figured they meant $99 to Iceland (yes, technically Europe), but fares were still on sale to other major cities like London and Paris. Albeit a bit more.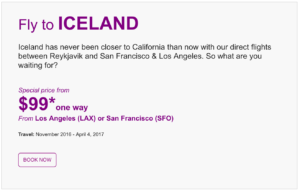 The $99 to Iceland is a first. It honestly blew me away. That is a crazy price for a nearly 9 hour flight.
I have repeatedly seen fares on Norwegian hit as low as $179 between Oakland and Stockholm. The new Gatwick-Oakland route hovers around $220 one-way at its lowest. But the sub-$100 from the U.S. West Coast is a first for me.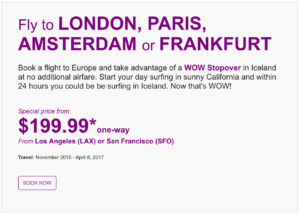 Along with the phenomenal price to Iceland were offers of $199 fares to London, Paris, Amsterdam, or Frankfurt. These are just as fantastic.
Availability for all the flights ranges from November through early April, although prices are higher around the holidays. Book soon. These fares are only available for a few more hours. 
What does a sale like this really mean? For one, it shows the true level at which low-cost airlines can really compete. Increased competition is nothing but a boon for consumers. I am glad that WOW Air and Norwegian are aggressively attacking the trans-Atlantic market.
My takeaway is that we have yet to hit the cost floor on trans-Atlantic fares. Bjørn Kjos, the CEO of Norwegian Air Shuttle, is on the record saying $69 one-way flights across the Atlantic are in the works. Sub-$300 round trips could soon be common.
Kjos plans to make this possible through the use of fuel-efficient Boeing 787 and 737 MAX jets. The updated version of the 737, a staple aircraft for many carriers, will be able to make the hop across the pond.
I honestly can't wait for this to happen. It may be foreboding for legacy carriers like the "Big 3" in the United States, but it can be nothing but good for consumers. The older airlines will just have to adapt to the new model. United is introducing "basic economy" fares. Delta has already been selling a similar product for a few years.
What is really shows is that many passengers simply care about getting from point A to point B. Forget all the perks, upgrades, elite status, and everything else. Price is king.
Now I just wish that I had a week available to visit Iceland…
Header image courtesy of Anna Zvereva via Wikimedia Commons.