After spending over a week in Buenos Aires and Montevideo, my daughter and I enjoyed one night in Miami Beach before heading home from our father-daughter trip. That one night gave us most of two days to enjoy the beach, as we'd landed very early in the morning on Thursday at Miami Airport and were departing the following afternoon from Fort Lauderdale. Our visit to FLL International allowed us to visit the Kafé Kalik Priority Pass restaurant, one of a good number of restaurants that have been added to the network.
Although we were flying JetBlue out of Terminal 3, it is a quick walk over to Terminal 4 where Kafé Kalik is located. Thanks  to text update, we were already aware that our flight was significantly delayed, scheduled for a 9:15PM departure instead of the original 7:15PM. Getting to try out the Kafé Kalik Priority Pass Restaurant at Fort Lauderdale was a sort of consolation prize. But no prize was worth landing in SFO after midnight. The reality of our awful travel day hit hard (SEE: A hellish first experience with JetBlue. It wasn't the airline's fault).
Kafé Kalik is near Gate G6 in Terminal 4 of FLL. This terminal is primarily Spirit Airlines departures, and while there were a  fair number of people, it did not feel crowded, unlike Terminal 3 where we would venture later. The Kafé Kalik Priority Pass restaurant offer Caribbean fare in an informal setting.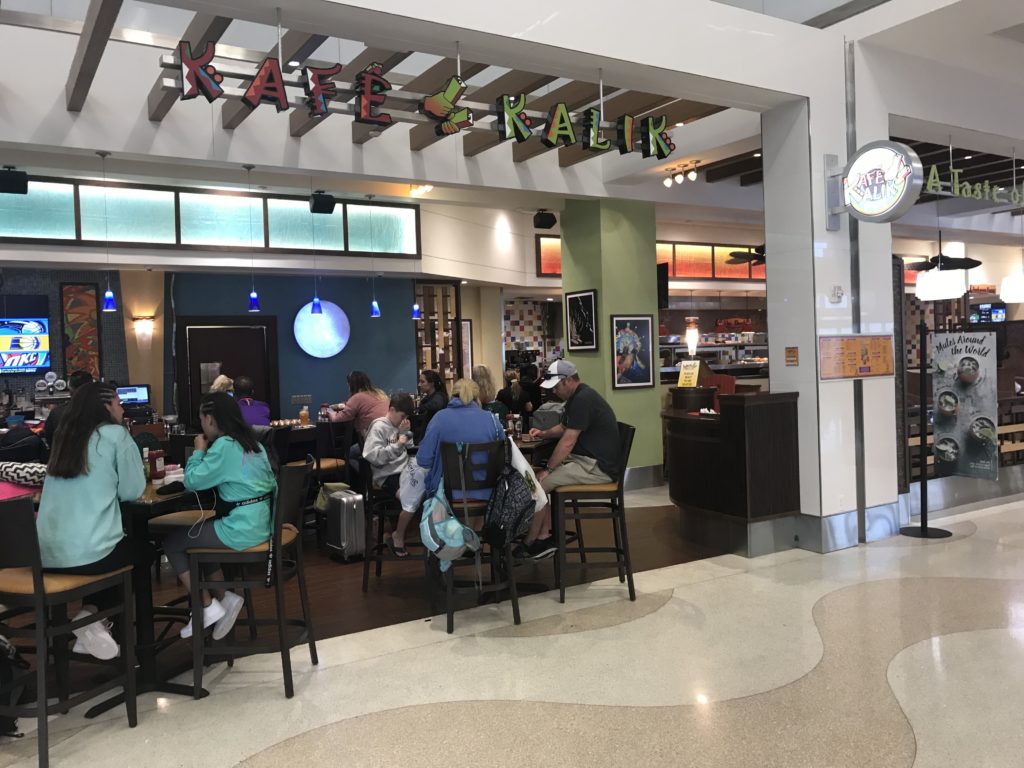 Using Priority Pass at Kafé Kalik
To use your Priority Pass membership at Kafé Kalik, you need to present your membership card at the desk before you are seated. You'll add your guest(s) and sign as usual to confirm the visit. The receipt you are given will need to be presented when you are brought your check for the standard $28 per person per visit Priority Pass restaurant credit.
Make sure you know the entry guesting policy is for your Priority Pass membership! There have been some changes lately, most notably the fact that American Express cards no longer offer access to restaurants that are part of the Priority Pass network.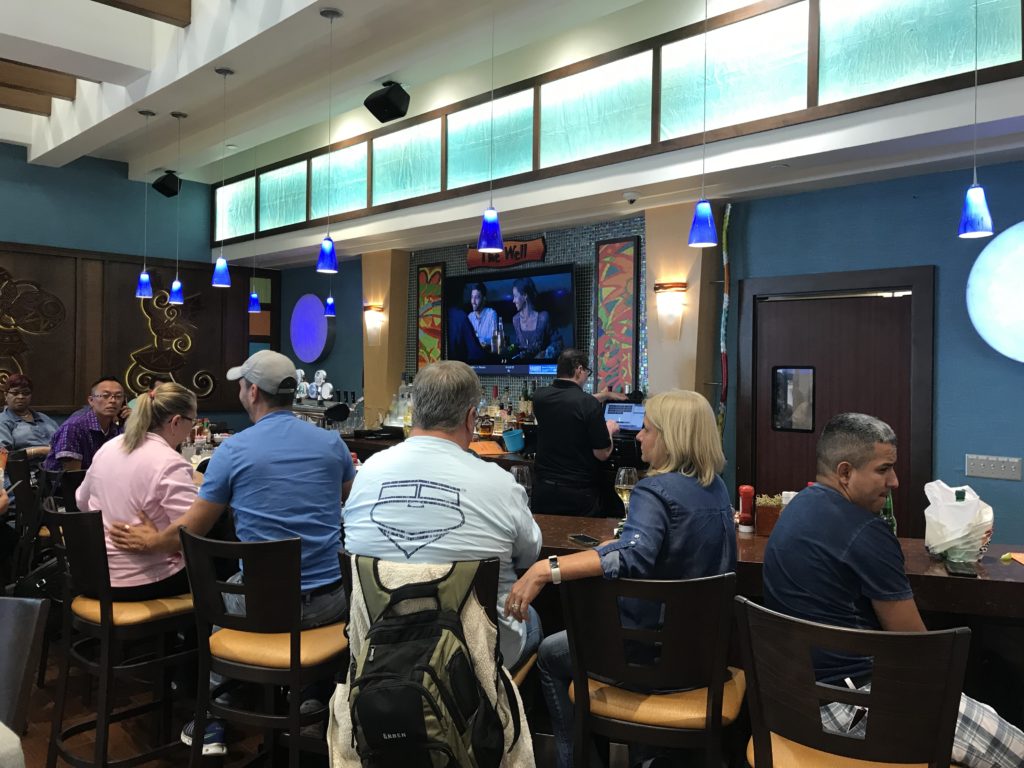 We had a lot of time to kill, given our flight delays. But we were still smiling at this point, not knowing how bad of an evening we had in front of us.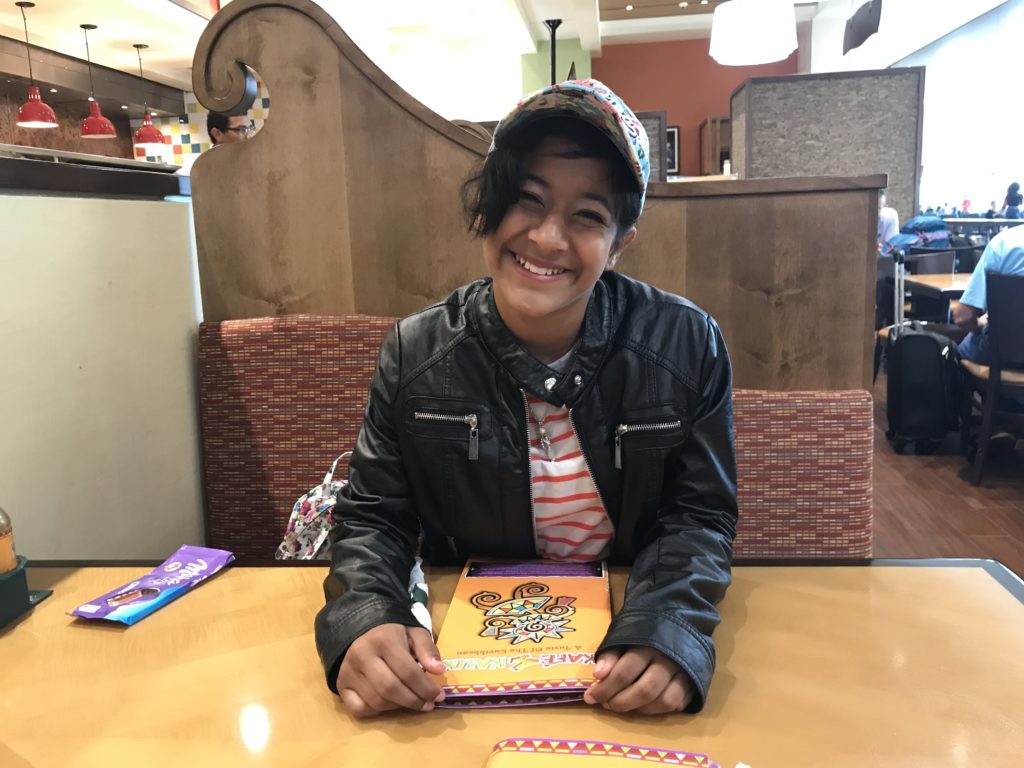 Food and beverage
The Kafé Kalik Priority Pass restaurant offers Caribbean cuisine, a selection of cocktails and a full bar. Sandwiches and pizza are available for $10-15, and there are a few other entrees in the $20-30 range. Before 10:30 a.m., Kafé Kalik serves a fairly limited breakfast menu.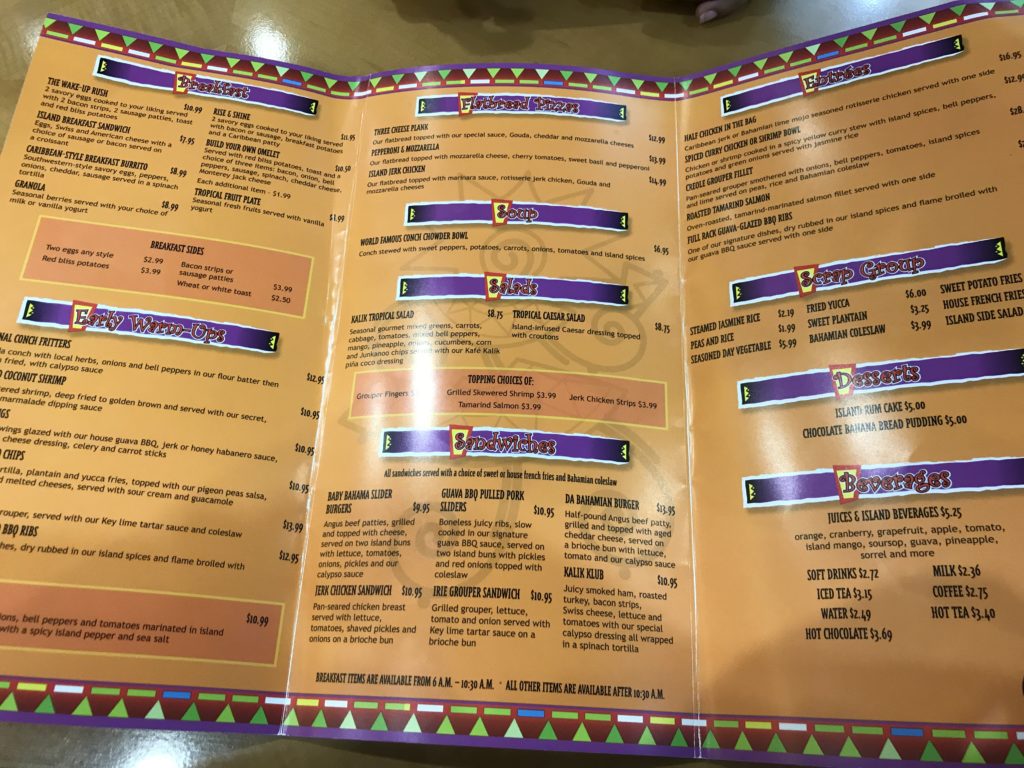 We had $58 to spend ($28 per person), and if you're not going to have a cocktail or one of the more expensive items, it's hard to exceed the Priority Pass allowance. Otherwise you'll hit it at about your second cocktail, as those are fairly pricey.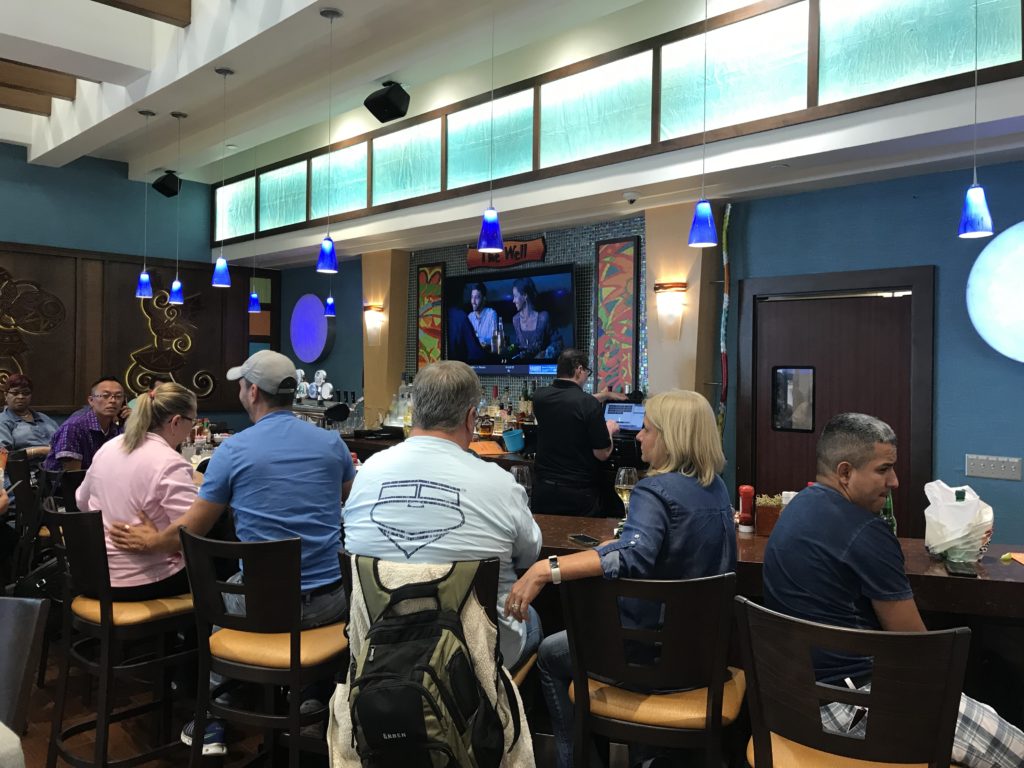 My daughter opted for a flatbread pizza, and I went with the Jamaican jerk chicken and a side of yucca fries. I wanted to try the conch chowder as well, but Kafé Kalik had run out of all soups.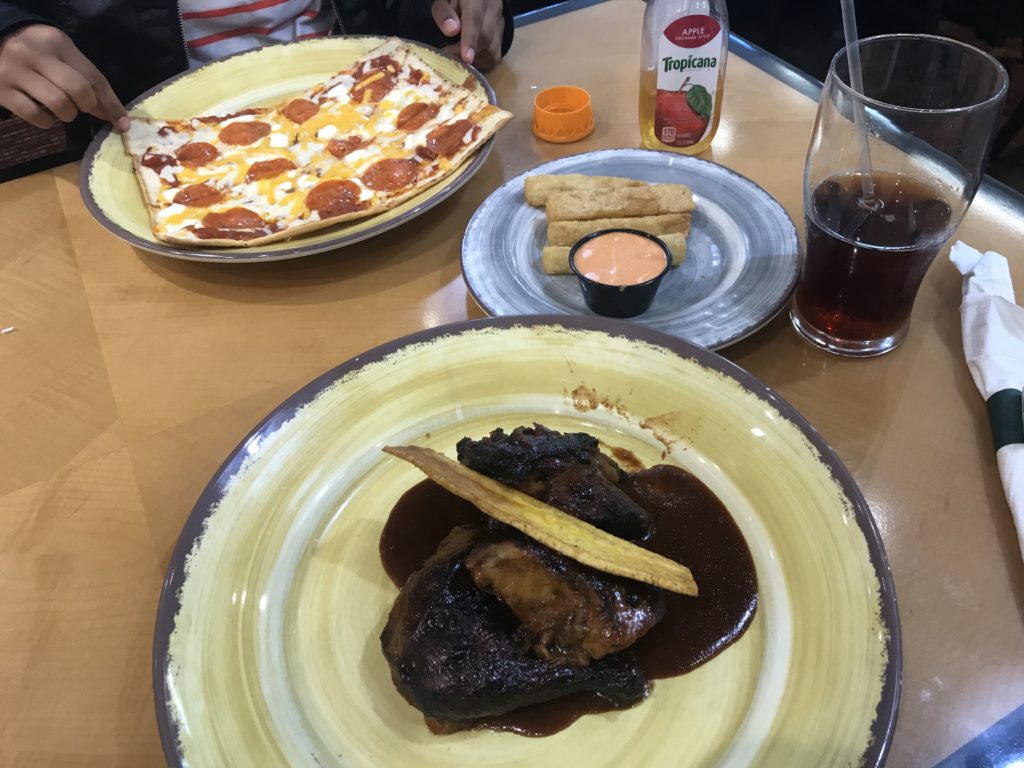 Service is not especially fast. It took a little while for our food to arrive, and when it did, my plate come out first, with my daughter's pizza following a full 5 minutes behind. Not the best timing.
I'd rate the food as decent. Nothing special, and definitely not a whole lot put into the presentation, but it hit the spot after an active day.
Dessert?
We did save room for dessert, as there was a bit of the credit left over beyond our drinks and food. I figured trying the rum cake and banana bread pudding would be great, as the rest of the credit was just enough to try both.
But this is where we were disappointed: the rum cake has been discontinued and they were out of the bread pudding. What sort of Caribbean restaurant discontinues rum cake?? Total fail on the desserts. I hope they add other options.
We settled for two blueberry muffins from the grab and go to take for the trip across the country. The server was apologetic, and she suggested this as an alternative to the dessert request. Even adding those, we still ended up $5 shy of the $56 credit.
Conclusion
Overall, it wasn't the best dining experience, as Kafé Kalik was out of not only soup, but all desserts. The food is decent, but I am sure you could find better in the airport. But if you're passing through FLL airport and want to save some money with your Priority Pass membership, it's an option. Another drawback is the fact that the Kafé Kalik Priority Pass restaurant is in Terminal 4, so you better have enough time to make it to your gate in another terminal. Getting to Terminal 3 is pretty easy, but the others might be a stretch.