After visiting Colossal Cave Mountain Park, we headed to the Pima Air and Space Museum as our second stop on the first day of our road trip across the Southwest (SEE: Southwest Road Trip 2018: An Overview). As an aviation aficionado (and with a son that is already very much into airplanes as well), it was a must-see while we were in Tucson.
General info for the Pima Air and Space Museum
The Pima Air and Space Museum is located on the eastern outskirts of Tucson, not far from both the airport and the Air Force base. The museum includes a massive 80 acres of exhibits featuring hundreds of aircraft. It is one of the largest non-government-funded air museums in the world.
Single-day entry prices are as follows:
Adult (13+) – $16.50
Junior (5-12) – $10.00
Senior (65+)/Active Military – $13.75
Child (< 4) – Free
There is also a cheaper price for Pima County residents. I'm honestly surprised they don't offer a fairly inexpensive annual membership. The group rate (20+) is also only $13.50 per person for the day.
While we only were there for one day, the Pima Air and Space Museum also offers 2-day passes. If you're a serious aviation enthusiast, this might be the best way to go. The 2-day pass is a great deal at $22.00 for adults and $12.50 for kids.
Indoor Exhibits
It is fitting that you are greeted by a reconstruction of a Wright Flyer as the very first exhibit. This brought back memories of our visit to the Museum of Flight near Boeing Field when I was 13 years old, where I got to take a couple turns in a simulator that allowed you to control the Wright Flyer almost exactly how Oroville Wright controlled in on that famous day near Kitty Hawk.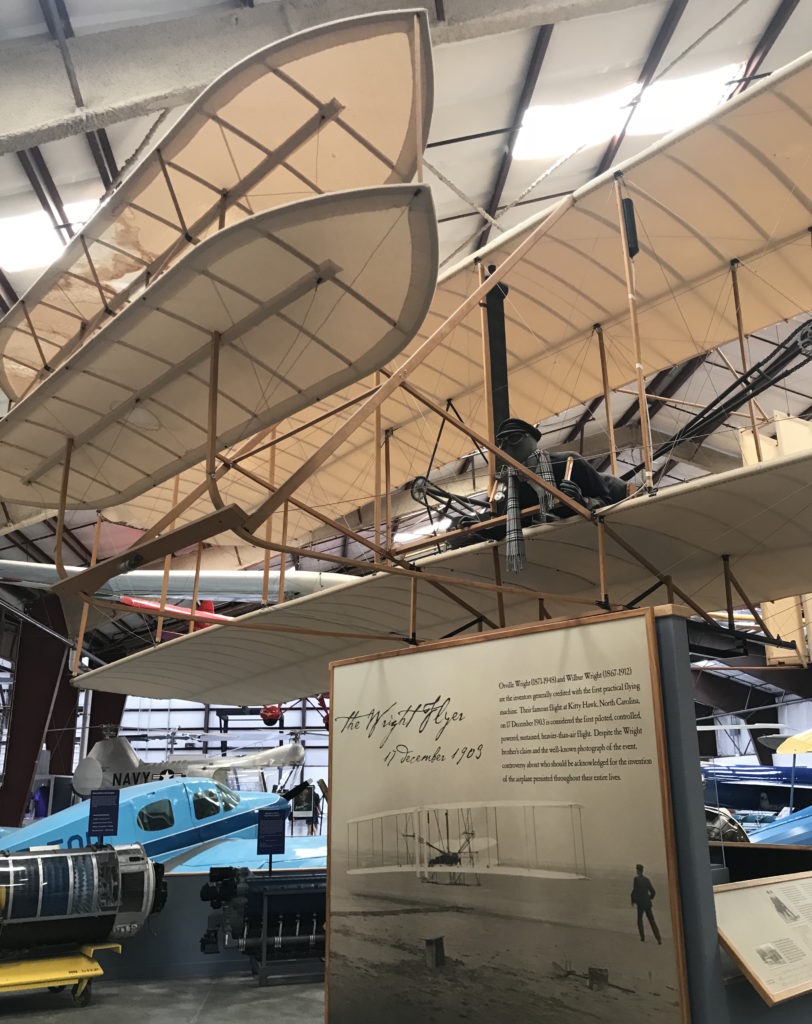 The main indoor hangar is filled with an incredible assortment of all kinds of aircraft, both civilian and military. You could spend most of a day in just this space.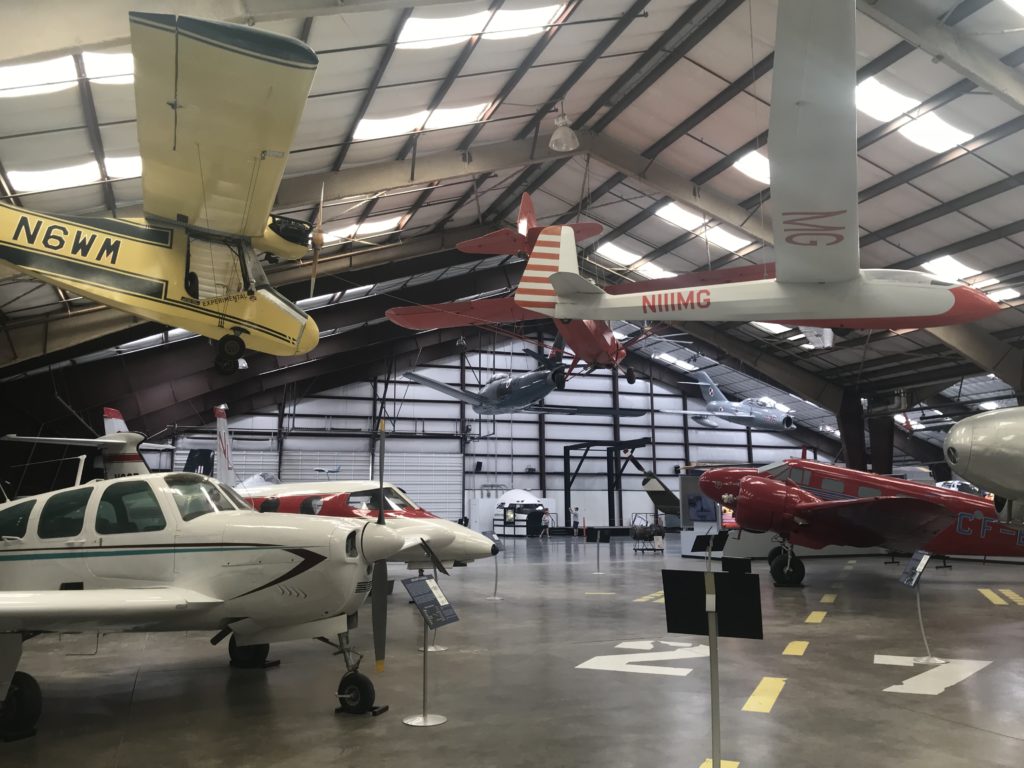 There are also a few short films to watch at various locations and short sound clips. One of my favorite planes in the main hangar was the Martin PBM Mariner.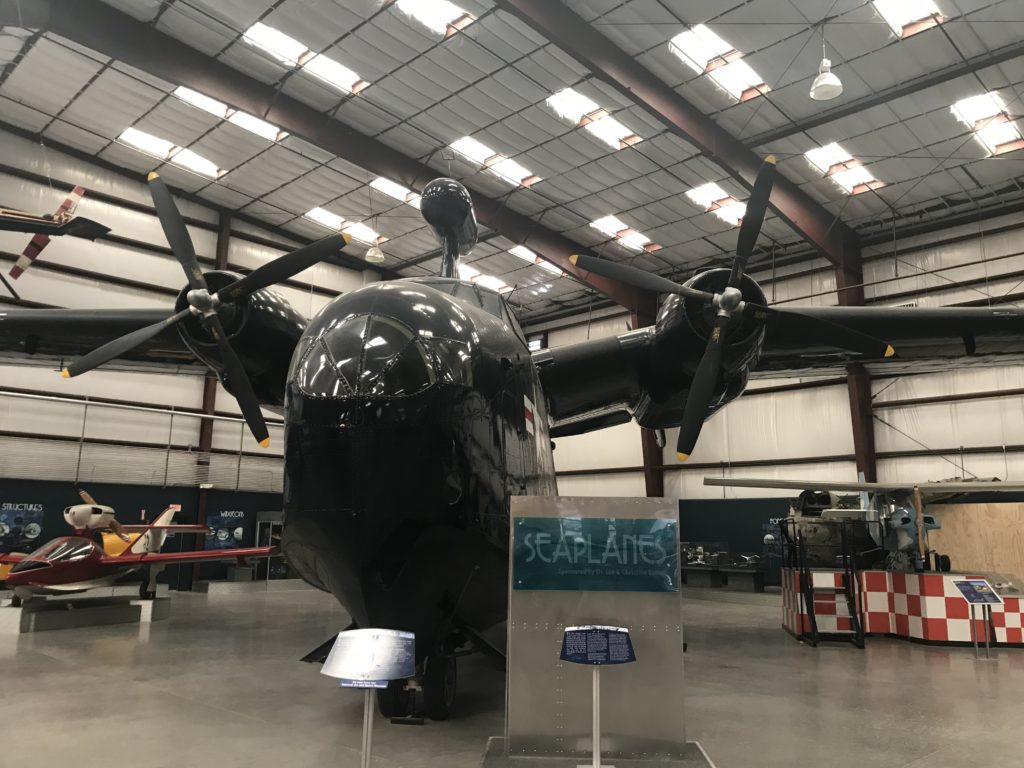 One of the coolest aircraft on display is a Lockheed SR-71 Blackbird.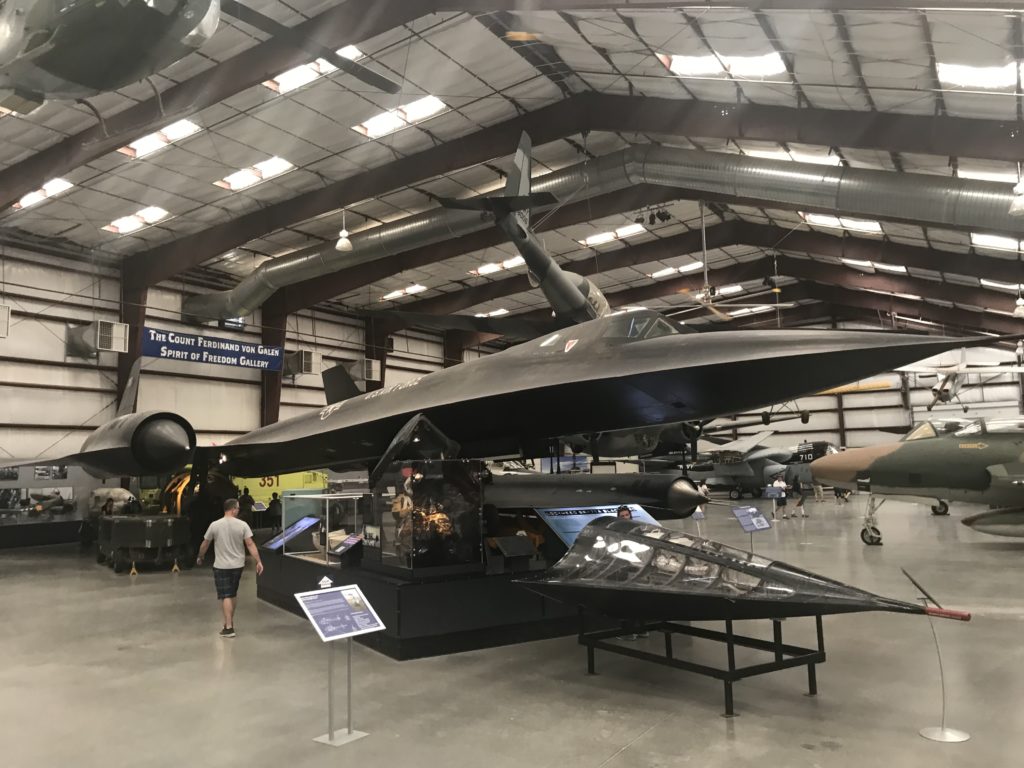 My aspiring pilot had a blast at the controls of this kit plane. No, he didn't get off the ground. Can you believe you would assemble this thing yourself? Not sure I'd trust a plane I put together.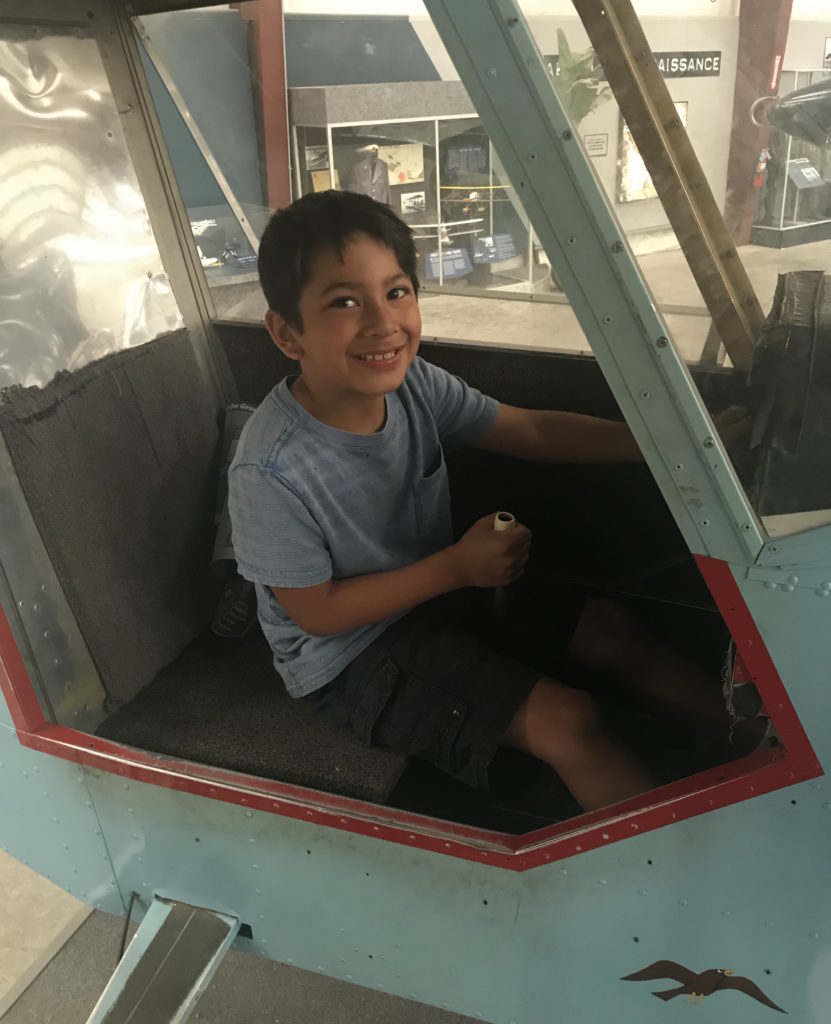 We spent the bulk of our time in the main hangar. There is simply that much to see.
Other Hangars
There are a total of three other hangars besides the main one, as well as an additional building that is a memorial of the 390th Bombing Group and houses a B-17 Flying Fortress. This was the first model plane I completed as a kid, and I have always been fascinated with it.
With such an abbreviated schedule, we spent about 10 minutes in the 390th museum (sadly). We didn't even get a chance to enter the other hangars. I opted for a tour of the grounds instead.
Outdoor Exhibits
There is so much to see in the outdoor exhibits that you could literally spend all day walking around and under every single aircraft on the 80 acres of the museum.
I ended up paying for the tram, as it was a fairly hot Arizona day, and I knew the kids wouldn't be up for walking much of the outside areas. Plus, it was faster and included a guide, and we didn't have a lot of time. At $6 per person, the tram adds up quickly for a family. But I would recommend it, especially if you are on a schedule.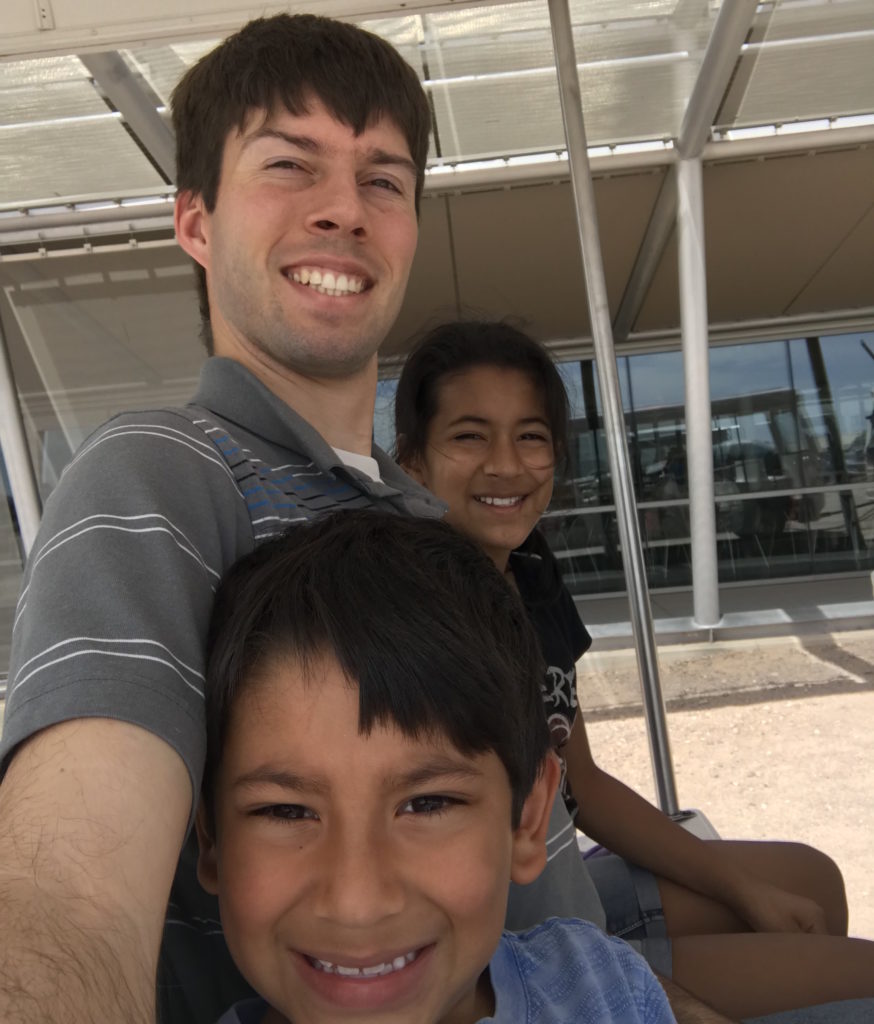 One of the perks is that the drivers are retired professionals from the aviation industry. Our tour guide's name was Ron. He was a retired pilot who had a 27-year career with Northwest Airlines after seven years as a Navy Reserve pilot. His knowledge of aircraft and aviation history was impressive.
The first tram stops were near some U.S. military fighters. My favorite was "Big Sal", an F-105 flown in the Vietnam War by Capt. John Hoffman and named for his wife, Sally.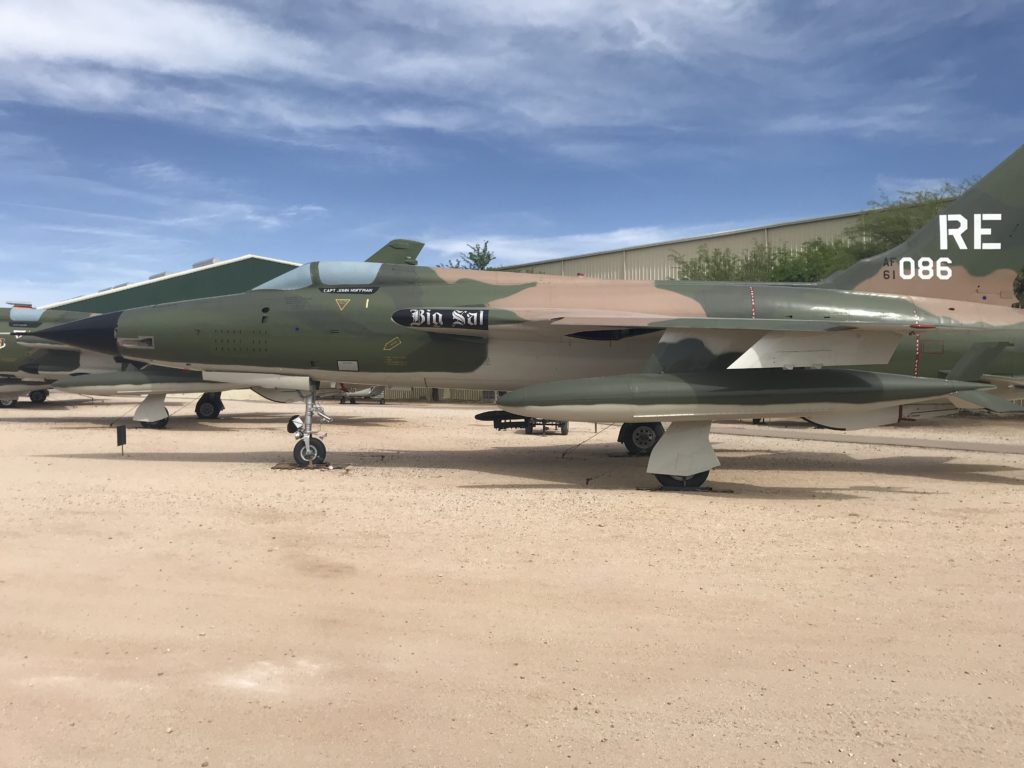 One of the next stops was at a Marine Corps Sikorsky S-43.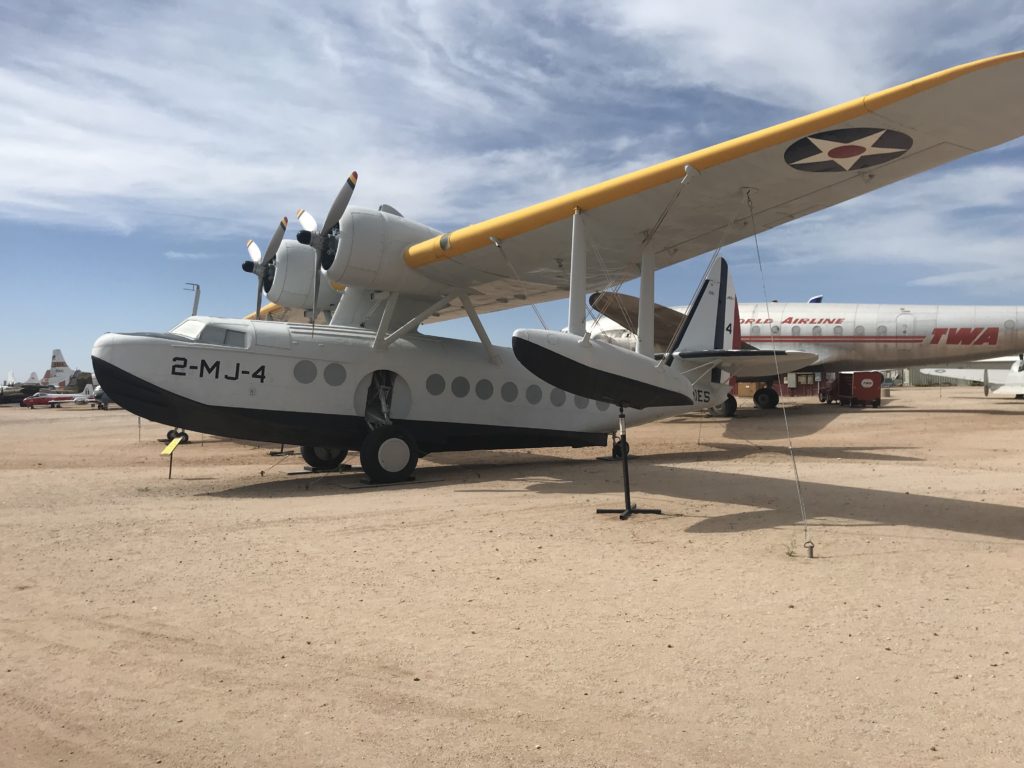 Across from it on the other side beyond a fence is an Orbis Flying Eye Hospital DC-10. My son thought it was super cool with the engine built into the tail. However, this plane has the affectionate nickname "Death Contraption 10", among other equally awful monikers, due to several incidents that resulted in loss of life. The most famous is very likely United flight 232. After suffering critical failure in the tail engine, the pilots were left with very little control of the plane. Amazingly, they still managed to nearly land it at Sioux City, Iowa.
One plane that stood out especially was the "Flying Guppy".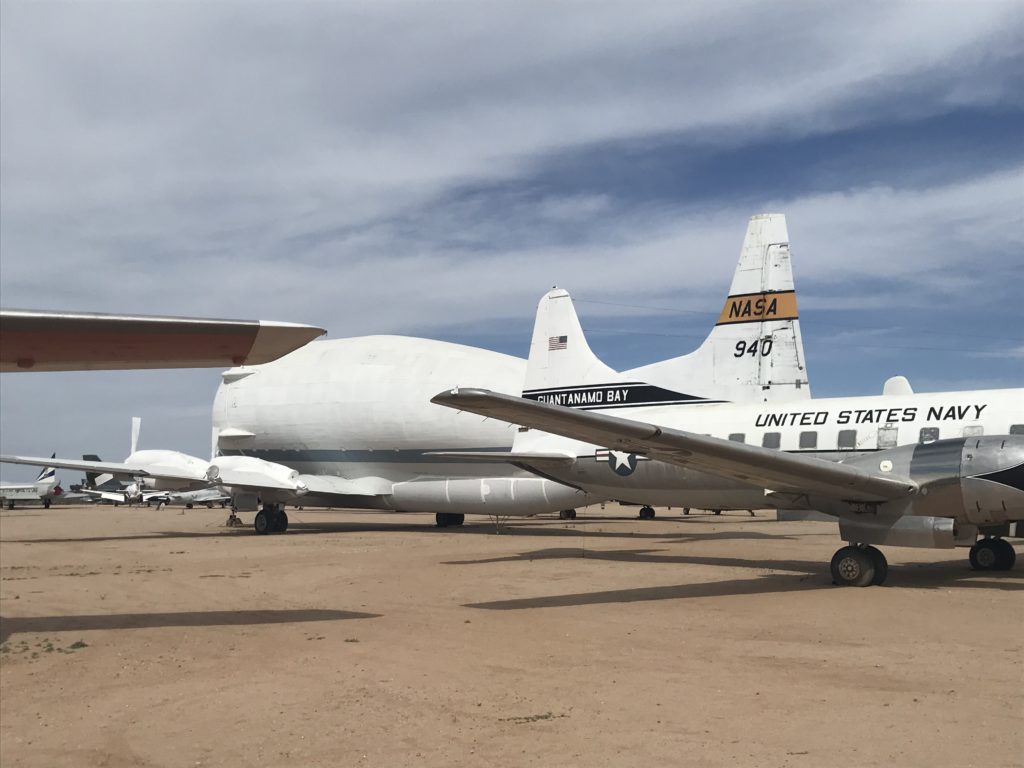 Further along we saw a Trans World Airlines Lockheed Constellation. Our tour guide remarked how sleek and unique the plane's lines are. The triple tail was a design feature that allowed the aircraft to fit into existing hangars with low ceilings. It's a beaut.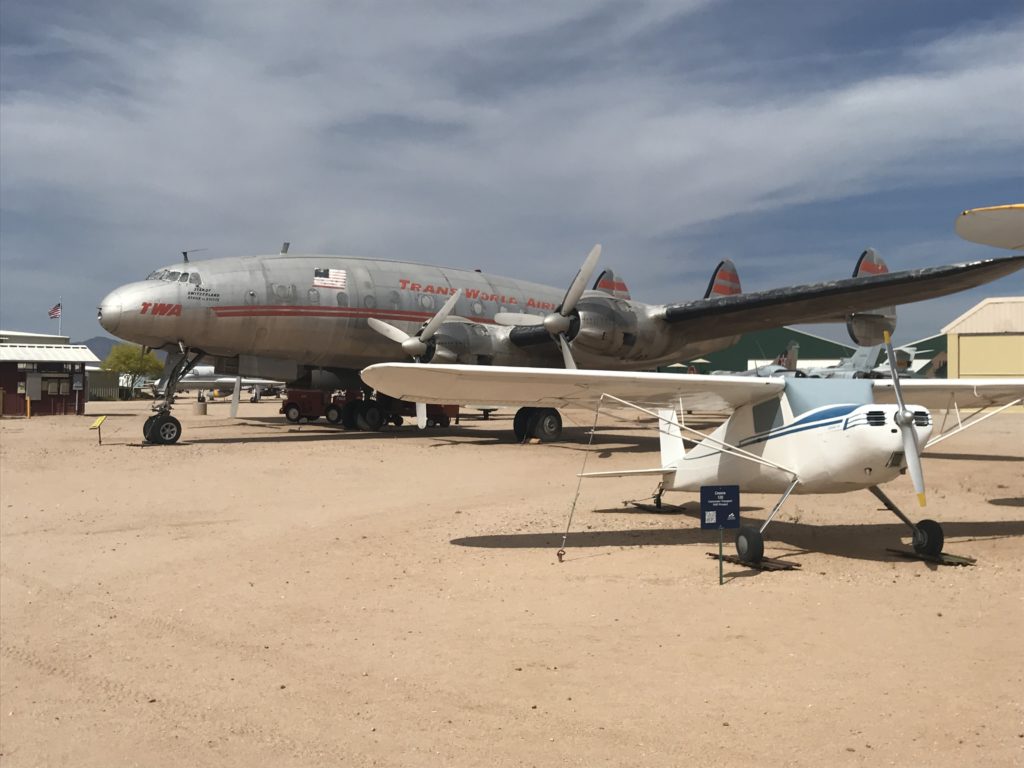 The Lockheed Constellation (not this one specifically) holds the record for the longest duration, non-stop passenger flight on a piston powered aircraft. Trans World Airlines' inaugural flight from London to San Francisco was a ridiculous 23 hours and 19 minutes. This wasn't mentioned during the tour, but it is an amazing feat. The aircraft would have averaged a mere 230 miles per hour.
Soon we had passed enough aircraft that I began to lose track of what we saw. It was information overload. And my phone was dying, to boot.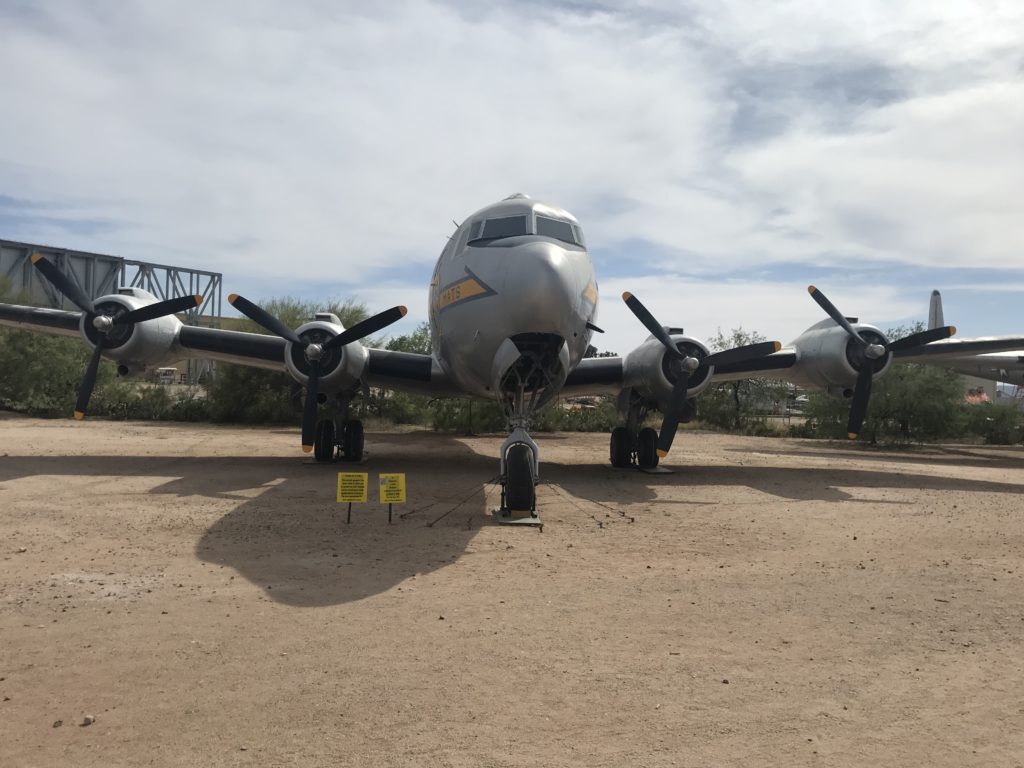 I took a few more photos while I could, including this U.S. Air Force Douglas C-124 Globemaster II, nicknamed "Old Shaky" due to the aircraft's tendency to due just that during flight. The large nose cone sported by the plane is a weather radar.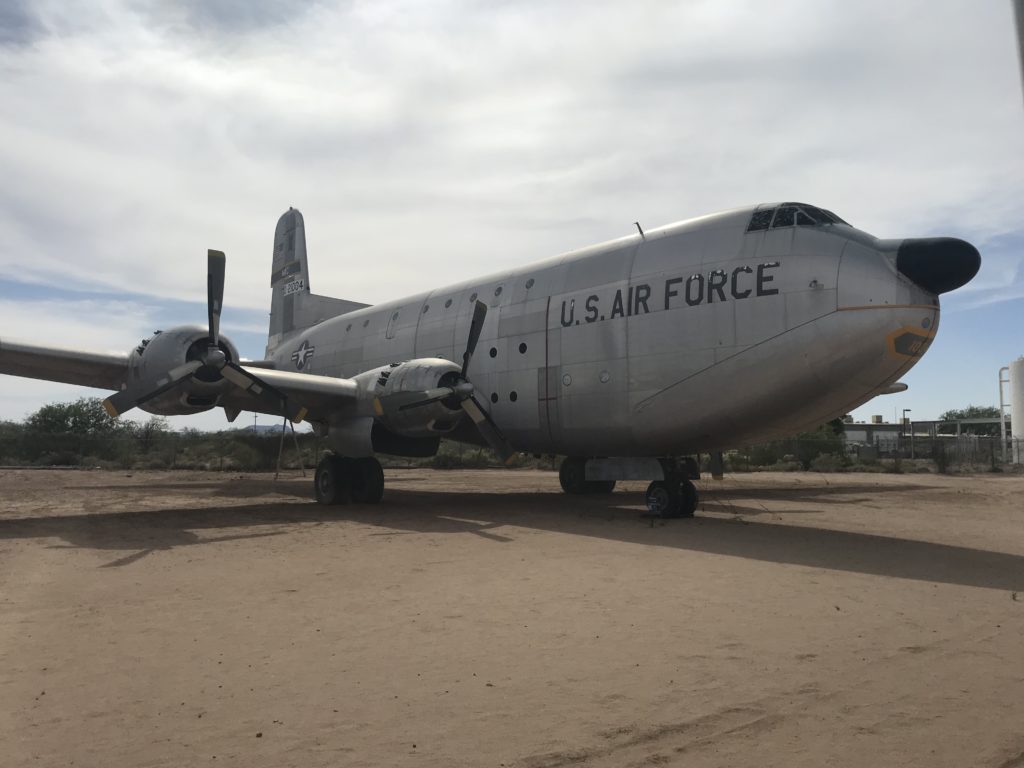 There were also a couple more modern airliners featured at the Pima Air and Space Museum. These included the second Boeing 787 ever manufactured. It is accompanied by a China Southern 737.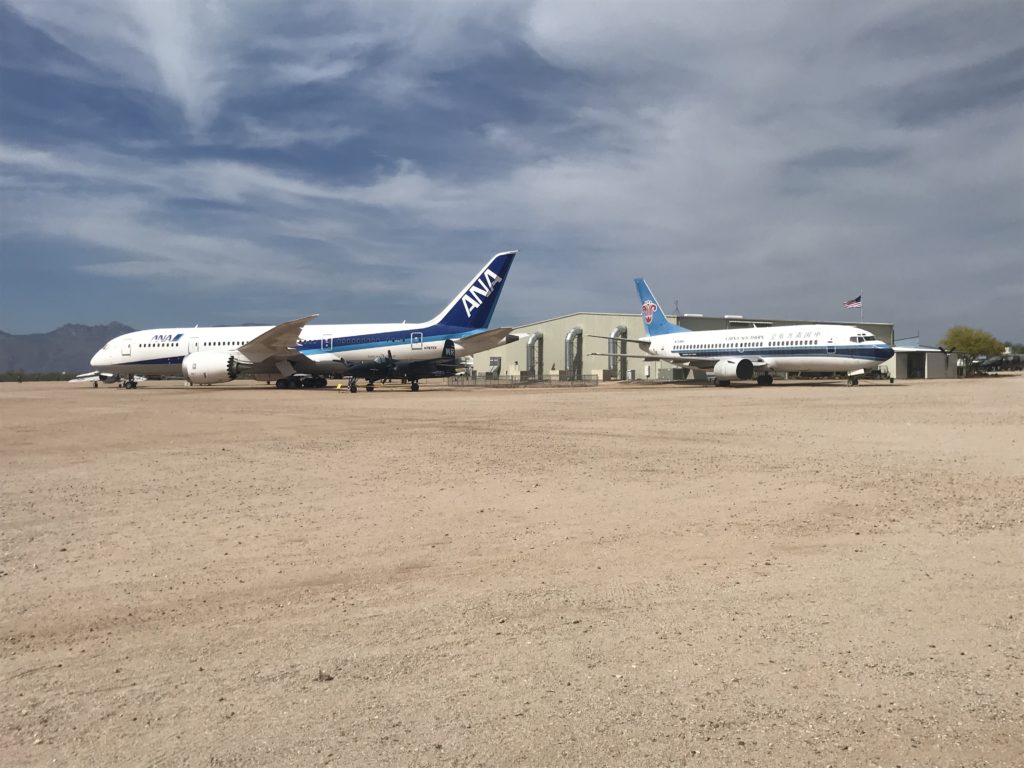 Near the end of the tour is what the tour guide called the queen of the lot: a Convair B-36.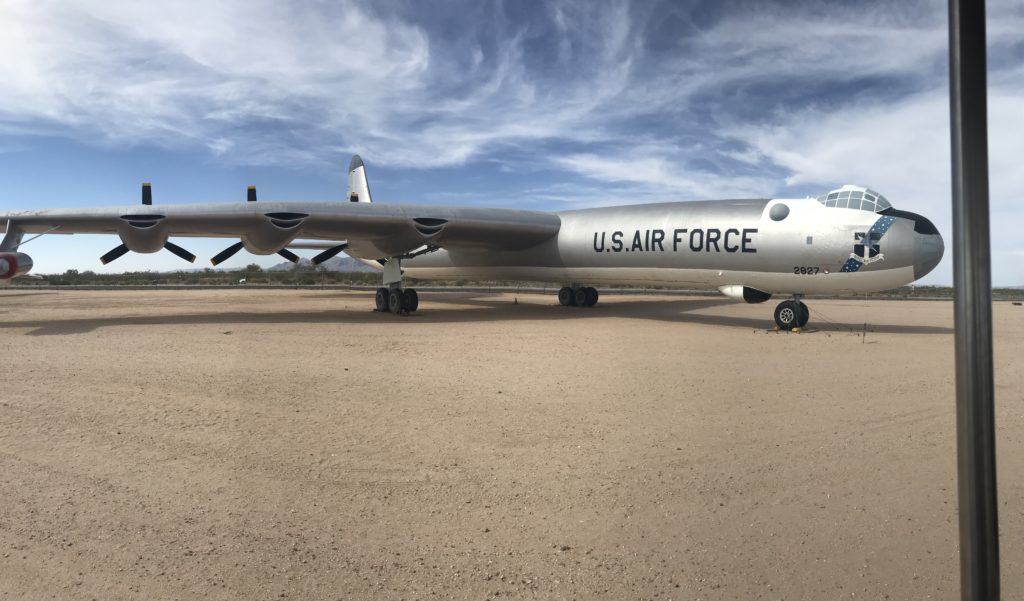 Overall, I enjoyed the tram tour immensely. If we had had the time to spend (say, 2 full days), and had visited during the winter, I probably would have opted to walk the facility. But the knowledge of the tour guide plus the fact that we didn't have to walk over 2 miles up and down through the outdoor section of the museum is definitely worth $6 per person.
After the tram ride, we spent maybe another 15 minutes inside. The kids were soon ready to move on, and we took off for the hotel (SEE: 2 Consistently Good Mid-Range Hotel Brands for Families).
Conclusion
The Pima Air and Space Museum was a great way to begin our trip. I already have a son that is very interested in aircraft and aviation in general, and it was the perfect place to see. Next on the list of aviation destinations is Seattle, where I'd like to take him to the Museum of Flight and on a tour of the Boeing factory. We'll see when I manage to fit that trip into our schedule.