Death Valley National Park had long been on my list to visit among the many California National Parks I have yet to see. And on our Southwest road-trip in 2018, I finally made it happen. We were traversing the desert from Tucson up to Tahoe, and a stop at Death Valley was a must. The previous days had included Las Vegas and Red Rocks National Conservation Area (SEE: The Easiest Hike at Red Rocks).
The final days of the trip were a bit rushed, entailing a lot of driving each day, which meant that we didn't get to linger. I'm not sure I'll plan a trip again that gives us so little time, as there is so much to see. Whether it is the cacti of Saguaro National Park, the magnificent red rock formations of Sedona, or the majesty of the Grand Canyon that we almost didn't see, everywhere we went felt like it deserved another day (well, except Vegas). Death Valley was no exception.
We headed toward the valley from the east, after staying at a nice hotel in the oddest place (SEE: Holiday Inn Express Pahrump Review: This may be the best HIE ever?). I planned our night in Pahrump so that the park would be little more than an hour of driving the next day. The drive is pretty lonely,
Eventually, we made it to the park entrance, which consists of some pit toilets and a payment kiosk. There are no National Park Service staff to greet you.  Even though it isn't staffed, you do need to pay the entrance fee, which is $30 (increased from $25 when we visited). The fee is good for up to 7 consecutive days in the park. If you plan on visiting twice, just purchase an annual pass, which is only $55. Better yet, just buy a National Parks annual pass for $80.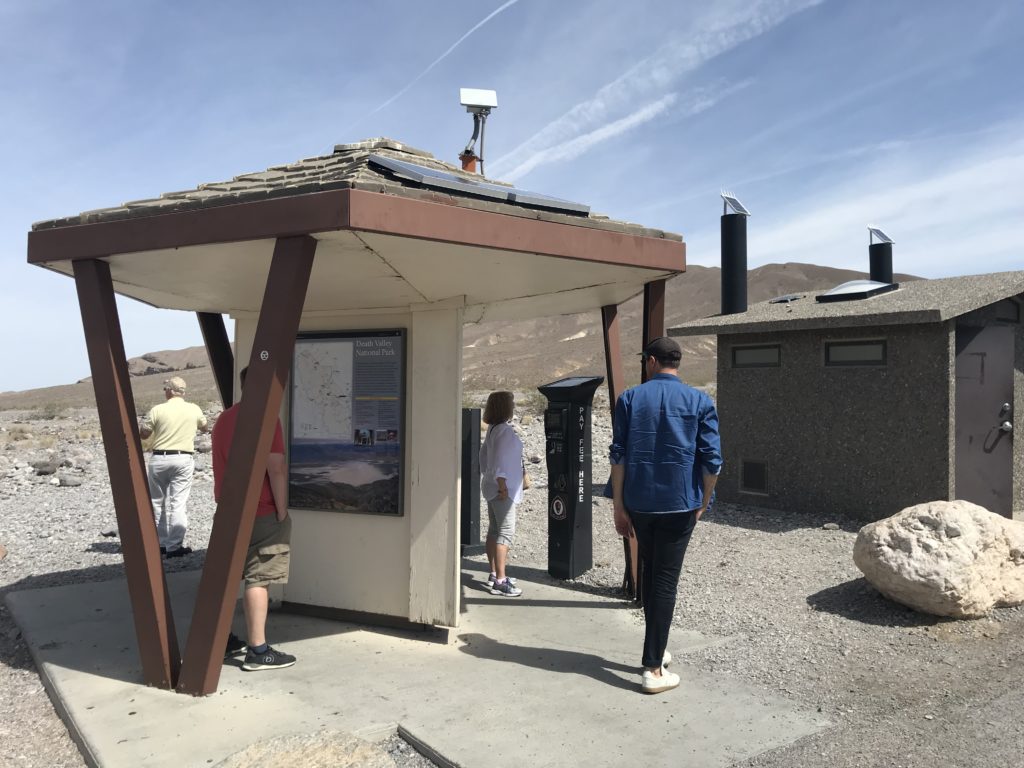 I had high hopes for our one day visit to this otherworldly place. The plan was to head to Dante's View, then along to Zabriskie Point, and eventually down into Badwater, the lowest point on the continent.
Unfortunately, things started off with a bit of disappointment. But our brief visit was still great overall. Here are the highlights, followed by what we missed:
Badwater Basin, the lowest point in North America
No trip to Death Valley is complete without a stop in Badwater. At 282 feet below sea level, this basin is the lowest point not only in the country, but in the entire continent. Technically, it is the lowest point in all the Americas.
But a visit here is worth more than just being able to add something to your personal record books. A walk out on the salt flats will help give you a perspective of the vastness of Death Valley.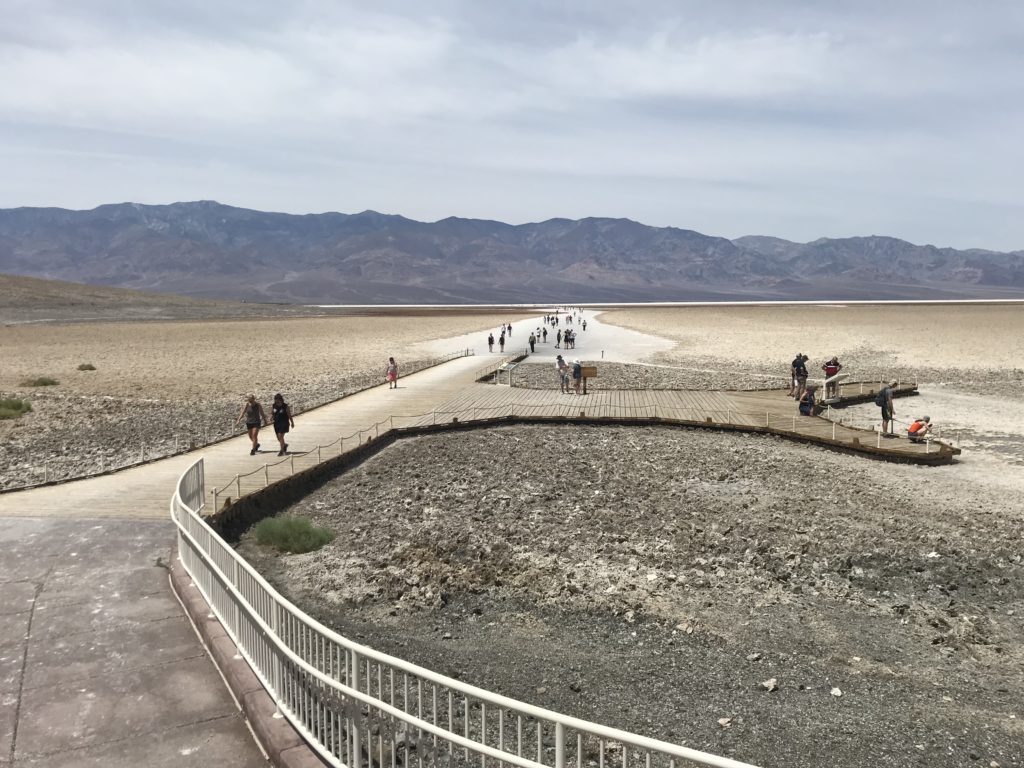 The Panamint range towering above you in the distance to the west is certainly impressive. It is mind boggling that Telescope Peak, the highest mountain in this arid range, is 11,049 feet tall. This is a crazy elevation differential over a distance of barely 10 miles!
We had to obviously take a photo at the sign. I've never stood this fare below sea level, and it was fun to describe to the kids how we would be way beneath the ocean's surface, could the ocean reach this inland valley. They thought that was pretty cool.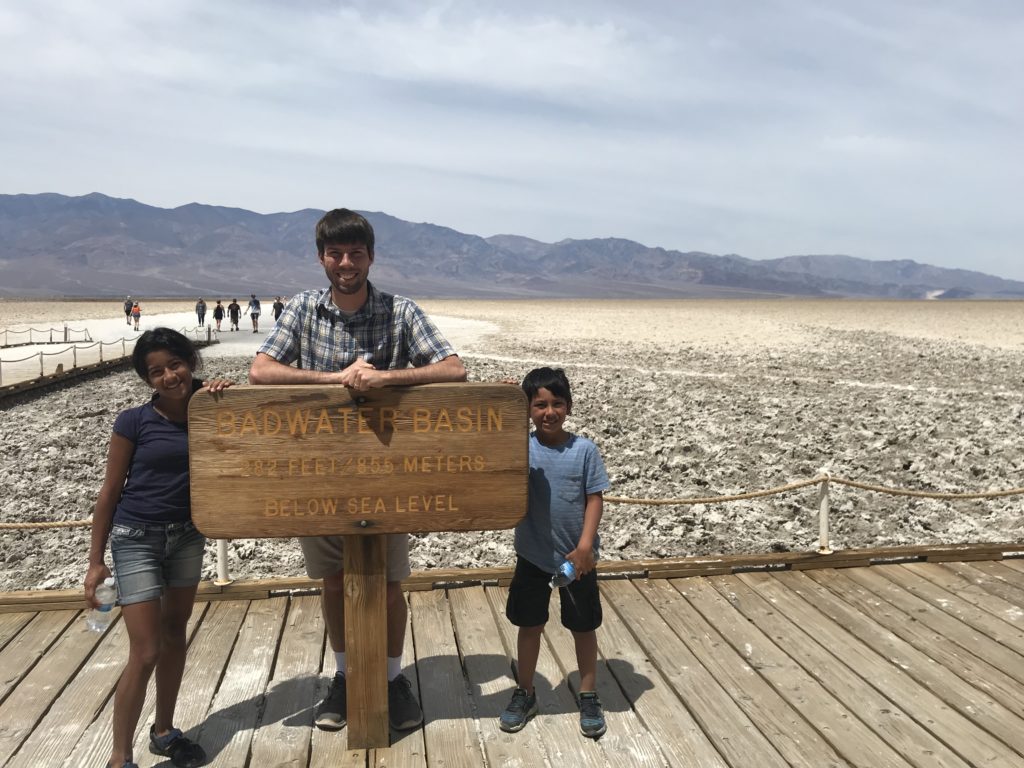 What the kids were definitely not into was walking out on the salt flats of Badwater Basin. They aren't hikers (SEE: 3 Tips for Hiking with Kids in the Desert). Hiking and walking were natural parts of my upbringing, so much so that it is basically my default activity when traveling if I have no other plans. Just get out and wander. I'm learning to make adjustments with the kids along.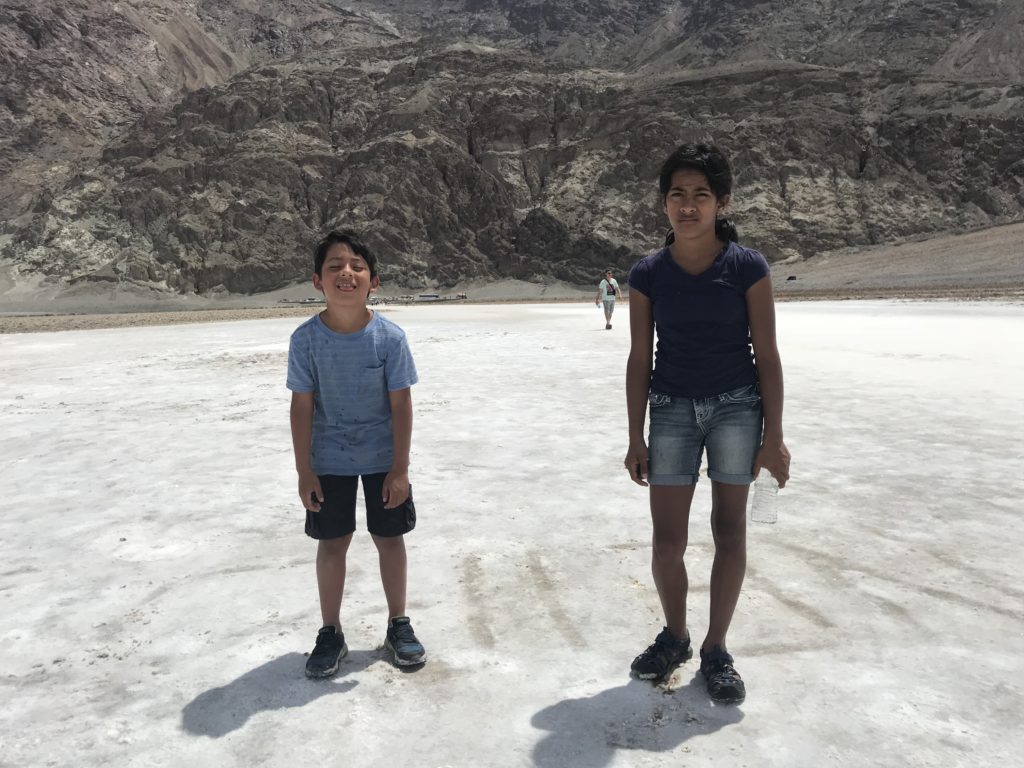 This will forever be one of my favorite photos. The faces say it all. I mean, it was 100 degrees out that April morning. But the air was bone dry, and you could hardly feel it. I'm a wimp when it comes to heat, and I did fine. Humidity is what does this guy in.
Furnace Creek Visitor Center
We stopped in Furnace Creek after visiting Badwater Basin and the Artist's Palette. It is a great place to stop if you're in need of break, a bathroom, and some cool air. With temperatures hovering around 100 degrees outside, it makes for a nice pit stop.
The two main things I found most interesting about the visitor center were the Death Valley model and the story about "Death Valley Scotty". The model is in the middle of the visitor center and provides you with a great perspective of the vastness of the the park. The vertical scale is obviously exaggerated. It was cool to show the kids where we'd arrived from and which way we were heading out after our visit.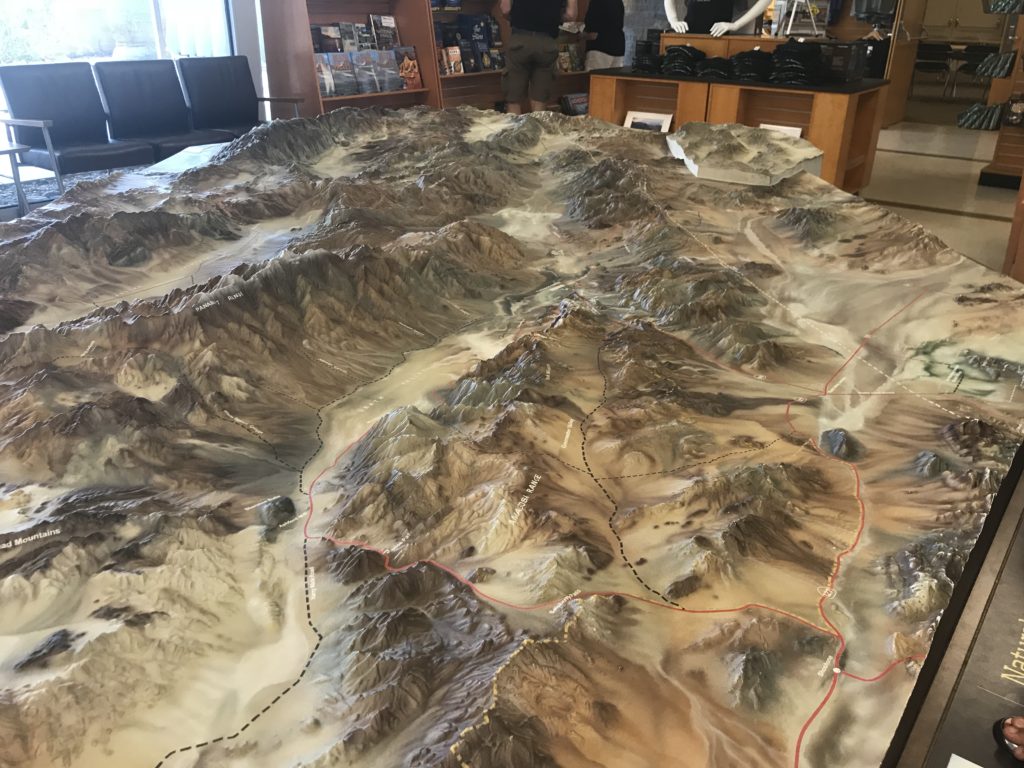 The half hour film on the ecology and history of Death Valley is excellent. Make sure you budget time for it. More than anything else, I was intrigued by the man known as "Death Valley Scotty". Starting his career as a stunt rider in "Buffalo Bill" Cody's Wild West show, Walter Scott began a series of "ventures" where he managed to swindle his wealthy patrons out of every penny they invested into his schemes. Remarkably, Albert Johnson, one of his patrons, became a lifelong friend of Scott's, forgiving him for his fraudulent stunts.
This friendship provided Scott with a level of stability he never would have enjoyed in his later years, and it managed to weather the con man's tendency for boasting and self-aggrandizement. The mansion known as "Scotty's Castle" didn't actually ever belong to Walter Scott. It was instead the Johnson's vacation home. Unfortunately, the castle was damaged in a flood and it is no longer possible to visit.
What amazed me most about the whole story of "Death Valley Scotty" was how the man who gets all the notoriety and association with this place is not at all the hero of the story. Johnson's steadfast friendship with Scott and support of him is what is truly remarkable. Like I said, the video at Furnace Creek Visitor Center is well worth watching.
One note on Furnace Creek: make sure you fill up the car. Gas prices are obscene! It was bad enough when we visited, but they are well above $5.00 per gallon for regular at time of writing.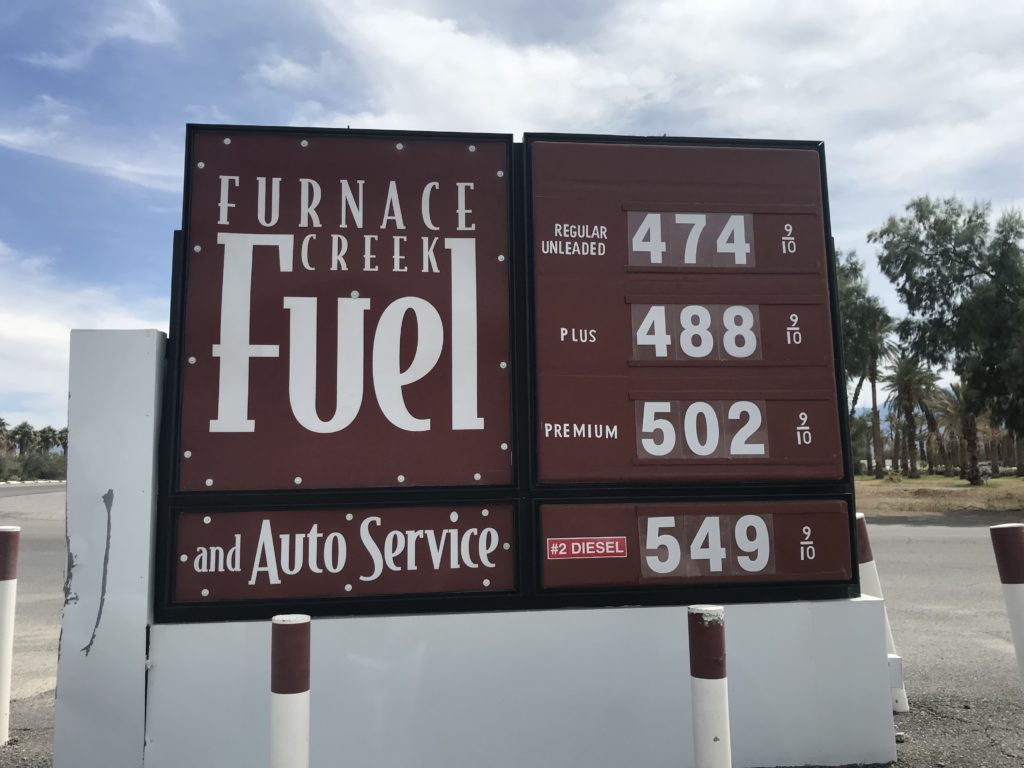 First glimpse of the valley from Zabriskie Point
While I'd hoped to have another view as our first glimpse of Death Valley, our initial stop, even before heading to Badwater, was at Zabriskie Point. You don't get a sweeping view of Death Valley, but you can at least steal a peek over the badland formations. It is one of the most photographed points in the park.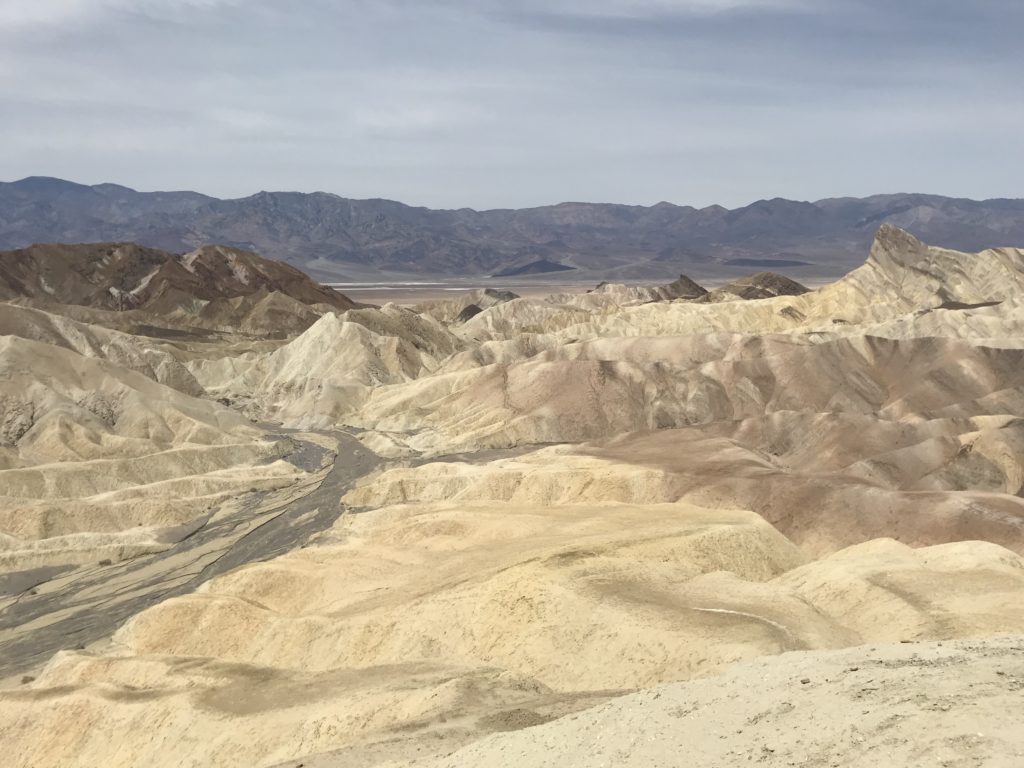 The terrain here is otherworldly. Shaped by rain erosion, is the sort of look and texture you'd expect from a wasteland of a planet from a sci-fi film. The complete barrenness of the soil stands in stark contrast to so much of the rest of California and the other deserts I've visited, which have a robust ecosystem.
Had the time been available (and the temperature cooler), I would have loved to hike the Golden Canyon trail from the opposite side of the Badland formations.
Biggest bummer: Dante's View was closed
Now for the depressing parts. When I was researching what to see in Death Valley, the viewpoint known as "Dante's View" topped my list. This viewpoint is accessible from the east side of the park. You head south from the main road essentially from the entrance kiosk and then drive for several miles up to the point.
But Dante's View was closed. You could drive a ways down the road to a parking lot, but the road was gated beyond that point. Had we been able to access the scenic spot, we would have enjoyed sweeping views of Death Valley stretching out before us. Dante's View is positioned right above Badwater, and is one of the best vista points in the park.
The viewpoint is open again. We unfortunately just came during a period of maintenance where the Park Service was doing work at the Dante's View parking lot. You can enjoy this spot once again.
How little time we had
The second bummer is how abbreviated our visit had to be. Yes, this is completely my fault. Death Valley is vast; this was not lost on me. It takes a good amount of time to just drive through the park and from point to point within it. For example, to get from Badwater to Scotty's Castle (unfortunately closed, like I mentioned), you will need to drive almost an hour and a half. Plan accordingly.
I knew we would have at most about 5-6 hours to see and enjoy Death Valley. This is enough if you want to simply stop by a couple of highlights and then keep moving, like we did. To really experience the valley, you probably need a couple full days.
Conclusion
While our visit to Death Valley was brief, I really enjoyed it. The kids were less enthusiastic, but we did make memories, even if it was of them pretending to die as we walked across the salt flats. They still talk about it, and that is what matters to me most. Hopefully they'll look back fondly on our visit one day, realizing I really wasn't trying to kill them. Go see and experience this amazing national park!