Making plans based on an air quality forecast was a first for me. Living where we do, I take clean air for granted. But you really need to pay attention here in Hong Kong. I figured since we'd be walking quite a bit, heading out early before the worst of the air arrived in the afternoon was probably prudent. This meant I roused two grumpy kids at 6:00. Their unhappiness was gone by the time we headed to breakfast, and we were headed for the ferry terminal before 7:30.
Along the way we passed by a building undergoing renovation. Or something. I wouldn't have really noticed, except that the scaffolding along the exterior was built entirely of bamboo. Now, I know the stuff is tough. But I'm not sure I'd be willing to climb out onto it ten stories above the ground. The whole structure is insane.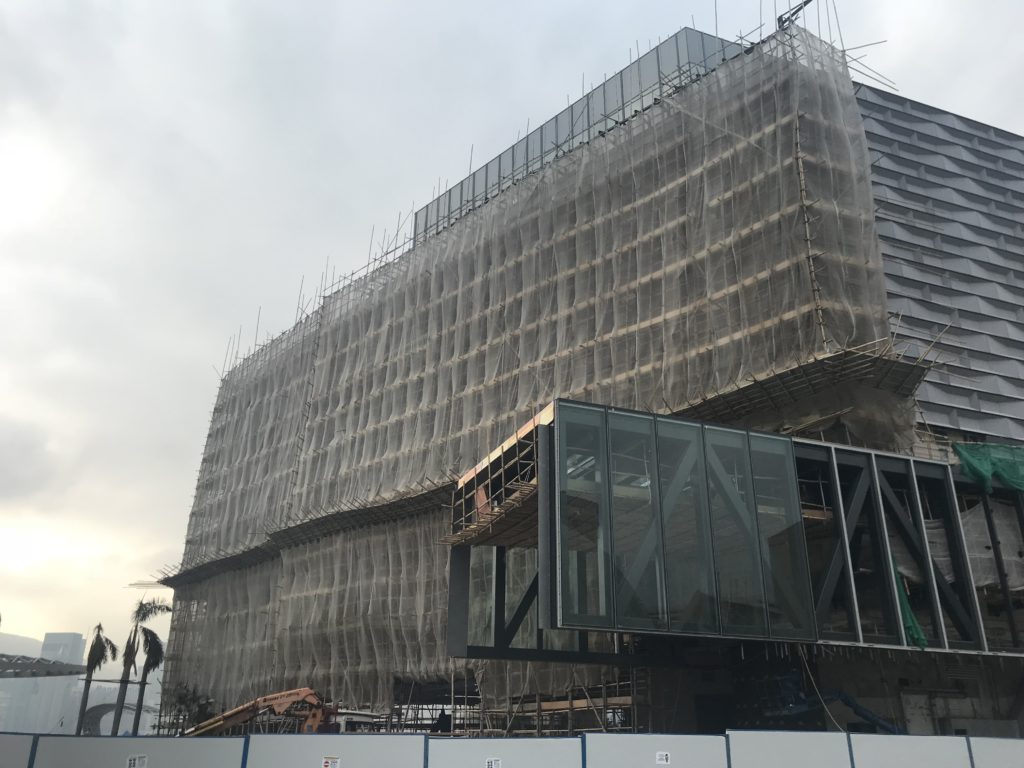 I was still in shock as we headed to the Star Ferry terminal again to cross over to Central. If you remember from our first day's adventures (SEE: Hong Kong with Kids Day 1: Exploring from Kowloon Bay to Victoria Peak), this crossing costs like 80 cents for myself and two kids. It's pretty much the best deal for entertainment in all of Hong Kong.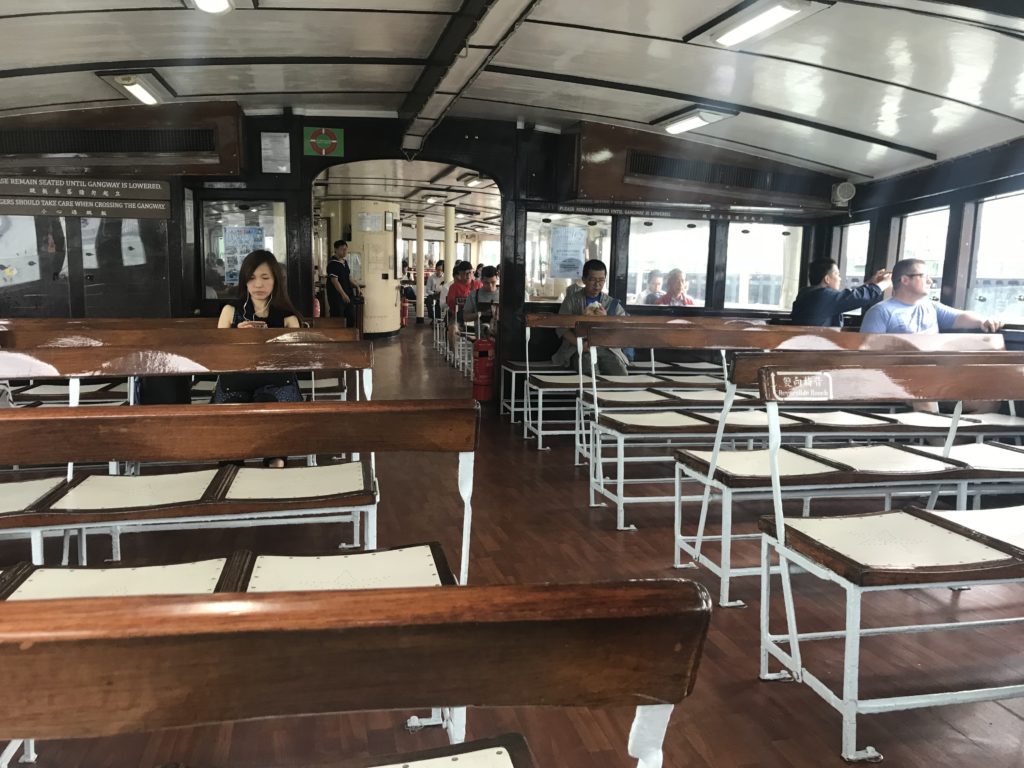 A window seat view is a must. The kids ran to the front of the ferry every time and each claimed a window to enjoy the view of the city.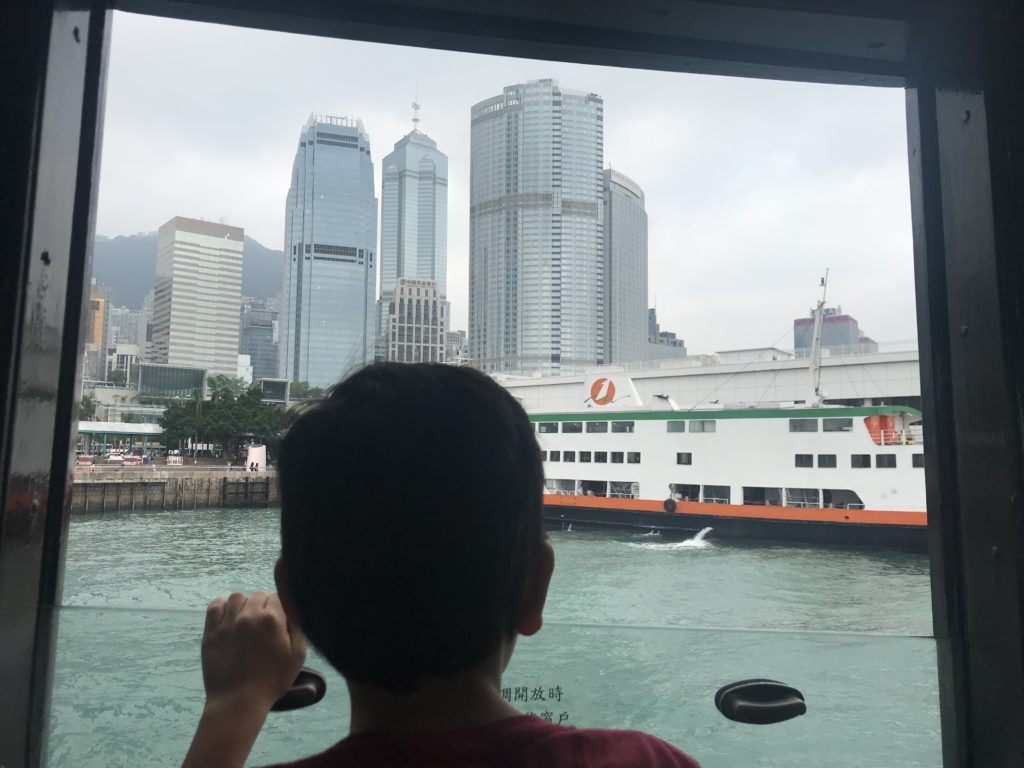 Ferry to Lamma Island
The ferry between Kowloon and Central requires you to buy a token. I figured it would be the same system for the ferry to Yung Shue Wan on Lamma Island. Nope. The turnstile here requires exact fare for passengers to be deposited directly into it. I had a bunch of coins, but even all added together, it wasn't enough for the three of us. I'd have to find some way to exchange it. 
A kind lady directed me to a ticket window where we exchanged $50 HKD for change to put into the machine. She then placed the fare in herself. Helping helpless tourists is probably a routine part of her job description for Star Ferry employees. I was super grateful. We were maybe 10 minutes from ferry departure, and I had gotten anxious when I realized we wouldn't just breeze through.
The ferry to Yung Shue Wan arrived at the pier about 8 minutes later, and we were soon on board. The kids wanted to stand outside, which was entirely fine by me. It was a beautiful day.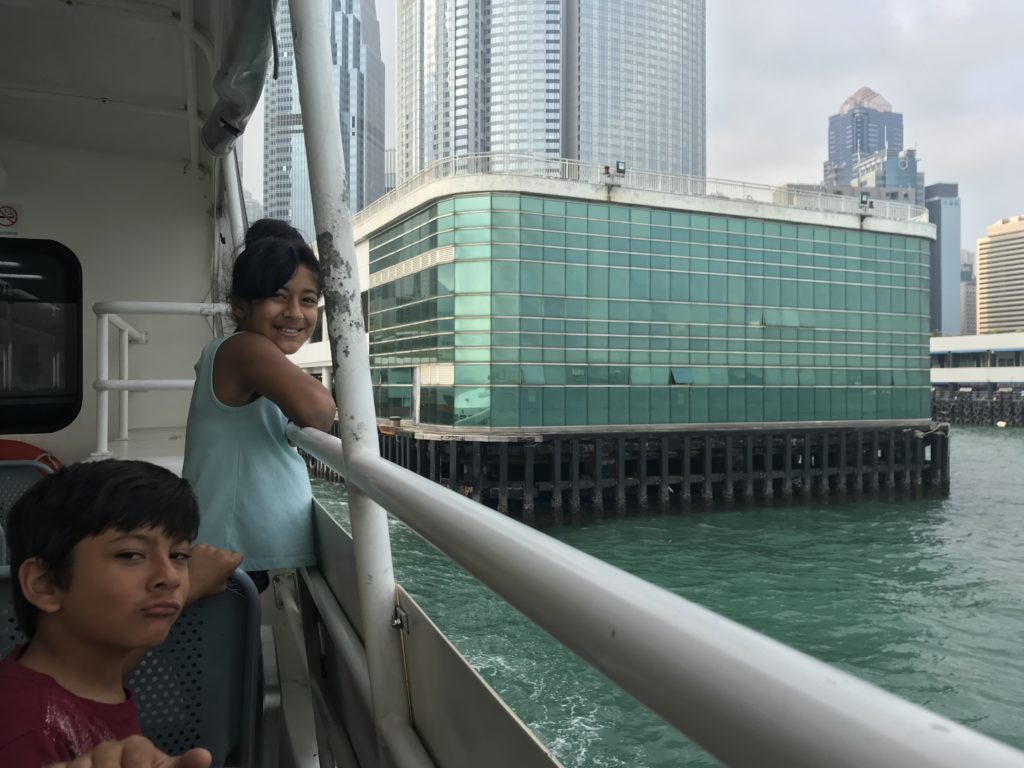 The ferry ride was lovely. Even with the fairly polluted morning air, the breeze was worth it. We passed along Hong Kong island, circling around until we were eventually headed south toward Lamma Island. Along the way we passed a giant cargo ship.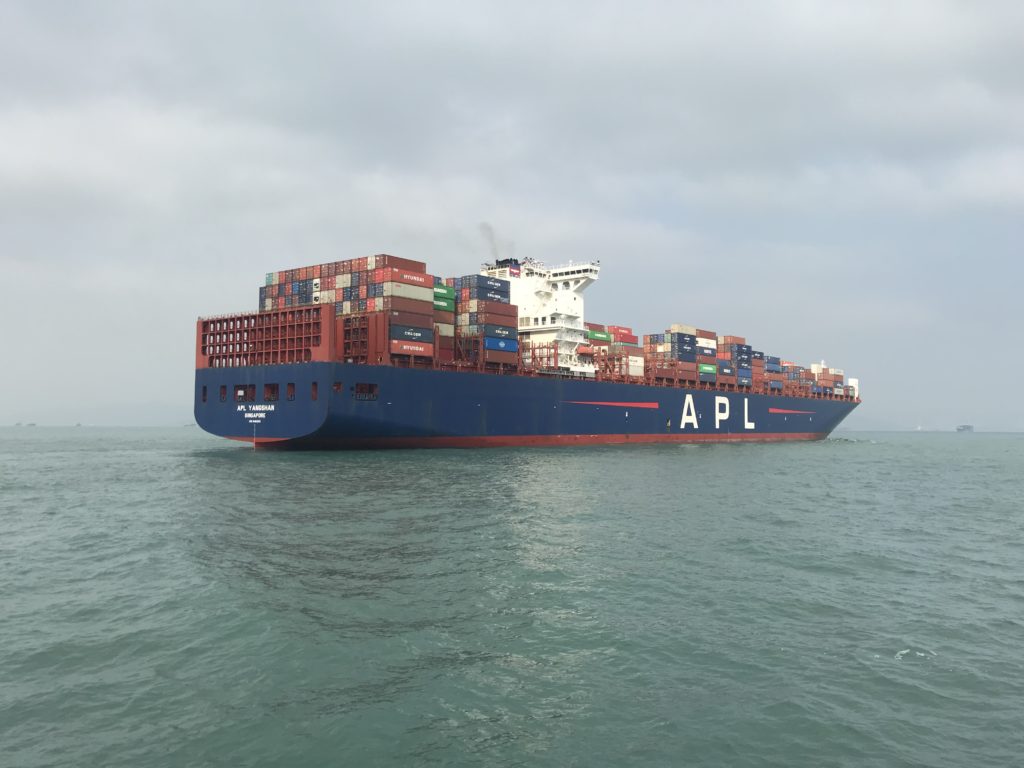 The ride lasted maybe half an hour. We disembarked at the Yung Shue Wan terminal and walked into the small town by the same name.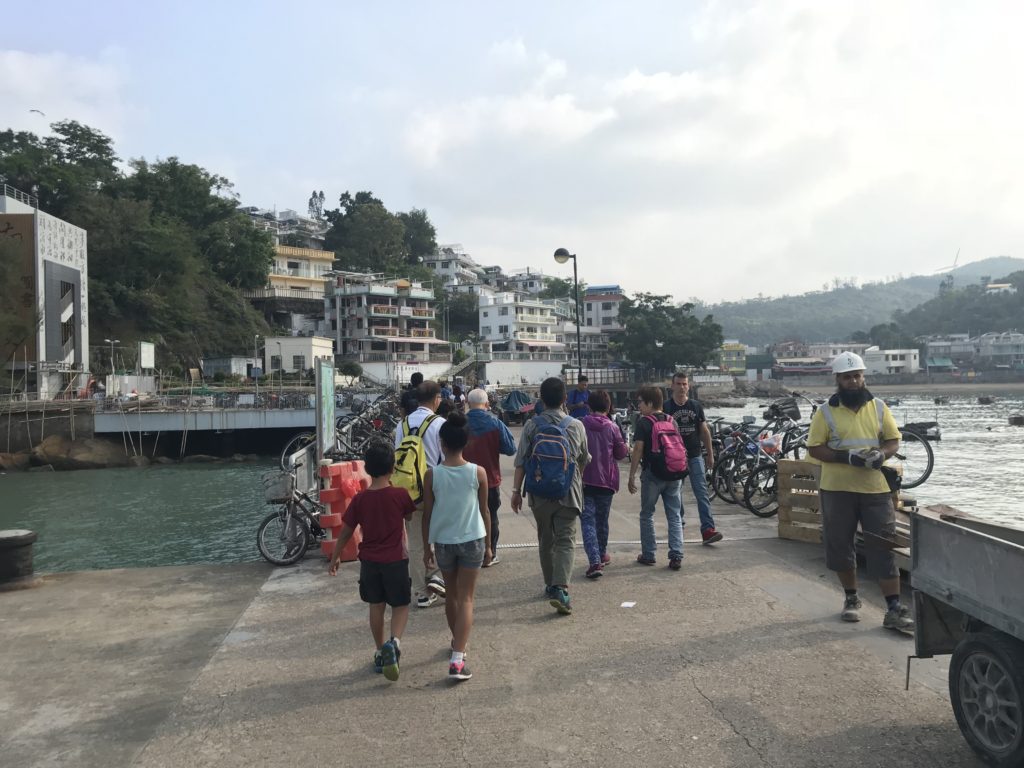 While Lamma Island is still part of Hong Kong, it is an entirely different world than the bustling city we'd just left behind. I'm sure some of those in this quiet community commute to Hong Kong each day for work, yet have the good fortune to come home to this sanctuary every day. Lamma Island is a haven of artists and hippies, those looking to trade the hustle and bustle of Hong Kong for a more laid back pace of life. It was quite interesting to spy cafes touting raw, vegan, and organic foods along the narrow streets. The kids loved the tanks of live seafood at a couple vendors.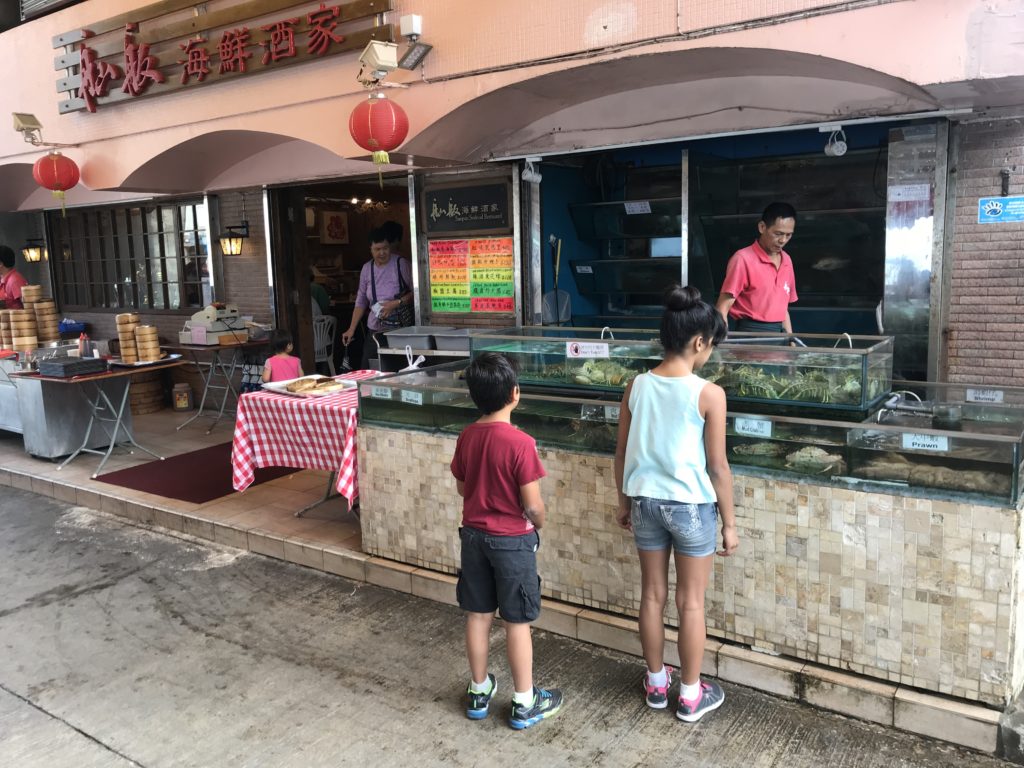 Yung Shue Wan is the largest town on the entire island, and ferry service is very regular. Even if you don't want trek across the entire island like we did, hopping on the ferry from Central to Yung Shue Wan is easy and convenient, and there is enough to do on the northwestern end of the island to keep you occupied for at least half a day.
The kids wanted to play on the beach, but I told them we'd come across some nicer ones along our walk. I figured that the one near the end, Lo So Shing, was going to be the real winner of the bunch.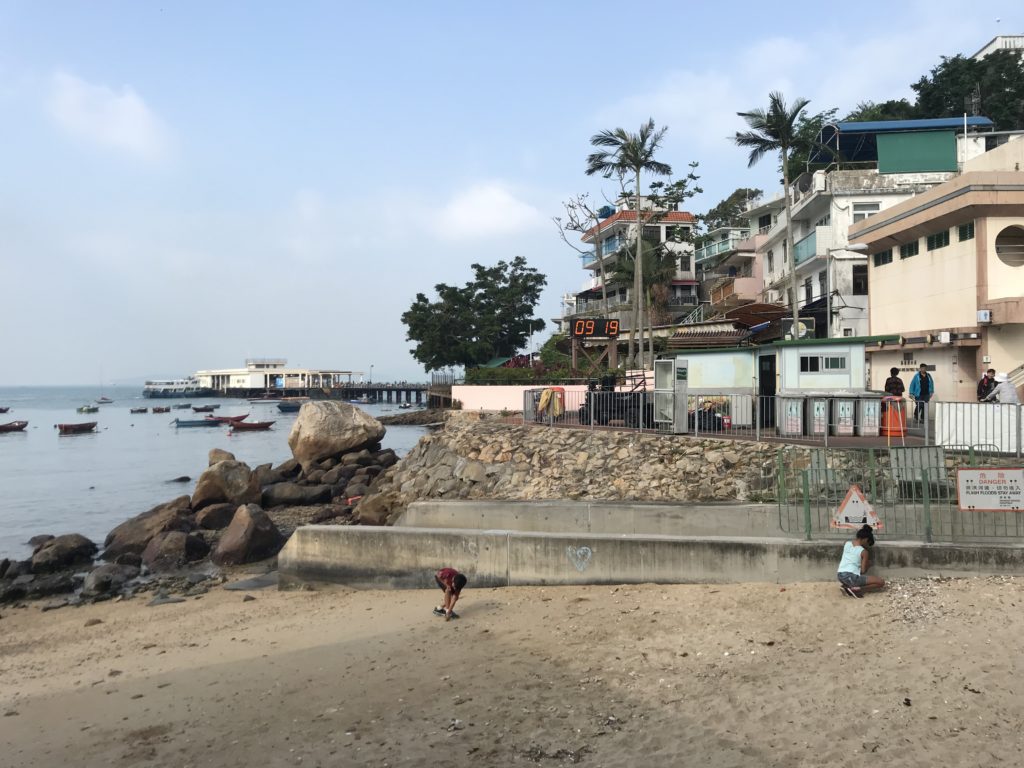 The cove itself at Yung Shue Wan is picturesque. The one unfortunate blot on Lamma Island is the fact that it contains a power plant, the stacks of which are visible over the hill to the left. I guess Hong Kong needed to place it somewhere, and the outlying islands makes sense, at least from the perspective of the millions of people in the city who don't want to see it. It is a real bummer to see it on an otherwise gorgeous island.

First stop, Hung Shing Ye
Leaving the main villages near the cove, we started on the trail toward Sok Kwu Wan. I'll venture to say that the kids were oddly more interested in the small villages on Lamma Island as we meandered through them than they were of the skyscraper-lined streets of Kowloon and Hong Kong. We didn't reach this awesome sign until the middle of the hike, but this will give you an idea of the walk we did. The ferry we arrived on dropped us at the northwestern end, and we proceeded to follow the brown line to the other ferry terminal near the middle of the island, with one detour.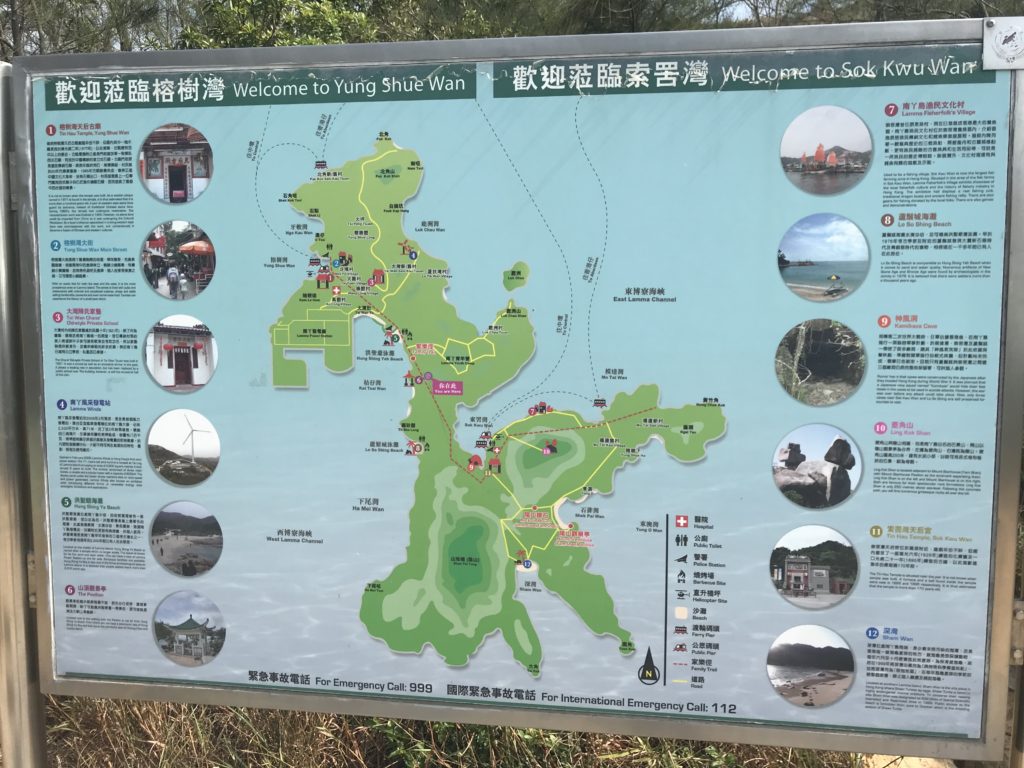 After just a few hundred yards we started to leave the apartment buildings behind, now walking through the forest, interspersed by poorer, more ramshackle dwellings here and there. Definitely a different world than the gleaming skyscrapers a short ferry ride away.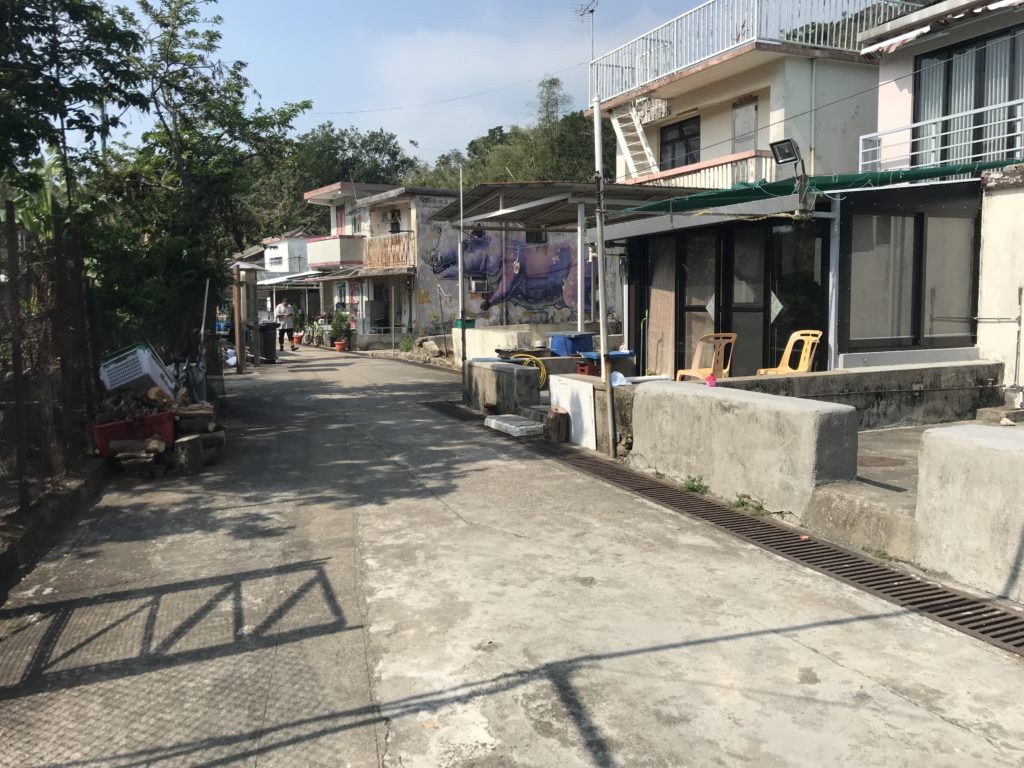 It didn't take long for us to come upon the first beach at Hung Shing Ye. Not only was it kept up much more nicely than I anticipated, it was wonderfully quiet on this sunny weekday morning. I let the kids play for most of an hour. I hadn't planned on necessarily stopping at this beach for this length of time, given the proximity to the Lamma Island Power Station. But they were loving it.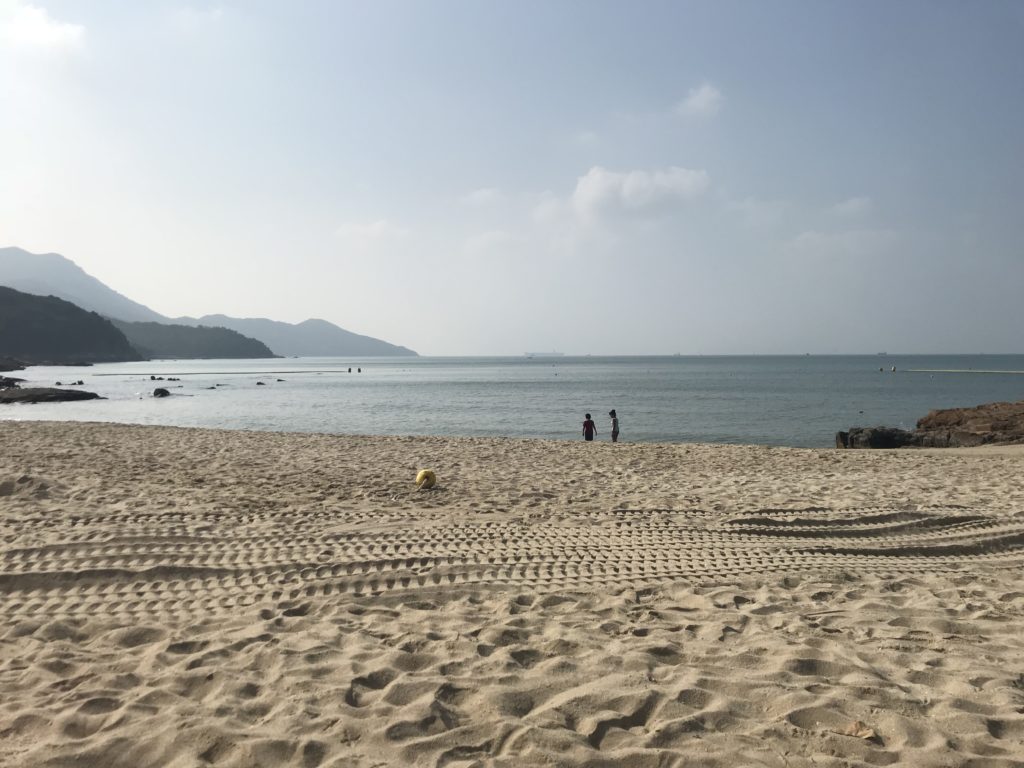 The problem with kids is that they don't want to move on when they start really enjoying something. Both of them were happily building a sand fort to guard against the gentle surf and didn't want to abandon their project. I eventually had to coax them away with promises of a second beach we could enjoy even longer.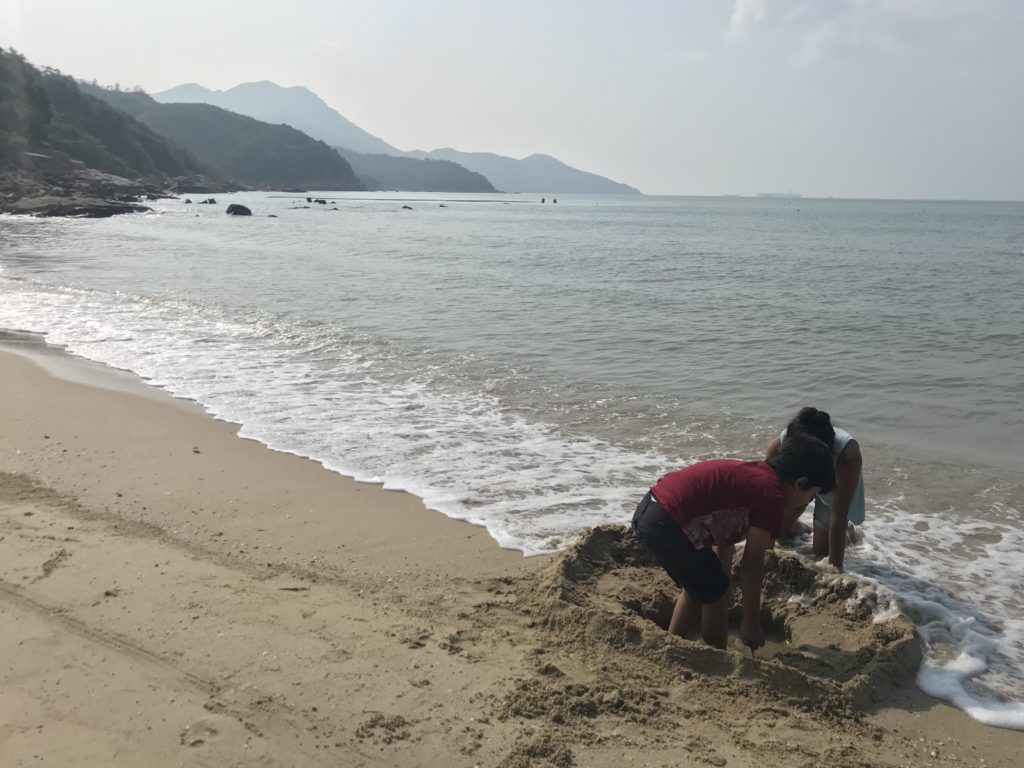 Middle of Lamma Island
The next part of the hike has very little cover or shade. By this time is was approaching 80 degrees and also humid, not the most comfortable for hiking. The complaints started in earnest along this section, as the path began to meander up and down. Every once in a while we'd find a patch of trees and take a break.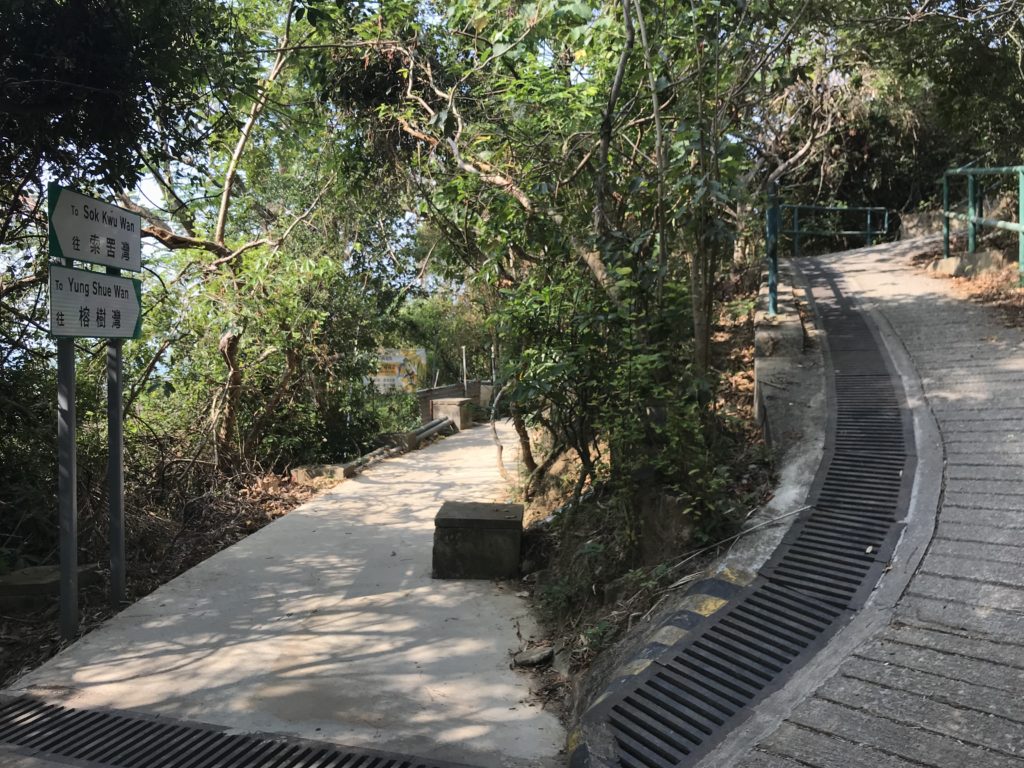 The next stop for us was a rain shelter about a third of the way to the next beach. There is also a lookout pavilion, but it is 150 meters off the trail. Eventually we broke out to the other side of the island with a view of Sok Kwu Wan and a departing ferry below. Hong Kong island was barely visible through the haze in the distance. 
The path forks at Lo So Shing Village, where you can choose to either head to the Sok Kwu Wan and the fish farming villages, or to Lo So Shing beach like we did. The beach isn't far down a narrow path through the forest. 
Lo So Shing, the second beach
We made it to Lo So Shing beach around 11:30, giving the kids at least an hour to play in the sand and surf. We still had another quick stop ahead, as well as lunch, but we were keeping to the schedule I'd penciled out for a departure on the 2:35 p.m. ferry.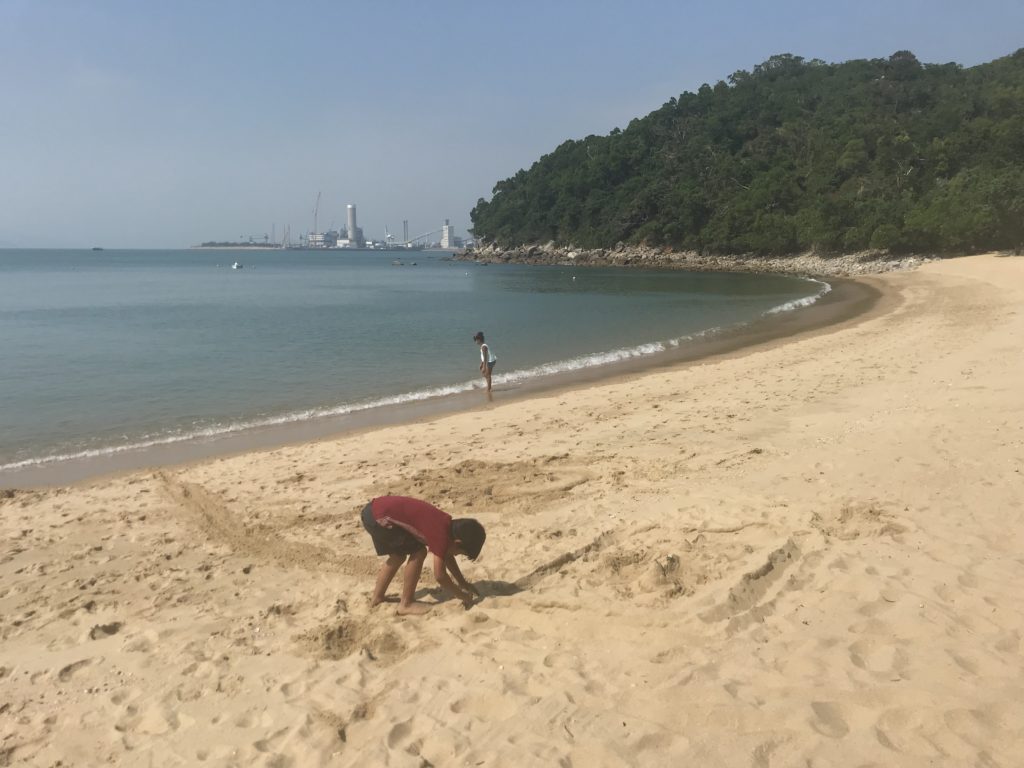 Lo So Shing Beach was small, but nice, and just as quiet as Hung Shing Ye Beach. I'm sure it's a far more popular place in the summer. There is a nice shaded area with benches, letting me watch the kids while still relaxing after our hike. There are both bathroom facilities and a refreshment kiosk available (apparently closed in winter), if needed.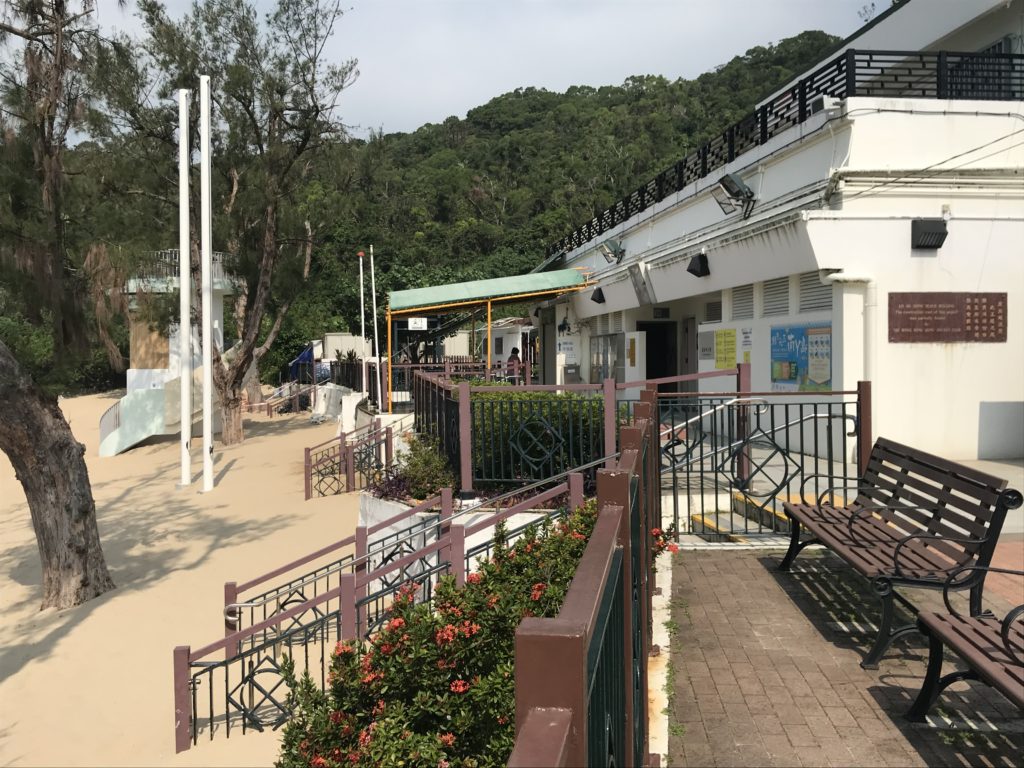 The kids enjoyed building castles and playing in the water, which was surprisingly clear. I guess I figured that murky air would translate to murky ocean water, but that certainly wasn't the case, at least not at this location. If we all had our bathing suits, it would have been perfectly suitable to swim, although there were signs posted saying not to swim, due to lack of a lifeguard. Lifeguards are present during the summer months. 
Two sad faces stared at me when it was finally time to move on. But we had a schedule to keep. I didn't want to miss the ferry and have to wait another 90 minutes for the next one. 
Final stretch to Sok Kwu Wan. And Lunch.
Our next stop was the Kamikaze Caves. This might sound a bit intimidating, but they are literally just holes carved in the rock face where Japanese soldiers were to conceal speedboats loaded with explosives for use against Allied shipping late in World War II. The caves were never used for their intended purpose.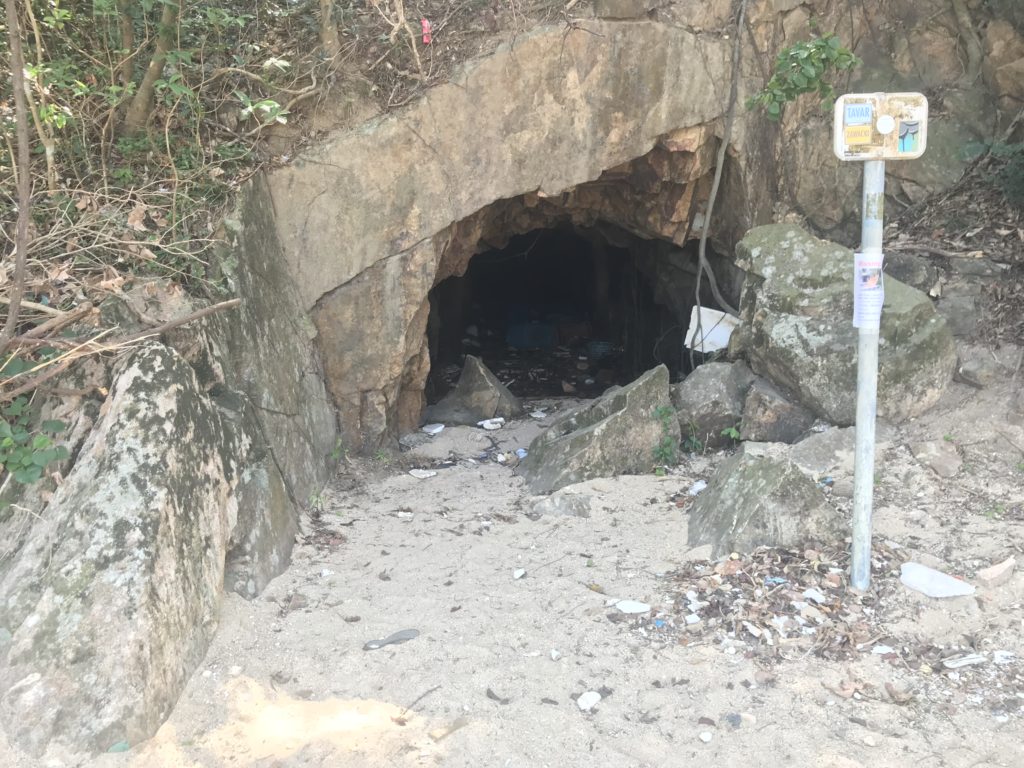 From there we wound around to Sok Kwu Wan, where lunch awaited us at a small seafood restaurant along the cove. We stopped at the first place we found, Rainbow Seafood Restaurant, which was probably a mistake. I knew we'd be paying a bit more for lunch, but I didn't expect it to set us back $50 USD for three dishes, two of which weren't even seafood. The lemon chicken was excellent, though. We certainly could have eaten well for less than half of that cost back in Hong Kong itself. But when you're on an island with a handful of restaurant options catering to tourists, there isn't much else you can do.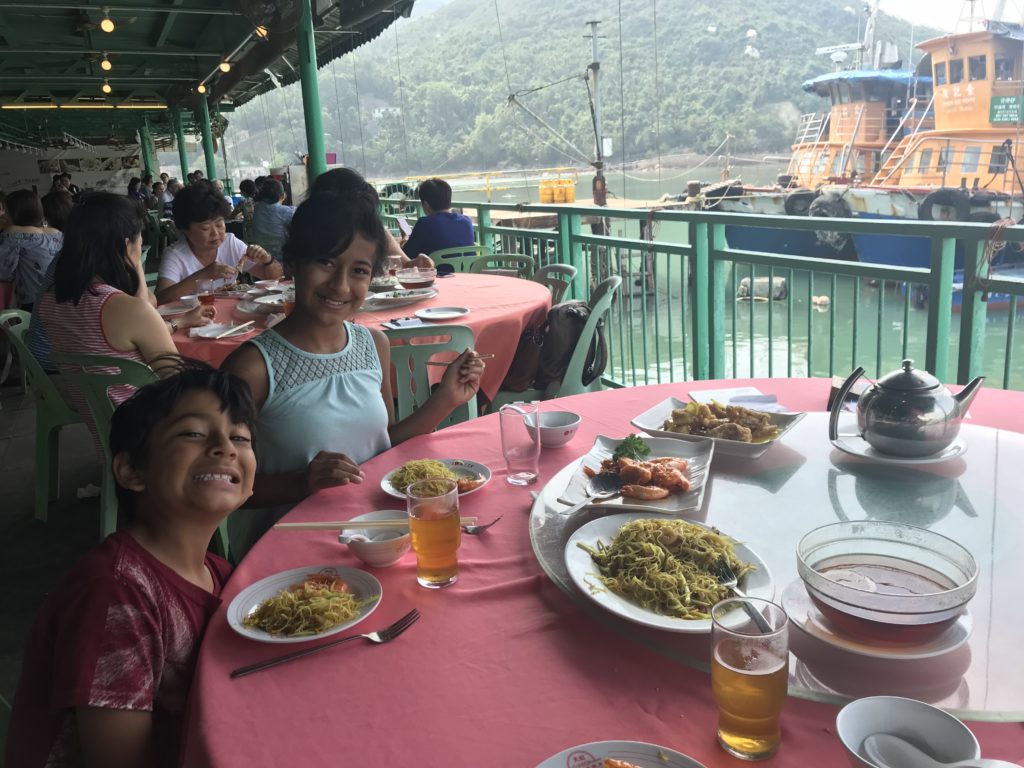 We finished up with just a few minutes to spare before we had to catch our ferry. It was arriving as we walked up the the queue at the dock. Turns out the 2:30 departure is quite popular, which makes sense, given it gets you back to Hong Kong with enough time to still enjoy part of the afternoon. 
This unfortunately meant we didn't score al fresco window seats on the ferry back from Sok Kwu Wan like we had on our first ferry ride. After departure, I finally had the gumption to jump in the one unoccupied seat near the window between two other people for a few minutes to snap some photos. It totally makes sense that these seats are the best in the house. The view of the high-rises heading back into Central is spectacular. The Hong Kong skyline might be the finest I've ever seen.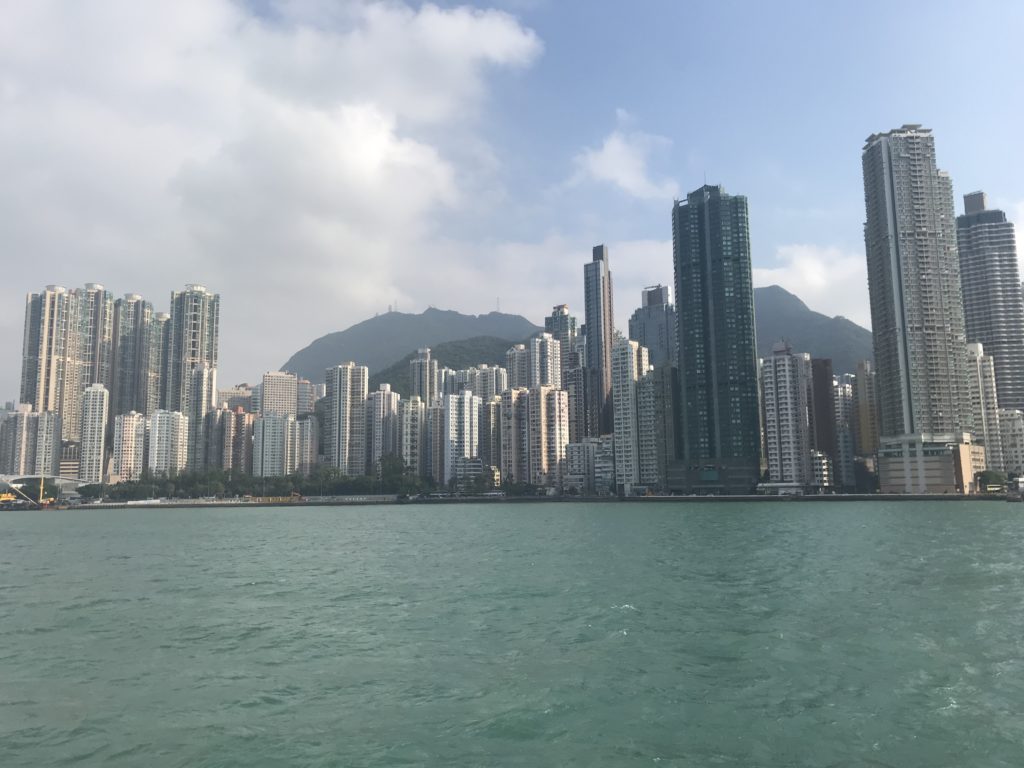 Wrapping up our day
We disembarked at Pier 6 and made our way over to the ferry back to Kowloon. One more ride across the water and two stops on the metro and we'd be back at the hotel for the evening. But first we had to stop and try the purple potato soft serve I'd been eyeing since our first ferry ride.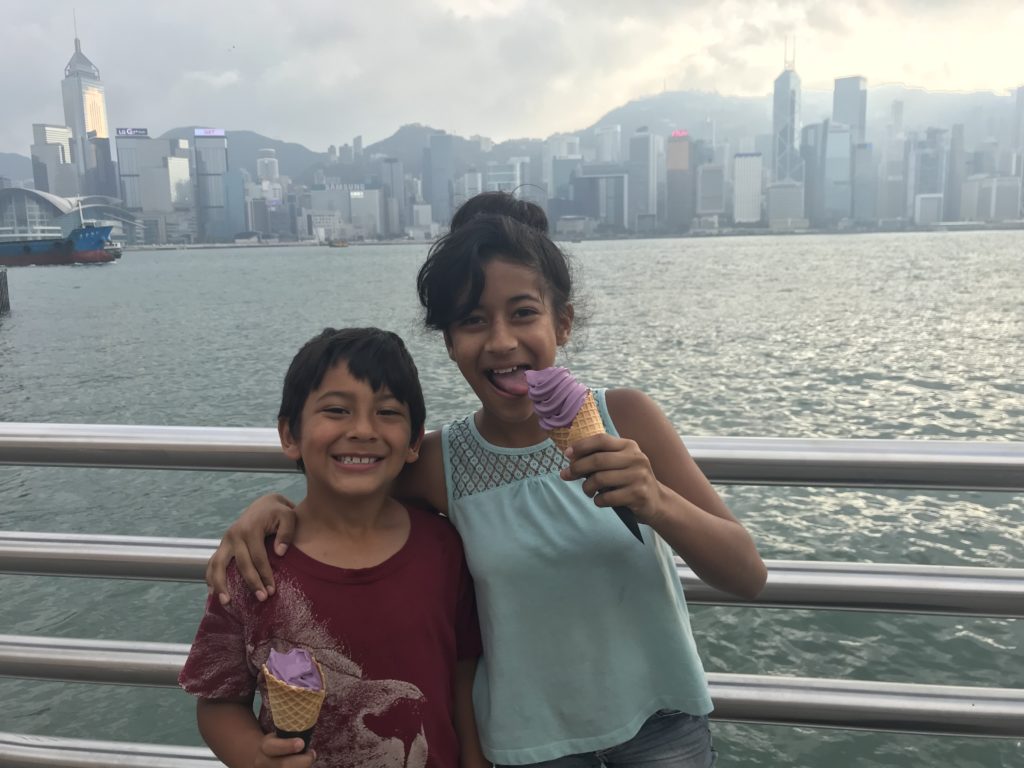 It…tasted like sweet potato. The kids weren't so keen on trying it, but it was a two for one special and they ended up liking it. So guess who gave up his ice cream.
Back at our hotel for the evening, the kids got in an hour of schoolwork. Trying to keep up while traveling is a bit tough, but we were managing. We'd also have additional time at the airport the next evening. 
Dinner was KFC and McDonalds eaten in-room. I'd obviously prefer something authentic, but if pressed for time with two rather unadventurous kids (when it comes to food), we had to stay close to our American roots. But foreign fast food comes with its own opportunity to stray from the mundane. McDonalds Hong Kong was offering a "bolognese and fried egg angus burger", which sounded so utterly disgusting, I just had to try it. The concoction wasn't quite as terrible as I expected.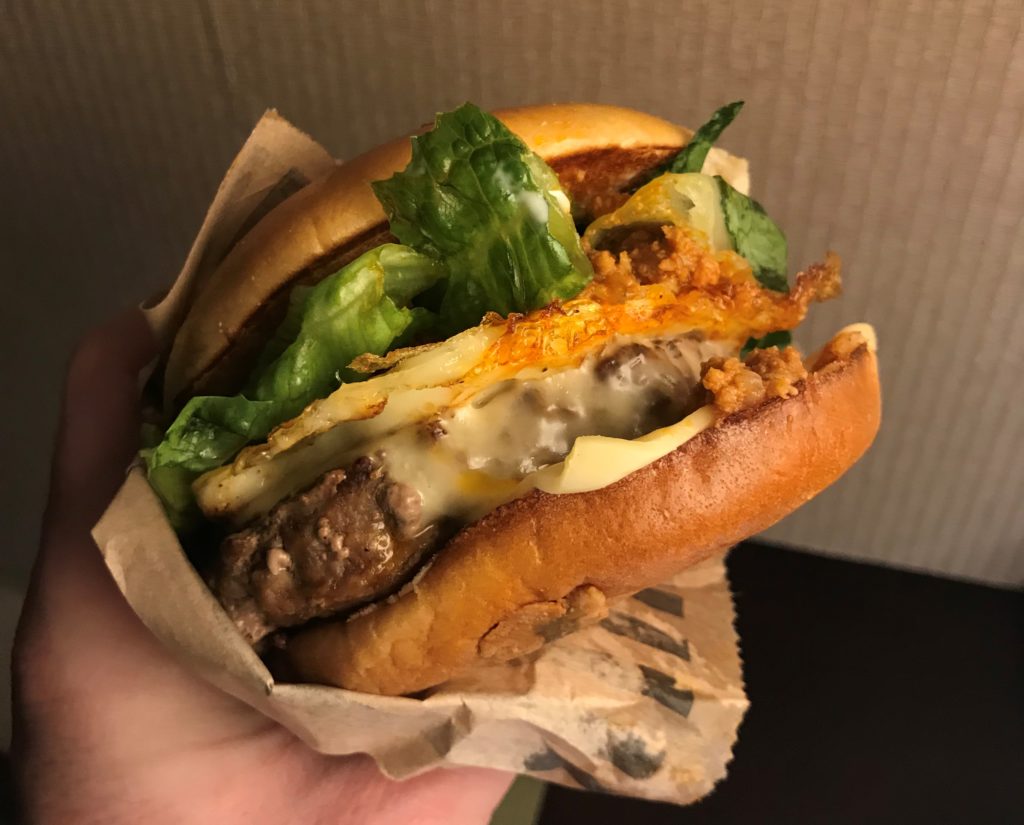 The evening was a bit special for me, however. I left the kids snoozing in the hotel room and headed downstairs to meet Jason Francisco, a fellow contributor to Points with a Crew, and another dad who has his own travel blog (SEE: Daddy Travels Now).
We chatted it up for a couple hours, some things related to life and kids but most of all travel. It was awesome to have someone else with whom to discuss both the love of travel and the usefulness of miles and points to make so much happen. When 10:00 p.m. rolled around, I had to call it a night, our last official night in Hong Kong.