Pros: Fantastic location, beautiful lobby, great loyalty recognition, room had an awesome airport view
Cons: Lounge wasn't serviced well in the evening
Our final night before we called off our original trip to Europe (which was subsequently re-planned) was at the San Francisco Airport Marriott Waterfront. I wanted to be in close proximity to the airport for our flight out the next day, and it was a great option. It would also be the final night for finishing off my Marriott Platinum challenge (SEE: Fast track status: how to sign up for a Marriott Platinum challenge).
Arrival at the San Francisco Airport Marriott Waterfront
We didn't have to travel far to the hotel since we'd been staying in SF for free the previous two nights. There were a couple reasons I wanted to be in a hotel that night. First, I needed to be able to clean the apartment, launder the linens and towels, and tidy up in general, and I didn't want to rush through all that during our last morning. Second, I wanted the kids to be able to enjoy themselves after two days of being cooped up with just their math books, activity books, a few toys and a couple movies while I was in all-day work meetings. I knew that a swim in the pool would make their day. Plus, I was still split on whether we'd actually head out on the trip and I wanted them to enjoy some part of our excursion to San Francisco.
The most cost-effective option to get to the hotel was (amazingly) Uber from the city. We paid right about ~$30 to get to the airport hotel. BART to the airport would have cost us a hair more, and then we would have had to walk through the terminal and take the airport shuttle. After thanking the Uber driving we walked inside to a beautiful lobby with a great view of the Bay.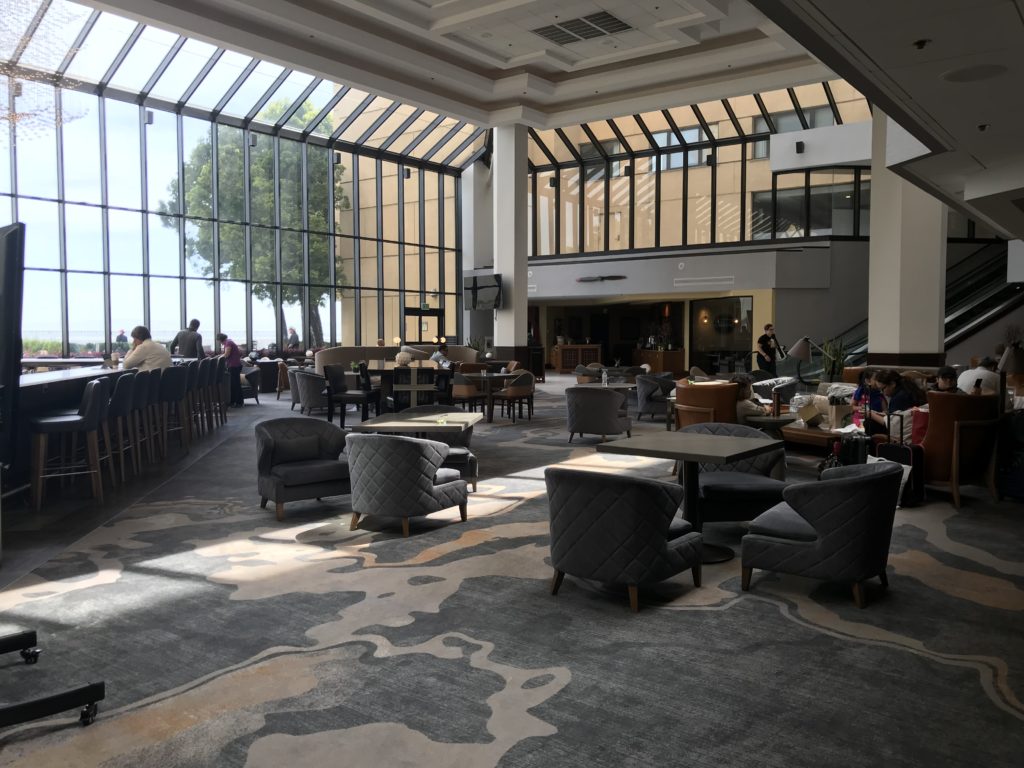 There was no check-in line when we arrived at the San Francisco Airport Marriott Waterfront. I had decided not to check-in early with the Marriott app, hoping to ask for an upgrade to at least a bay view room from which we could watch the planes land. The agent at the front desk said that wouldn't be a problem and soon we were on our way to the 10th floor with our room keys.
Sweet first impressions
The agent failed to tell me that he had gone beyond just an upgrade to a bay view room; we were given a corner executive suite with a stunning view of both the airport and runways! My kids were thrilled. To date this is the best Marriott upgrade we'd been given, and I didn't even hold Platinum status (although I do now).
The suite had two queens beds in the bedroom area, which was separated from the living area by a doorway.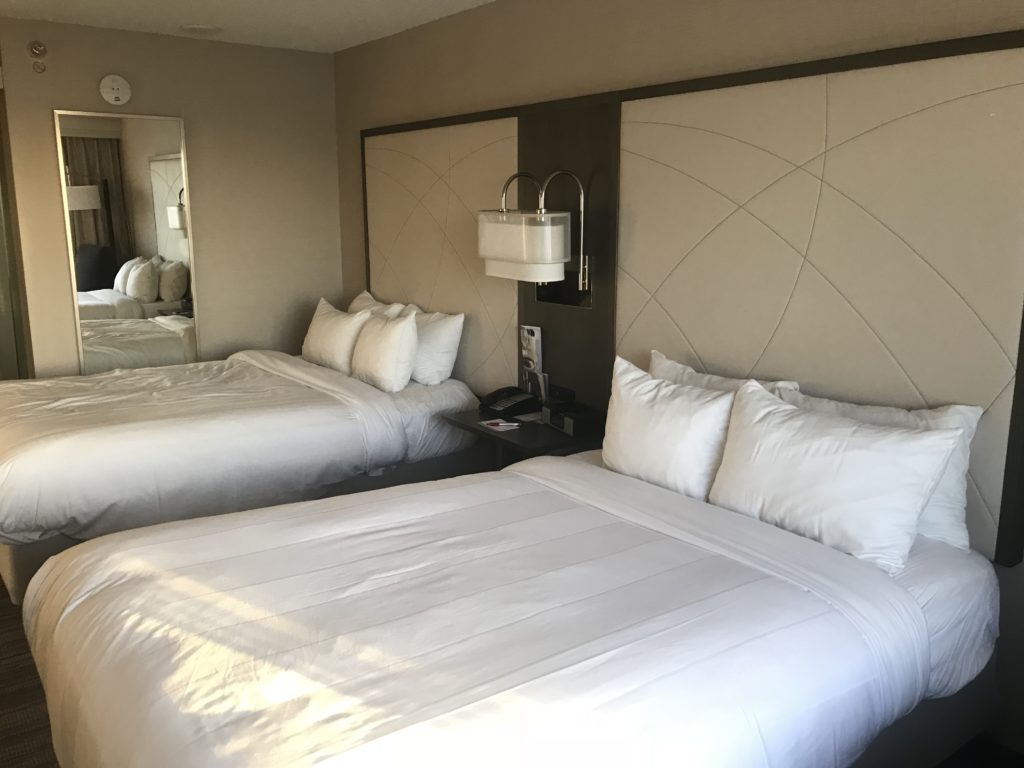 The living area for its part was furnished sufficiently, with a couch, armchair and a table and chairs for four.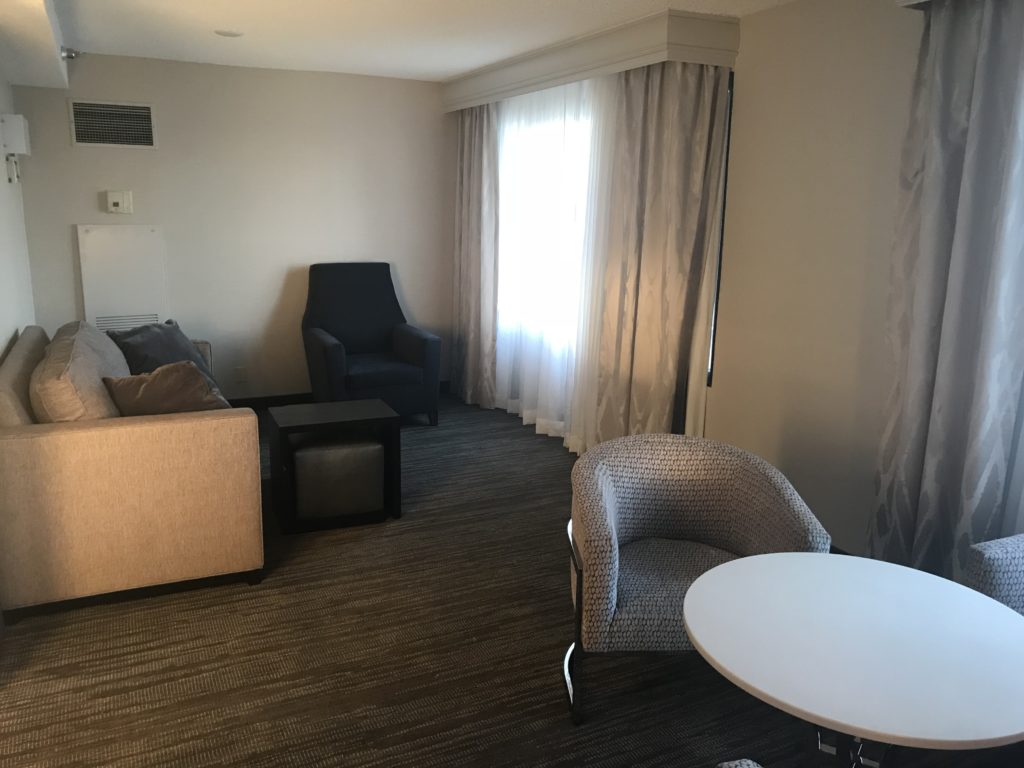 The best part of all was the view, of course. I've already touched on that. Watching planes coming and going at SFO from the comfort of our room was awesome. You can sit and eat (or work) and catch every wide-body that touches down at SFO.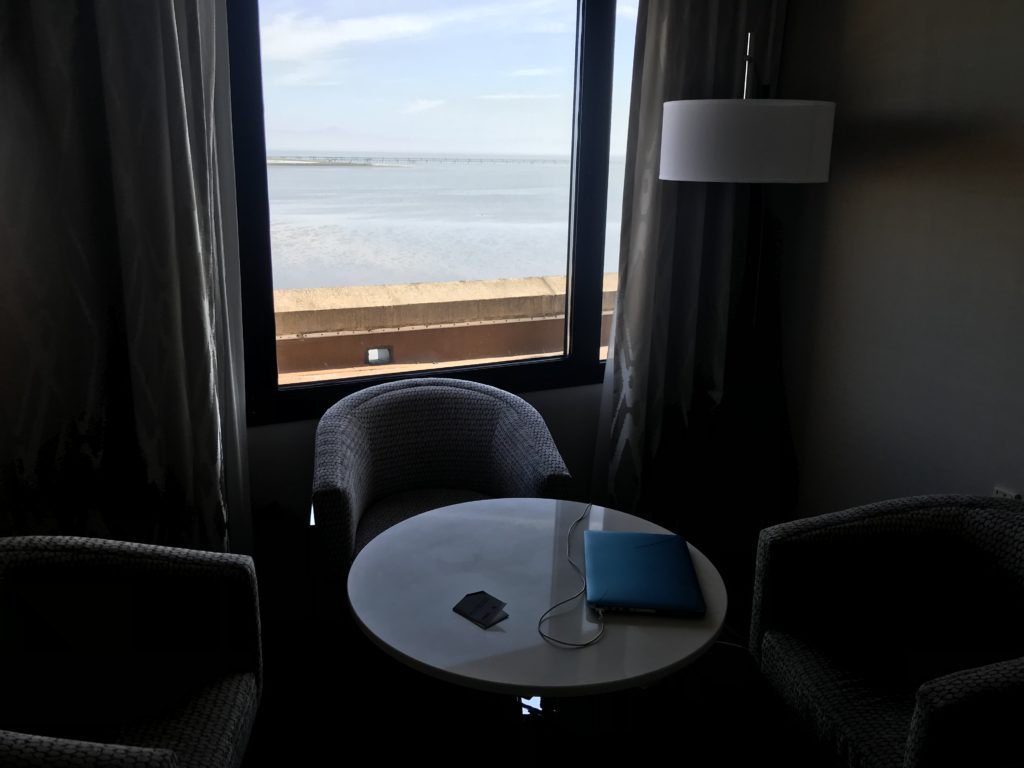 The room had the other typical amenities, like a desk and TV.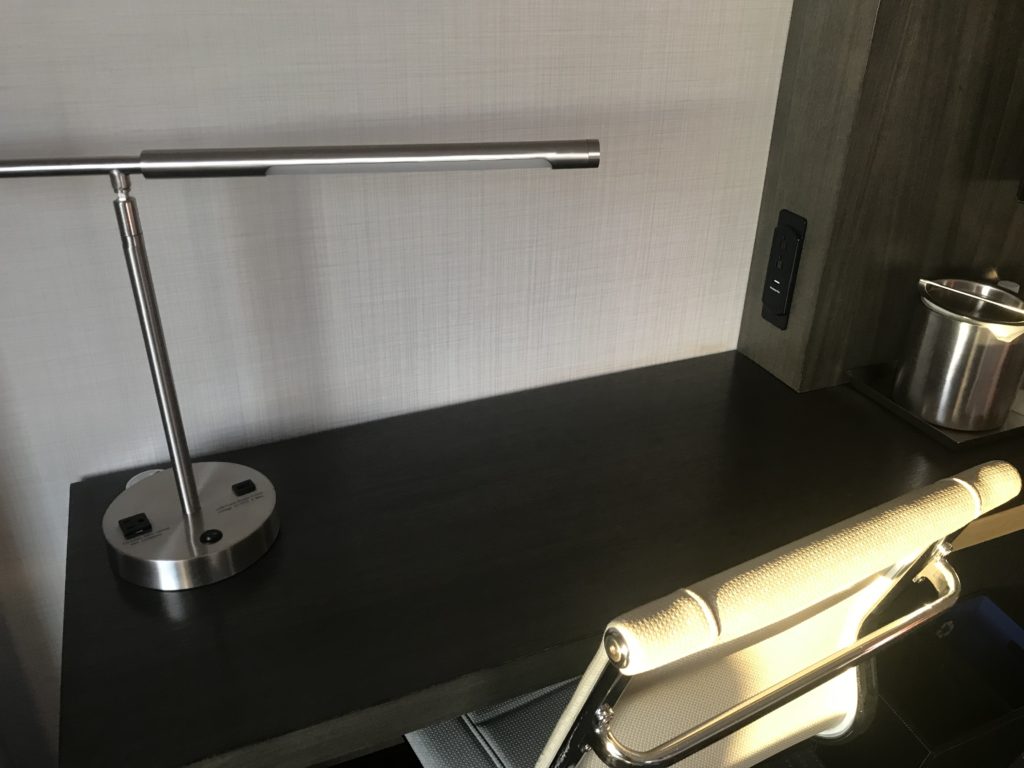 Oddly, there wasn't a second TV in the living area.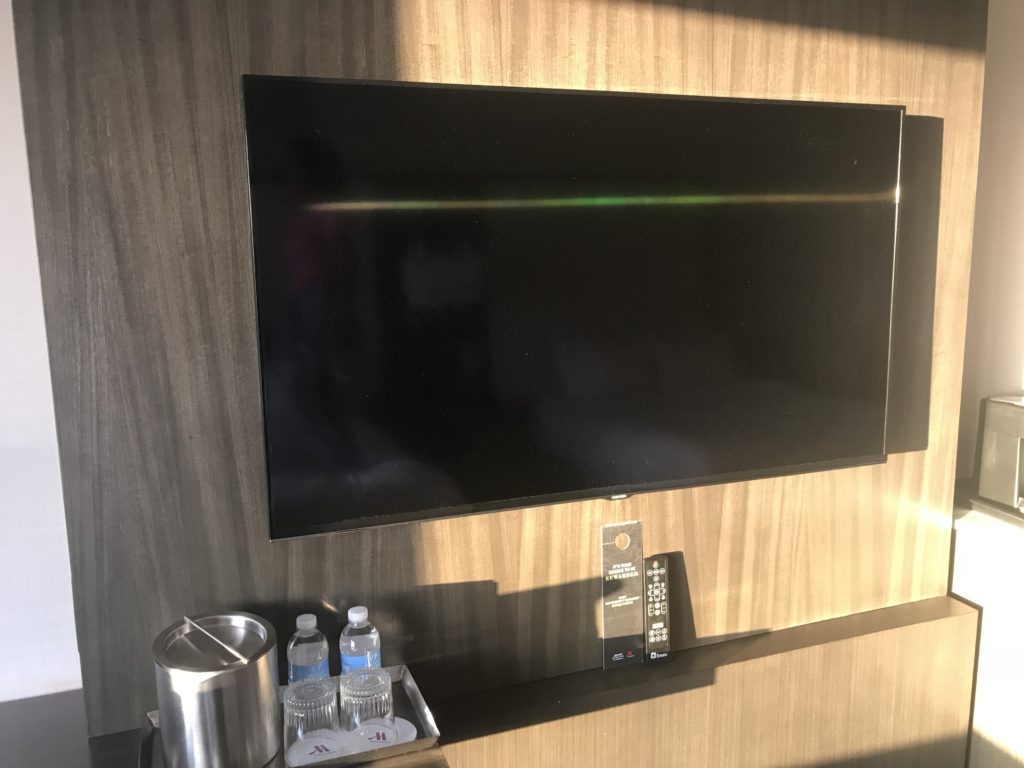 Most suites I've ever been given have more than one TV if the bedroom and living areas are separate (or a creative solution like this Hyatt House hotel). But this is a small concern to me. We hardly ever turn it on anyway.
I don't know the occupancy of the suite, but it would have been sufficient for our family of five. With a couch, a table and chairs, a desk and plenty of space, it is ideal for a family. The primary difficulty would be guaranteeing that you get the room, short of paying the $350 the San Francisco Airport Marriott Waterfront was asking that night.
Bathroom
The bathroom was the only awkward part of the room. For starters, the door didn't lock. This really isn't an issue if you're traveling as a couple. But with two of my kids, it could have been a bit awkward. Luckily, the toddler wasn't along to pull it open on me.
The suite had only a glass shower, which was fine. I actually prefer this. But note that there isn't a tub, in case that is a necessary amenity for you.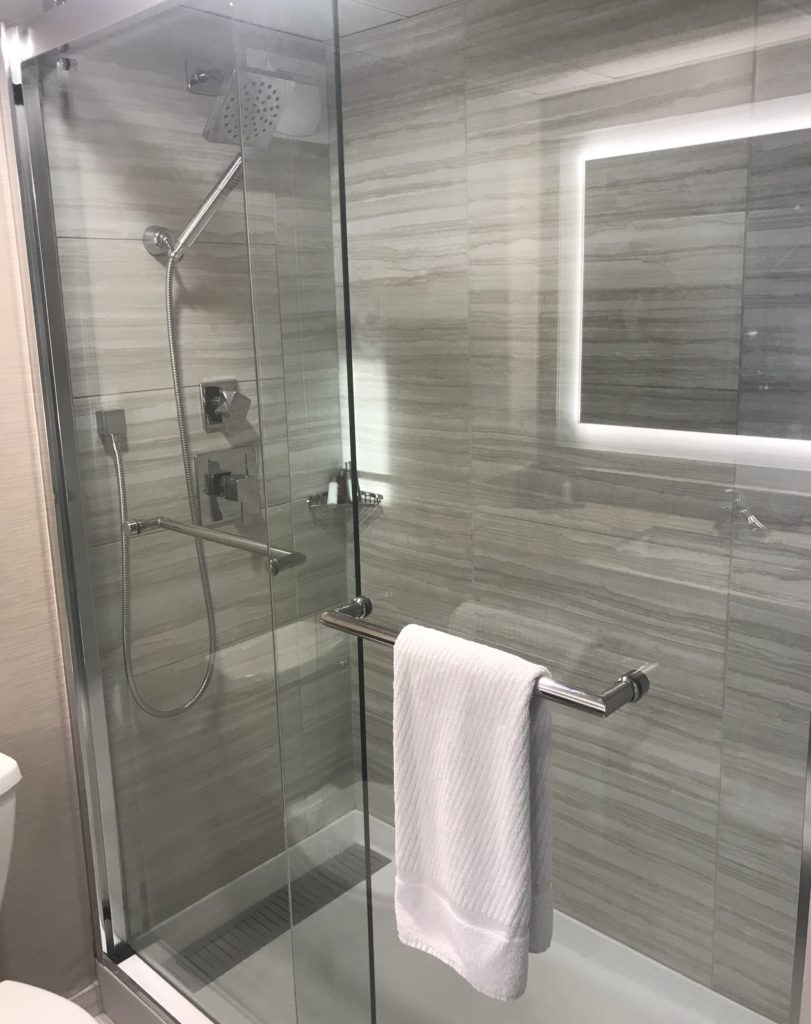 I never really care what the branding is of the bathroom amenities as long as they give you some. The only ones that ever really wowed me were at the Park Hyatt Milan.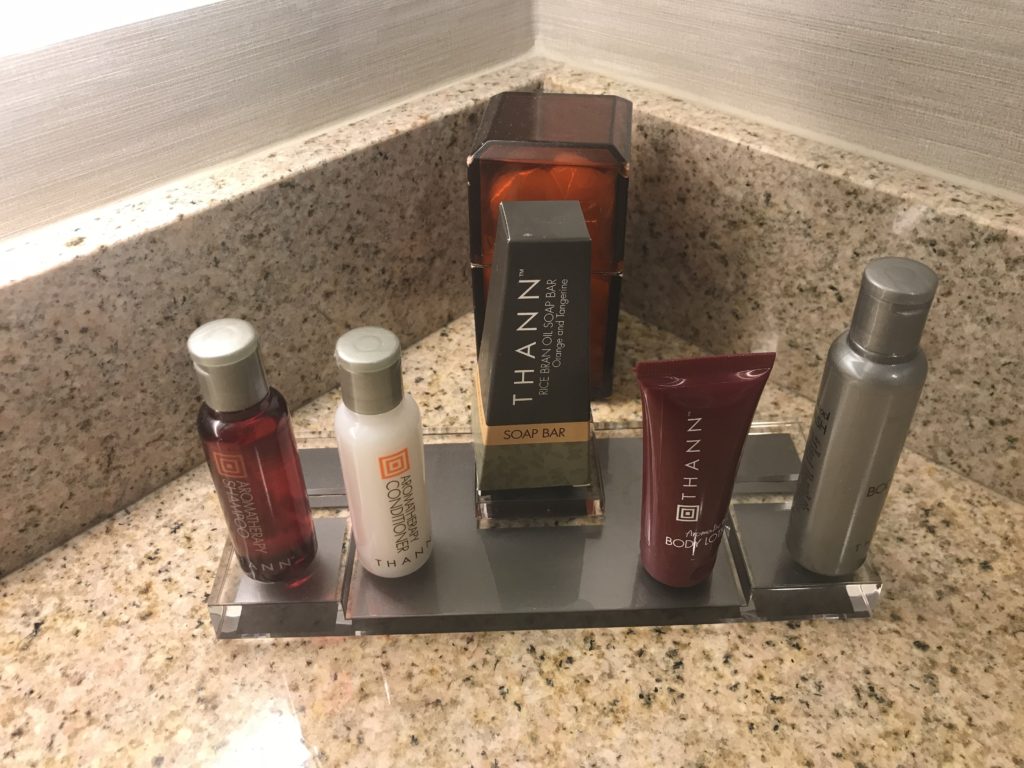 M Lounge at the San Francisco Airport Marriott Waterfront
Since I have Marriott Gold status, we were granted complimentary access to the M Lounge. Typically, lounges offer a light breakfast in the morning and snacks in the evening, plus some other amenities. The M Lounge offered a good amount of seating.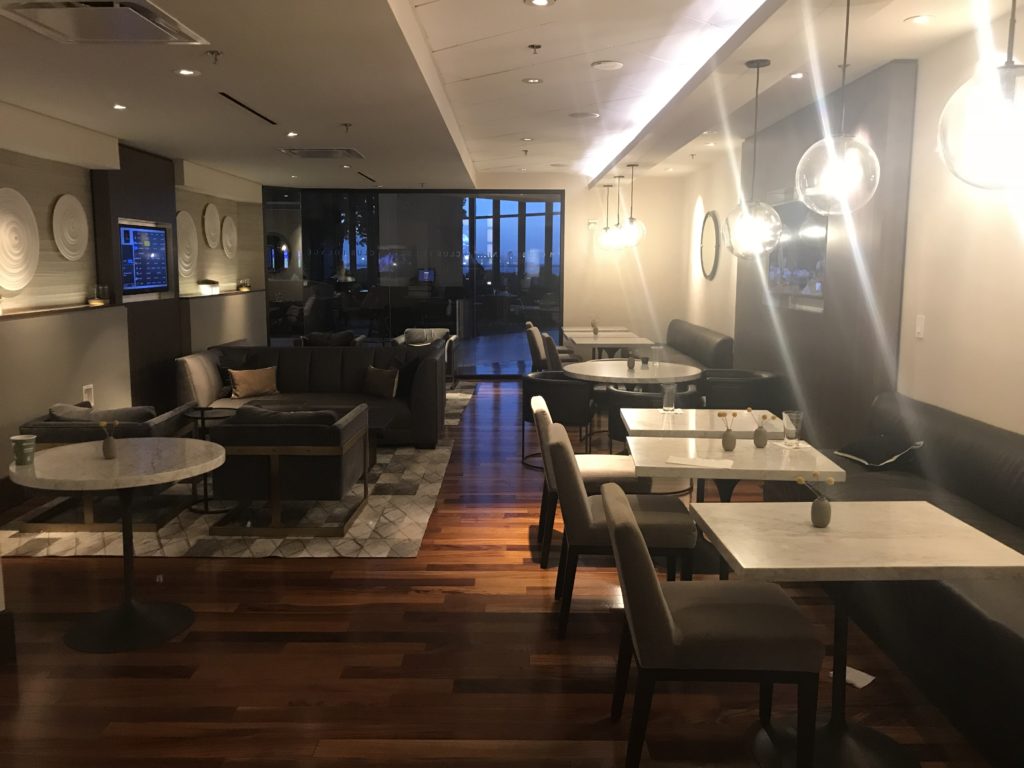 We arrived a little late, and there wasn't much to be found in the lounge. They had a few canisters of snacks, consisting of gummies, M&Ms and Chex mix. Not really anything you could even being to call dinner. I prefer when places will at least have crackers, veggies and other light fare that you can eat enough to say you had dinner.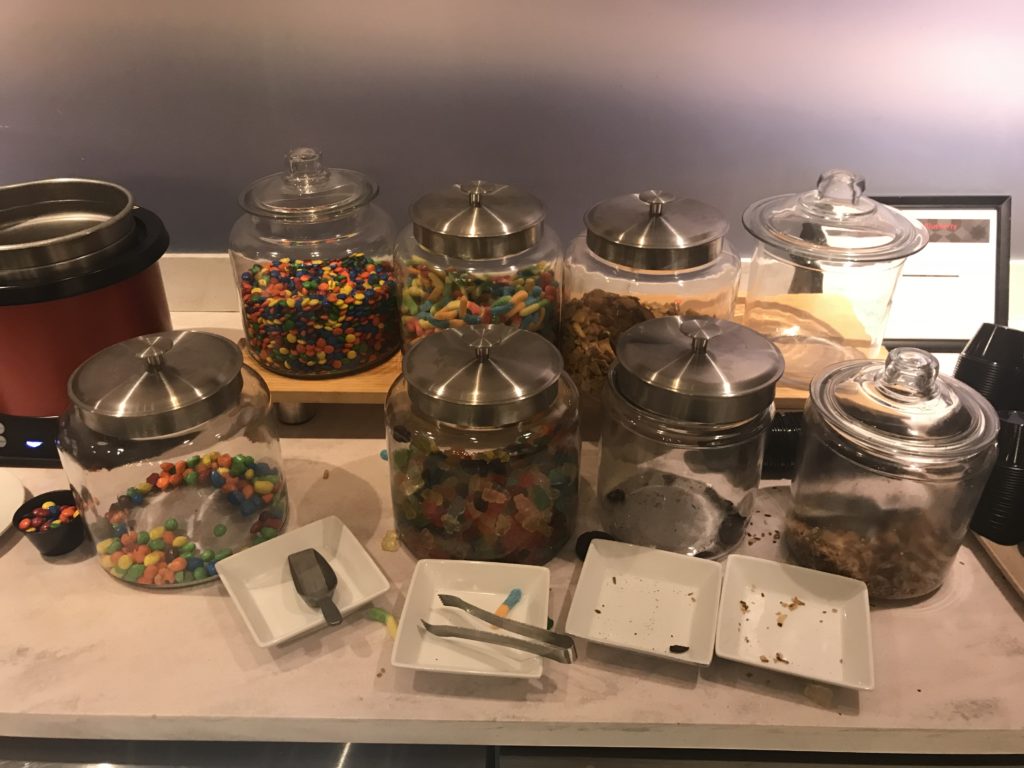 Well…the options here were let the kids eat snack food or go pay for dinner at the hotel restaurant. I did what any dad would do when mom is not around and let the kids eat Chex mix and gummies for dinner. We fortunately also found some yogurt, which ended up being the main staple. I'm sure it was in the cooler as part of breakfast, but I still considered it fair game. Our other choices were milk, butter and a single type of soft drink.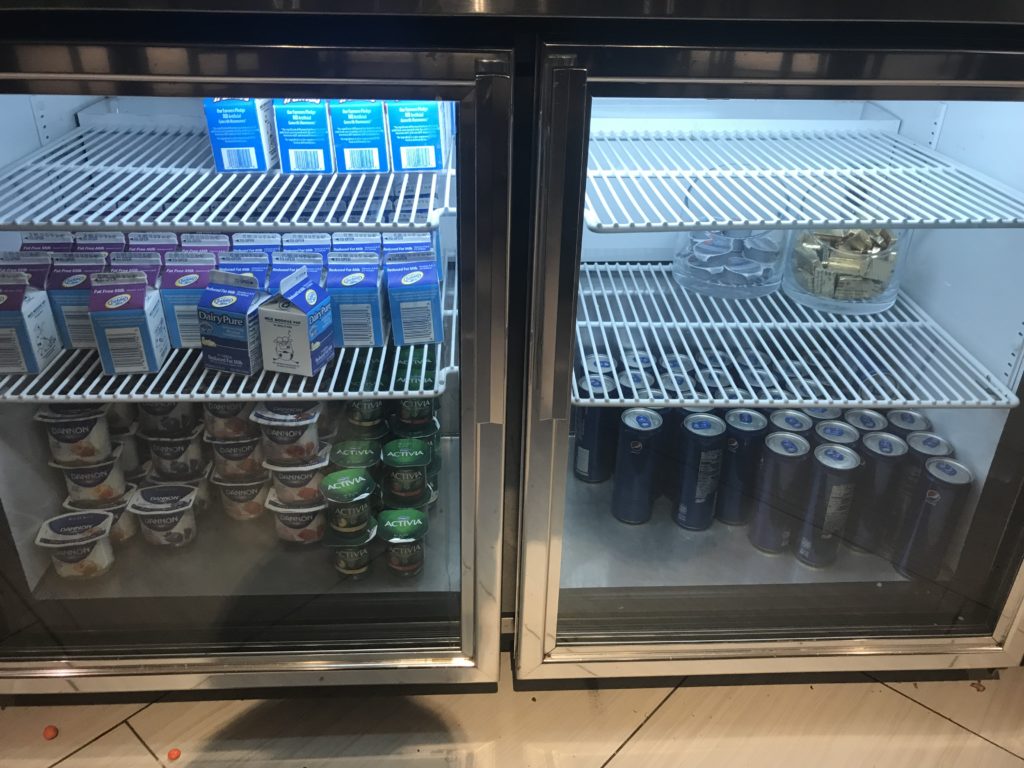 The lounge space itself was nice enough. The one problem was that people continued to come through, and no one was there to either clean or restock any of the snacks.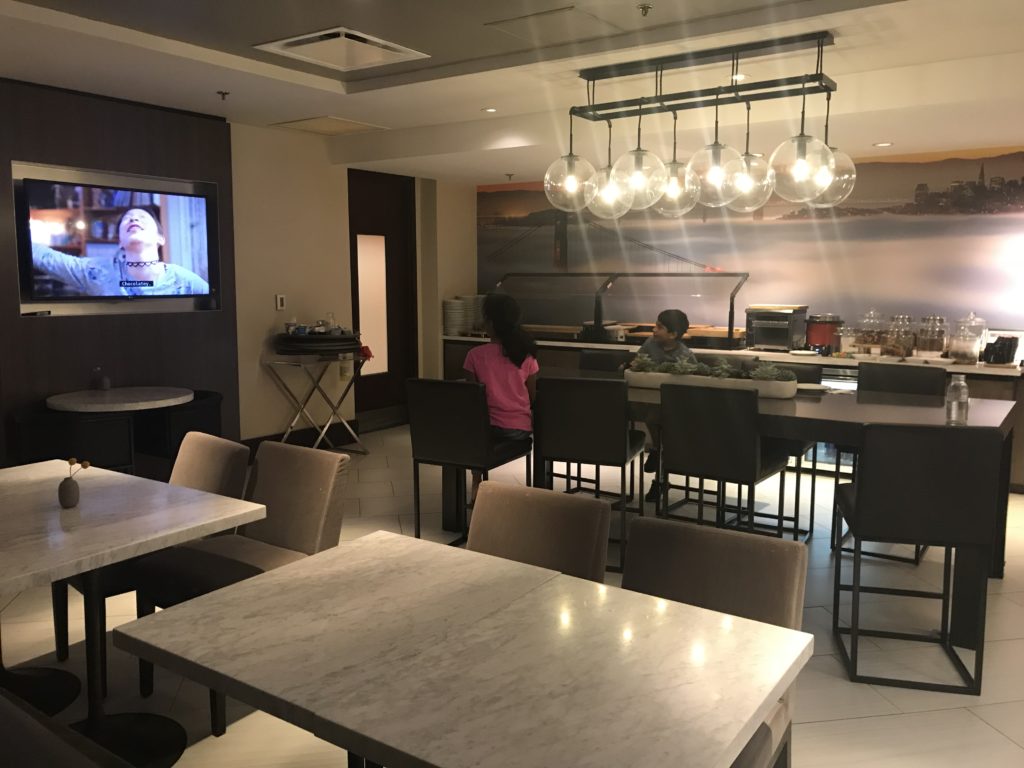 Finally, just when we were about to leave, an employee came by with more of everything to refill the canisters.
Breakfast
Breakfast in the morning was a bit better in the M Lounge. Selections included eggs and bacon, fruit, yogurt and other items. The selection wasn't huge, but we found it sufficient.
The one downside was that the place was a zoo. This is the one reason I didn't take any photos during breakfast. It always feels awkward to me trying to take photos at a hotel or lounge buffet with people all around me.
Alternatively, you could eat in the hotel restaurant. But free food at the lounge with Marriott elite status is a perk. I'm not going to turn it down.
Swimming Pool
If your kids are anything like mine, the most important amenity of a hotel is the pool. We definitely made time for a morning swim.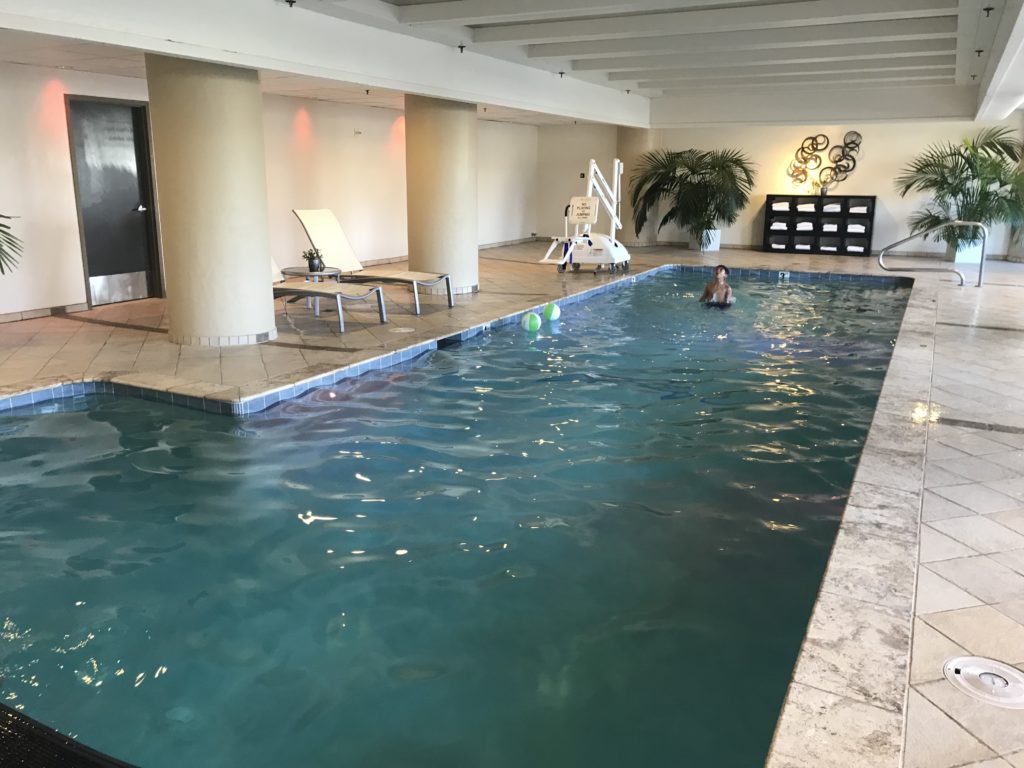 The pool at the San Francisco Airport Marriott Waterfront isn't very large. But it's nice enough. There is also a sizable hot tub.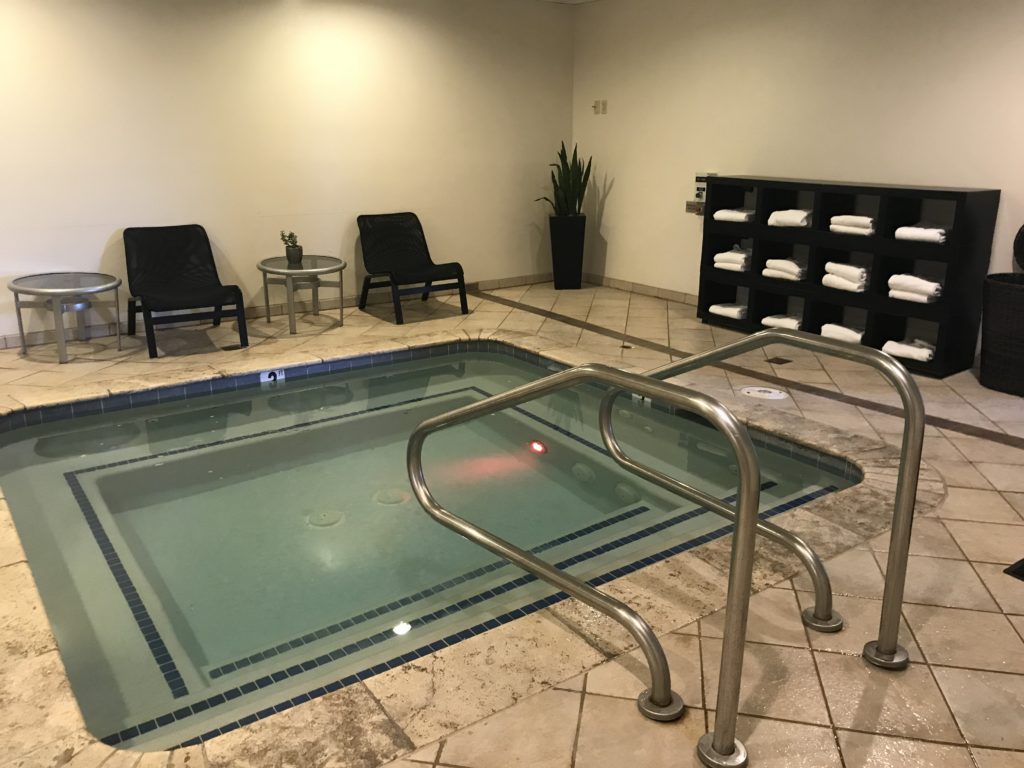 The plus was that we had the pool to ourselves when we visited. We stayed about an hour before heading back up to our awesome suite to watch some more airplanes.
An avgeek paradise
The San Francisco Airport Marriott Waterfront sits to the south of SFO with enviable views of the airport, runways and bay. It's in an ideal location for an aviation geek. If you decide to visit, make sure to book a room with a Bay View and/or ask for an upgrade at the desk. The view of the airport is really the hotel's best feature.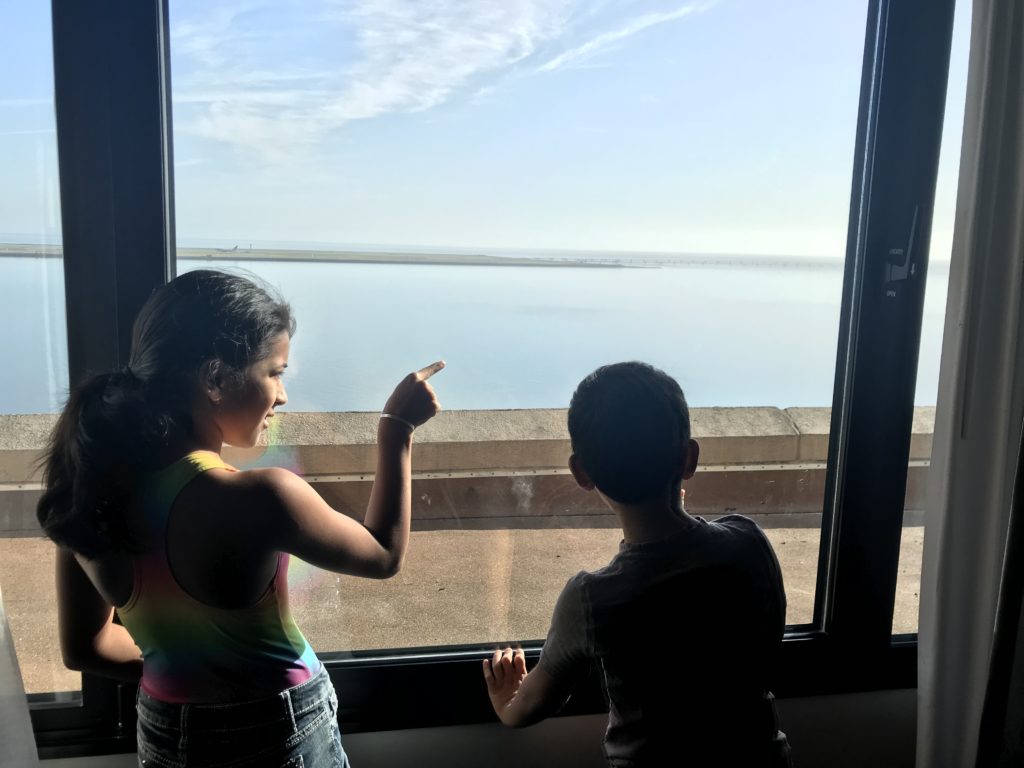 We were in a corner suite on the airport side, so our views not only included runways 28L and 28R, but San Francisco Airport itself. We could watch jets land and take off at our leisure.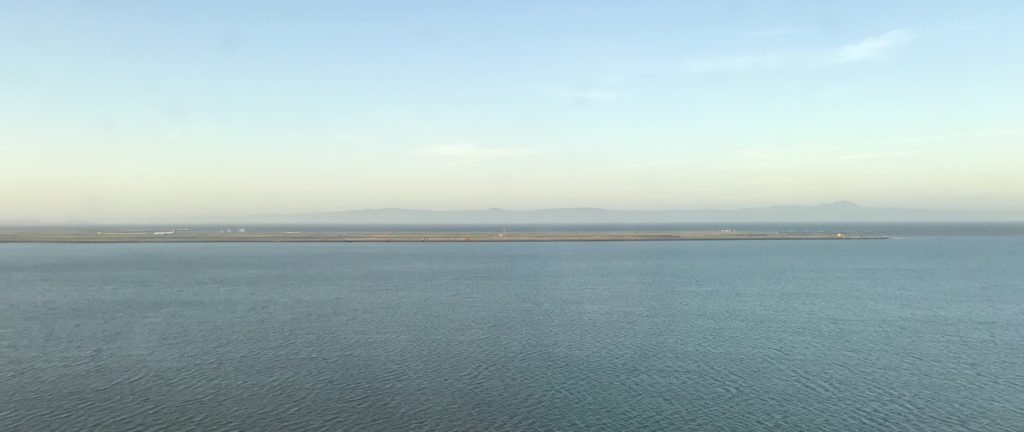 Given the dirty state of the windows, the photos aren't the best.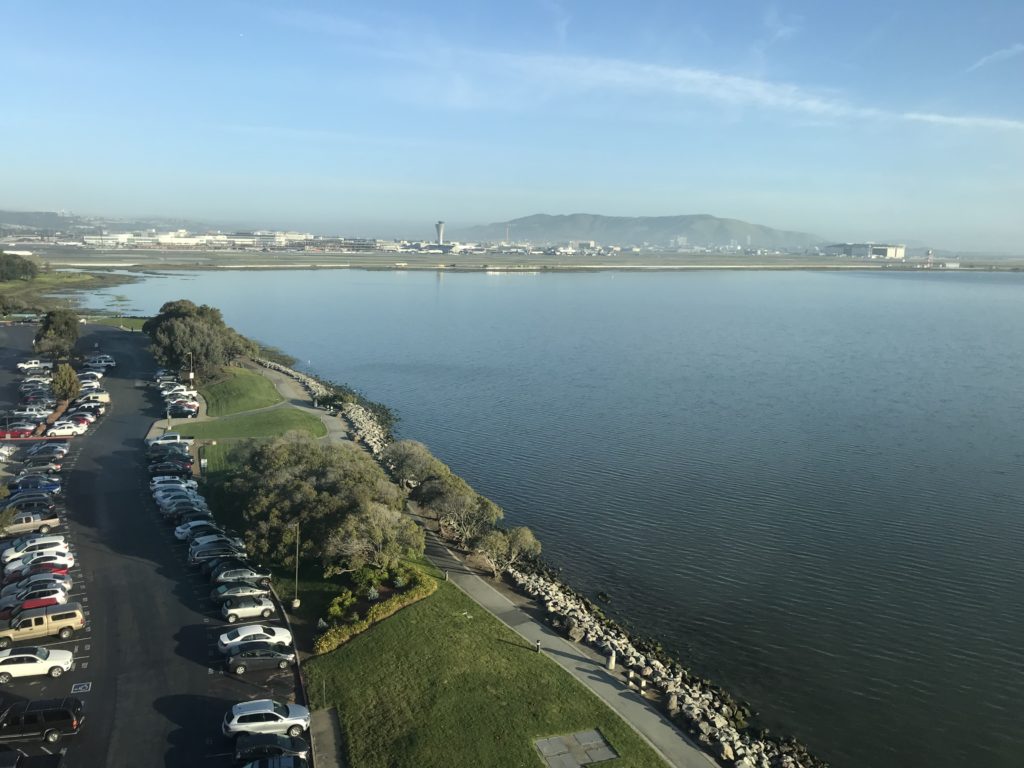 You could probably get some great shots from the waterfront walk along the Bay in front of the hotel, which is another great spot to hang out. How I wished I had a decent camera to take some photos of the airplane landing action on 28L and 28R.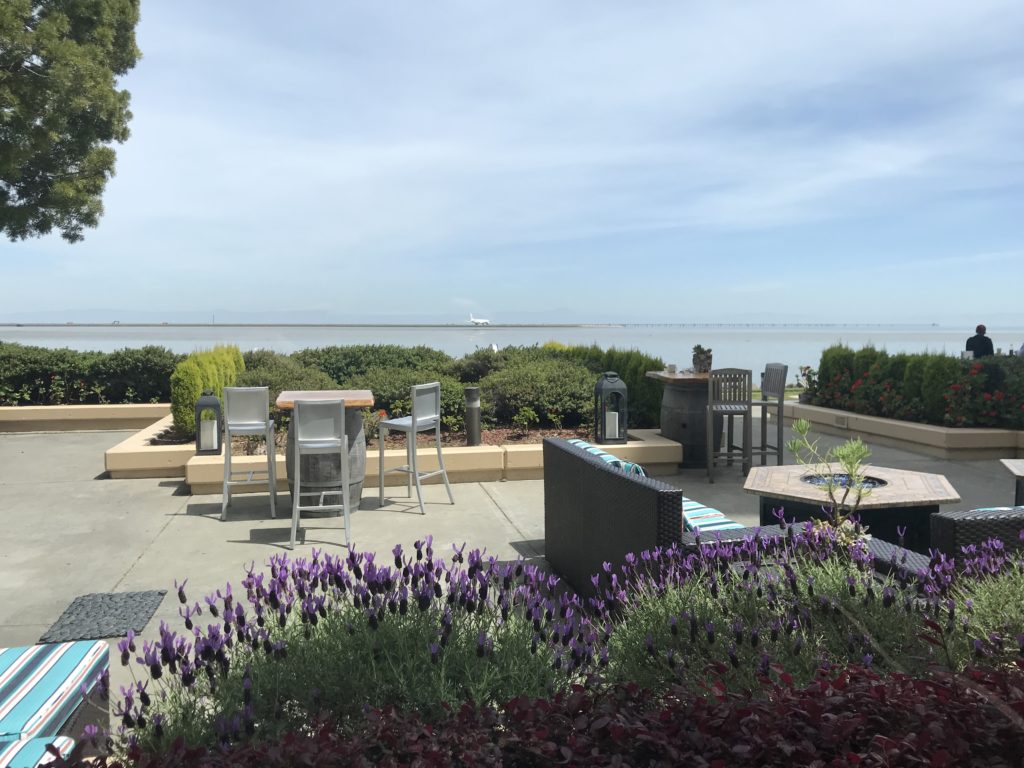 Final remarks
The San Francisco Airport Marriott Waterfront is now in the running for best SFO airport hotel. The other one I'm really partial to is the Staybridge Suites San Bruno, where we burnt our IHG free night certificates last year (SEE: Why the "best value" redemptions might not actually provide the best value).  The benefit of Staybridge is that they offer a full breakfast and a better evening reception that can double as dinner. I wasn't impress with what the M Lounge had to offer.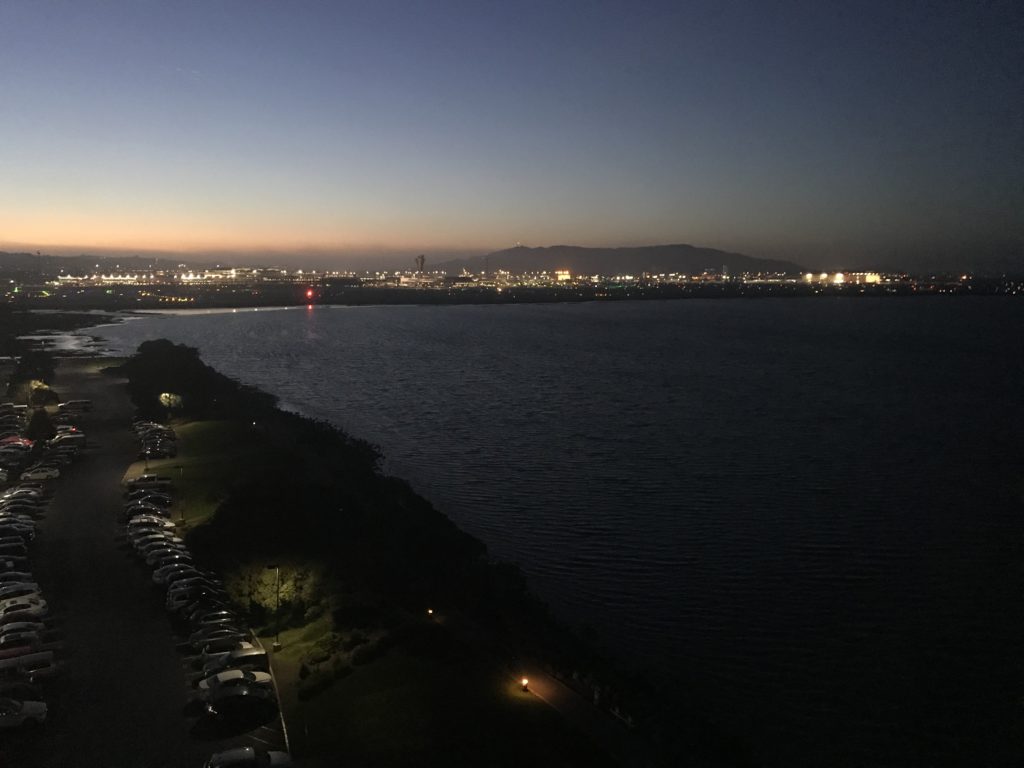 Still, the San Francisco Airport Marriott Waterfront has a lot going for it, especially given its amazing location near SFO Airport and its runways. For those with a love of airplanes, I'd highly recommend the hotel. Elite recognition was also good, given that we were upgraded to a suite without top-tier Marriott status. I'd happily stay here again.