**Trying to play catch-up on these final posts from last year before launching into more recent adventures!**
After saying au revior to Las Vegas, honestly hoping it is the last time I ever visit that enigmatic city, the kids and I drove the half hour to Red Rock Canyon National Conservation Area.
The kids complained nearly the entire time we were in the park. I wish I could say otherwise. It was "too hot" at about 82 degrees. And totally dry. I barely felt it, and I'm a wimp when it comes to the heat. Yes, these are the same kids that come from Costa Rica where the temperature routinely got this high.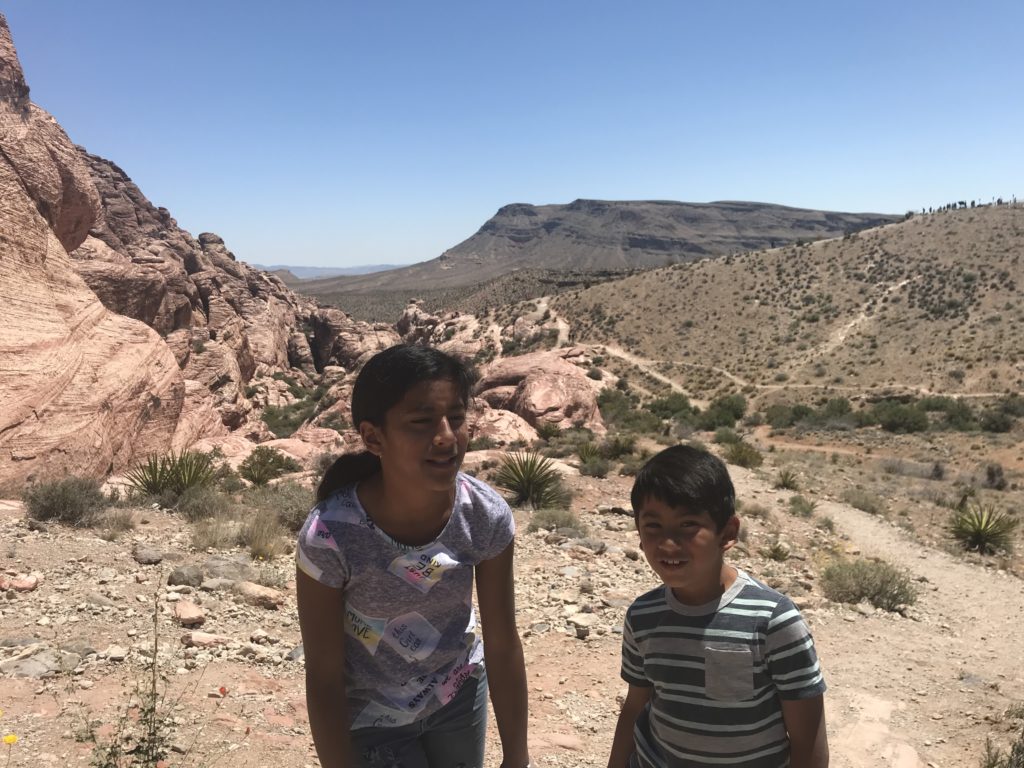 Oh, the pain of the blazing desert sun! Next time we'll visit in July so that they know what *real* heat is. They may hate me for these photos later, but I find them too funny. Their faces at Death Valley were also priceless (SEE: 3 Tips for Hiking with Kids in the Desert).
I have been giving more thought to what I post about my kids, either on various blogs or on social media, something that is definitely important to think about in this day and age. Check out this post from The Deal Mommy about respecting kids opinions about their online presence and persona (since you, as their parent, are creating and/or influencing it). Ours are not yet online, but they will be eventually.
Main points of interest at Red Rock Canyon NCA
Our first stop was at Calico Hills, a popular spot for photos and hiking. Or I should say "hiking". It was little more than a short walk down the hill and then back up, but the kids acted like it would be the death of them.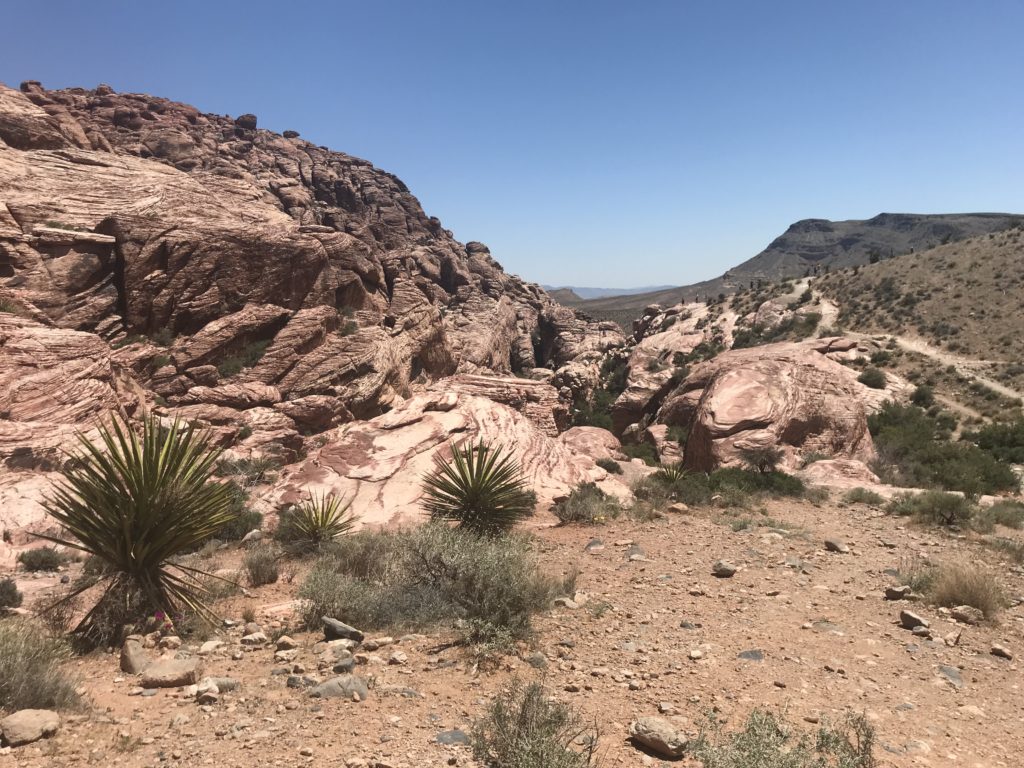 Luckily, I knew better. Our short walk turned out to be enjoyable enough, as we saw some cool desert flora and a lizard. The red rocks themselves are stunning as well. Which is why everyone visits this spot.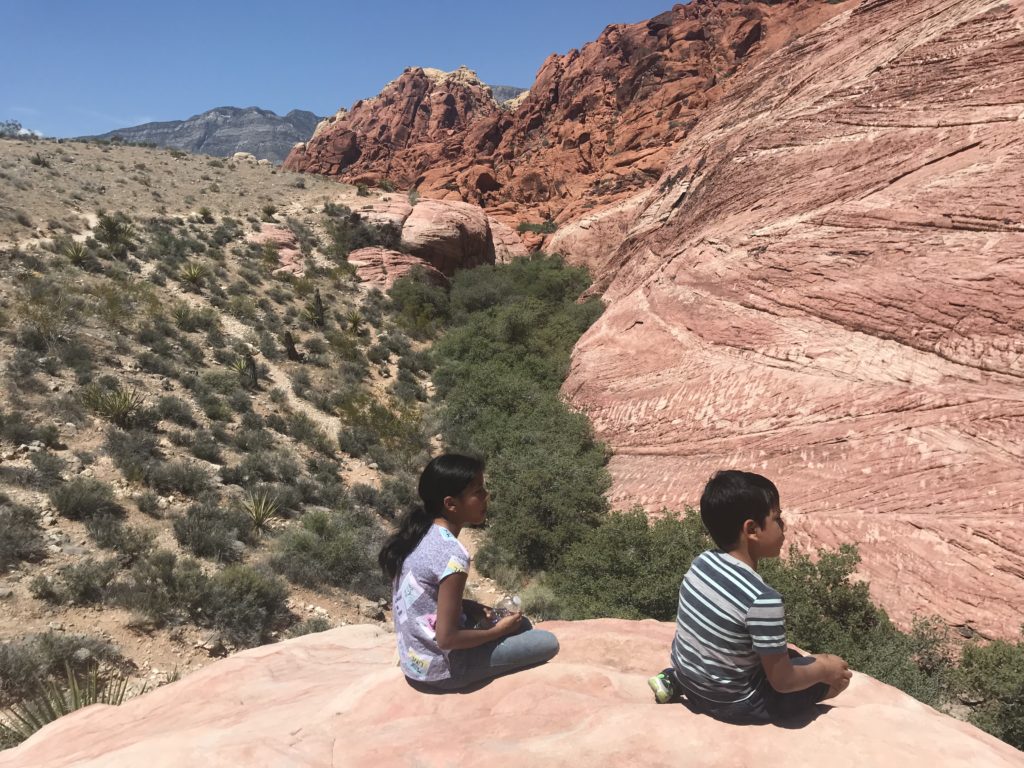 Our next stop was at the vista point for the view. It is at nearly the highest point along the road and provides a view of Calico rocks, the surrounding hills, and the Las Vegas basin way off in the distance.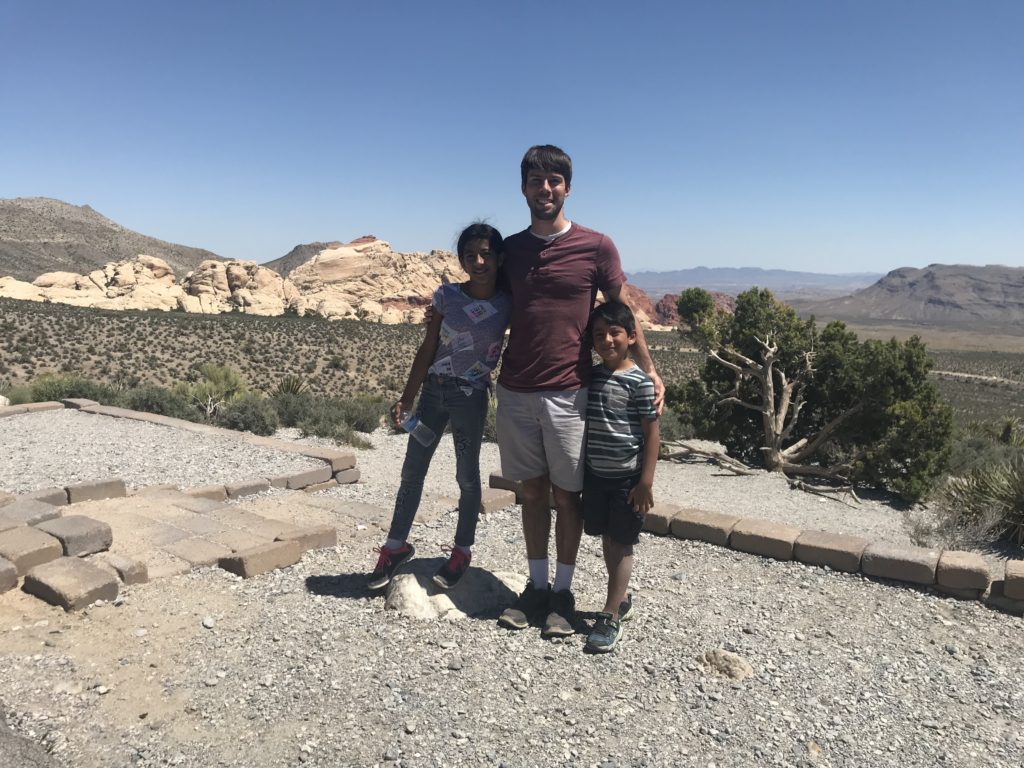 The Easiest Hike in Red Rock Canyon National Conservation Area
The final point of interest was Lost Creek Canyon Trail. We had a brief break, though, for lunch, which consisted of sandwiches, hastily made in the car. Then we all set out across the dry creek beds to see what was in store for this short hike. The trail starts out clearly marked, bordered by rocks.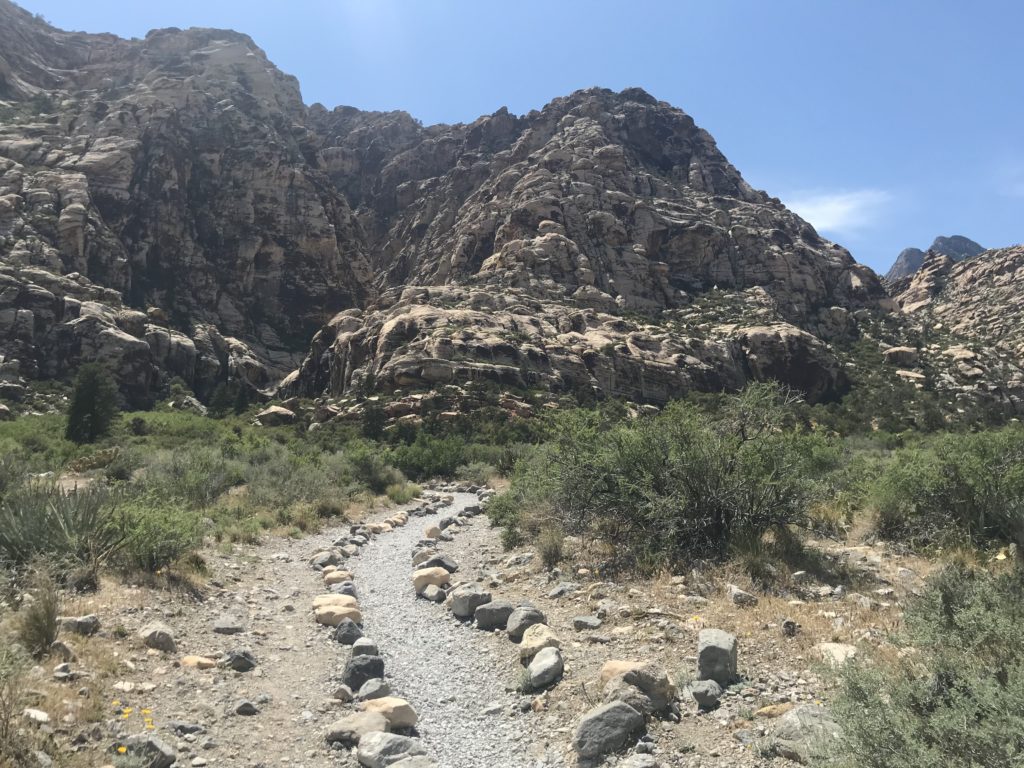 I knew that the trail isn't long. But it didn't matter how long we would be hiking. The kids wanted none of it. I might as well have offered them the Bataan Death March. The promise of a waterfall was the only tool I had to spur them on. How I hoped it wouldn't be lame.
The first "fall" (what I thought was a fall) we came to was pretty lame. But I could hear more water falling up the creek, so I was hopeful. The path became less distinct but still fairly easy to follow.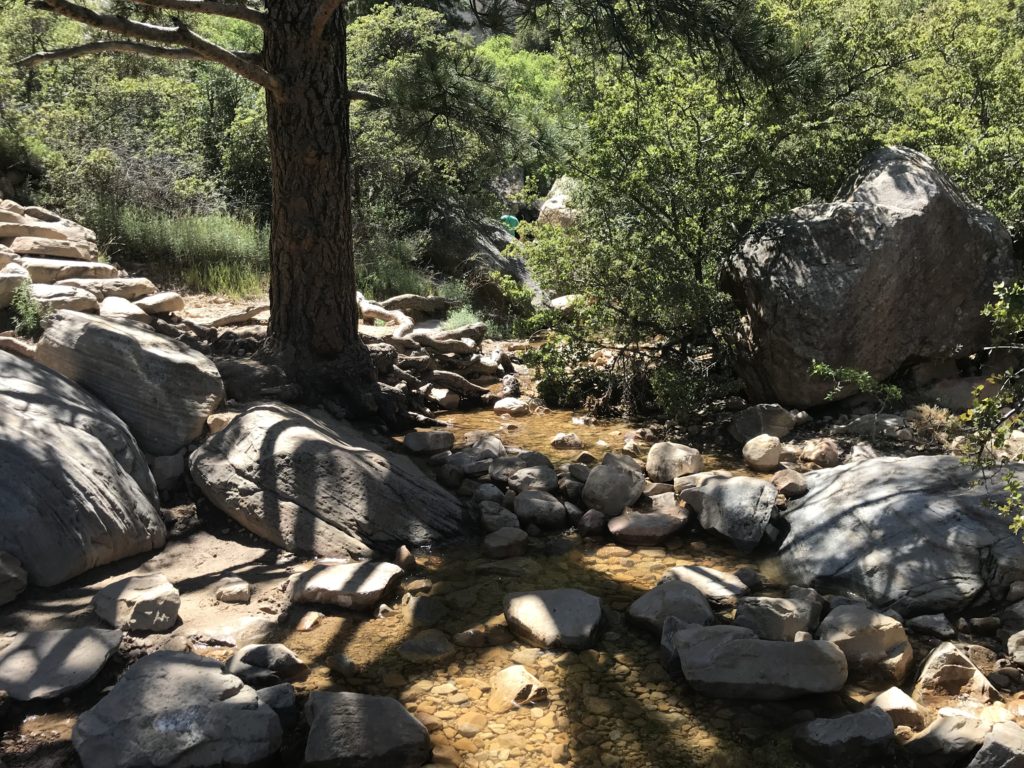 The whining began again, and rather than deal with it, I just kept walking and let the kids catch up. Hope returned after we passed another group who said the real waterfall wasn't too far ahead.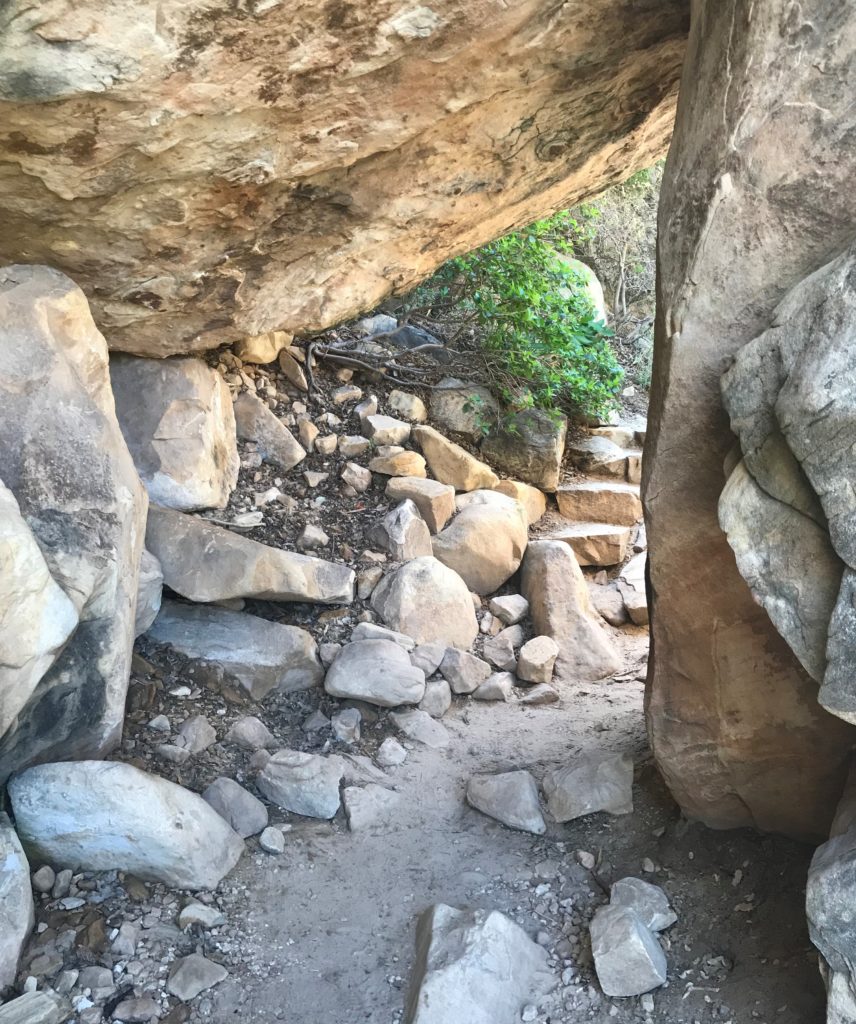 We'd barely been walking 15 minutes, which does make this an extremely short hike and probably the easiest hike in Red Rock Canyon National Conservation Area.
Everything is worth it at the end
Finally, we were greeted by a ribbon of water falling forty feet into a lovely pool below. The kids complaining turned to laughter as they ran to the edge. The pool and surrounding rocks were even in the shade, so we could enjoy the vista without the desert sun beating down on us.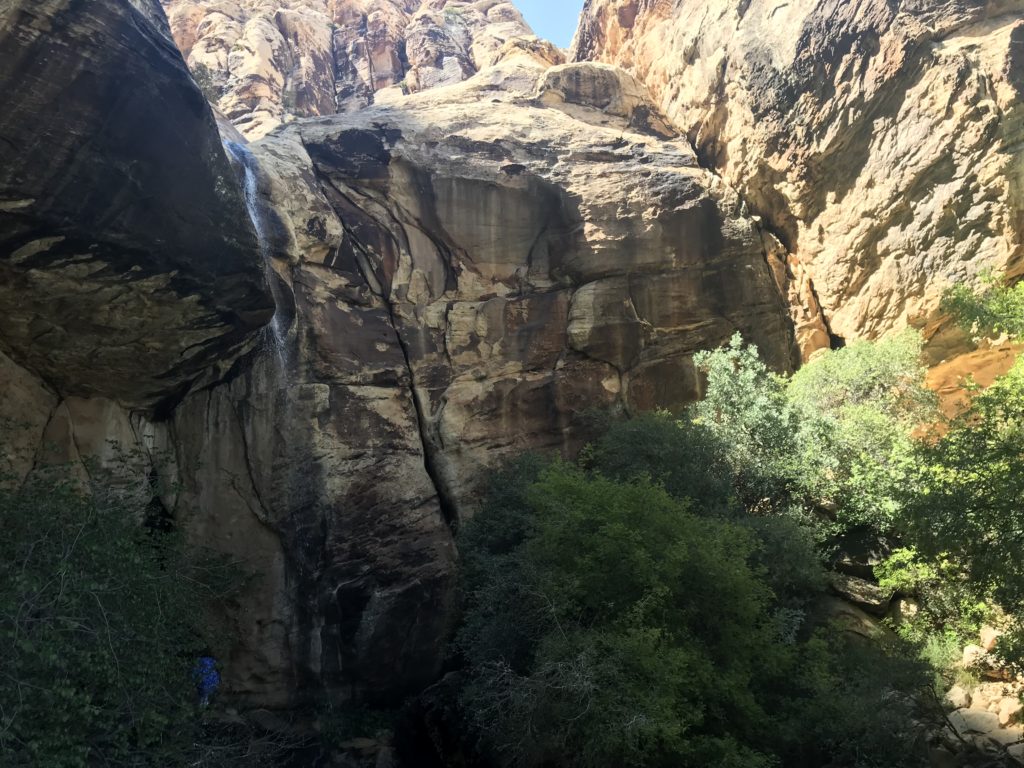 The kids and I made our way around edge, clambering over the rocks to get closer to the waterfall. Soon they were throwing rocks into the water, hiding from each other, and doing all the sorts of kid things they are supposed to in a fun outdoor place like this.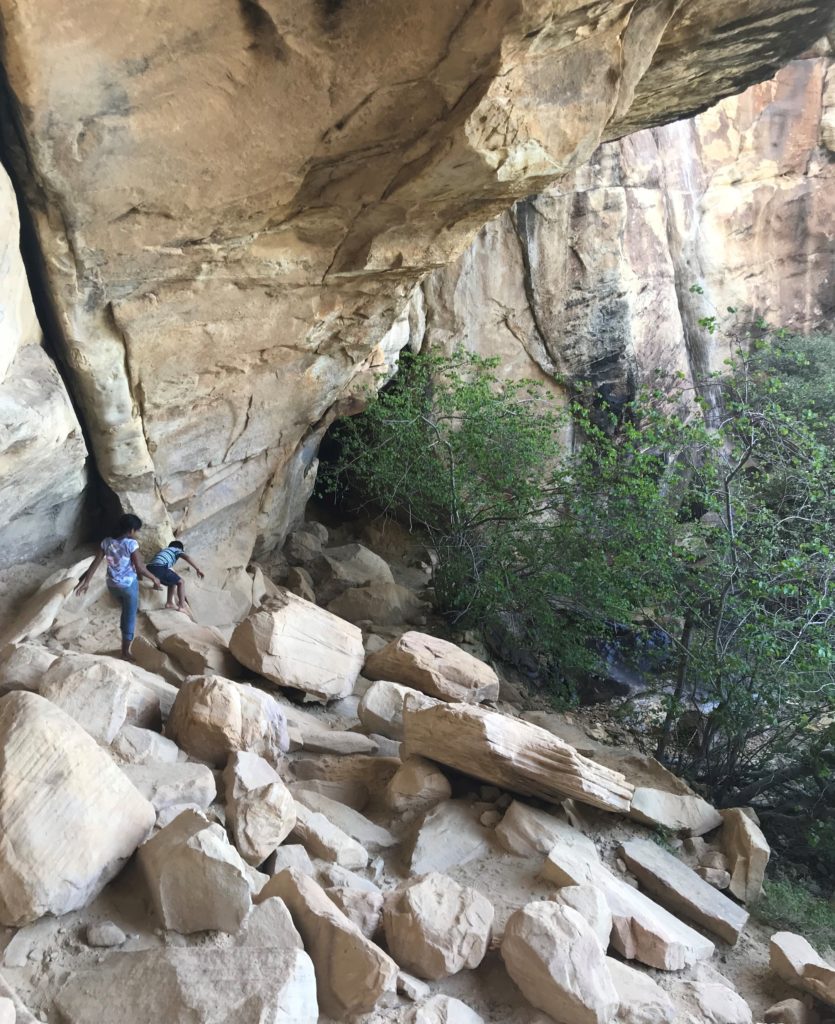 I just sat down and enjoyed being there. It had been an easy hike, but one that is well worth the minimal time it takes to get to this lovely spot. When I finally informed the kids it was time to keep moving, they protested. How quickly their perspective changes! We settled on staying another half hour, which meant we would get into Pahrump later than I wanted, but everything would still work out fine.
The last twenty minutes consisted of my daughter chasing her brother with a bottle of water trying to get him wet. Always the instigator, he had tried to push her into the pool below the waterfall and it was payback time.
Conclusion
The hike out was just as pleasant. I highly recommend Lost Creek Canyon / Children's Discovery Trail as one of the best and easiest hikes in Red Rock Canyon National Conservation Area for families. It's an easy 1.2 to 1.5-mile round-trip, depending on how you do your out and back, as you can make a sort of loop that still includes the waterfall. We'll be back again if we pass through the area. It sure beats visiting Vegas!