Many of the larger blogs I follow routinely do giveaways. The most consistent are Million Mile Secrets and The Points Guy. They are near the top of the heap in the travel blogging world. Paying for a business or first class ticket, just to write a review, is par for the course for them, so coming up with the cash to host a giveaway is a non-issue for them. Heck, you could even get a $200 Visa card for simply supplying tips to The Points Guy.
Giveaways by some of the smaller blogs are less common. Dan Miller at Points With A Crew has offered a few, and so has Summer Hull, who blogs as Mommy Points.
Mommy Points wrote a piece on her 7 Favorite Travel Moments In The United States. I honestly read it because I was truly interested to see what topped her list. What I didn't know was that she was giving away an Amex Centurion Lounge Day Pass. You had to read through all the way to the bottom to notice that litle detail. To enter, you simply had to write a comment about your own favorite U.S. travel moment.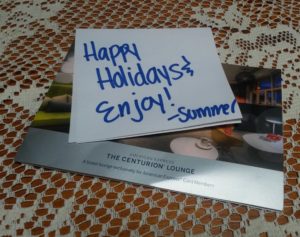 As with most giveaways, I didn't really expect to win. Still, when Summer tweeted that people could see if they had won, I had to check. I was floored when I saw my comment had been randomly chosen!
So Mommy Points mailed me a one-time pass to an Amex Centurion Lounge. The biggest catch is I only have until December 31 to use it. I currently have a trip planned where I can visit the Centurion SFO, but if that falls through, I am sure I could find a friend traveling over the holidays who will be able to enjoy it.