For a few years my wife and I amassed significant numbers of points by taking numerous credit card offers per year. While we managed to miss the true golden age of this hobby, where people were getting approved for multiple 100,000-mile sign up bonuses, the ability to apply for and be approved for many products allowed us to amass enough hotel points to spend a month in Europe and for me to take a solo adventure to Australia.
But things have gotten tougher. Chase started off the bad news by rolling out their infamous "5/24 rule", and other issuers have followed suit by tightening up new account approvals in various ways. Last year we applied for far fewer cards. This year has seen just a couple business card applications, and two of those have been denied! However, I recently had my wife apply for a few new products, and the results were surprisingly good. I thought I'd share them.
A mini "App-o-rama" in 2019
Through 2015, 2016 and into 2017, the applications happened like clockwork. Every 3-4 months we would apply for 2-4 new cards each, and almost everything was approved. The denials were rare. American Express has still to deny us for anything we've applied for. But after 2017, it was time to cool off. We'd run the gamut of the best options, and I decided that the best thing to do was to get one of us back under 5/24 in order to attack the Chase products again.
This was supposed to be my wife, but I had her apply for a couple good products late last year that were irresistible. This lengthened the timeline for her, so I figured I'd stick to only business card applications and be the one to drop under 5/24 in late 2019. I'm still on track to do so.
With her credit reports in excellent shape, it was time for another app-o-rama. I settled on three cards with good sign-up offers.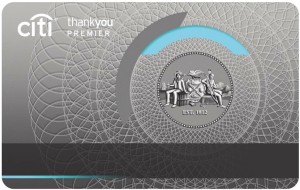 Citi ThankYou Premier
In 2017 I picked up the Citi ThankYou Premier, downgrading to the Preferred when the annual fee came due. These points were useful in topping off my Asia Miles balance that was used for business class tickets on the recent trip my daughter and I took to Buenos Aires and Uruguay (SEE: Looking Forward to a South American Adventure with my Daughter). The flight from Montevideo to Miami was one of the sweet spots at the time, costing only 45,00 Asia Miles compared to 57,500 American Airlines miles.
With the array of Citi ThankYou partners in mind, or just $625 worth of travel booked through the Citi portal, having my wife pick up this card makes a lot of sense. With only a DoubleCash in her Citi lineup, there is definitely room for another card.
Status: We'll contact you in 7-10 days.
U.S. Bank Radisson Rewards
The Radisson Rewards Visa is one that has fallen off the radar a bit, but it is a solid hotel card if you have the ability to use the points at hotels in their portfolio. There aren't a whole lot of options in California, but I have put the points to good use at Country Inns a couple of times.
The current offer is an even sweeter deal than the typical sign-up bonus, and the main reason we went for it. Instead of the standard 85,000 points, the current offer is a highest-ever 120,000 points for this card. This would be my wife's first card with U.S. Bank.
Status: Instantly approved!
Bank of American Premium Rewards
This is a card I had completely forgotten about. It is pretty lackluster, overall, but the sign-up bonus of $500 is solid. Offering 2x points on travel and 1.5x points on everything else, the earning rates aren't anything to write about. But where Bank of America shines is if you invest in your relationship with them, as you can receive a significant bonus on your points earning.
We have no such deposits with them. The card is one that is worth getting for the perks and bonus for one year, and then either dropping or downgrading after that.
Status: Instantly approved!
Conclusion
Looks like you can still pull off an app-o-rama in 2019 if you've let the dust settle for a little while. I probably won't try to have her apply for anything else for at least six months, preferably more. The results of this spree are enough to convince me that holding out to stay under 5/24 constantly has a significant opportunity cost. But Chase does have so many great cards, that cycling one of us under 5/24 for a period to pick up a few more good products does make a lot of sense.
The total value of the sign up bonuses from these applications is ~$1,375 (assuming the Citi ThankYou Premier is approved), which factors in the annual fees. Not a bad haul for 10 minutes of work. This does mean I have $11,000 of spending to do in the next three months, but with my reselling options, this shouldn't be an issue.