I have a love/hate relationship with renting vehicles. On the one hand, I love driving various new models that I otherwise would never get to try. They are always a significant step up from our old van, and some have made for quite the comfortable ride to-and-from San Francisco. On the flip side, dealing with rental car agencies has been a pain at times, and I have yet to find a reliable way to consistently score free vehicle rentals like I can hotels and flights.
There is both freedom and risk when renting a car. Back in 2016, my wife and I too a trip to Colorado. We had no idea that a snowstorm was going to hit Denver and Colorado Springs at the end of April. None. Zero. Didn't cross my mind. Our Coloradan friends chuckled at us (I guess Colorado can throw snow at you pretty much any month of the year, depending on where you are in the state).
Here I was with a rental car booked for our trip, and some serious apprehension welling up inside me. I have very little experience driving in the snow, and the thought of driving an unfamiliar vehicle at night down a snowy freeway was a little unnerving. Luckily everything turned out great that time. Experiences like this sometimes prompt me to make a plan that relies completely on mass transit and/or Taxi/Uber rather than a rental car. However, I've gotten more and more savvy with car rental over the past couple years (SEE: 4 tips from my experience renting 4 cars in 4 days). These days I rent a lot.
When I do need to book a rental car, I nearly always look at Hertz first. They have become my favorite rental car company. Here are my top three reasons:
Yet to have a bad experience
Nearly every rental I've had with Hertz has been stellar. They are in the top rental car companies by several sources, and one pegs them as only second to Enterprise. I have had one shady incident with Enterprise, so they have a blemish. Honestly, the local Enterprise offers great service. But I still prefer Hertz if I have a choice.
The best feature of being a member of Hertz's loyalty program is the expedited service at some airports. I love flying into San Francisco or Sacramento, taking the train/shuttle to the rental car center, and simply walking to my car. The stall or section will be right on the board, sometimes even on a sign right over the car. Talk about seamless. No waiting in line for ages or having an agent try to up-sell you. All they do is print your contract and check your license at the gate.
I'm hooked. If rates are comparable to other agencies, I always pick Hertz. With at least two dozen rentals under my belt with them, they have yet to let me down.
Partnership with United
Each rental can score you some serious United miles. I often take advantage of this for work rentals. You can actually earn United miles with several different companies, but the Hertz has been killer. Until recently, each rental of an intermediate car or larger would earn you 2,000 miles (now it must be over 2 days to qualify). It was supposed to be a limited-time promo, but it keeps getting extended.
You will earn even more if you have either the Chase United Explorer Visa or elite status with United. As a silver elite, I currently earn 2,250 miles per rental. The rates for the rentals are sometimes a few dollars higher, but most of the time it is worth the slight premium for the miles. And sometimes you luck out and the rates are cheaper than booking directly via Hertz.
Over the past couple years, I've probably earned over 25,000 United miles with this partnership from both work and personal rentals. There's one guy who earned over a million miles this way. However, I'm less likely to use it as often in the future, as one-way rentals no longer earn the 2,000 miles. I'd now rather earn Hertz points.
As an example, when I initially checked Hertz through United for a trip this past spring, a three day rental cost $180, far more than the $99 rentals I was finding on Expedia with companies I had never heard of. By the day before the trip, however, I checked a final time, and intermediate size cars were pricing at $116. Much better. A total of $18 more for a more trusted company and extra miles. Easy choice. And work was paying, so it was a win no matter what.
The rewards program is very good
My main point of comparison is Enterprise, so maybe this colors my view. Enterprise's rewards program is mediocre at best. I can see where National's One-Two-Free promotion might be worth jumping on. But overall, I prefer Hertz.
An award redemption with Hertz often requires fewer points. You can find the chart here. I find that you also earn points on the entire charge, not just the base rental rate. I've had one-way Enterprise rentals earn me next to nothing since the base rate is low and most of the charge is a "drop fee".
I've had two fantastic redemptions with Hertz. The first was for a one-way rental back home from Santa Rosa where I got 13 cents per point and paid a grand total of $2 in cash (SEE: Getting 13 cents per point on a car rental!). The second was a one-way rental to the Bay for a short getaway with one of my boys. The value there was even greater, at 21 cents per point!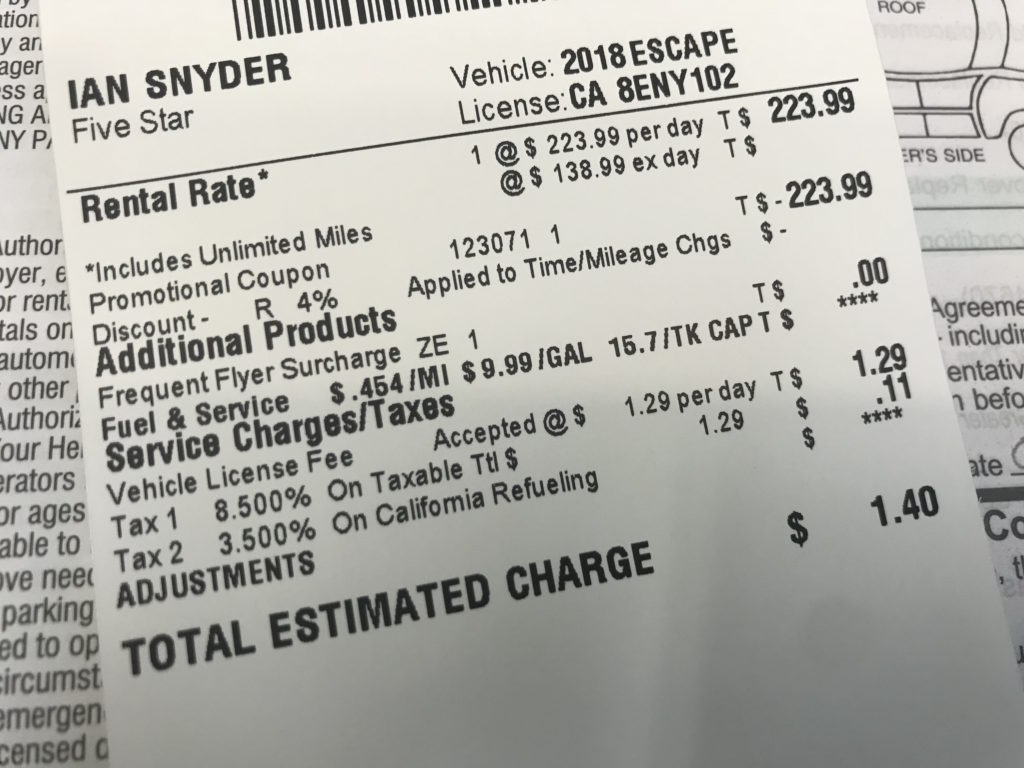 Conclusion
All things considered, Hertz is my favorite car rental company. I will freely admit, they are often priced above the competition. But when they're competitive, they're my go-to.