It was a bit sad to wake up and realize that our time in Beijing had already passed. Our five days in the Chinese capital were an amazing experience. I feel like we barely scratched the surface of what Beijing has to offer, but the food, history and people make it a great place to visit. Here are the posts from each day of our adventures in Beijing:
Breakfast was again complementary in the top-floor lounge of our central Beijing hotel (SEE: Renaissance Beijing Wangfujing Review). We even finished up early, a small miracle for my children. My bags in hand, we made our way downstairs and I asked the desk to call us a taxi. We could have taken the subway, but it would have meant a transfer and toting our bags a good distance. Given how cheap taxis are in Beijing, the convenience was totally worth it.
Our ride took off around 8:45 a.m. on a Sunday morning. I figured we would take an hour to get to the airport. The driver made me a bit nervous at times, cutting quickly from lane to lane. But we made it safely. The ride took 40 minutes on a Sunday morning leaving about 8:45 a.m.
Arriving at Beijing Capital Airport
Front of Beijing International Airport Terminal 3 is impressive. Our flight into Beijing had arrived into Terminal 2, and we'd taken the Airport Express straight from there. I didn't get a good look at the airport. Plus, it was dark and we were exhausted. We also had an unfortunate incident where my son wet himself, as he hadn't gotten up to use the lav before our final approach into Beijing. He has a habit of not being aware of his need to use the facilities, not to mention the worst timing on the airplane (every time he got up to go was during meal time). Just one of the hurdles of traveling with kids.
But I digress. The memories of our arrival into Beijing, although it was only a few days prior, already seemed distant. We walked through the doors into the massive departures hall of Terminal 3. There is row after row after row of check-in counters and there were huge queues of people. I'm not surprised Beijing in building a new airport that is projected to be the world's busiest in short order.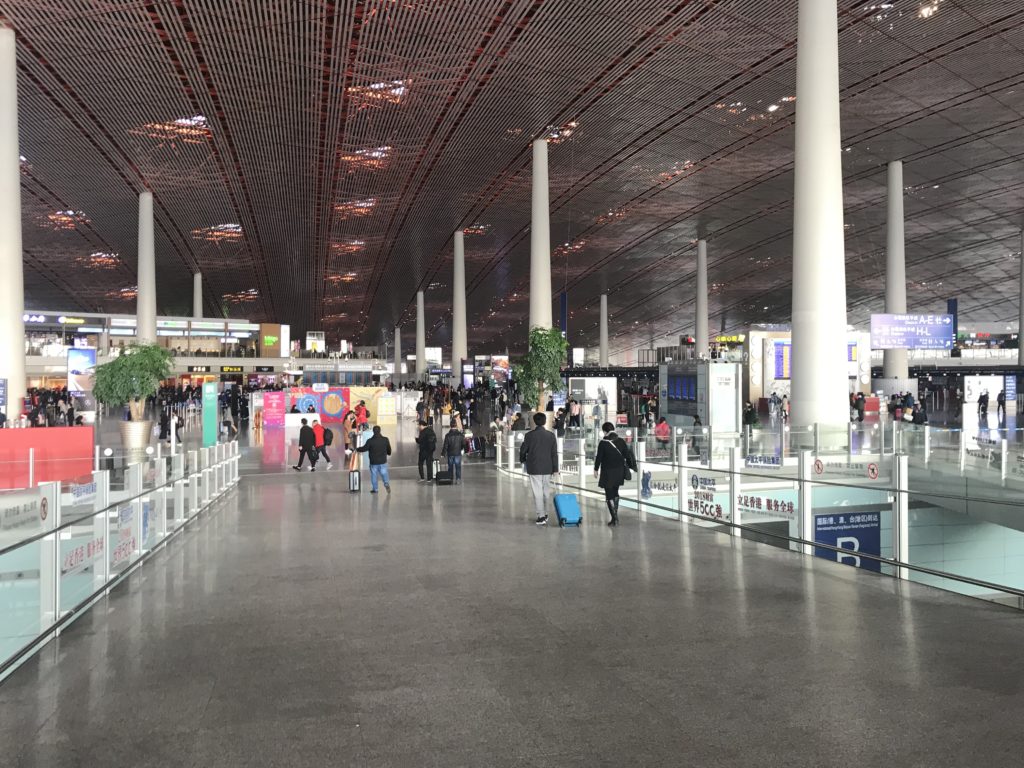 Too early for a flight?
Turns out that due to our early departure from the hotel and faster drive than expected, we were an hour earlier than my anticipated arrival at the airport. We were also there an hour before the check-in desk opened for our flight. Now…I know there are some places where check-in counters don't operate all the time. But given that Beijing Capital Airport is massive, and Cathay has more than just a few flights per day, the fact that the counter was not yet open surprised me.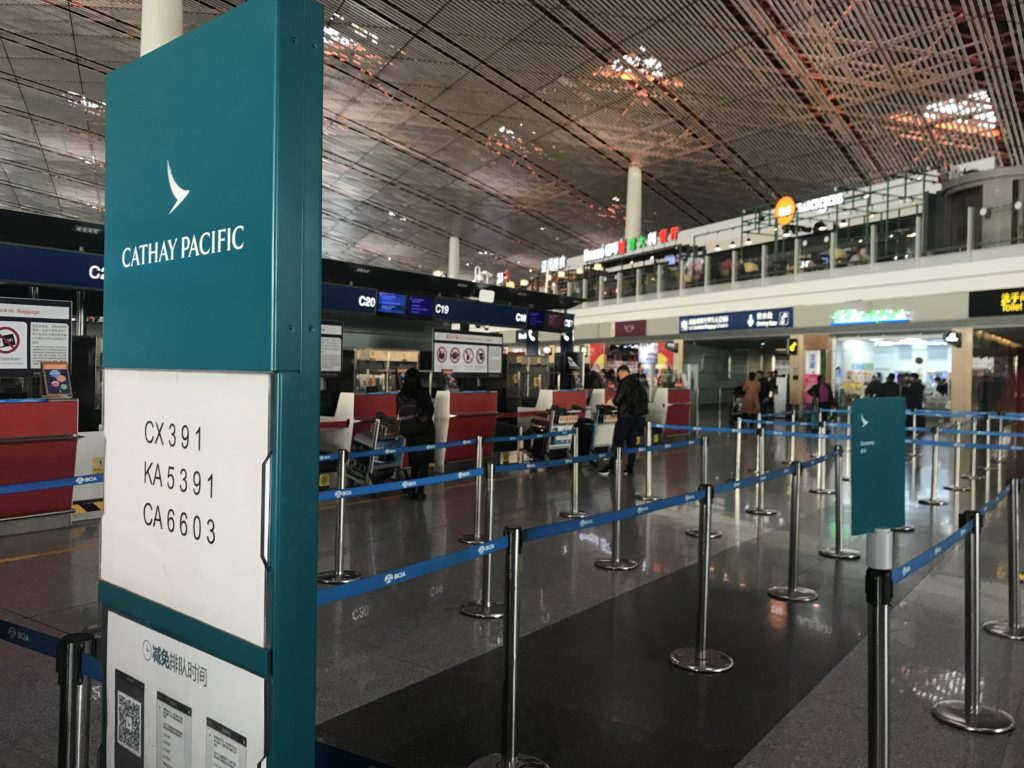 There was one counter open. But the signage clearly marked counters for specific flights, something I'd never seen. We unfortunately had to kill an hour wandering the departures hall.
Once we were finally checked in and had dropped the bag, it was time for Chinese immigration. We'd had no issues entering the country on the 144-hour transit without visa (TWOV) exemption, but I would be lying if I said that I didn't feel a little bit of apprehension about passing through the country. I'd been instructed to keep the stubs from the original visa paperwork, and they were still in my wallet. Everything should be good.
And it was. We got a couple odd looks from the immigration officials, but we passed through just fine. Very glad that we were able to take advantage of this opportunity for a stopover in the Chinese capital.
Security went smoothly as well. This was the 14th segment for both of my older two kids, and they have learned the drill pretty well. I was a dolt this time though and insisted that my backpack didn't have any water in it even when the security official flagged it in the x-ray. Had totally forgotten that I'd put in the last bottle from the hotel that morning. Oops.
Once through, we hung out in the lounge for a while where the kids did some school and I wrote a couple blog posts and enjoyed a glass of wine (SEE: Air China First Class Lounge Beijing Airport Review). We also ate an early lunch. All for free with my Priority Pass membership through my Chase Sapphire Reserve card.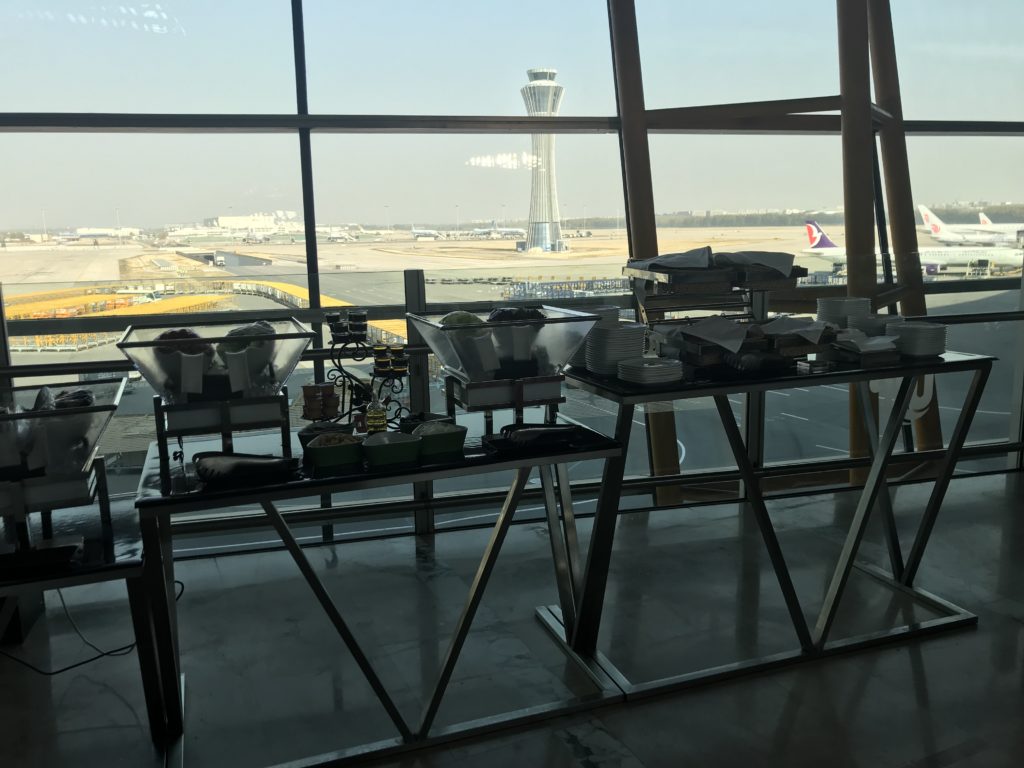 Our plane was late, but we still got out early enough to make it to Hong Kong in time. You can read all about our experience flying Cathay Pacific 777 Premium Economy.
Hello, Hong Kong
We landed right before sunset and hopped on the Hong Kong Express toward Kowloon. A short bus ride later, and we were walking the last few blocks to our hotel through the bustling Mongkok neighborhood. I wasn't so sure about staying here, but I would happily do so again. The energy and everyday-ness of Mongkok makes it a vibrant place to enjoy as a foreigner.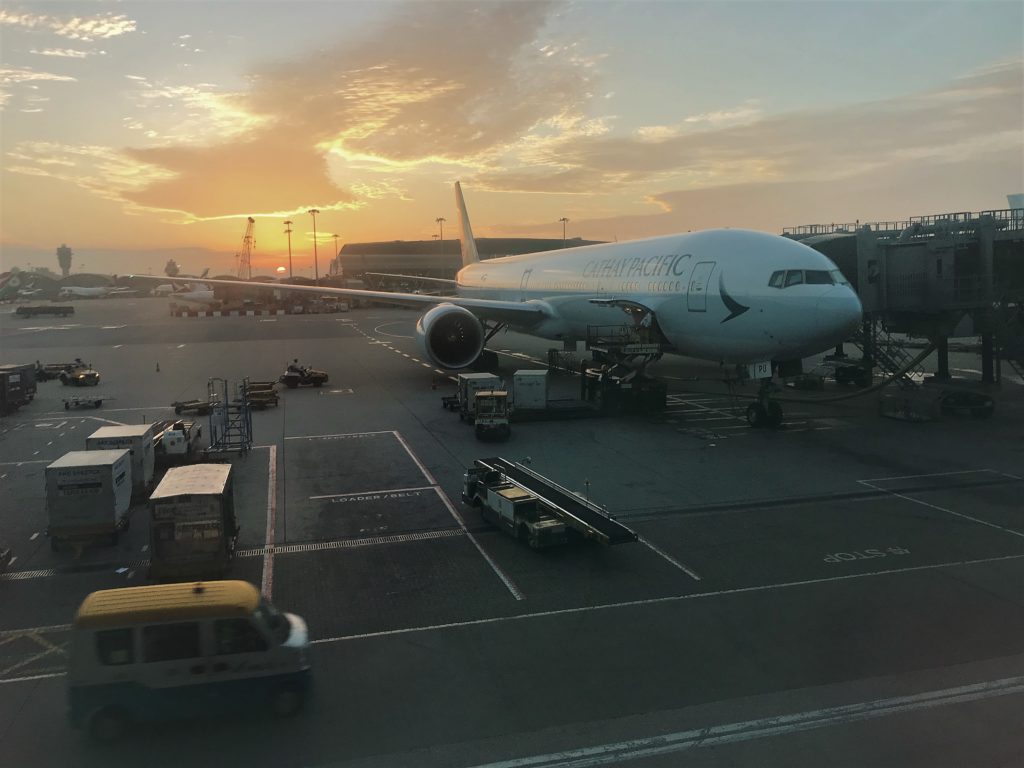 Bedtime came at about 8:30. It was a good travel day. Now we had Hong Kong to explore for our last three days!