After a very long 12 hours in the air, our flight from Seattle finally touched down in China's capital (SEE: Delta 767 economy class review: Seattle to Beijing). The kids and I were all very tired. It was 7:30 p.m. local time, but we were feeling the current 3:30 a.m. back in California. Deplaning was smooth, as was our transit through immigration and customs. I'd had a bit of apprehension about our transit-without-visa (TWOV) plan, but it worked just like I'd read about. We'd made it into China!
First stop, bed
Given that Beijing is quite safe, braving the subway seemed an easier proposition that trying to communicate with a taxi driver to get us to our hotel at night. We paid a total of 84 yuan (~$13) to get to the Hilton Beijing, including the airport express train and one more stop on the subway. The hotel is maybe a 500-foot walk from the Liangmaqiao station along a busy, well-lit road.
The Hilton Beijing was a most welcome sight. The complaining that had started on the plane had increased substantially. They were tired. I was tired. I was tired of hearing about being tired. It was a long 2 hours since we touched down at Beijing Capital Airport, but the whole process had actually gone quicker than I thought it might.
The lady at the front desk was friendly and addressed us in English, but her accent was thick and my tired brain struggled to understand her. I figured whatever she told me about breakfast could be figured out in the morning. Finally, key in hand, we made our way to our room and collapsed into bed half an hour later. Travel day status: complete. It'd been a long one.
A day in Chaoyang
Morning came far too early for me. I slept well the first few hours, but it got more and more difficult as the night progressed. Back home it was the middle of the day, when we'd normally be up and moving. I finally called it quits at 7:00, about half an hour before my alarm would have gone off.
The kids got up an hour later, and we all made it down to breakfast about 8:30. The kids and I had a safety discussion, and then we handed our bags to the front desk when we checked. We'd pick them up after spending the day in the Chaoyang District, to the east of the central Beijing.
We meandered our way toward Chaoyang Park, taking in the sights and smells of the city along the way. Amazingly, the poor Chinese air quality I'd heard so much about didn't seem to be an issue. Fall is supposed to be a better time in general, but maybe they are cleaning up their act a bit more. None of us experienced the stinging eyes I'd heard about.
The walk took us past a canal and along streets lined with apartment buildings, small shops, and restaurants. We found the place I'd identified for lunch: the Bao Yuan Dumpling Restaurant. It was maybe 10 minutes from the park and would be right along the route back to the hotel.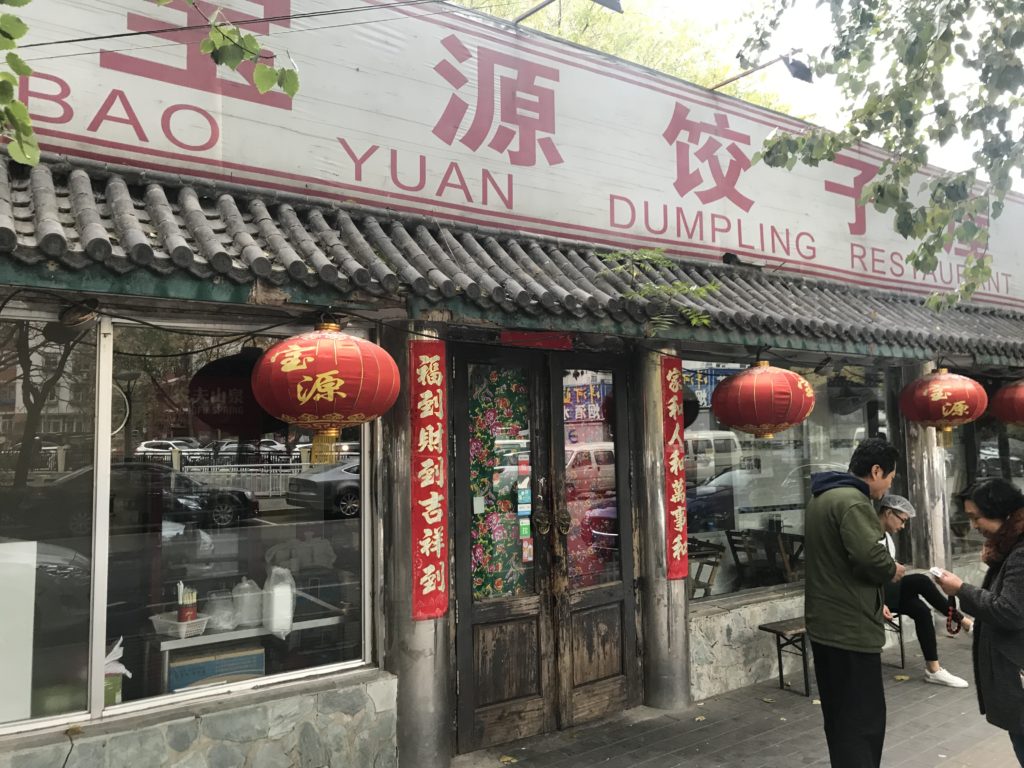 Now on to the park!
Chaoyang Park
The entry cost of Chaoyang Park is 5 yuan for adults and 2.5 yuan for kids. The grand total of 10 yuan (~$1.45) was totally reasonable for a visit. If this is how they pay to upkeep the park, I'm all for it. I tend to think of parks as one of those free places, but if a minimal entry fee can help pay for it, I think that is a perfectly fine way to manage it.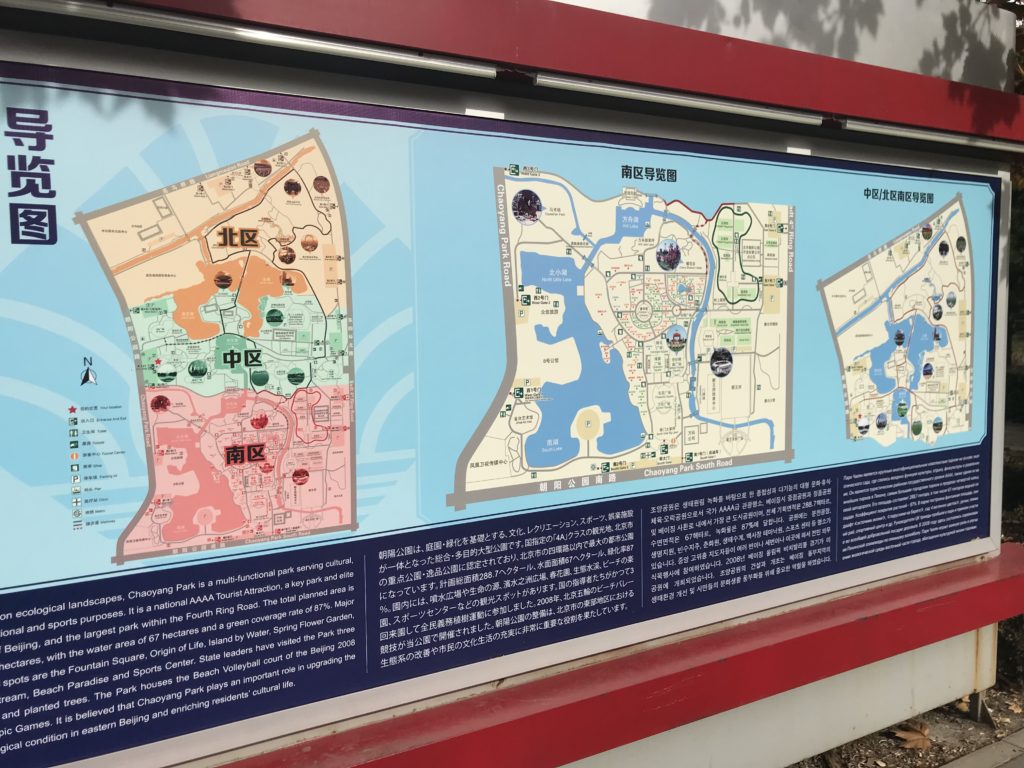 Chaoyang Park is fairly large. I perused the map for a bit while the kids "exercised" on the equipment nearby. We saw a number of these exercise areas, but I'm really not sure if the equipment will really help you all that much. It was more of an amusement to them.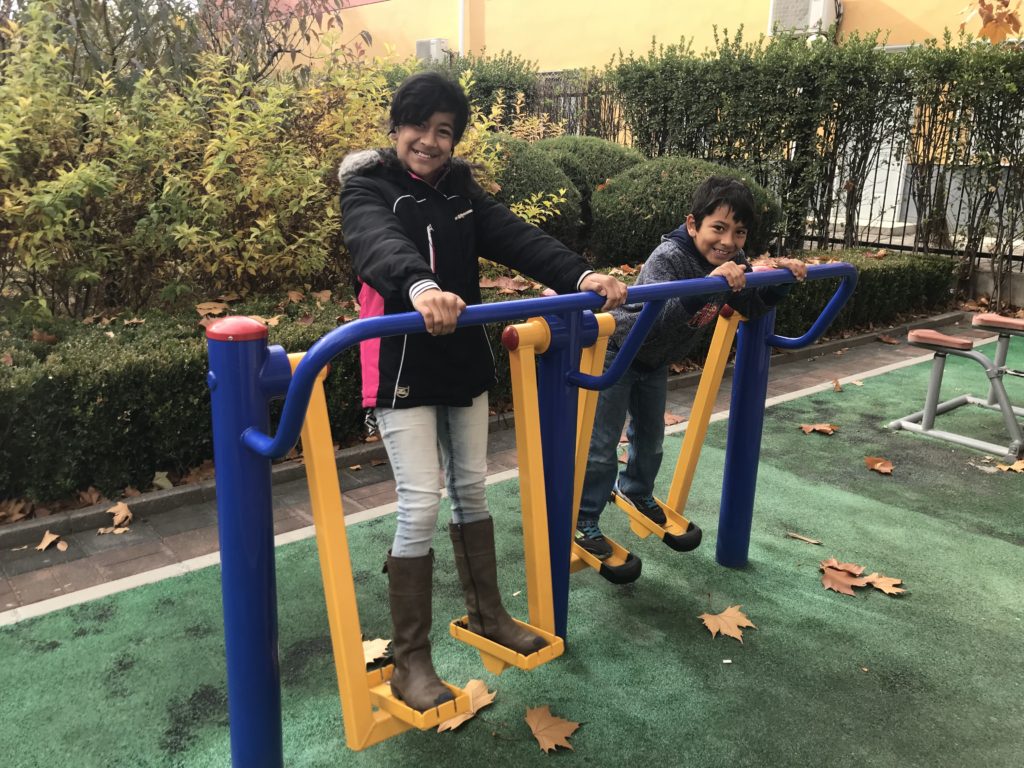 Even though it is November and getting quite chilly in Beijing, we did catch a little bit of fall color. Mostly yellow.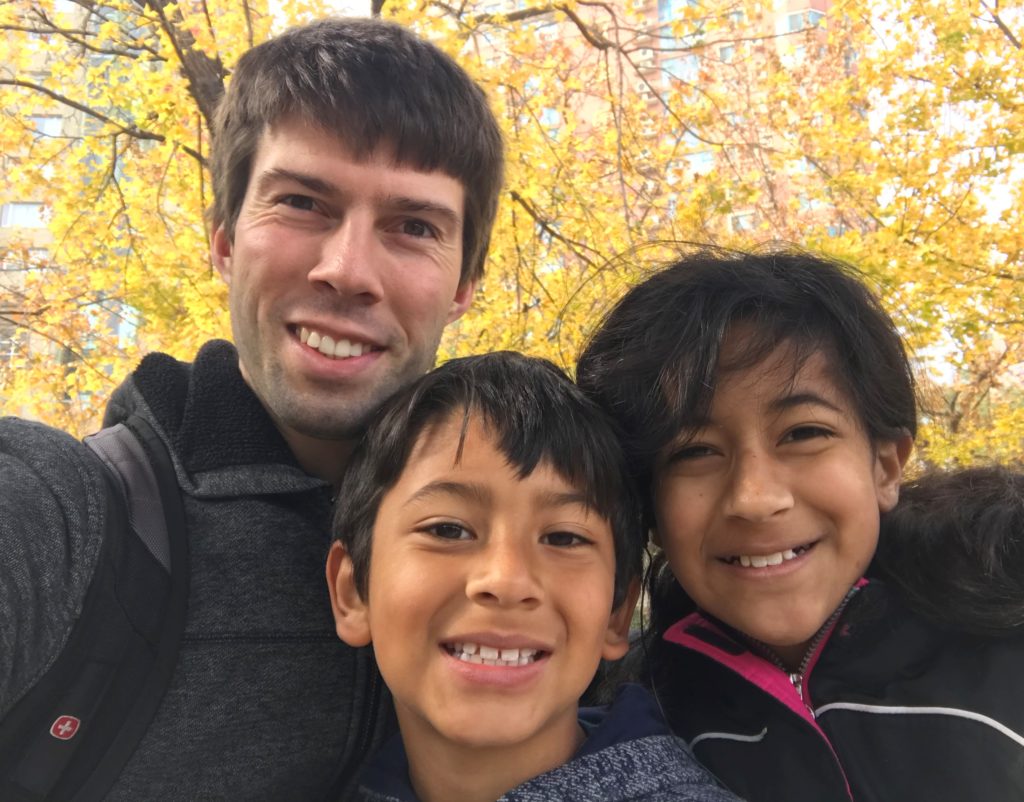 We wandered through the park, slowly making our way toward the lake and the amusement area further to the south. Even in fall, it was quite a nice green space in the middle of a bustling city of 21 million people.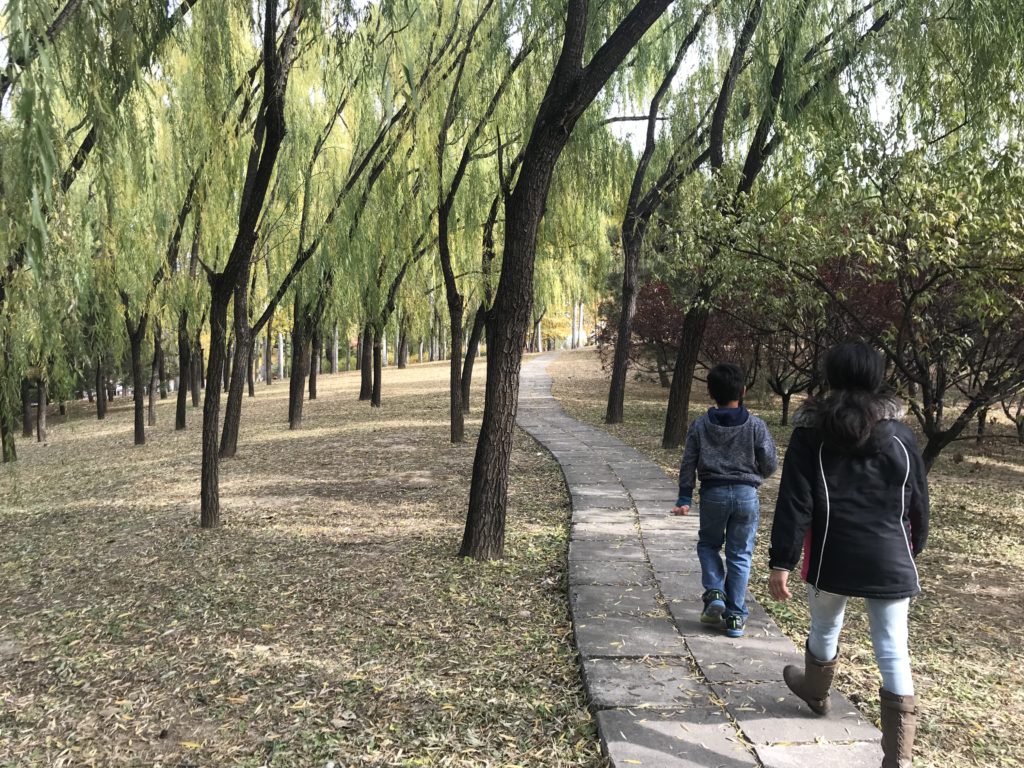 It might not be the nicest park in Beijing, but it is the largest at 713 acres. This structure in front of which the kids wanted a photo is the China-Thailand friendship pavilion (if I recall correctly), a bit in need of repair.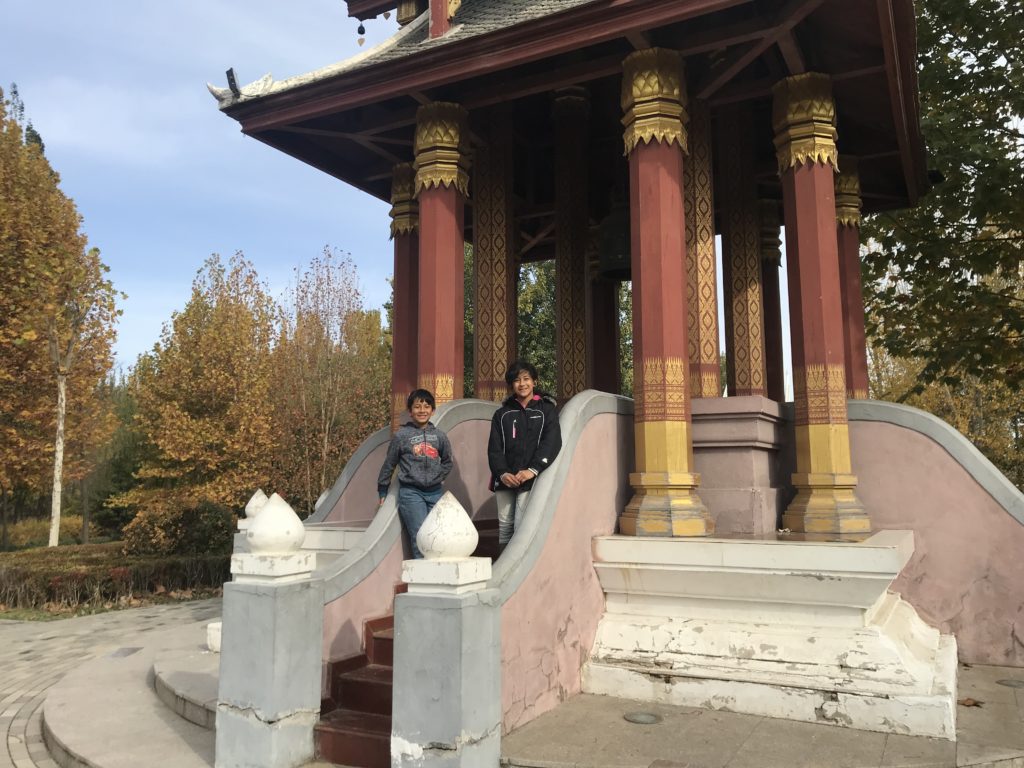 Further in we meandered along the lake, which dominates Chaoyang Park. It occupies almost a quarter of the area.
An abandoned amusement park
Soon we came to the amusement area near the southern end of Chaoyang Park. The rides are all priced individually, and very few were open, probably because we were there on a chilly, fall Tuesday. The kids were able able to enjoy two. The amusements set us back 160 yuan (~$23).  I'd be looking into a pass of some sort if we ever came back. This place could get expensive quickly if you're not careful. Or the folks operating the rides were simply taking advantage of the unsuspecting American tourists (more likely the case).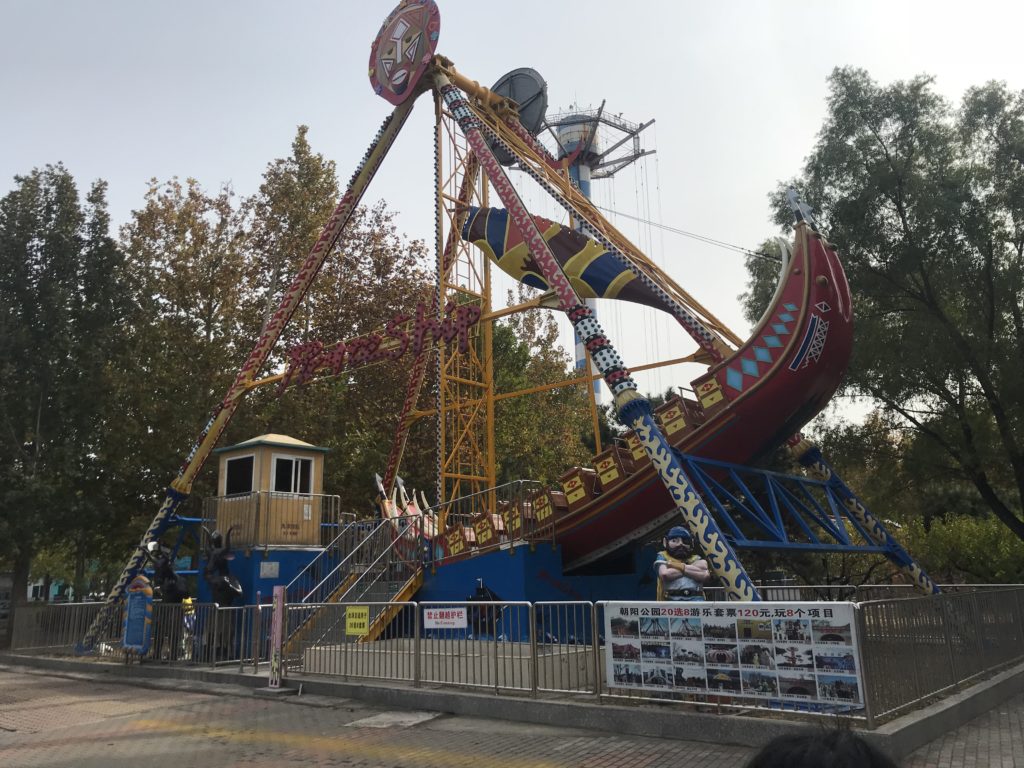 Communication was obviously hard. I know enough Chinese to mostly understand and communicate numbers and prices. But I pretty much fail beyond that. Turns out 10 minutes of Duolingo Mandarin a day for a month doesn't really help a whole lot.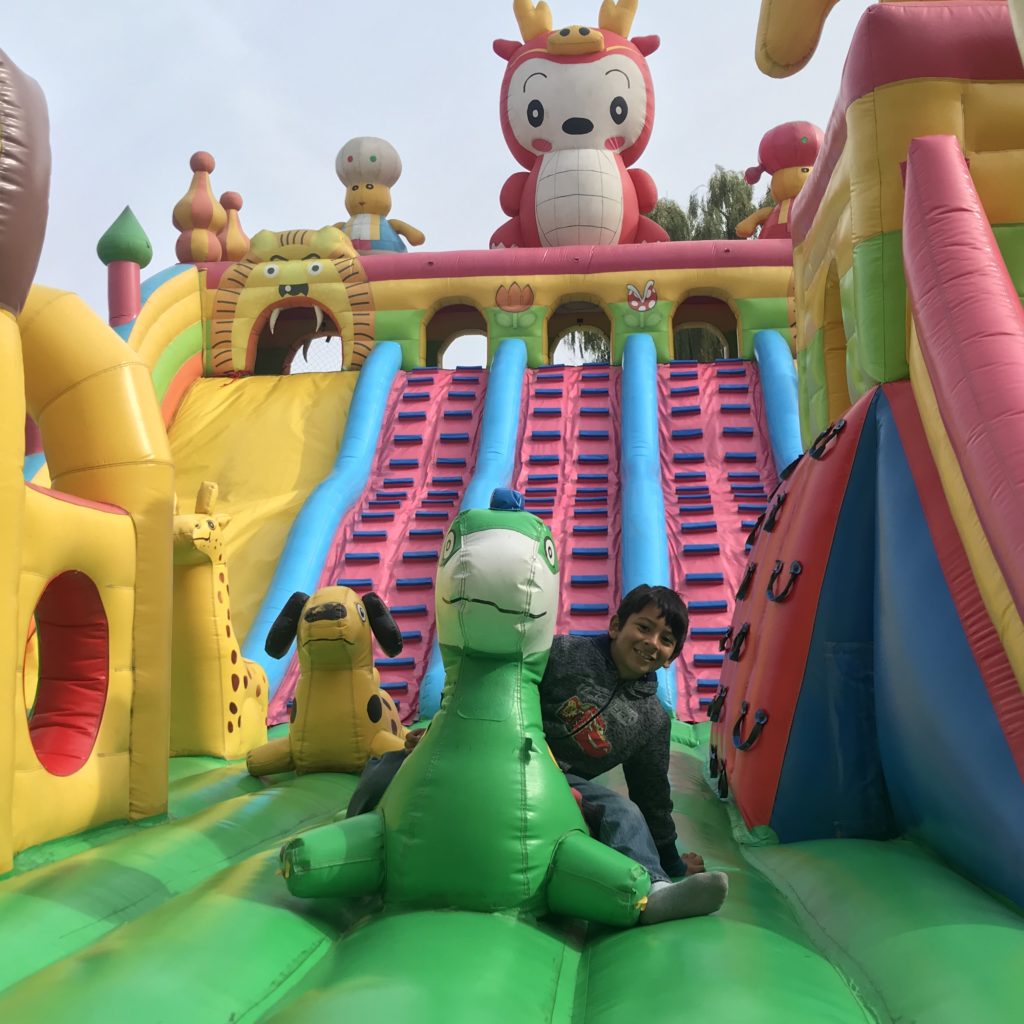 I'm sure the place would be bustling on a summer afternoon. It was eerie being three of maybe a couple dozen people (at most) that we saw in the amusement park. The place felt essentially abandoned.
Out on the water
It took us until near the end of our visit to find a boat kiosk that was open. The kids had asked if we could rent a boat the first time they saw a rental kiosk. But no one was there to rent us one! Seems that demand is down a bit in November. It was quite chilly out. But we weren't alone in our interest. There were a few other boats on the water.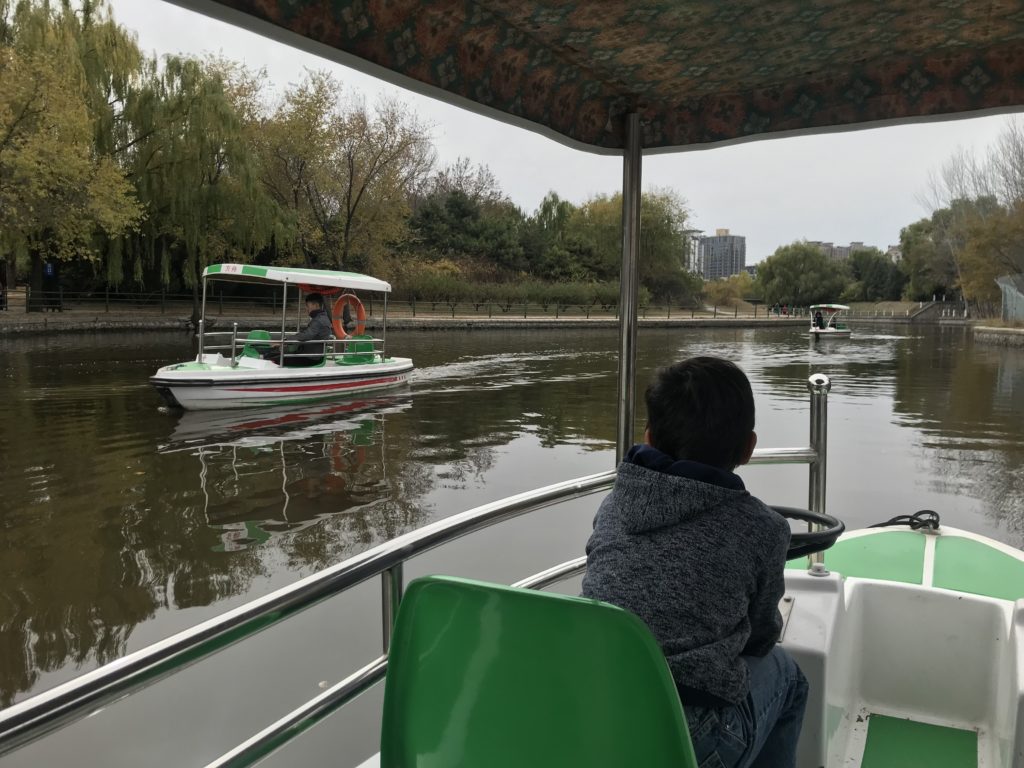 To rent a boat in Chaoyang Park, you have to pay a deposit fee of 200 (or maybe 300?) yuan, from which the rental cost is deducted once you're done. I think it was either 60 or 80 yuan ($8.60 or $11.50) for one hour. Pretty reasonable, if you ask me. This wasn't even a boat you had to pedal!
We puttered around from one of of the lake to the other, enjoying the lovely views. The two dark to towers in the center-right of the panorama below were especially cool. The architecture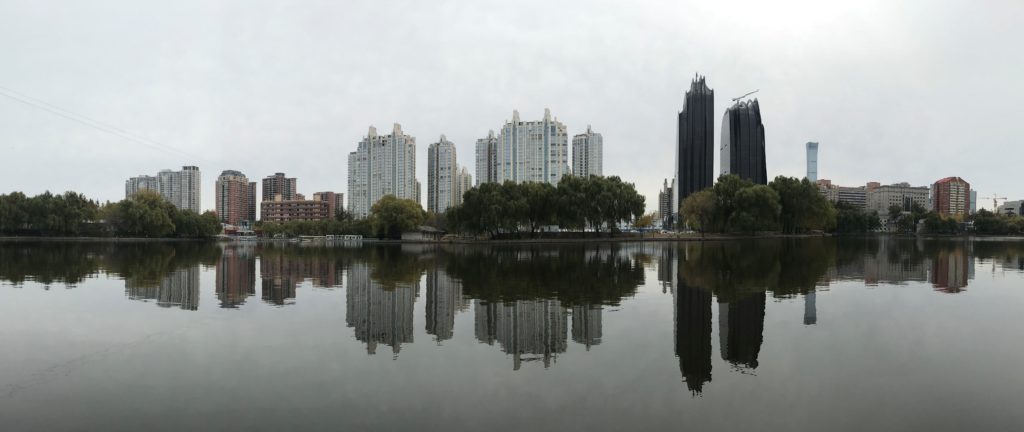 Happy faces, but cold kids. We found that 50 minutes out on the water was plenty. Plus, we were all hungry and ready to head back for a bite to eat.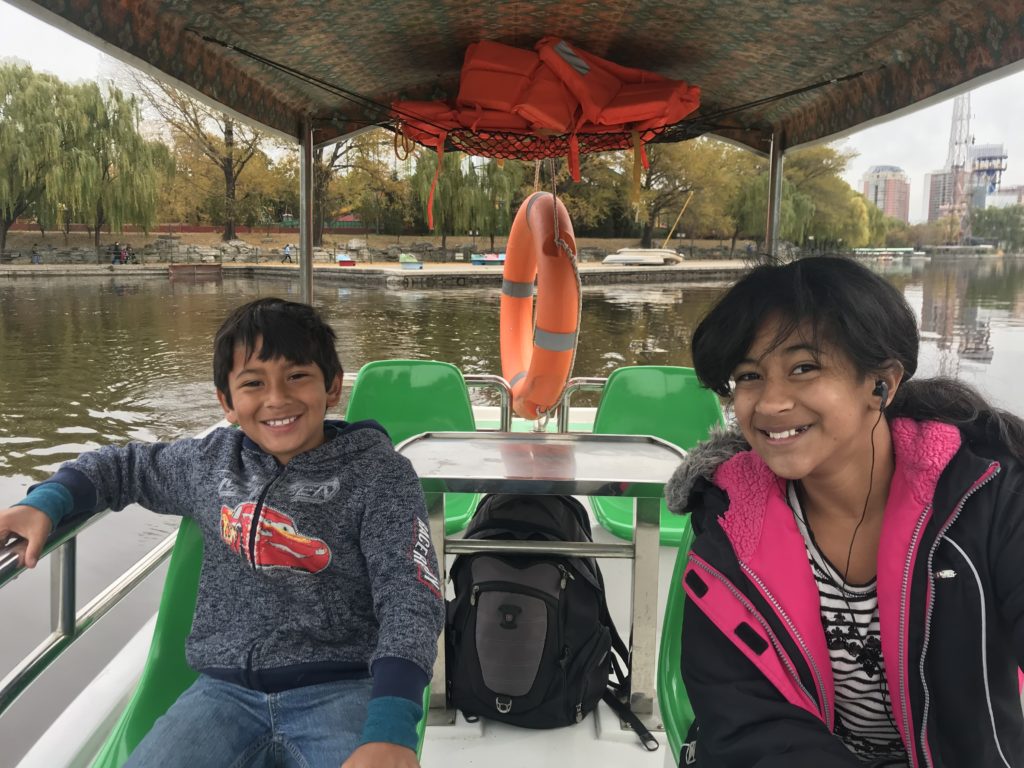 Dumplings, a delightful lunch
We headed back to the Bao Yuan Dumpling Restaurant for an enjoyable introduction to some truly authentic Chinese cuisine. This was our first time having traditional Chinese jiǎozi, dumplings made with minced meat and vegetables, wrapped with an elastic dough, and boiled or steamed (in the case of what we ordered). We picked four different types to try.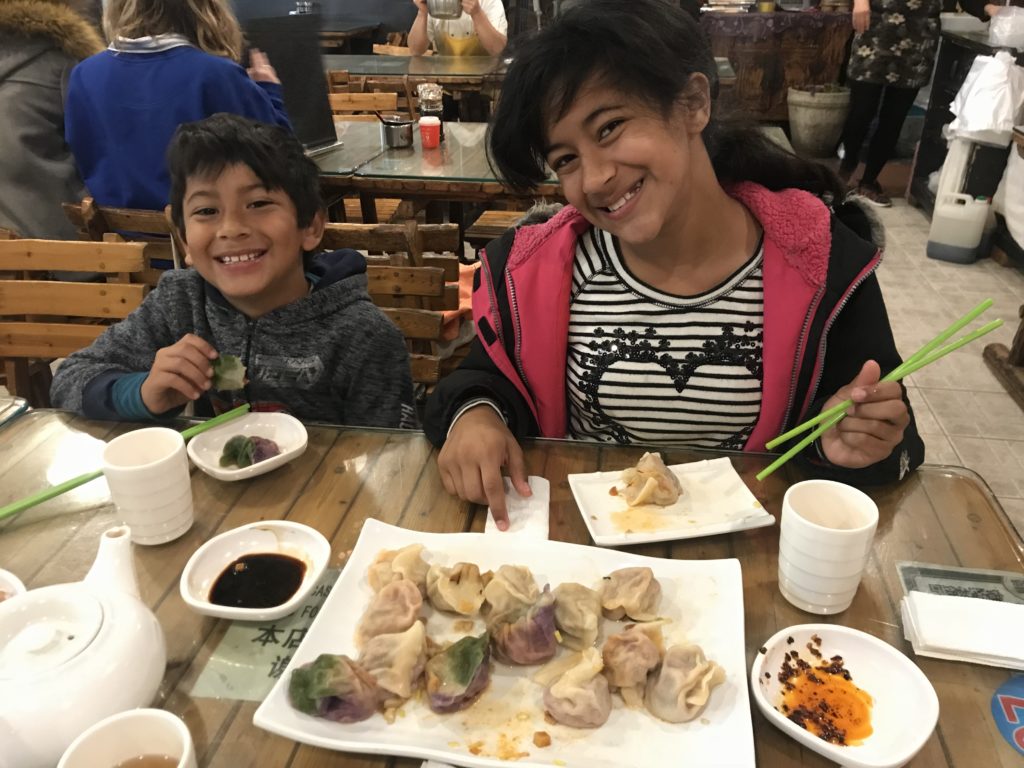 One of the features of the Bao Yuam Dumpling Restaurant is that they dye some of their dumplings with vegetable dyes, so you may end up with a rainbow on your plate. They also all come on one plate, which makes for some surprises when you're trying to figure out which ones are which. The kids enjoyed a couple of the "simpler" types with pork or shrimp (I think the one they gravitated to was simply cabbage, pork and scallions). I, on the other hand, was a bit more adventurous in my selections. Everything was delicious!
The Baoyuan Dumpling Restaurant has an English picture menu for the foreign traveler. There was also one staff who spoke a little English, although I wouldn't really count on a significant understanding. I had trouble asking for a fork. Generally, you can just point at what you want and they will write (or type) your order down.
Hotel hopping and dinner
After our late lunch I had one more thing on the agenda: pay a quick visit to the China Central Television building. It is also in the Chaoyang District, albeit a bit south of the park and the Hilton Beijing. We took the subway a couple stops to get there. I mainly wanted to see it since I'd seen pictures of it and loved the cool architecture. It would be weird to work in the corner of the upper part of the building with nothing below you.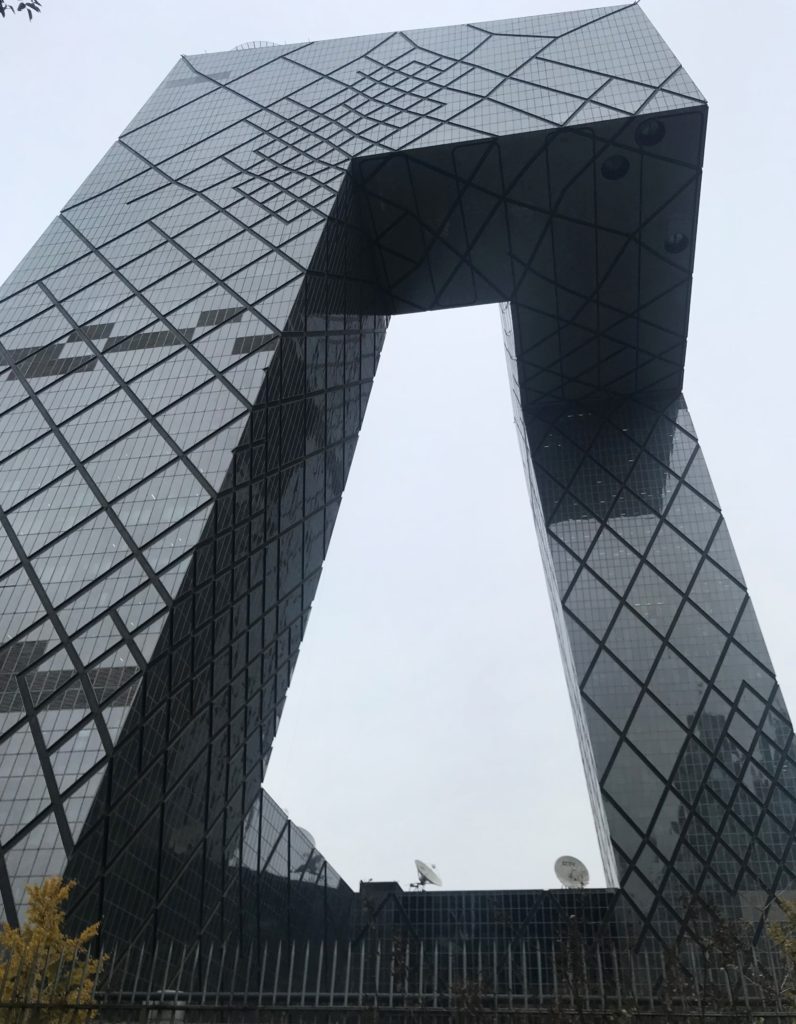 We made it back to the Hilton Beijing right around 4:00 p.m., fetched our bags, and had the concierge request a taxi. It was a bit awkward asking him to hail us one to another hotel, but that was simply what we had to do. We could have taken the metro, but with one, possibly two, transfers and a decent walk at the other end, a taxi seemed the best choice. Plus, it wasn't all that expensive. I think I paid like $5 USD. The subway would have only been about $1.75 USD.
The taxi ride to the Renaissance Beijing Wangfujing, our next hotel, took maybe half an hour. This is where'd we be for the remainder of our visit to Beijing, and it turned out to be a fantastic choice (review to be posted at Points with a Crew). If I'd have known that "happy hour" at the hotel consisted of a full dinner spread, we would have eaten there the first night. Instead, we wandered down the street to another (cheaper) hotel restaurant called Laohuji.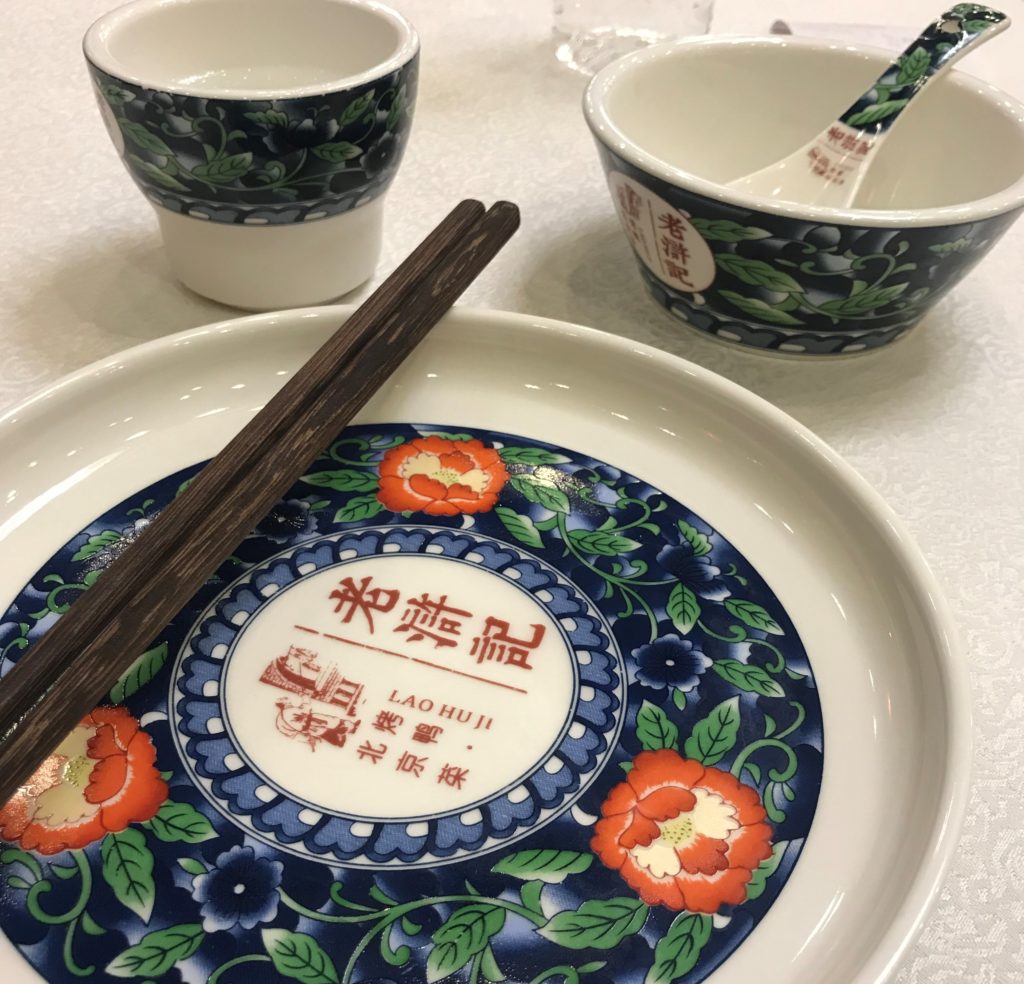 The kids barely avoided falling asleep at dinner. It had been a fun day out, but we were still experiencing jetlag. At least it comes late in the East as opposed to the mornings that drag on during your first couple days in Europe.
Conclusion
Our first 24 hours came to a close at 7:30 p.m. on Tuesday night. With two kids starting to snooze on either side of me, I'd say our "easygoing" day was full enough. I can't seem to keep my eyes open to finish this post. It'll have to wait for another day (note: it took me until today, November 25, to finally add the final details).