During one of my work trips to and from the East Coast earlier this summer, I was able to finally stop by the Timberline Grille Denver Airport. The restaurant is one of those within the Priority Pass network. Priority Pass has been on a spree lately when it comes to restaurant additions to their network, which I think is a major plus for travelers. The latest are in San Francisco (SEE: Two SFO Priority Pass restaurants added to network!), which I hope to stop at next time I pass through there.
Timberline Grille Denver Airport: How to use Priority Pass
The Timberline Steaks and Grille is located in Concourse C of Denver International Airport. Since all of DEN is accessible from a single security checkpoint, you can easily access the restaurant even if your flight is from a different concourse. Just take the train there, but give yourself enough time to get back to your gate.
The restaurant is located in the center of the concourse. The hours are from 6:00 a.m. to 9:00 p.m.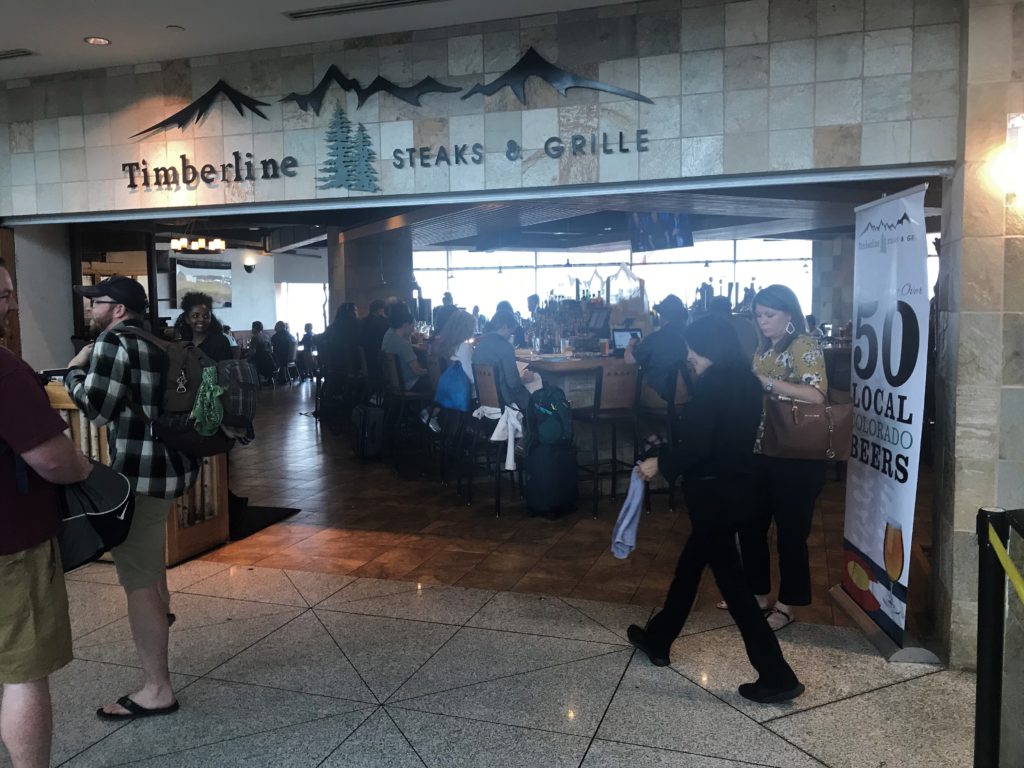 Priority Pass membership will give you and each registered guest $28 off the final bill. Depending on the membership, guests may be free or you may be charged. With my Chase Sapphire Reserve Card, I can bring two guests into a lounge for free, which would give us $84 off the final bill. This is plenty for three people at this restaurant.
To use your Priority Pass membership at the Timberline Grille Denver Airport, you must present your Priority Pass card and same-day outbound boarding pass. Some lounges let you access them on arrival, but it may be that the Timberline Grille does not. Since I was connecting to San Francisco, I had an outbound boarding pass.
When you get your final bill, $28 will be deducted per person registered with the Priority Pass account. If you register people beyond whatever number of free visits your membership provides, you'll be charged $32 per person, so you'll actually be paying extra.
Food and drink
The menu offered by the Timberline Grille Denver Airport is excellent. Rather than the typical domestic airport lounge which offers small bites, snacks, and other fairly cheap fare, the Timberline Grill has a full menu or steaks, burgers and other offerings.
The steaks will eat up most, if not all of the Priority Pass credit, so you may still end up paying a little. But for a sit-down airport meal, it's still a fantastic deal.
I ordered a pulled pork sandwich, which came with a salad. The food was very good.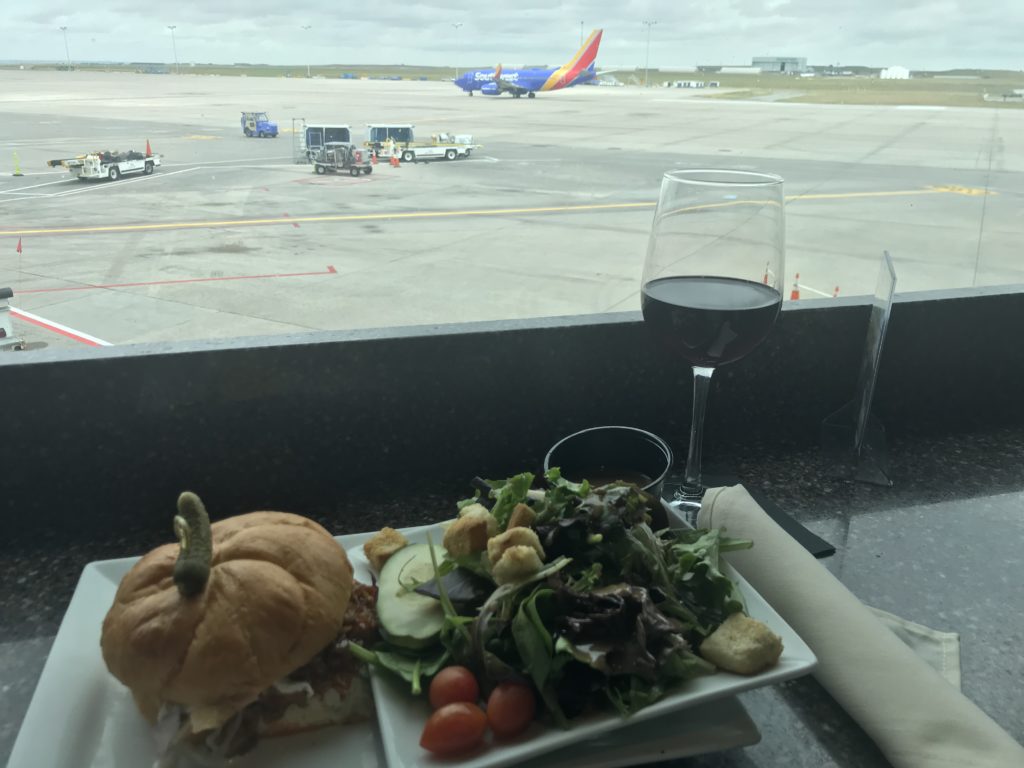 The view of the airport was nice as well.
The Timberline Grille Priority Pass credit can also be applied to drinks. It turned out that the sandwich and a glass of wine fell a few dollars short of the credit. My server still happily ran my card so I could tip her.
One note: I did find the Timberline Grille Denver Airport to be rather busy during my visit. I had to wait about 10 minutes to be seated. Luckily, I had a healthy connection and still wasn't rushed. The wait might make stopping by a bit hard if you don't have enough of a window of time to eat. I'm sure the fact that the Timberline Grille takes Priority Pass hasn't helped the demand!
Conclusion
DEN doesn't offer any other Priority Pass lounge access, but the Timberline Grille Denver Airport more than makes up for that. It's a great place to stop for a meal if you're passing through. And for mostly free. Which is obviously the best part. 🙂