I am a bit late blogging our day-to-day experiences in Paris, but here is the first installment. Two more to follow. 
As we walked off the jet bridge of our Delta 777 (SEE: Delta 777 Economy Review: Seattle to Paris) into Charles de Gaulle airport, I was overcome by that feeling of exhilaration that always accompanies arriving somewhere new. Never mind that I'd napped less than 30 minutes during our 10-hour flight and it was magically morning again. It was a beautiful day to enjoy and explore!
I fondly recalled one of the other times I stepped off a plane to a brand new day: my whirlwind trip to Australia. Heading 7,000 miles away for a mere 5 nights might seem crazy to most. But when you can do it for a hair over $50 per day, it's within the realm of reason. Planning a trip of a mere week in Europe is pretty analogous.
But this time was different. For the first time I had two kids along. Two kids who were venturing somewhere outside their birth country and their adopted country for the first time. Their excitement was palpable.
Even though they hadn't really slept, both kids were alert and curious as we navigated customs and baggage claim. Charles de Gaulle isn't exactly an easy airport to navigate, mainly due to its size, but the signage was decent enough in English. It was just a substantial amount of walking. Finally, we made it to the train station. While I waited in a long line to get our tickets, the kids sat down nearby. This was their first mistake.
The battle begins
During our flight I'd told them how important it was to get at least a little sleep. Due to a last-minute flight cancellation, we ended up on a much earlier flight that anticipated. This resulted in an earlier landing in Paris, which was welcomed. But it also meant we would have to fight through a full day on little to no sleep.
If I was by myself, a nap during the flight would probably have been possible, even as uncomfortable as it is flying economy. But the kids just wanted to binge-watch movies, and I decided to let them. We wouldn't be watching anything for several days, and it would at least make the flight an enjoyment for them.
But this meant that the exhaustion was starting to catch up to them. I could tell when I returned with our tickets for the RER B into Paris (SEE: Best way to get from CDG airport to Paris City Center) that the real onslaught was about to begin. It was going to be a long day battling jet lag.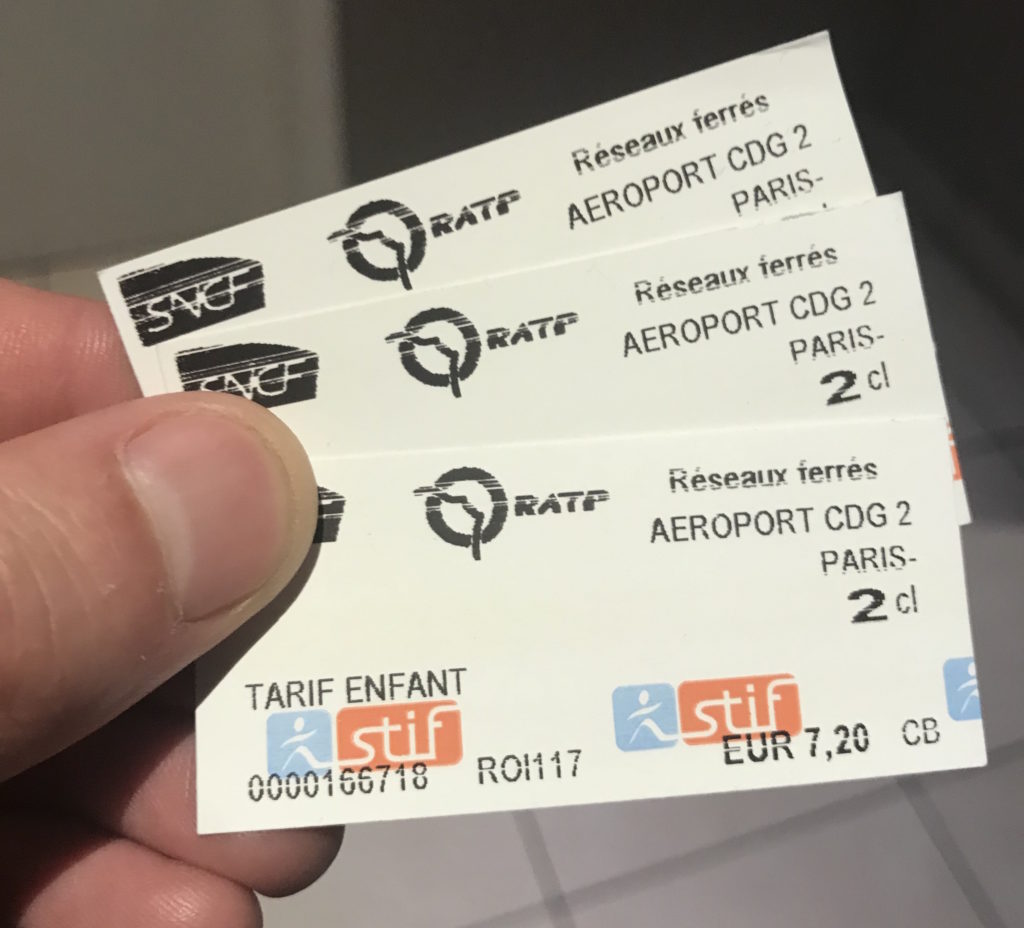 The train ride into the city wasn't any better. It turned into nap time. As we rolled into Gare du Nord, I jostled my daughter awake. We had to make the connection to our final leg on the metro. Finally, 20 minutes later, we were at our hotel, free of our bags and ready to explore.
Bonjour, Paris!
While the exhaustion had been creeping up on me as well as we sat on the train, getting out into the bustle of Paris filled me with a renewed vigor. We could do this. I knew it'd be hard with two tired kids, but I had a few things planned that would hopefully keep their minds off of their fatigue. Off we went to the metro station.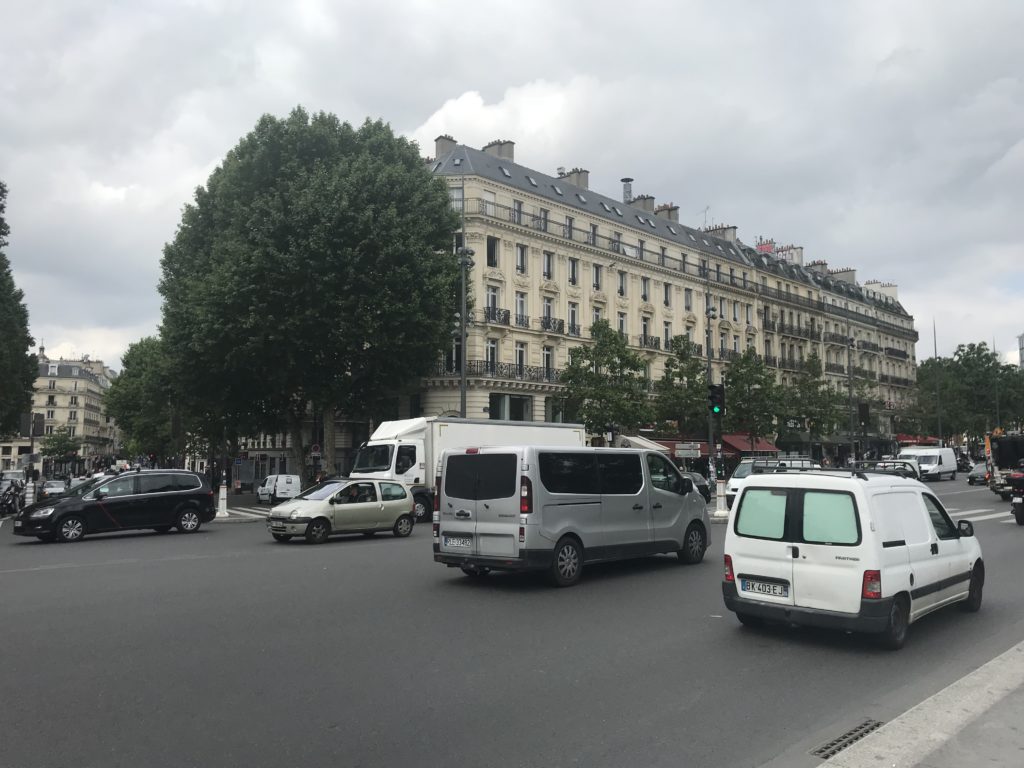 I'd picked the Crowne Plaza Paris Republique pretty much for one reason: easy access to the metro. It was also close enough to the middle of Paris that transit wouldn't take long anywhere. We could reach multiple sights on the metro without even making a transfer.
Using a mere two words, "ticket" and "child", in my assuredly terrible French, I managed to get a carnet of child fare metro tickets. I'd not bothered when we'd arrived at the train station, but I felt less hurried once we'd dropped our luggage. Buying packs of 10 child tickets is totally worth it. You can't beat half off the normal fare.
Off we went on the line to Châtelet. Seeing Notre Dame was first on the agenda. Ok, not quite. The first order of business was sitting the kids down in a quiet park and running through some ground rules for the trip. Don't run off, hold my hand while we walk, don't go with any strangers. That sort of stuff. We'd run through this before at the airport, but now that we were here, I thought it wise to reiterate.
Parental spiel over, we headed toward Paris' famous cathedral on foot.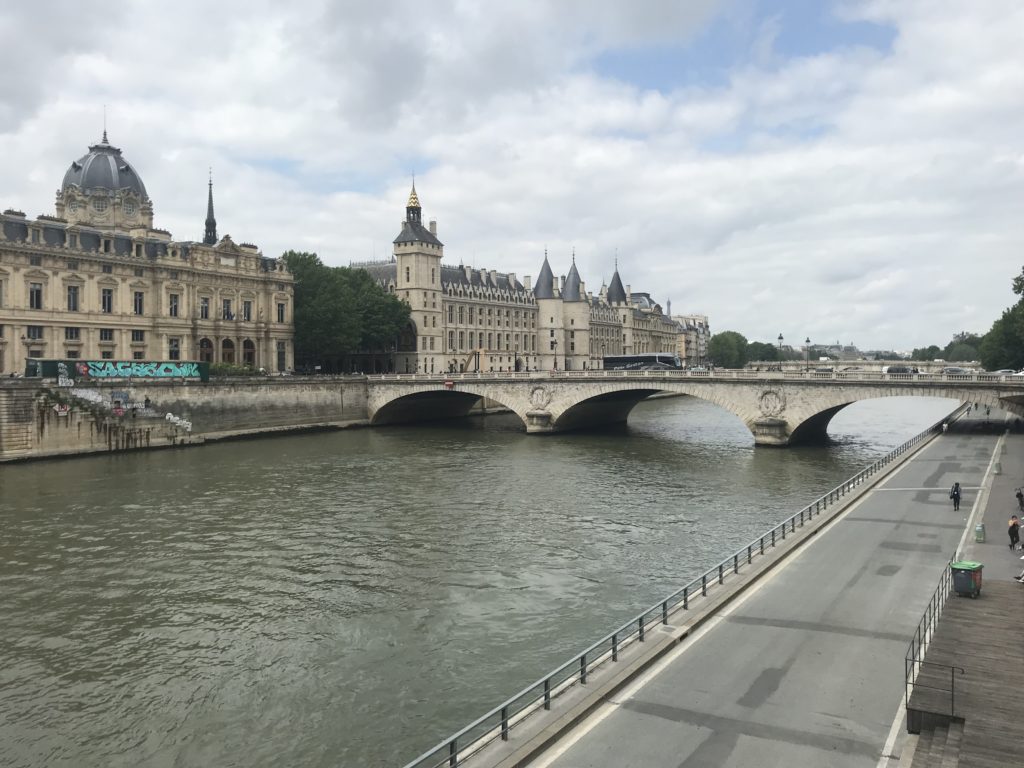 Le Île de la Cité
Reaching the banks of the Seine was one of those surreal travel moments for me. It was synonymous with the morning I caught my first glimpse of Newfoundland through the dawn fog. Or the moment I walked out of the train station in downtown Sydney and caught my first glimpse of the Opera House. It was that perfect moment of I'm actually here. If only I could capture it and savor the feeling even longer. Even more incredible was being there with two of my kids.
Who immediately began to ask how far we'd have to walk and started to complain that they were tired. Alright. Back to reality.
Notre Dame wasn't that far of a walk, but for kids who object to hiking a short distance (SEE: 3 Tips for Hiking with Kids in the Desert), there were still a few complaints. But the complaints turned to awe as we rounded the corner and Our Lady of Paris was there to greet us in all her beauty.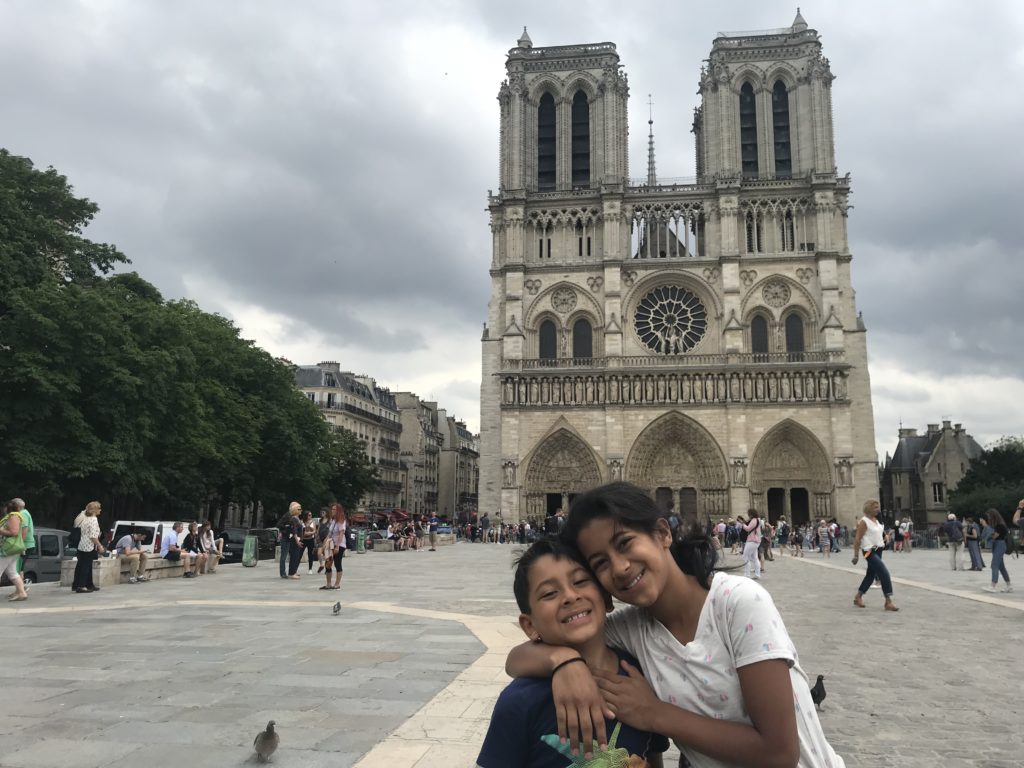 It figures that the first thing on the kids' minds was Quasimodo. Thanks, Disney.
After wandering the square, taking some photos, and admiring the exquisite cathedral, it was time to grab a bite to eat. But I broke a general rule of travel: don't eat in the heart of the touristy spots. I knew without even experiencing it that the cafés just steps from Notre Dame would be overpriced and the food would be mediocre at best. I'd like to say I was pleasantly surprised, but it the little place on the corner was what I'd expected to a T.
With two tired kids and half my brain cells turned off due to jetlag, I didn't really care.  At least I can say every other meal was more affordable than our first.
A stomach full of food brought on the urge to nap, which I fought against valiantly. We walked across the street and pulled tickets for the Notre Dame tower. Since tickets are doled out for visits later in the day, we'd have to occupy ourselves for a couple hours until we could climb the stairs to Quasimodo's perch. No matter. I knew the perfect place to go.
Ahoy, there!
One train stop and a short walk later and we were entering Luxembourg Gardens. Unlike the other major sights in Paris, this one had been off my radar until I started researching for our trip. Make sure it's on your list when you visit.
The kids amused themselves for the first half hour with the wooden boats available to rent at a rate of €4 each for 30 minutes. Each one bears the colors and initials of a specific country and comes with a stick to help navigate it around the pond.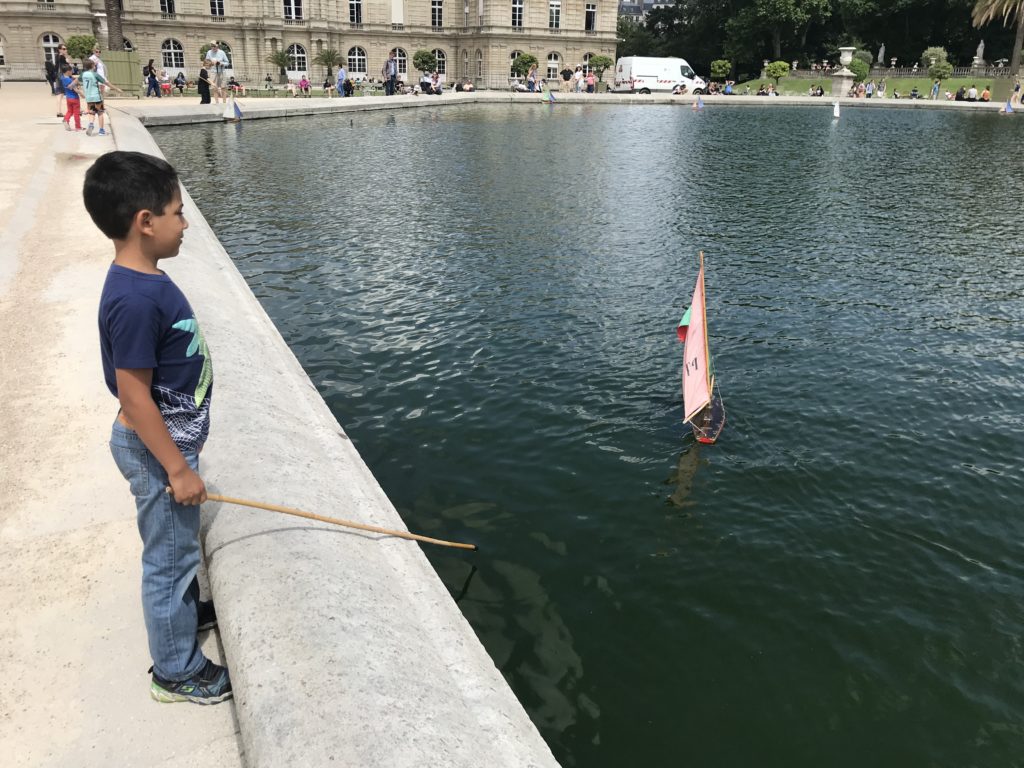 It is great fun and one of the classic things to do for kids in Paris. The kids had picked the boats of Ireland and Portugal rather hastily. We looked for a Costa Rican boat on the rack when we finished, but couldn't spot one.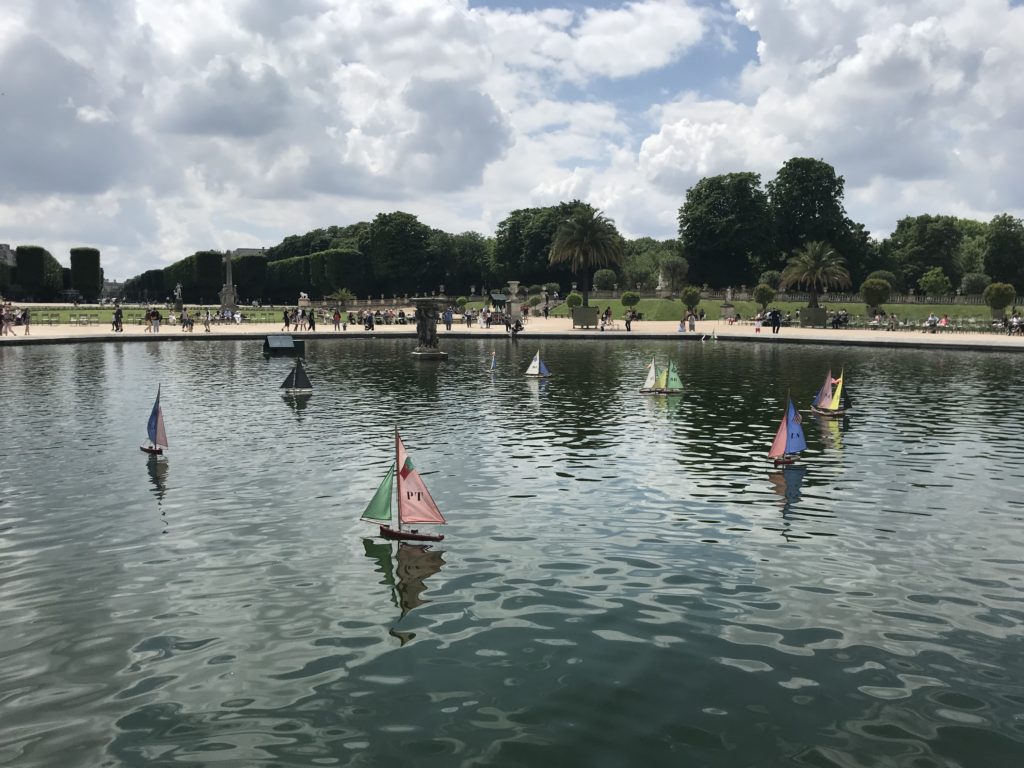 After our sailing adventure we continued further into the park to one of the most superb playgrounds I've ever seen. The required entry fee was unexpected, but it was worth every penny.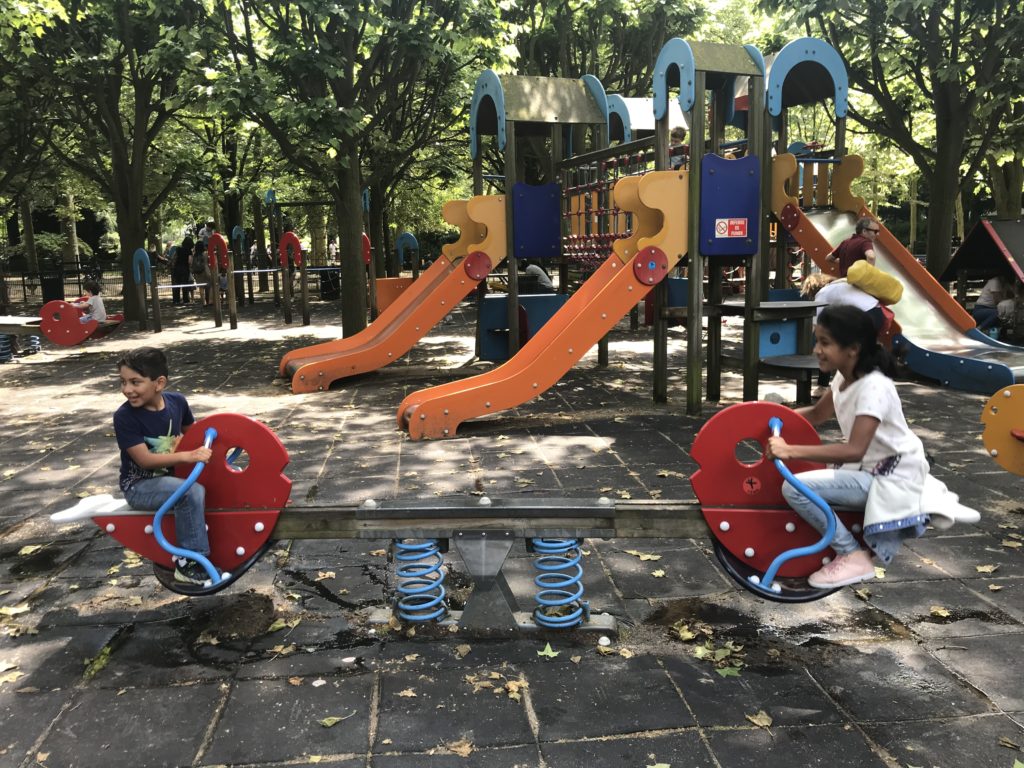 The kids caught a second wind while my eyelids drooped. Everything in me wanted to curl up on a bench right then and there and fall asleep. But I managed to stay awake for most of an hour while they enjoyed the playground to its fullest. We'd surely make another trip here a different day.
The final stretch
Finally, it was time to head back for our tour of the towers of Notre Dame. Having climbed up to the top of the cathedral in Milan with my wife, I knew just how cool this would be.
However, the kids less than thrilled, mainly because of the stairs. My son told me that there had to be "more than 100" stairs. I countered that there were probably more like 300, which elicited a groan. Turns out there are actually 422 (LOL!).
But it was completely worth it. The views are incredible. Now I might not mind being a hunchbacked bellringer myself if this was my view every day.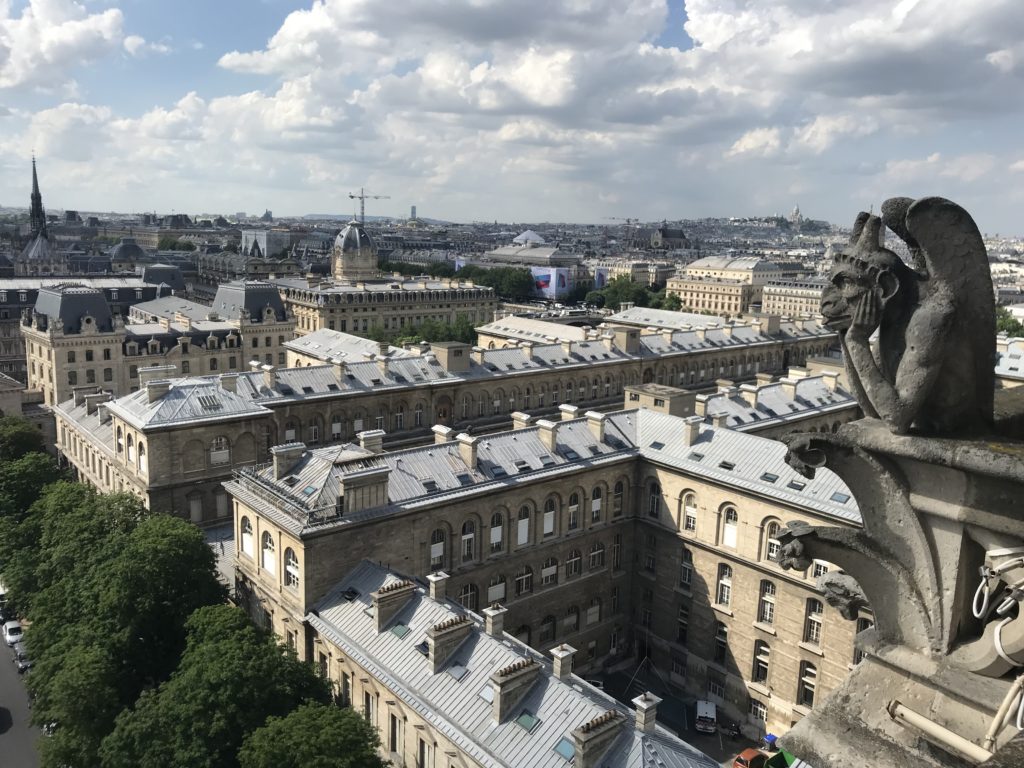 We didn't go to the very top, as the kids didn't want to climb any more stairs. For once, I relented. They were worn out, and it was time to head back to the hotel.
Utter exhaustion
All of us were thinking about one thing when we finally dragged ourselves back to the Crowne Plaza: bed! We picked up some food at a local market and then headed back to our room. I made the kids shower since it'd been essentially 2 days since their last one.
Even with the TV on, my son passed out within minutes. I decided not to wake him and make him eat more, even though he'd hardly touched dinner. Food could wait. We'd survived our day of jetlag and it was finally time for some well-deserved rest. They'd both need all the sleep they could get for our next days of adventure.