Overall rating: 5/10
Pros: one of the cheapest chain hotels in the area, enjoyable hot tub
Cons: tired building, freezing cold and dirty pool, sup-par breakfast
We arrived at the Holiday Inn Rancho Cordova after about 5.5 hours of driving from Humboldt. From the outside the hotel looked a little dated, and I hoped it would be a bit nicer on the interior.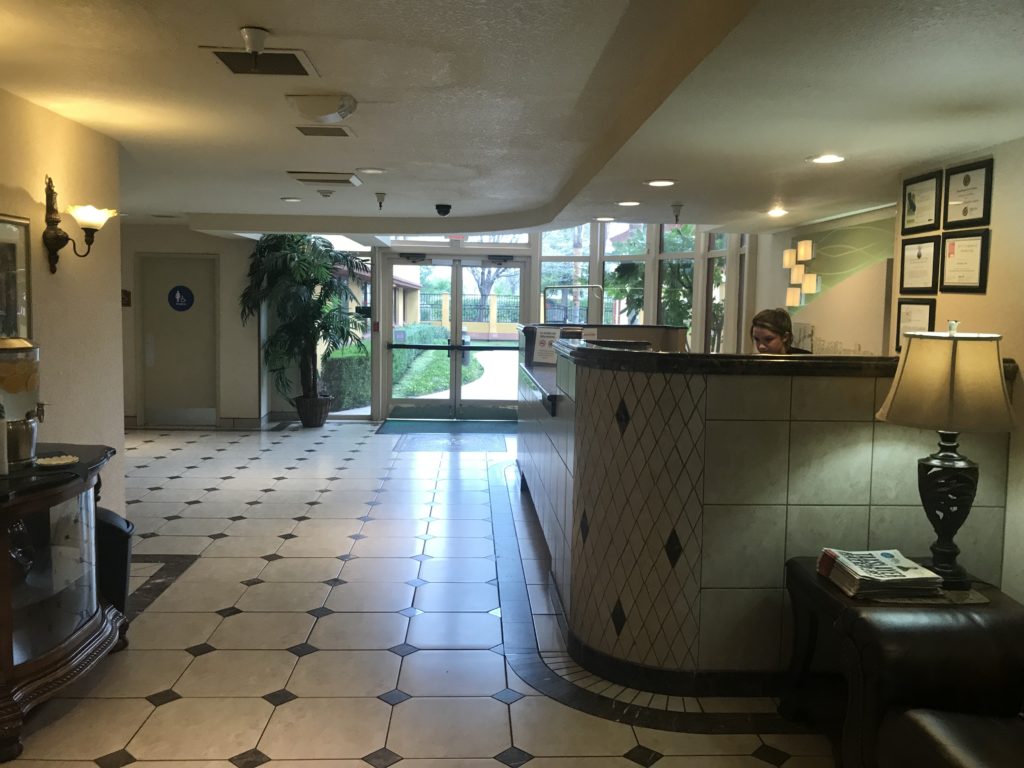 I'd booked a cash rate for our trip, as I was looking to maximize a promotion. At less than $100 per night, it was a pretty good deal, and not worth using points. I'd even booked a breakfast rate for about $4 more for all three of us.
Check in was smooth and easy. There was only one person in front of us, so we had to wait about 3 minutes. Our room was on the third floor, overlooking the pool.
Room at the Holiday Inn Rancho Cordova
The room was adequate. For a Holiday Inn, it was the most dated and tired room I'd stayed in. The kids thought it was very nice, but they don't exactly have the same metrics that I do.
The beds were a standard two queen. This is usually bearable when with raveling with our older two kids, but I did make my son sleep on the floor the final night of the trip so I could get a good night's sleep.
There was a standard desk, the TV, and a rather old AC/heating unit.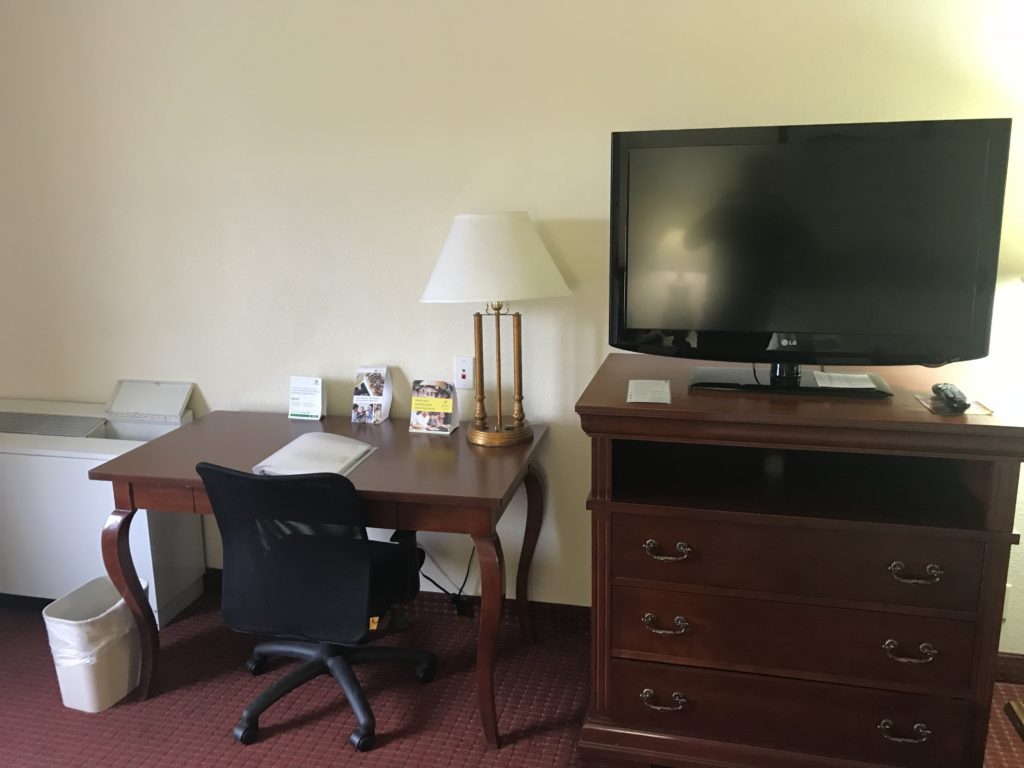 The bathroom was a typical tub/shower with the sink outside.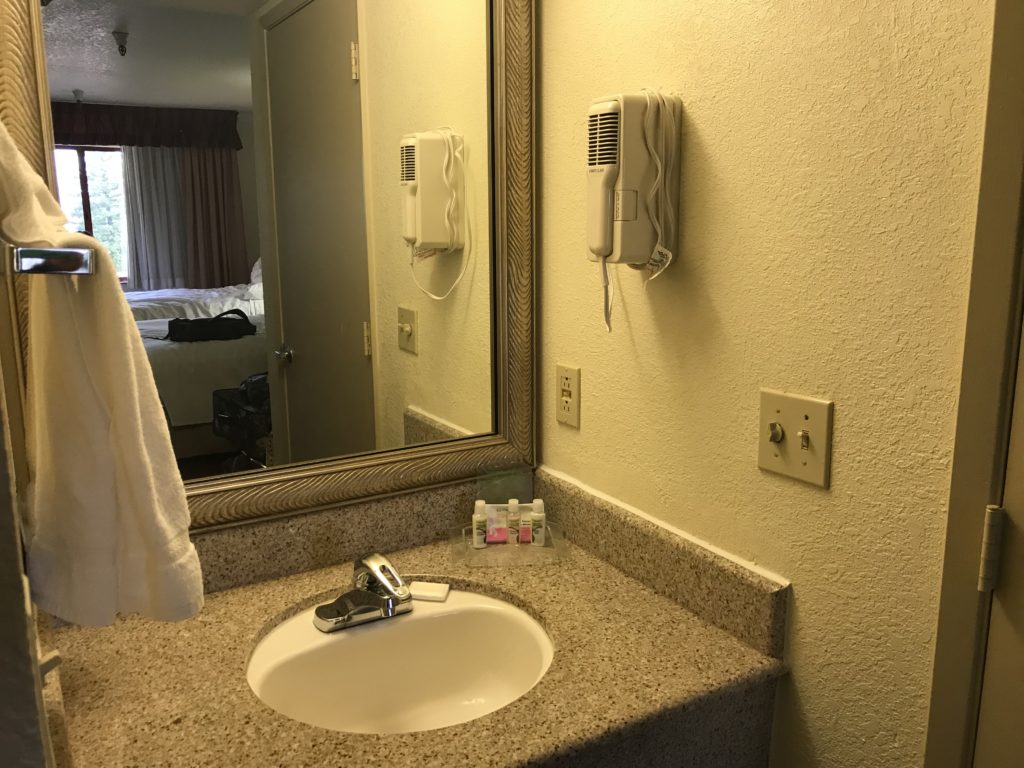 We did have a view of the pool. I never saw anyone in it. More on that in a moment.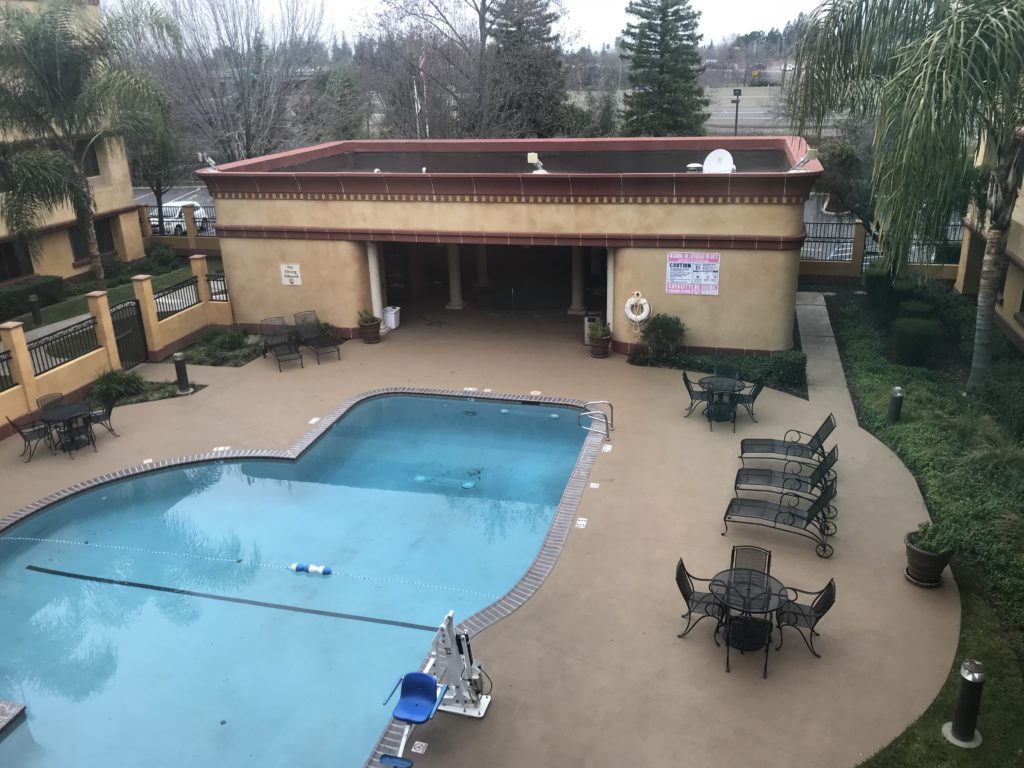 On the whole, the room was definitely dated. Holiday Inns can be pretty hit or miss. I've stayed in several, and the experiences have ranged from the low end of upscale to hardly better than a 2-star establishment you could get for $69 plus tax. My favorites are still the Holiday Inns in both Sydneys (one in Nova Scotia, the other a bit more famous, SEE: Holiday Inn Old Sydney Review).
Pool and Hot Tub
We hung out for a bit in the room before heading to the pool. I'd told the kids I'd swim if the water was warm (haha). I made it no further than my toes. It wasn't just cold. It was frigid. That's what we get for taking a trip in the winter! It would have been a different story if we were visiting the Sacramento area in the summer.
The kids hardly swam, either, which says a lot. They were totally fine with the cold water at our hotel in Costa Rica, but this pool was a bit too much. They didn't like the mess at the bottom, either.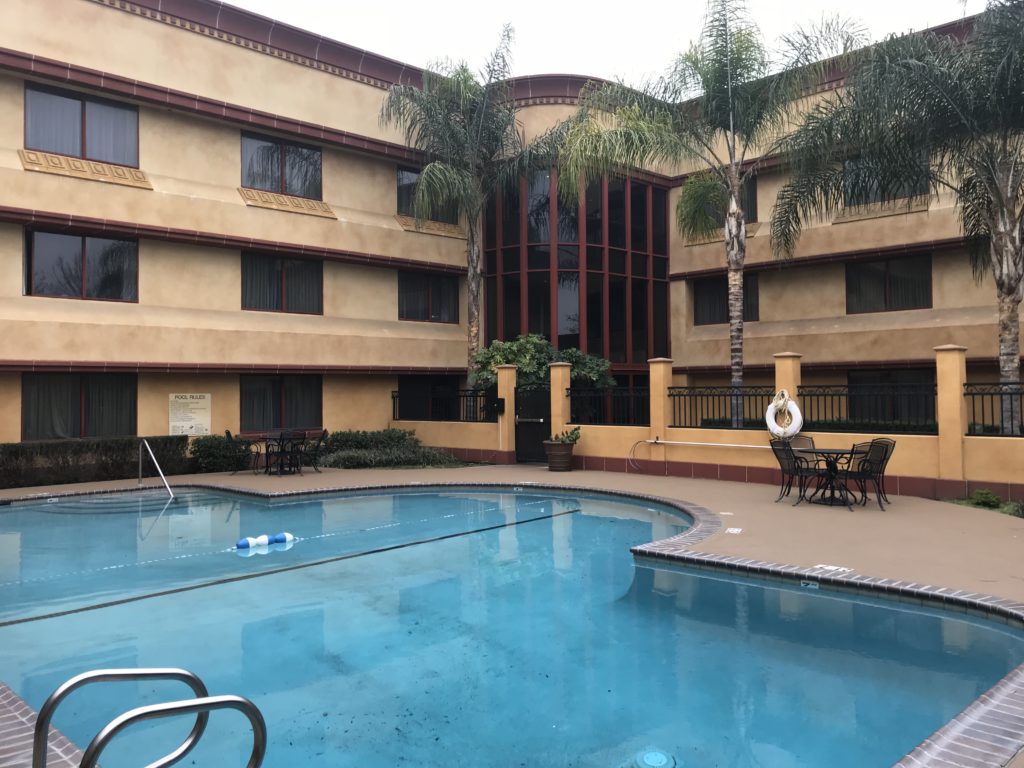 BY contrast, the hot tub was amazing. It was large, and we had it completely to ourselves both times we used it. The cold air outside made it hard to leave to head back to our room.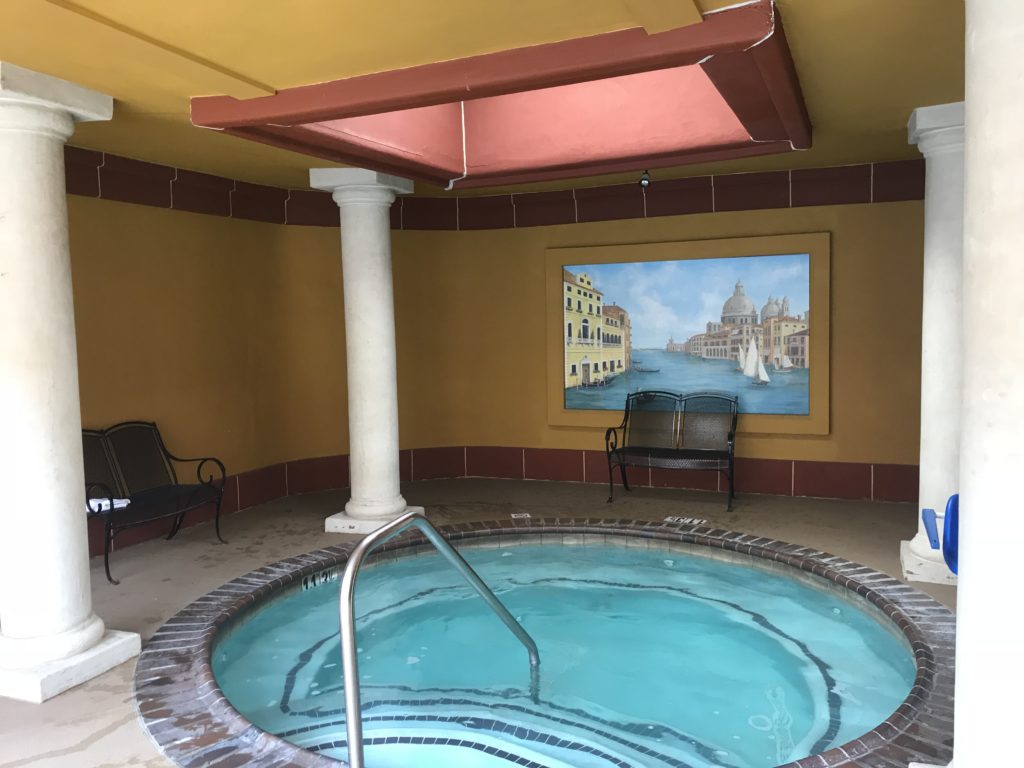 Although I love taking my kids to see the sights, a necessary part of traveling with them is spending some relaxing "down time" at the hotel. The hot tub definitely let us do that.
Breakfast at the Holiday Inn Rancho Cordova
Breakfast was in The Venetian Court, the hotel restaurant. The name might sound all hifalutin and fancy, but the place is pretty nondescript. There is no character or atmosphere to the restaurant at all.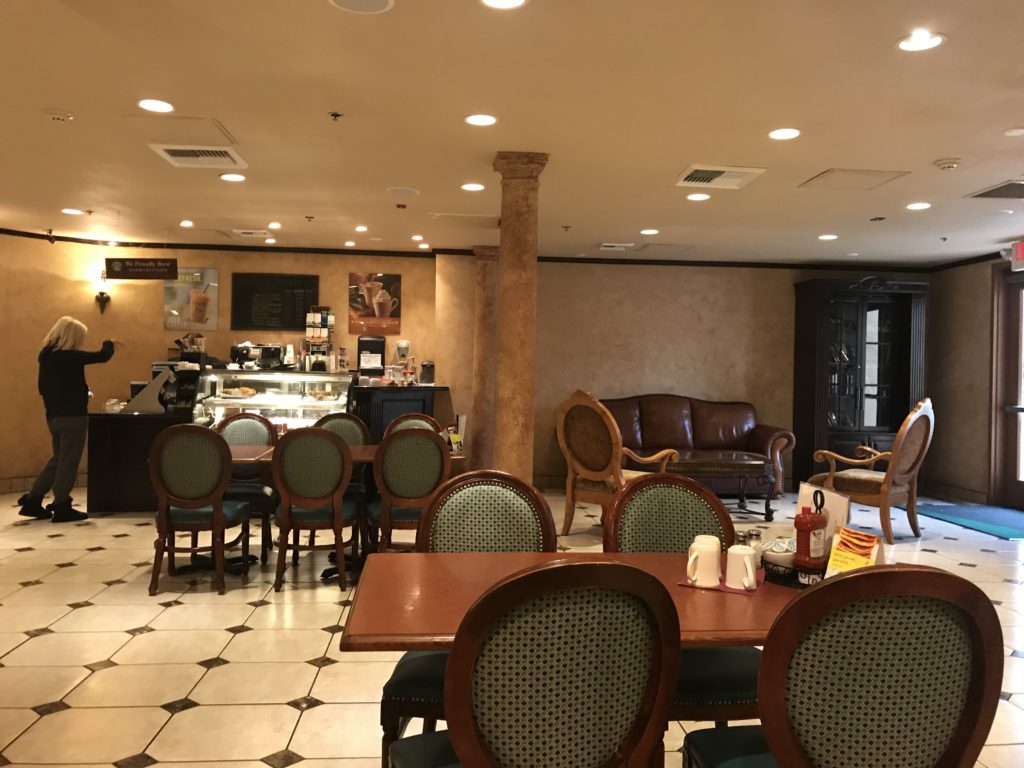 I expected to have several menu options for breakfast, or a full buffet, but neither was offered. Instead, we were presented with a simple menu of three options: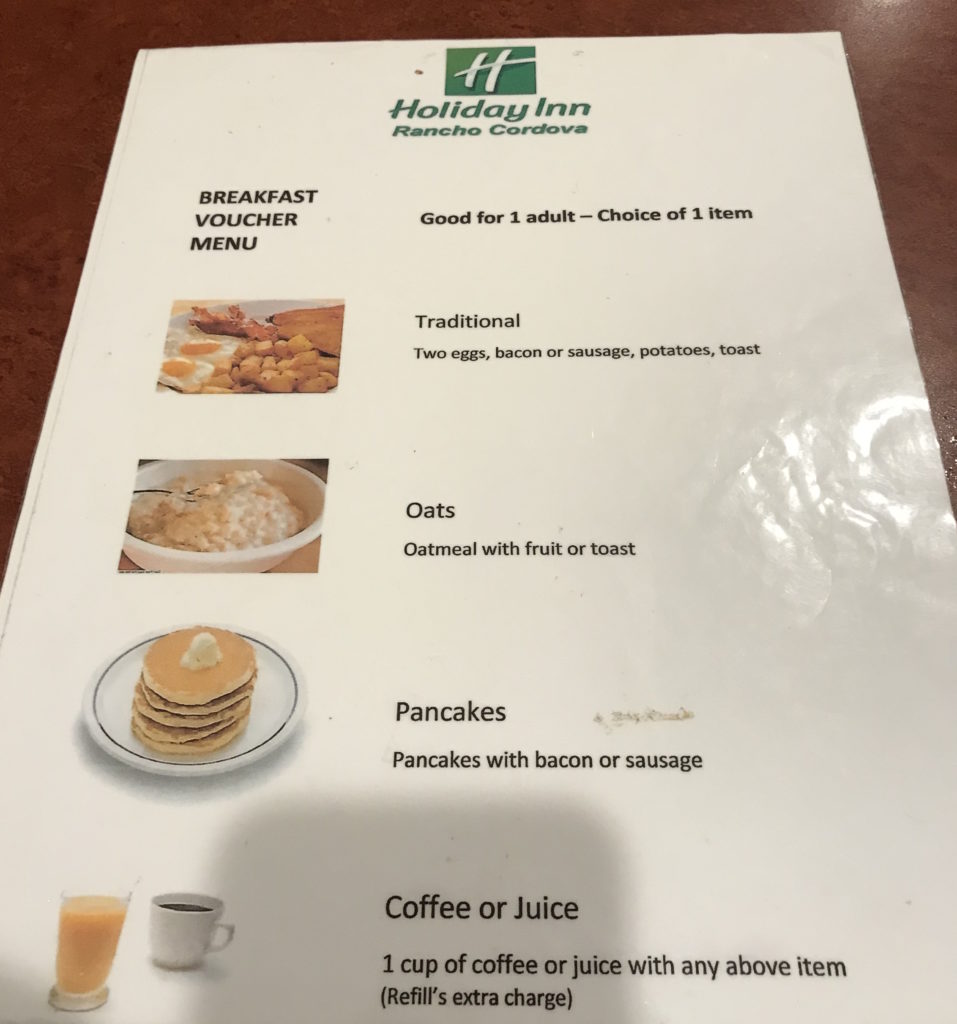 So there you have it. Eggs with meat and potatoes, or pancakes, or oatmeal. Choose wisely.
Each of us ended up ordering something different. I didn't plan things this way. None of us were impressed with any of the food.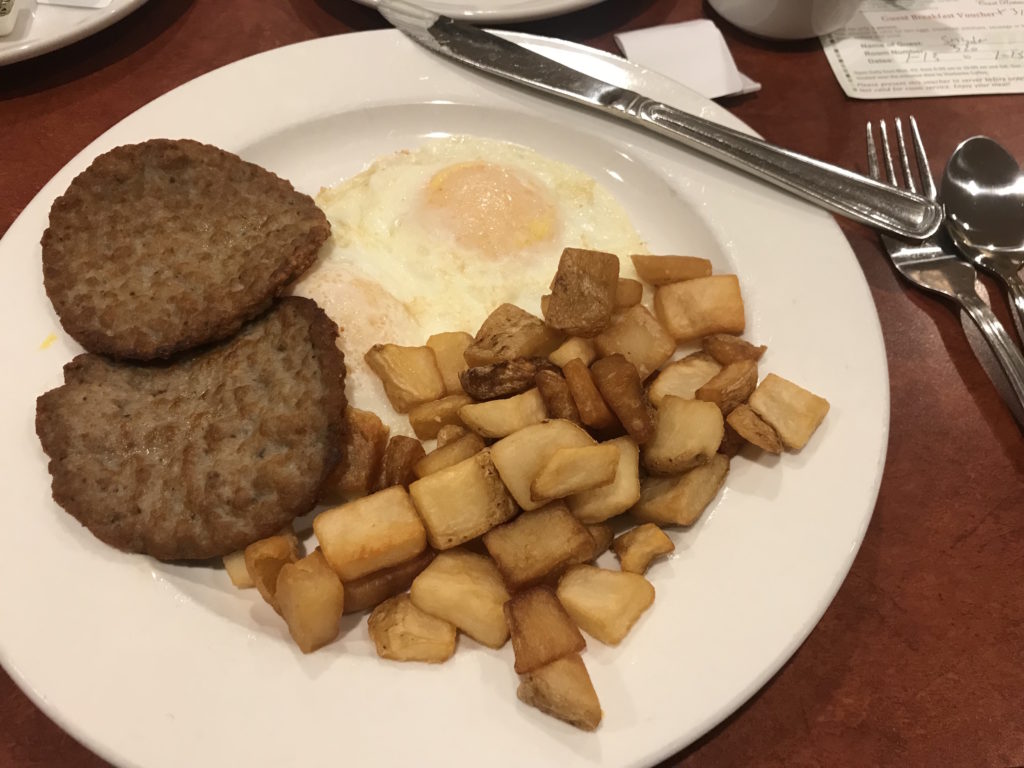 The pancakes were actually slightly more appetizing than the plate of food I received, which says a lot. The quality of the potatoes and sausage was poor.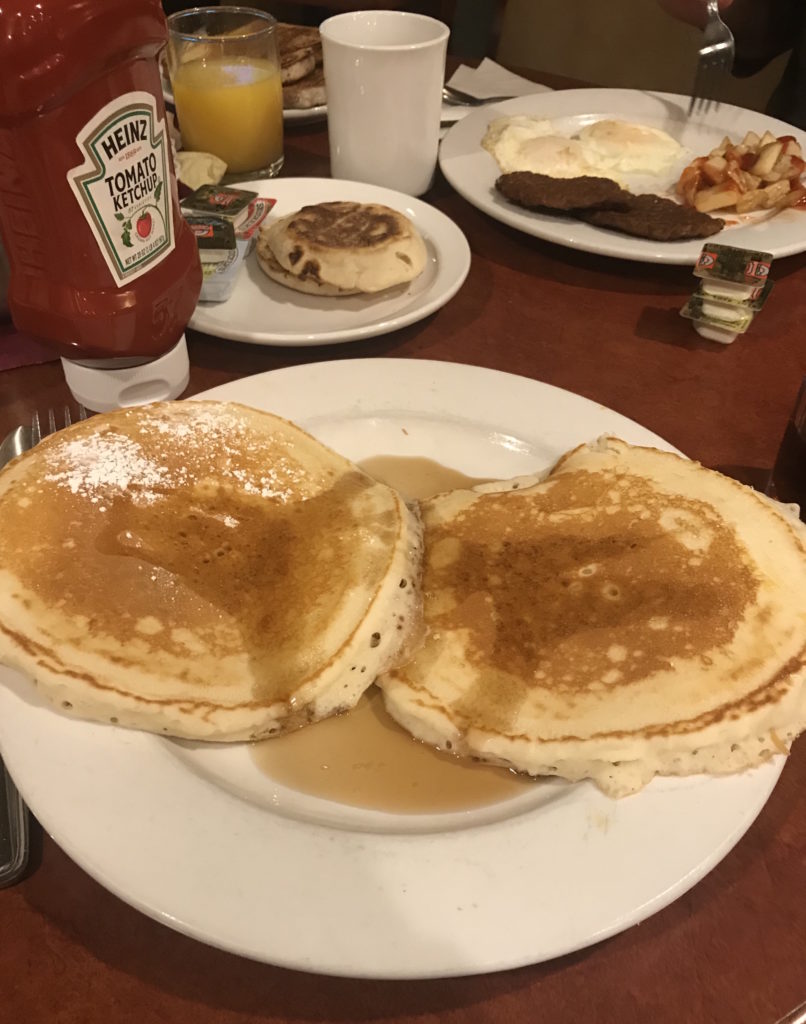 I'm not all that picky when it comes to food, so I easily finished it. But it definitely wasn't what I was expecting for breakfast here. Neither of my kids finished their food, nor did either seem too thrilled with breakfast. But this doesn't necessarily say a lot, as they turn their noses up at all kinds of things that are downright delicious.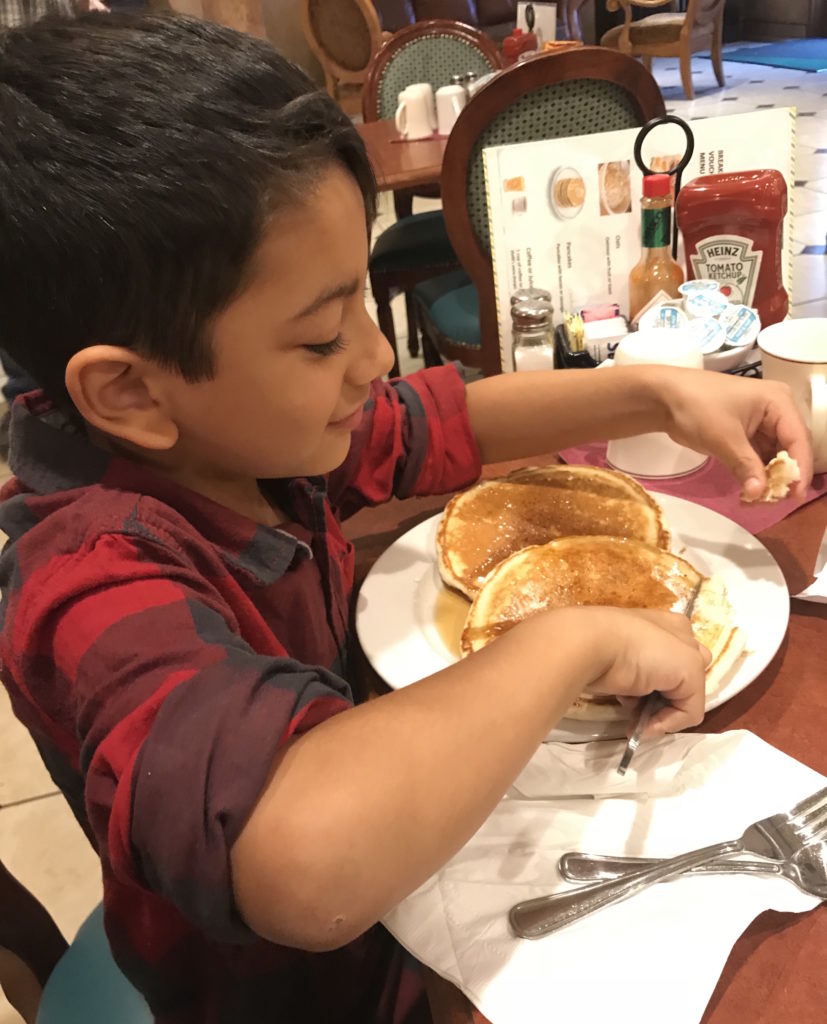 My daughter wanted to enjoy some coffee. She knows the answer from me has been a continual "no." The last thing that girl needs is caffeine.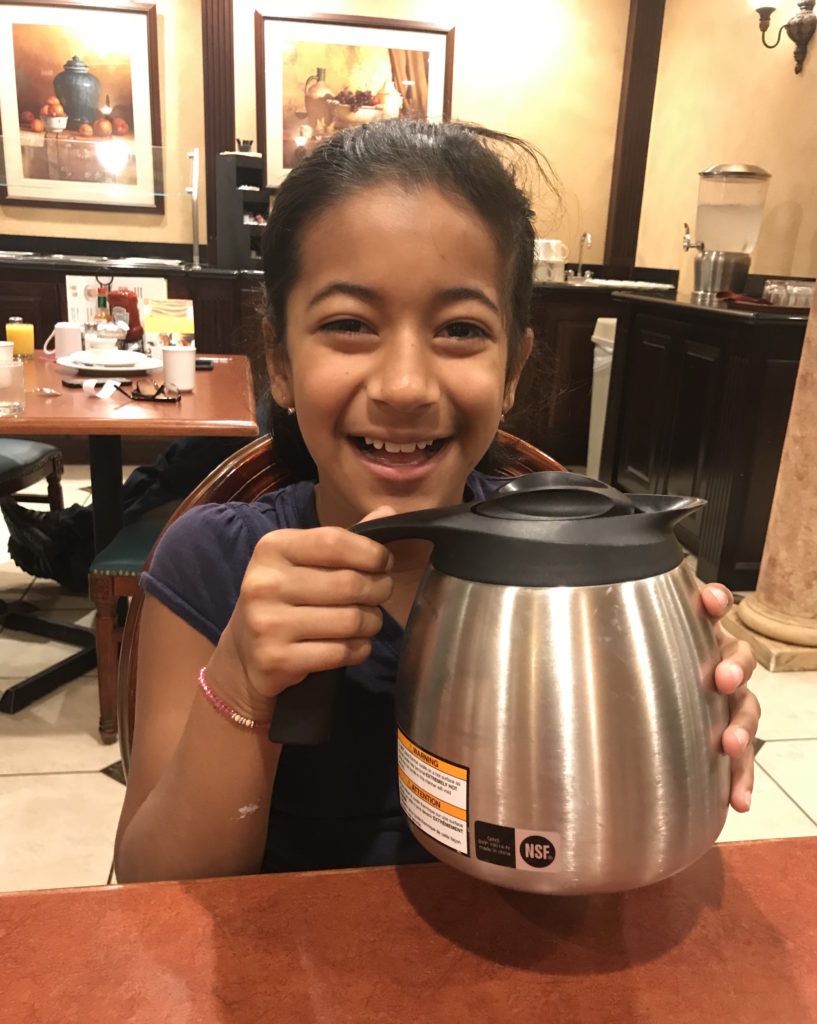 Local Area
There really isn't anything around the hotel. Rancho Cordova isn't a place for walking or sightseeing. I hadn't planned to do anything nearby, as all our activities were in Sacramento itself. We were only 20 minutes from Old Town Sacramento (SEE: Wandering through Old Town Sacramento, ALSO SEE: Visiting the California Railroad Museum) and the Zoo.
Conclusion
Overall, it was a pretty meh hotel. It'd probably be an adequate place in the summer, since the pool would be refreshing instead of frigid. But there really isn't anything else to redeem the Holiday Inn Rancho Cordova. The main reason I'd booked the hotel was to avoid paying $50 more for a room in the city center, plus also pay for parking (assuming I stuck with IHG). This was simply the cheapest hotel I could find to meet my Q1 2018 IHG accelerate promotion. The points haul from this stay and the resulting bonuses would allow us to stay here nearly 3 more nights. You can look at it as a 5-for-2 deal, even though we will use the points somewhere else.
All said and done, I'll almost certainly pass it up next time I am in the area.