Did you know that the shortest flight in the U.S. is in northern California? I didn't either until I saw the headline in a news piece recently.
United is connecting to Santa Rosa?!
When I first read about United adding the SFO-STS hop to their schedule, I thought they were insane. Are you really going to fly a route that people can drive in 90 minutes?
But then I sat back and thought about the market they are attacking. Sure, it is a super short flight. But it lets you avoid the hassle of driving (often in bad traffic) and paying for parking. Plus, if you're local to Sonoma County, it's an easy Uber ride to the airport. I can definitely see the appeal.
Not to mention Sonoma County is growing and demand for air service is increasing. The Charles M. Shulz Airport is looking at a desperately-needed expansion coming in 2019.
The flight time of the shortest flight in the United States? A mere 16 minutes in the air. United blocks it at 51 minutes. You spend more time taxiing than actually flying.
The shortest flight in the U.S. offers some great deals!
In contrast to flying out of Arcata, something that requires taking out a second mortgage on your house, there are actually some good deals out of STS. Not directly to SFO, but you can connect to a number of destinations cheaply. Examples, all one-way:
STS to LAX for $74
STS to SAN for $74
STS to SNA for $74
STS to PDX for $87
Most of those aren't even United basic economy!
I've also looked at international flights that have either an outbound or return leg to STS rather than SFO. Generally, the price doesn't jump too much if you decide to touch down among the vineyards instead of alongside the Bay. I'm hoping this holds out long enough for us to take advantage of it a couple times.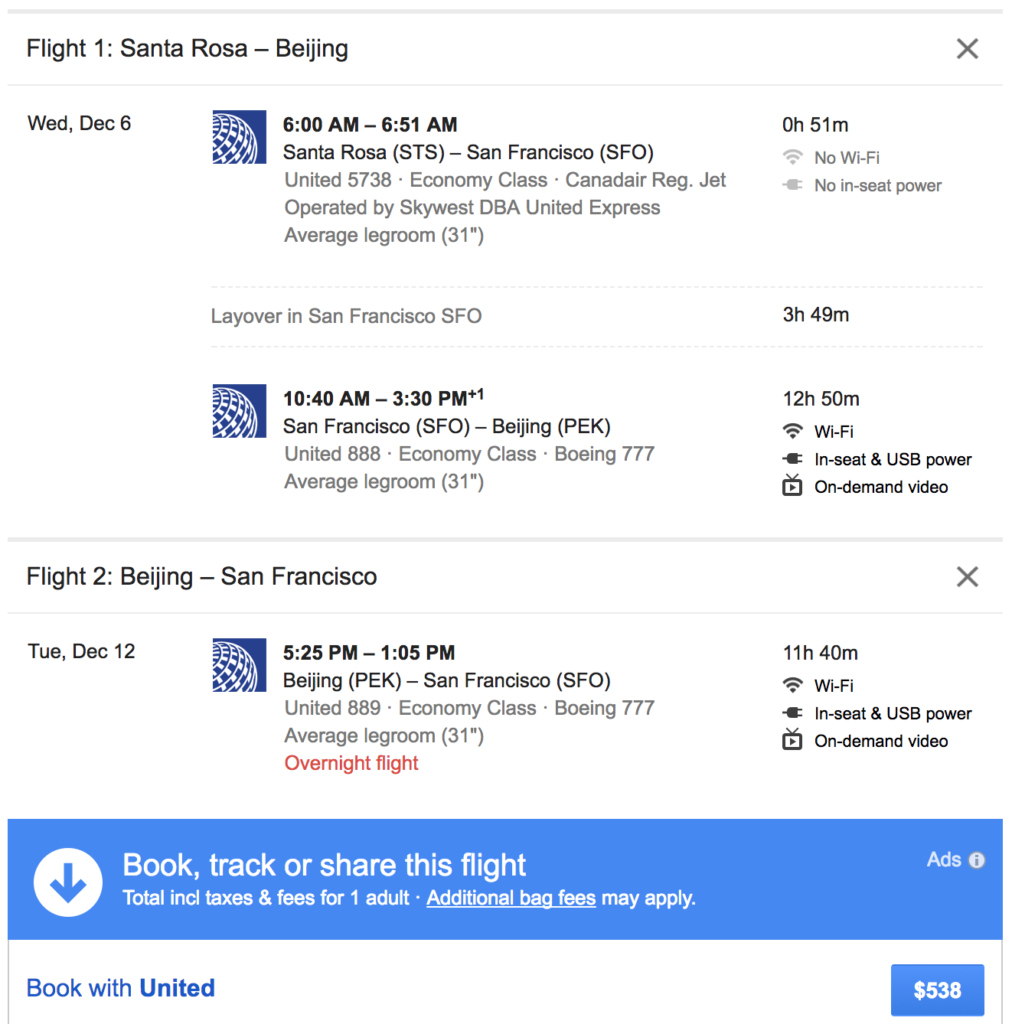 The flight above to Beijing is currently $489 flying nonstop from SFO. Adding the outbound from Santa Rosa only brings the price up to $538. Pretty sweet deal!
Next time you want to get out of Humboldt, consider taking the shortest flight in the U.S. out of Santa Rosa!