With the abundance of co-branded credit cards for both airline and hotel loyalty programs, "hacking" these parts of travel can be fairly easy. Earn points/miles, then burn (SEE: 3 great Starter Travel Credit Cards). However, rental car companies don't have the same sort of arrangement with credit cards, making them a bit more difficult to come by cheaply. This is why you need to know where to look for the best rental car deals.
Some rental car deals are seasonal. If a market is seasonal (e.g. Arizona or Florida), you can often score one-way rental deals for as low as $8 per day. No one wants to be in Phoenix in summer, so after spring training is over and everyone has packed up and left, rental cars just sit idle. Thus, companies move them to more lucrative markets, like Los Angeles or the Bay Area. Rather than pay to truck them all, they'll offer a super cheap rate to induce people to take a one-way road trip.
However, what happens if you are trying to find a deal on a car in a market during peak season? Do you just suck it up and pay $60, $80, or $100 per day? Enter Autoslash.
Where Autoslash fits into the picture
Autoslash is hands down my favorite tool for finding the best rental car deals. I used to shop through Expedia, Priceline, or directly with various rental car companies. But this requires time and effort, and often you can't really know if you're getting the best deal or not.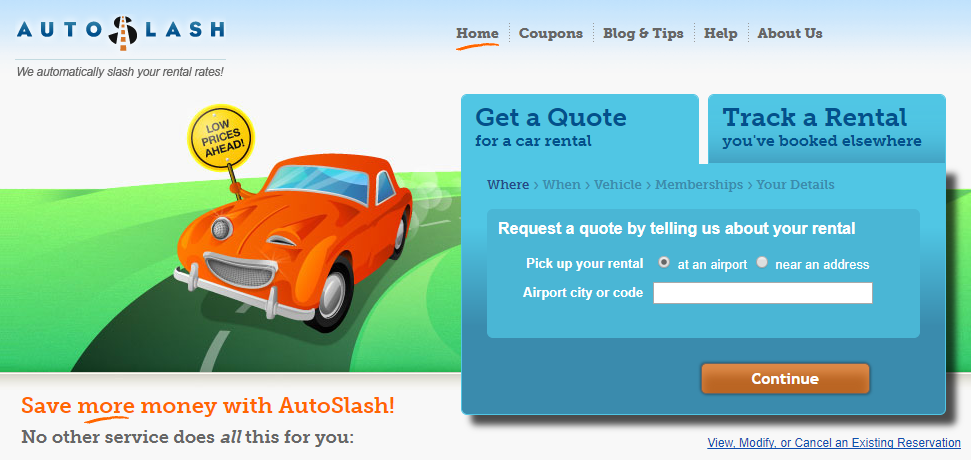 Autoslash takes all this pain away. You key in your information, hit submit, and wait for the great quotes to roll in. If your plans are flexible, you may need to submit a few different options. I've had such great success with them that I'd venture to say that 95% of the time you'll be presented with the best rental car deals using their service. Here are 3 great ways Autoslash can really come through for you:
Autoslash aggregates deals from multiple sources
Unlike airfares, which are often the same across booking platform (not always, but regularly so), rental car prices can vary wildly. I've seen times where I can book a car through the United portal for $85 one-way, versus $145 one-way directly through Hertz. That's a huge difference!
What Autoslash does is let you key in your information one time, and then the service searches multiple platforms for you. The results are then aggregated, showing only the best rental car deals. They are returned by email, typically only taking an hour or two at most to hit my inbox.
As an example, Autoslash saved me a ton of time and money on a recent trip to Montana. I was struggling to find a good deal on a rental car, realizing that anything I rented was probably going to cost $300 or more. Most options didn't even offer unlimited mileage! However, once I keyed my info into Autoslash, I was presented with a deal on an intermediate sized car for $176 that included unlimited mileage! The deal was with National and booked through Priceline. Had I been searching manually, I may have never found it!
Price drop? You're automatically re-booked
One of the best features of Autoslash is that the service searches your itinerary multiple times per day in case of a price drop. This doesn't apply if the booking details are different (e.g. if you book through Hertz, and now there is a better deal through National). But if your exact itinerary changes price, Autoslash will lock in the savings for you!
Autoslash will also continue to send you emails with updated deals for each search. I find that I'll get a new update roughly once a week until the time of rental. Sometimes the email has offered a better deal, but more often than not, the original deal discovered by Autoslash is still the best one.
Assurance that you're getting the best deal
I'm not saying Autoslash is 100% foolproof. But it is the closest thing to a silver bullet for rental cars. The service has definitely saved me money over the last few times I've rented a car. Rather than wonder if I could be getting a better deal searching elsewhere, I trust Autoslash to come through for me. It has taken all the pain out of trying to find the best rental car deals.
The only site I routinely check any more is the United site. If Autoslash pulls a Hertz deal, I'll check and see if United is offering the same price. This is because I would typically rather earn United miles than Hertz points for my rentals. Sometimes United even offers killer promotions. So far, however, Autoslash has always won out.
Bottom line: Use Autoslash to find the best rental car deals
For a long time I never really investigated Autoslash. Lots of travelers raved about it, but I figured I could find decent deals myself. Now I'm 100% converted. I'll never go back to searching manually again.
Ultimately, Autoslash can save you a ton of money on a rental car. From offering the best array of deals, to automatically re-booking your rental should their be a price drop, the service is amazing. And it's free. You can cut your rental cost even more by using a flexible points currency (such as Barclaycard Arrival miles) to offset the remaining cost of the vehicle. Even without credit cards, there are ways to hack rental cars. You just need to know what tools to use.
Header image courtesy of Erico Junior Wouters under CC 2.0 license.