Many people balk at the idea of paying an annual fee for a credit card. I'd like to convince you that fees aren't all bad, especially if you are getting great value for even a $95 fee. But if you want to jump into the "travel hacking" world without paying a fee, consider one of these best no fee credit cards.
Technically, I'll still suggest getting a Chase Sapphire Preferred as your first card. It's introductory fee is $0 for the first year, so there really isn't a downside. You'll have 12 months to decide if you want to pay the fee. But if you want to start with something truly free, these are some of the best no fee credit cards you can get:
Chase Freedom Unlimited
The Chase Freedom Unlimited card is one of the best no fee credit cards if you are new to this hobby. The card typically carries a sign up bonus of $150 (really 15,000 Ultimate Rewards points), and it earns 1.5 Ultimate Rewards (UR) points on all purchases.
If you have a premium Chase card (Sapphire Preferred, Ink Preferred, Sapphire Reserve), you can transfer these points to one of these cards and then to travel partners. You can also use them to book travel directly through the Chase travel portal. If you don't have a premium card, you can simply use them for cash back.
The points have substantially more value when redeemed for travel, which I one reason I suggest getting a Chase Sapphire Preferred card. But if you are adverse to fees, the Chase Freedom Unlimited is a decent card.
American Express EveryDay
The American Express Everyday card shines as the best no fee credit card for travel that actually earns transferable points. It typically comes with a sign up bonus of 10,000 points after $1,000 in spending, but occasionally you can find a higher offer. Obviously, getting a higher bonus is great since you can only get it once due to Amex's once-per-lifetime bonus limit.
The American Express EveryDay card earns 2x points per dollar at supermarkets on up to $6,000 per year of spending. It earns 1x on all other purchases. However, if you make at least 20 purchases in your billing cycle, you will earn an additional 20% bonus on your points. This equals up to 2.4 points per dollar spent on supermarket purchases, which is quite good.
If you do a lot of spending at supermarkets, the EveryDay Preferred may be the better way to go. But it has a fee.
Chase Freedom
The Chase Freedom card is similar to the Chase Freedom Unlimited, except it earns 5 UR points per dollar in quarterly rotating categories. It earns 1x points on all other purchases. The quarterly categories are capped at $1,500 in spending, which mean you can earn a maximum of 7,500 UR points at the bonus rate each quarter.
Again, the Ultimate Rewards earned from the Chase Freedom card can only be used for travel if you have one of the premium cards. You can also transfer them to the account of someone in your household if you are an authorized user on one of their premium cards.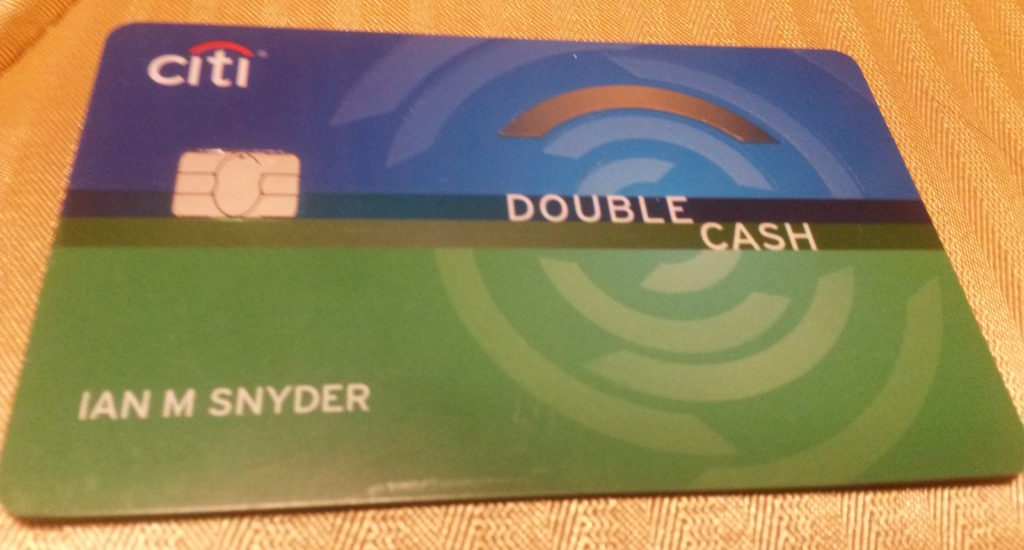 Citi DoubleCash
While not specifically a travel credit card, the Citi DoubleCash card is one you should consider adding to your wallet. The card doesn't offer a sign up bonus, but is does offer unlimited 2% cash back on all purchases. The earning is split: 1% when you buy, 1% when you pay. Rewards hit your account at the end of each statement cycle.
Often when I can't decide what travel card to use for spending in a non-bonus category, I'll simply pull out my DoubleCash. It's hard to beat straight 2% cash back (although my SPG American Express gets some love as well, but it *does* have a fee).
Which of the best no fee credit cards should you get first?
Out of these best no fee credit cards, the only one with which you can earn flexible, transferable points is the American Express EveryDay card. It is one of the cards I suggest getting and keeping, especially considering American Express' "once per lifetime" limit on credit card bonuses.
However, it may not be the best choice as a first card for a couple reasons. First, you may want to get Chase cards first due to the Chase "5/24" rule (SEE: Trying to Understand the Chase 5/24 Rule). Second, the Freedom or Freedom Unlimited will provide better value in the long run if you ever get a premium Chase card. I'll reiterate that the Chase cards must both be paired with a premium card to get the full value out of the points. Otherwise you're just looking at them as cash back cards.
Remember to use credit cards responsibly. The rewards you earn are only worth it if you pay your balance in full and on time every month (SEE: The 5 Commandments of Travel Credit Cards – or really any credit card).