One of the perks of working on projects located on the east coast is that I get to travel now and then. Last year I visited our Roanoke office seven times over the course of 9 months, assisting our Virginia staff in a variety of ways. Now that I'm moving even more heavily into one of the two major projects we have in the state, it's likely that I'll be headed there a number of times this year as well.
Consulting travel has pretty open parameters, as long as the costs are reasonable and within the terms of our project contract. When traveling back east, I initially found myself waffling between flying out of our local airport versus flying out of either SFO or Sacramento airport. But now after several trips, one of the options clearly won. And it might not be the one you'd expect.
The dilemma: is driving faster than flying?
Flying to eastern Virginia requires a minimum of one connection. If I only wanted to fly to Dulles and then drive for several hours, I could find a nonstop option. But that would leave me driving on both sides of the trip. Getting to Roanoke means connecting in one of four places: Atlanta, Chicago, Dulles, or Charlotte. There might be a couple other options, but these are the ones most itineraries present me. Have to connect at least one of these places.
If I want to fly out of our local airport, there are a minimum of two connections. The fastest flight I can find out of Arcata has a total travel time of 12 hours. I would depart on the morning flight out of Arcata at 6:00 a.m. to SFO, and then arrive in Roanoke at 9:00 p.m. eastern time. At least…that is how it is supposed to work. Both times I booked this ticket, my flights were significantly delayed, and I clocked travel days of 15-16 hours on a domestic itinerary. I don't mind a long day, but arriving at 1:00 a.m. is just not my cup of tea.
Fed up, I booked my next work trip out of Sacramento airport. Sure, it is 4.5 hours away, but I'd rather be in command of my own destiny rather than at the mercy of United. The fastest flights from SMF to ROA are 7:15-7:45, depending on the carrier and connection schedule. Definitely better than the option from Arcata. Adding on 4.5 hours of driving, the two alternatives have roughly equal travel times. I know driving 4.5 hours each way to an airport isn't for everyone, but a seat in a car beats a seat on a completely full plane.
The costs are generally the same, too. Two one-way car rentals plus the plane ticket out of Sac usually adds up to what United is asking out of Arcata. If the client is paying the same, and the total time requirement is the same, what else is there to consider? Easy: reliability and comfort.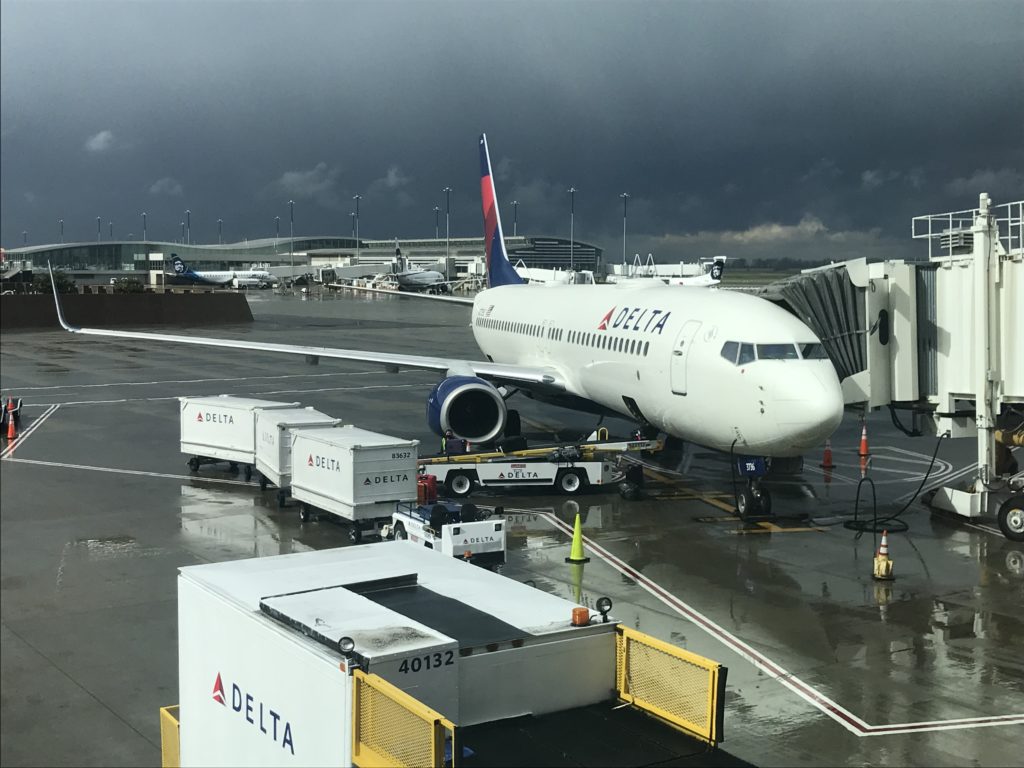 Hello, Delta
I learned quickly that flying Delta was the way to go. I tried American as well, but you really can't beat having seat-back entertainment and a generally more cheerful crew. The service and amenities Delta offers are definitely a notch above the competition. I flew enough (and spent enough on their co-branded credit cards) last year to earn Platinum status, so now I even have the chance for a few extra inches of leg room when flying across the country in their Comfort+ seats. This, plus the fact I've never been delayed, will have me driving 4.5 hours every time to fly my new favorite carrier as of last year. It may seem crazy, but it's what works for me. And fortunately what works for me works for work, too.