My first Throwback Thursday post recounted how I got my wife and myself lost in Rome back in 2016, and I figured I'd follow up with another misadventure. This one is a bit more recent, as it occurred during my week in Europe with the kids last year. It didn't make the original set of stories I blogged from our trip, but probably should have. Me getting lost is not a normal occurrence, and the fact the kids were along just made things that much more stressful.
Our tricky return plan to CDG Airport
When I initially looked into how to get us back from Luxembourg to Paris Charles de Gaulle Airport, the train was the preferred option. Tickets were fairly reasonable, and even considering the the two transfers, one in Metz and the other in Paris, it wasn't a bad option. Not cheap for three people, but not bad. It would also give us most of the day in Luxembourg before the afternoon train departed.
So off to Paris we went,  spending three lovely days in the French capital (Day 1, Day 2, Day 3). Then it was off to Luxembourg (SEE: Our Whirlwind 44 Hours in Luxembourg) for a few days. It was on this day that I belatedly realized I hadn't actually booked the tickets mentioned above. Although I had settled on a plan, I had failed to book the return leg. No matter. I would do it the morning before we left.
Except there was just one problem: the prices had gone up substantially. We would be spending quite a bit more than I anticipated. Exploring other options, I finally decided that booking a rental car from Metz to CDG directly was the cheapest and fastest option. We would still need to take the train from Luxembourg to Metz, but that was a quick journey and inexpensive.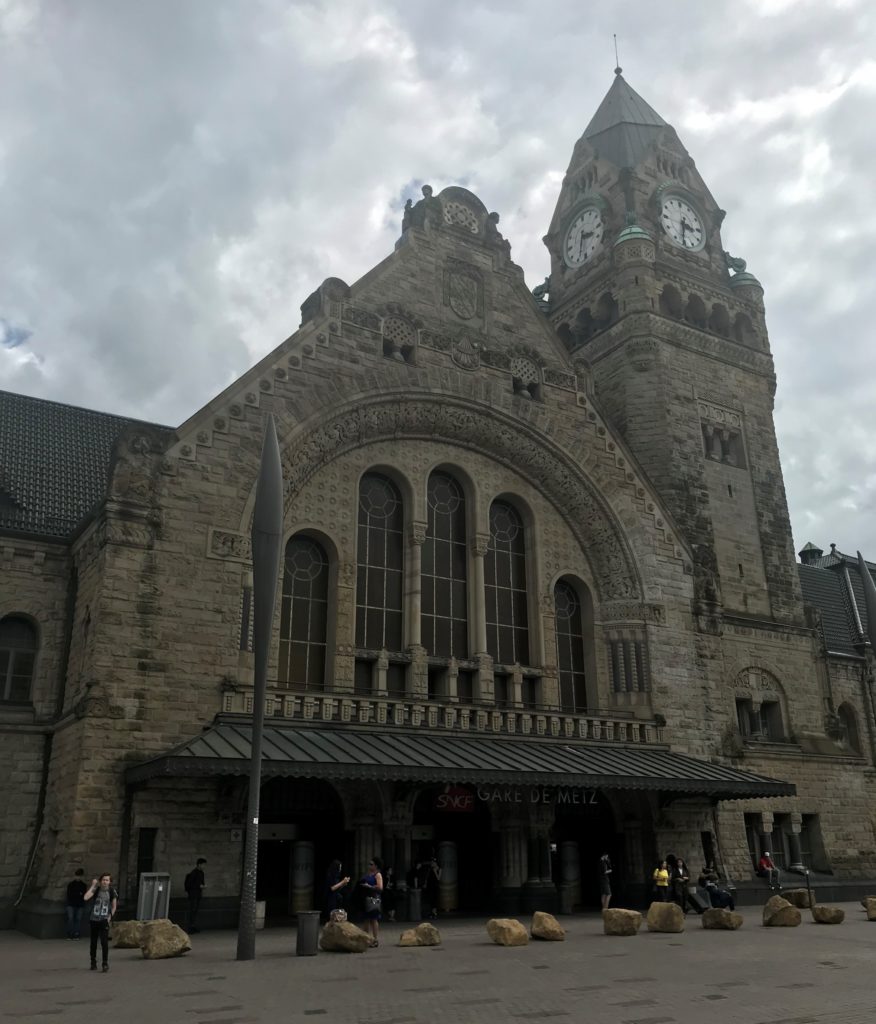 I prepped…just not enough
This would be only the second time I have ever driven in a foreign country that is not named Canada or Mexico. But with several weeks of driving in San José, Costa Rica under my belt, I had no qualms about driving in France. The streets might be a bit tighter in the cities, but I would be doing mostly highway driving. Or so I thought. 
I carefully mapped out our route. I had directions noted down on paper that would take us from the center of Metz to the highway toward Paris. It was a series of only a few turns, and then it would be smooth sailing to the airport. I noted down the freeway exit as well, but I figured that once we got that far, there would be clear signs for Charles de Gaulle. 
But all this went out the window. When we arrived at the rental car center, it dawned on me that there weren't any cars parked in the tiny front lot. Turns out they're actually kept underground in a garage beneath the train station. We hopped in and took off in our tiny Citroen, and that was when things went off the rails. 
Instead of exiting to the east, like I'd planned, the garage spit us out going west. I hadn't studied the streets on this side of the station and only had a vague idea of how to get back toward where we needed to be. Where was a paper map when you needed one?!? I should have bitten the bullet and just paid for a local SIM. At least then I would have an easy way of getting us out of this predicament.
I did the best I could to navigate toward the freeway, but instead got completely turned around in the middle of Metz. Driving a stick shift along narrow streets wasn't the issue (SEE: 5 reasons why you should rent a car with a manual transmission). The mess of confusing roads that weren't arranged in any sort of grid-like fashion was. I finally stopped the car by an old church to de-stress and think. We'd been driving almost 15 minutes, and we weren't any closer to leaving Metz.
Navigating the old-fashioned way
Even though I was quite turned around, I eventually found my way back to the train station. Using what? The sun, of course. I'd finally figured out that we'd been weaving mostly south instead of west, like I'd originally thought (thank the very rough Google map). Keeping the sun on the left, I eventually spied a sign for Gare du Metz. Following this took eventually us onto a street that dropped us under the station and then back up onto the road I wanted to be on in the first place!
After that it was smooth sailing, following the signs to Paris and taking the few turns necessary to approach Charles de Gaulle airport from the east.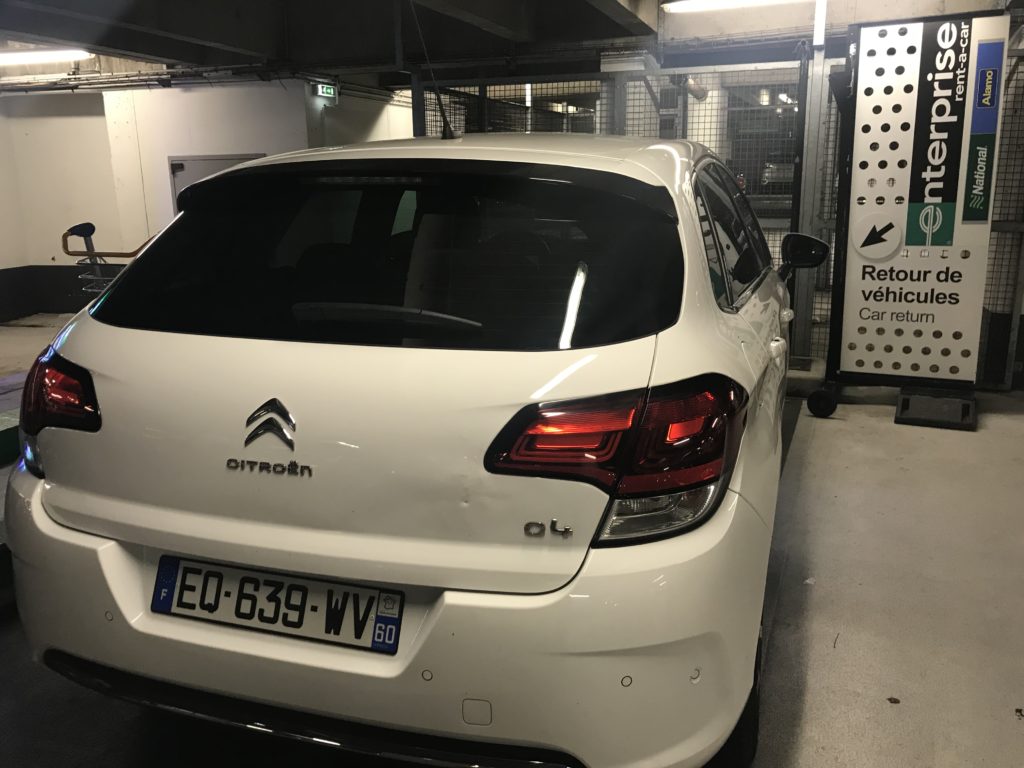 We arrived a bit late, but the Holiday Inn Express CDG Airport gave us a restful sleep before a nice flight home on an Air France A380 in economy.
Conclusion
In hindsight, I'm still happy with the choice I made. It was hectic and frustrating in the moment, but love driving. Flying at 130 kmh over the hills of Lorraine and Champagne on a beautiful evening is an experience I will not forget.
But for the "normal" traveler, I would recommend the train. If we were on an extended adventure through the French countryside, a car would be critical. But this was just to get us back to the airport. Save yourself the potential headache and travel by rail.