Train travel has been my favorite method of transportation since I first set foot on one in Britain when I was 19. Nothing beats it if time is not an issue. I didn't get another chance to ride one, however, until I was 22, when I traveled to San Diego and back on the Amtrak San Joaquin. This was the trip on which I hatched my honeymoon plan, figuring out how to acquire thousands of Amtrak Guest Rewards points through the co-branded Chase Amtrak Card (now gone) and Chase Ultimate Rewards. It proved to be a kick-starter to my points and miles travel hobby.
As part of our recent trip to Canada, my wife and I rode the entire length of the Adirondack Amtrak route, departing from Montreal in the morning and arriving at New York Penn Station late in the evening. Most of our train travel experiences have been in long-distance, first-class sleeper accommodations, but this route is only a single day trip, and it was our first journey in coach since 2013. I was hoping it would be better than the Amtrak San Joaquin.
As we boarded the train in Montreal, I immediately noticed two things. First, it was only a single-level train, and most that I have ridden have been double-decker Superliner cars. This indicated to me that the route is not especially popular. Second, I wondered for a few minutes if we were in business class since the seats on the train had more legroom than any other coach class that I had ever ridden. I half expected the conductor to come by and re-seat us when he saw our coach tickets! I have yet to ride business class on a train, though, so I really do not know what it is like and have no yardstick for comparison.
The seats were very comfortable, there were adequate power outlets, and the tray was the perfect height for me to work from my laptop while we wound our way past lake Champlain and along the Hudson River toward the Big Apple. Overall, the coach felt less cramped and more comfortable than other trains I have ridden. Coach on the Adirondack is definitely a step up from the San Joaquin, and I would venture to say it was better than our first experience on VIA Rail.
The scenery was exquisite along Lake Champlain. We saw men ice fishing on frozen sections of lake, snow covered hills in the distance, and beautiful winter forest landscape for many miles. The WiFi was spotty as well for this stretch, so I spent more of the time taking in the scenery and cuddling with my lovely wife than getting any work done. For a total of $16, the on board cafe provided both lunch and dinner of a packaged wrap and sandwich. I missed the dining car, a feature of long-distance trains.
One of the only complaints I have about the trip is how bumpy the ride was over a few sections. I would be busily debugging a block of code when we would hit a patch of…..something (turbulent rail?), and I would have to hold onto my laptop to keep it from flying off the tray table. These jittery sections were intermittent, but occurred frequently enough that I had to be careful with my computer.
Other than that, the entire ride was pleasant. By the time that I was wishing that we were already in New York and checked into the Element Times Square, there was only an hour of train ride left. The trip was also the best of two worlds: it was a long enough trip to enjoy the scenery and train travel in general, but it wasn't an overnight. Overnights are fun, but only if you're in a sleeper car.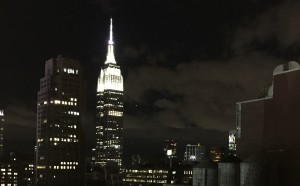 We de-trained at Penn Station in New York, caught a cab to the hotel (since the Uber app on my phone is ridiculously slow when I am not on WiFi), made a quick food run, and then slowly fell asleep with a view of the Empire State Building. It was a good day.