Location: Rome, Italy
Overall rating: 7/10
Pros: Great location, amazingly ornate room, fun splurge for a night
Cons: Under construction at the time, cost way too many points
This review is dated now, but I wanted to wrap up this draft from our Europe adventures in 2016.
During our thirty days in Europe during 2016, my wife and I visited Rome as our last stop before moving on from Italy. For the five nights prior we had been visiting Florence, a lovely city of art and history (SEE: Hilton Florence Metropole: A Review). Even that wasn't enough time to scratch the surface of what Florence has to offer. But we had to move on.
For our first night I'd booked the St. Regis Rome. It was very close to the train station and one of the splurges I'd settled on for the trip. Whether it would really live up to my expectations remained to be seen.
I booked a deluxe room since there weren't any standard rooms available for our one night. The equivalent room was going for over $500 per night, so it was a fairly reasonable use of 21,500 SPG points. Reasonable meaning we got what I consider a par "value" for them, when comparing cash rates versus points rates.
Arrival in Rome
We arrived in Rome from Florence on the Frecciarossa train. Frecciarossa literally means "red arrow". It was definitely the fastest train I've ridden and brought us to Rome in no time at all. First on the agenda was picking up our 72-hour Roma passes (SEE: Roma Pass vs Omnia Pass: which is better?). Afterwards, it was off to the hotel.
Although we probably could have walked to the St. Regis directly from the Termini train station, I decided it would be easier to take the metro one stop to the Repubblica station. The St. Regis Rome was only a short walk from there.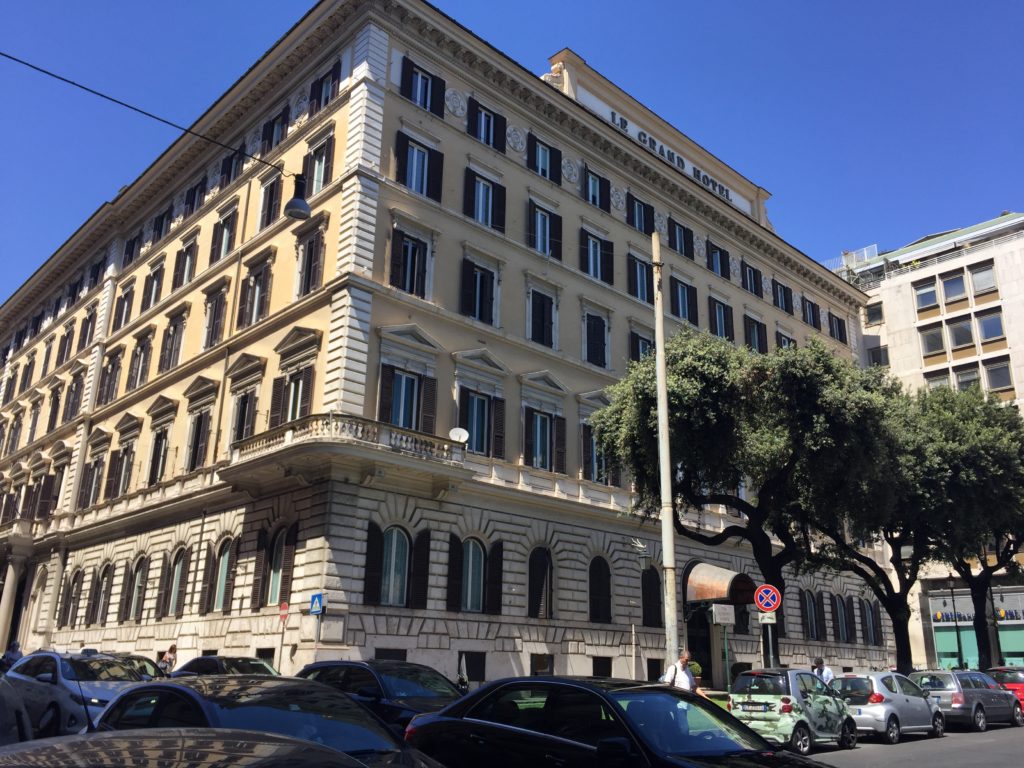 First impressions
I had remembered reading that the St. Regis Rome was under renovation. I don't know exactly where the normal main entrance is, but is certainly wasn't where we were checked in. I'm sure things are back to normal by now.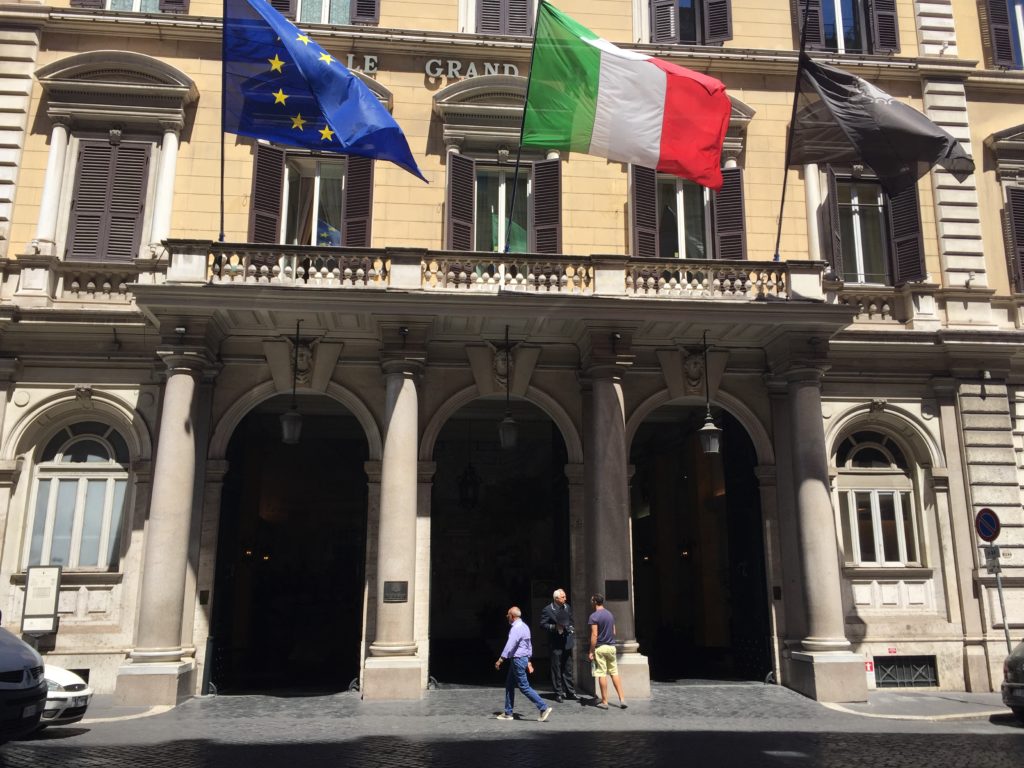 The hotel was very regal, and pretty much what I expected a St. Regis to be. The first thing that pops into my head is royalty. The place was over-the-top ornate. We made our way up a grand staircase to our room. The bellhop brought our luggage, something I don't allow often.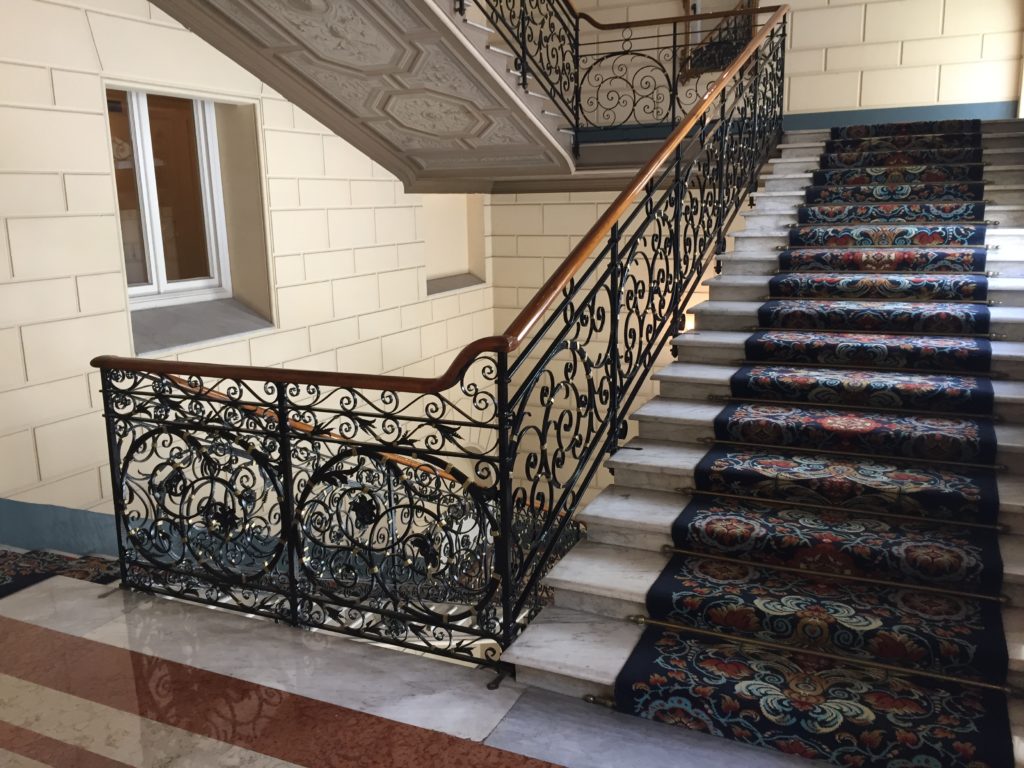 We were in room 222. It was even named.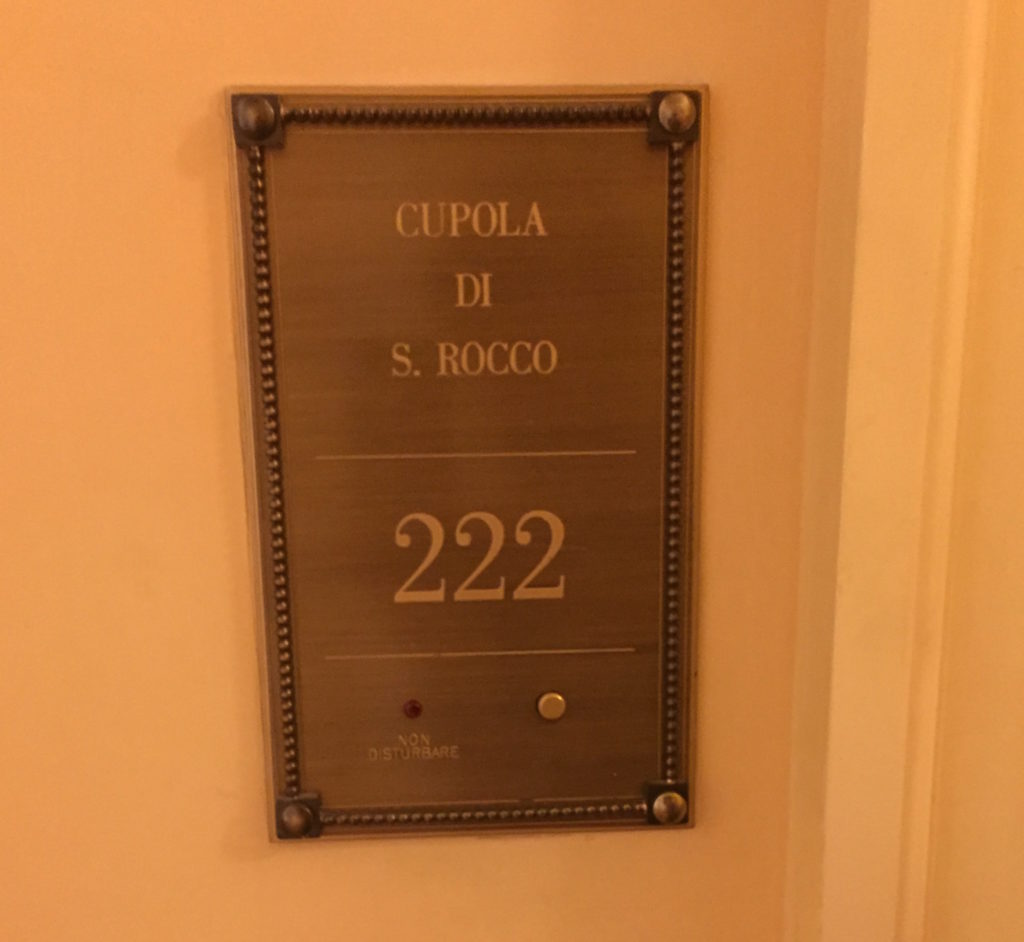 Deluxe Room
As I mentioned before, standard rooms were all booked during our dates, so I had to call in and book a deluxe room. The ability to book upgraded room categories for a relatively small points increase was an awesome feature of the SPG program. I'm not sure the combined SPG/Marriott program will offer the same value.
Our deluxe room was quite the sight when we opened the door.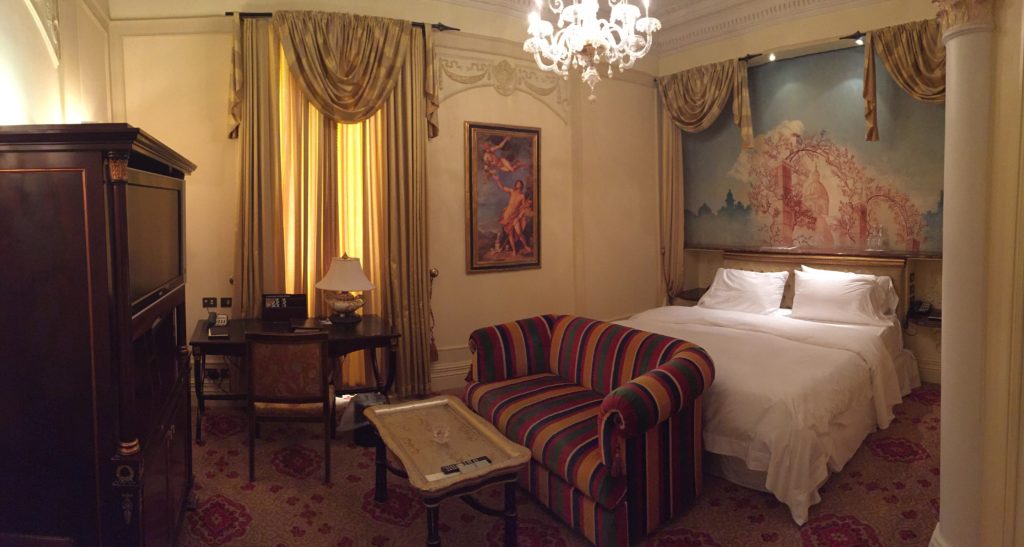 From the wall art, to the draperies, to the furnishings, it amazes me that people design hotel rooms like this. We were really out of our element here.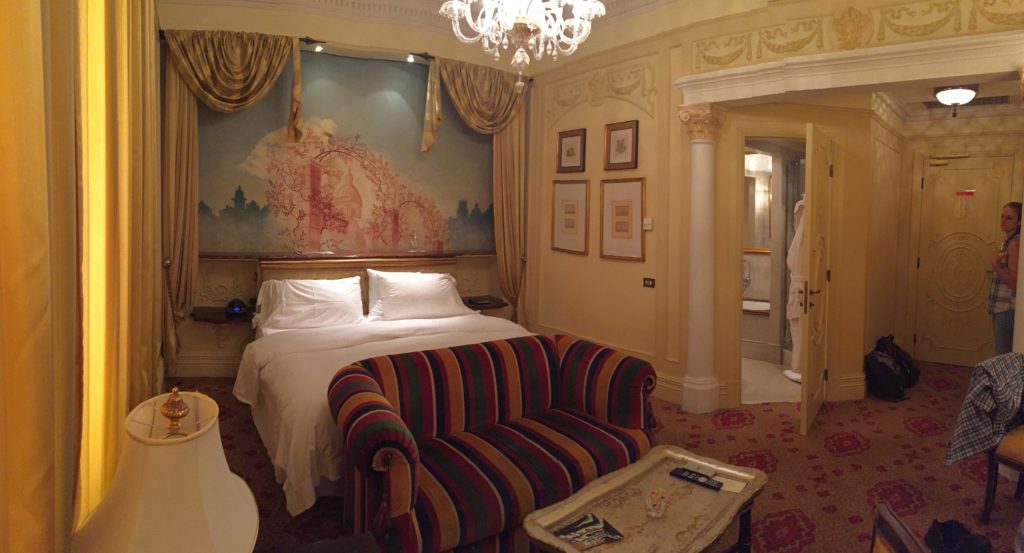 Our deluxe room at the St. Regis Rome wasn't especially large, but it was more than comfortable. I made sure I got photos of it from every angle.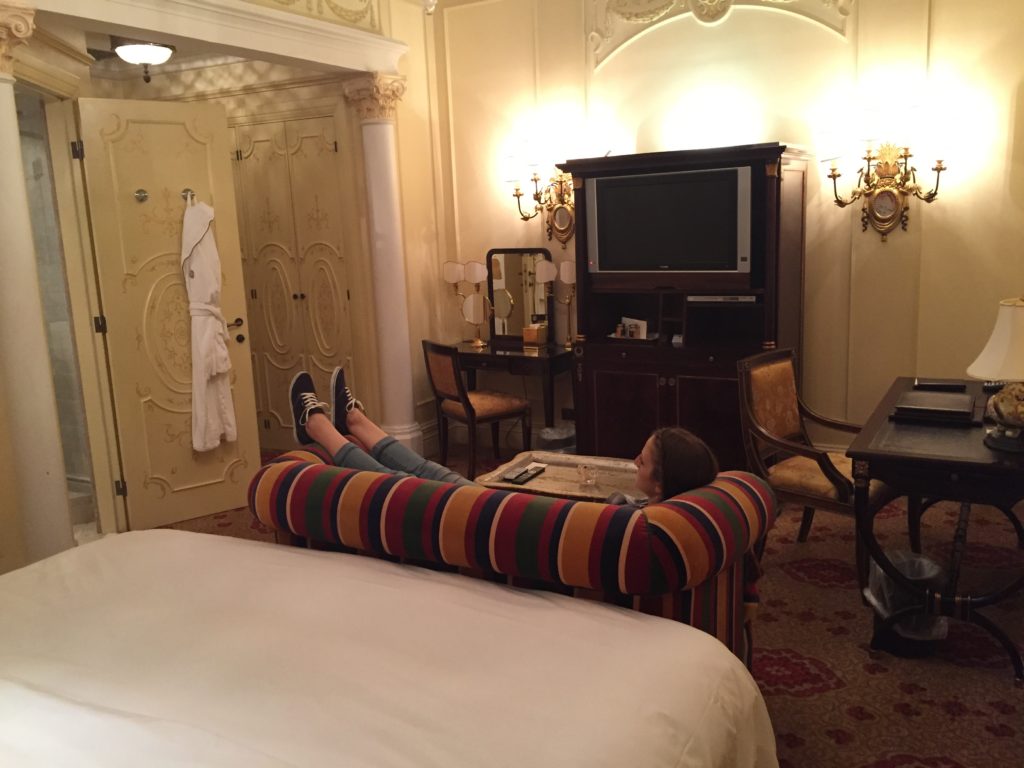 Maybe the Cupola di S. Rocco is in reference to the painting above the bed? That was my only guess. That's the only dome I can spy.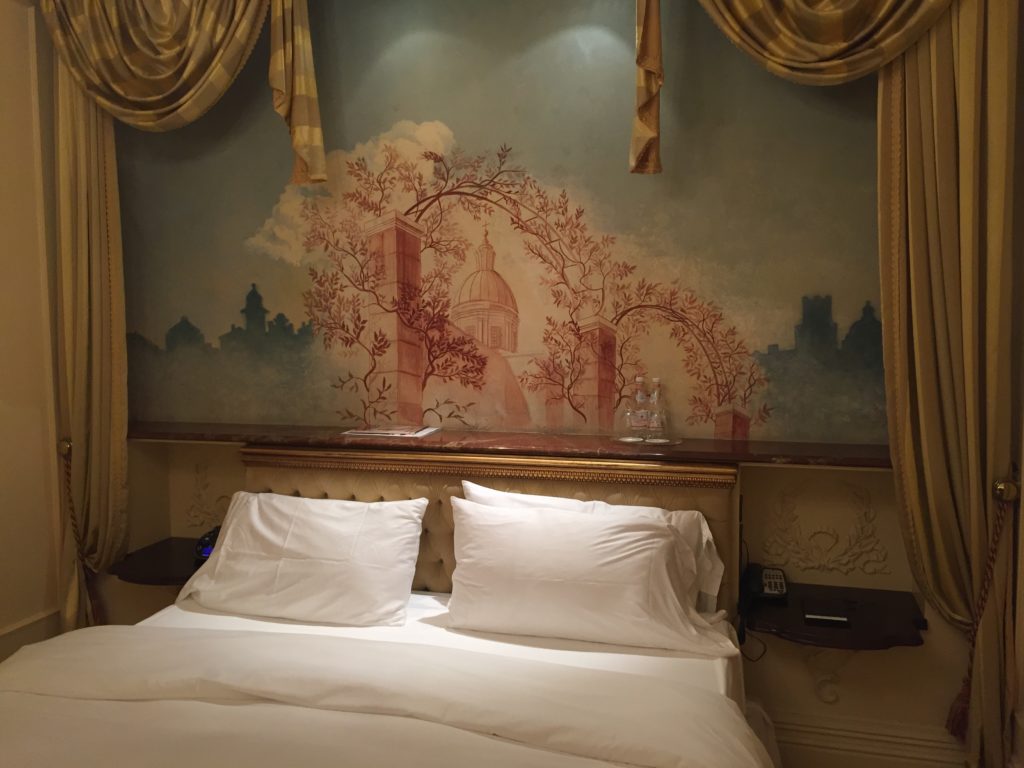 At the end of the bed was a comfortable love seat and coffee table. It was a nice design of living area combined with bedroom in minimal space.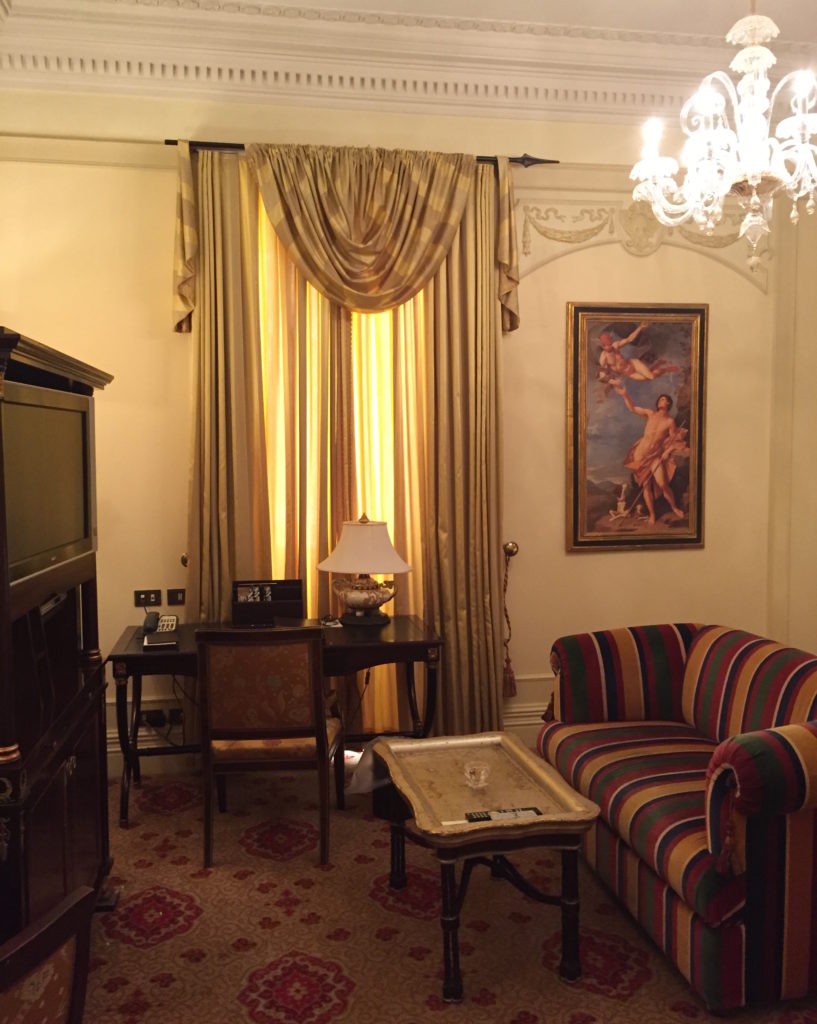 The desk was as regal as everything else. So much for chair comfort, though. There was no way I could have worked in that for more than 30 minutes without wanting to find something else.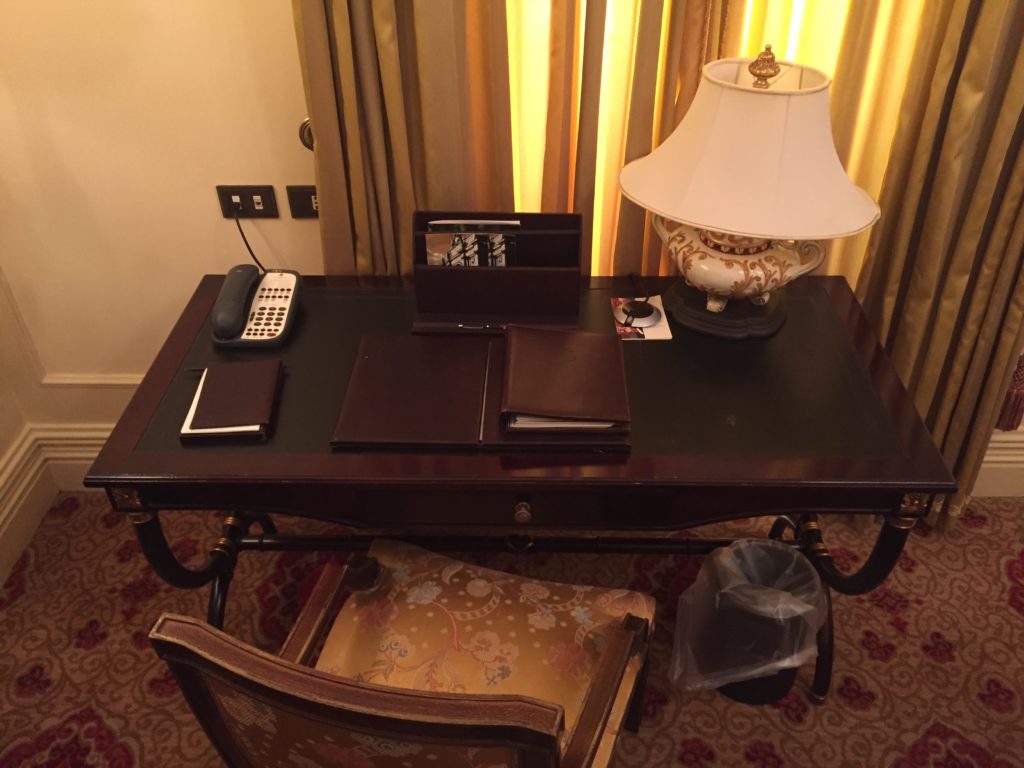 There was a smaller table that appeared to be for the sole purpose of doing your makeup, given the lighting and mirrors.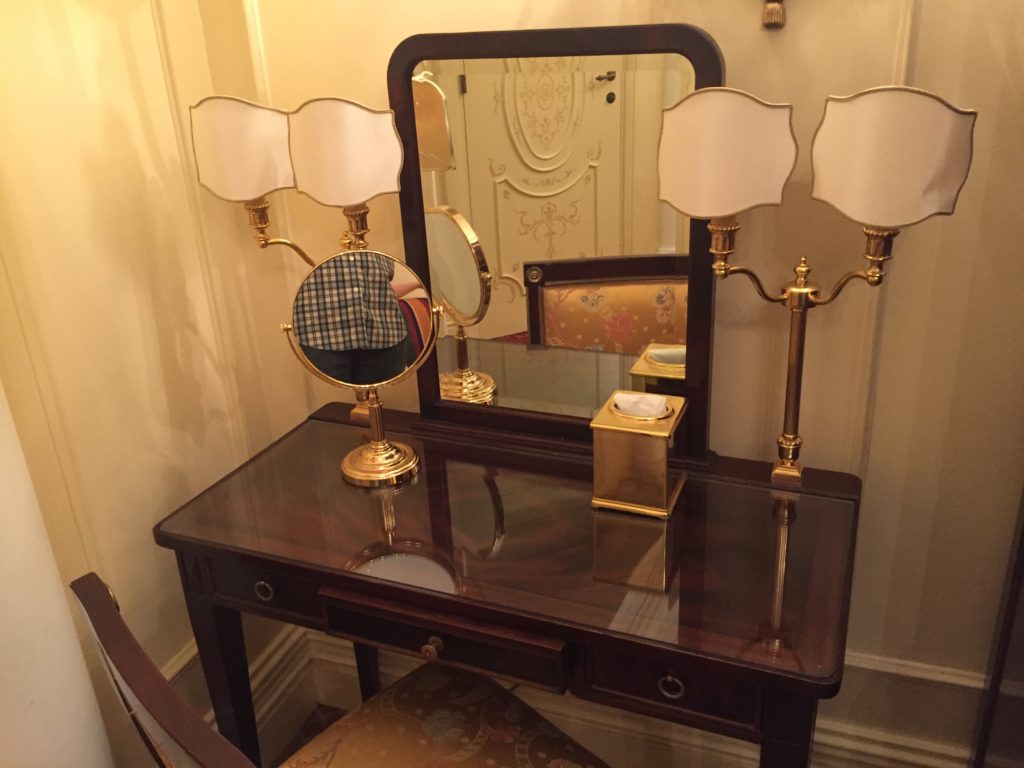 The interior and closet doors were even decorative.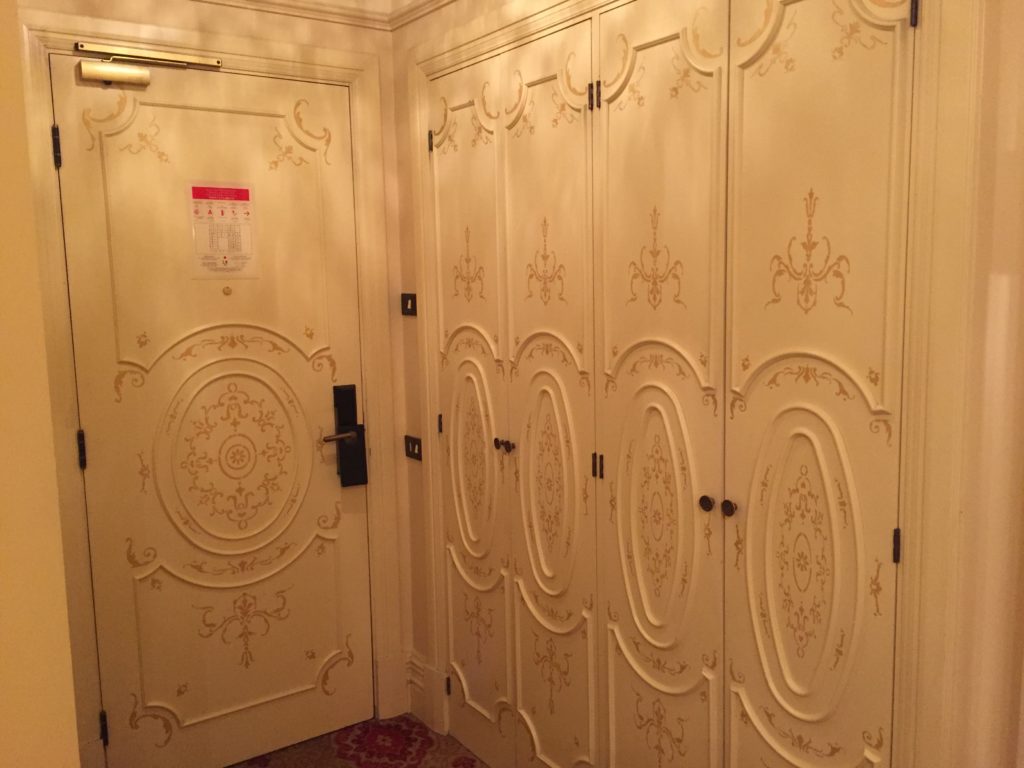 It was a lovely room, and like a couple other properties on this trip, leagues beyond any hotel I'd ever stayed at prior to this trip.
Bathroom
The bathroom was super nice, but it wasn't the all-time best. We'd just been in the Park Hyatt Milan several nights before and that is still the winner for best hotel bathroom (and best bath amenities…the shampoo smells amazing).
Like the Park Hyatt Milan, the bathroom featured both a bathtub and a shower. If this is a typical feature of high end hotels, I'm definitely a fan.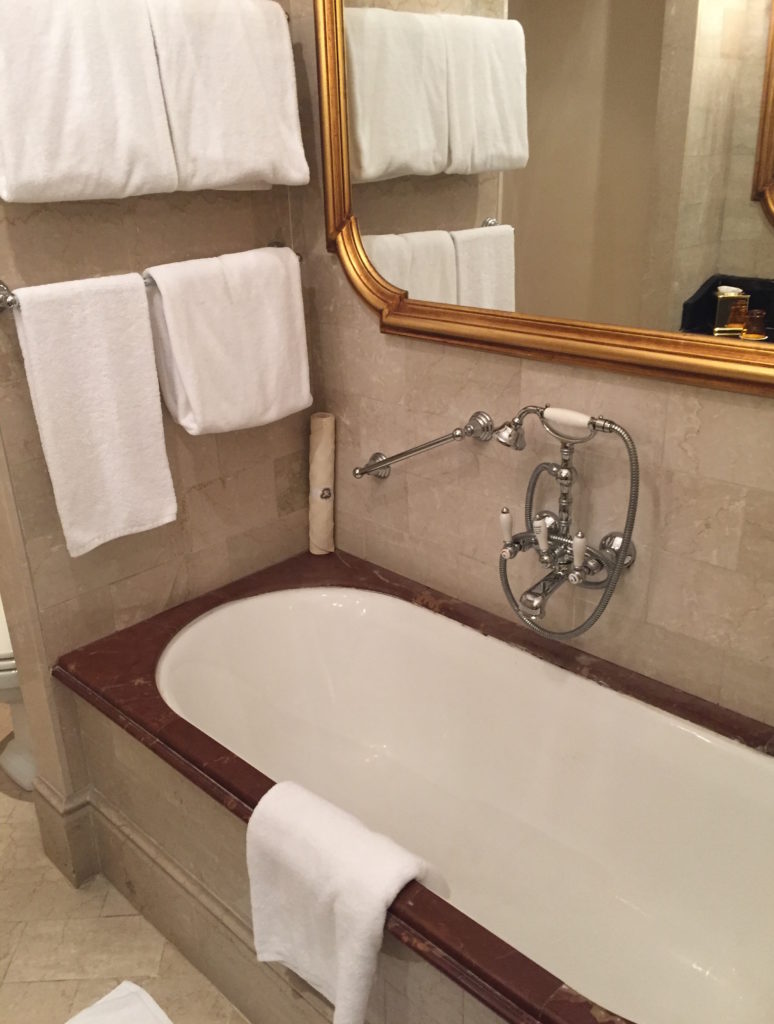 The glassed-in shower was plenty large and had both a large overhead shower-head and a small detachable one.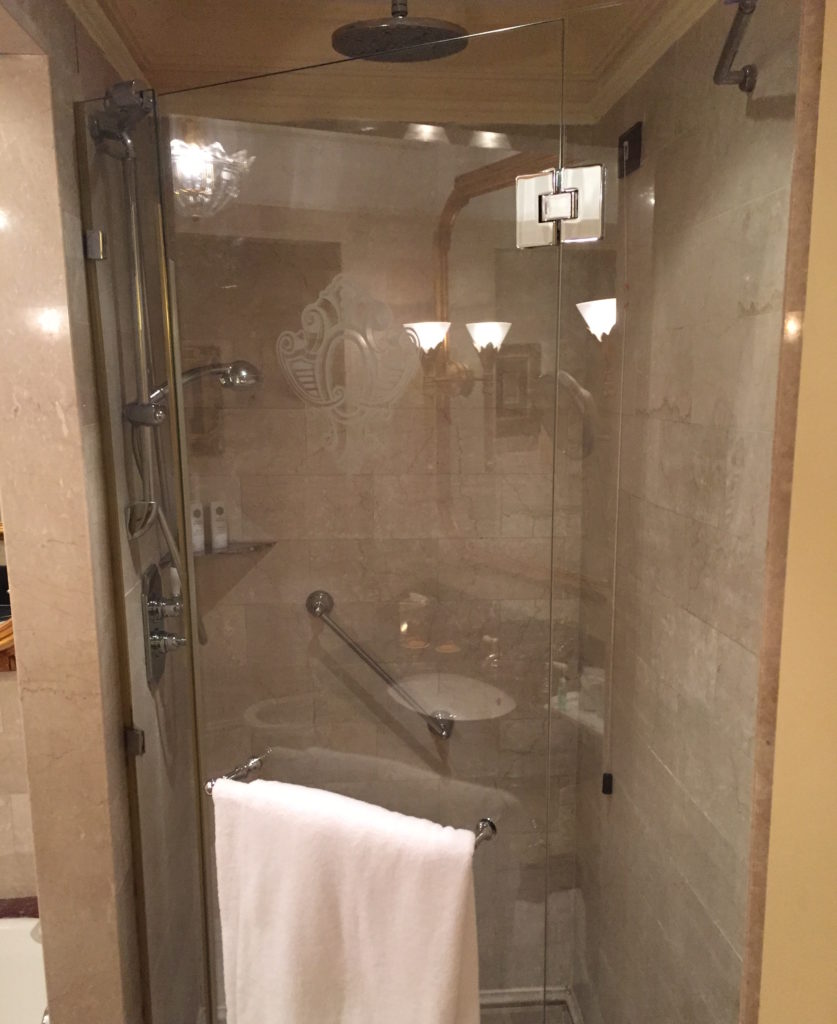 The sink area was fairly large and the mirror gilded, like so many other things in the room.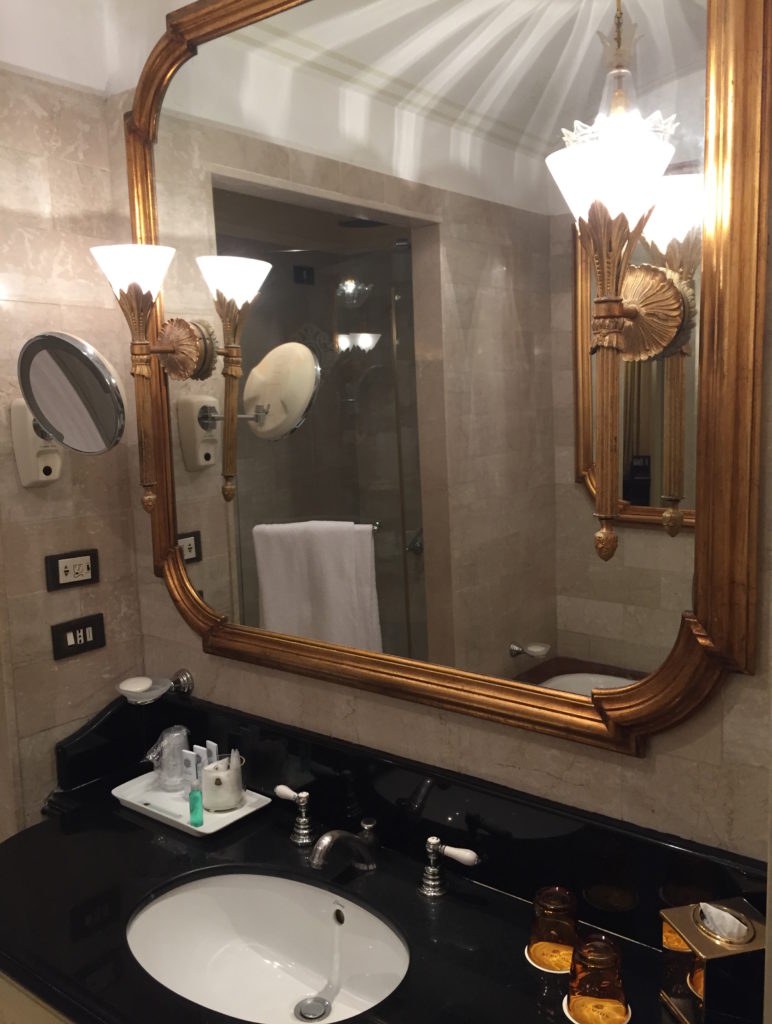 Then there was the phone next to the toilet again, something I'd first noticed at the Hyatt Regency Palais du la Mediteranee.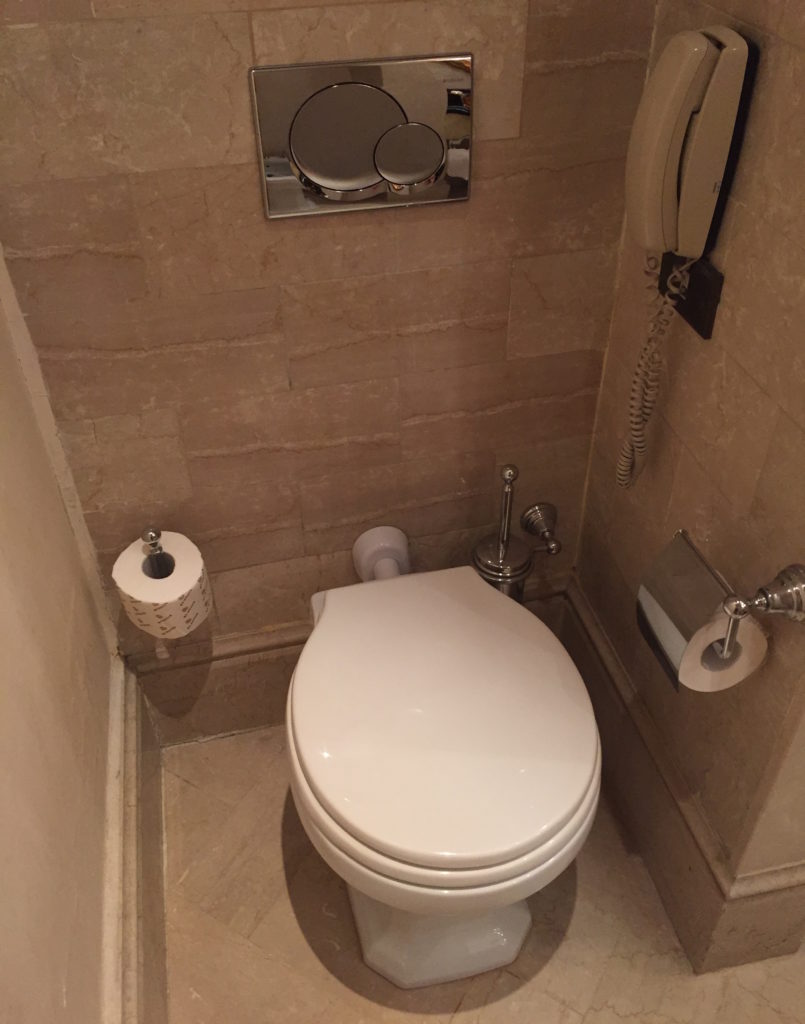 If a toilet phone is what it takes to be a "fancy" hotel, I just don't get it.
St. Regis Rome Butler service?
On of the hallmarks of the St. Regis brand is their renowned butler service. Turns out we needed at least an "Imperial Room" for this to be a part of our stay. It would have cost some more points, and we were already spending plenty as it was. It wasn't like we needed that sort of service anyway, although it would have been a cool experience. I wonder if he would have brought us groceries?
I suppose he might also expect us to tip him handsomely. At $500+ per night, I'm sure whatever we could have given him would not have been satisfactory. We are peasants who can make do without being waited on.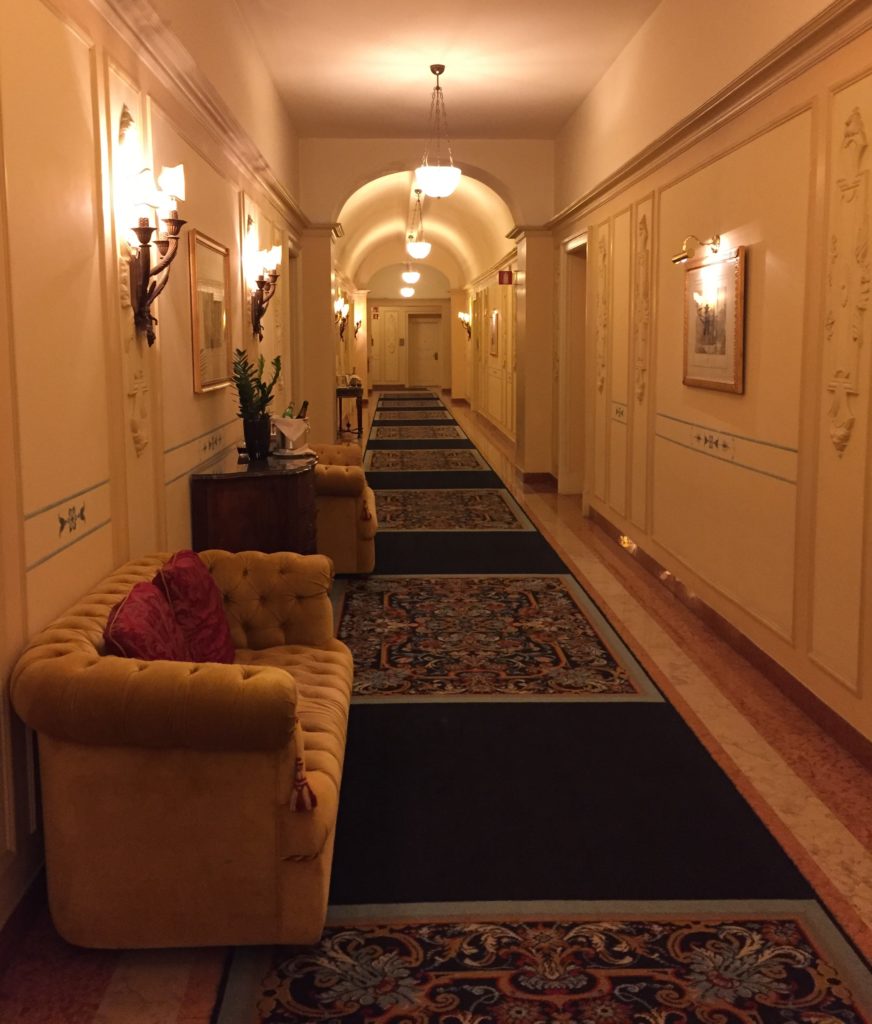 Signature St. Regis Rome experiences
There are a couple experiences I read about that you can enjoy at the St. Regis Rome. First, there is a daily high tea that you can enjoy. You just better be made of money. Tea costs €28 per person.
In the evening there is a champagne sabering. Before our stay, I had no idea what that this is. Thanks to Google, one can look up these sorts of things if they are lacking in "culture". At 7:00 p.m. every evening guests can gather in the Caelum Lounge and Bar to watch the opening of a bottle of Moët & Chandon champagne. By saber. Yeah. It's a thing.
I guess there is an art to it. Rather than slash the glass of the beck of the bottle, the blade slides along the seam in the bottle until it impacts the joint with the glass seam at the cork, causing a clean break, a flying cork, and a small jet of foamy champagne as an exciting start to enjoying a glass of bubbly.
If you want breakfast at the hotel, be prepared to pay a pretty penny. It would have been nice to be a Starwood Platinum member when we stayed there, but I didn't have a way of hacking that status at the time. Breakfast for the non-elite runs €43 per person. Don't choke on your coffee.
We pretty much enjoyed the hotel for the bulk of our stay. I had requested late  checkout, so we were able to enjoy Rome a bit the next day, but our evening at the St. Regis Rome was pretty much just spent hanging out in our lovely room. After days of walking all around Florence, we needed a break.
Conclusion
Hindsight is always 20/20. This stay in particular taught me how content we are with burning points at midscale hotels. The St. Regis Rome was way out of our league.
It was a fun night at a fancy place, but it didn't provide us any more value staying here rather than at the Sheraton, except for maybe an hour's worth of time savings. Honestly, we got way less value. We could have spent four nights at the Sheraton Roma for what we paid for the St. Regis. And breakfast would have been included. That would have been the winner, hands down. Our stay at the St. Regis Rome is a very clear example of Vendoming.
The St. Regis Rome wasn't a bad hotel, it was just way beyond what we needed. In the future I am going to be far more selective with where we stay. After all, when a Hyatt House is basically your wife's favorite hotel, there's no need to go all out. 😉