Hilton has opened registration for their upcoming Points Unlimited promotion, set to run during the first quarter of next year. Hilton has routinely had decent promotions, but rarely any that really make me go out of my way to stay with them. I typically find that I'm flush with Hilton Honors points from credit card offers. But if you're looking for some ways to maximize your earning from hotel stays, here are the details of the Hilton promotion Q1 2019:
Earn 2,000 bonus points for every stay and 10,000 bonus points for every 5 stays or 10 nights.
That's it, folks. It's pretty much as simple as it sounds. No stays with specific brands, no bonus points only awarded after the second stay. Not much else in the fine print. This Hilton promotion Q1 2019 runs for stays completed January 4 through May 5.
Link to promotion landing page.
As always, Hampton Inn hotels in mainland China are excluded from the promotion. I don't know why this is. It just seemed to be standard for every promotion that Hilton ever runs. As the name would imply, there is no limit to the number of bonus points you can earn under this promotion.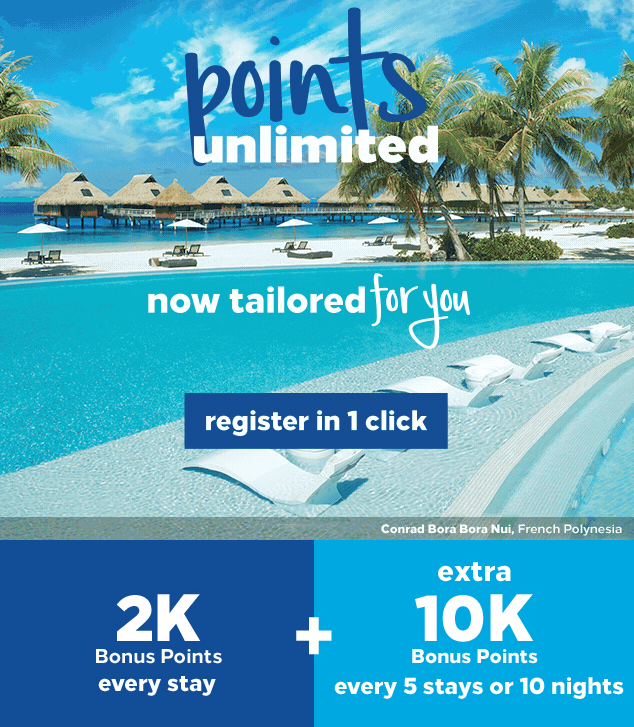 Maximizing this Hilton promotion Q1 2019
The sweet spot for making the most of the Points Unlimited Hilton promotion Q1 2019 is on short stays. This should be obvious already, but I wanted to reiterate that point. For example, assume that you have to spend 5 nights on a business trip. If you can hotel hop each night, breaking the trip into 5 separate stays, you will earn:
2,000 bonus points for each stay, for a total of 10,000 points from 5 separate stays
10,000 bonus points for the 5 stays
This is a total bonus of 4,000 points per night. If you're earning that on a $100 room rate at a Hampton Inn, you're looking at a total return of over 7,000 points per night, assuming you hold a Hilton Ascend card from American Express and use that to pay for your stay. Valuing Hilton points at 0.5 cents each, you're looking at an effective return of over 35%. Pretty sweet to get more than a third of the value of your stay back. I do like the Hilton chain in general, and we've had some great stays with them:
Conclusion
While this is by no means the most groundbreaking promotion I've ever seen from Hilton, the fact that is uncapped means it could be incredibly lucrative for frequent business travelers. Due to some recent changes on a couple projects, I don't have much work travel penciled in for the first part of next year. But if in case changes, I will keep the Hilton promotion Q1 2019 on my radar.