While I've visited much of my hone state (I only have two counties left!), there are a number of places that I've still not had the opportunity to see. A couple of these are a mild source of shame, as they are some of the most beautiful locations within California. And at the top of this short list was Lake Tahoe (SEE: One place I am ashamed I haven't visited).
When I planned a last-minute road trip with our older two kids last year, Tahoe seemed like a great final stop before returning home. It wasn't too far off the most ideal route between Death Valley and northern California, and it was a far more beautiful option than crossing over into the central valley. It would be a fairly quick visit, but at least we'd get to see the lake.
The first stop: Emerald Bay
After a morning spent driving up Highway 395 and a stop a Mono Lake (SEE: A New Favorite California Scenic Drive), we finally crossed through Alpine County and over to Lake Tahoe. Emerald Bay was the first stop. You know those classic photos of Lake Tahoe? Sorta like this one?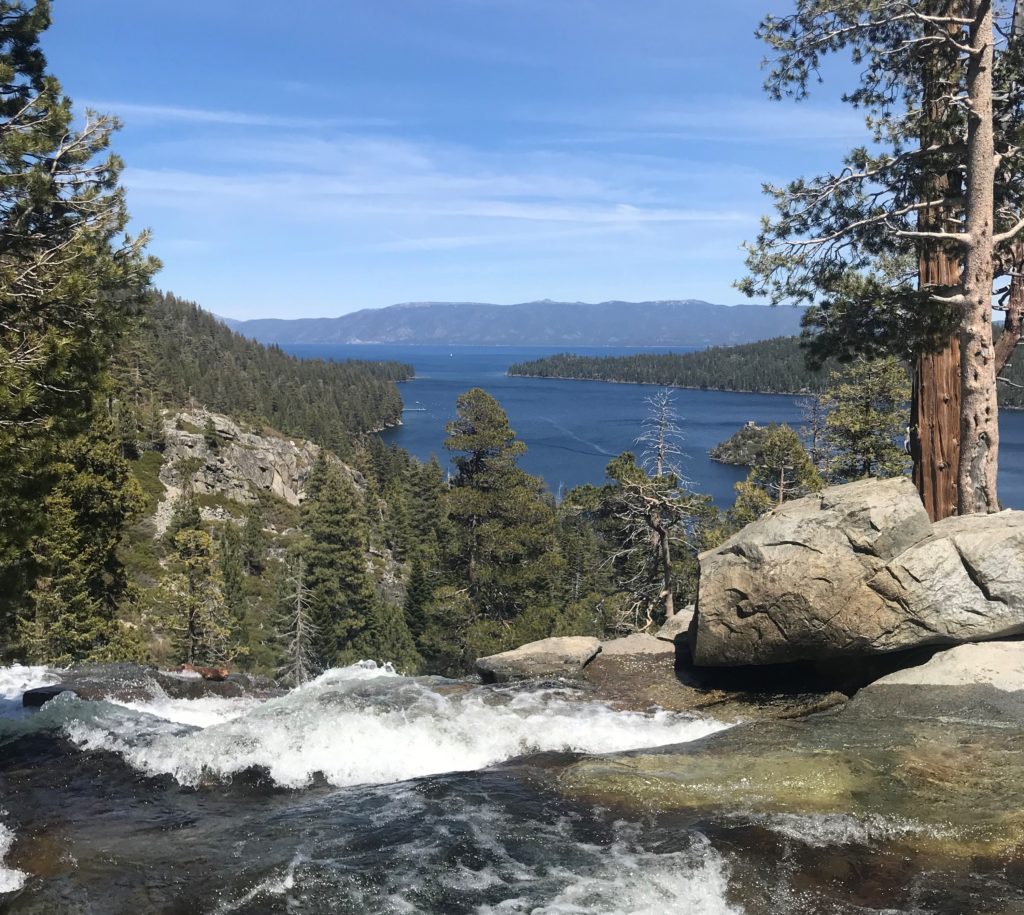 That's Emerald Bay. It's an utterly picturesque spot, and probably the most photographed point around the entire lake, as it is easily accessible from South Lake Tahoe. Parking was a bit tricky, as everyone is competing for a spot. We were fortunate to find a place not too far from Emerald Bay and then walked down the road.
Not only did we get to see Emerald Bay stretching out before us, but we also enjoyed lovely Eagle Falls. The kids and I crossed through the water a few times, which was frigid, but we were careful to stay clear of the sharp drop. It is a very picturesque spot. Just don't get too close to the edge, as there was a death here recently, directly related to taking a selfie.
We took a brief walk along the trail heading south from Eagle Falls, but all too soon had to return to the car and head back into town.
An evening at the "beach"
After checking into our hotel and enjoying some Mexican food for an early dinner, we headed to the beach at the South Lake Tahoe Recreation Area. We walked the short stretch of sand (which is rather unlike ocean sand), and the kids enjoyed playing on the rocks and in the very gently lapping waves.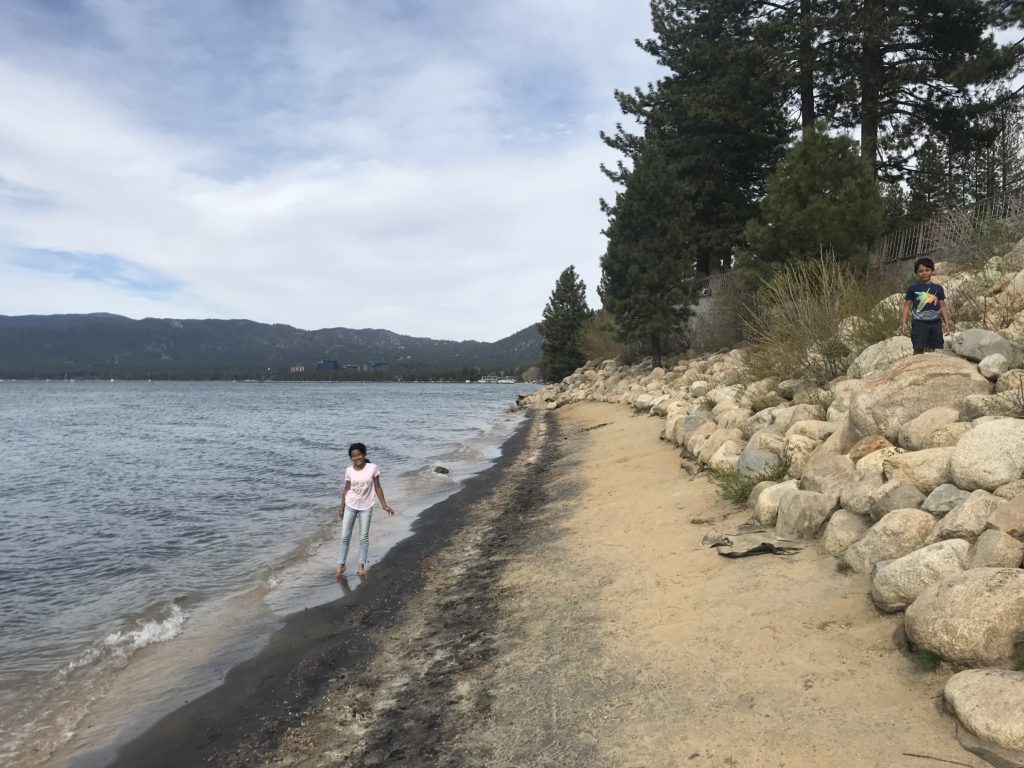 It started to get chilly quickly, definitely a drawback of visiting in early April. But, man, is Tahoe beautiful. The photos don't do it justice. It was so much better to finally be there in person and see this gem of our state. We'll have to come back for a summer trip where we can explore and enjoy the lake longer than half a day.
Our last stop was for ice cream. I found a great spot right at the Nevada state line called The Baked Bear. I'd never heard of the chain before (they have a number of locations in California and in a smattering of other states), but it is an excellent place. Pricey, but excellent. They make custom ice cream sandwiches where you get to pick your cookies, ice cream, and a coating or topping. Definitely a hit with the kids.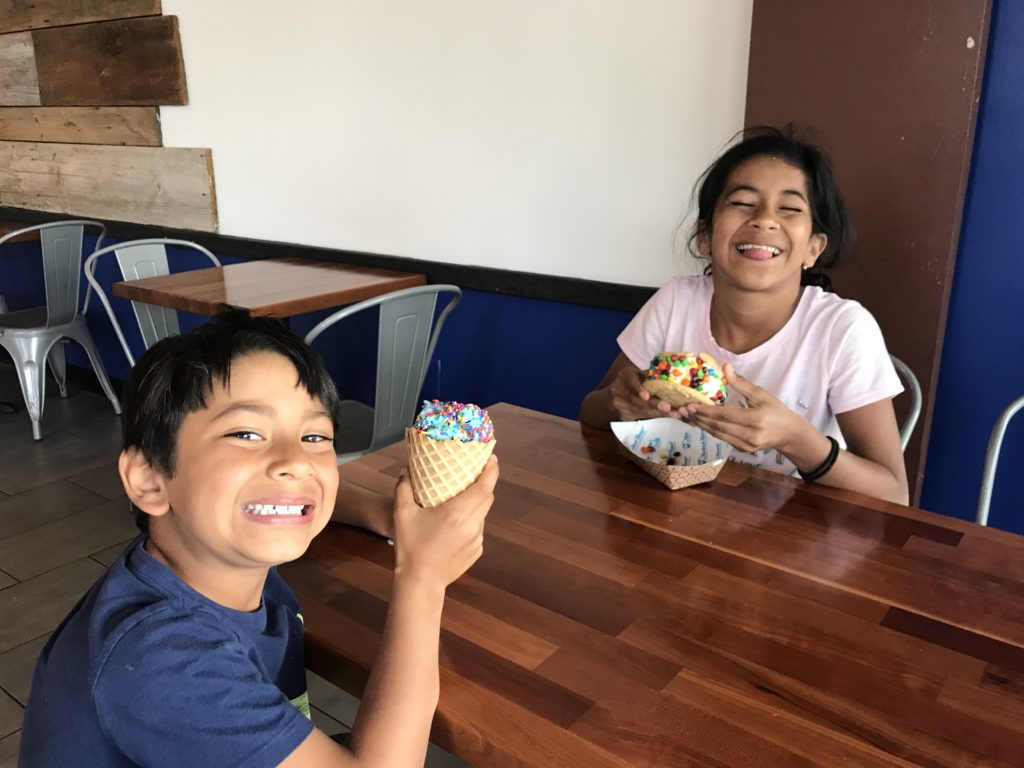 Conclusion
We'll miss you, Tahoe. Hopefully we'll be back to visit soon. Don't we look like a bunch of ragamuffins? Obviously none of us cared to really brush our hair after seven days in the car (LOL).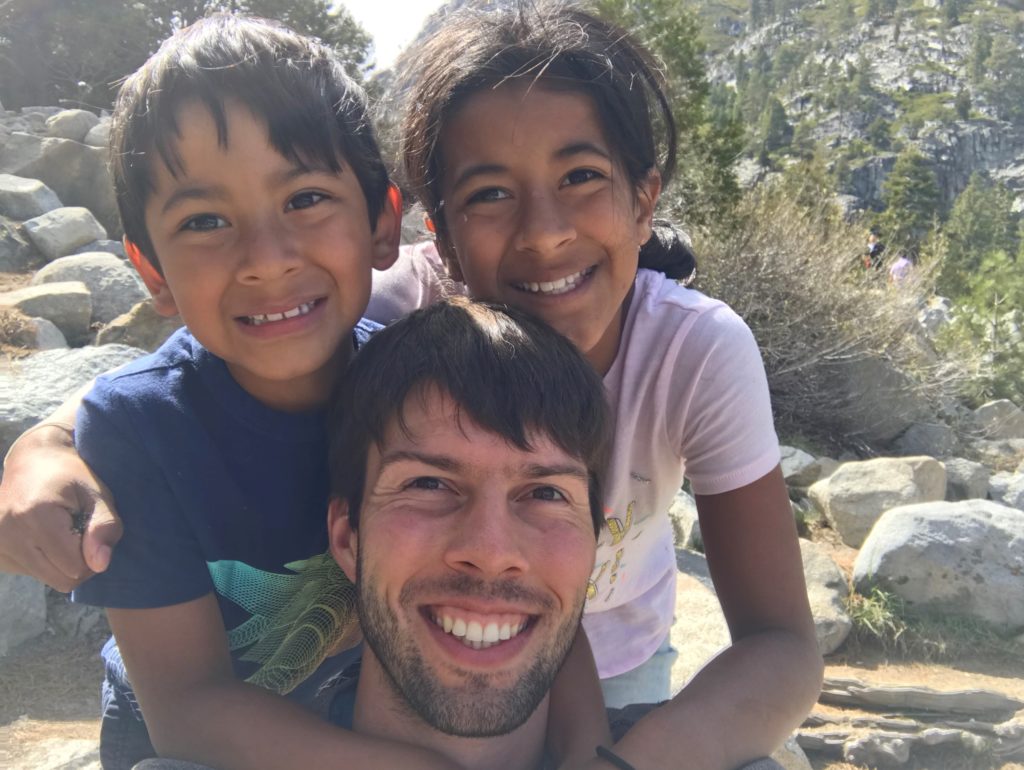 This wrapped up our final full day of our April 2018 road trip (SEE: Southwest Road Trip Overview). I'm finally done with my posts, only a little over a year later. Blogging over at Points with a Crew has taken precedence, but even that is changing, as I've landed a new opportunity that I am very excited about. More on that later. I'm just glad I'm done. A couple more trips to finish, and I'll be wrapped up with most of our adventures.