As my first "Throwback Thursday", I figured I'd recount how I got my wife and myself lost in Rome during our European adventure in 2016 (SEE: Thirty Days in Europe). Getting lost is not a normal occurrence for me, which made it that much more interesting a situation.
We'd spent the day in Tivoli, in the gardens of the Villa d'Este. It was a lovely experience, and one of my wife's favorite parts of our trip to Italy. I highly recommend taking a day trip there from Rome.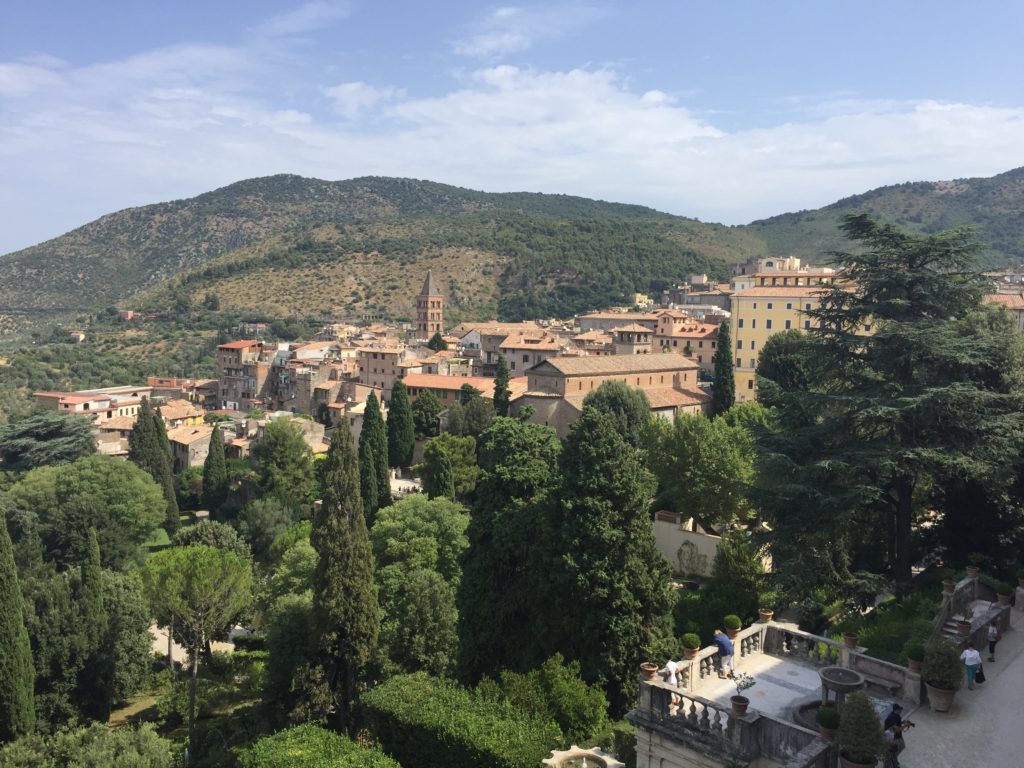 We headed back to Rome the exact way we'd come, by train, arriving into the Roma Tiburtina station where we'd transfer to the light rail / metro back to our hotel south of the city center.
It was at this point we ran into a hiccup: I didn't have any more cash to buy metro tickets. I also wanted to avoid drawing out any more before we left Italy. Plus, we were already in the train station with no ATM in sight, and getting back to the hotel was all we wanted to do. We'd deal with getting more cash after we moved on to Ireland (strange logic, in the moment, as the currency is the same).
Finding a train kiosk, I realized that these took credit card. Pulling up the list of stations, I found Magliana. Our hotel was near the EUR Magliana station which is where we'd begun basically every day.
So I bought tickets and we hopped on the next train. Easy peasy.
EUR Magliana is not the same as Magliana
I mean, the thought crossed my mind that these are not the same station. There was a second set of tracks parallel to the rail at EUR Magliana, which made me suspect the two could possibly be co-located. At least they should be pretty close, right?
Wrong.
We were getting close to our station when I realized that something was amiss. There was a hill to our right, and as far as I'd noticed, there were any real hills near our hotel. We were headed west or southwest, as we were supposed to be, but things just didn't look right. Sure enough, we got to the Magliana stop, and it was not the one I expected.
Stepping off the train, we looked around. There were two buildings I recognized in the distance, but they looked different. My wife started to get a bit worried. I'd brought us to the wrong spot and had no idea how to get back to the hotel. Without cell service, without WiFi, and without a paper map, I had no way of pinpointing where we were.
Given the orientation of the buildings, and the placement of the hill, I finally concluded that we must be across the Tiber river from the EUR Magliana station, maybe a full kilometer from the hotel, which should be somewhere sorta near one of the tall(ish) buildings. Now how do we get over to where we need to be?
No data. No Italian. No worries?
We set off on foot in the general direction of (where I thought was) the hotel. Soon we found a bus stop, but I did not recognize either of the numbers. We'd only taken the bus once, preferring to take the metro into the city each day.
I did my best to follow the bus route, making a right when we came to a T-intersection, and then hanging a left when I saw another stop that direction. We then crossed over a highway. We were getting closer to the buildings, but all I could see was riparian vegetation on one side, where I assumed the river must be, and now a highway on the other.
We came to a bus stop that appeared to be the last one before the road merged with the highway. Walking along a Italian highway with tons of traffic and no shoulder was something I wanted to avoid.
There was another couple at the station, and I did my best to ask them if the bus was running. It was Sunday, and I didn't know if this affected the schedule. I pointed over to where we were trying to go. To say I know some minimal Italian is a major overstatement. I can read it well enough to get the gist of the meaning, but beyond that I am nearly useless.
Hysterically, Italian was also not this couple's first language, as best I could tell. Here we were, in Rome, trying to communicate in a language none of us really knew. Eventually, I gathered that the next bus would take us to where we wanted to go. I'm not sure how the guy managed to help us, but he did. They hopped on the first bus, and he told us to keep waiting.
Sure enough, another bus came along shortly, and we hopped on without tickets. I normally don't do this sort of thing, but we were without other reasonable options. in short order, we were on the highway, and then crossing the overpass over the river. Soon I saw that we were headed right into the neighborhood of our hotel!
The bus ended up letting us off right in front of our hotel. It was line 771, the same that we'd seen make that stop multiple times. It couldn't have been a happier ending to our misadventure!
Conclusion
This is one of only a few times I've actually felt lost on a trip. It guess not truly lost, as I had a fairly good idea of where we were and where we needed to go. I just didn't know how to get us back. And I was completely unprepared.
All ended well, though, as we were able to make it back safely and soundly. But next time I will absolutely opt for sticking with what we know, even if it means extra time, and an extra ATM fee.