Over New Year's 2019 I took our older two kids on a 3-night getaway to Napa. Amazingly, I was able to find a property in the Wyndham portfolio that did *not* have the dates over New Year's blacked out and that looked like it would make for an excellent stay. We weren't disappointed. Here is my Vino Bello Resort Napa Review:
I used a total of 45,000 Wyndham Rewards points for our stay. Most of these were earned from promotions during 2018, and 15,000 were from the annual bonus I receive each year when I renew my card at a cost of $69. We received over $600 in value, though, so I am not complaining! Wyndham's award "chart" is a flat rate, as all hotels cost 15,000 points per night per bedroom. I'd booked a one bedroom suite with a king bed and a sofa bed.
Arriving at the Vino Bello Resort Napa
The drive down from where we live to Napa is just under 4 hours. Rather than head through Santa Rosa, I prefer to take Highway 128 and drive through the bulk of the Napa Valley. It's just so scenic. We left the same way, too.
Dinner was at the same place we ate the year before when I took them on a quick one-night trip to the Best Western in Calistoga (SEE: Celebrating New Years 2018). It was our one splurge, since the Vino Bello Resort Napa has a kitchen and I cooked most of the rest of our meals. We had maybe another 40 minutes of driving until we finally arrived at the hotel.
Man, was the parking lot full when we showed up. I found a spot, not knowing it was conveniently in front of our building. The lobby of the Vino Bello Resort Napa is lovely. We were greeted warmly by the doorman who chatted it up with me until it was finally our turn at the desk.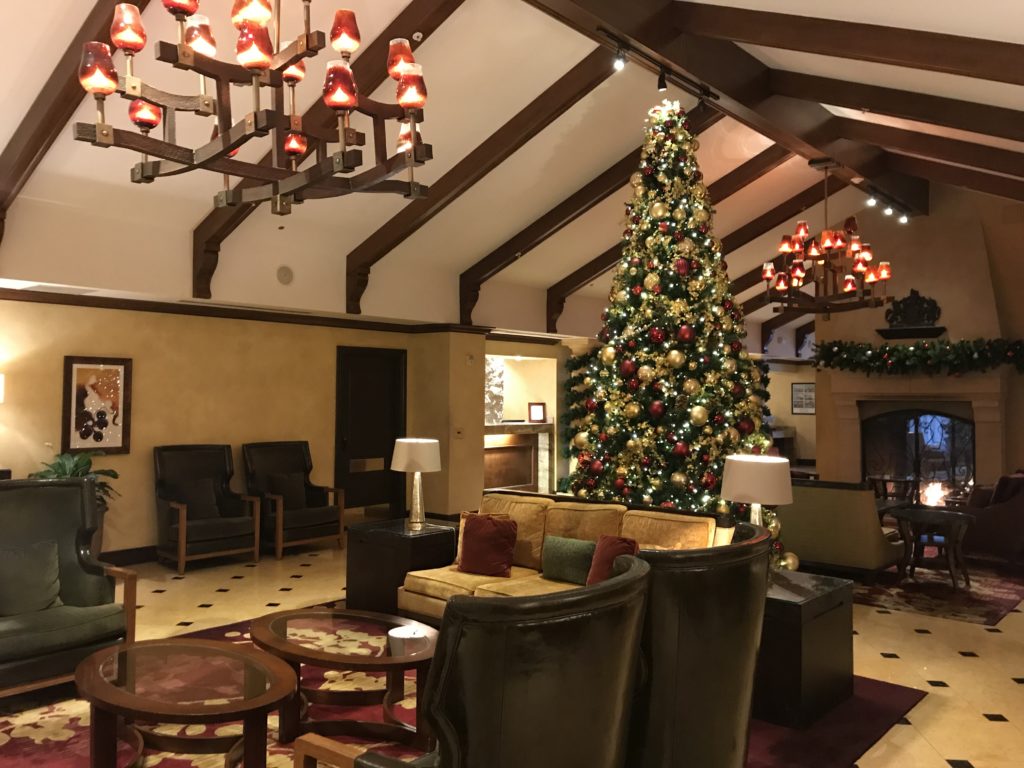 Check-in was a bit interesting, as I was quoted a cash rate for our stay. I'm not sure how the system integrates with Wyndham's but it apparently isn't seamless. It took the lady most of a minute to confirm that we were indeed on a n award rate. Adding to the complication is that they actually have two resorts in one: the Vino Bello and the Meritage.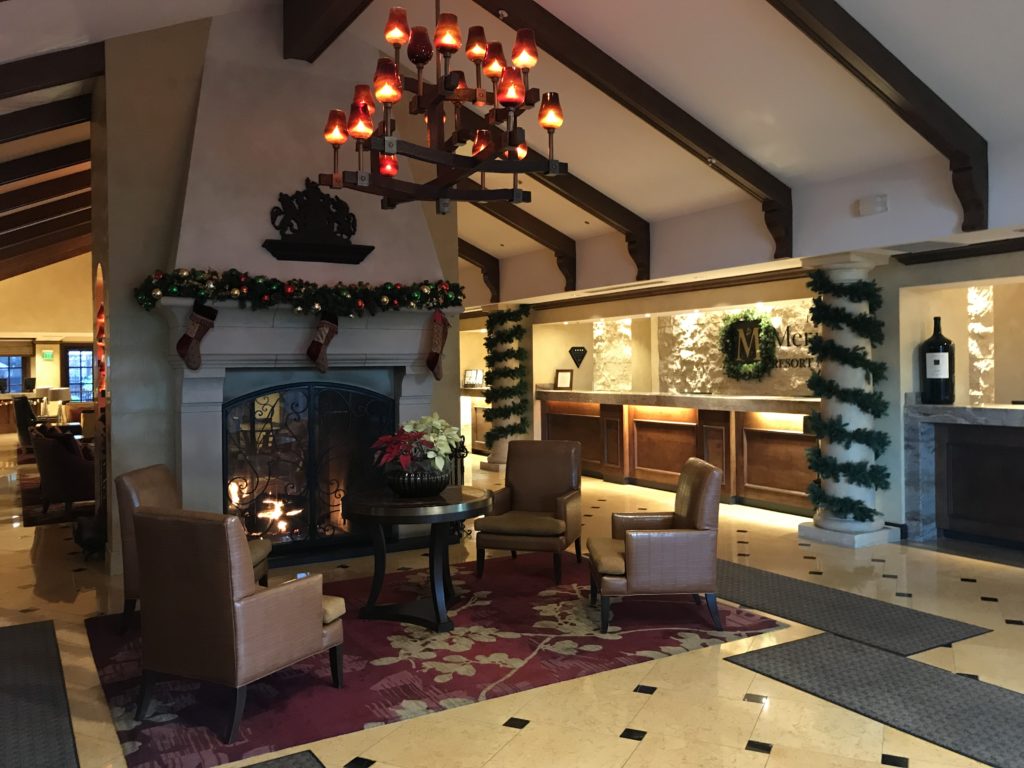 We were given a welcome packet after checking in from the concierge, who also tried to get me to sign up for a 90-minute timeshare presentation. If only my wife was along, I totally would have made us suffer through it. Unfortunately, your spouse must be present. We would have all received free breakfast that morning, plus 25,000 Wyndham points. Would have made up for most of our stay!
One Bedroom Suite at the Vino Bello Resort Napa
Our suite was in the Cabernet building, which is closest to the lobby and restaurant, and overlooking the pool. We were on the second floor. You have to go through no fewer than 4 doors to get there, all of which require your key card, which is a bit annoying. But I guess it makes it more secure? I really didn't understand the point. This tiny "lobby" area was between the first and second doors.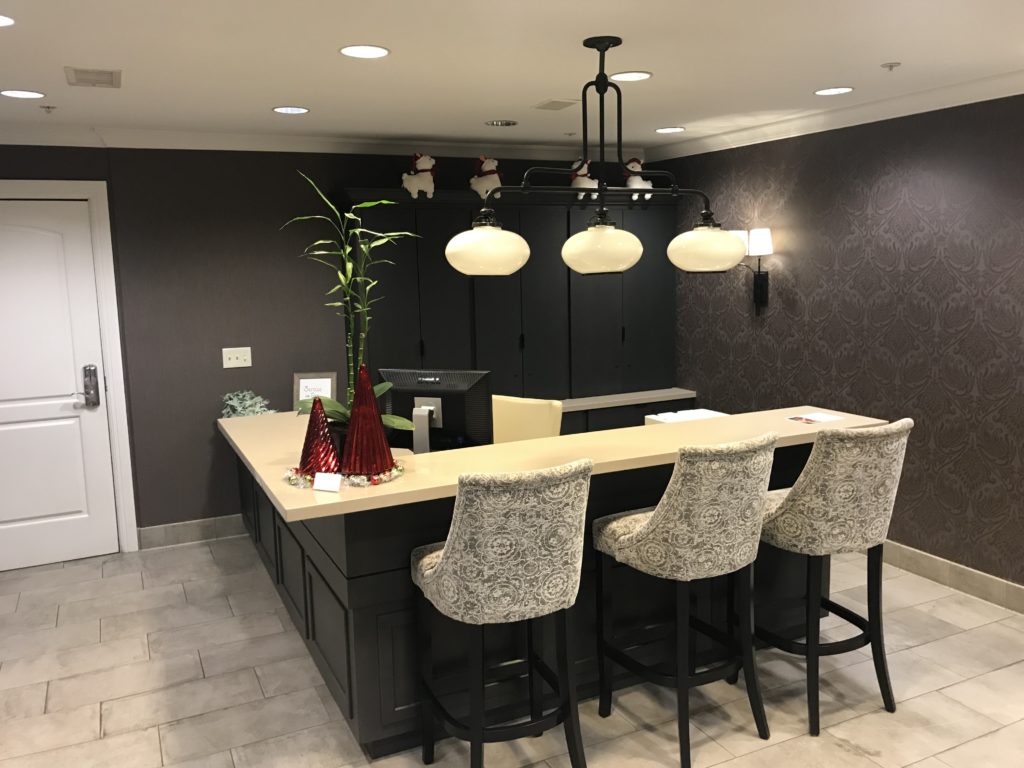 Each door from the hall opens into a small entry room with two doors leading into two separate suites. I guess this would be super convenient if you booked two rooms, as they aren't truly adjoining, but it would provide a secure way to still pass between them.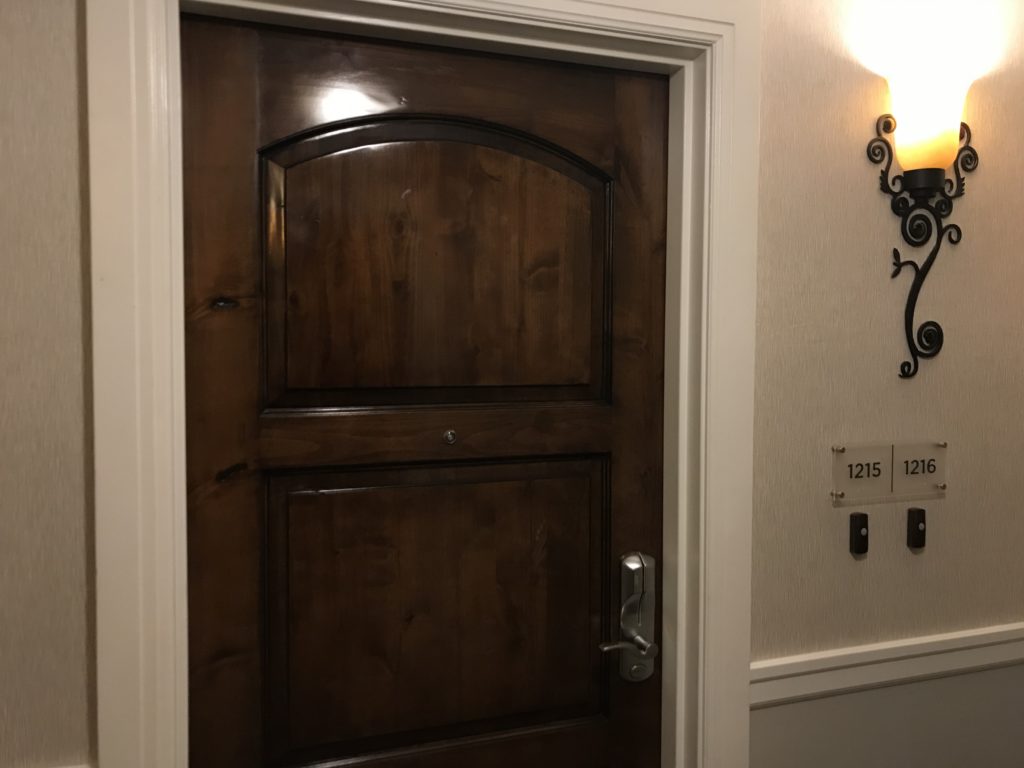 A one bedroom suite at the Vino Bello Resort Napa is excellent. The suite is spacious and would easily accommodate our family of five if we brought sufficient bedding one or two kids. You first enter into the kitchen. There is a nice high counter at the end.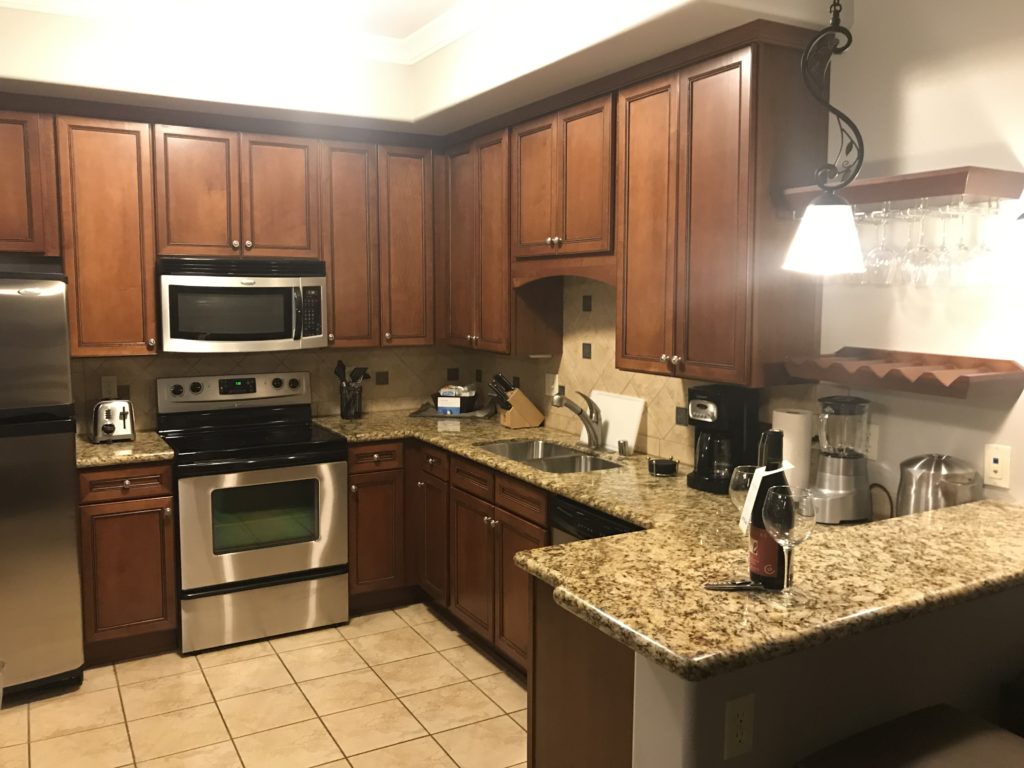 Across from that is the large dining table. The bench against the wall is super soft and the kids sunk into the cushion until there chins were barely above the table.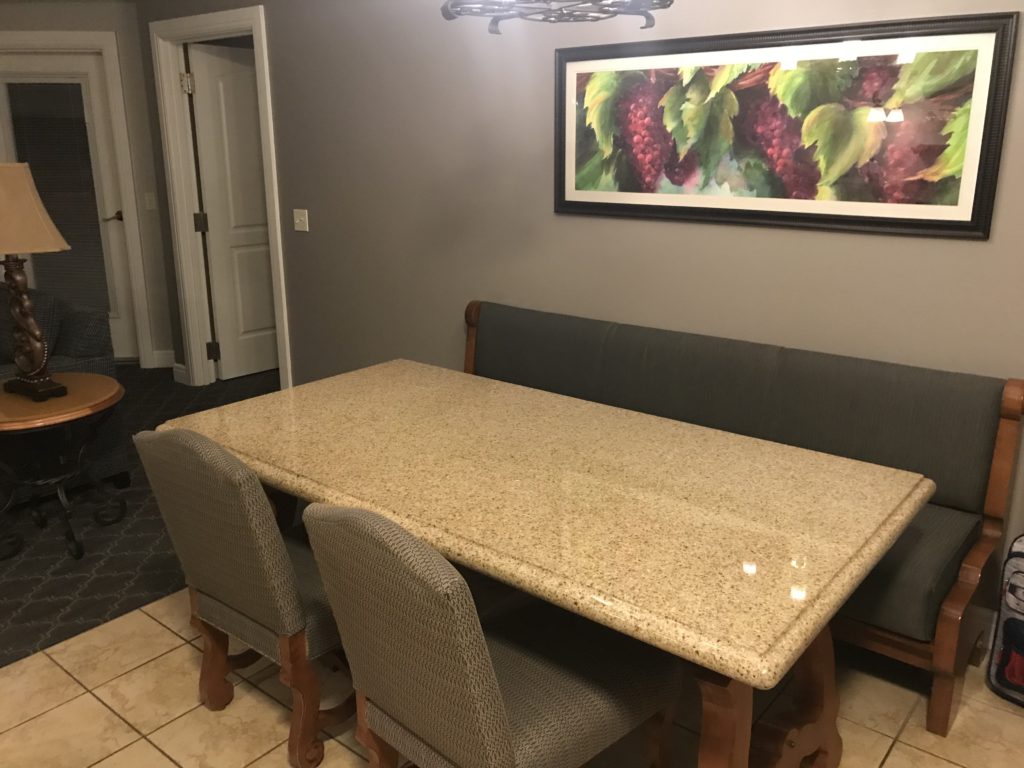 Beyond that is the living room area with a sofa and two armchairs. The sofa also contains the extra queen bed.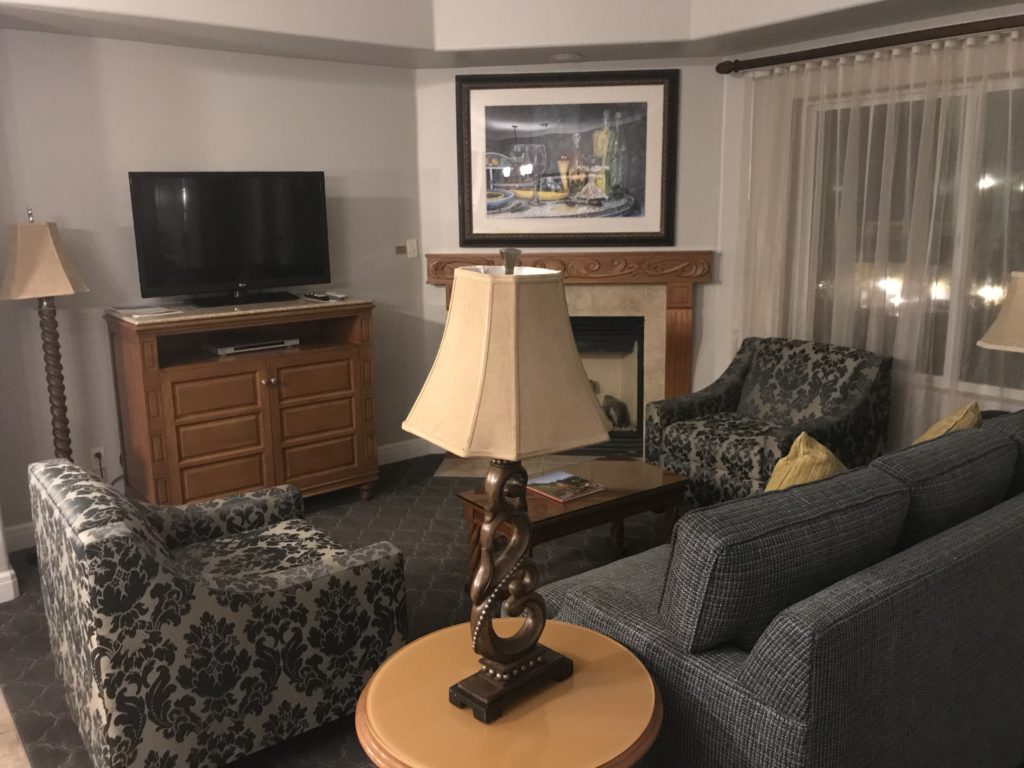 The kids immediately eyed the fireplace. I grew up with a wood stove, so this is a sorry excuse for a fire, in my opinion. But they really enjoyed it. My daughter fell asleep with it on each night, and it did keep that corner cozy.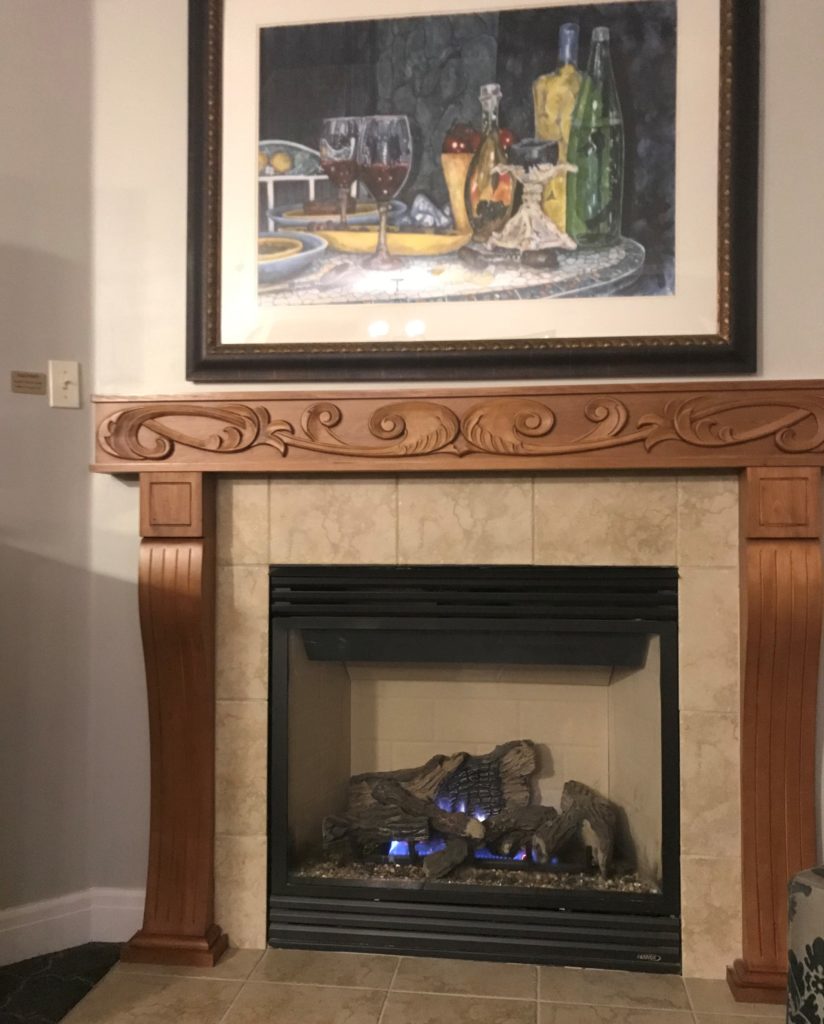 On the high counter was a welcome bottle of wine, part of what is included in the resort fee. Funny how you don't get one per night, even though you pay the fee per night (unless you're on an award stay). Spolier: the wine isn't very good anyway.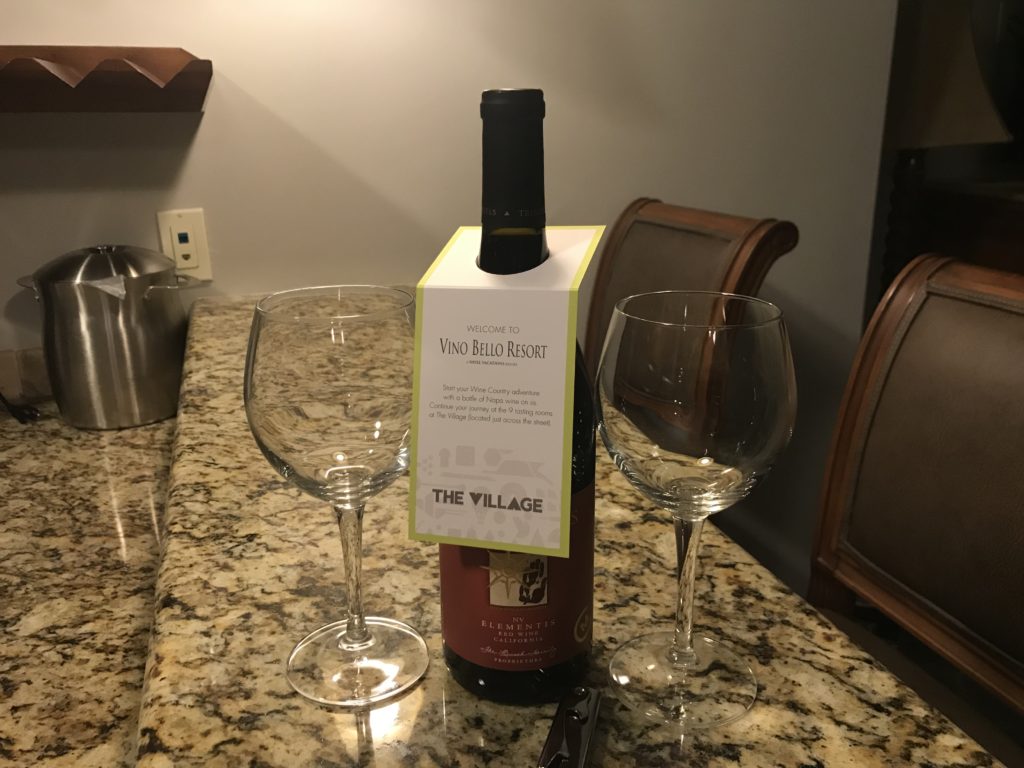 The bedroom is connected to both the living room and the bathroom.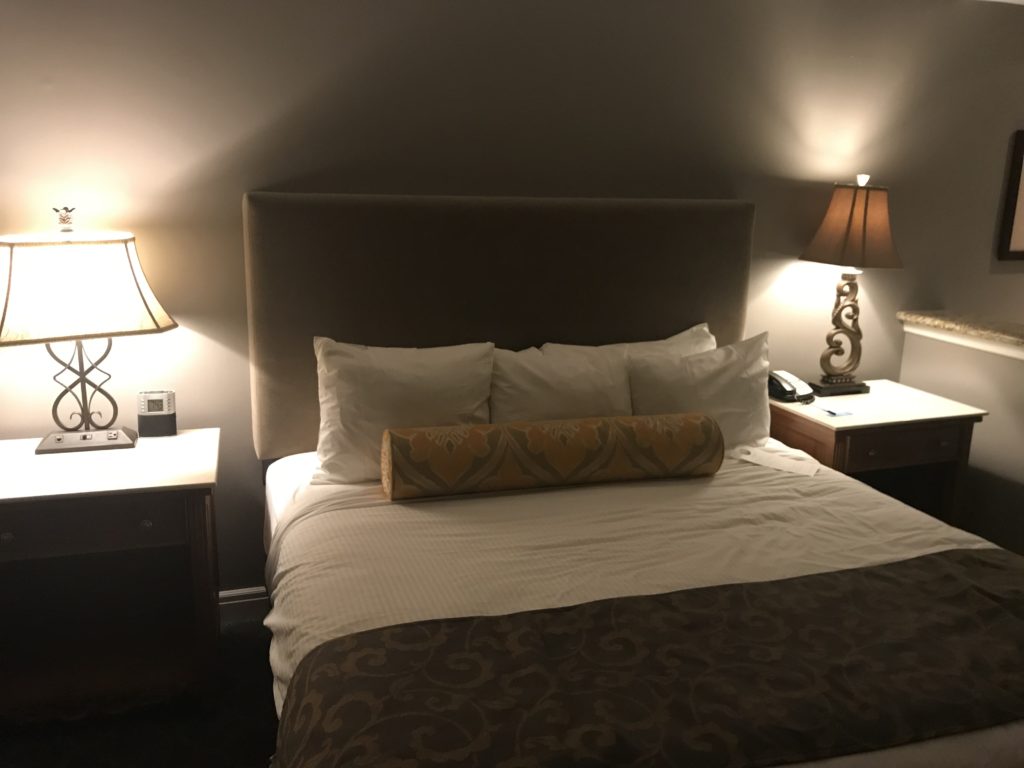 There is one king bed, and a second TV, as well as a full closet.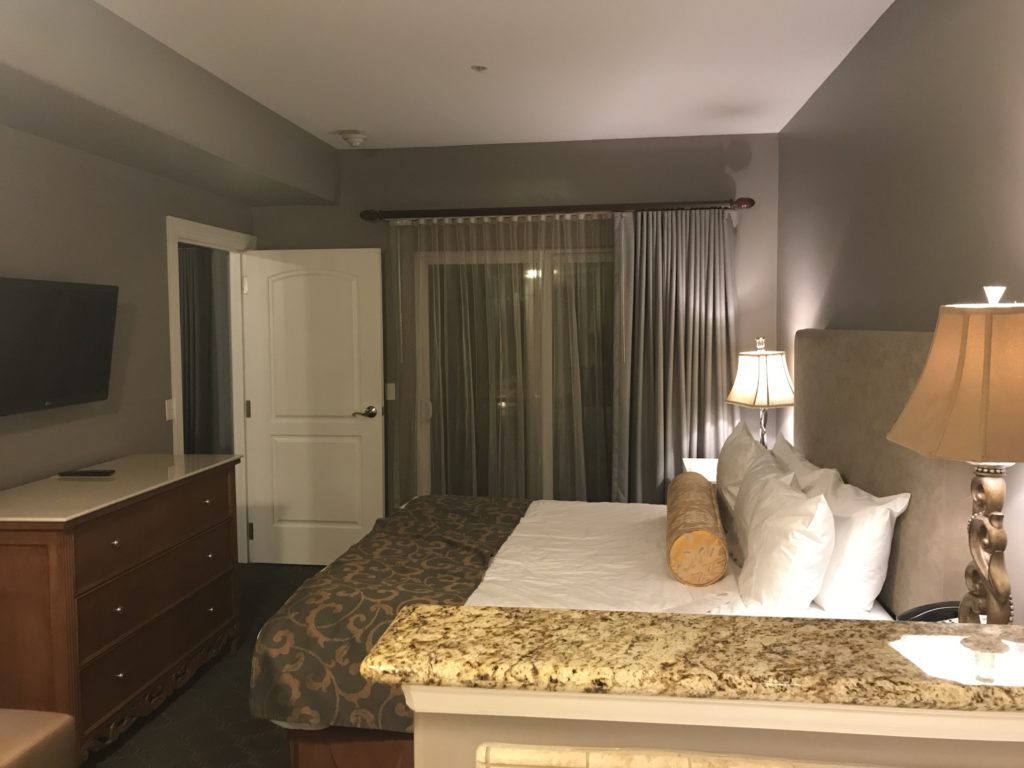 The spa tub is also inside the bedroom and not the bathroom. I'm not really a fan of this. I'd rather it be part of the bathroom as well.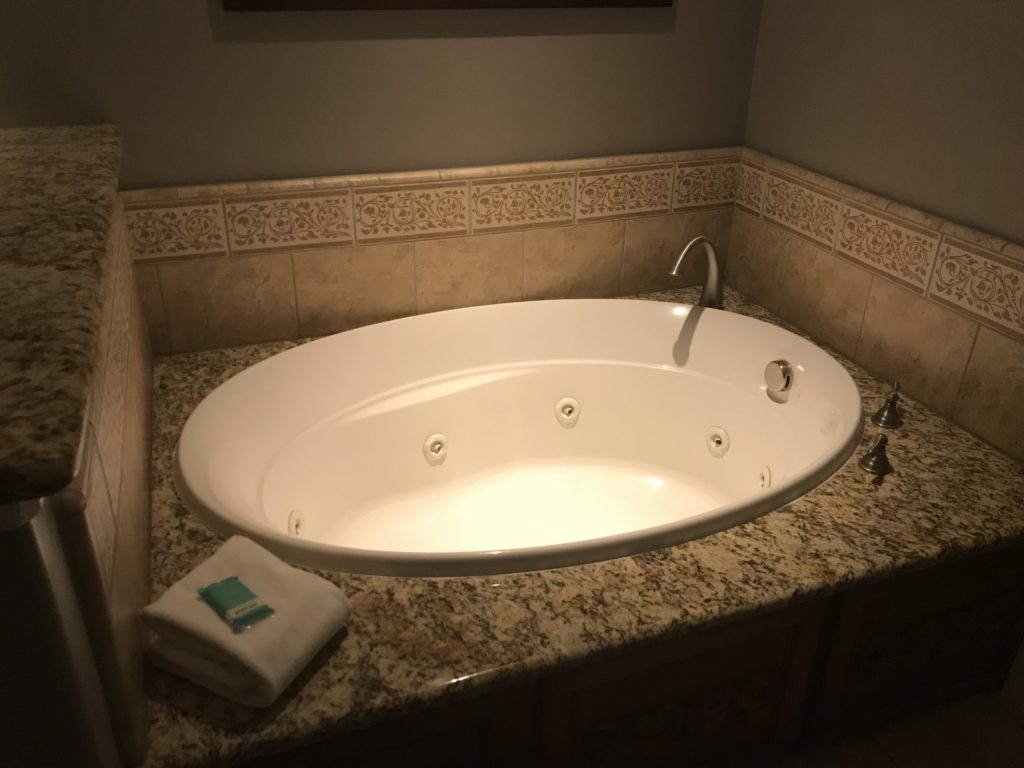 The bathroom itself is very large with two sinks and an oversize shower.
I was in heaven each morning. I love a nice shower. This one wasn't quite up to the awesome rain shower in our room in Beijing back in November (SEE: Renaissance Beijing Wangfujiung Review), nor did it top the most amazing shower I've ever used (SEE: Park Hyatt Milan: A Review). But it was still great. Until I realized one of the kids had dropped the bottle of shampoo the night before and I was suddenly unable to wash my hair and slipping all over the tile in the morning. The things they don't tell you…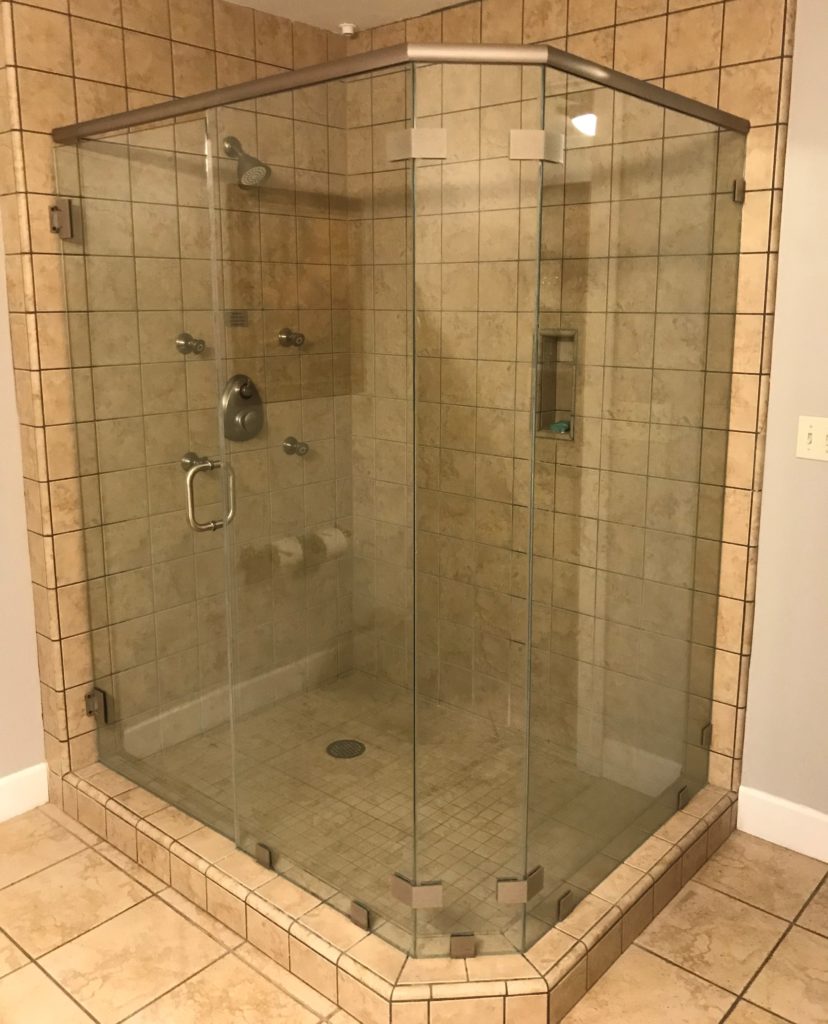 The one bedroom suite also has a deck, or lanai. I'm still not used to that word. Lanai is an island in Hawaii, not an outdoor deck thing. In December, it was exactly the nicest place to hang out. But I'm sure it is amazing in summer.
The best part of the one bedroom suite is the kitchen. Maybe you aren't the sort of folks who like to cook on vacation, but depending on the situation, we really don't mind. It's way cheaper and quite easy when we have a more relaxed schedule, such as on this trip. The kitchen had pretty much everything you'd need for 4-6 people, including plates, cutlery and cookware. There is even a dishwasher and a couple soap packs.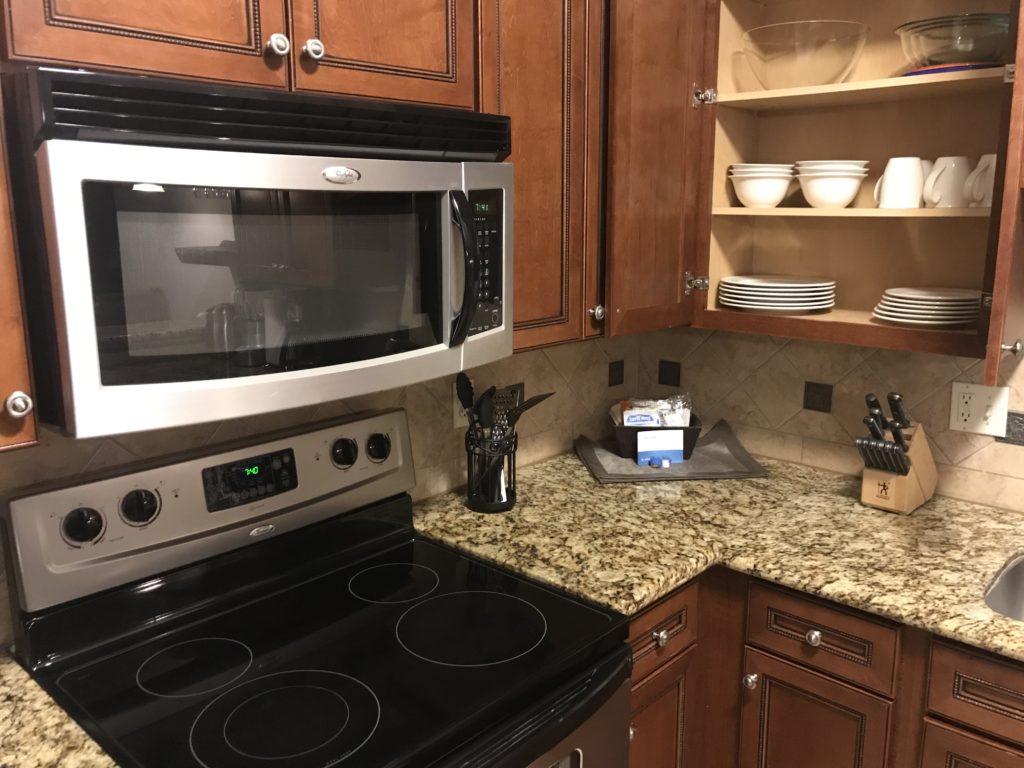 You can ask for necessities from housekeeping and the front desk, but if you want the room actually cleaned, this comes at as a surcharge. I'm pretty sure this is standard to Wyndham's condo properties. We managed just fine for three days without housekeeping, and it saved us $75.
On the whole, our one bedroom suite at the Vino Bello Resort Napa was excellent. I highly recommend this as a place to burn your Wyndham points as a family.
Facilities and activities
The Vino Bello Resort Napa offers a number of things to do on-property, as well as access to everything Napa has to offer. It may not be the full extent of what many expect from a resort, even though that is part of the name. There is a decent sized pool between the Chardonnay and Cabernet buildings, and we spent and evening and morning here enjoying it.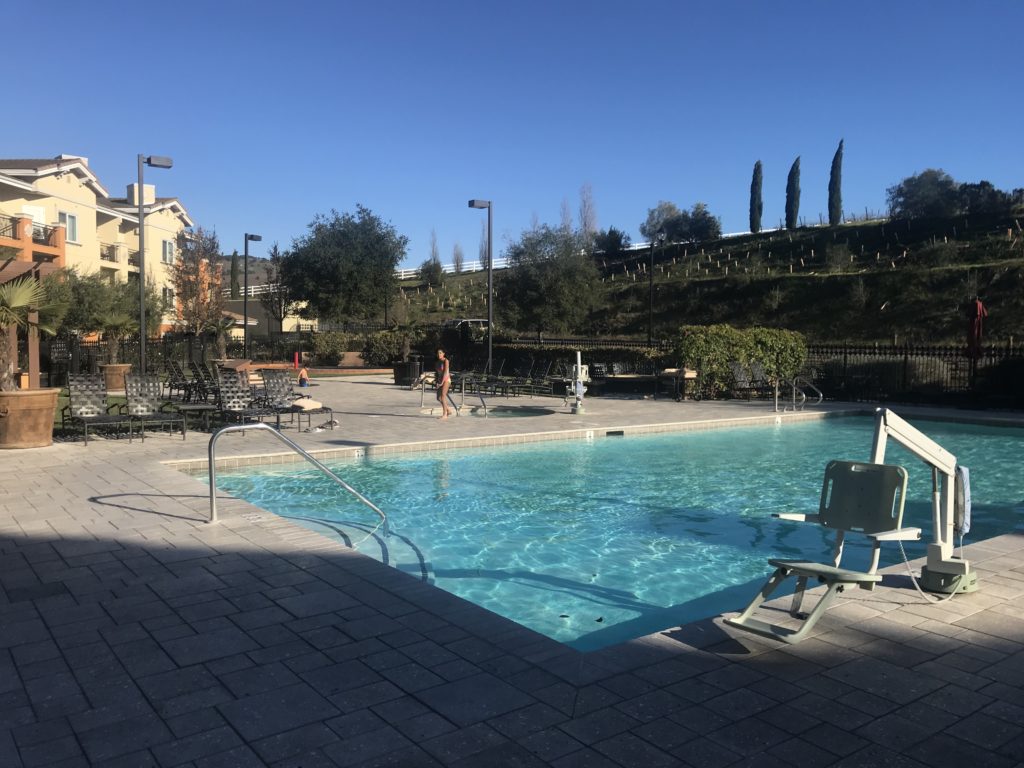 The kids always try to get me to spend as much time as possible in the water. The pool at the Vino Bello Resort Napa is heated, but with the air temperatures as low as they are in December and January, it still isn't all that comfortable. The kids didn't care, but I would last only about 15 minutes before I wanted to soak in the hot tub for the remainder of the time.
On the opposite side of the restaurant and lobby is the Bordeaux building. It also has resort rooms, but also contains the crush lounge, which is where we headed the afternoon of New Year's Eve. The lounge has a bar, but it is also family friendly (they serve food as well, so it is technically a restaurant). Kids are welcome.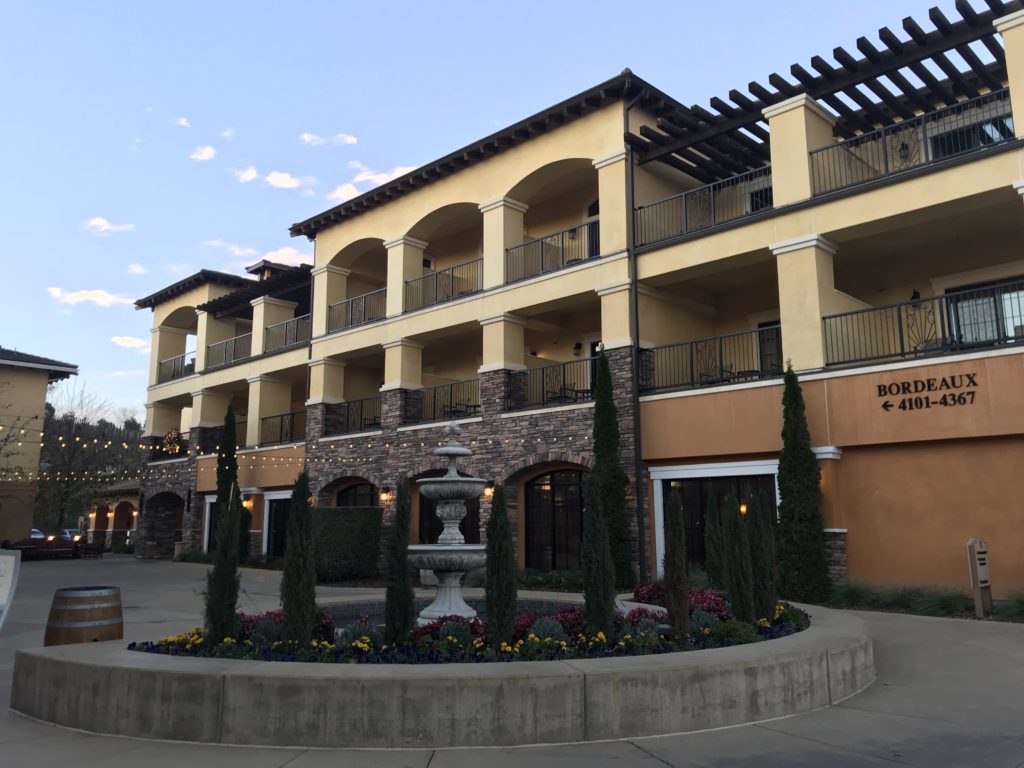 One of the best features of the Crush Lounge at the Vino Bello Resort Napa is that it has a half dozen bowling lanes. Bowling isn't especially cheap, but it was still reasonable enough that wanted to rent a land for an hour. We got two games in. Prices are per person per hour, $15 for adults and $10 for kids on weekdays. Prices go up $5 per person per hour on weekends.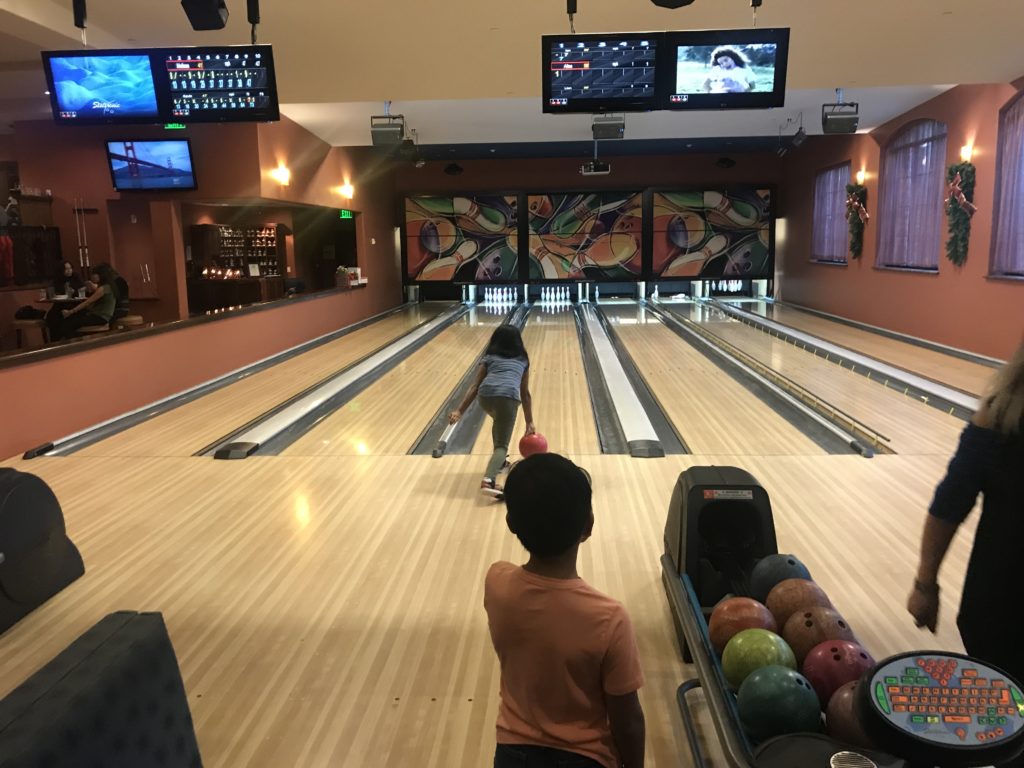 The concierge is a helpful source of anything else you might want to know about the resort and the Napa area.
The Napa area
I know, most people probably don't take their kids to Napa. The typical itinerary is probably all-day wine tasting at the many vineyards in the valley. There are a couple that are family friendly, and the concierge pointed these out. Taking them to the Castello di Amorosa, a winery in the style of a Tuscan castle, was an option, but I decided against it, mainly due to the cost. We had what we needed at the resort anyway.
But that doesn't mean we didn't do any sightseeing. The first day we headed to church at Calvary Chapel Petaluma and then spent the afternoon in Sonoma at Train Town and then the mission.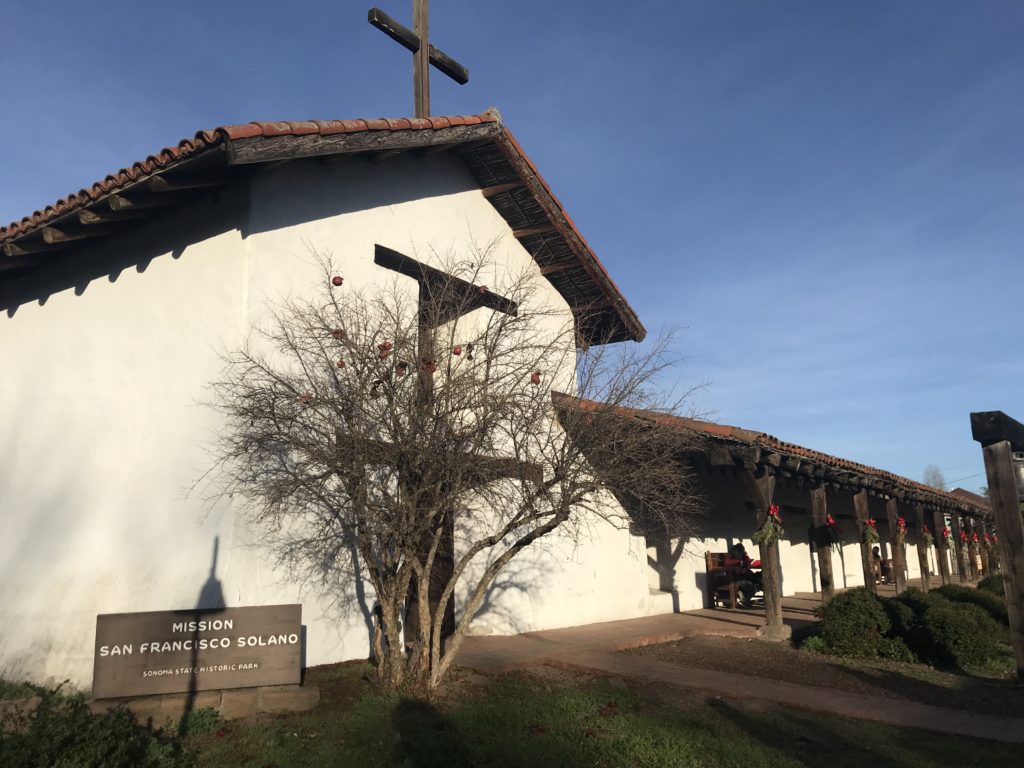 Train Town is good with kids for a couple hours. The train ride itself is fun for kids of pretty much all ages. The other rides are more fair-style, and aren't all that thrilling for older kids. But we bought a single pack of tickets for these and had fun on a few.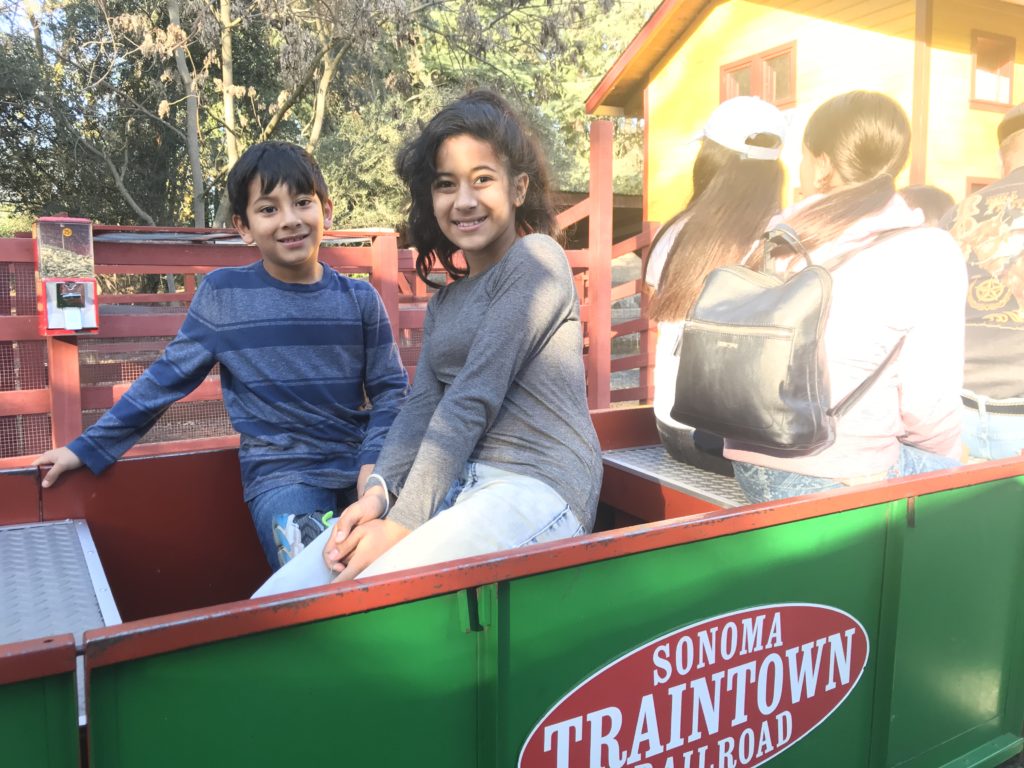 The morning of our second day we drove over to Fairfield and toured the Jelly Belly Factory. It had been well over a decade since I'd visited, and I hardly remembered anything. Our one bummer: they gave everyone New Year's Eve off as well as New Year's Day, so we didn't get to see any action on the factory floor. But the video monitors spaced out every 100 feet or so still let us have a glimpse into their candy making process.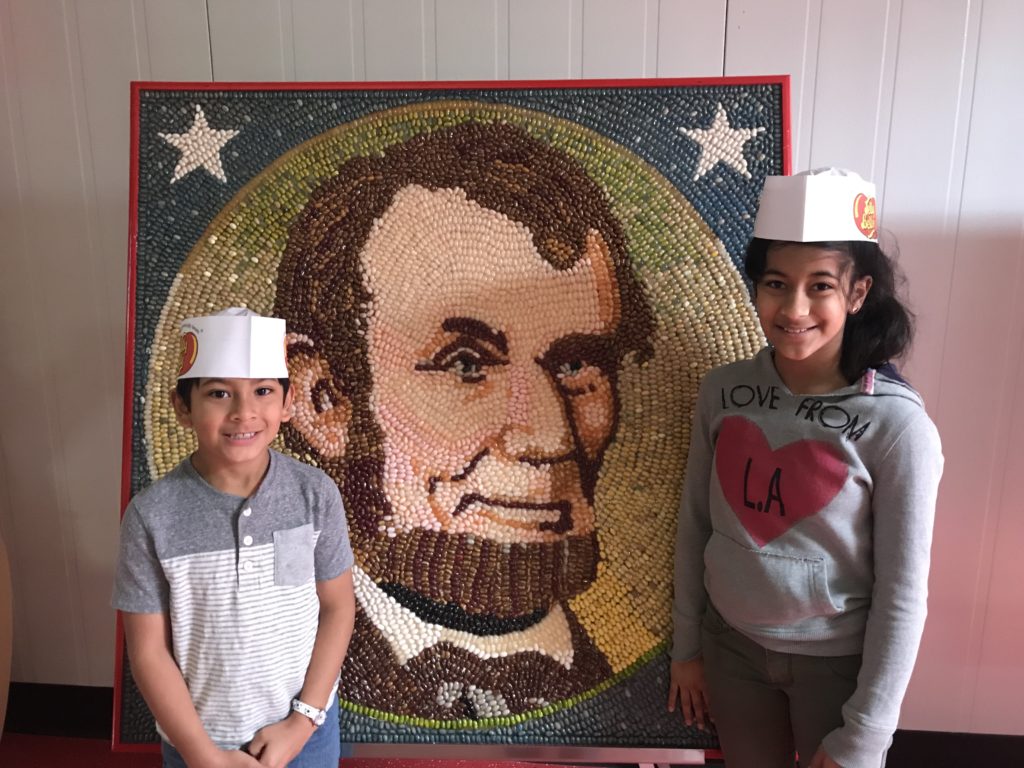 There is plenty more to do in the Napa area, and I am not a Napa expert, so I'll have to leave you to do your own research!
Conclusion
Our stay at the Vino Bello Resort Napa was excellent overall. The one bedroom condo is spacious and perfect for a family, I'd happily stay here again. We still have Wyndham points to burn, so another visit might be possible this year.
The one thing I should note is that the Vino Bello Resort tried to charge us a resort fee at check out. This is against the Wyndham Rewards free night policy. I had to pull up the terms on my phone and present it to the agent at the front desk, who then took it to his manager. They did relent, but it was a bit disappointing. There is a separate write-up on this whole experiences (SEE: Waive that resort fee! Holding a hotel to its program policies).