Overall rating: 8/10
Pros: Cheap points rate, good breakfast, nice lounge, easy access to metro
Cons: Not in city center, tired rooms and exterior
This hotel review is very dated, but its been sitting here mostly drafted and I figured I'd finish up and post it. 
During our extended European holiday in 2016 (SEE: Thirty Days in Europe), my wife and I spent 6 nights at the Sheraton Roma. I had booked us directly into a Club Room, which included breakfast and lounge access.
The total? 31,000 SPG points. Not a bad redemption, especially given that it would have easily cost us $900 out of pocket. Now that the merger is happening between the Starwood and Marriott loyalty programs, stays at the Sheraton Roma are becoming a worse deal. Category 1 and 2 Starwood properties were particularly hard hit by the new award chart.
Previously, award nights cost 3,000/4,000 Starpoints for a standard room (we booked a Club Room for a bit more). The new award chart shows that they will cost 17,500 Marriott points. Even given the 3:1 effective ratio of SPG to Marriott points, we're looking at an increase of 5,500 Marriott points per night.
Cash rates during our dates were ~$140 per night for a club room, so we were getting about 2.7 cents per point. Not a bad redemption, especially since it was saving us the cost of breakfast (and often dinner).
Arrival at the Sheraton Roma
We didn't have to travel very far the day we arrived. Our first night in Rome was actually spent at the St. Regis Rome, which mainly left me wishing I would have not burned the points I did on the luxury stay (SEE: St. Regis Rome Deluxe Room Review: Just too many points).
The easiest way to get to the Sheraton Rome is by metro or bus. If you take the metro, you have to walk a good distance to the hotel. We made this mistake, and the area to the immediate south of the hotel is not especially friendly to pedestrians. The bus is a better option, since the stop is literally out in front of the hotel, but you need to do a bit more research. I had it down by the end of our stay.
The exterior of the hotel is dated and not especially appealing.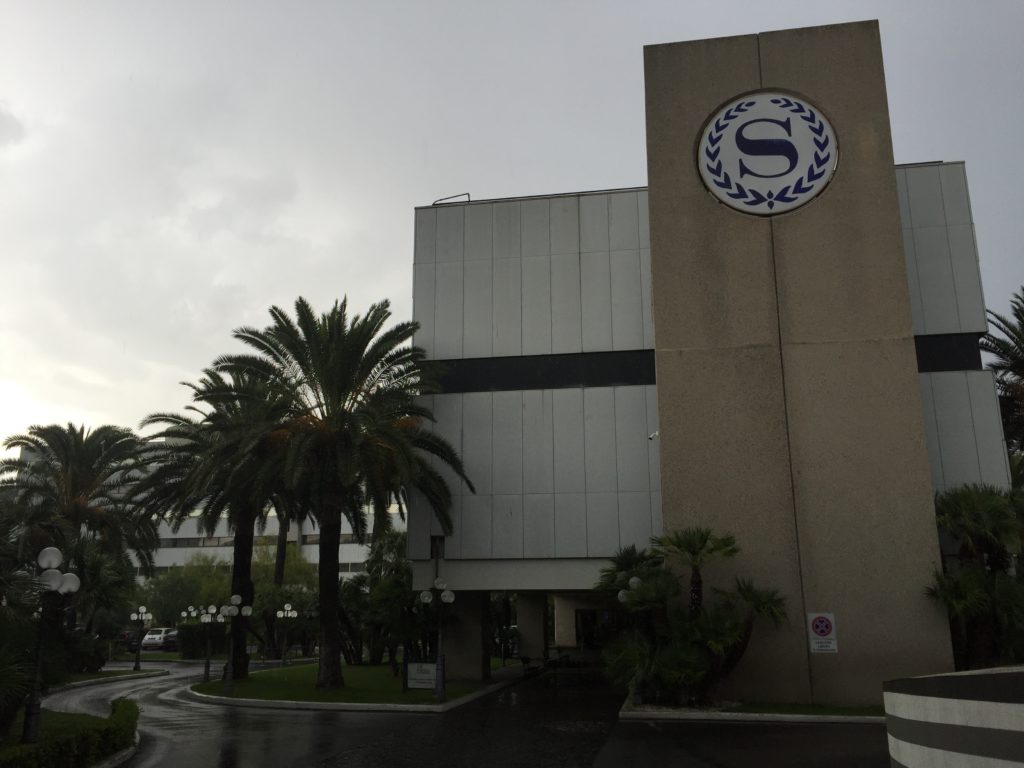 We arrived in the evening after spending the day exploring Rome, and were immediately told that we needed to check in at the desk in the lounge. This was new to me. I figured the front desk handled everything. But it was easy enough to head up to the sixth floor.
First impressions
As I mentioned, the exterior needs a major face lift. However, the lobby was nice enough. It was often busy, but not during the afternoon that we arrived.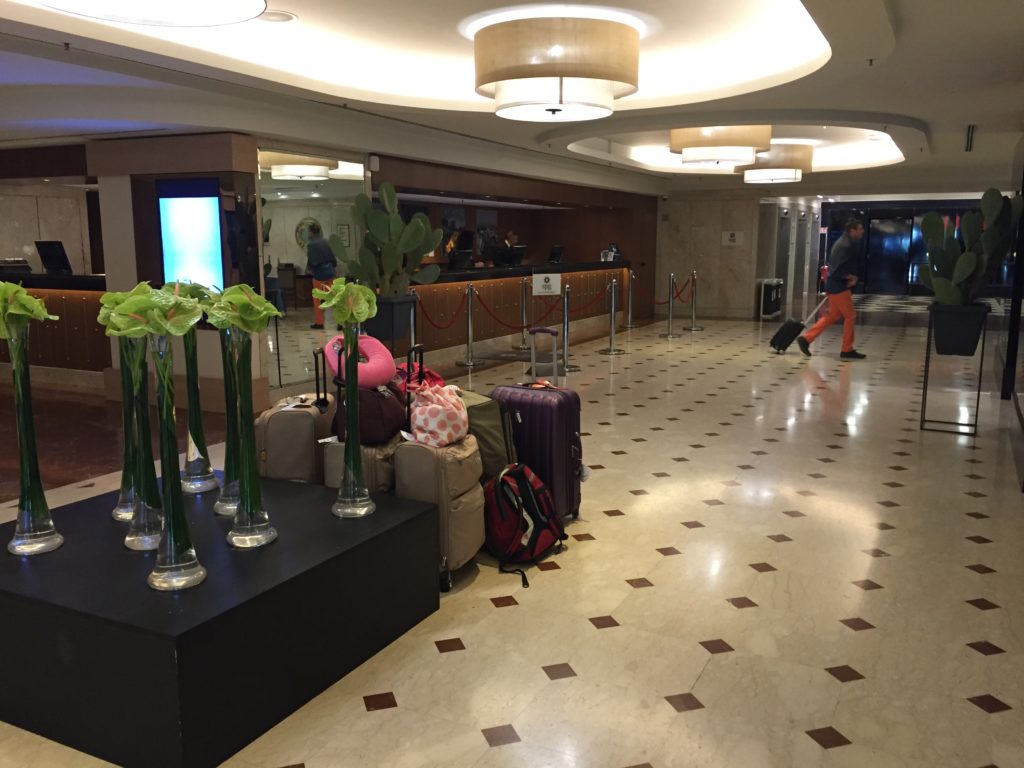 There was a flight crew present when we arrived, and we would continue to see them throughout our stay. It seems that the Sheraton Roma has contracts with multiple airlines for crew stays. Heading to the elevators, we arrived at the 6th floor, where the Club lounge is located.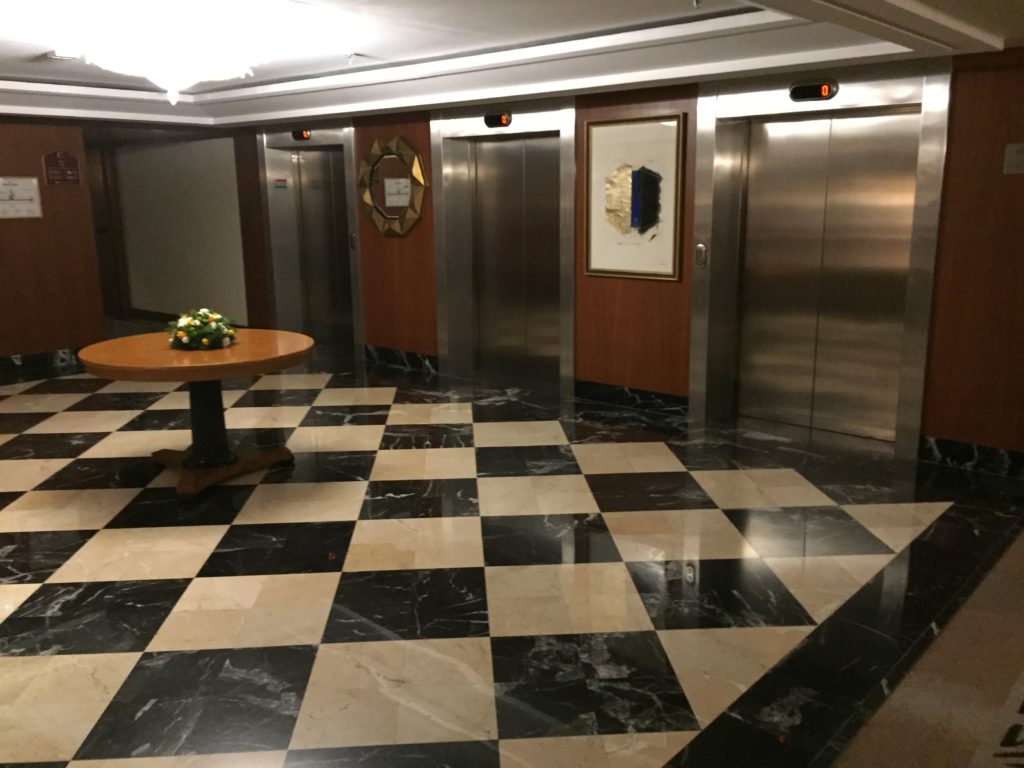 Check in was…interesting. The staff in the lounge were incredibly professional, but we were accosted by an overly friendly lady who'd had a few too many glasses of Italian wine. She chatted our ears off for a few minutes before we were thankfully given our keys and could extricate ourselves. Our room was one floor down, on the 5th floor.
Sheraton Roma Club Room
I thought I'd taken photos of our room like I typically do at most hotels, but I guess I missed that detail. I took photos of other areas of the property, but not of the room itself. You can take a look here. I recall our Club Room at the Sheraton Roma as being adequate, but a bit on the small side. We didn't spend a lot of time in the room, as we were out enjoying Rome most of our visit. In the evening hours, I was often in the lounge working until 8:00 or 9:00 p.m. to keep up with things back home.
One note with Starwood (and probably the same once they are fully rolled into Marriott), is that being upgraded to a Club Room doesn't necessarily grant Club access. Since we'd paid the necessary points premium for a Club Room outright (as if paying cash for the room), we did get Club access and free breakfast. Besides Club access, there aren't really any differences between standard Club and non-Club rooms at the Sheraton Roma. You're just on a different floor.
We did opt for the Make a Green Choice program each day. As the Sheraton Roma is a full service hotel, we could get either a voucher for €5 toward food or beverage, or 500 Starpoints.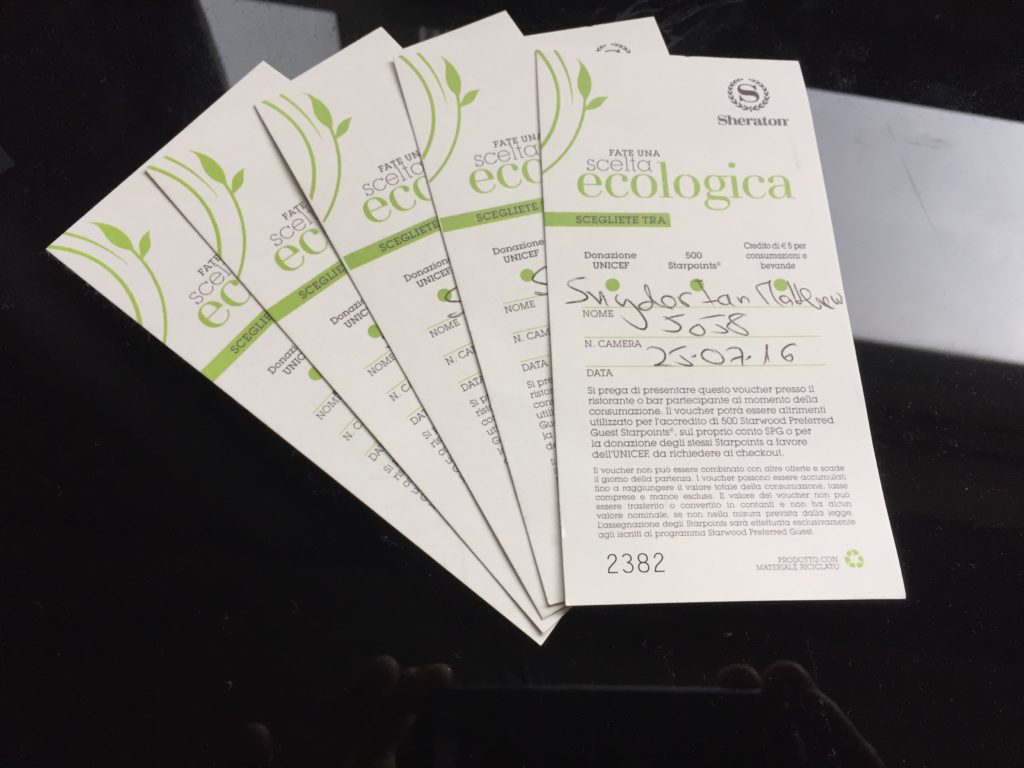 I value 500 Starpoints at ~$12, so that was definitely what we picked. Including our second Sheraton stay on this trip, we came away with 4,000 Starpoints from award stays. Pretty sweet.
Sheraton Roma Lounge
Access to the Sheraton Club Lounge was the best perk of booking a club room. It was a great place for me to work from in the evenings while my wife relaxed in our room. Or joined me.
Every evening there was a selection of small bites that doubled as dinner for us. Lunch out in Rome is fairly expensive, so we tried to cut costs by eating dinner in the lounge. Most of the food was pretty good. You just had to go back a few times to have enough.
There was a selection of wine as well, always at least one red and one white. It was all self serve. You might say it was the perfect opportunity to enjoy, when in Rome. But we didn't. I hardly ever have a glass of anything.
The seating in the lounge was adequate, and there were almost always a number of other people present. The Sheraton Roma appears to be a popular hotel for both business travelers and flight crews.
Breakfast
Since we'd spent the extra points on an upgrade to a Club Room, breakfast was also included, either in the Sheraton Club itself or in AQVI, the hotel restaurant.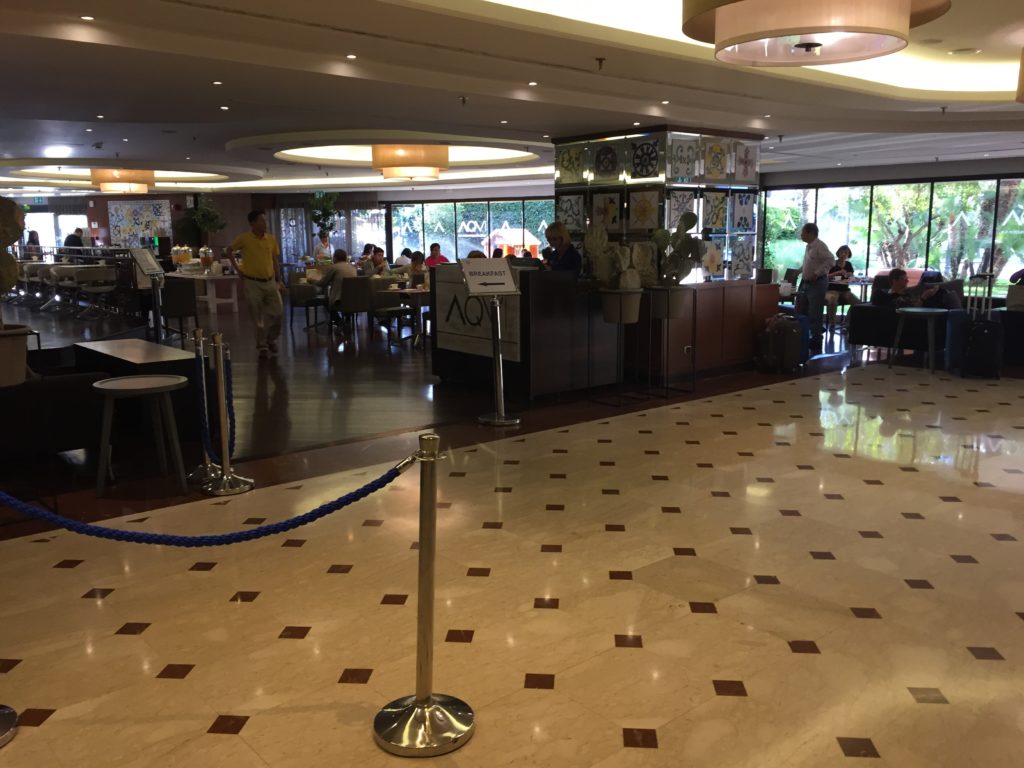 We opted for the restaurant every day. The food selection included a wide assortment of pastries, and hot breakfast options such as eggs, bacon, potatoes, cheese, fruit and much more.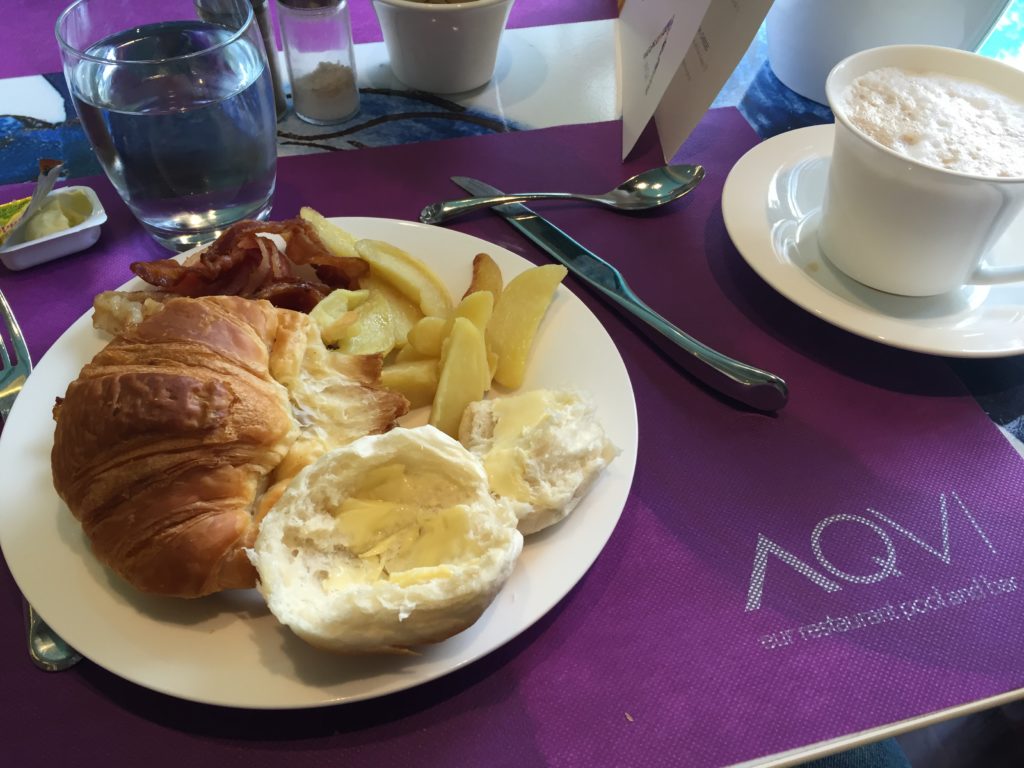 I unfortunately didn't take any photos besides the one of my plate, but I do remember feeling more than satisfied with both the quality and selection of food at breakfast. We ate with a view of the pool every day.
Italian coffee is also generally very good. The coffee here was about par.
Lounge access and breakfast every day were worth the 1,500 point premium per night. This is about the same as paying $38 per day for breakfast and dinner for two, which was totally worth saving.
Other facilities
The Sheraton Roma has a large pool deck area and a decent size pool. The only issue was that, at least from the breakfast area, it didn't look all that inviting. The water was murky and not at all appealing. Neither my wife nor I had more than a mild interest in swimming, so it was easy to pass it up.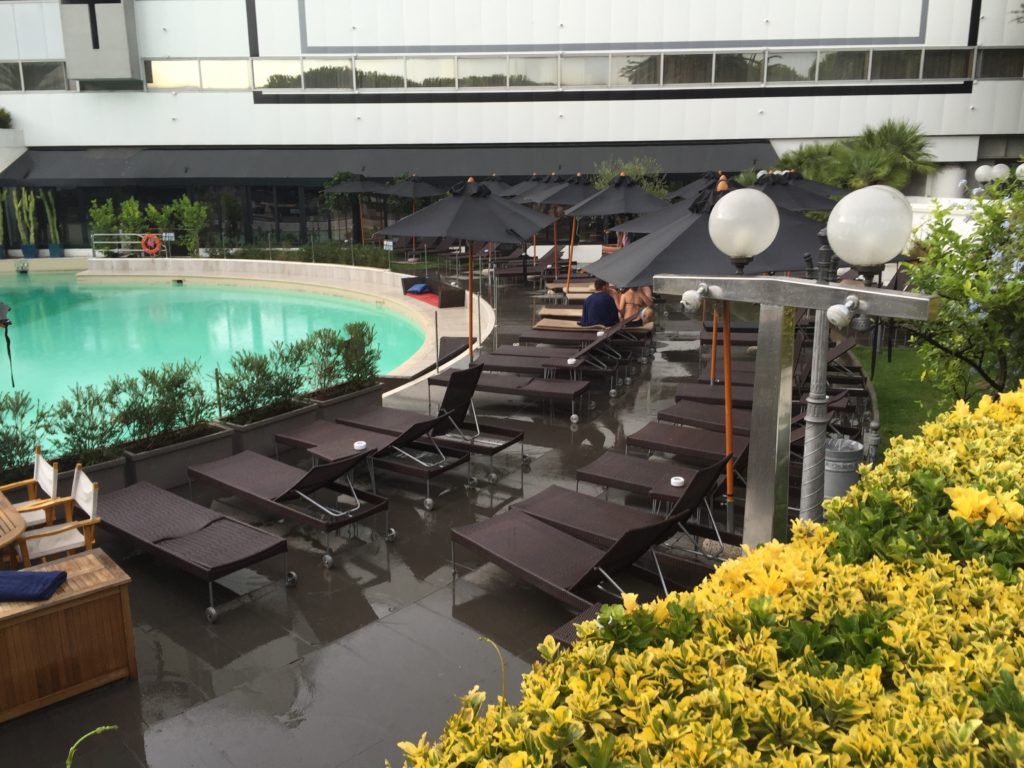 We did actually use the business center while at the Sheraton Roma. It was necessary to print the boarding passes for our flight from Ciampino to Dublin on Ryan Air. Failure to print a boarding pass will incur a steep fee from the airline.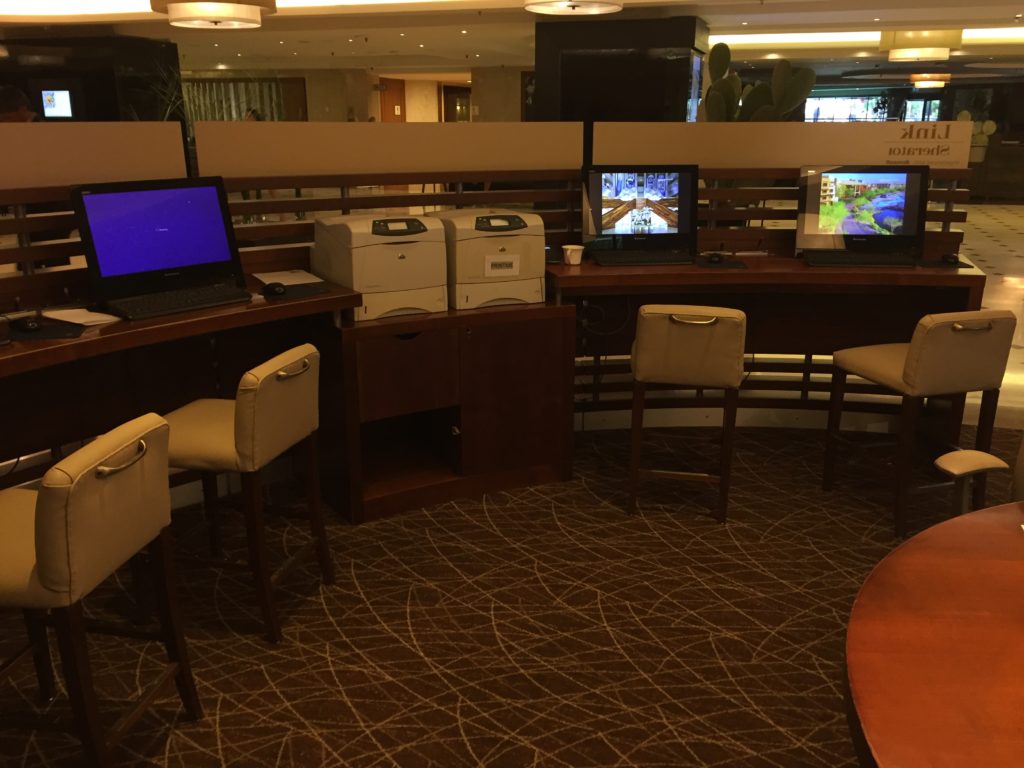 Access to Rome
One of the drawbacks to the Sheraton Roma is its distance from the city center. It's not that access isn't all that difficult. It just means a 20-60 minute transit time each way, depending on where you want to go.
The most convenient option is the Patinaggio bus stop literally right in front of the hotel. The bus takes a bit longer in terms of drive time, but there is less walking involved. You'll take the 780 line to Trastevere/Pascarella station and then catch the streetcar to Piazza Venezia. From there you can reach many sights in Rome by foot.
The other option is the metro, which we took most of the time. The EUR Magliana station is a 10-minute walk, but the walking route is less than ideal. Bushes had overgrown some of the sidewalk, and traffic is moving at a pretty good pace. But it is the better option for some of the sights. Colosseo station is only a 15 minute ride on the metro, and trains run frequently. Getting to the other side of Rome, such as over to the Vatican, will take at least another 15-20 minutes.
Conclusion
Overall, we had a great stay at the Sheraton Roma. It definitely wasn't the nicest hotel, but it met our needs perfectly. Even though it isn't near the center of the city, accessing the typical tourist areas was easy enough by bus or metro. Lounge access and breakfast were nice touches, and if we stay here again, I'd seek to repeat that.
My one potential gripe is that the pool did not look inviting. But we were here to enjoy the history and culture, not the water. If the kids were along, I'm sure they would have still been up for a swim. 😉