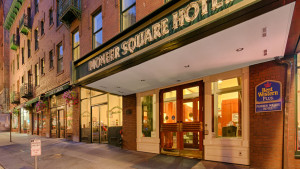 Best Western isn't even on the radar of many travel bloggers. Most of them have their favorites chains, and one that is comprised largely of fairly generic, 2-star road motels just doesn't make the cut. The "elitists" often choose SPG (think the points guy), others Hyatt, and my favorite travel couple is all about maximizing IHG. What a lot of people overlook is that there are nearly as many Best Western hotels as there are IHG hotels worldwide, and the geographic coverage is better than you'd think.
I find that Best Western is plenty good for me. Even though the hotels are independently owned and operated franchises, they offer consistency in regard to service and cleanliness. Some even have character and history. I have yet to stay at one that I would not recommend. When all I want is a clean room and a bed to sleep in, Best Western is a safe bet. They also almost universally offer free breakfast.
Since Best Western matched my IHG Spire status to their Diamond status through the 'No Catch' status match form, earning points is slightly easier. Diamond provides a welcome bonus, an extra 30% on points earned, and the potential for room upgrades. They also have a co-branded credit card issued through First Bankcard that I will likely consider applying for sometime in the future.
Through May 8th, Best Western is running a promotion where you can earn a $25 gift card for every 2 separate stays, up to a total of 5 gift cards! When added to the points already earned from the stays, this is actually a pretty good offer. For my two stays/three nights in Utah that cost a total of $218, I will be getting ~2,600 points (worth about $13) and a $25 gift card, for a total value of about $37. I'd say that is a decent return, especially on an average rate of $73/night. The promotion was enough to tip the scales for me; I was initially looking at other options. Hopefully I can capitalize on it again before the promotion ends.