Back last spring (I know…just getting around to writing some of these posts!) the older two kids and I had an adventure across the desert southwest of the United States. Some of our stops included Saguaro National Park and a nice resort hotel in Phoenix, as well as an afternoon of hiking in Sedona. It wasn't the sort of road trip where you get to linger. We had to press onward each day.
The day finally came where we would be visiting the Grand Canyon. But it didn't go at all how I imagined.
Snow? In Arizona?? In May?!?
It was quite blustery during our afternoon of hiking in Sedona [SEE: Easiest Sedona hike (with a view)]. The rain started just as we were on the final stretch back the car and it continued as we wound our way northward and upward to Flagstaff. Funny thing about Flagstaff: it's at an elevation of almost 7,000 feet. And while it had been a perfect 70 degrees in Sedona, it was now snowing. Snowing! Nothing was sticking, but it was still snow. In Arizona. In May.
When we woke up the next morning, it was still cold and lightly snowing, but there still wasn't really any accumulated on the ground.
However, as we continued toward the Grand Canyon, we *did* start to drive through real snow. Eventually, the kids couldn't take it any more and we had to pull over. This was their first time really experiencing the snow. It was not at all part of the plan.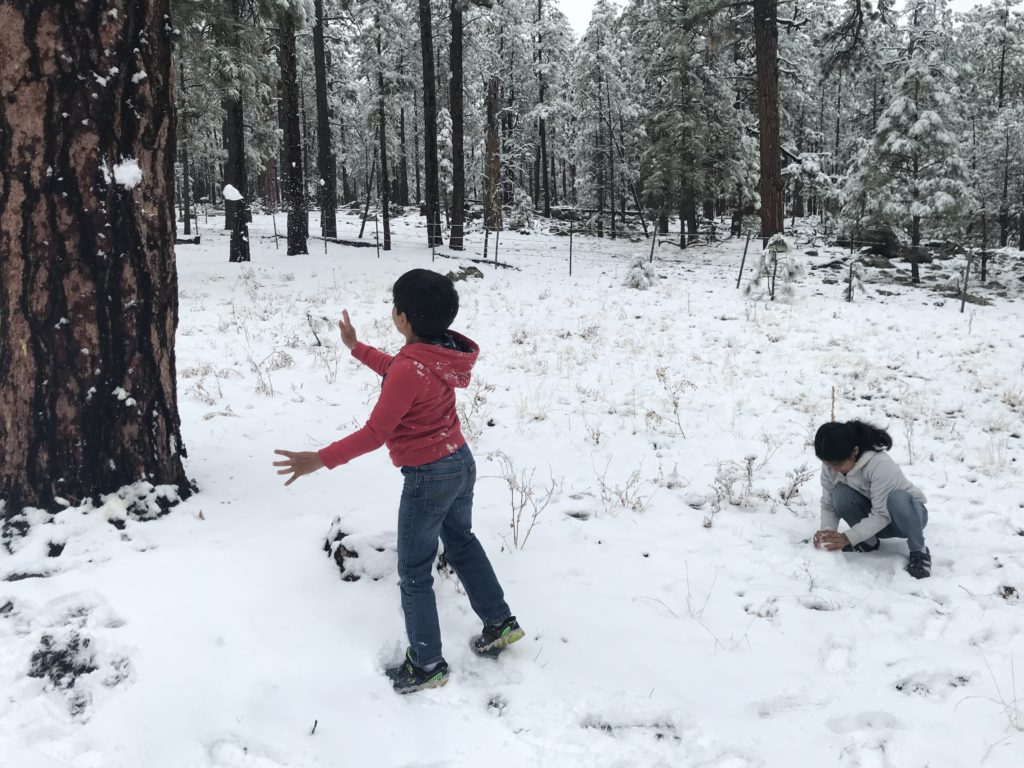 The Grand letdown
I became a bit concerned about our visit to the Grand Canyon. What if it was cloudy and snowy and we couldn't get a view of the canyon? Does this happen from time to time? I imagine it does. Here we were, in the middle of a trip that would stretch over 1,000 miles of driving, and we may miss our one chance to see the Grand Canyon!
My fears were realized when we parked at the Canyon Rim lot. It was difficult enough to see anything that far from us, as it was quickly obscured by the fog/clouds.  We stopped by the visitor center first, and I hoped that conditions might improve and we'd get a view of the canyon.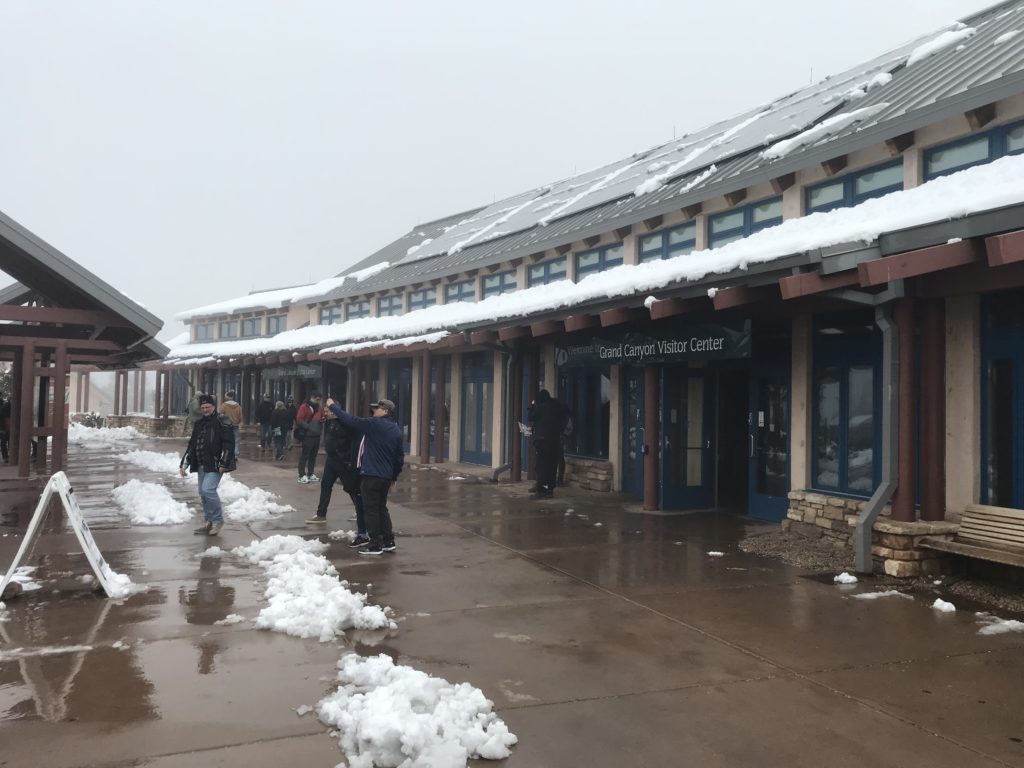 But no such luck. Once we were done in the visitor center and wandered over to the lookout point, all we could see was cloud.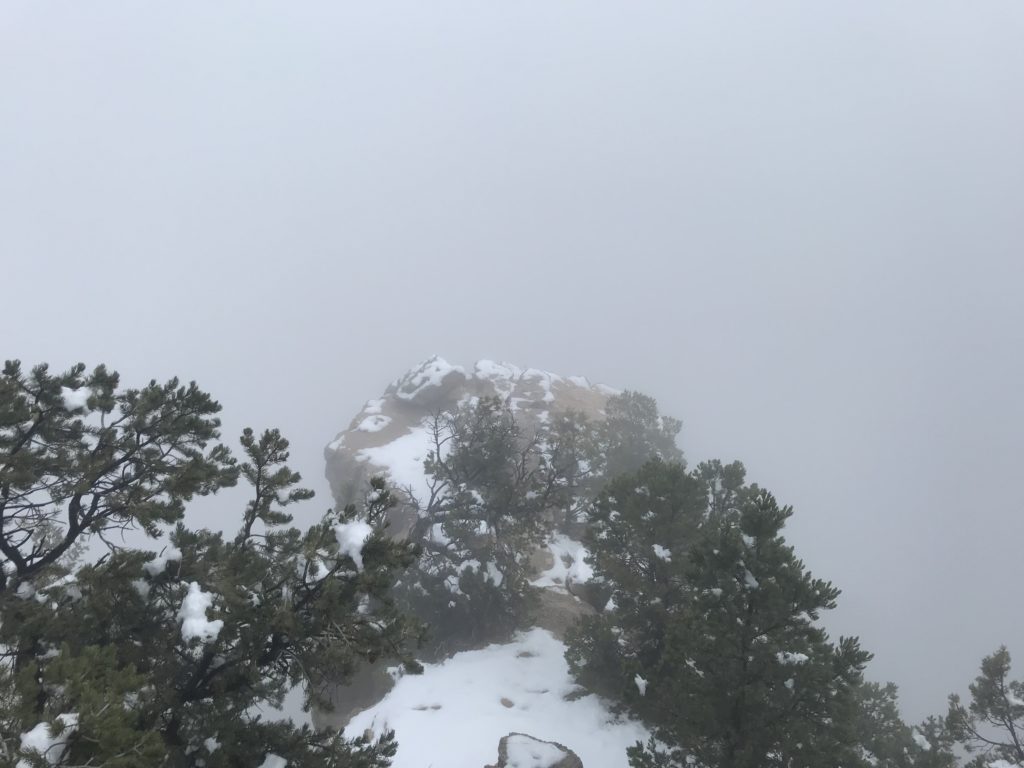 I was bummed. This is not how I expected our first visit to the Grand Canyon to go. Who knew that May would be such a poor time to visit?
The kids wasted no time in making lemonade from the lemon of a day we were given. They were enjoying a delightful romp in the snow.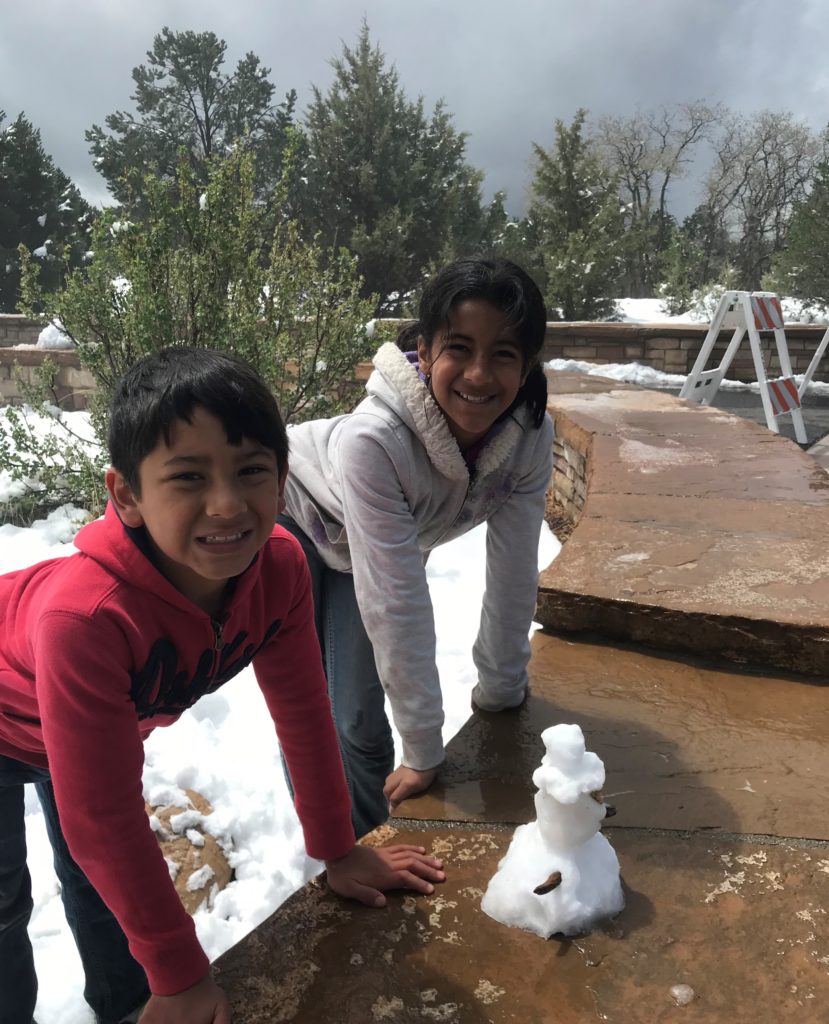 A brief breakthrough
We slowly walked west toward the geology museum at Yavapai Point. The location is normally another picturesque viewpoint from the South Rim, but…there was nothing but cloud to see. However, after spending about 15 minutes in the museum where we got to see a cool model of the canyon, the clouds all of a sudden broke for just a few moments and we had a glimpse of the canyon below! Everyone inside rushed to the window.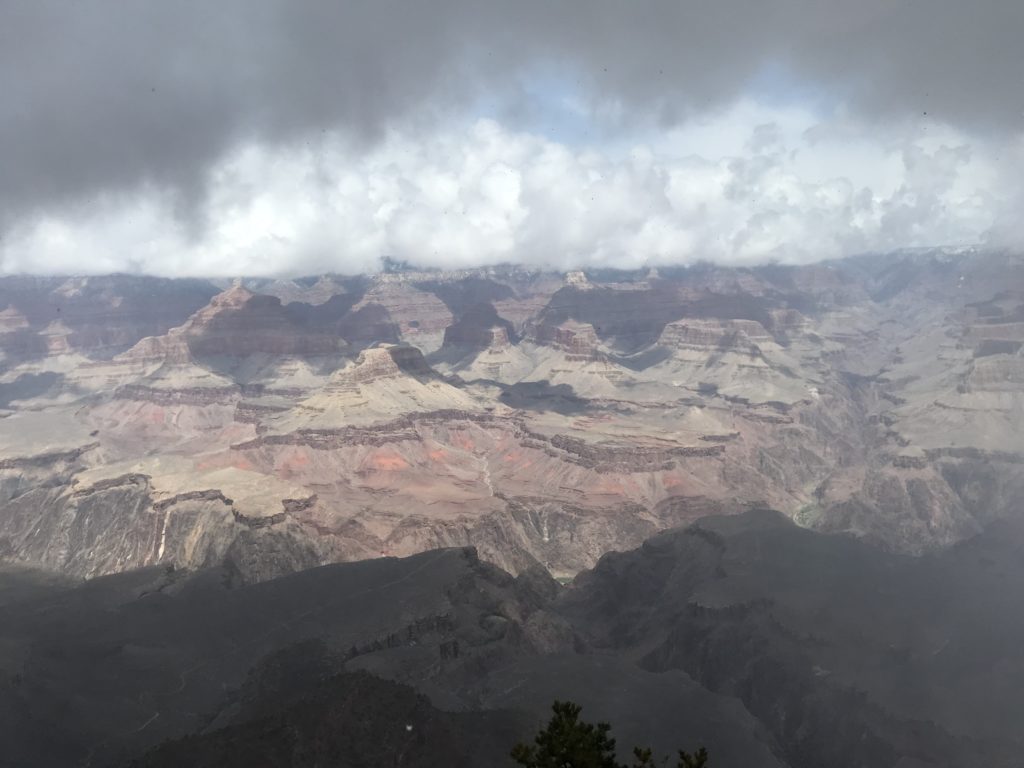 It wasn't a full panoramic view, but it was our first real taste of the Grand Canyon. The viewing window in the museum is great, as it provides a great vantage point while simultaneously letting you stay warm.
We spent a little while longer at the museum and were able to see a bit of the canyon on a couple more instances. Eventually I decided that things probably weren't going to get much better and we might as well keep moving along on our trip. The breaks were very brief.
Chasing the sky
However, when we arrived back at the car, I could tell that the clouds around us were breaking up a bit. We hadn't had a good view of the canyon except for those brief moments at Yavapai. But the sky looked slightly better toward the east, and the ranger had told us that there was supposed to be a slight lull before things worsened later in the afternoon. My gut told me that we would be able to have a better chance at a view at one of the viewpoints to the east.
So I started chasing that small patch of blue sky moving slowly eastward. We were eventually able to park at a crowded viewpoint. The gambit paid off. We were treated to this: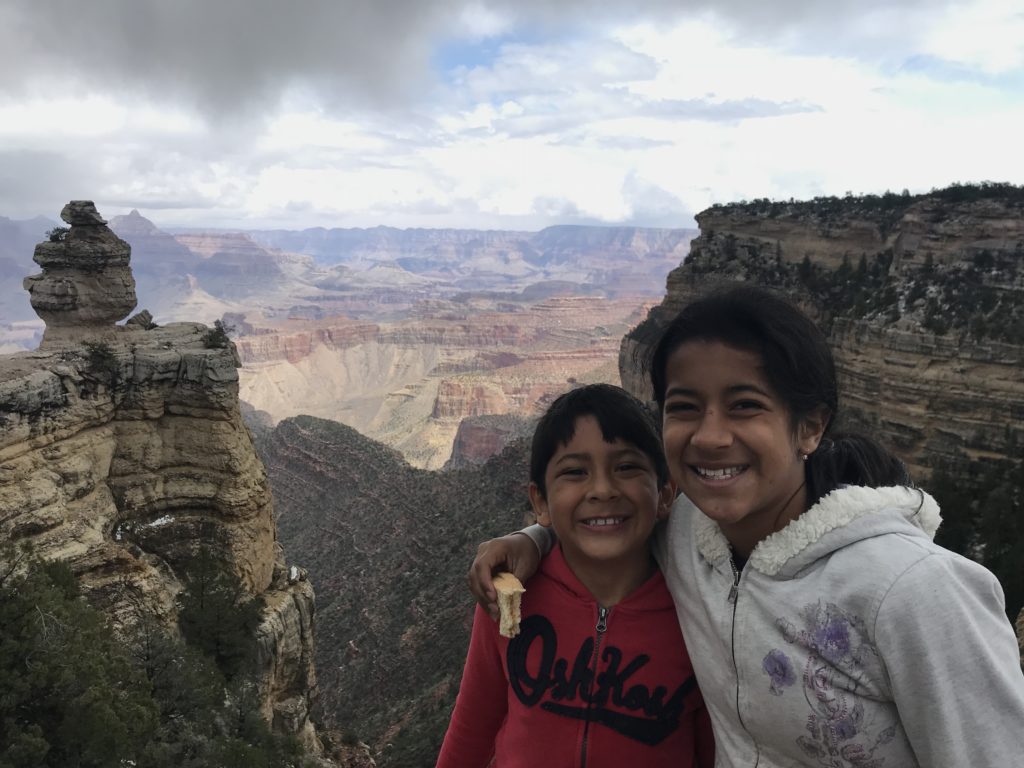 Things got even better when we made our way to the next vantage point, which is aptly named Grandview Point. The view was pretty grand, and we finally were able to wonder at this natural marvel.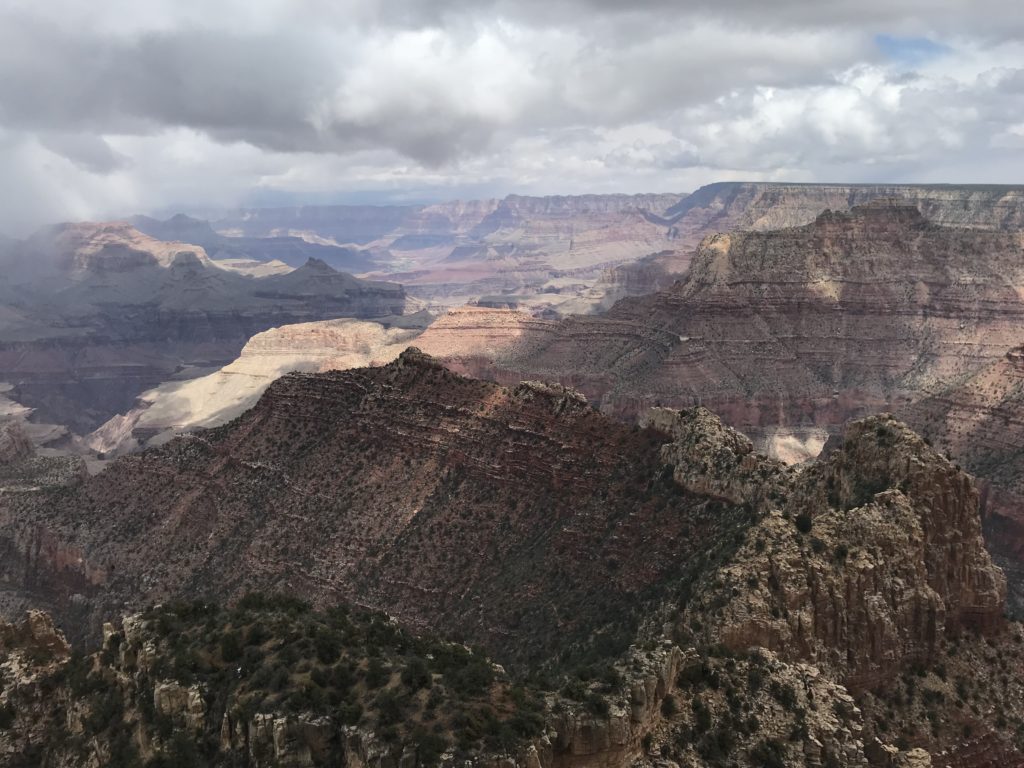 We took a brief walk down the trail from Grandview, enjoying a couple different vsantage points of the canyon. If not for the clouds looming to the west, you might think there was nothing wrong with our day at the Grand Canyon.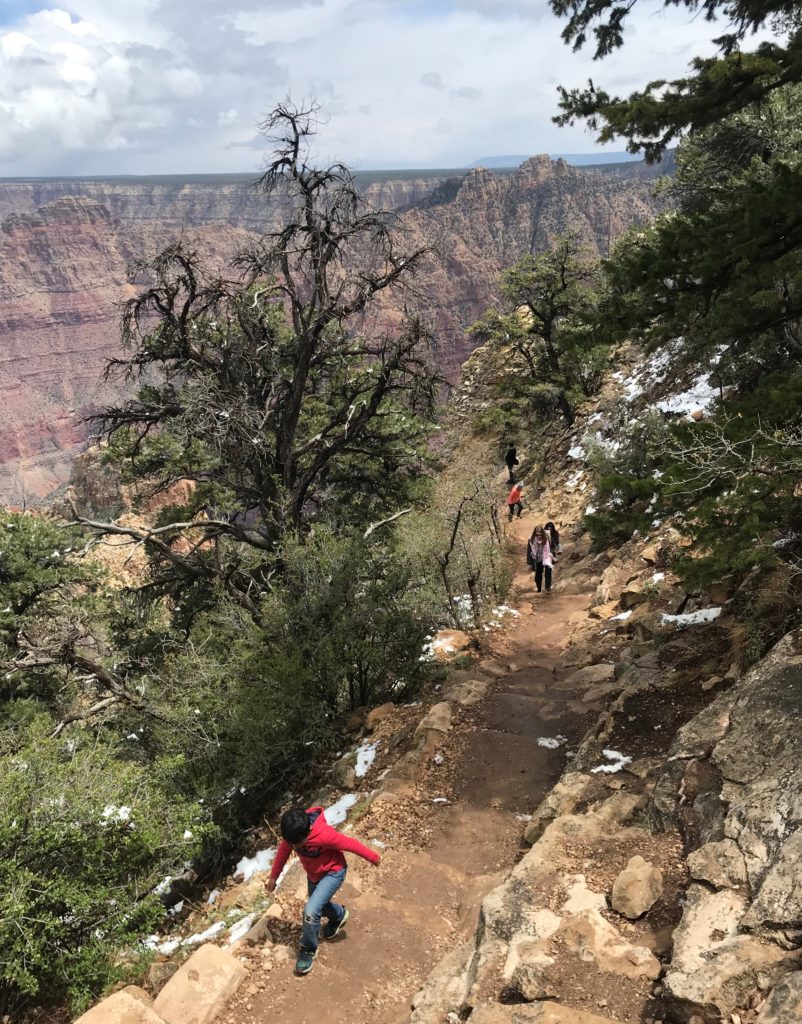 I'm *so* glad we didn't give up completely. Even though we were only able to enjoy this view for about 20 minutes, I was glad to have seen the Grand Canyon. We'll be back again, I'm sure. At least the first time wasn't a complete failure.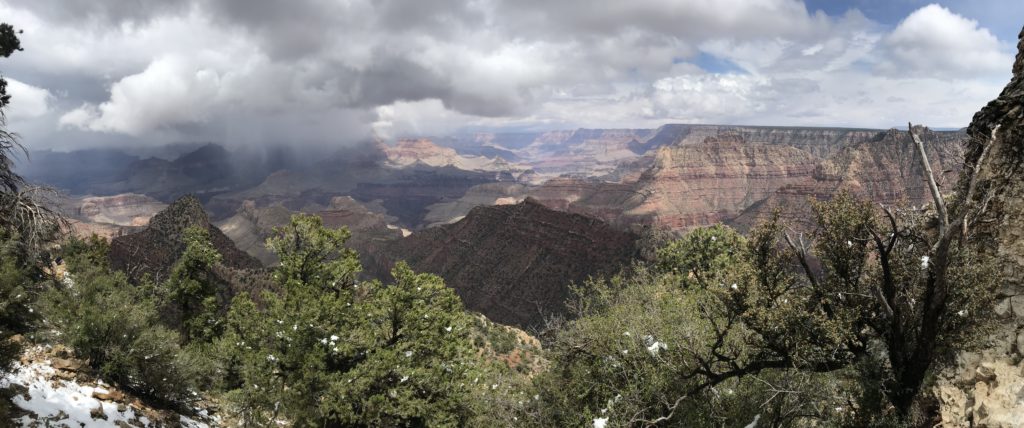 Conclusion
It was then time to move on. We had a dinner date in Kingman with friends, and with a few hours of driving to go, I hoped to make it there in time. The poor weather dissipated as we got further from the Grand Canyon, and eventually we were back to the sunny skies and pleasant temperatures that were much more familiar to an Arizona spring.