I know. Who would bother reviewing a domestic economy flight? With the millions of people who fly every year, sometimes weekly, domestic economy is old hat. Laying out the details of the experience is passé. But I also get that there are folks out there who have not flown much, if at all (and I still know a few), so this American Airlines A321 economy review is for them.
My daughter and I took a trip to South America a couple weeks ago, visiting Buenos Aires, Argentina and two spots in Uruguay. It was a lovely trip, and we even made some new friends in the process. The trip started with a drive to San Francisco (nearly free, I might add, thanks to Hertz points), followed by an overnight stay before our morning flight. To kick things off, we'd fly American Airlines A321 economy to Dallas where we would connect to our long haul leg.
The flight was booked as part of a business class award using 57,500 American Airlines miles per person. I did check back a number of times to see if space had opened up in the first class cabin, as you can make this sort of change to American Airlines award tickets for no fee. But no such luck. American Airlines A321 economy it was.
Arriving at SFO
Since I'd rented a car, arriving at the airport was as easy as dropping it at the rental car center and hopping on the Airtrain. We pulled in at 8:40 a.m. You might not think this is sufficient time to make a 10:04 departure, but it's plenty with TSA Precheck. I have the timing down.
While we were aboard the Airtrain, I noticed construction has been progressing nicely on the Grand Hyatt SFO. This is one hotel that I'm eagerly anticipating. One of my travel predictions for 2019 is that it will be a Category 4 Hyatt, but with the increase of the Grand Hyatt DFW to a Category 5 property, this may be a bit too hopeful (SEE: 5 award travel predictions for 2019).
Security was a breeze. Like I said, TSA Precheck meant the wait was minimal. I've loved this service after being approved for Global Entry, which also allows expedited immigration when returning to the United States. In general, normal security at SFO isn't all that bad.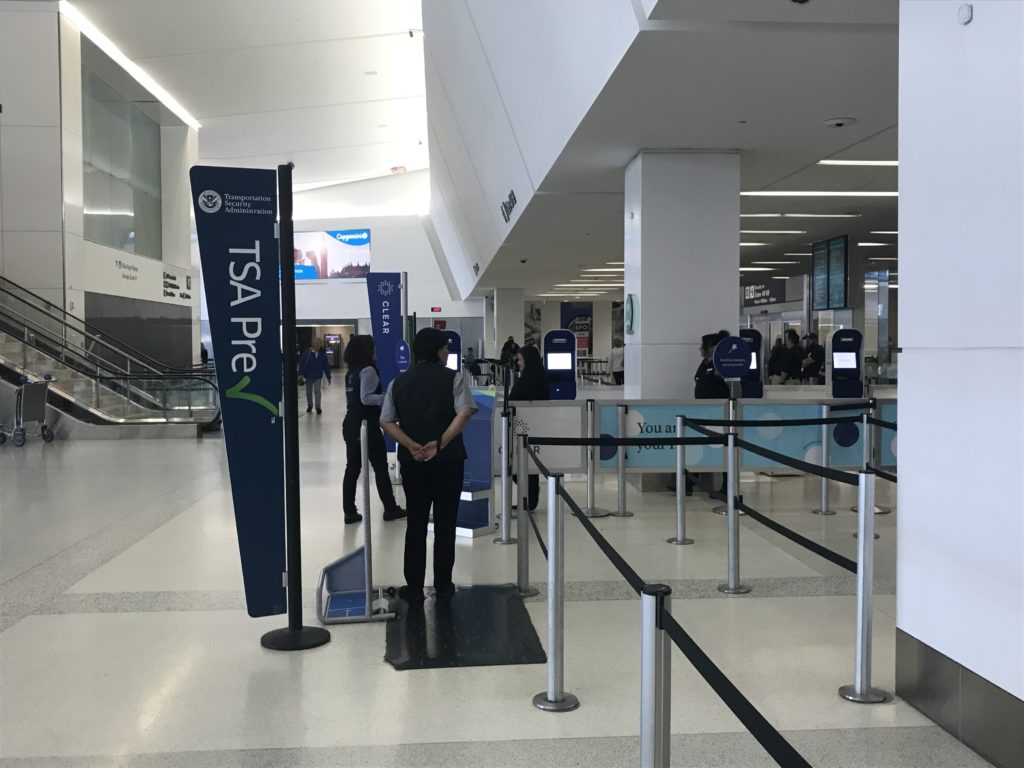 Even after cutting things closer than many would, we still had a wait of 20 minutes at the gate. My daughter and I were in boarding group 4 due to my American Gold elite status, earned via status challenge last year. Not that this matters much. We'd checked her bag and only had my large backpack to worry about stuffing in an overhead bin.
If there had been seats in Main Cabin Extra, I could have moved us to them at check-in. But there were only a handful of middles, plus a pair in the exit row. As my daughter is only 12, we are not be able to sit there. The minimum age for the exit row is 15 years old. But I have no qualms flying American Airlines A321 economy for a three-hour flight.
Boarding our Airbus A321
There was something a bit special about our American Airlines flight to Dallas that day. It was odd to see balloons. I knew it couldn't be new service, as this route is nothing new. Once we were in the middle of boarding, I finally got a look at the sign. It was to welcome a Make-A-Wish passenger "Mikey" flying with us. He was headed to Paris, and I hope he enjoyed himself immensely. We sure did when we visited (SEE: 3 Days in Paris: Day 3 – Savoring the City).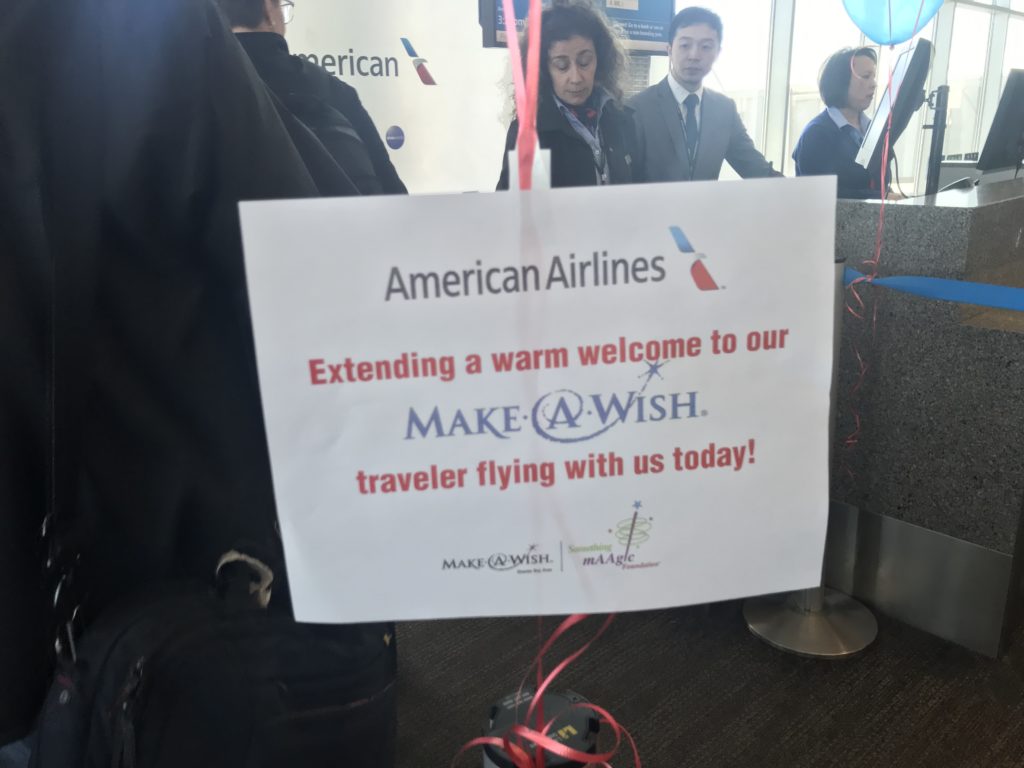 This must have been the longest boarding process for a narrow body aircraft that I've ever experienced. Bags were consistently being placed 1-3 rows behind where their owners were seated, and passenger traffic was a perpetual jam. Add in the clueless passengers taking their sweet time to get seated or trying to access their carry-on in the overhead while boarding is still progressing, and I see why Southwest boards the way they do.
Seat and in-flight entertainment
American Airlines A321 economy class is essentially like any other narrow-body jet you can fly commercially. There is little to differentiate it from other products. The seats are 18 inches wide and offer 31 inches of pitch, which is about as standard as you can get.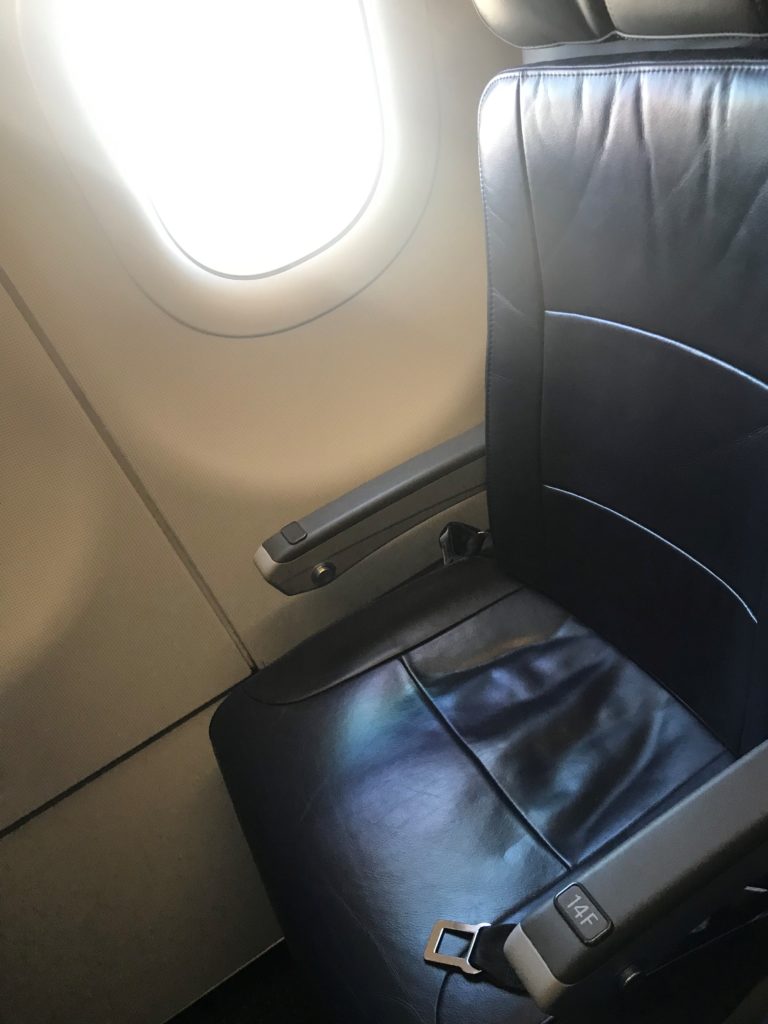 We were seated in 14E and 14F, a middle and window, respectively. The seats are comfortable enough, and I felt I had plenty of legroom, even in economy. My only hindrance is self-inflicted, as I almost always have items to place under the seat, which restricts the legroom.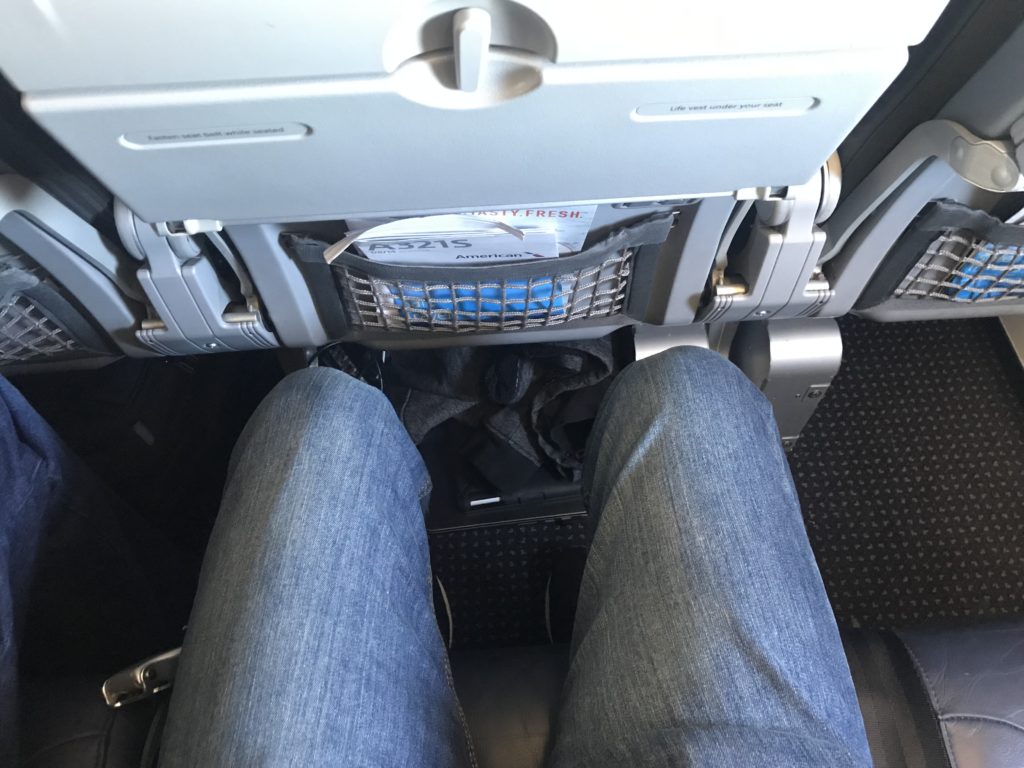 I've done much more middle seat flying now that we have kids, as I nearly always manage to score either a window or aisle when traveling solo. When traveling with my kids, I give them the window (although I might not after this trip, as my daughter was very uninterested in looking out the window). I'm not sure which model American's A321S is, unless they simply mean this is the safety card for the "A321s", as in, the American Airlines and legacy US Airways A321s. What the plane certainly is not is one of AA's transcon-configured A321s with lie-flat business and first class seats.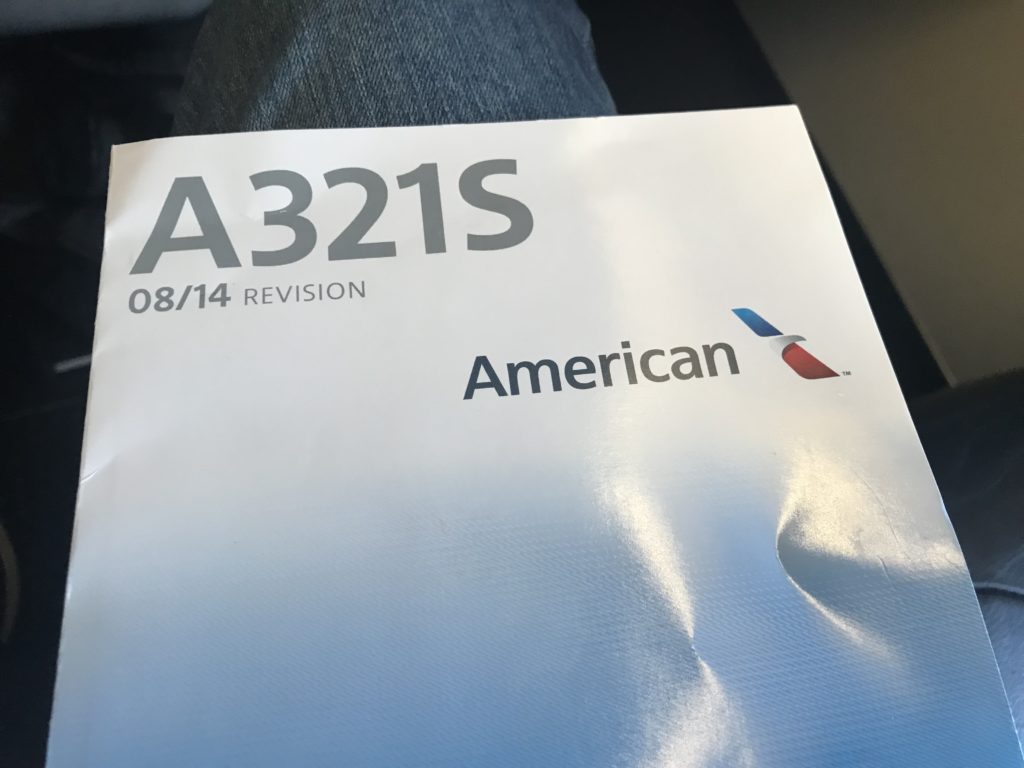 This A321 actually has in-flight entertainment screens, which was a pleasant surprise. I did not expect it. American Airlines has been actively removing it in favor of bring-your-own-device entertainment, and I'd told my daughter that this (relatively) short flight from San Francisco to Dallas wouldn't have it.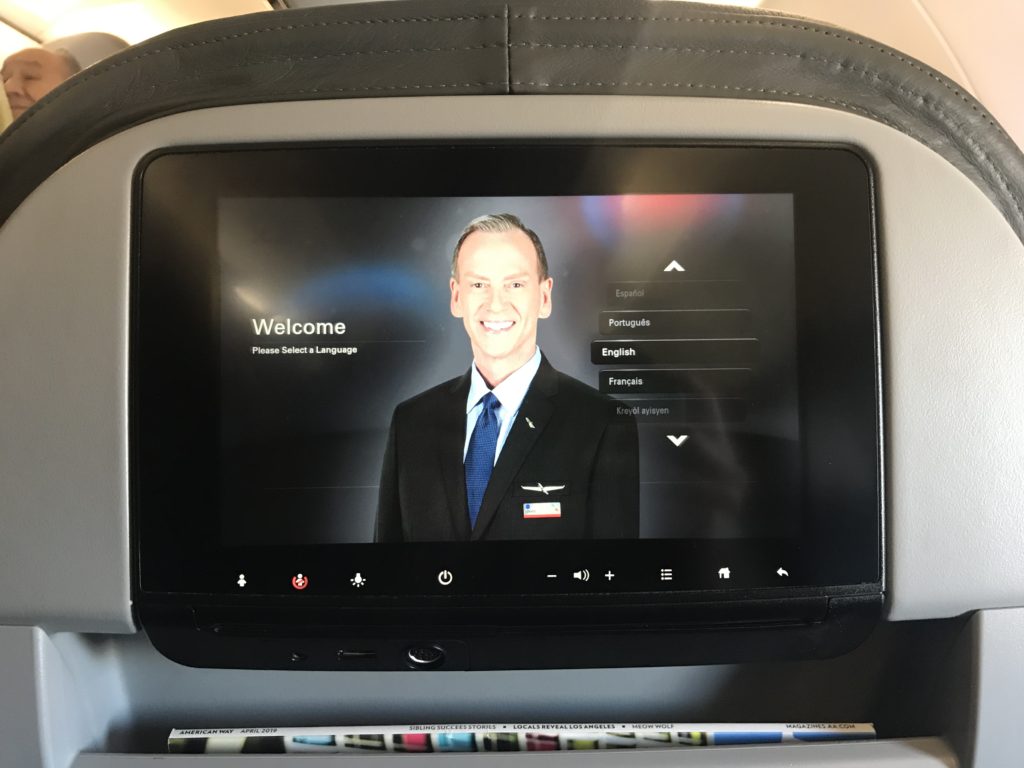 The American Airlines A321 economy seats feature power outlets as well. I really appreciate when carriers offer this. Given the connectivity and proliferation of devices in our modern world, it's critical, especially for business travel. Overall, it's a fine economy cabin. No complaints. Better than a CRJ-200 (SEE: Argh! I thought I'd seen the last of the United CRJ-200) or anything with poorly-padded slimline seats.
Departure and service
Remarkably, our "wheels up" time wasn't all that for off from what was scheduled. Our taxi time was short, much shorter than I anticipated. SFO can have a nasty conga line of planes waiting to take off at certain times of the day. We would certainly arrive into Dallas on schedule. Not that it really mattered when you have a 7-hour layover!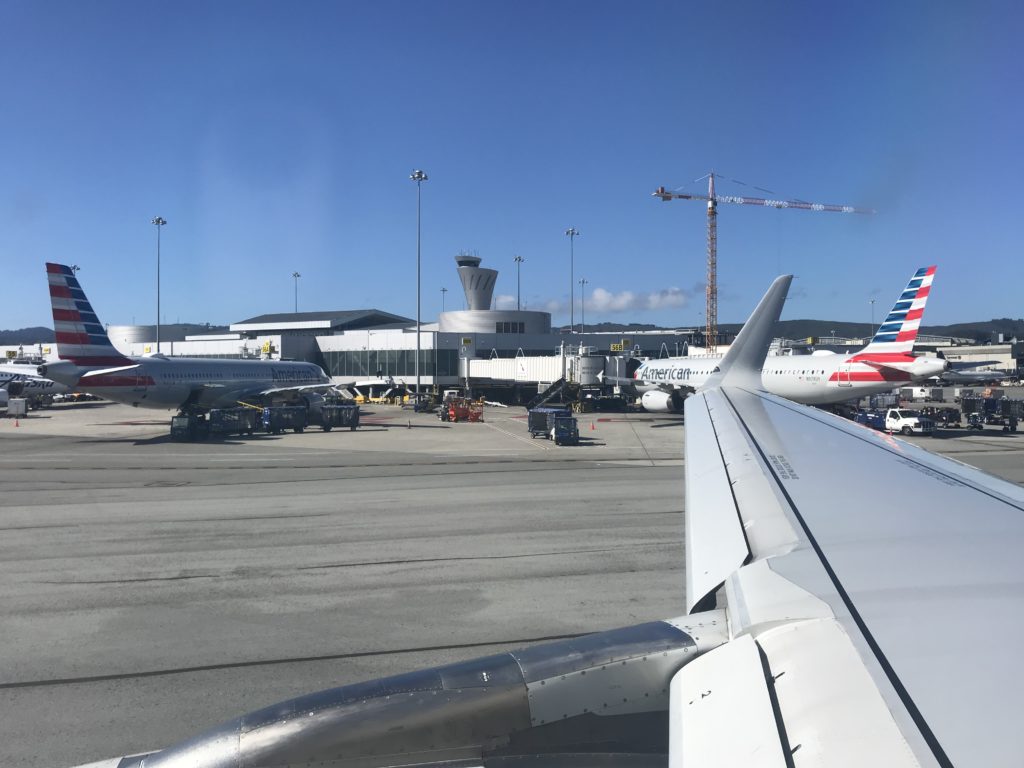 Service started about 30 minutes into the flight. As we hadn't eaten at SFO, I decided that ordering food would be best to tide us over until we arrived in Dallas and could enjoy the lounge. The wrap is $10.99. I thought paying for the wrap with my CitiBusiness AAdvantage card would receive a 25% discount, but it turns out that is only for in-flight WiFi. Turns out its the Barclay Aviator Business card that receives food and beverage discounts. I get all my card benefits mixed up sometimes. At least I received 2 miles per dollar.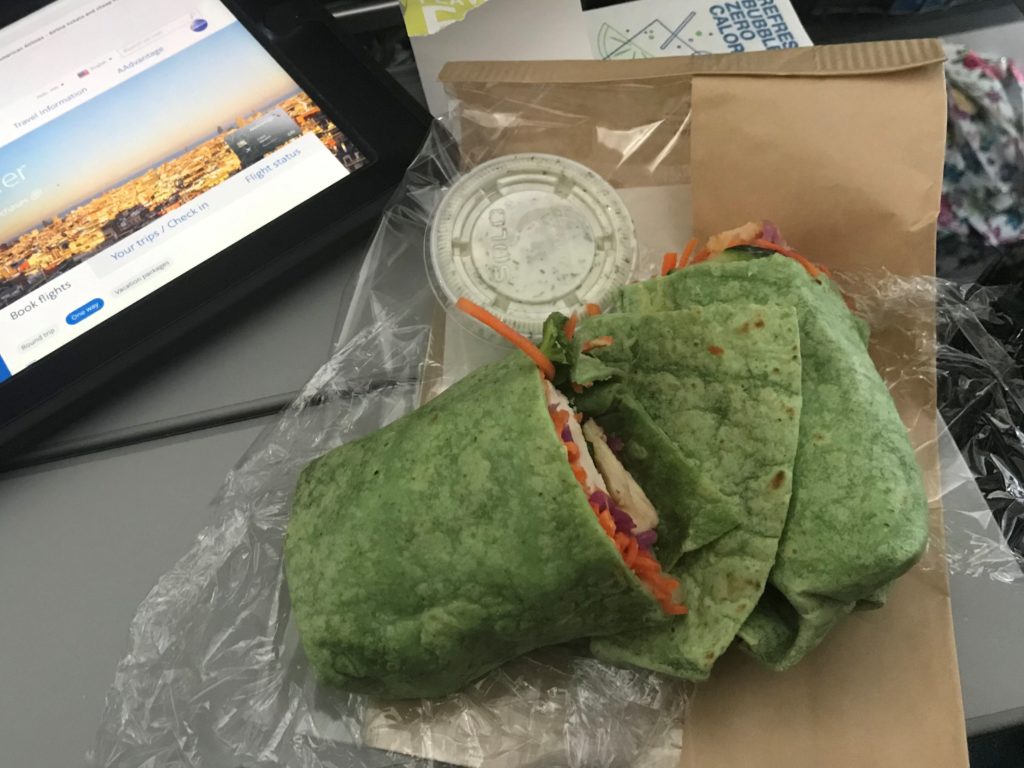 Among the airplane food I've had fairly recently, this was one of the best choices. I tend to opt for the wraps offered on Delta flights as well. The food is fresh and definitely beats most long-haul economy meals. The obvious downside is that they are for purchase, not free.
My daughter was soon engrossed in a movie. She chose Smallfoot. Since we had one pair of headphones between the two of us, and I was too cheap to buy yet another pair of airplane headphones, I decided to work instead of watching a film.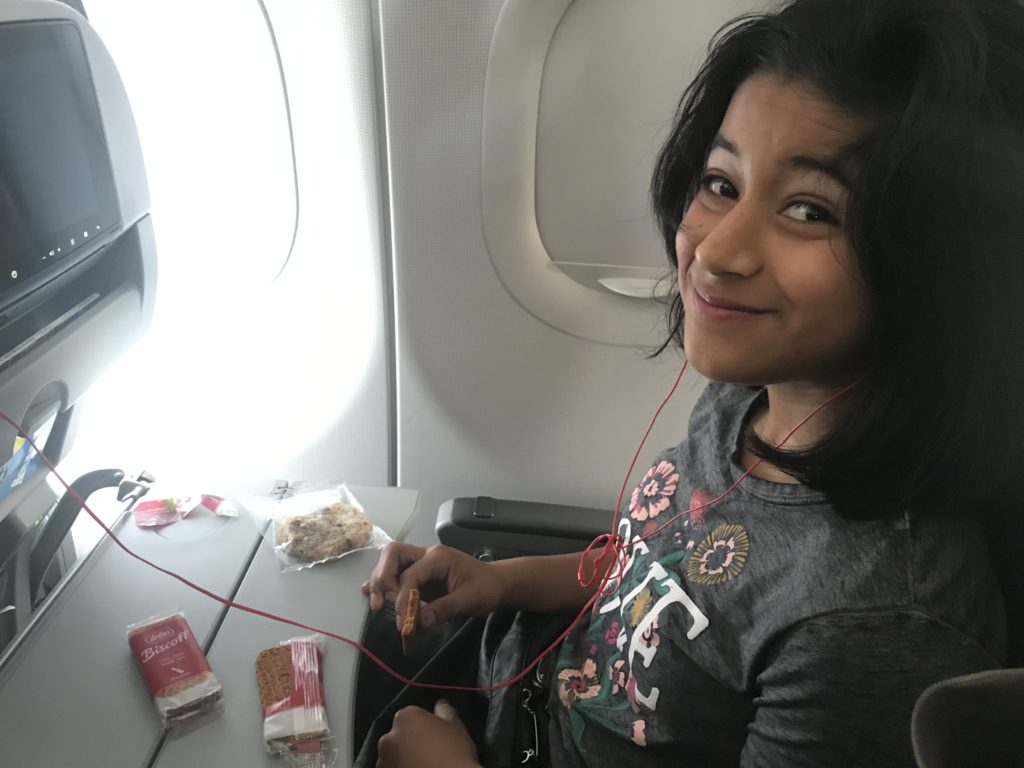 The WiFi, at least what I experienced searching aa.com, was rather poor. It struggled to load most pages. I was able to put an award on hold for this fall after finding a nice itinerary including Finnair business class space, though, which was nice. But it struggled the entire time. I'm quite glad I only used it for AA-allowed pages and didn't pay for access, as I would have been unhappy spending money on WiFi this bad.
Conclusion
Our flight in American Airlines A321 economy class was a fine experience. The seat and service were typical of what you can expect flying one of the full service U.S. carriers. The in-flight entertainment screens were an unexpected pleasure, and not something I am used to enjoying on American Airlines. I typically look at Delta as offering the best IFE among the large U.S. carriers. Meals are available for purchase, and they aren't half bad.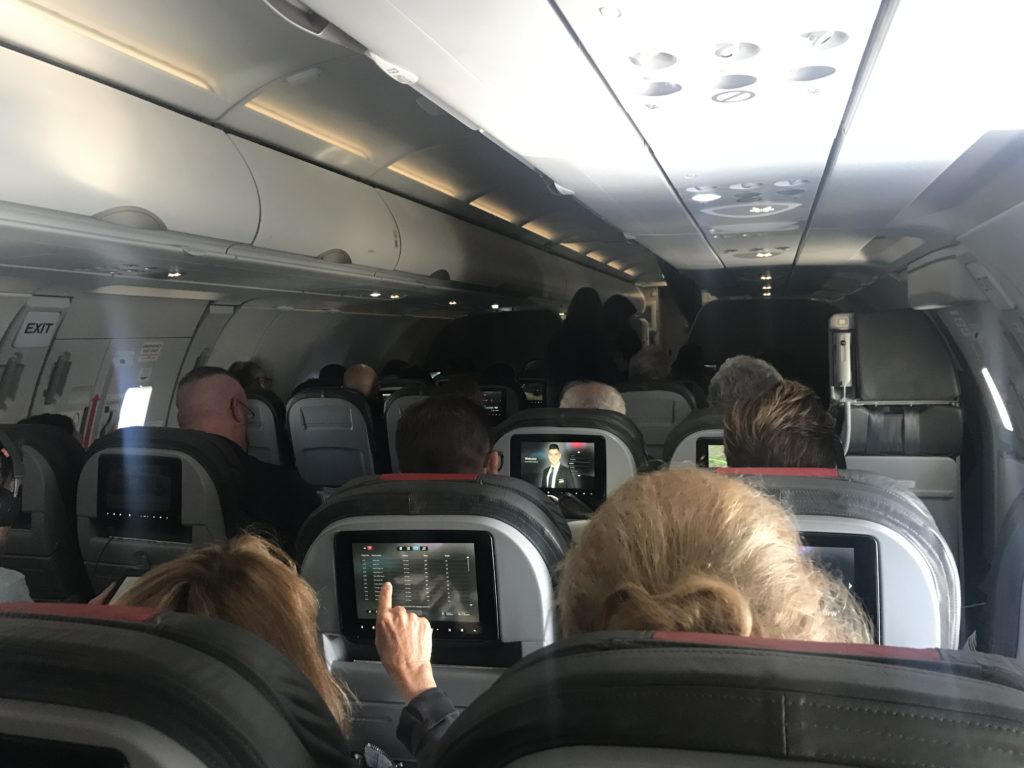 Our day was just beginning, though. With roughly seven hours to kill in Dallas, we would have the ability to visit two airport lounges before enjoying our overnight flight to Buenos Aires in business class!