My daughter and I spent last weekend in San Antonio with friends that we met while in Costa Rica on our adoption trip. We and the Minors were in Costa Rica at the same time, adopting our kids through the same agency. We were even staying at the same hotel while in country. They adopted a girl about our daughters age, and the two became fast friends.
Our trip to San Antonio was planned to get the girls together for the first time since all of us have been back in the U.S. (SEE: Planning a Surprise Birthday Trip). The trip was be short and sweet, as we flew out Friday and headed back Tuesday.
During our first flight on the way to the Lone Star State, my daughter remarked how cool it would be to fly in first class. I'd previously told her about my solo trip to Australia and how I'd flown in first class and business class on the two international long-haul flights (SEE: United Polaris First SFO to ICN: A review, AND: Asiana business class review Seoul to Sydney). Obviously, it sounded amazing to her. I had to break it to her that domestic first class really isn't all that amazing. But it is certainly a step up from economy.
A case of perfect timing
A couple weeks before we booked our trip to San Antonio, I'd accepted a status offer from American Airlines. I wasn't sure I'd even bother with it, as I basically never fly American, but I decided to jump on it at the last minute before the offer expired. The offer gave me American Gold Elite, the lowest tier status, and eight 500-mile upgrade certificates. The status is only good through September.
As it turns out, the offer worked perfectly for me. The cheapest flights out of Sacramento to San Antonio happened to be on American Airlines, and the status offer meant that I could apply my 500-mile upgrade certificates to our flights. As I ended up booking a flight for work on American Airlines as well, I ended up only applying 4 of the certificates to upgrade one leg of our outbound flights.
Honestly, as I was only a Gold member, I didn't expect them to clear. Especially given that American A319s only have 8 first class seats.
But amazingly they did. I was excited, knowing that my daughter was in for a treat.
Springing the surprise
Our first class was on time and uneventful. We spent half an hour in the lounge in Phoenix, and then we headed to our next gate. I handed my daughter her boarding pass to scan for boarding. Once heading down the jetway, I asked her which seat she was in.
She told me "1F." That's it. Not another word. She had no idea what that meant. I see that I need to teach her some basics about seat numbers. Row 1 is pretty much always first or business class (unless you're on my least favorite type of plane).
I've tried to clue the kids in to the boarding process and general plane etiquette. But they still have very little idea about seating. My son may have put two and two together on this one, but the fact that we were in row 1 didn't even register with my daughter.
Until we got on the plane, that is, and she saw that Row 1 was the first class section. The excitement was instantly off the charts.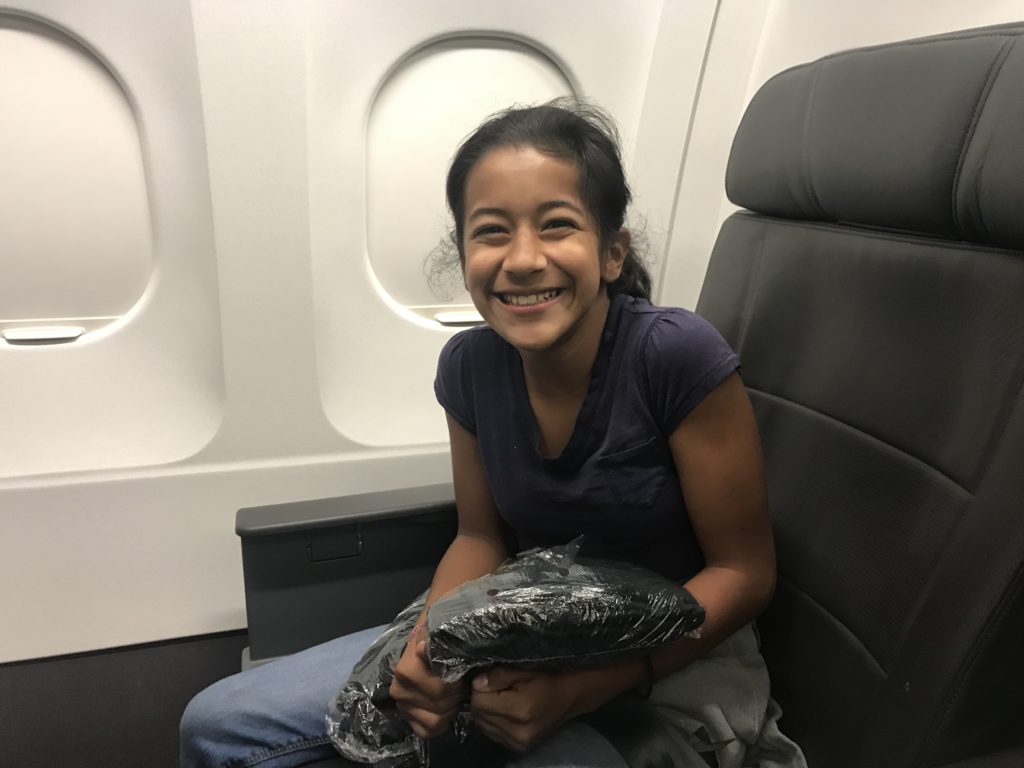 We had a great flight of ~850 miles to San Antonio. While I've recently flown United domestic first class on the ERJ-175, this was my first time on American (and it might be my last, as my upgrades on my work trip haven't been clearing so far).
She enjoyed a glass of ginger ale, a rare treat, and I enjoyed a glass of wine and a nap. Wine consumption for me is pretty much limited to when I'm flying.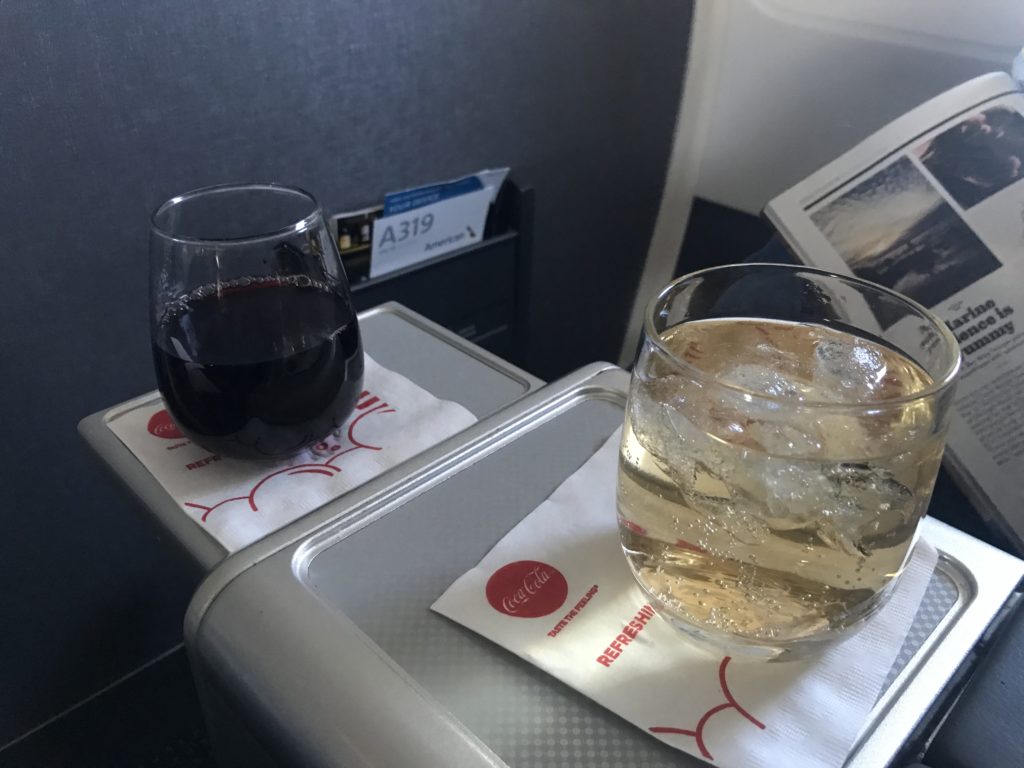 It was a real airplane nap, something I haven't had in a while. I woke up super groggy after 45 minutes as we were coming in for landing. My daughter said I looked like I was dead while I was sleeping and that my tongue was hanging out. I'm going to hope that is mostly her own fabrication.
Conclusion
I had to break it to her that on our return we wouldn't be flying in First. Can't get to used to life of luxury now, can we? 😉