Fond are my memories of Newfoundland. It is such rugged, pristine country. Some places are worth a single visit. Others constantly beckon you to return. Twillingate, Newfoundland, is one of the latter.
The town of Twillingate is located on two small islands in far northeastern Newfoundland, Canada. Known as the Iceberg Capital of the World, tourists venture to Twillingate during the spring and early summer to catch a glimpse of the majestic glacial remnants as they lazily migrate south along 'Iceberg Alley' to their eventual demise.
But don't come just for the bergs. After they drift by, there are whales to watch as well.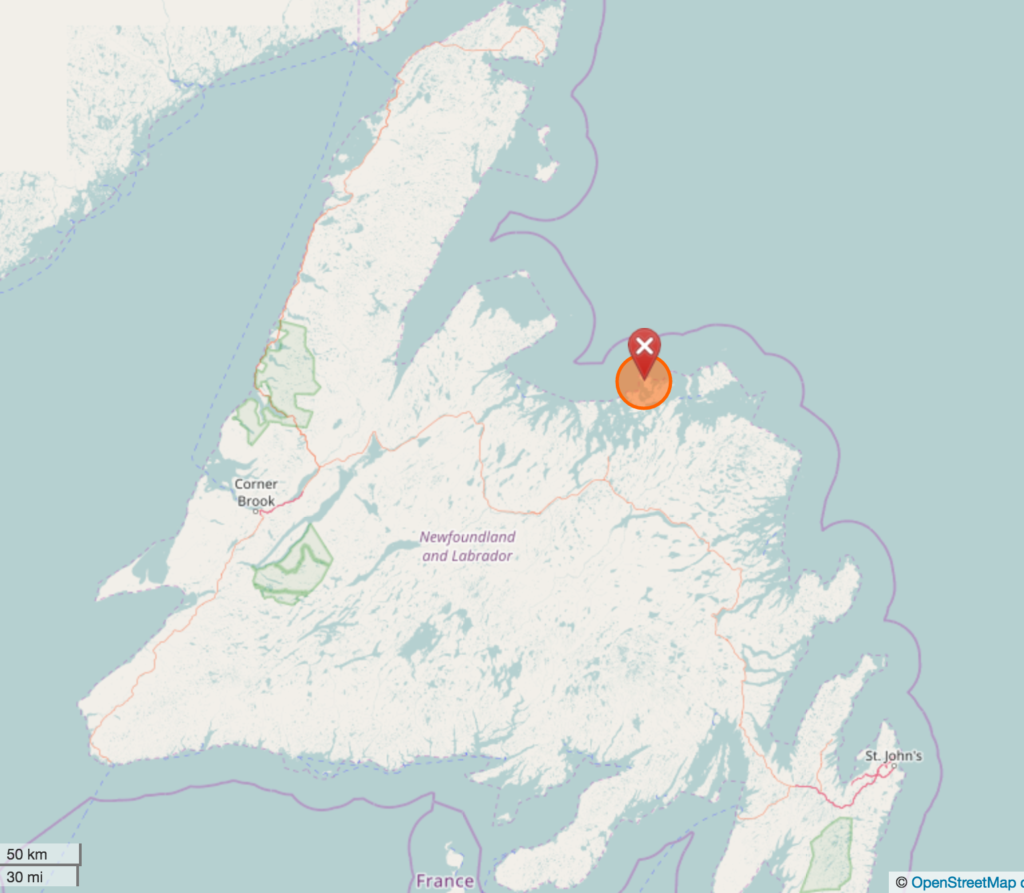 The local economy in Twillingate, Newfoundland is based almost completely around fishing and tourism. There are several iceberg and whale watching tour companies, and the place comes alive in the summer. Well…as alive as a quaint, little, off-the-beaten-path town can.
Because Twillingate, Newfoundland is one of my favorite places I've ever visited, I've decided to feature it as the first travel destination in what will become an ongoing series of 'destination highlight' posts. I hope to release a destination highlight about  once a month. It is my goal to generally pick off-the-beaten-path destinations.
How to Get There
There is no way around it: getting to Twillingate isn't easy. It is well off the beaten path. The closest airport is in Gander (YQX), and it is an hour and a half drive away. Other options include Deer Lake (YDF, 4 hours) and St. John's (YYT, 5 hours).
To get to Gander (assuming you don't fly into that airport) you will need to take the Trans-Canada Highway, which stretches across all of Newfoundland. To continue on to Twillingate, from Gander you take route 330 north until you turn onto route 331. This will eventually intersect with route 340, which will take you further north all the way into the town of Twillingate. The entire drive is beautiful.
All of the region's airports are served by Air Canada, Porter, and/or WestJet. Expect to pay at least $350 round-trip, and more like $550  to $700 from anywhere in the U.S. If WestJet serves an airport near you, they will probably be the cheapest option. Essentially all flights will require a Canadian connection, so don't expect anything less than a 1-stop from everywhere in the U.S. You'll be lucky enough if it is a 2-stop.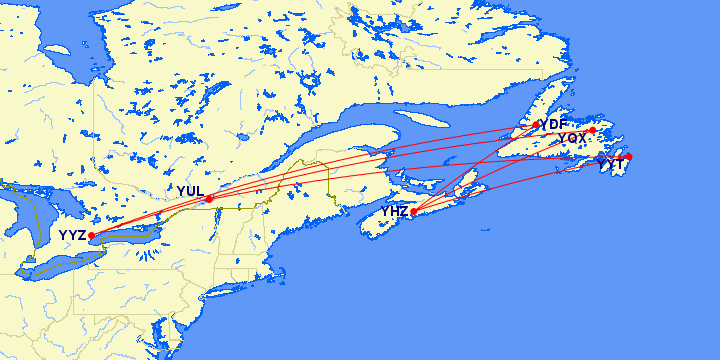 As out of the way as Newfoundland is, it may be a worthy use of award miles. Air Canada is the only airline within an alliance that serves the area, so using United miles (StarAlliance partner) for an award ticket is probably your best bet. Based on my little research, the routing may be less than ideal, however, with many saver award flights arriving during the middle of the night. St. John's is likely the best bet for decent flight options.
Driving all the way from Nova Scotia is also an option, but it requires a ferry crossing from North Sydney to either Argentia or Post-aux-Basques in Newfoundland. The drive from Argentia is shorter, but the ferry is longer and includes an overnight crossing. The Argentia ferry also doesn't run every day.
Ferry information is available from Marine Atlantic. The overall travel time for the route from Nova Scotia (assuming you fly into Halifax) is a minimum of 20 hours. It is a great way to see more of Newfoundland if you have the time, but the option certainly isn't for everyone.
Things to Do
At the top of the list should be an iceberg tour. A few different companies offer berg tours, and most if not all offer wildlife tours as well. All are well recommended on TripAdvisor. My wife and I booked with Cecil Stockley the Iceberg Man, and we can honestly say it was a fantastic experience! Do note the timing of the bergs and plan accordingly. We were quite lucky to see a couple in early July. Late May or early June is recommended.
The Twillingate islands offer some great hiking as well. The Top of Twillingate trail provides wonderful views of the town, as well as the nearby coastline and neighboring islands. I also recommend the trail from Long Point Lighthouse is also recommended. Twillingate's website contains a great map of the local hiking options.
For when the weather is not conducive to outdoor excursions, there is the Long Point Lighthouse to see, the Prime Berth Heritage Center to experience, and the Twillingate and Durrell Museums to visit. The Auk Island Winery and Driftwood Gallery may be worth a peek as well. I didn't see the latter two, though, to be completely transparent.
Where to Stay
Twillingate is far off the beaten path, so there are no chain hotel options. However, there are a multitude of B&Bs and vacation rentals from which to choose. The best way to search for availability is going to be via Google maps and/or TripAdvisor. A search by a typical online travel agency will likely yield no more than a couple results. You will have to head to the individual website for each lodging option to either reserve online or call them to book.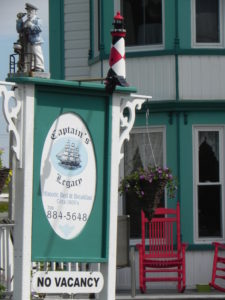 My wife and I had the pleasure of staying at the Captain's Legacy B&B for our brief time in Twillingate, Newfoundland. I highly recommend it. John Huddart and his wife are excellent hosts. There are only a few rooms, so it makes it easy to get to know the other guests, especially over the delicious breakfast John and Addie serve. John was also invaluable in providing us with information on a great berg tour company and other things to do while enjoying Twillingate.
Among the other options we considered, before settling on the Captain's Legacy (they are #1 on TripAdvisor!), were the Iceberg Alley B&B, the Rum Runner's Roost B&B, and Kelsie's Inn.
If you stay in Gander, there is a Comfort Inn along the main highway. This makes Choice Hotels the winner among the chain hotel options. The going rate for reward stays appears to be 25,000 points per night. Gander is a decent drive from Twillingate, but it has its own set of attractions, including the North Atlantic Aviation Museum.
As a side note, Gander was used as an emergency landing spot for a large number of flights during the 9/11 attacks. There is a book about the events. It comes highly recommended.
What to Eat
The Twillingate restaurant selection is quite limited. There is nothing that I would describe as fine dining, and most of the places are casual places that offer seafood and typical Canadian fare.
For lunch on our 2nd day there, we ate at the R&J Restaurant. The food was decent, the place clean, and the service pleasant. They have a variety of offerings and are open for breakfast, lunch, and dinner. I would suggest the seafood options, considering Twillingate is home to a small fishing industry.
Other places we considered were the Canvas Cove Bistro and the Cozy Tea Room & Bakery. The Canvas Cove Bistro is actually associated with Iceberg Quest tours.
Final Notes on Twillingate, Newfoundland
I hope you can add Twillingate, Newfoundland to your list of places to experience someday. It is certainly one of my favorites.
Some places are great to visit because of their history and culture, others for their incredible beauty. Twillingate fits a third category: places that have a great feel, an essence that you can't really describe. It was simply amazing being there, even if it was for little more than 24 hours.