Morning came early as usual during this trip. Maybe we'll be adjusted to China time just when it's time to head back to California. I was a bit less tired when 8:00 p.m. rolled around the evening before, so maybe we're almost there. The kids did sleep solidly until 7:00 a.m.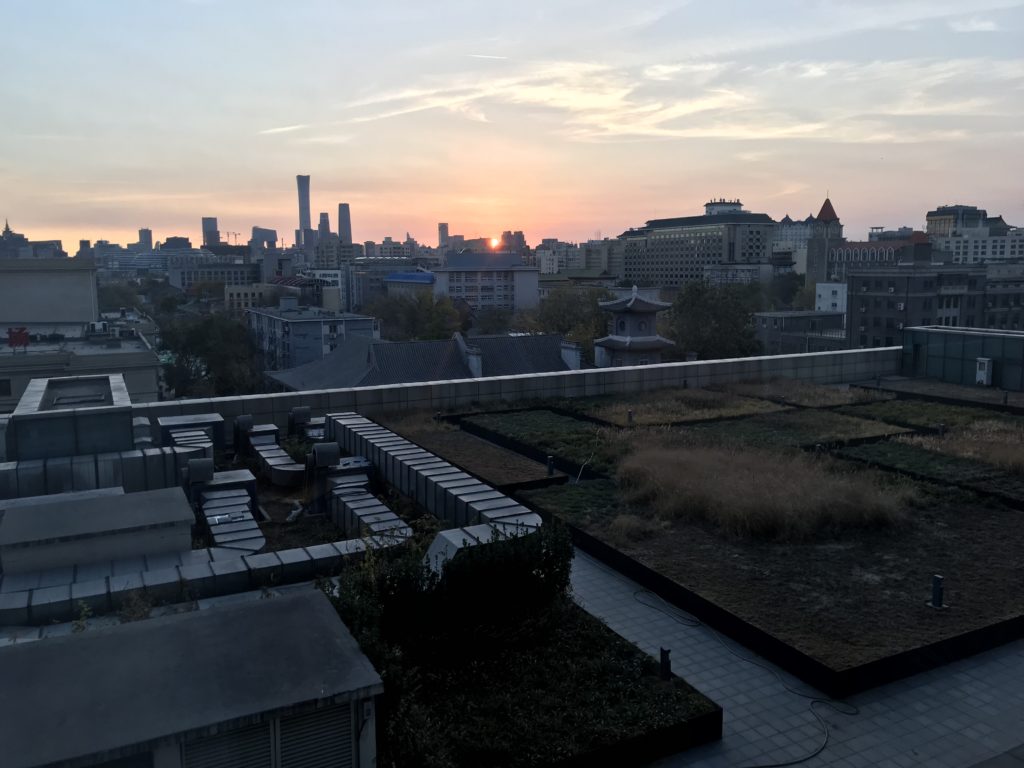 Breakfast was the usual affair in the club lounge on the 17th floor of the Renaissance (SEE: Renaissance Beijing Wangfujing Review). The spread and service have been excellent every day. This is shaping up to be one of the best hotel stays to date, mainly because of the perks we've enjoyed due to earning Marriott Platinum Premier status earlier this year (SEE: Fast track status: how to sign up for a Marriott Platinum challenge).
After breakfast we video chatted with mom and our youngest who have been enjoying themselves back at home.
Wangfujing snack street
Even though we'd been staying in a central Beijing hotel, we hadn't really wandered the surrounding streets. One of the places I'd been pointed toward is the Wangfujing pedestrian street, about a third of a mile south of our hotel. This was our first stop for the day.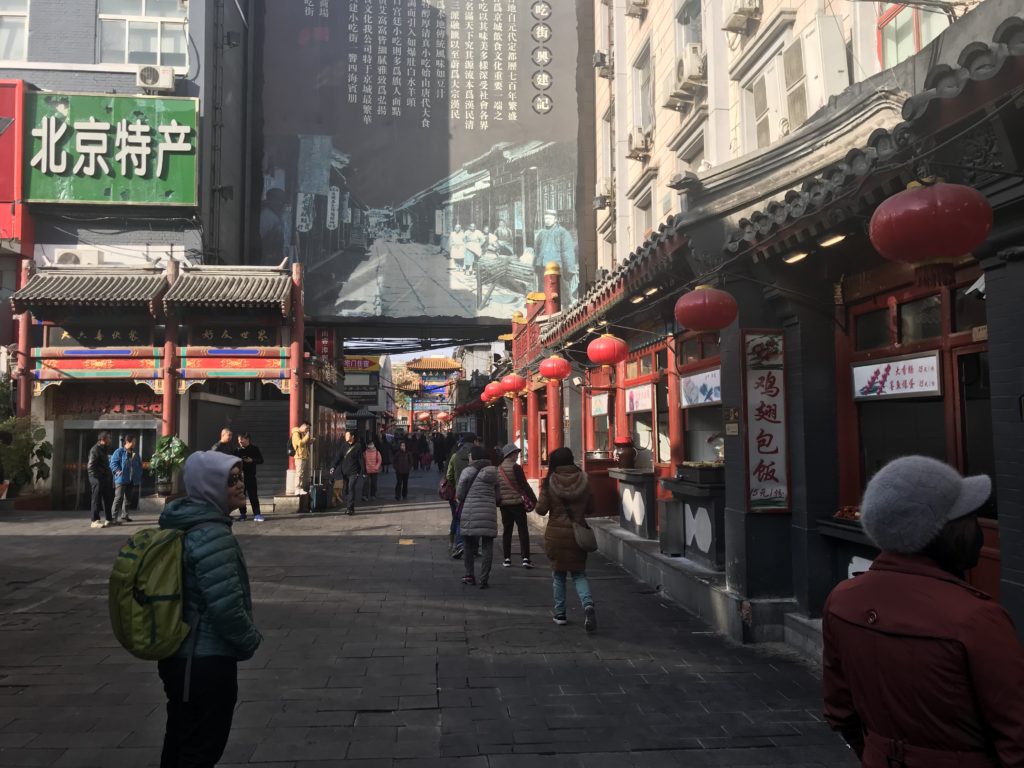 Wangfujing is a very walkable area, although very little in Beijing is a quick stroll away. The city is vast and sprawling. Even just walking from the south end of Tiananmen Square to the entrance of the Forbidden City takes longer than you'd expect.
We passed many of the typical high-end retail stores you can find in the central district of good number of cities. But that was not why we were here. If I wanted a BVLGARI purse, I would have bought it in Milan a couple years ago.
About halfway to the snack street we passed by an old church, which was extremely unexpected. The current structure is the third (I think) iteration of the Catholic church that has stood on this spot since 1655. Catholic mass happens daily, with additional services on Sunday. Given the current climate of Christian persecution in China, it surprises me that the church is even operating. I highly doubt that it is true to the gospel.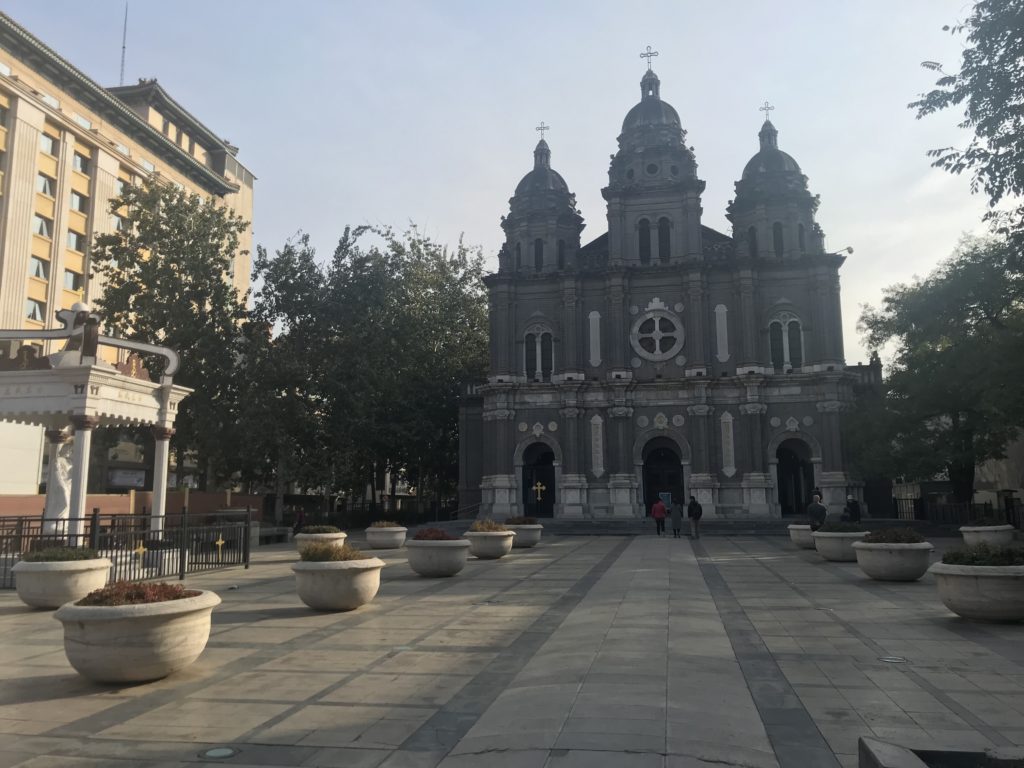 We took a peek inside and then continued on our way to the snack street. It did not disappoint. The kids couldn't decide if the wriggling scorpions on a stick were utterly cool or totally gross. We decided to pass up the opportunity to ingest any of this "delicacy".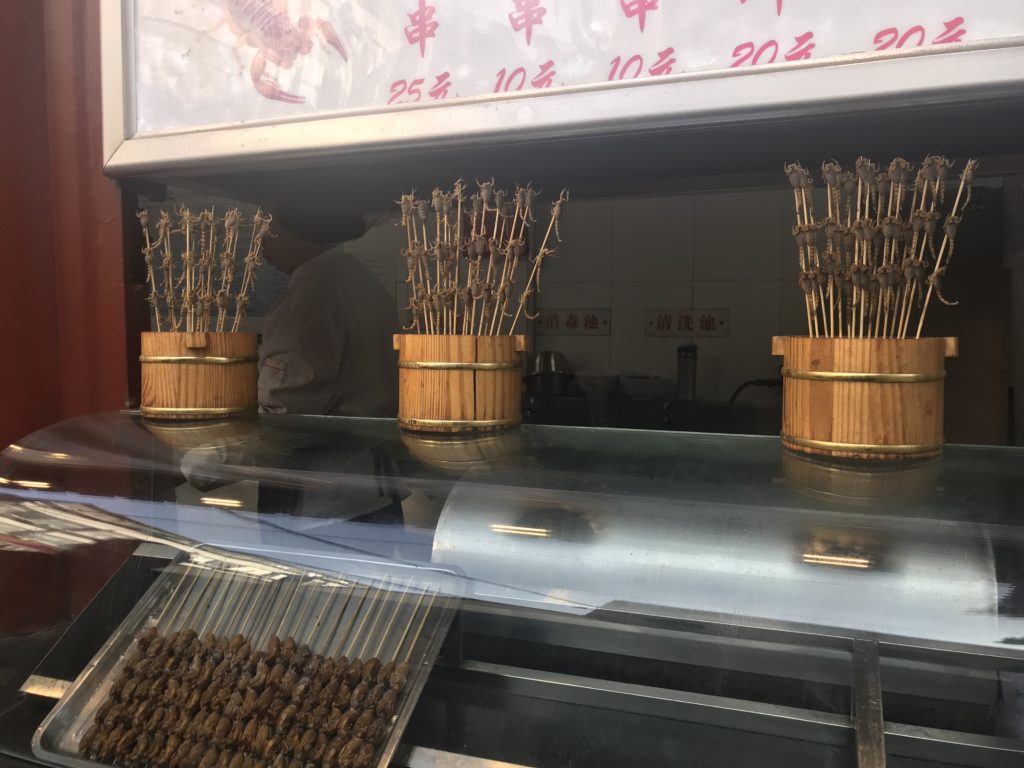 Wandering into some souvenir shops, we perused the cheap knockoff goods. Some items had a trademark or copyright logo clearly displayed, should you question its authenticity. I somehow don't think Disney would license these cheap plastic figures to be sold in Beijing for $2 apiece.
Curiosity satisfied after browsing the shops for half an hour, we headed back to Wangfujing Street and our next destination.
Beihai Park
This 1,000-year-old Imperial park was next on the list for our final day in Beijing. We took the bus, the first time we've braved one in the Chinese capital. Thank goodness for Google maps and bus signs that have Arabic numerals on them. I'd plotted the bus route in Google Maps to Beihai Park before we left the hotel and took some screenshots. Our 15-minute ride went without a hitch.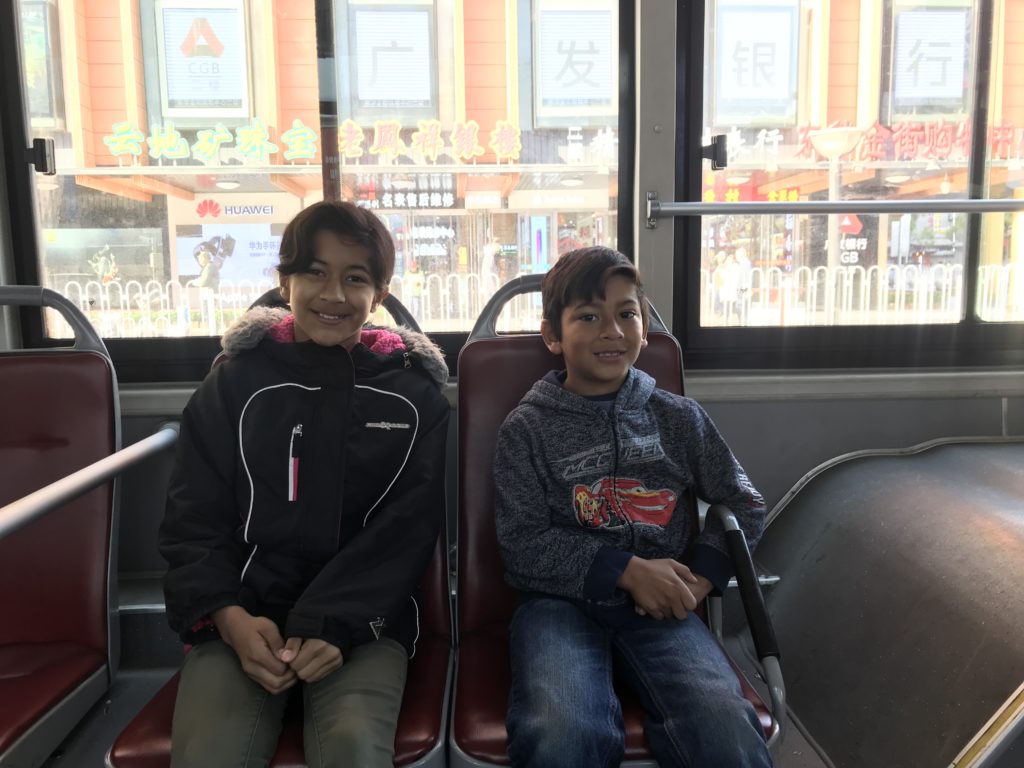 The bus made the most sense in this case as it was much faster. The fastest subway route would have been a mere four stops *but* required two transfers. The Beijing subway system is efficient for many routes, especially if you are going a longer distance, but it is often extremely inefficient for short distance travel. Constructed in a loop and grid fashion, it makes great sense for a city as large as Beijing. But it means that almost every trip you take will require 1-2 transfers, which are never quick.
We arrived in Beihai Park around 10:30, a bit later than I'd anticipated. We got "through tickets" for just 30 yuan (~$4.40) for all three of us.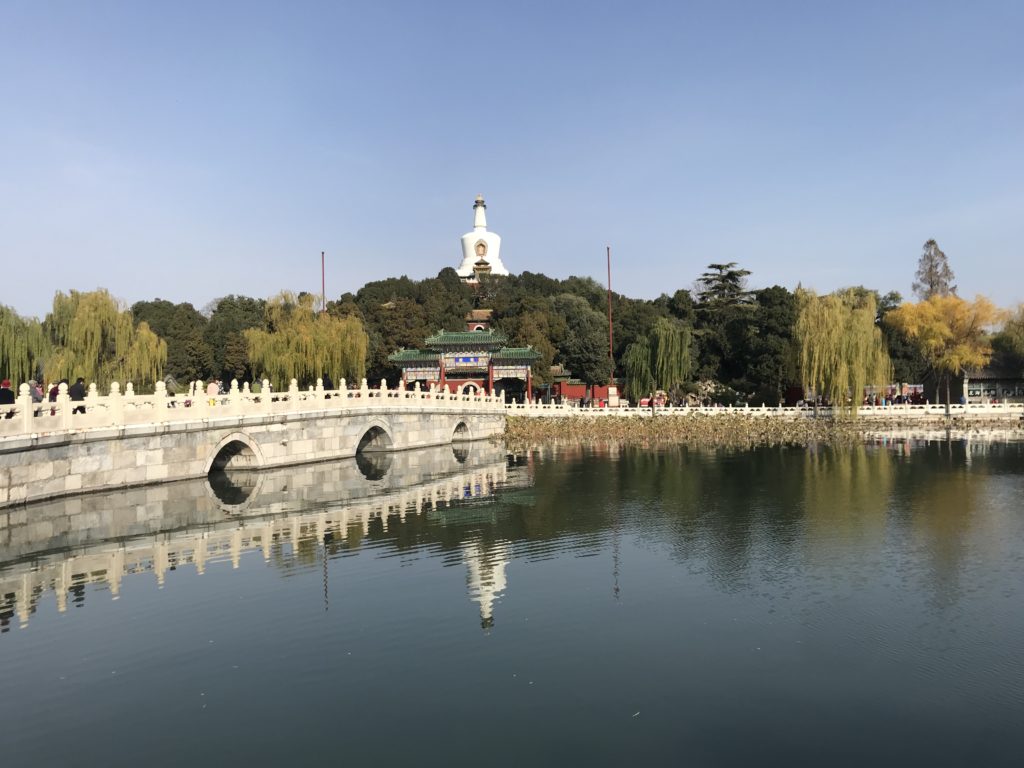 Beihai Park is quite lovely, even during the fall when many of the trees have already lost their leaves. The willows lining the lake were quite beautiful. I've been impressed with Beijing's parks in general. All have been very nice green spaces. It would be nice to visit again in late spring and see them in the height of their greenery. There were some flower displays to make up for the lack of color in the rest of the park.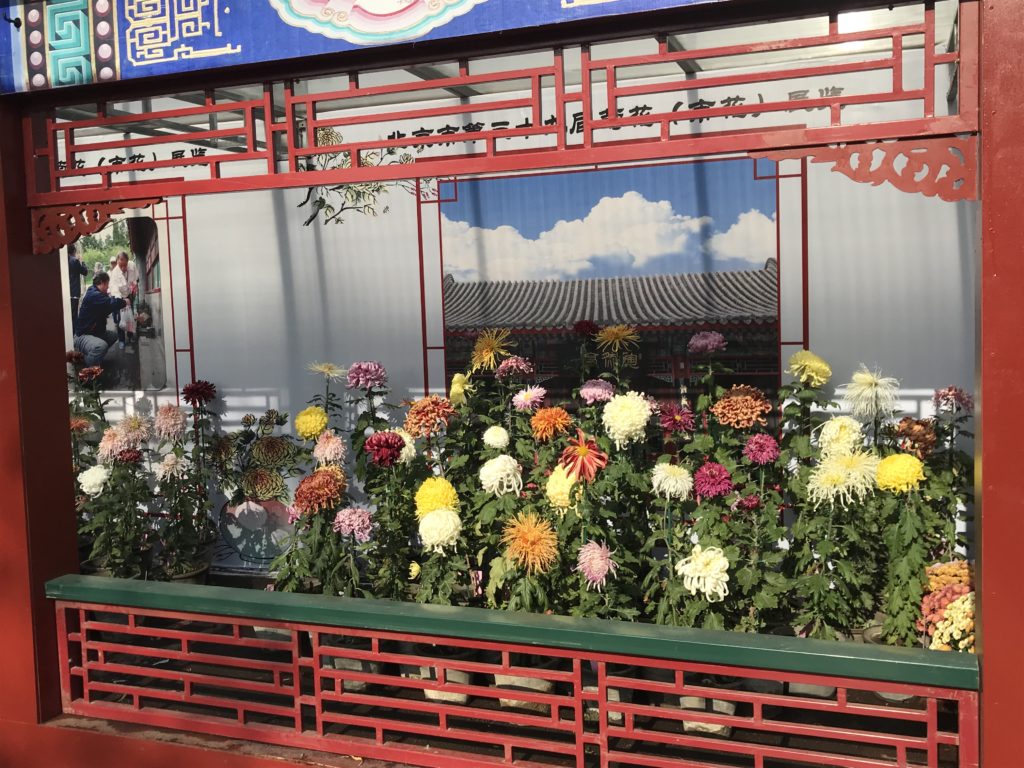 I was a bit bummed that the Circular City was closed. I'd hoped to see this section of the park near where we entered. We instead began the climb up the hill to the white Dagoba (Tibetan Buddhist stupa) at the top of Qionghua islet.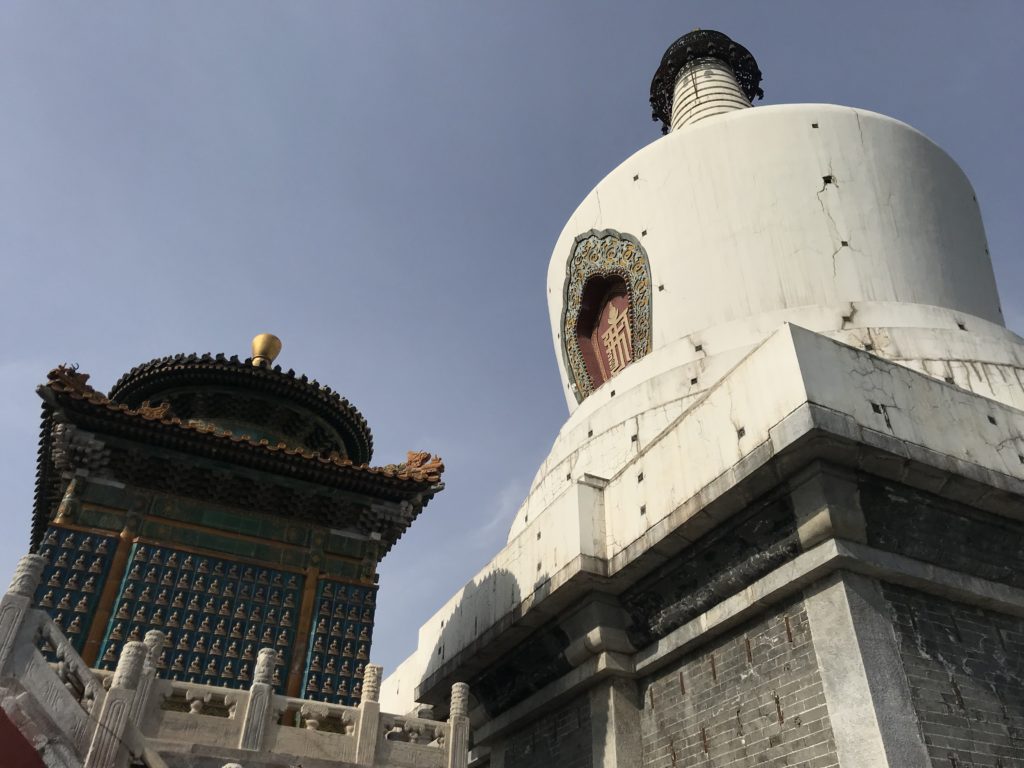 I would be lying if reading "Dagoba" didn't immediately make me think of Star Wars and Dagobah, the swamp planet Luke crash lands on when he is searching for Yoda. I know that George Lucas drew on eastern religions for his movies. I just didn't know it was this blatant. The top of the hill provided us with a nice view of the rest of the lake.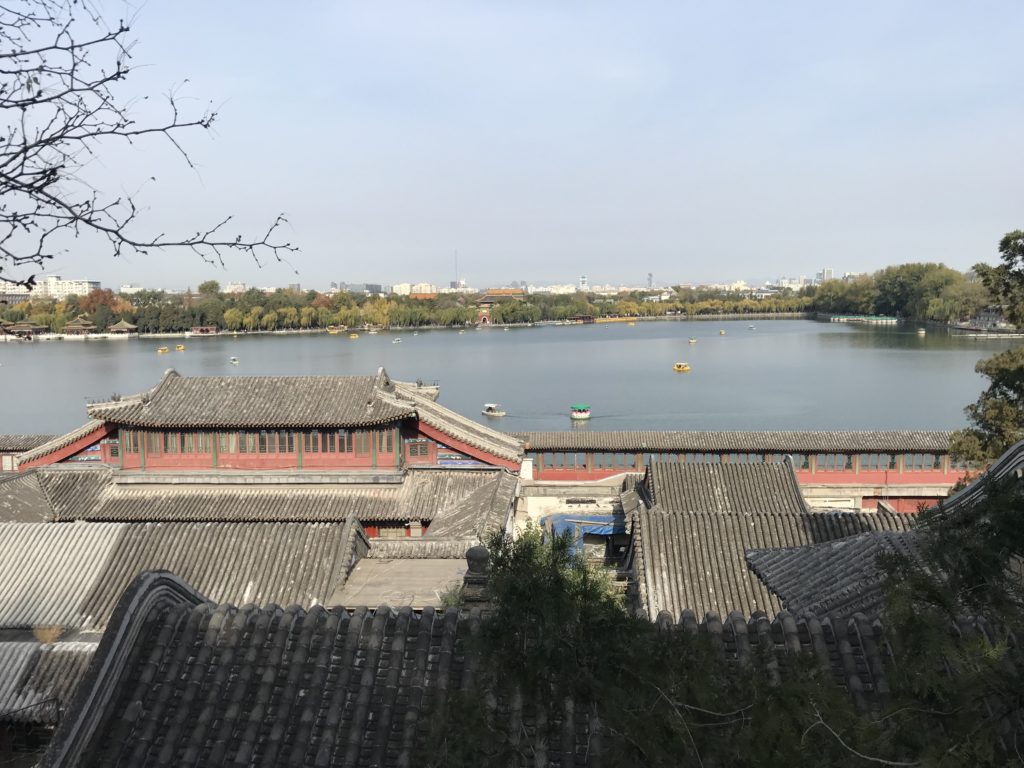 The kids asked if we could rent a boat like we had at Chaoyang Park a few days prior (SEE: 5 Days in Beijing: Day 1 – Our First 24 Hours in the Chinese Capital), seeing so many out on the lake. I thought it was a fine idea. We made our way down and over the bridge out to the boat rental.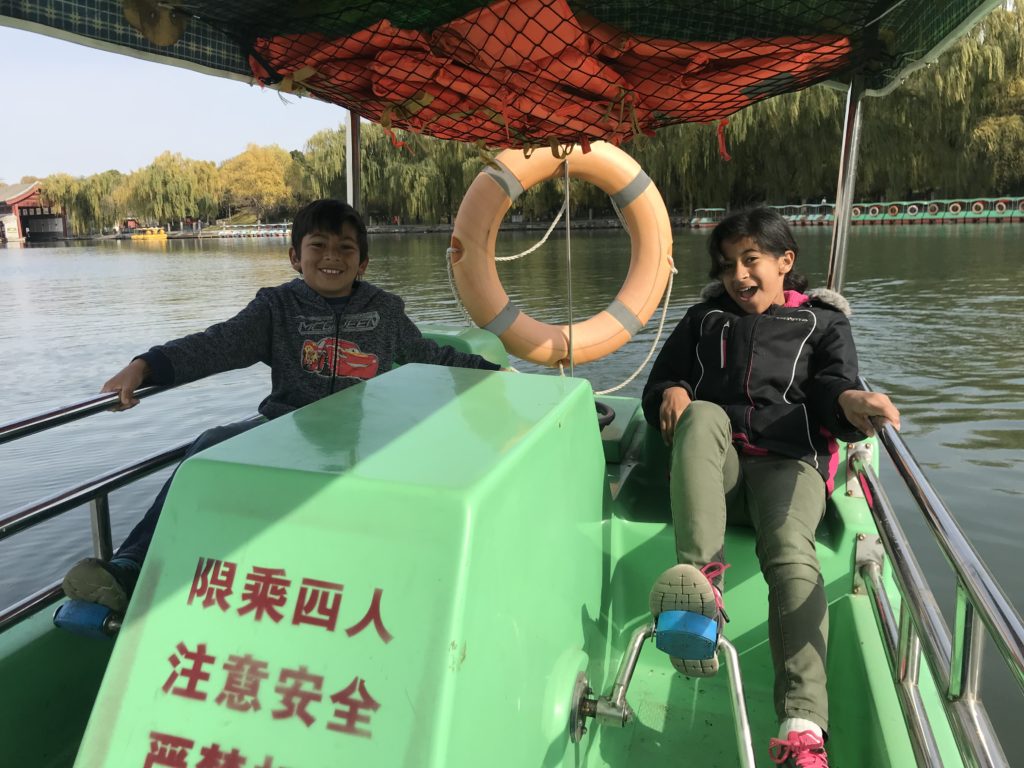 An hour on the water in a pedal boat only costs 60 yuan (~$8.75). I've been thrilled overall with how inexpensive China is. I'll remind myself of that when planning other international vacations. When we visited Paris and Luxembourg in the spring, I had to be careful not to break the bank on just food each day.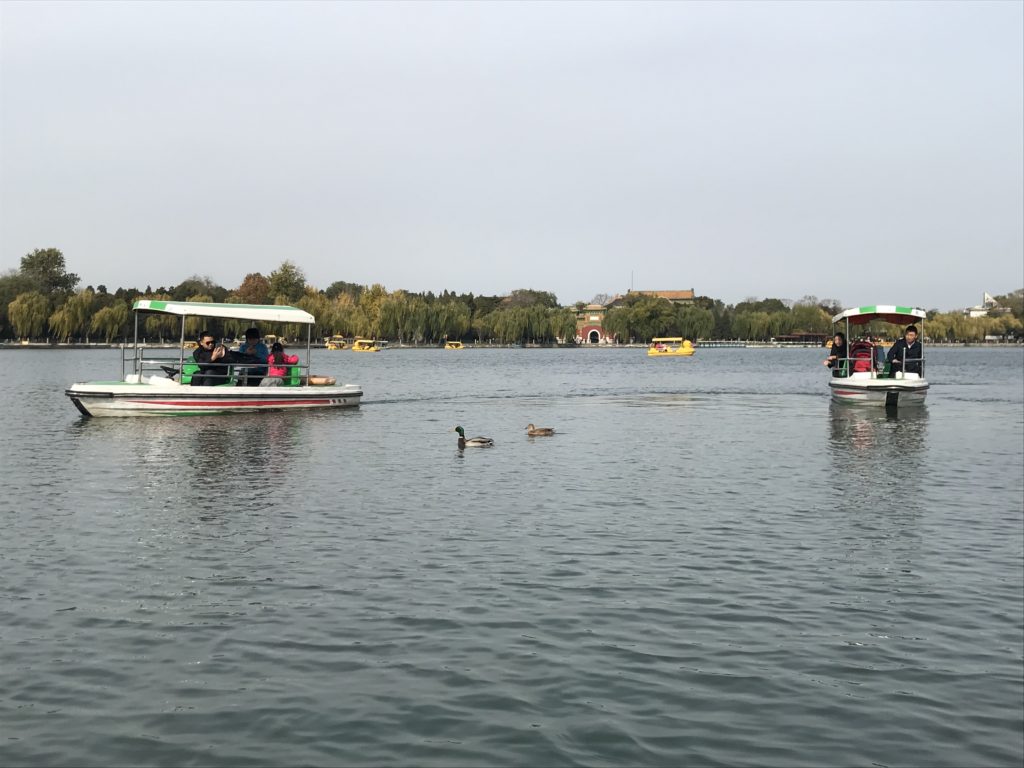 The kids and I had fun powering ourselves around the lake. Pedal-power was an entirely different experience than our excursion on a boat with a small motor a few days before. Remind me to start biking. It is exhausting. But it was still fun. We spent most of an hour enjoying the lake.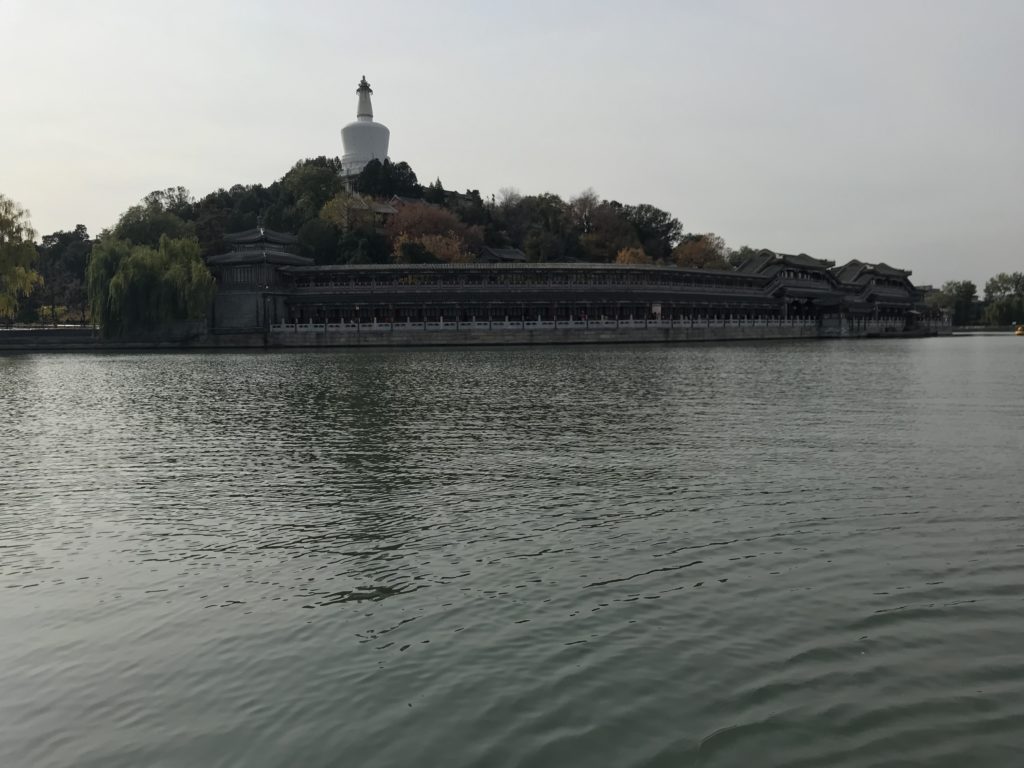 By the time we were done, it was time for lunch. We found a small hole-in-the-wall place back toward Shichahai, where we'd had lunch during our day wandering the hutongs (SEE: 5 Days in Beijing: Day 2 – History and Hutongs). At $18 for the three of us, it was by far our most expensive lunch.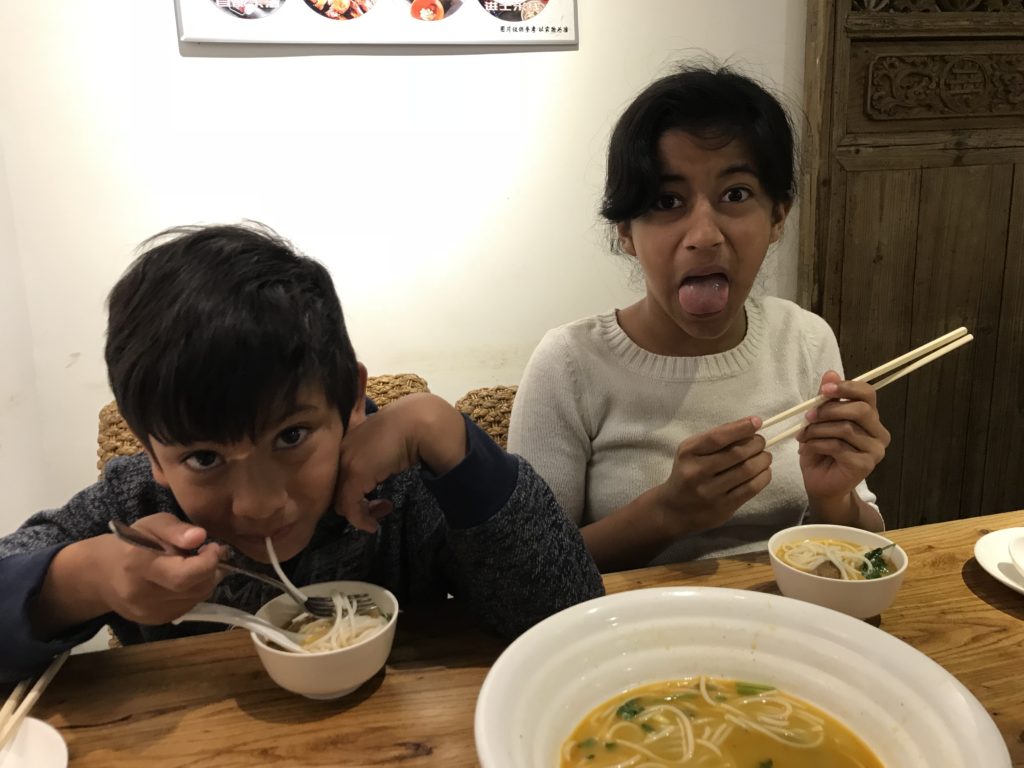 The kids tried duck for the fist time. They weren't fans. My daughter, who primarily wanted to try it, was grossed out. the duck was served head and all, cut in half and sliced on a platter. I'm going to pack on the pounds eating all the food they don't finish.
Nanluoguxiang a second time
Since we were once again near this foremost of the Beijing hutongs, a second walk through Nanluoguxiang was a must. The kids had enjoyed it immensely the first time. We picked up some more cheese bread (honestly not sure what it is, but it tastes amazing) at the same shop and sat on some steps to people watch.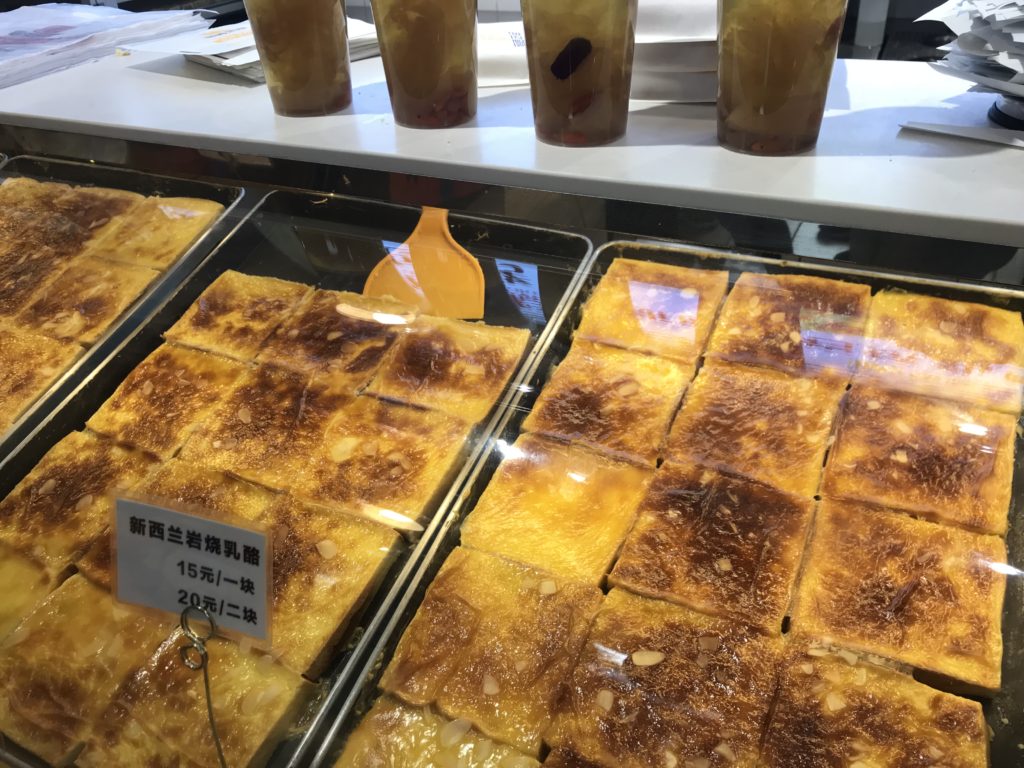 Or be watched as the case may be. Apparently while I was taking the photo above, a Chinese lady stepped behind me and snapped a photo of my kids. They told me after what had happened. I'm left wondering if they were the novelty, or whether it was the fact we were sitting on some stone steps when literally everyone else was standing (maybe install some benches?).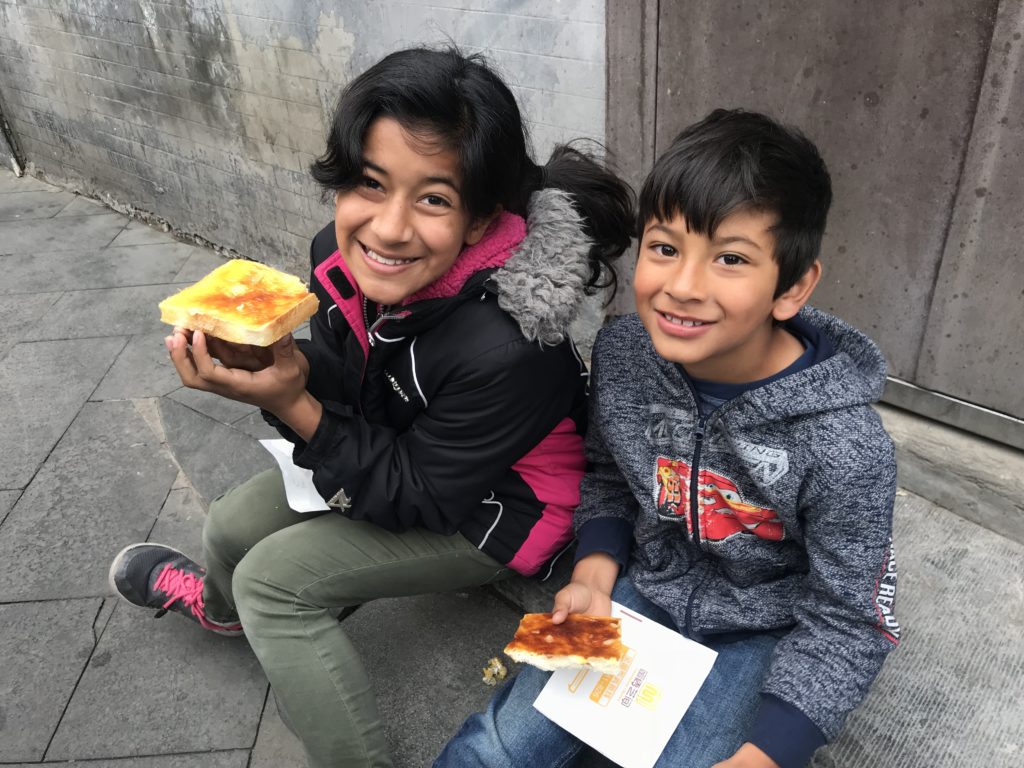 The kids remarked a number of times that the Chinese gave them funny looks. We are definitely not the only tourists in Beijing, but it may be the combination of a white guy with two darker kids that makes us stand out a bit. Or maybe it is just the fact that they are foreign kids. I've seen very few others.
The kids have been a bit sensitive to this issue, my daughter especially. She must have a keen eye for it since I only noticed people staring at us a couple times.
Our delicious snack finished, we wandered back south through the Nanluoguxiang hutong until we arrived back at the metro station. Tip: visit on a weekday in the late morning like we did originally. The Saturday throng was a whole lot less pleasant.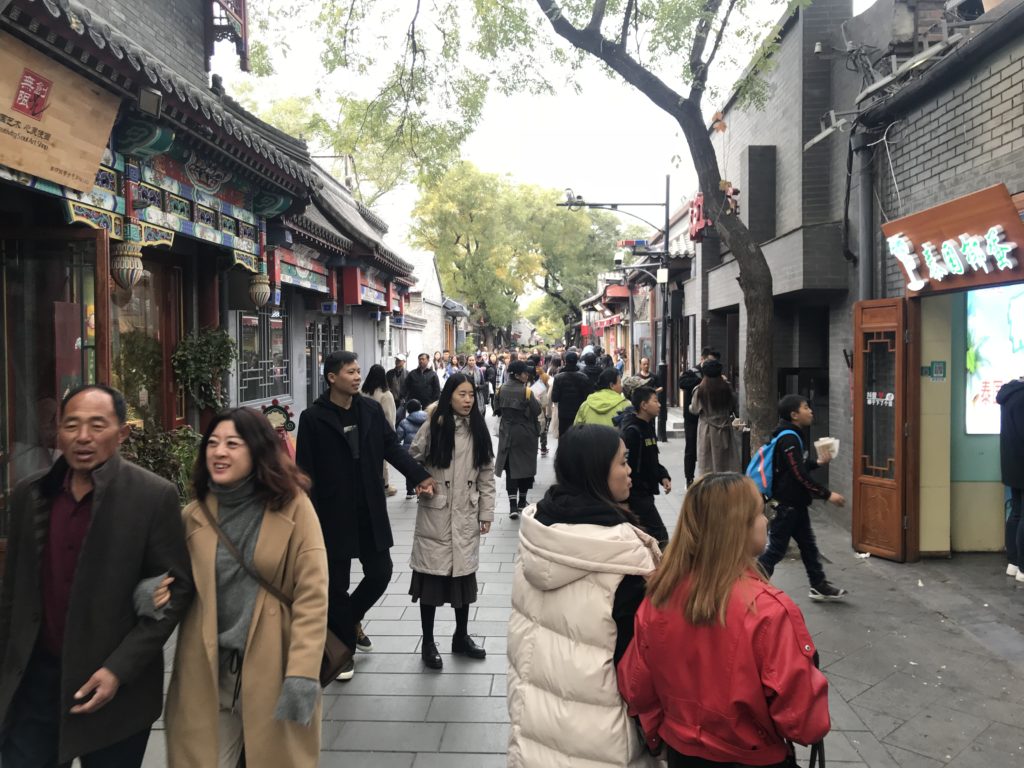 Our scary moment: almost losing a child
We headed down to the metro at Nanluoguxiang, something that was routine for us in Beijing. We'd ridden it nearly every day in Beijing, and the kids knew the  drill. We bought tickets, headed through security, and then trotted down the steps to the platform.
The train we needed was waiting on the platform, and the bell hadn't sounded yet for the doors to close. My son asked if this was our train, and I told him yes. Just as he ran into the car ahead of me, the bell sounded and the doors started to close. I knew I wasn't going to make it, especially with my daughter a couple feet behind me. The doors slid shut. My son's face was complete panic. Mine must have looked the same to him.
Now if I had more than a few fractions of a second to think, I would have realized that leaving a child alone on the subway platform would be preferable to leaving a child alone on the subway train. Diving through the rapidly closing doors would have been the best choice. As long as my daughter knew to stay put, we would come back to fetch her as fast ass we could.
A child alone on the subway is a more difficult problem. And I knew in that moment that we should have discussed a contingency plan for this situation. I tried to yell through the double doors for him to get off at the next stop. We would be on the train behind him and would meet him there. I couldn't tell if he understood, but the subway would be underway momentarily. He had to understand.
To my surprise, the doors suddenly opened again. We quickly entered the car and were all reunited! I was so incredibly thankful that someone must have been watching the whole situation and realized we'd been split up.
I previously remember seeing an attendant at some Beijing subway stations standing on a small, raised platform. It seemed odd to me that this was a job (I'd heard of subway pushers for when crowds are thick), but a platform observer seemed strange to me. Now I am extremely thankful someone was there to watch passengers entering and exiting the subway.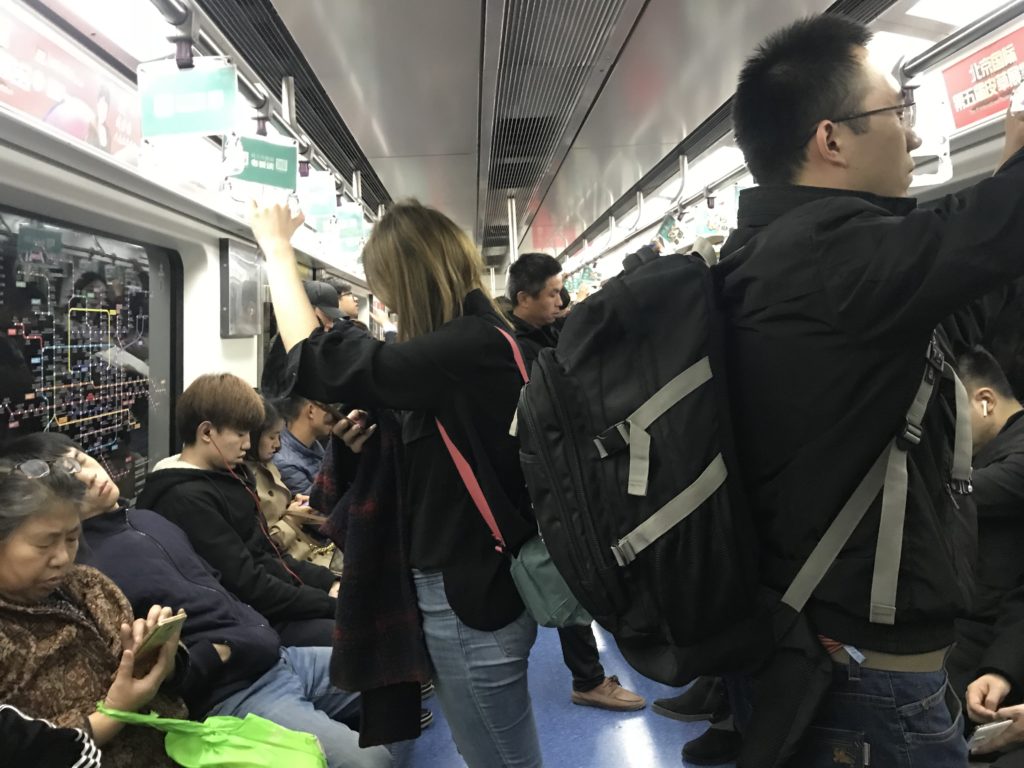 The kids and I had an immediate talk of what to do in the situation we just experienced, had my son actually been whisked away. The plan consists of two simple rules: if you end up on the subway without dad, get off at the next stop and wait for me to find you. If you end up loeft on the platform while dad leaves on the train, simply wait there for me to find you. This will go into the safety discussion I have with the kids each time we travel.
Crisis averted, we stepped off the metro just a few stops down the line.
Lama Temple and a Cat Cafe
I'd identified the Wudaoying hutong as an interesting place for another stroll. The hutong offers an eclectic mix of shops and cafés, including a cat cafe. If you're wondering what a cat café, don't worry. They don't cook and serve cats. Cat cafés are typically a coffee or tea shop where patrons share the space with cats who are free to roam and interact with guests. I thought the kids would love it.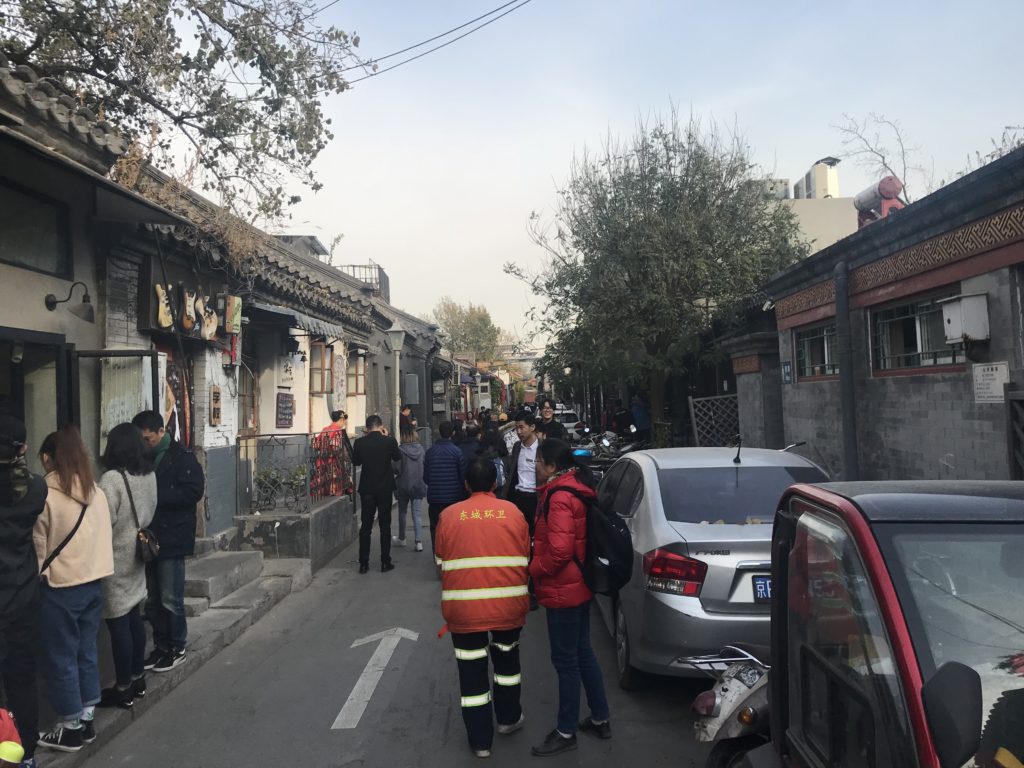 But we ran into an issue in Wudaoying: I couldn't identify the cat café. I'd failed to get an exact name or address, thinking that it would be easy enough to identify along the alley as we walked. After poking our faces into the windows of a few promising shops, I started to wonder if our search might be in vain. We eventually exited the hutong after a quarter mile, thwarted in our search for a cup of coffee with cats. The kids will have to wait for that experience.
However, we were now just a couple hundred meters from the Lama Temple, which was our final destination for the day.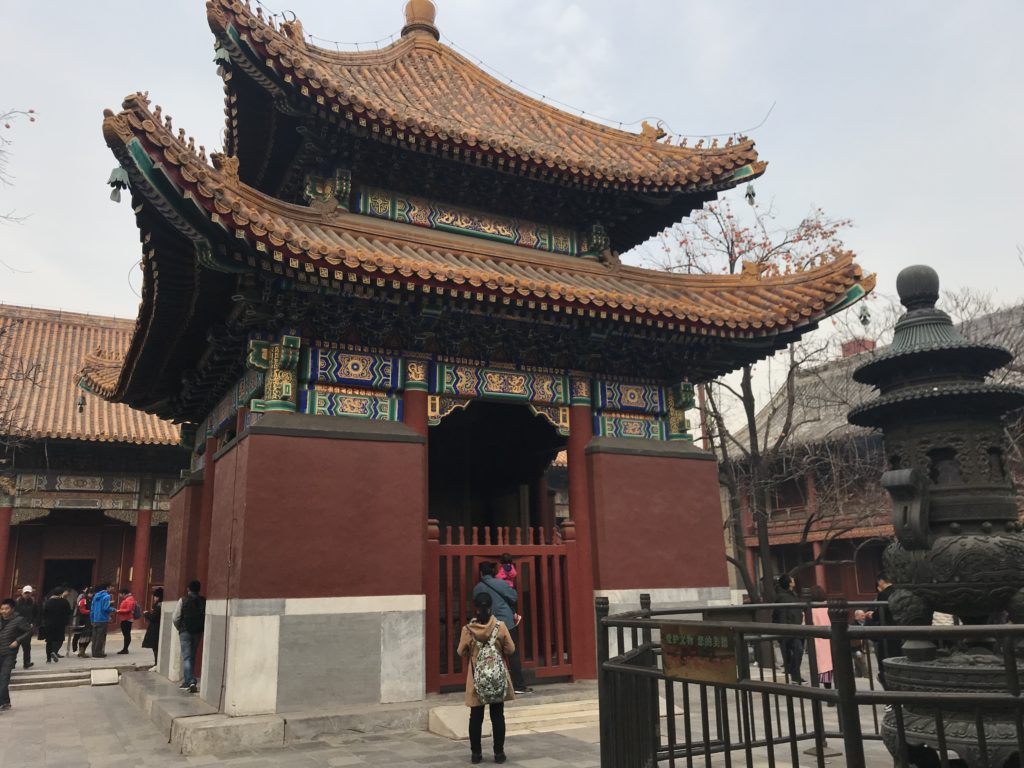 The Lama Temple, or, more properly, the Yonghe Temple, is a temple and monastery of Tibetan Buddhism. Originally constructed around 1700 as an imperial residence, the Lama Temple was converted into a monastery about 40 years later. It is unique in that it is not only a functioning monastery, but also open to the public as a tourist attraction.
Although visiting Beijing in the fall has had its downsides, an upside was certainly walking the tree-lined path from the temple entrance to the first gate. The trees were a beautiful gold color, and unlike other places in Beijing that are efficiently cleaned, a layer of fallen foliage was left to line the path. It is beautiful!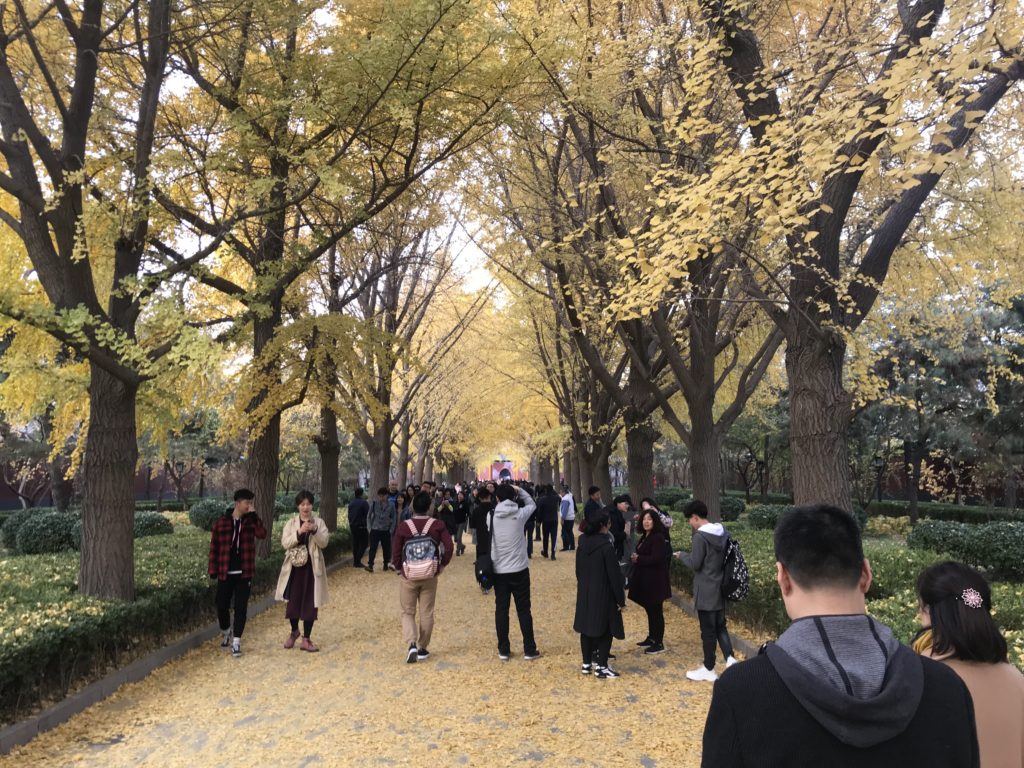 The temple itself is impressive, although possibly less so to us than it could have been, given that we'd visited the Forbidden City the previous day (SEE: 5 Days in Beijing: Day 4 – Tiananmen and the Forbidden City). Many visitors were burning incense in the first courtyard. The kids asked some questions about what people were doing and I tried my best to field answers. I'm quite unfamiliar with Buddhism. Our discussion mainly centered around respecting their culture and religion and how ours differ from theirs.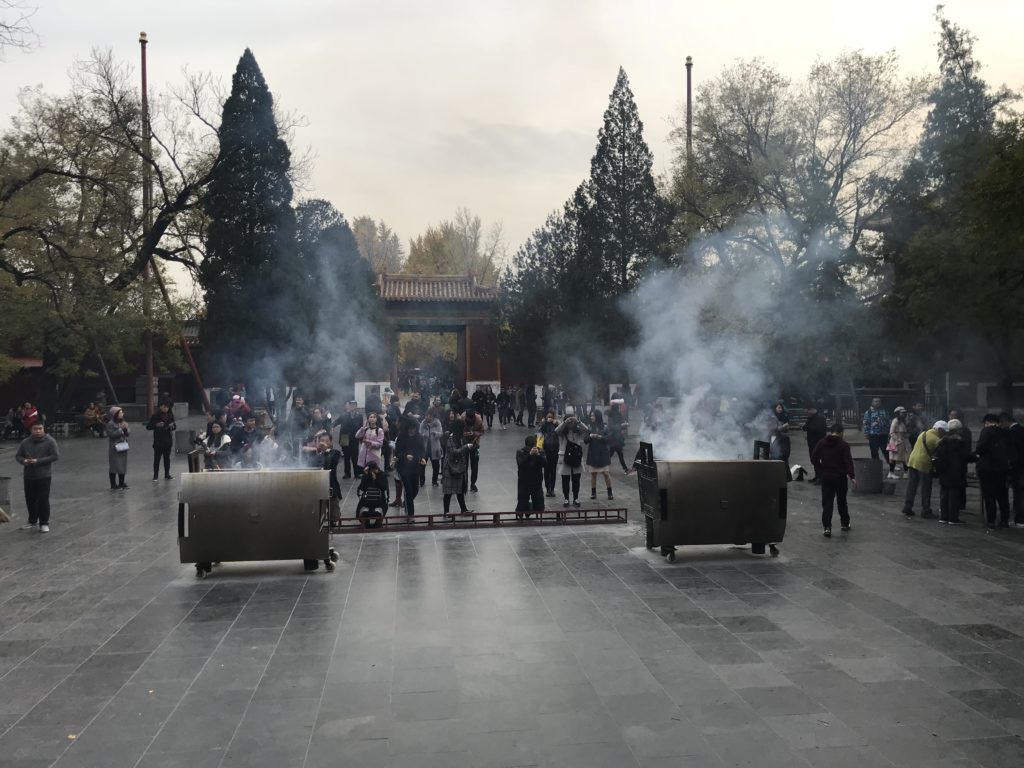 We visited a few couple other sections of the temple, but didn't stay especially long. Since it is an active Buddhist monastery, I felt like we were intruding more than anything. Our visit lasted maybe a half hour before we hopped back on the subway toward our hotel.
Ending the day with school
On previous days I would not have attempted school with the kids in the evening, given everyone's exhaustion level. But the night before was the first one during which they were at least a bit more perky. They still went to bed at 7:45 p.m. without a fuss, but it wasn't the voluntary crawl under the covers like the other nights.
School away from home has been working well enough. Luckily, the internet speed at the Renaissance is good and we are able to stream my daughter's lessons. This probably would not have been possible at the Hilton, our first hotel (SEE: Hilton Beijing Review). Dinner in the lounge followed by an hour of lessons it was.
This brought our Beijing sightseeing to a close. It'd been a fun several days, and a great introduction to China. But Hong Kong awaits!