One of the things I love most about this hobby is finding ways to make great experiences highly affordable. My wife and I have had the opportunity to go on several wonderful trips, all for fractions of the "normal" price.
Moving forward, I've decided to tally up some of them (or parts of them) to showcase how useful you can make miles and points. My first was tallying up what a week(ish) trip to Australia cost me (SEE: The Anatomy of a One Week Trip to Australia).
Now I'd like to tally up what three nights in Banff set us back on our recent trip to Alberta. You can see photos of the park in a previous post.
The catalyst for an amazing stay
Our recent trip to Banff was made possible by a single card offer. That's how lucrative a bonus can be, if you know how to use it!
A few months ago I decided to jump on the Chase Fairmont card before it was gone. Chase pulled their public application link, and it was only a matter of time until the other links died as well. I applied through one of the two surviving application links, and was approved. After meeting the minimum spending, the card gave me some free nights and upgrade certificates at Fairmont hotels, and it was the main reason we were even able to plan this trip.
Admittedly, we could have stayed at a couple other places in/near Banff using points. But using the free Fairmont nights at one of their beautiful hotels in Banff was something I really wanted to do!
Stacking all the certificates and a checking account bonus, we had an amazing 3 night stay in a one bedroom suite. The views were spectacular.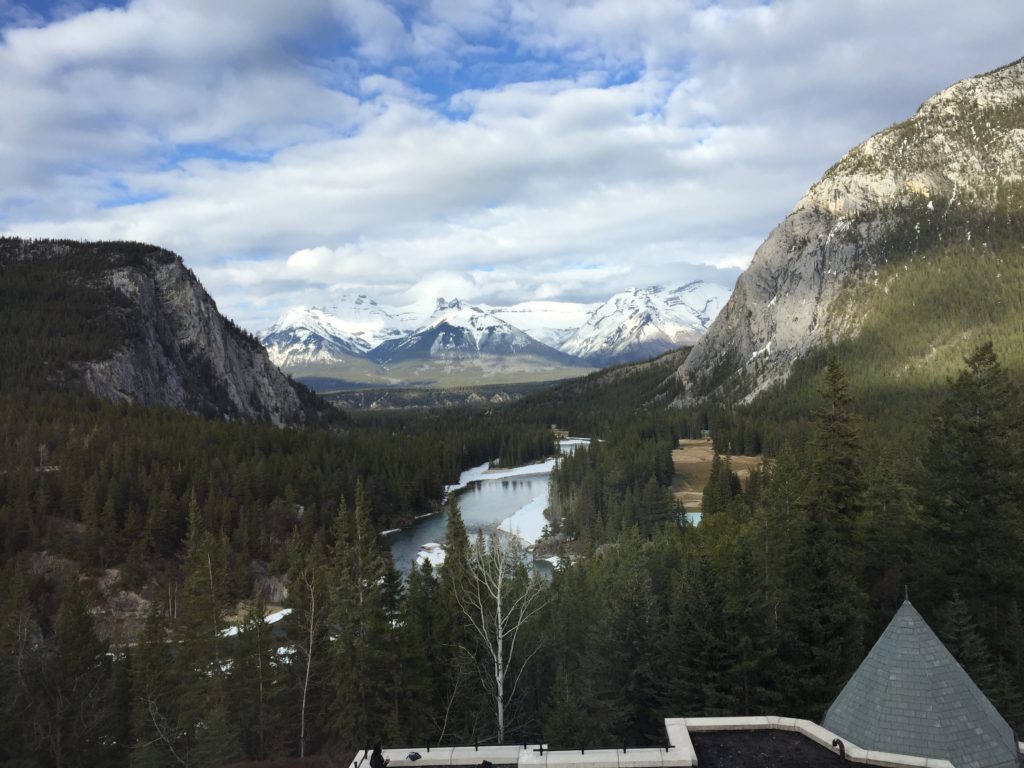 Above is the view through the main living area window. Below is through the second window.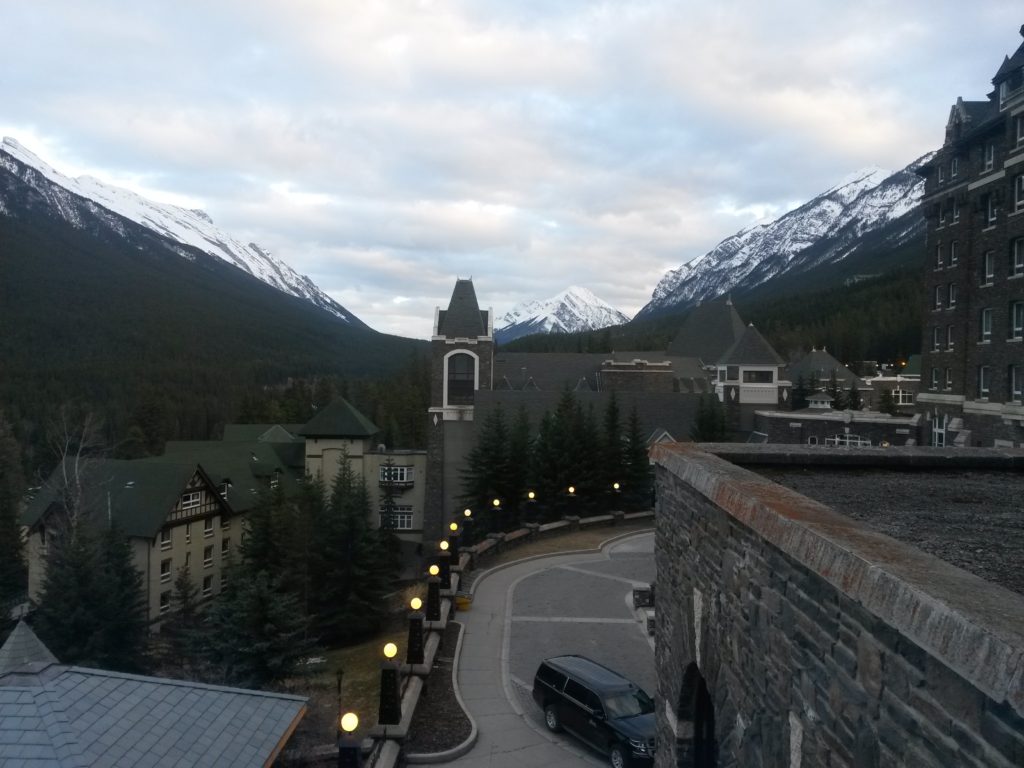 Sadly, the Chase Fairmont card is no longer offered. I wish it was and that you could repeat this experience.
Breaking down our costs for the stay
With the Chase Fairmont card I was able to earn 2 free nights at any Fairmont after $3,000 in spending. The card also offered a suite upgrade certificate, two dining/spa certificates, another room upgrade certificate, and a "third night free" certificate on paid stays.
I was able to stack the free nights with the suite upgrade certificate. We paid for a 3rd night using a bonus I got from opening an account with Bank of America. We were also able to use both dining certificates during our stay.
What our stay cost us:
2 free Fairmont night certificates
1 suite upgrade certificate
2 dining certificates in the totals of $50 U.S.
$445.28 CAD for 1 cash night (including taxes)
$75 CAD parking
$15 CAD resort fee (I think for just 1 night)
Converting to U.S. dollars and subtracting out a $300 checking account cash bonus that we applied to the trip, the total comes to a mere $99.18. Pretty sweet. Or should I say suite?
What 3 nights at the Fairmont Banff Springs *could* have cost
The Fairmont Banff Springs is a true 5-star hotel. It is aptly called the "Castle in the Rockies", and it is a gem, even among other beautiful hotels in the Fairmont portfolio.
But with 5-star rooms, dining, and service comes a 5-star price tag. The going rate for a standard room during the time we stayed was $399 CAD. The going rate for a one bedroom suite was $899!
Tallying up what the stay would have cost had we paid cash (all in CAD):
$899 per night x 3 nights + $297 taxes = $2994
$25 parking x 3 nights = $75
$15 resort fee x 3 nights = $45
$60 dining
The total is a ridiculous $3,174!!
Obviously, we never would have paid that much for this stay. This is something that makes determining "value" somewhat subjective. We can't exactly say that we saved over $3,000 on this vacation when we wouldn't have paid that much for it anyway!
Other expenses
Many of the remaining costs of the trip were covered by miles and points as well. The nights in the Bay before the trip we using IHG "free" nights, to the tune of $98 in annual fees for 2 nights. That's a deal in San Francisco.
Our rental car and one night in Calgary were covered by the remaining travel credit on my parents' Chase Sapphire Reserve. Our final night at YYC airport was using a free night certificate as well.
Even the flights were mostly covered using $200 in Delta gift cards and a cumulative $200 ($125 and $75) in United vouchers. Out of pocket cost came to about $170.
Conclusion
I hope this is another great picture of the usefulness of miles and points. My wife and I had an amazing vacation in the Rockies for both a cheap overall price, and a super cheap price relative to what the experience would have cost us.