After a long day of travel and late arrival into Seattle, my son and I woke up with a lovely view of the Space Needle. Our hotel couldn't have been in a better location (SEE: Hyatt House Seattle Downtown Review). I love hotel rooms with a nice view, and this was certainly one of the best.
Besides the Space Needle, there are a few other prime Seattle attractions located all on the same grounds. The Seattle Monorail gives you easy access to downtown and other mass transit. But as we were so close to Seattle's most iconic attraction, I figured we'd start there. I mean, what could be more fitting?
Exquisite views of the Emerald City
The Space Needle is literally a three-minute walk from the Hyatt House, so we were there in no time at all.
One aspect of this trip is that our sightseeing passes were sponsored by CityPASS. I wrote a full review of CityPASS over at Points with a Crew, detailing the value you can expect to get from the pass, depending on which Seattle attractions you enjoy. In general, if you're going to hit four or more of the listed spots, it's worth the money.
It was easy to pick up our passes at the Space Needle, as there was hardly a line this early in the morning. The pass is good for seven consecutive days, which means you can take your time enjoying Seattle. Given that we had only two days in the city, we had to pack in as much as possible. This first day would include three of the five attractions on the pass.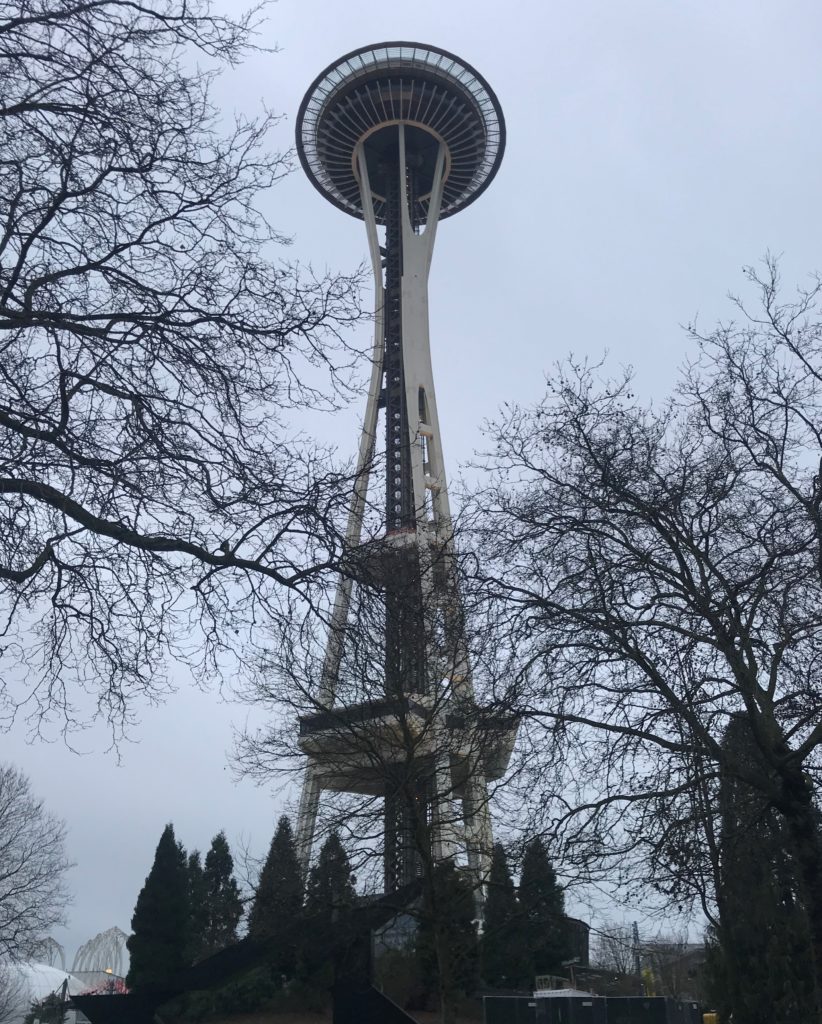 This was my third visit to the Space Needle, which I have visited every time I've been to Seattle. It provides some of the best views of the city. At the base there is an interesting exhibit that shows the planning and construction of the tower, which debuted for the 1962 World's Fair, along with the monorail. It has been a Seattle icon ever since.
An elevator ride later,  and we were looking out over the city. It was an utterly typical Seattle day, which meant we didn't get views of either Mount Rainier or the Olympics across Puget Sound. I'm not sure how often it gets that clear up here, but I hope to eventually visit during one of those times. I'd happily pay a premium at the Space Needle to enjoy those views.
We still had a lovely view of downtown Seattle, Elliot Bay, and Lake Union.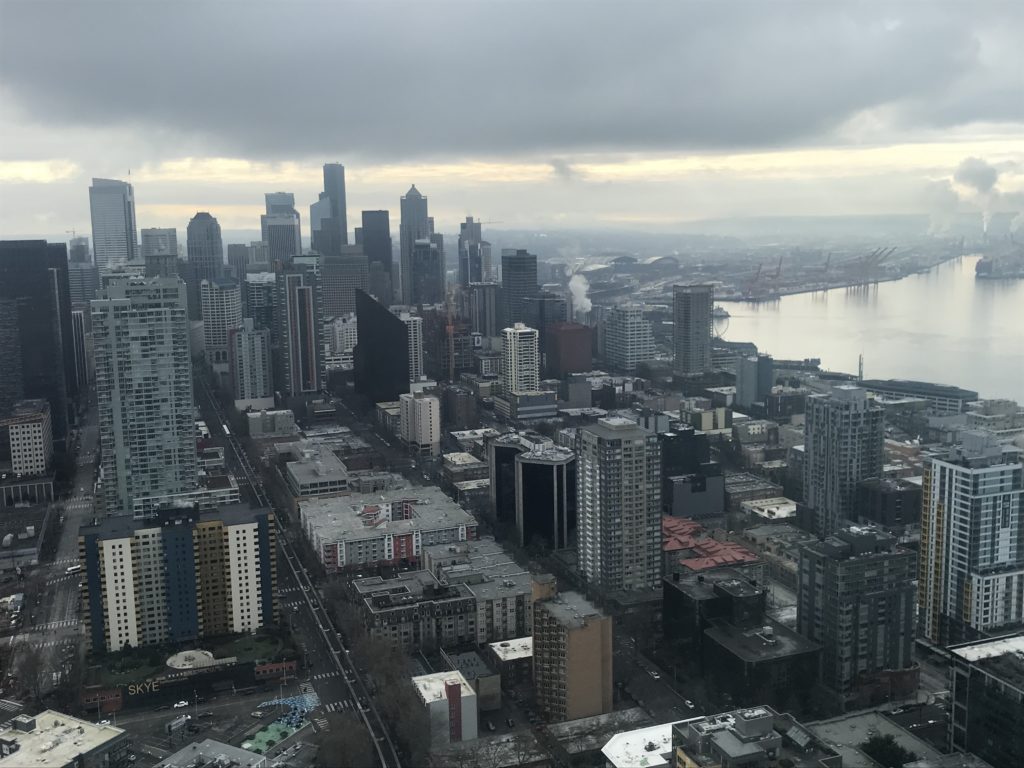 Heading downstairs, I enjoyed standing on the glass floor, which my son thought was crazy. No matter how much I assured him it was safe, there was no way he would step out there with me.
When we'd had our fill of the lovely views, we finally headed back down to earth and down to the waterfront for our next stop. Transit included the monorail, of course. It is a fun diversion, and the rail passes just feet from our hotel!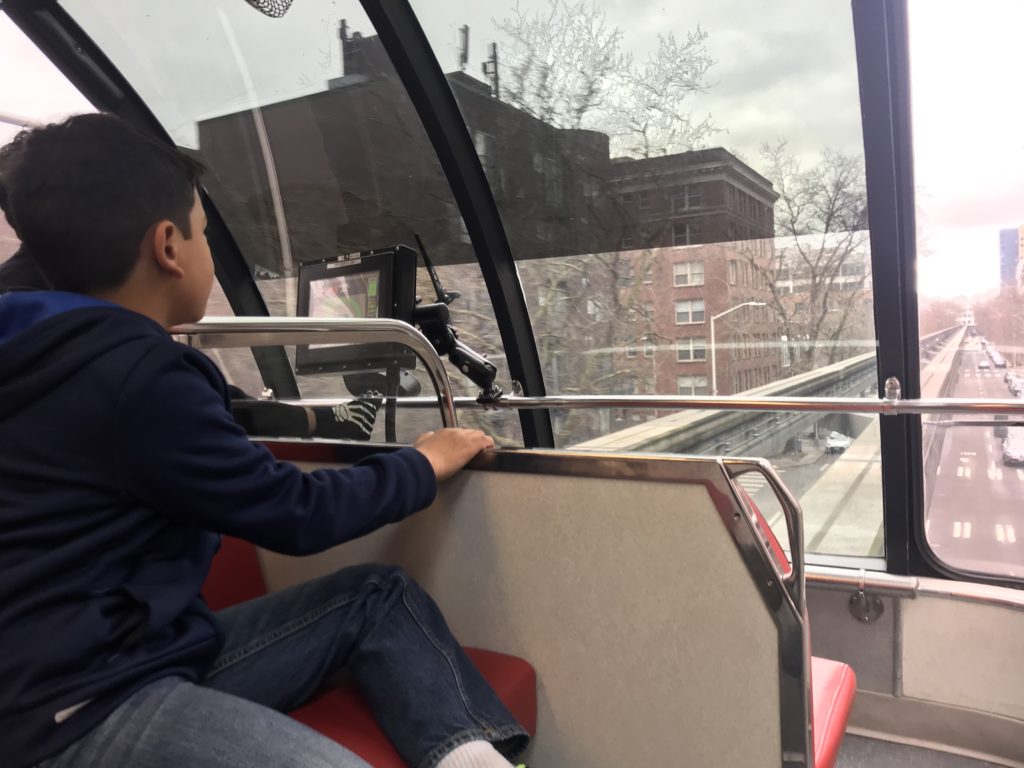 On to the aquarium!
The Seattle Aquarium was next on the list, another attraction available using CityPASS. I'm not going to go into detail since I did a separate write-up on that attraction as well. What I will say is that the Seattle Aquarium is worth a bit more time than we were able to spend.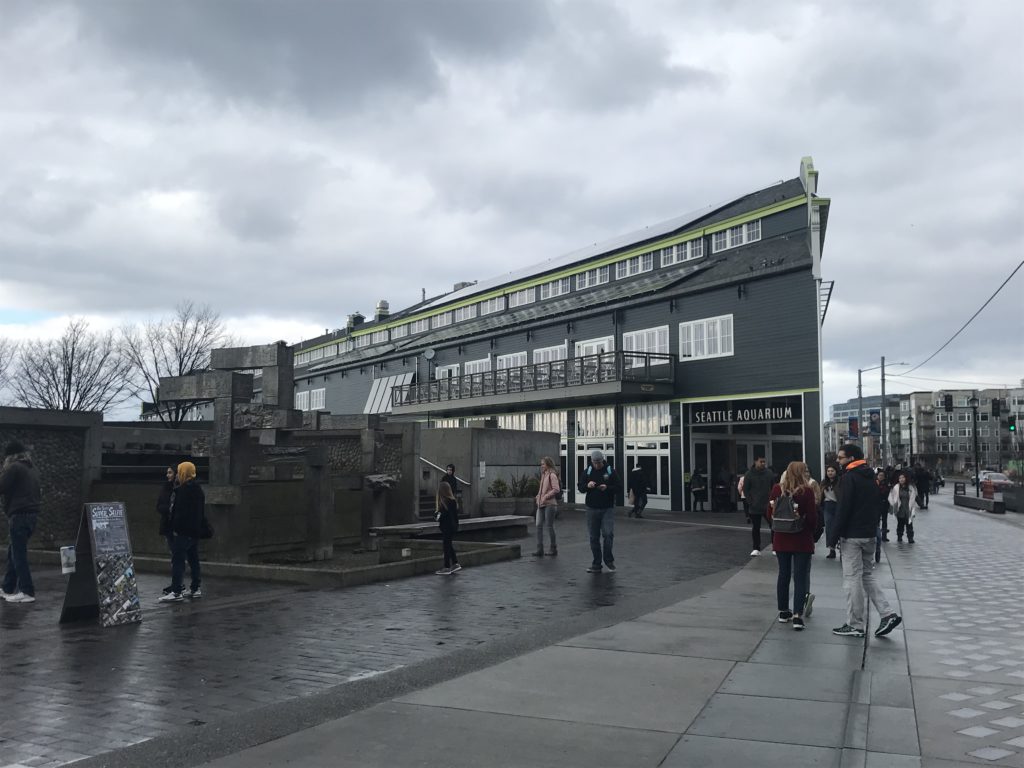 Plan at least a couple of hours to enjoy the whole thing, even more if you hope to catch a few of the shows. My son and many of the other kids there really enjoyed the touch pool.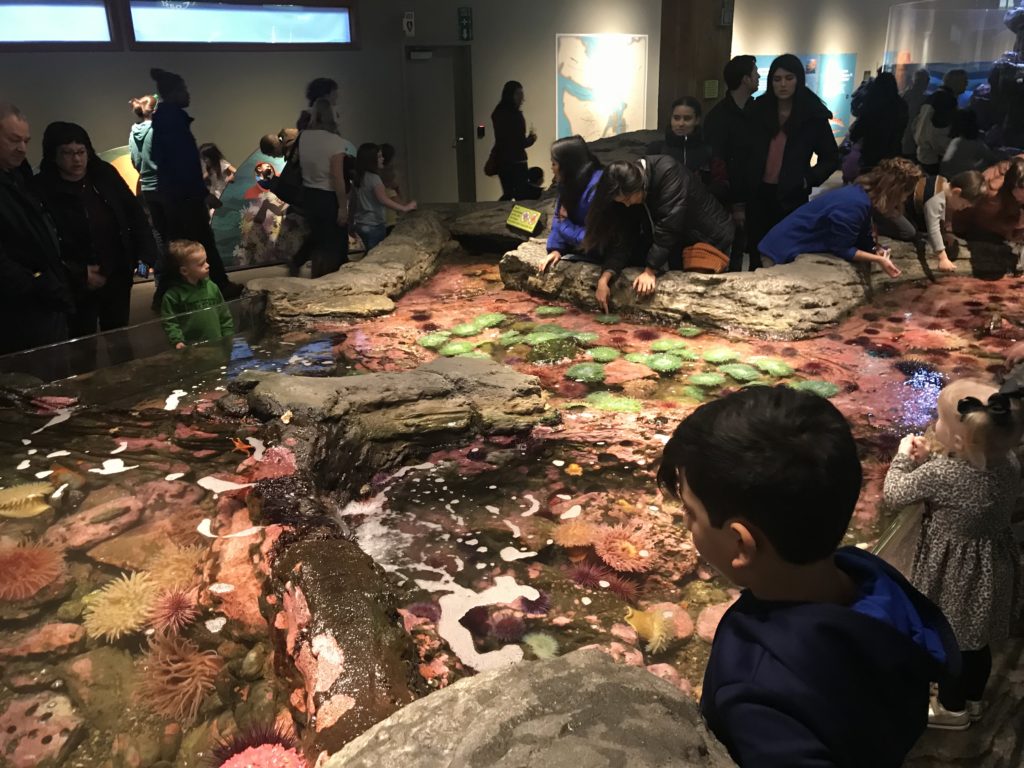 We visited during Octopus week, which was definitely an enjoyment. The "primetime" show featured both a wolf eel and a Giant Pacific Octopus, which was absolutely packed. I took the chance to enjoy it from the cafe upstairs while ordering lunch.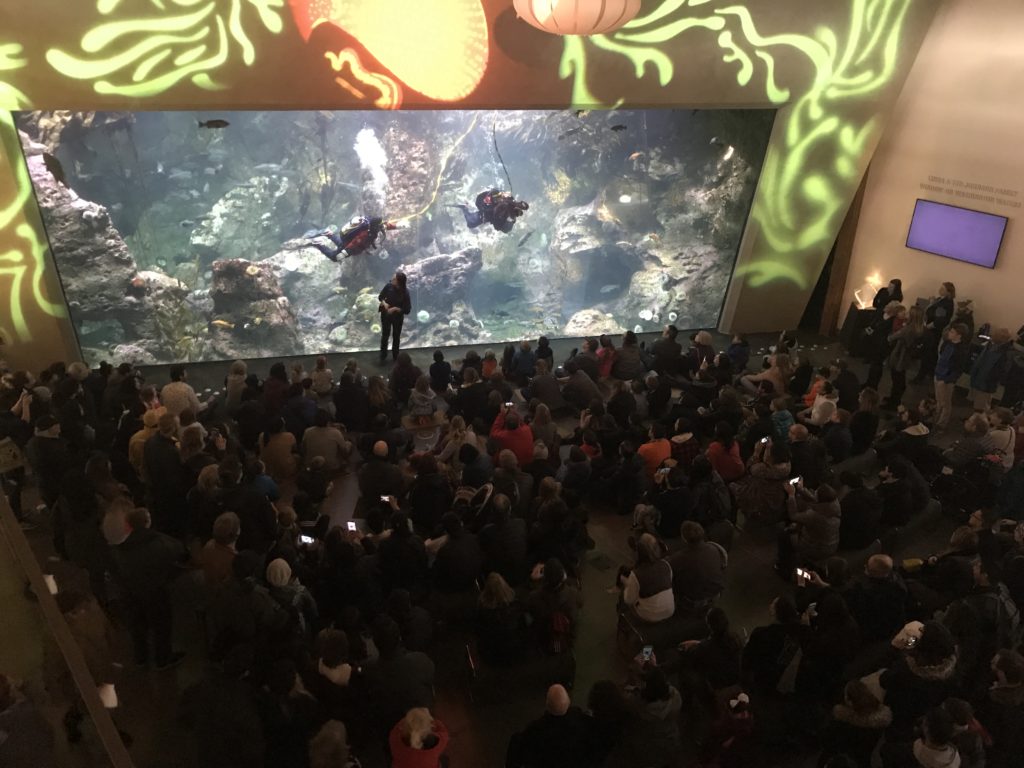 After our visit to the aquarium we picked up our Argosy tickets. It was my intent to hop on the midday sailing, but I forgot to factor in that it was a holiday weekend. It was completely sold out. We picked up tickets for the following day, which would be hard to catch, but probably doable between our Boeing factory tour and a visit to the Museum of Flight.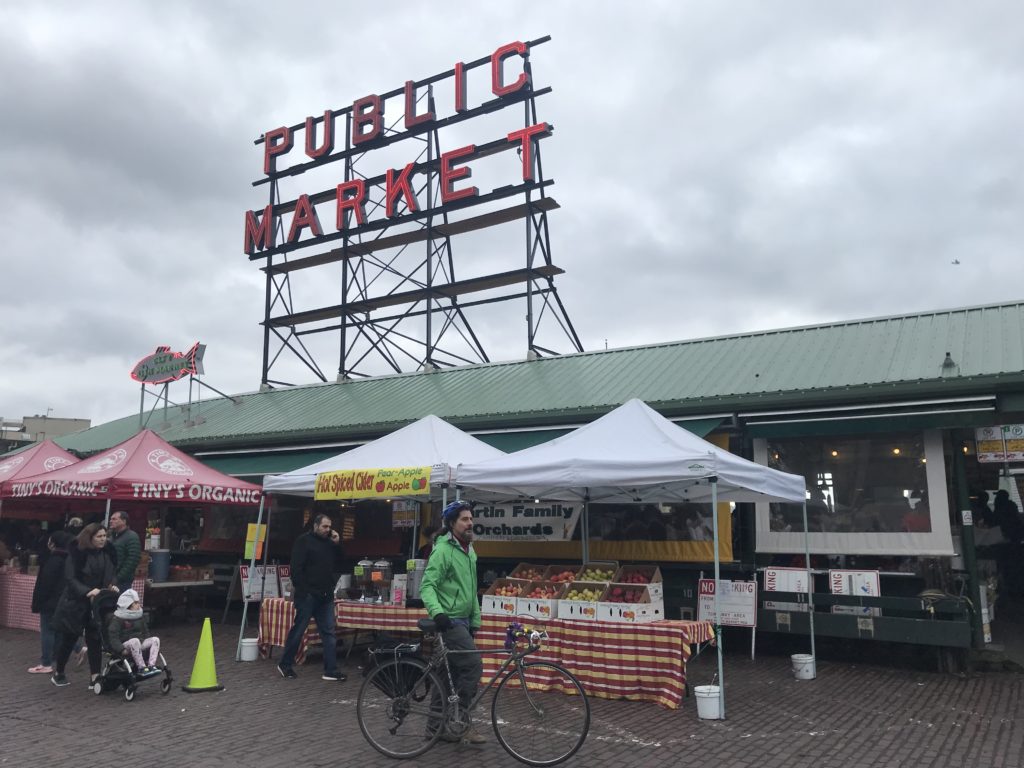 Pike Place coffee stop. No, not Starbucks
A pick-me-up was in order halfway through the day. It is common knowledge that the original Starbucks location is at Pike Place Market in Seattle, which could have been an obvious choice. But I have a little insider knowledge on the best coffee at Pike Place.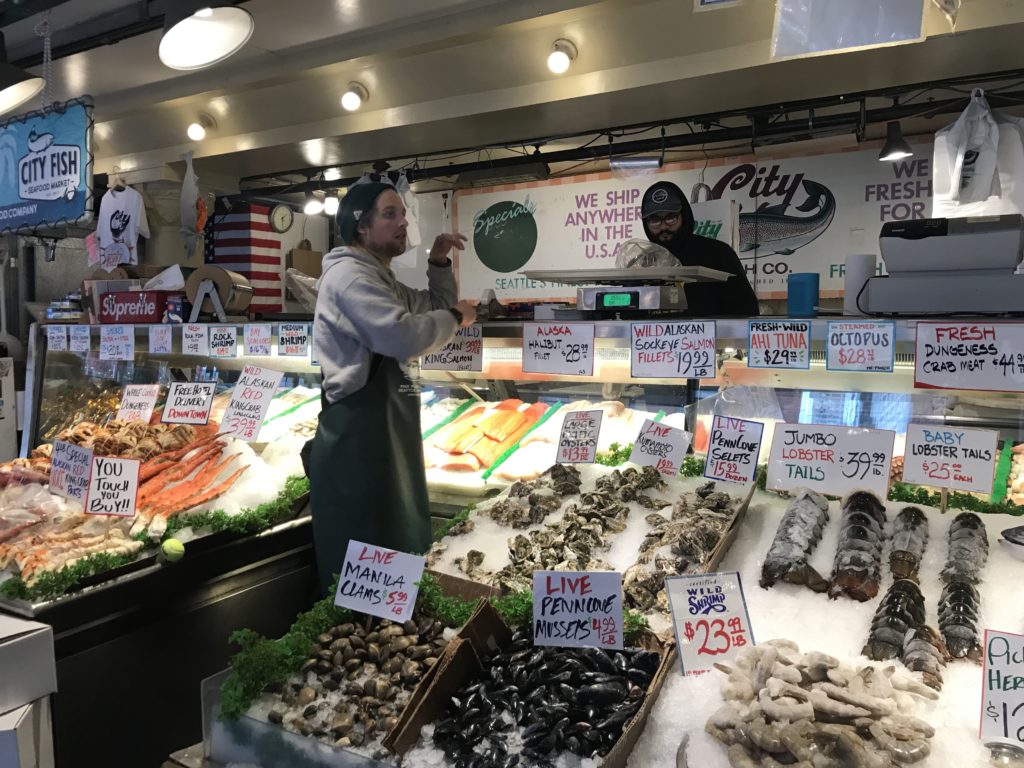 First we made another stop, though. The City Fish Co. is a great spot to stop by, just in case you catch the famous fish toss they are known for. Or maybe just buy a whole fish yourself. We arrived just in time to catch a customer buying a golden trout.
From there we headed across the street and up to the second story of the uphill building to Storyville Coffee, my favorite coffee spot in the market. The coffee is some of the best I've ever had, and the baristas are pleasant. They often offer free samples of some of the baked goods as well.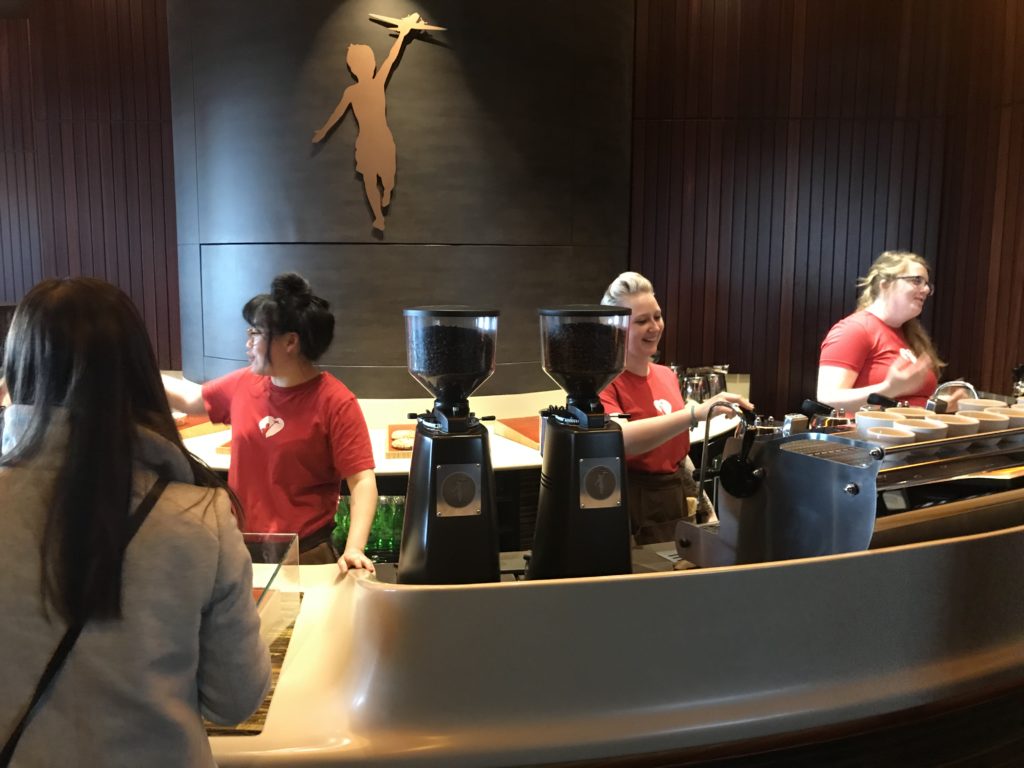 I do have a bit of an inside connection to Storyville, as their coffee roasting studio (located out on Bainbridge Island) and shops are owned by the same individual that formerly employed my dad. I had a chance meeting with the manager, who I'd previously met when he visited Ferndale years ago. It was great to see him again.
Supercold! and the Pacific Science Center
Warmed up and ready to tackle the afternoon, we rode the monorail back to the Space Needle station, headed for the Pacific Science Center. I hadn't been here since I was a kid when my family visited Seattle way back in 2003. That's 2003, give or take a year, as I cannot remember exactly when.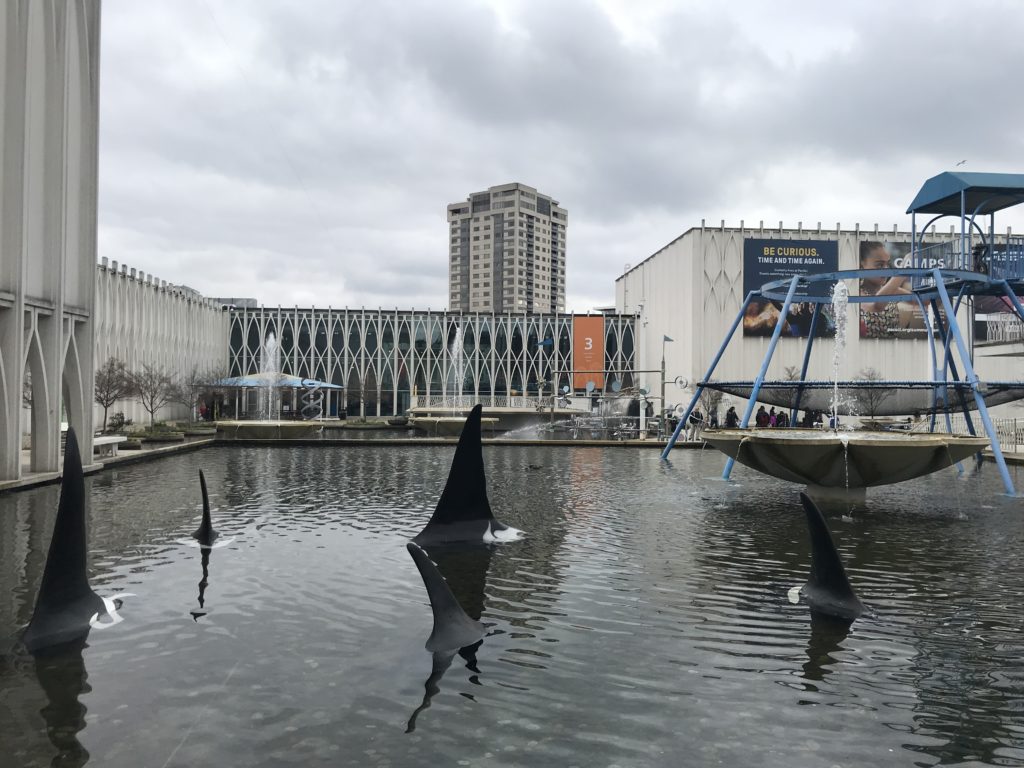 The Pacific Science Center has a number of different exhibits, ranging from animatronic dinosaurs, to space exploration, to a super cool model of Puget Sound that lets you watch the tidal currents in action. One day is simulated over the course of 73 seconds. Everything is controlled by a series of gears on the wall that cause weights to rises and fall, simulating the tides. 
There are also presentations, only one of which we attended. It was titled Supercold!, where Katy, a very enthusiastic staff member, engaged the kids with a presentation on the various states of matter. Of course freezing things with liquid nitrogen was a hit.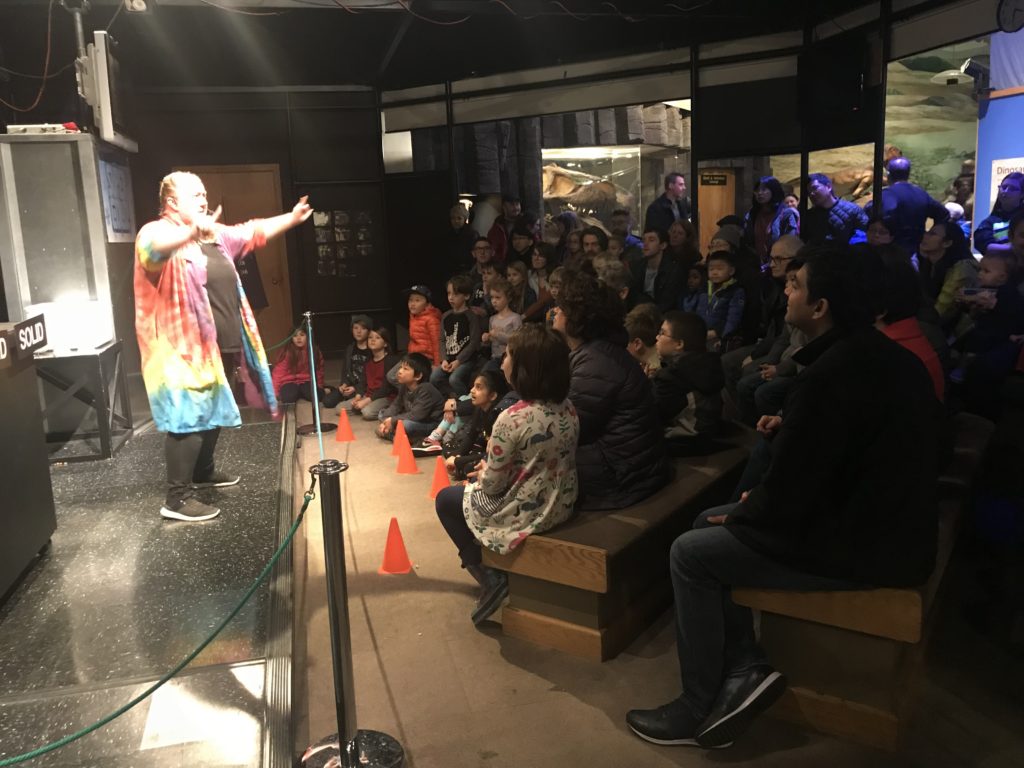 She even made the kids recite a hysterical "pledge"…I quote: "I promise to always…always, always, always…be safe around super cold things because I like my fingers and my eyeballs unfrozen." All of this brought back my college science class days when we did some of the same things, making sure to keep our fingers and eyeballs unfrozen. 
I highly recommend the Pacific Science Center if you visit Seattle with your kids. It is much more than your typical kids museum, as it geared toward kids of all ages. There is enough for adults to enjoy, too.
Space Needle, take two
One of the perks of CityPASS is that you are able to enjoy the Space Needle twice, once during the daylight and again at night on the same day. Although I'm not sure I'd spring for the ticket if it wasn't bunlded with the rest of the CityPASS, a night view of the city was definitely the perfect final stop.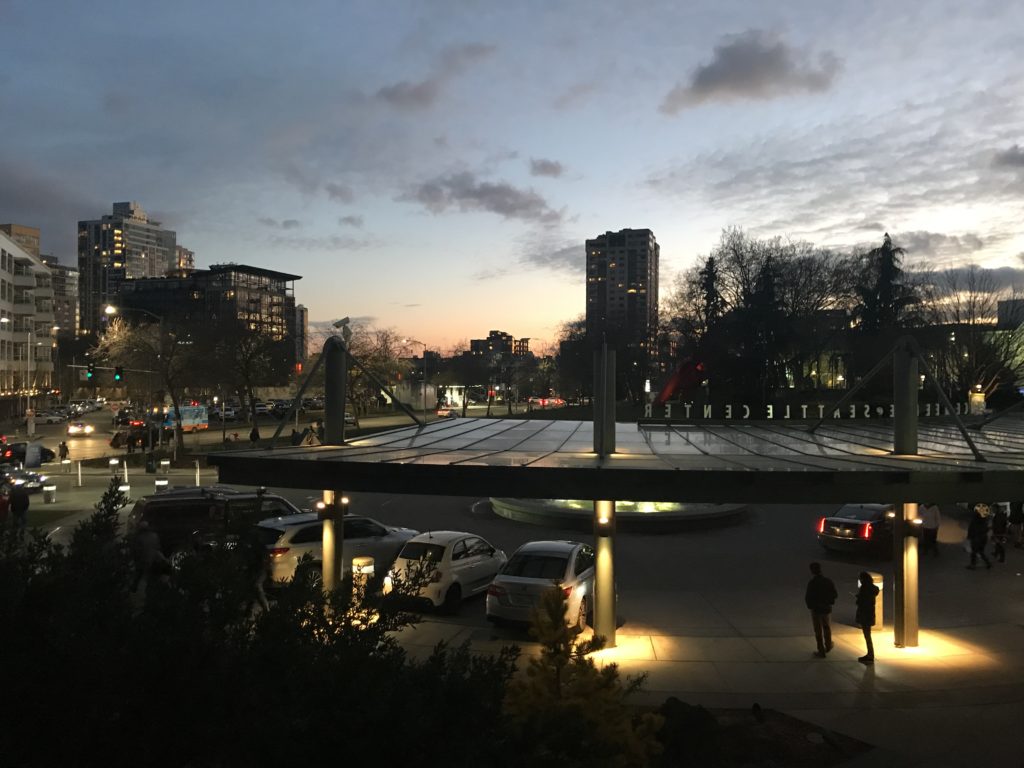 Unlike our visit that morning when the Space Needle opened, there was much more of a line at dusk. I'm sure sunset is one of the most popular times, especially if it is clear and you can catch a beautiful sky as the sun drops past the Olympics across the sound. Although we didn't make it up in time to really get a view, we did enjoy a great nighttime view of downtown Seattle.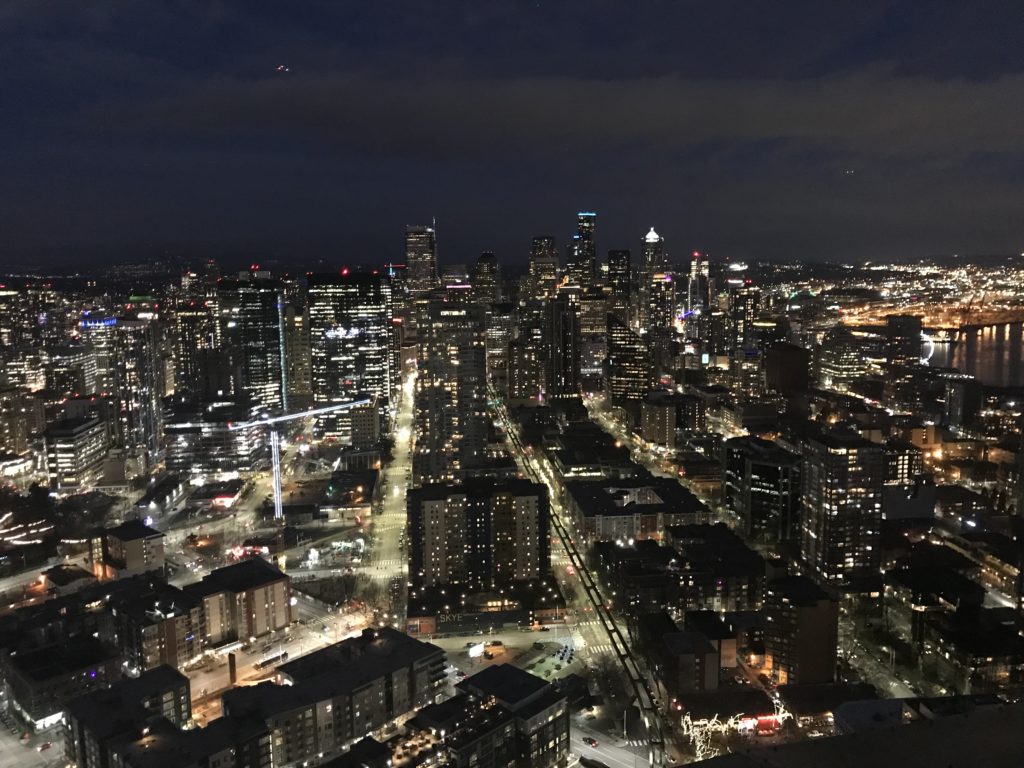 Calling it a day
We found a place to eat dinner a couple blocks from our hotel. It had been a while since I'd had Thai food, and I figured we should give Mantra Thai a try. I thought the food was excellent. My son was a bit hesitant to try anything, but ended up enjoying the fried rice that we ordered. I wish my kids we all more adventurous eaters.
At the end of the day, we hit about as much as I figured we could do: the Space Needle, the Seattle Aquarium, the Pacific Science Center, and Pike Place Market. Given the amount of time each of these attractions requires, I don't really think we could have packed in anything else. You could certainly spend more time at any of these and stretch out your visit. But we only had two days, and with the second full of aviation sights, Seattle at super speed it had to be!