When I booked my first flight on Allegiant for a work trip this summer, the reasonable options for getting to the Santa Rosa airport were a mere two: rent a car or ride a bus. I opted for bus, since it was far cheaper. This made my trip a two-for-one special on first-time experiences: my first Greyhound trek to get to my first Allegiant flight. Livin' large.
I really didn't expect the Greyhound ride to be very different than the Amtrak trips I have taken between Humboldt County and Martinez, California, a journey I have made twice. Both of those experiences were alright, and I assumed this one would be about the same.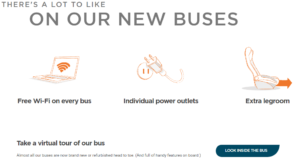 The Greyhound website advertised leather seats, individual power outlets, and free WiFi on board the bus. The WiFi would be a step up from Amtrak, but I was a bit skeptical how good the signal would be. Highway 101 has spotty cell service at best for most of the trip between Humboldt and Sonoma County.
The bus schedule had a departure time of 9:40 a.m. from Eureka, and an arrival time of 2:35 in Santa Rosa. Total duration of 4:55. That is about an hour longer than it would normally take me to drive, but a 30 minute scheduled stop was also included. The cost? A mere $49. A one-way car rental would have cost nearly $250.
My wife dropped me at the Amtrak stop in Eureka with my bag. The bus was late by about 20 minutes, but that didn't worry me. I had at least 90 minutes of padding in the schedule between bus drop off and when I needed to be at the airport.
The motor-coach was comfortable, and I was able to get a couple hours of work in during the trip. The outlets kept both my phone and my brand new MacBook Pro charged nicely for the entire journey.
The main pit-stop on the route is in Willits, where the bus stops behind McDonald's. Although I was glad for the break, I was less than thrilled by the choice of location. Neither Taco Bell or McDonald's are my sort of lunch, and there wasn't much else within easy walking distance. Walking to the shopping center would have probably worked, but I didn't want to risk being left behind.
The rest of the journey went smoothly, and the bus driver was polite and very professional. We had a funny incident where a dog briefly ran onto the bus in Ukiah, and his reaction was hysterical when a passenger alerted him to it.
I will definitely consider Greyhound again in the future. My guess is that my patience with the bus would wear off at about the 5 or 6 hour mark, and it is certainly not something I would want to take across the country. But Greyhound is definitely a viable option for getting to the Bay for a late (or next day) flight.