If you recall my post a couple weeks ago, you'd know that I took a quick weekend getaway with our two eldest kids. Mom and the toddler stayed behind to hold down the fort (and work on something very important).
Now we are on the other side of that adventure, and we are not only all alive, but everyone involved had a great time. Sure, there were a couple low points, such as both kids vomiting (at different times) during our five hour drive to the Bay Area. But hey, not everything had to go perfectly.
Ever present car sickness
One thing I noticed is that the kids really, REALLY prefer air travel to car travel. We had several bouts of car sickness while in Costa Rica, and things really haven't improved since we've been home. We don't give them Dramamine when running errands locally, but I failed to have it on hand for our drive south, which turned out to be problematic.
Beyond the upset tummies, the kids are prone to headaches while in the car. Like, all the time. We've read this could also be motion-related, but I hadn't ever heard of this until the past couple months. The headaches are worse than the nausea, as we end up with grumpy kids for the whole trip rather than one good puke.
I thought about axing the idea of taking a weekend night away each month with the older two after our drive, but they did a lot better on the way home. I'm planning to just power through, and pick places a bit closer to home. We need to get them used to more time in the car. I'll just make sure we always have Dramamine on hand. And Ziplocs for puke-catching.
Visiting my grandparents
After our adventurous drive to the Bay, we chilled in the airport lounge before almost missing our flight. You can find my write-up on our experience over at Points with a Crew: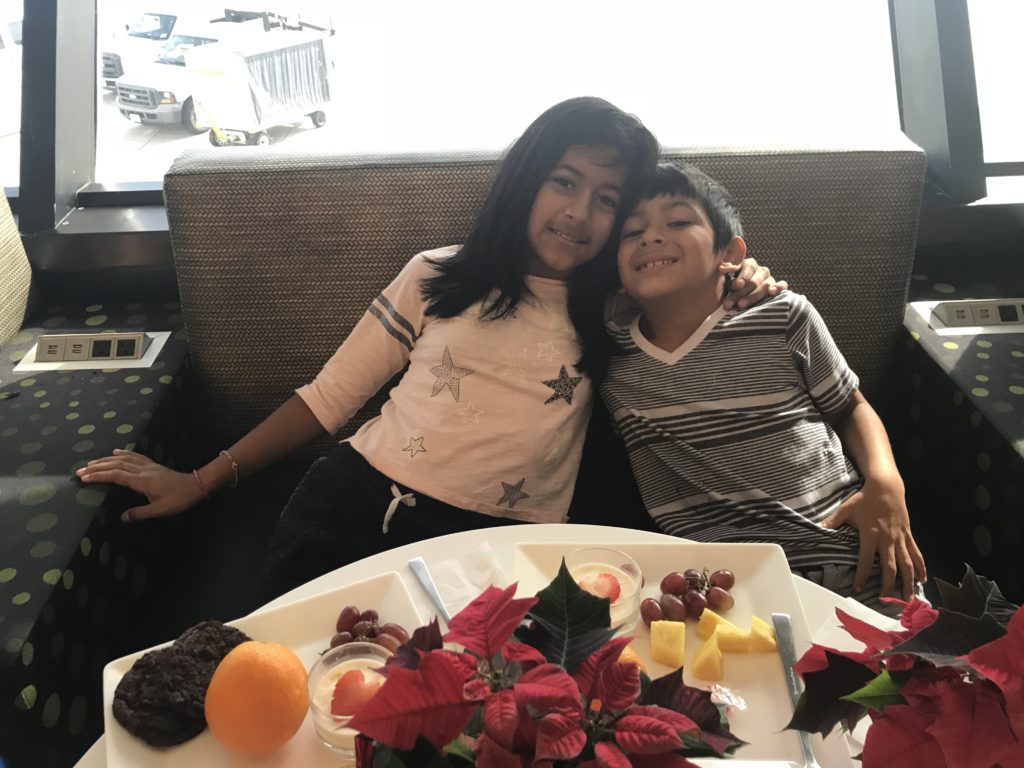 After almost missing our flight (yeah…read that review), we arrived safe and sound in Merced where we were greeted by my grandma and grandpa, our kids' tatarabuelos. The kids were initially shy, as is typical, but they did warm up well to them.
For my part, I really enjoyed catching up with my grandparents. Both have had some health issues in the past year or two, and it was good to see them doing well. Grandma plans to come up soon, so the kids will get to see her again.
Riding a horse!
This was one of the biggest highlights for the kids. My grandparents live outside Merced, in a little town called Cathey's Valley. It is a blip on the map between I-5 and Mariposa along the highway to Yosemite.
The plus to living in the county is that they have 5 acres. And they have a knack for acquiring horses. When I was a teen, they had four. Now they have seven.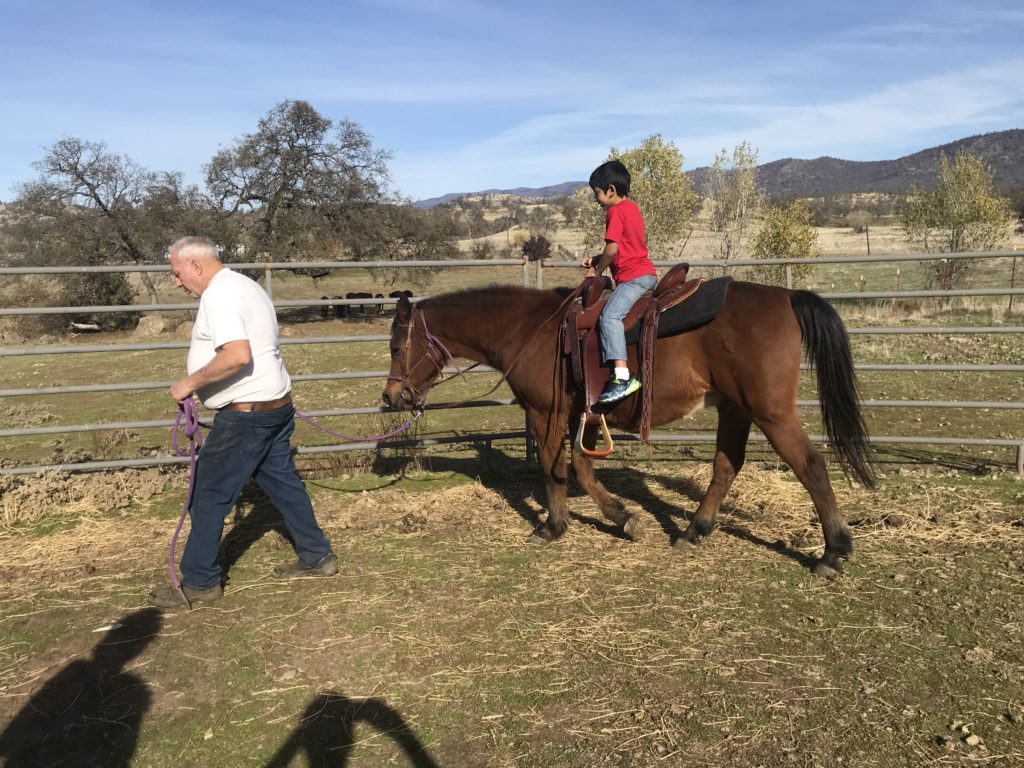 Fortunately, one of them was ride-able. This made the kids' day!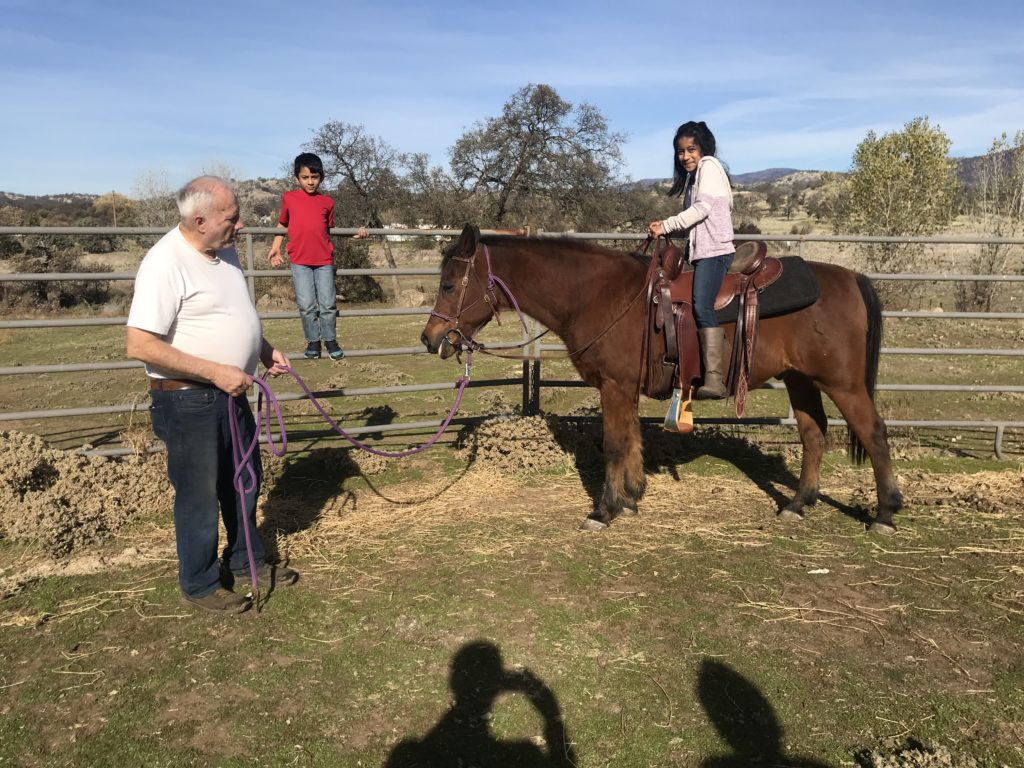 Since the little guy didn't come on the trip, grandma and grandpa sent us home with a stick horse!
Conclusion
Our two nights were over too quickly, and soon we had to head home again. The return drive up 101 was long, and the kids complained. Overall, I still think it was a success and would be willing to do it again.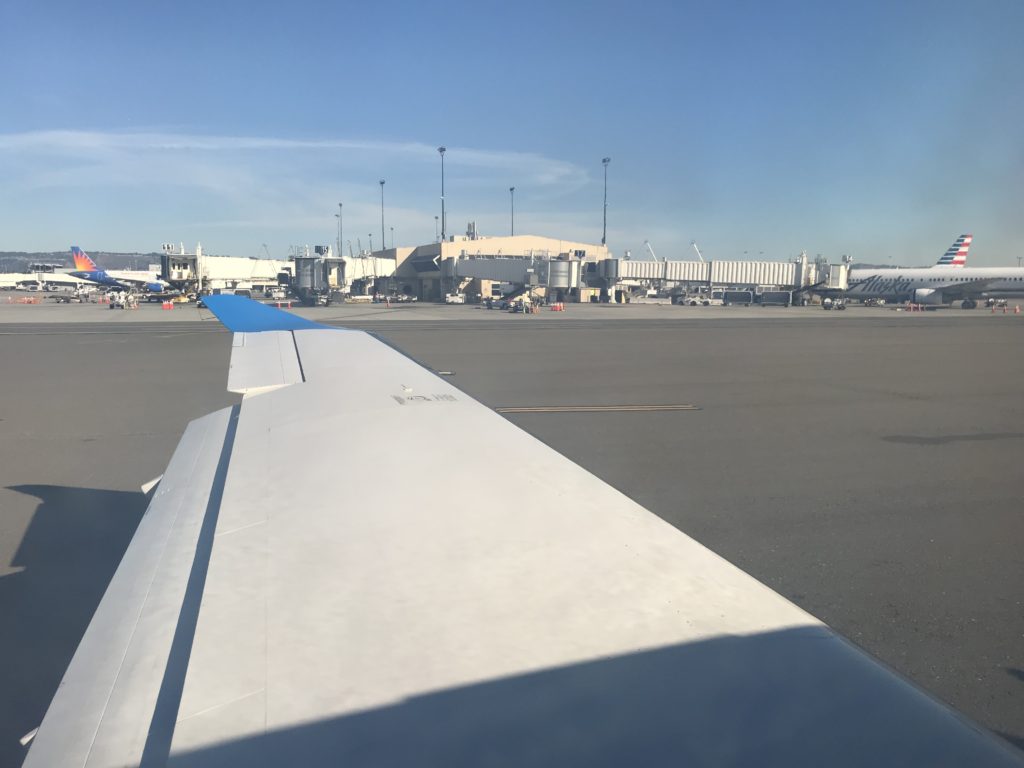 The travel horizons are already looking way more full than I originally  intended. More on that in another post…