One of my favorite things in this hobby is figuring out how to maximize my miles. Earning miles via credit cards is easy enough, but they are only as valuable as you make them.
Alaska MileagePlan is one of my favorite award programs. Back in late 2016, they rolled out new distance-based awards, both reducing the price on many awards and raising the "cap" on others in high demand. The new awards are called a hop, skip, jump, and leap, based on the distance traveled. Here's the chart: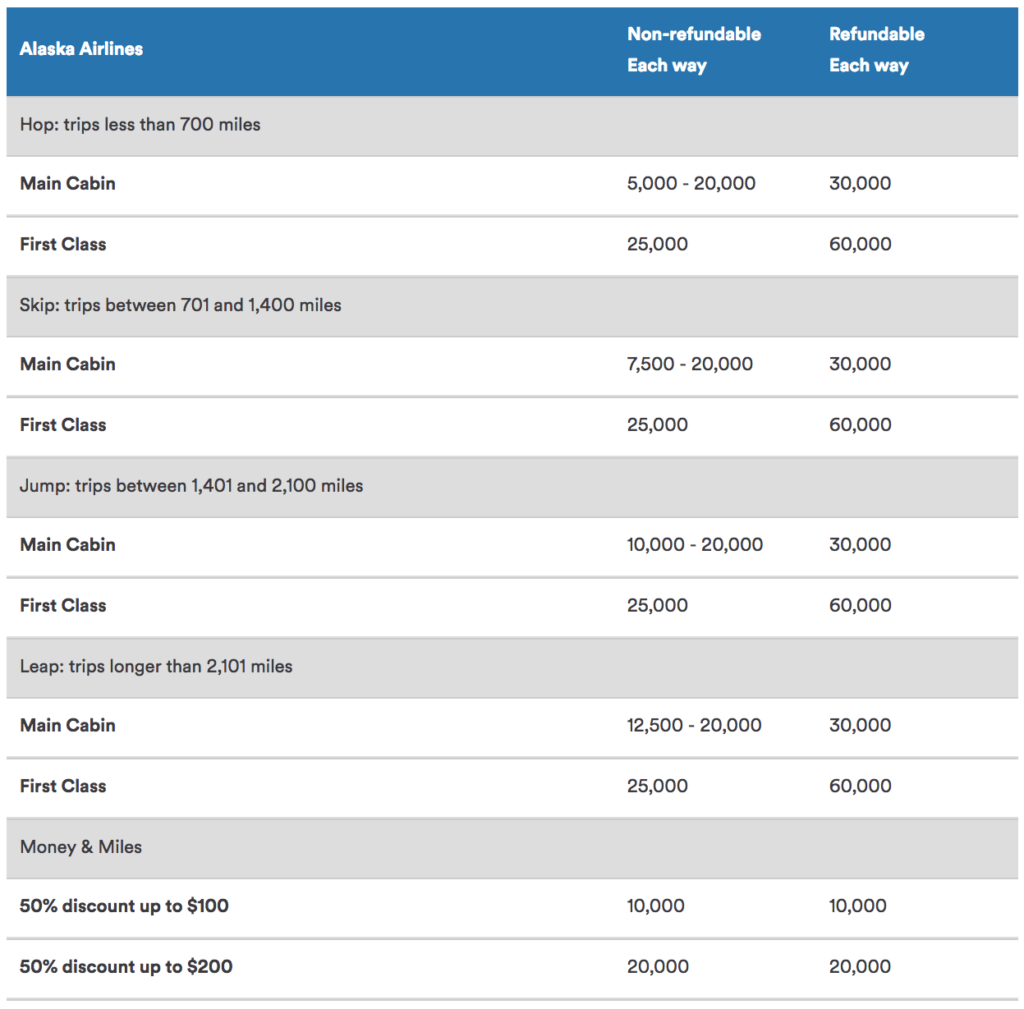 Overall, I think consumers came out slightly ahead. Especially if they know how to maximize Alaska's award routing rules. Here are some great options to explore with your Alaska miles:
Scenario 1: The one-way "round-trip"
One of the most unique things about Alaska Airlines award tickets is that they offer a stopover on a one-way award. Granted, the stopover has to be in one of their hubs, or a hub of a partner. I've found a few awards that break this rule, but it generally holds true.
However, if you're interested in traveling to one of their hubs (think Seattle, Portland, Los Angeles, and Anchorage), you can often use this to your advantage.
Consider for a second that you want to visit Seattle from the Silicon Valley. At a distance of 696 miles from San Jose, a one-way flight *barely* qualifies for the lowest level Alaska award of 5,000 miles. But you can actually book a "round-trip" on a one-way ticket, if you're willing to get creative.
Instead of booking a round-trip award to and from San Jose for a total of 10,000 miles, use the multi-search tool to add a different, but (sorta) close return airport, say Reno, Nevada. Looks like you even get to fly through Boise, for a total flight distance of 1,696 flown miles.

You'd expect this ticket to price out at 10,000 miles, given the flight distance. But it turns out Alaska prices award tickets on their own metal simply by distance between origin and destination! Because Reno and SJC are much less than 700 miles apart, this award will price out a 5,000 miles at the lowest level!
Now you just have to get yourself home to San Jose from Reno.  You could easily catch a cheap flight back, or maybe take Amtrak.

Sure, this may not be a desirable trip for many people, but what if you wanted to see Tahoe for a bit before heading back to the Bay? It could be just the ticket for you. You're only looking at 5,000 miles and $70 for a two-stop vacation!
I'm mainly using this example as an illustration, although my wife and I did fly a "one-way" award from Arcata to the Bay Area, with a convenient stop in Portland to meet up with our in-laws (SEE: The Pacific Northwest Stopover Trick).
Scenario 2: The two-stop hop (aka the "in-laws")
I've definitely had my in-laws in mind when considering some of the potential in the Alaska program. My mother-in-law often visits family in San Diego, typically flying out of the tiny Sonoma County (STS) airport. Since the route is under 700 miles, it prices out at 5,000 Alaska MileagePlan miles one-way.
But what if she and my father-in-law want to visit, say, Seattle for a few days, before heading to sunny southern California?
Utilizing Alaska's amazing stopover on one-way tickets, you can actually book STS-SEA-SAN as a one-way ticket for the same 5,000 miles!

This is especially crazy given that the SEA-SAN flight distance is 1,050 miles and rings in at 7,500 award miles when booked by itself. Again, Alaska actually prices it based on the STS-SAN distance.
Tack on a cheap one-way, or another 5,000 mile award flight back to STS from San Diego, and you have a two destination vacation for a mere 10,000 miles. Not sure you can beat that.
Like the San Jose to Reno example, all you need to find is a cheap ticket back to Santa Rosa. Or you can burn another 5,000 miles, which will probably be worth it in this case. It's still 10,000 miles for a two-destination vacation!
Scenario 3: The home "stopover"
Things get even more creative if you live in one of Alaska Airlines' main hubs. Especially Seattle or Portland. The award routing rules are extremely advantageous.
Consider the scenario where you are taking two vacations in the western U.S. in the next several months. Say, one to San Francisco and the other to Las Vegas.
Instead of booking two round-trip awards, book a one-way for your first leg. Cash tickets for this route are competitive, so they may be the way to go instead.
Next, book your return, but combine it with your outbound to Las Vegas on the same one-way award (use the multi-city search tool). Bingo. Your "stopover" is now your several weeks at home between trips. And it is a crazy cheap 5,000 miles!

Now all you have to do is book your final leg and you've saved yourself up to 7,500 Alaska miles, the normal price of a SEA-LAS flight! Maybe later in the year you have a trip to Denver and another to Salt Lake City. You can pull this stunt again!

Scenario 4: Hawaii and a transcon on the same one-way
Let's take the home stopover one step further. While useful before, this trick becomes even more lucrative if you combine a Hawaii trip with a transcontinental flight. For this example I still have to assume you live in an Alaska hub.
Imagine for a moment that you're booking an award to Hawaii. If you're located on the West Coast (I'm assuming you live in Seattle), hopefully you're considering using British Airways Avios. They are generally the best currency for flying West Coast to Hawaii.
But what if you have a trip planned to the Big Apple a month after your Hawaii trip? Hold those Avios for a moment. Alaska miles will get you further, again with their amazing stopover.
If you plan this right, you can essentially get *both* one-way tickets on the same award, spanning two different trips.
Plan your outbound as a one-way with Avios (12,500 per ticket), and then plan your inbound as a one-way Alaska award for 17,500 MileagePlan miles. Add in a stopover in Seattle that spans your time at home.

Voila. You now have a one-way ticket back home from Hawaii, and then a one-way ticket to NYC, all for the less than a single flight to Hawaii would cost with many other mileage currencies.
Is it an awful red-eye? Yes. But for 17,500 miles, you can't really complain (I'm sure you can find better flights if you book far in advance). Here's another:

Honolulu back home to San Jose, before taking off for Alaska on another adventure.
Scenario 5: Rural Alaska
Flying to rural Alaska doesn't really require any interesting "hacks" per se, but I find it is a fantastic use of Alaska miles. You can head to Barrow to experience 24-hour daylight, or maybe go hiking in Nome.
I mention rural Alaska since cash tickets are often super expensive. Consider this round trip between the Bay Area and Dutch Harbor. You'll almost certainly spend over $1,000 on a cash ticket, if not closer to $1,500. You can fly the same trip for a mere 25,000 MileagePlan miles round-trip. Consider hanging out in Anchorage for a few days as well with your free stopover.

Frustratingly, there is far less award space available at the lowest level than there was last year. Because Alaska offers variable award pricing, you'll probably end up paying more like 20,000 miles for the ticket. Still, this can make sense for destinations in rural Alaska that cost a ridiculous amount in cash.
A few issues
Annoyingly, Alaska Airlines still doesn't recognize Bay Area airports as a "hub" for award routing stopover purposes under most circumstances. Given that the airline has bought Virgin America, I wish they would change this.
The system also knows some airports are co-located. You can't book a "one-way" ticket from SFO to Oakland with a stop in Portland. Nor can you even return to Sacramento or Santa Rosa from the Bay. MileagePlan would be a gold mine if their system allowed these tickets.
Conclusion
I hope this has been useful in showing you how to unlock the potential of Alaska miles. Overall, the award price changes to the Alaska program have been good, but there are some quirks. Personally, I wish they would price awards on PenAir out of Arcata airport better.
If you're not interested in domestic travel, there are a number of possibilities for using Alaska miles for some great premium products, like JAL and Cathay Pacific to Asia, and AirFrance and KLM to Europe. Business class awards to India on Emirates are also a decent deal.
Header image courtesy of Frank Kovalcheck under CC 2.0 license.