Hi, I'm Ian.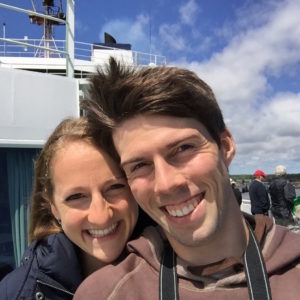 And I love to travel. For most of my adventures my darling wife is along for the ride. We aren't one of those crazy families who does nothing but travel (see my post on the Macombers), but we maintain it as a healthy hobby. There is a lot to life. Family and making a living will always come first, even though seeing the world is a real passion of mine.
I also love the beautiful coastal valley in which my family and I live, and we hope to call it home for many years. Part of the dynamic of setting out on an adventure is returning home again. Whether I am gone for just a few days or well over a month, returning home always elicits a wonderful feeling of contentment.
Over the years I have become far more adept at my traveling hobby through the use of miles and points. Starting with our honeymoon in 2012, my wife and I have been able to take adventures well beyond our normal financial means. Our adventures have taken me to such interesting places as the highlands of Scotland, the rugged isle of Newfoundland, the rolling hills of Tuscany, and the plains of Russia. I even made it to the land down under. We have also been on numerous trips domestically within the United States.
Most of these experiences have been paid for either partially or overwhelmingly with rewards obtained via credit cards and travel loyalty programs. This is one of the primary things I wish to share with readers. Affordable travel is within easy reach, if you know how to play the game. The articles in the Beginner's Guide are a good place to start.
One added benefit is the fact that I currently have a fairly flexible job. A large percentage of my work can be done from a laptop anywhere in the world, as long as I have a reliable internet connection. In our technological age, this means essentially any reasonably populated area. Yes, there would certainly be severe limitations if one was backpacking in Alaska or taking a safari in the Serengeti, but these are edge cases to most of the traveling that we do. The ability to be flexible in work location and hours has allowed my wife and I to greatly extend our time away from home. Working for 4-6 hours per day for a few days in a new place still gives you a lot of hours to explore! And the funny thing is, I often focus better working from a coffee shop in a new city than I do in my office.
At this point I am not sure where this love of traveling will take me, literally. My wife shakes her head when I have her apply for new credit cards. "You want me to get another credit card?!" "Yes! We can earn 80,000 IHG points with this one. That's anywhere from 2-16 free hotel nights!" I get that crazy look from her, but she willingly goes along since she knows how much we can do with the points. Plus, she loves me. Her love is easily reciprocated since she is simply the most lovable and wonderful wife a man could ever ask for. Period. I thank God for her often. My love for traveling has nothing on my love for her.
Far more than any love for traveling, however, and even above my wife, is my love for my Savior, Jesus Christ. The fact that this world exists, that I exist, and that there is meaning in life, is because of Him. He purchased me by His death on the cross, taking the punishment for my sin upon himself so that God the Father could be both merciful, in that he pardoned me, and just, in that my sin was atoned for by Christ. My life is committed to Him. If you know anything about me, this is what I want you to know. A decent portion of my international travel has been to do ministry, encourage believers, and to share the Gospel of Christ with others. I pray that you do know Him, or that you will seek to know Him. Ask me anytime here.
Thanks for visiting,
Ian Snyder
Hometown: Ferndale, California
Favorite Places:
San Marino
Edinburgh, Scotland
Gros Morne National Park, Newfoundland
Sedona, Arizona
Niagara Falls
Blue Mountains, Australia
Hope to See Someday:
Malta
Switzerland
Norway
New Zealand
Hokkaido, Japan
Nepal
The Pyramids in Egypt
Machu Picchu
Tahiti
Mongolia
Iceland
Armenia
Tierra Del Fuego and Patagonia