Location: Pahrump, Nevada. Never heard of it?
Overall rating: 10/10
Pros: Very clean, bright, airy, comfortable rooms
Cons: It's in Pahrump?
After you get done asking, "where is Pahrump?",  you might immediately wonder why I would bother reviewing a hotel there. Well…I didn't expect to. But it made me want to (although the post has been sitting in my drafts forever). So here it is.
Pahrump is a city west of Las Vegas along Highway 160. It is along the route to Death Valley, at it made a convenient stopping point for the night after spending a morning enjoying the hotel pool in Las Vegas and an afternoon in Red Rock Canyon National Conservation Area (SEE: The Easiest Hike in Red Rock Canyon National Conservation Area).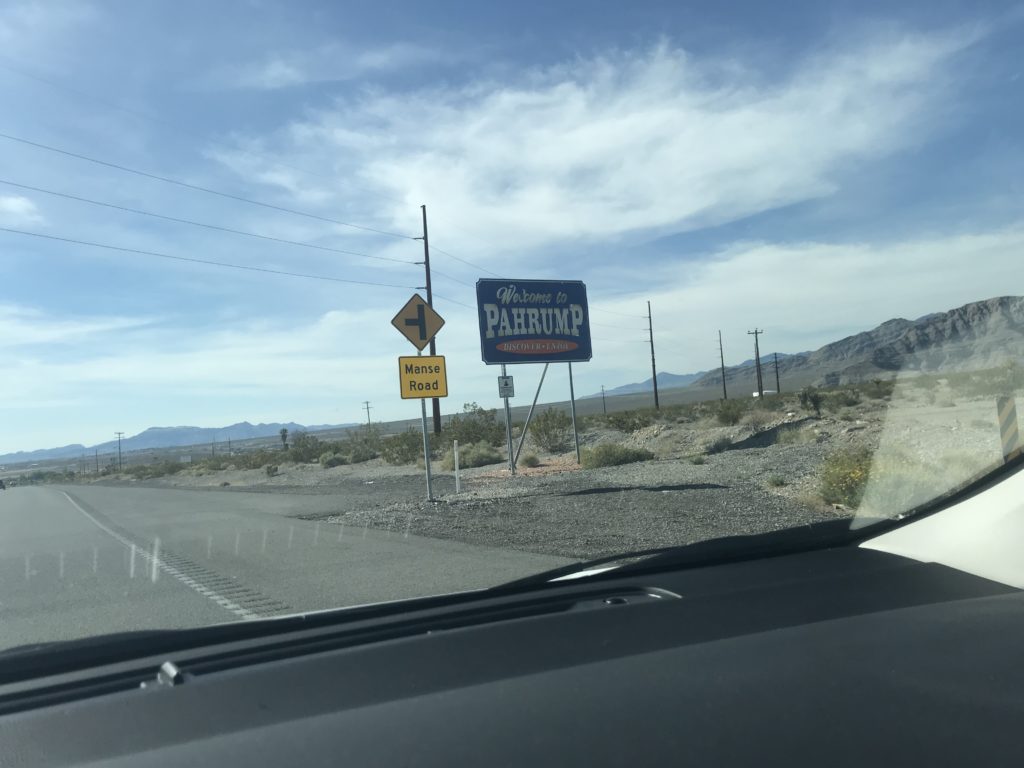 Holiday Inn Express hotels are generally very cookie cutter. They are almost all the same style concrete tower, offer the same amenities, and the same breakfast. If you like consistency, they are one of the best brands for it. They do differ a little bit in Europe, but you can expect a consistent experience there as well. Just different.
But sometimes you get a bit of an outlier, and the Holiday Inn Express Pahrump is one of those. I booked the hotel for 20,000 IHG points. Cash rates were about $120 the night I booked, so it was a fairly run-of-the-mill redemption. Rates can vary, but begin as low as about $90 before taxes from what have seen. Expect spring to be a bit more and midsummer to be pretty low.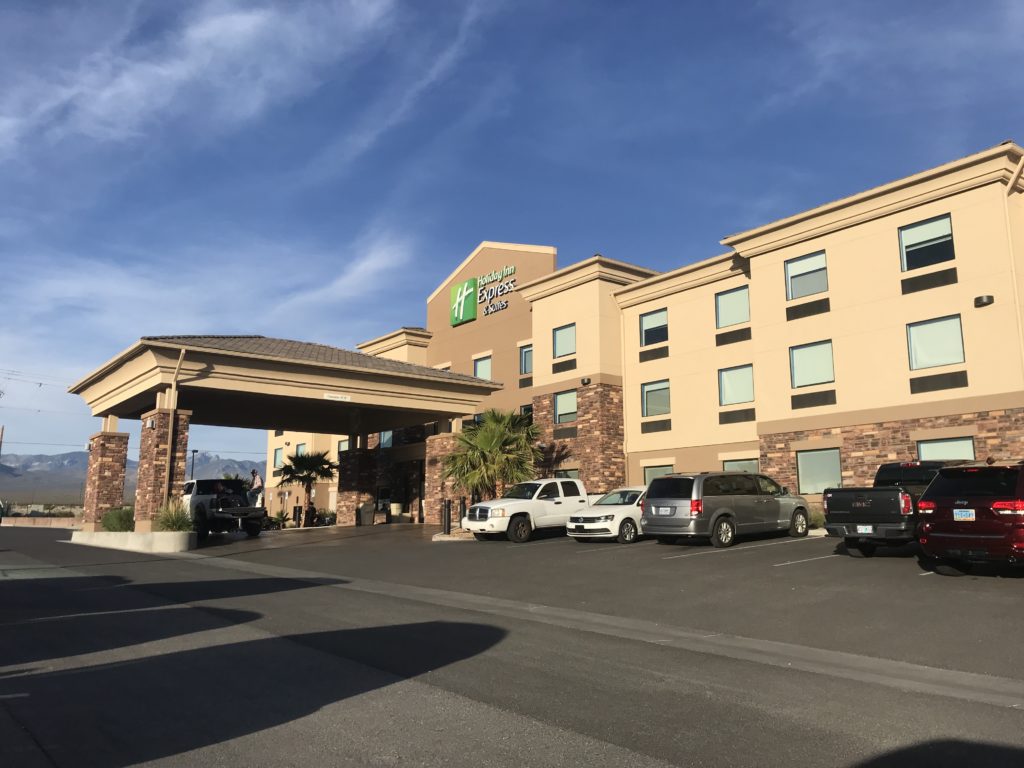 Arriving at the Holiday Inn Express Pahrump
We arrived in Pahrump after an hour drive from Red Rock Canyon National Conservation Area.  It is roughly 1:15 to Las Vegas, and about the same to Death Valley (a little more to Badwater Basin and the lowest point in North America). If you're considering visiting Death Valley and don't want to stay right in the valley, it's not a bad option.
There's not a lot to Pahrump. You're essentially in the middle of a desert that nobody in their right mind would settle. Yet people did. Between the chronic water problems and the nothingness surrounding you, it's no wonder real estate here is pretty affordable.
Walking into the hotel and checking in, it struck me how clean and new the Holiday Inn Express Pahrump feels. The lobby also has a bit more character than many other Holiday Inn Express hotels I've stayed at. I typically judge hotel lobbies by how inviting they would be for hanging out and socializing, and this was was a step up from most of their sister hotels.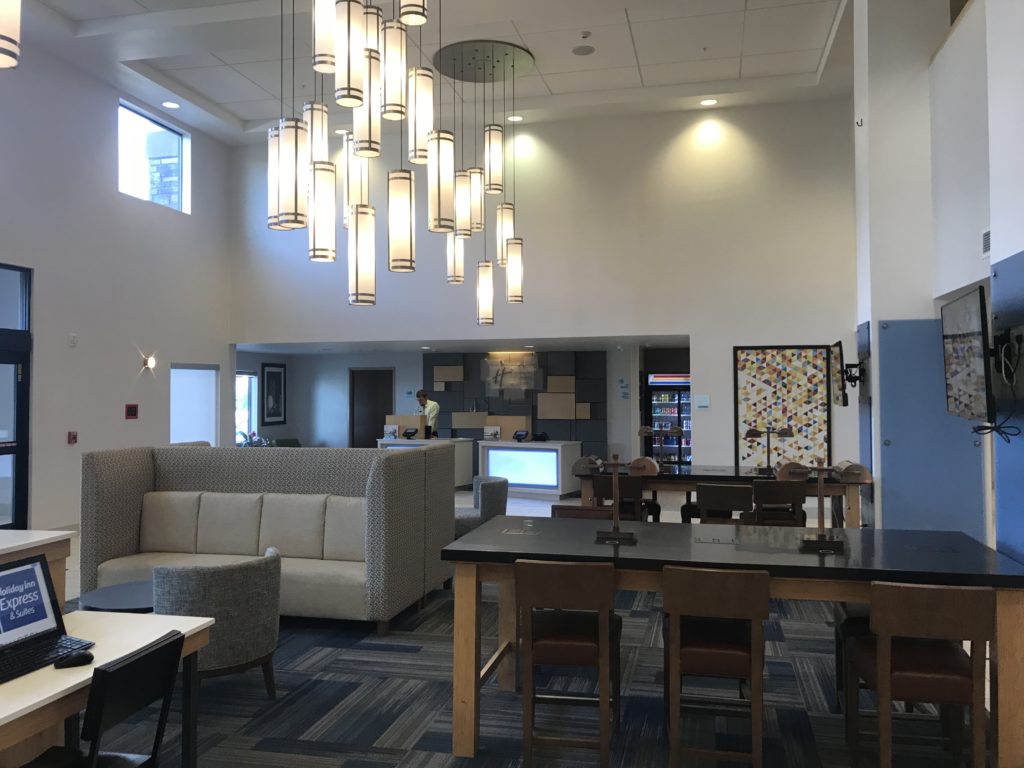 Check-in was very quick and easy and the agent super polite. He welcomed us to the hotel and asked why we were in town. This is a fairly common question, but it amused me a bit considering where we were. I wonder if the typical reason is "just passing through" or if there is some other draw to Pahrump. Or more likely he is honestly curious what attracts visitors to this little desert town.
Queen-Queen Room
My thoughts about the cleanliness and newness of the Holiday Inn Express Pahrump continued as we entered our room on the third floor. The hallways are in great condition, just like the lobby.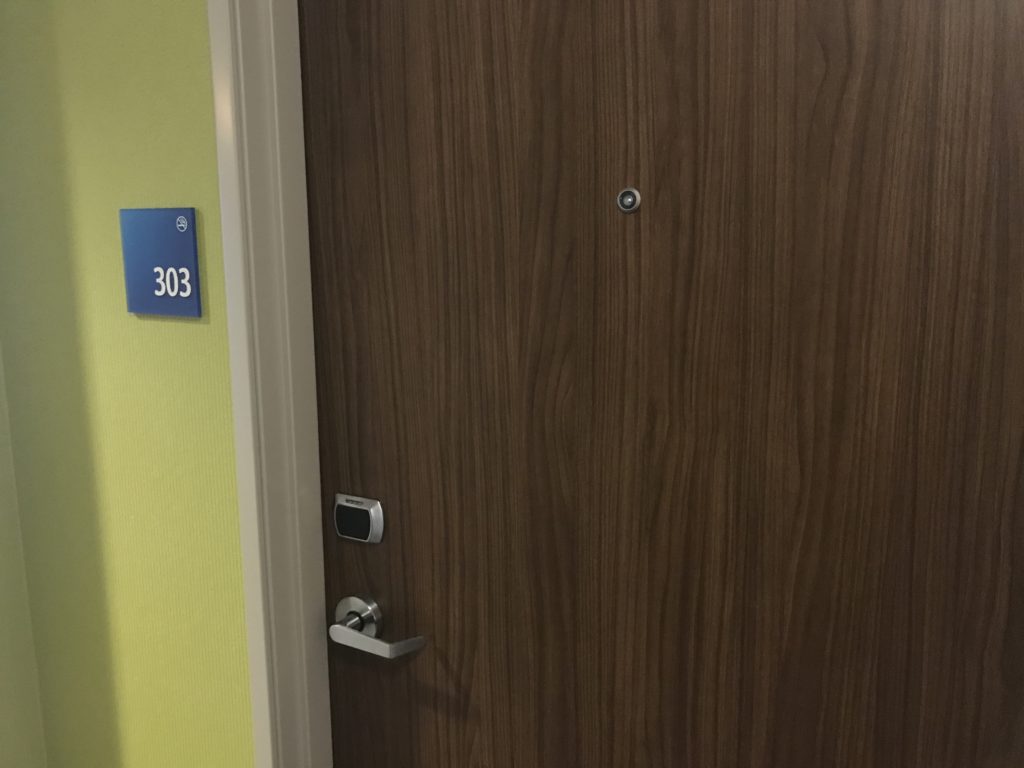 In the entry there is a little corner counter, opposite the mini-fridge and coffee maker, all standard parts of a typical Holiday Inn Express room. The $20 Walmart luggage and Tutu the dog are not included.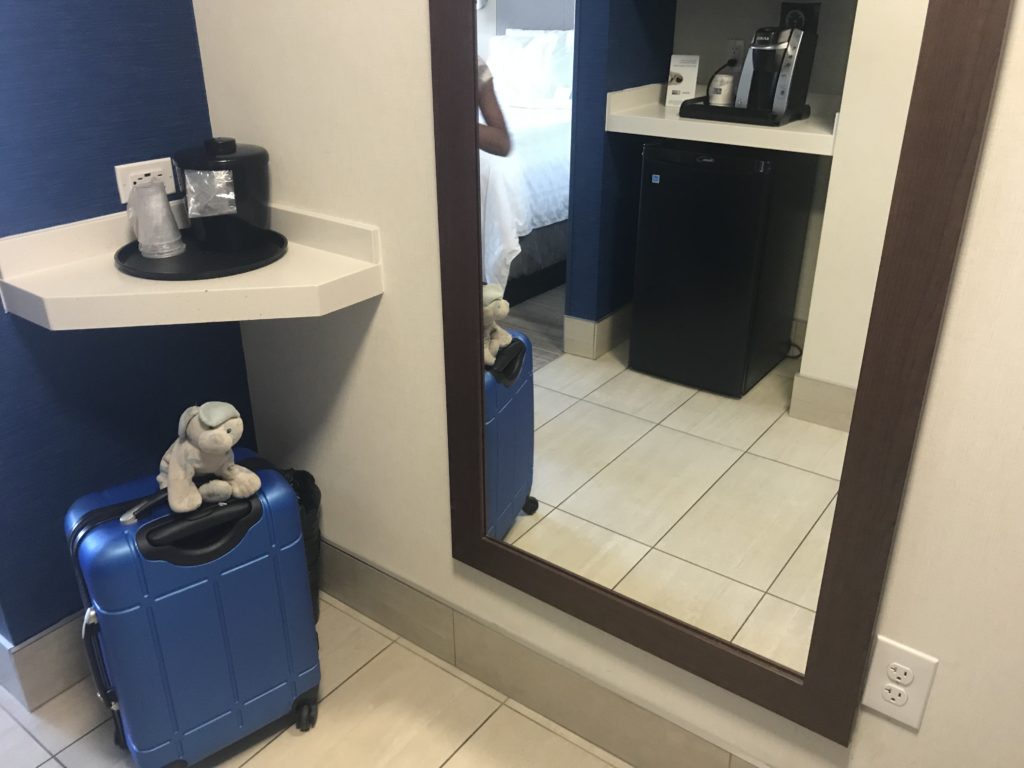 It is a pretty typical design, but everything seemed very nice. There is also a microwave, which I don't believe is something that every Holiday Inn Express includes. Maybe I don't notice. We never use it.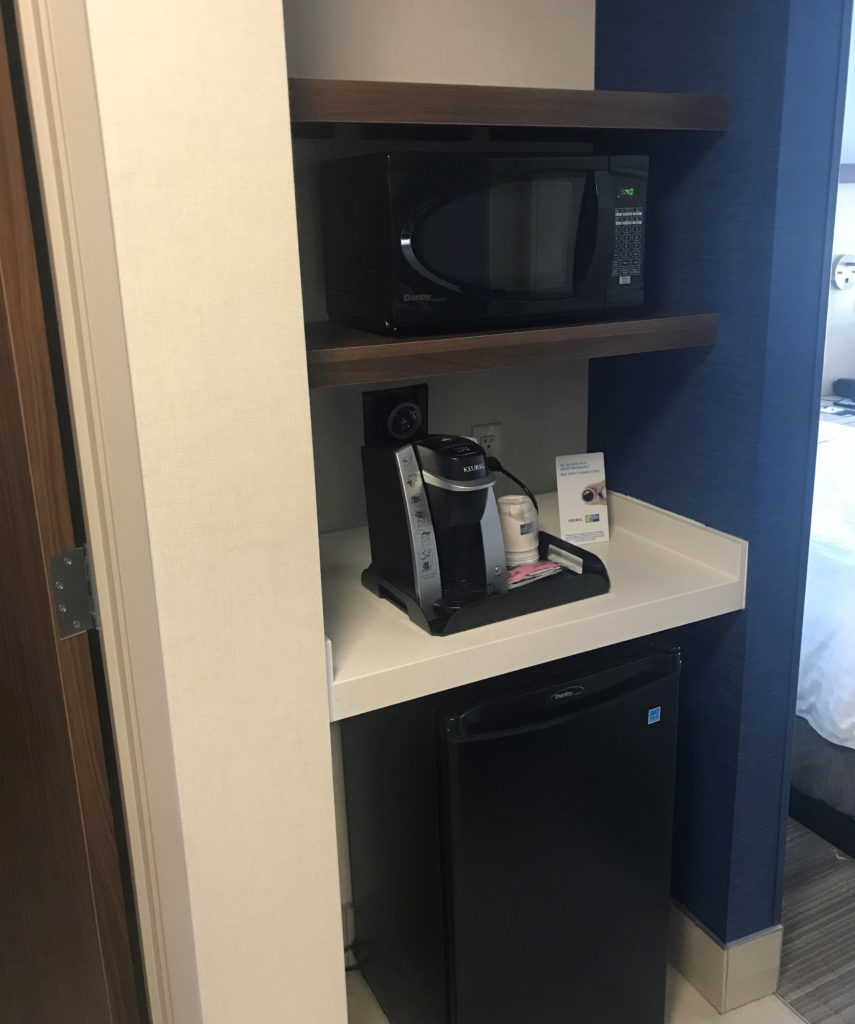 The rest of the room was what surprised me. The design of the desk, luggage space, and dresser and rack for clothes are beyond anything I've ever seen at any other Holiday Inn Express. All items were sturdy, clean, and appeared new. Even with three different bags, it was easy to stay organized and nice not to have any luggage on the floor.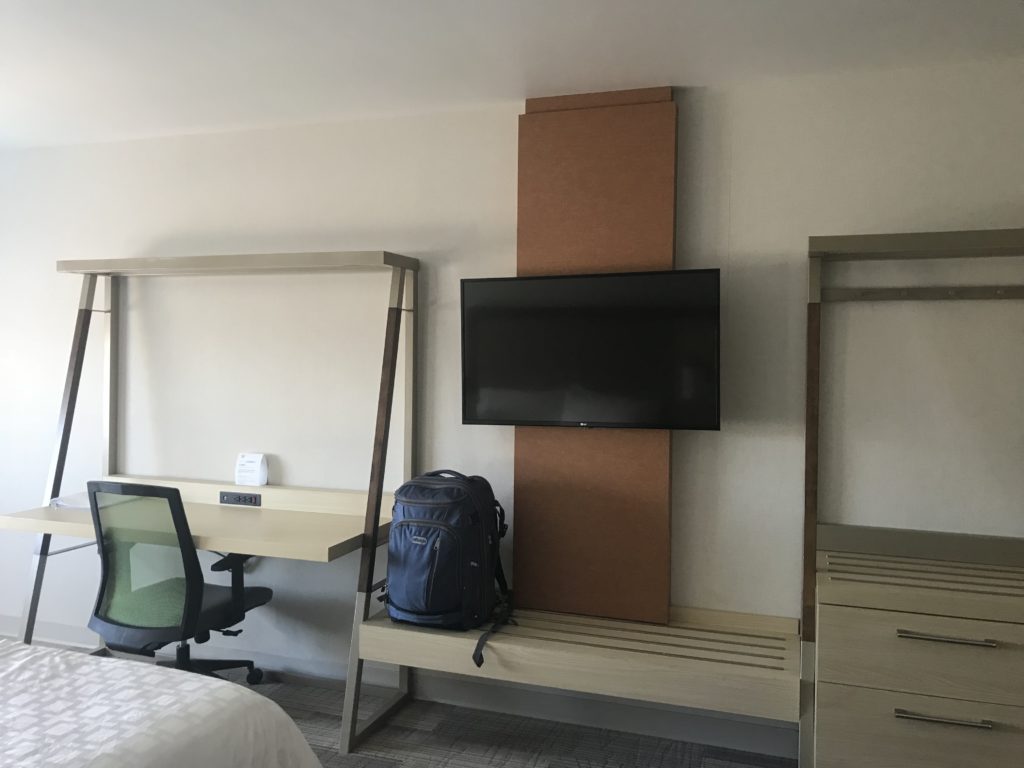 In the corner is a sofa/daybed that my son instantly claimed as his. He is a fickle one. Sometimes he wants to share the bed with me. Other times he wants to sleep in awkward spots like this. Only one thing is for certain: he never prefers an actual sofa bed. At least him sleeping here means a better night of sleep for me.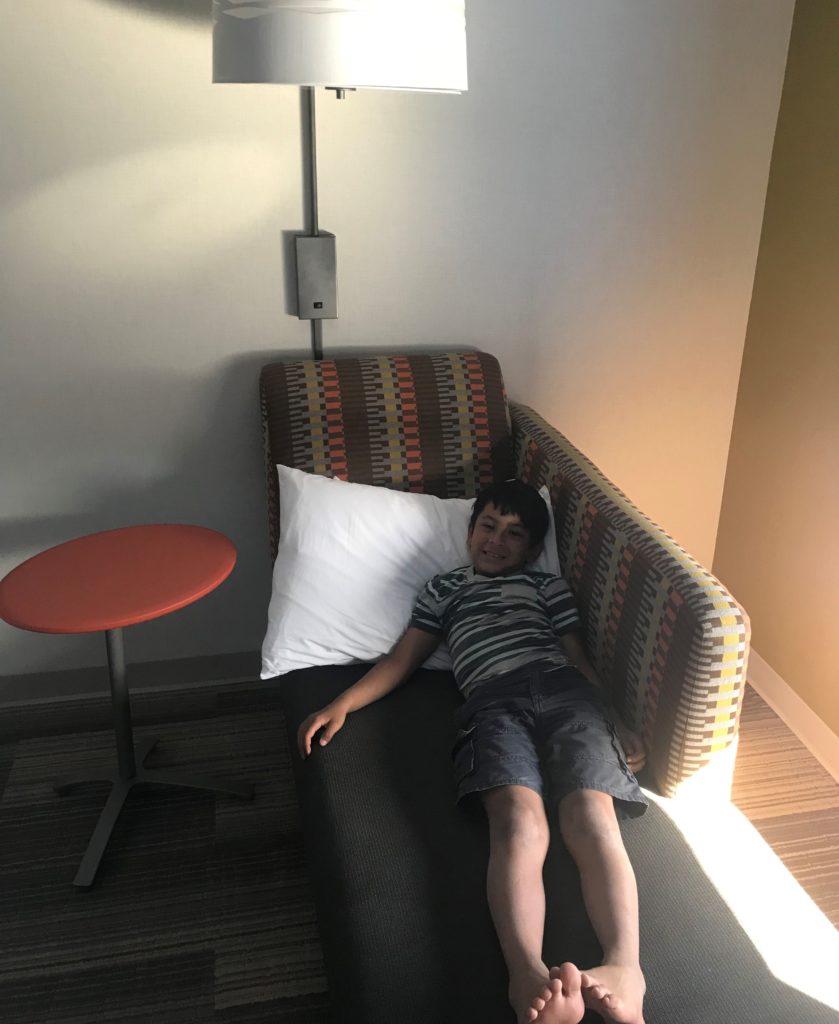 The bathroom was just as clean and nice as the rest of the hotel, albeit a very typical tub/shower and plain sink Holiday Inn Express design.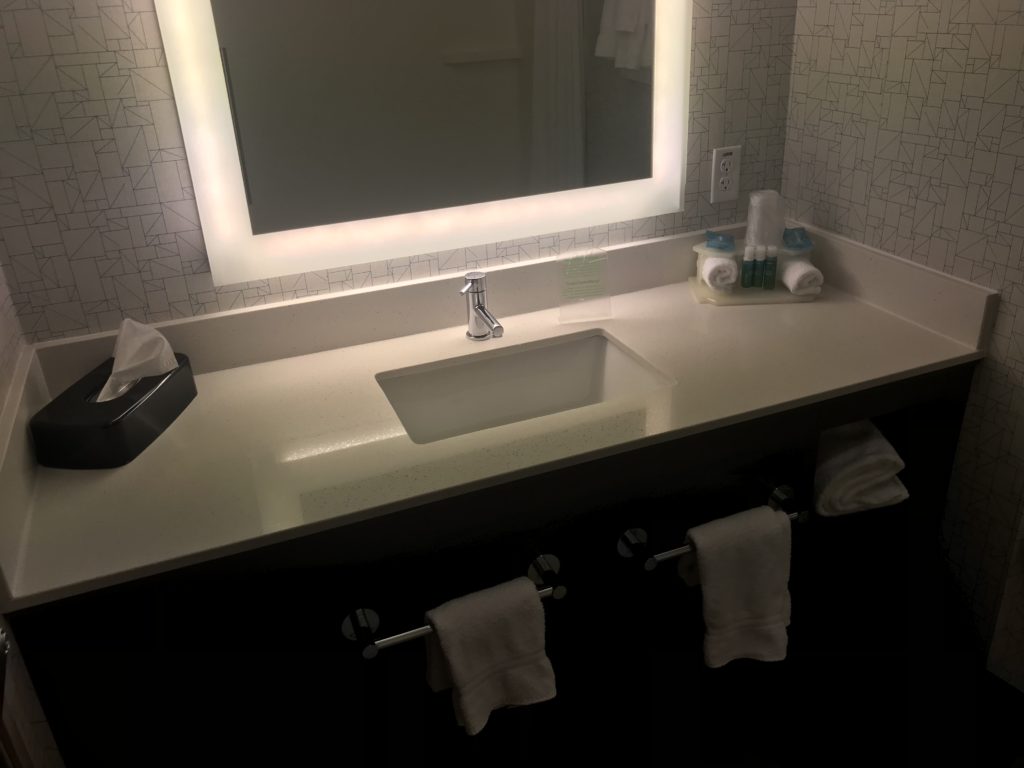 Our room also enjoyed a view of the pool below, nicely shielded from the afternoon sun by the hotel itself. The pool was our first stop after we got settled.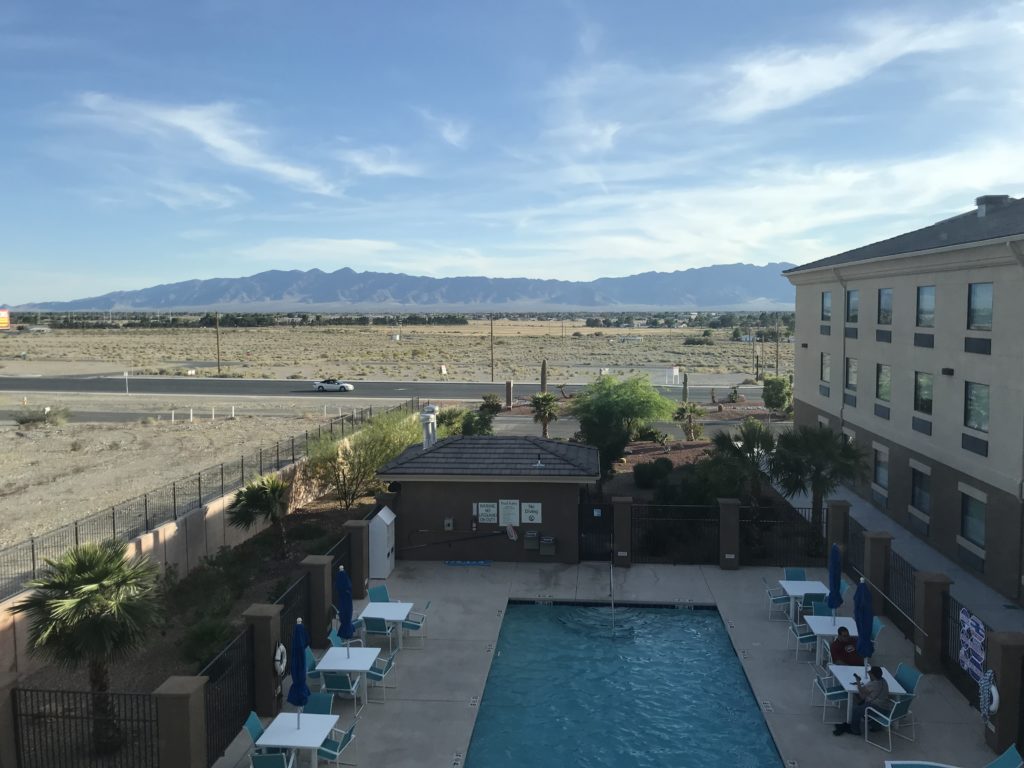 Hotel Pool
The Holiday Inn Express Pahrump offers an outdoor pool that is lovely on a warm spring day. I'm sure it's nice as well in midsummer, if the desert heat doesn't kill you before you reach it.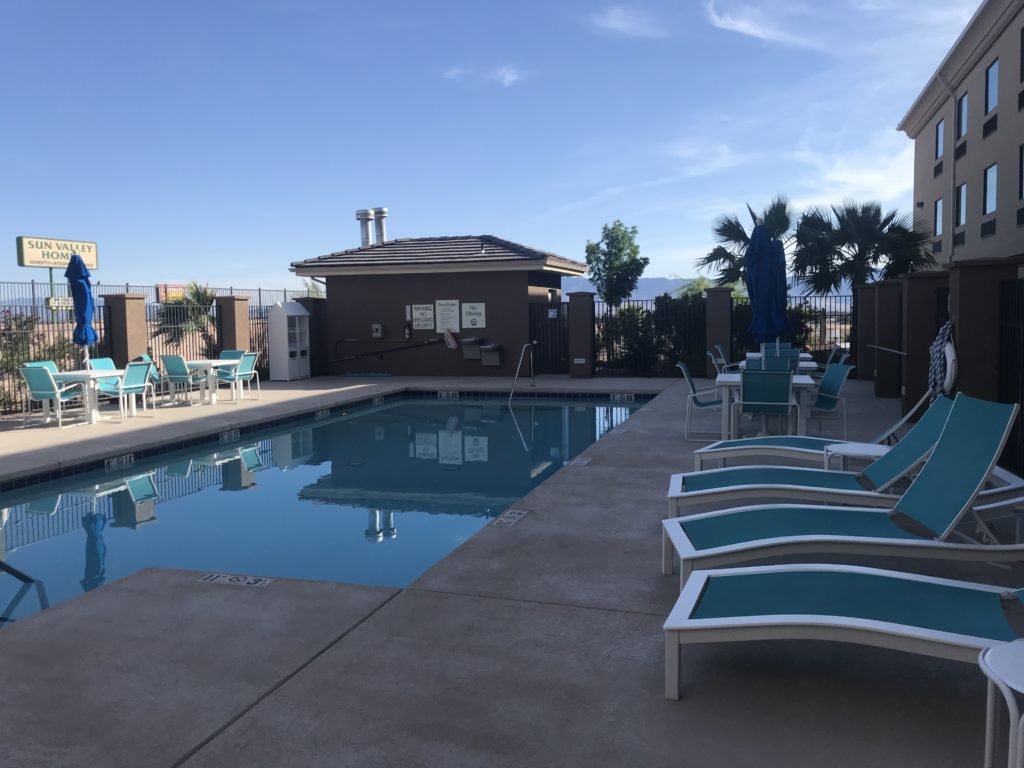 The kids had a nice swim. I sat down with a cup of coffee and enjoyed the warmth in the shade for a while before jumping in myself. We did all jump in the hot tub as well, but it is a bit nonsensical on a warm day in the sun!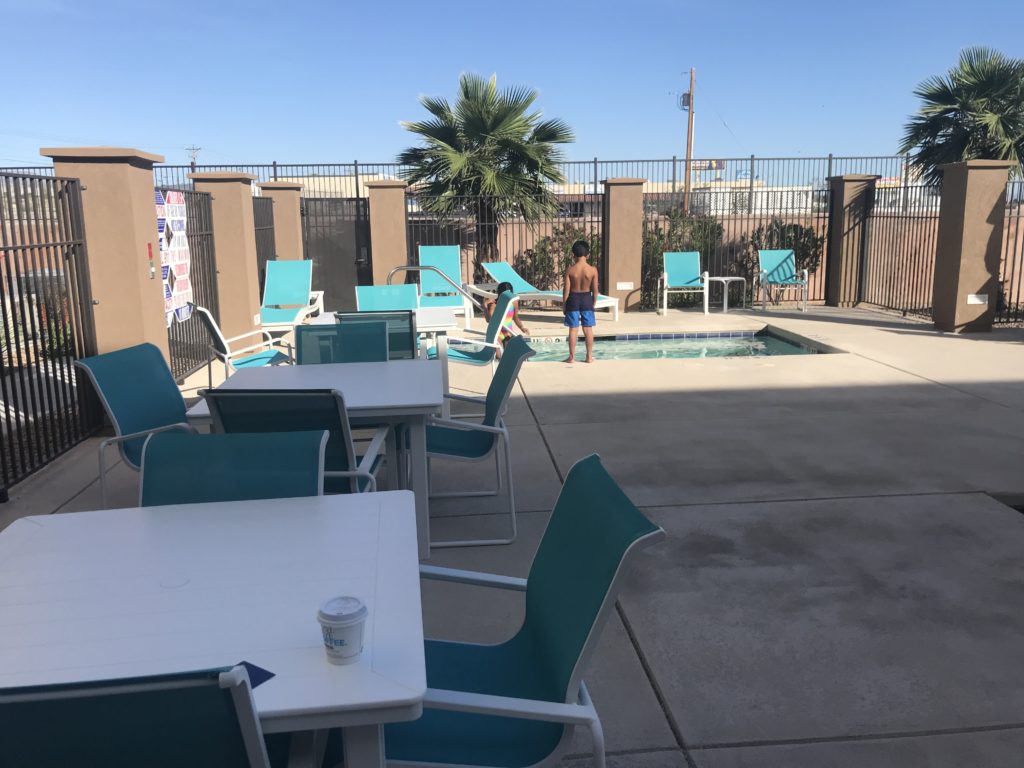 Like the interior of the hotel, the pool area was very clean and well-maintained.
Breakfast at the Holiday Inn Express Pahrump
The Holiday Inn Express Pahrump offers the free breakfast that is standard for the brand. For domestic hotels, this typically includes eggs, sausage, yogurt, cereal, a couple bread and pastry options, and the iconic cinnamon rolls.
Nothing stood out about breakfast, but it was still good. It is nice to know that Holiday Inn Express hotels in the U.S. provide a consistent experience.
Things to do in Pahrump?
Don't laugh. I gotta include something, don't I? If you're looking to gamble, there is of course a casino, but I don't know of anything else off the bat in Pahrump itself that might be a draw. And I personally don't find gambling a draw anyway, and would prefer to never, ever visit Las Vegas again.
The two points of interest for which the Holiday Inn Express Pahrump would be a great base are Red Rock Canyon National Conservation Area and Death Valley National Park. We visited both of these places, and thoroughly enjoyed our time in each, however brief. I would love to come back and explore more of Death Valley, hopefully when Dante's View is actually open. And the Holiday Inn Express Pahrump would probably be my top choice of hotel if we don't decide to stay right in the valley.
Conclusion
The Holiday Inn Express Pahrump is definitely the nicest Holiday Inn Express hotel at which I've ever stayed. The one we stayed at at Charles de Gaulle airport is a close second (SEE: Holiday Inn Express CDG Airport Review), but I'll still give the edge to the one in Pahrump.
The room was more modern and more comfortable than pretty much any other HIE I've visited. The amenities were still the same, but the level of newness, modernness and cleanliness thoroughly impressed me. There are few properties, especially in the mid-scale range, that have felt this nice. The hotel is fairly new. I believe it opened in 2015. But management has been able to make it feel like it could have opened just a couple months prior.
If we ever happen to pass through Pahrump again (as doubtful as that is), the Holiday Inn Express Pahrump will be where we stay.