During our Southwest road trip this past April, my kids and I stayed with two brands that consistently meet all my expectations: Hyatt Place and Hampton Inn. One is Hyatt's most budget option and the other is part of the Hilton portfolio, but both are great mid-range choices for families.
Why I love everything about Hyatt Place
If you're looking for a hotel that will get you the perfect combination of amenities for a family, look no further than Hyatt Place. Hyatt Place topped my list of 5 best hotel chains for families of 5 (or more) due to their near perfect set of amenities. The only thing they are lacking is a kitchen (which would pretty much make them a Hyatt House).
I've been to only a few Hyatt Place hotels, but every one has been great. They have a clean, modern appearance that is particularly inviting. Every lobby has been welcoming as a place to either meet up with someone or get some work done. The rooms are spacious and typically include a sofa and sitting area in addition to the bed(s). Breakfast is a few notches above the basics found at a Holiday Inn Express.
One of the best Hyatt Place features is that some block rooms for 6 people. Not four. Not five. Six. Yes, I'm serious. Many have a standard queen-queen room with a sofa bed, so you can comfortably sleep everyone. And the room is spacious enough that you don't run into fire code issues. The Hyatt Place Emeryville was the option we chose when we headed back from Costa Rica since there were six of us.
All of this comes at a slight premium. Hyatt Place hotels are usually a tad more expensive than similar hotels. Even for work trips, they are usually just above the allowable price.
But not when you're talking points. Hyatt Place properties are usually Category 1 or 2 properties, which means they cost 5,000 to 8,000 points per night. If you're in an urban area, you may hit Category 3, and there are a few higher than that out there as well. But in general, they are lowest tier. In my opinion, paying 5,000 points for a hotel night is a steal. With the merger of SPG and Marriott, no other award chart even comes close anymore.
During our trip we had one night at the Hyatt Place Tucson Airport. It was as nice as any other Hyatt Place I've stayed at, and one that I would happily stay at again. The Hyatt Place Emeryville still stands as the nicest.
Hampton Inns are a great choice anywhere
Another great standard choice across the board is Hampton Inn. Hampton Inns offer comfortable rooms, free breakfast, and nearly always a pool. With rooms typically offering two queen beds, they can comfortably sleep a small family. My kids loved the pool at the Hampton Inn Tucson.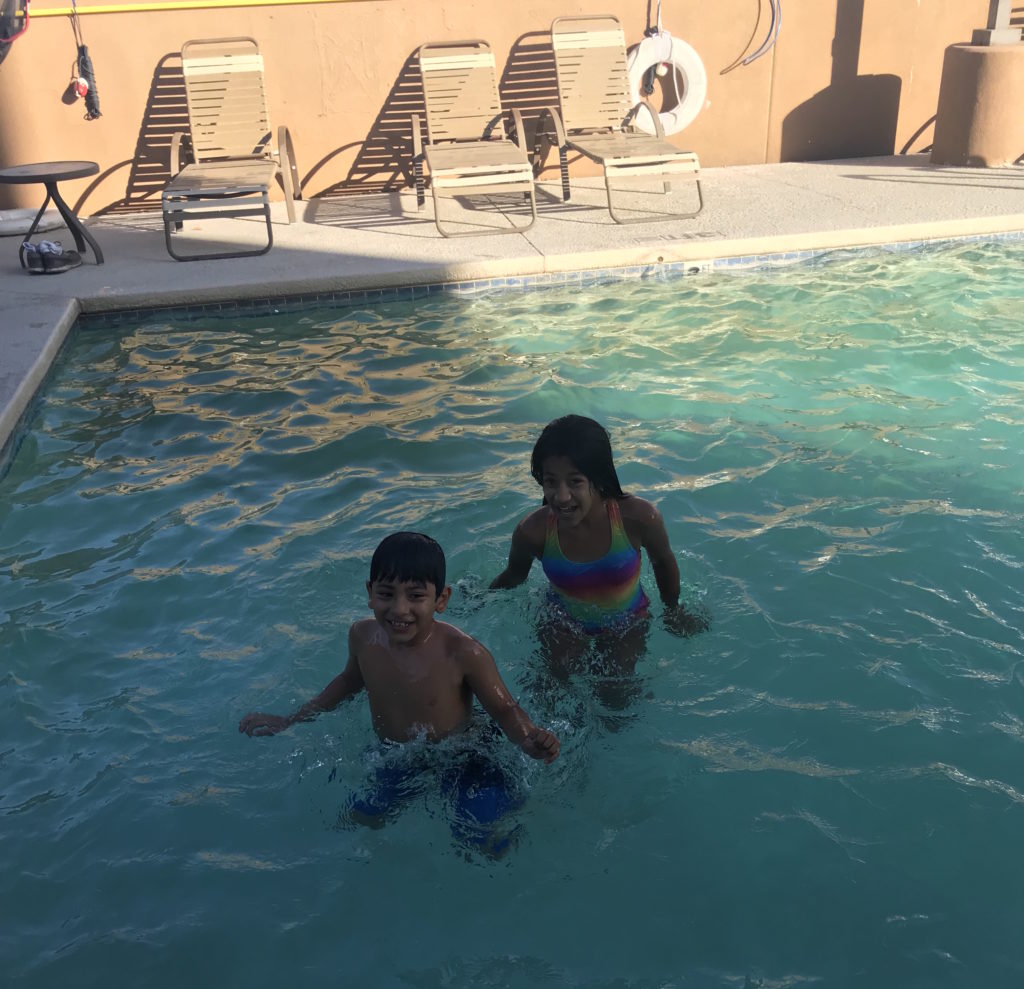 The other nice thing about Hampton Inns is that they are proliferous in the United States. You can find them in almost every large or mid-size city. Most are also reasonably priced, as far as Hilton awards go. I've typically seen Hampton Inns price in the 20,000 to 30,000 point range. Now…you may be thinking: why would I pay 20,000 points for a night when I can get a Hyatt for 5,000 points? Good question.
It really comes down to how you are earning the points and could be a wash. For example, say you have the choice between putting your grocery spend on a Chase Freedom Unlimited. With the no-fee Hilton card, you'll earn 5x Hilton points per dollar. With the Freedom Unlimited, you'll earn 1.5 UR (that can convert to Hyatt points). Assuming you're comparing a 5,000-point Hyatt versus a 20,000-point Hilton, it would take $3,334 of spend to earn a free night at a Hyatt, versus $4,000 of spend for a Hilton. Hyatt still wins, but not by that much.
Final note: Hilton is one of those chains where you get the 5th night free, as long as you have elite status (which is super easy to get via credit card). So if you need to stay longer at a Hampton Inn, that's an extra savings.
Conclusion
There are a number of other family-friendly brands out there, but these are two I wanted to highlight after our trip through the Southwest since we stayed with both of them. Both are solid, although I think Hyatt Place still has the edge.
Do you have a favorite hotel brand you enjoy with your family?