After flying on literally the most ahead-of-schedule United flight I've ever set foot on (SEE: My Kids Magically Fixed United), the kids and I arrived in Tucson late at night. The next morning included getting a rental car from the airport. I'll not let you forget the screaming deal I found on a one-way for our adventure driving back to California (SEE: 2 Tips for Planning a Last Minute Trip).
Our first stop on our first day was Colossal Cave Mountain Park. I'd found the attraction in the brief searching I'd done to find out if there was anything else in Tucson worth seeing besides the Air and Space Museum and Saguaro National Park. Since we'd have a full day to spend, I figured we'd split the time between the museum and the cave.
General Info on Colossal Cave Mountain Park
The park is actually located outside Tucson a good half hour. The easiest access is by taking I-10 east until you reach Exit 279. A left turn will send you onto Colossal Cave Road. From there, you can pretty much follow the signs.
A large arch greets you as you enter the park. The road then turns really rough. It made me wonder what sort of shape the place was in and what the quality of the tour would be like.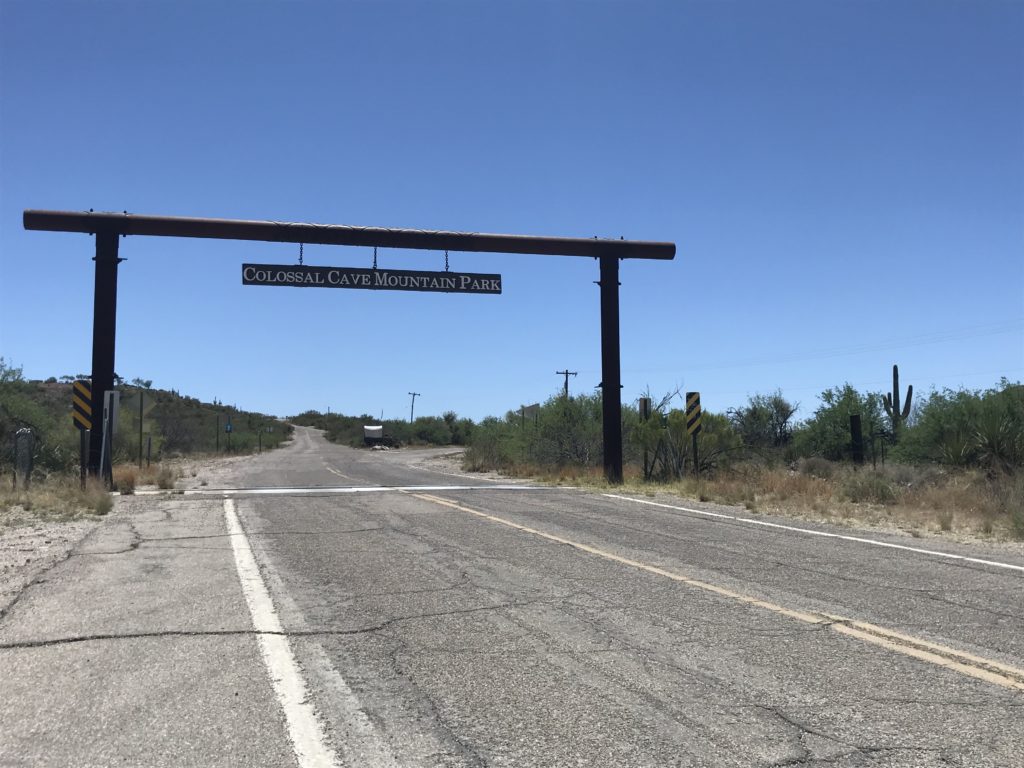 The parking lot was a bit confusing. We got up to the top, parked, and then I wasn't quite sure where to go, so we walked the wrong direction. The path to the cave actually takes you down a bit, and I totally missed the sign and entrance since someone had been stopped in front of it when we'd parked.
The path takes you down to the gift shop and the entrance to the cave.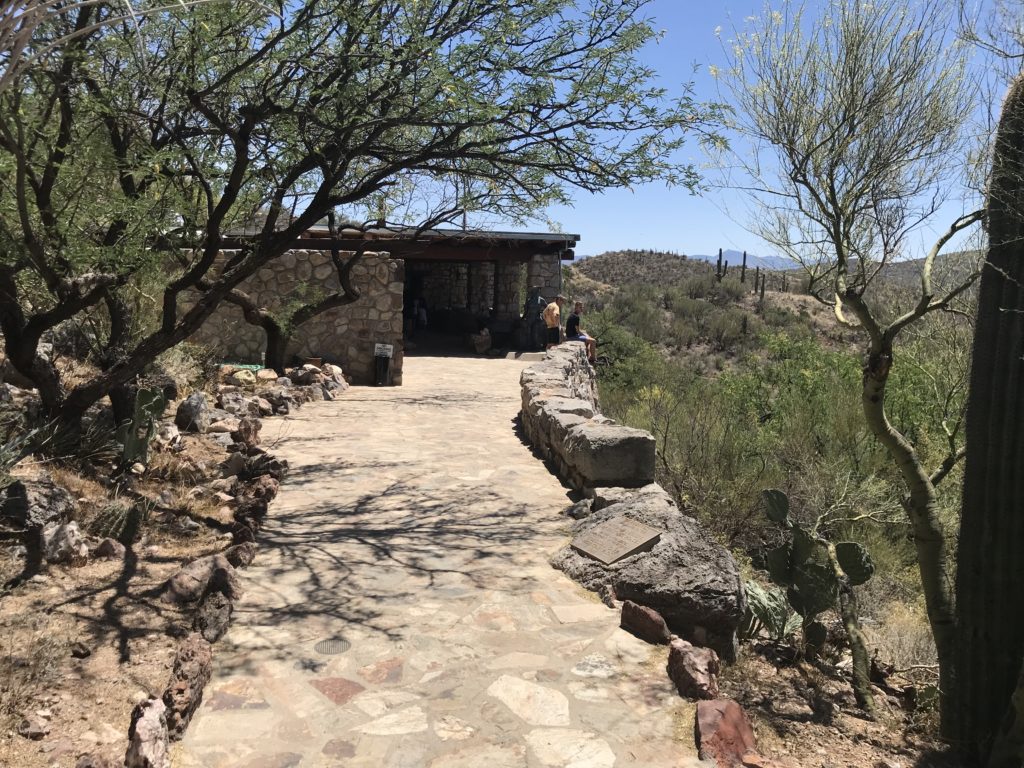 You can pay for a cave tour ahead of time by booking online. Tours are capacity-controlled, and I'm sure they sell out during busier times. There was only one tour sold out for our day at the time I booked, and I got the 11:00 a.m. tour like I'd hoped for. From what I've read, though, you might want to book early as the Classic Cave Tours do sell out on popular dates and at popular times.
If you want to chance things, you can buy tickets at the gift shop like we did. The only issue is that you may have to wait for a tour if one has filled up, and there wasn't a whole lot to do in the interim. I'd recommend booking online if you know you'll be there at a specific time.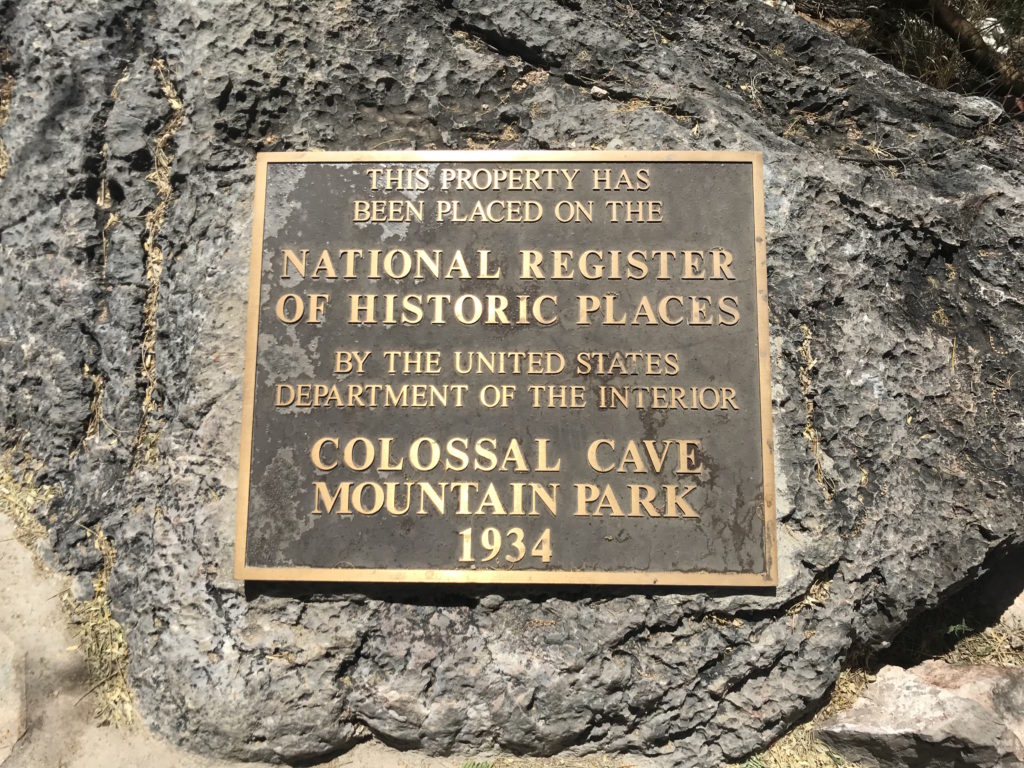 Touring Colossal Cave
One of the things that surprised me was how warm the cave was. In Oregon, the cave is typically a chilly 40 degrees. And it is wet. Colossal Cave is exactly the opposite. Although it was a fairly scorching 90 degrees outside (hey…don't judge this Humboldt boy), the cave is a perfect 70 degrees.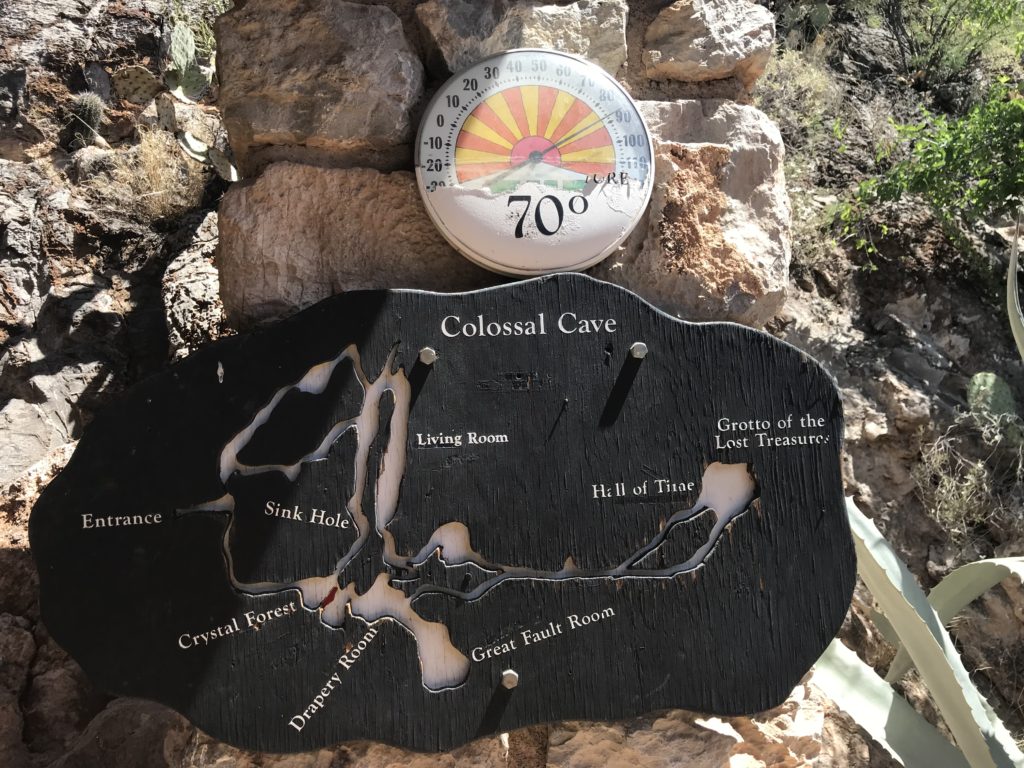 It is also a dry limestone cave, which means the formations aren't growing anymore. This has been the state of Colossal Cave for at least a few hundred years.
Our tour guide's name was Savannah. She was engaging and humorous, which makes for a great tour. She had great knowledge of the cave and was able to relay much of the science of limestone caves and the history of Colossal Cave in particular.
When the tour guide mentioned how many stairs we'd be either climbing or descending, my first thought was, wow, that is a ton." But over the course of the tour I realized that it wasn't as strenuous as I'd anticipated. You walk a good distance, and the stair sections are fairly well broken up.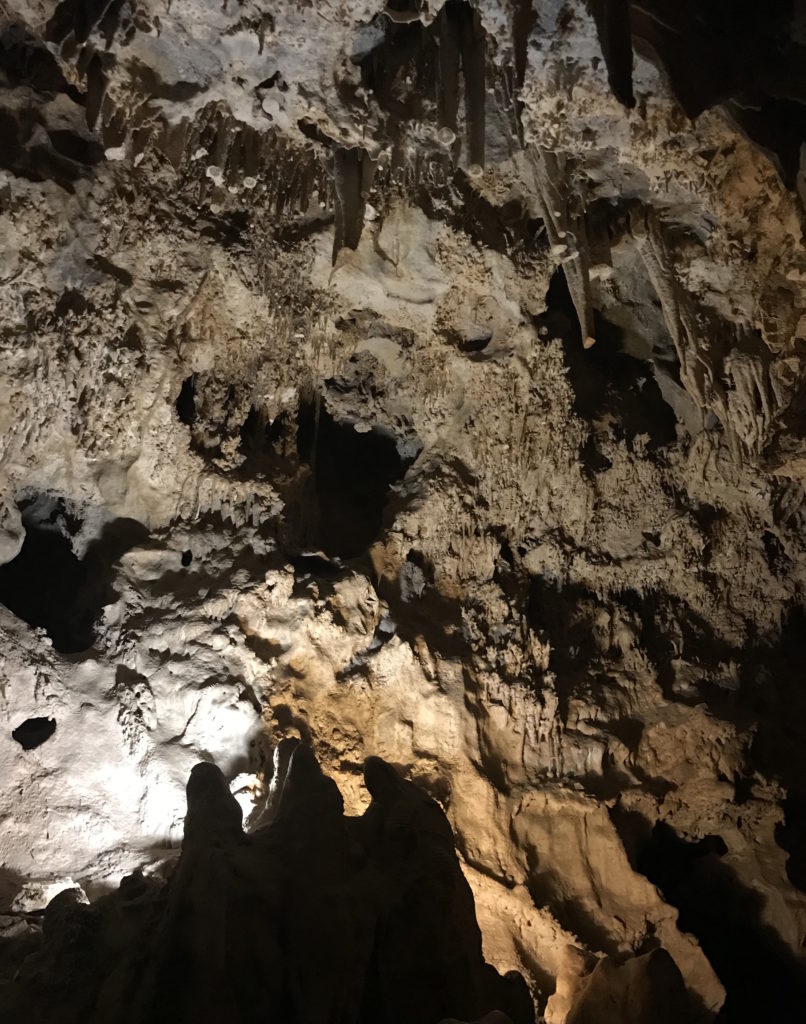 The kids were fairly interested during most of the tour. There were instances where they wanted to move on, but others where they really enjoyed what we were looking at. Some of the formations had names, either due to the unique shape of the rock, or the way they would cast shadows when the guide shined her light on them. This was the "witch of the cave".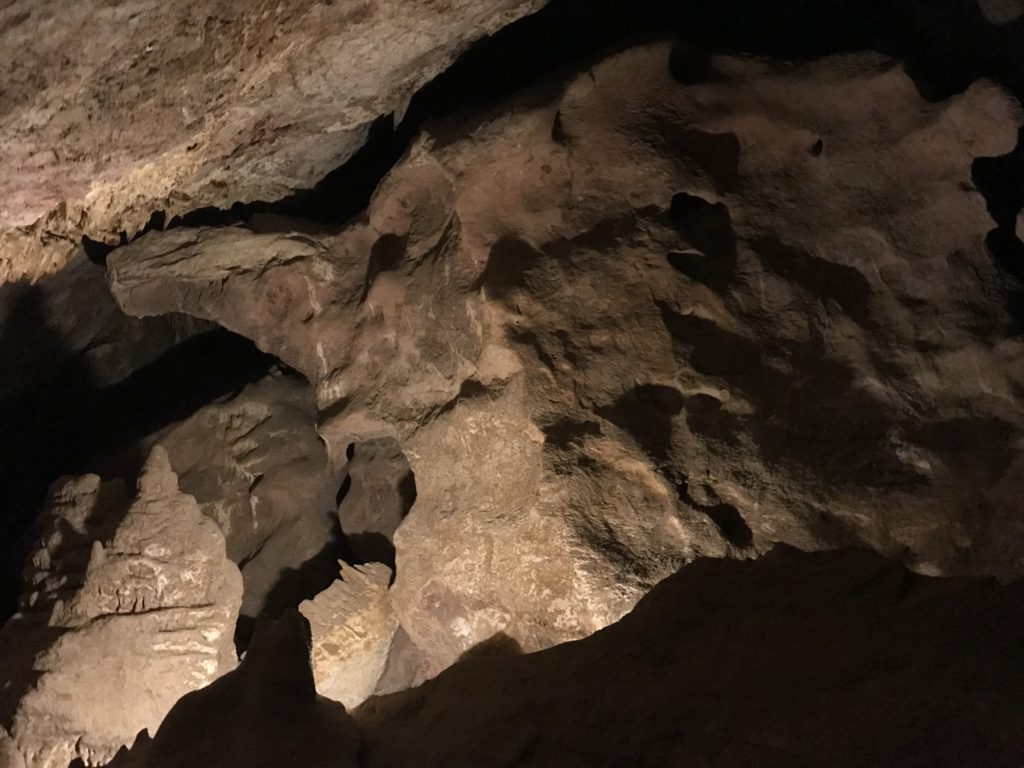 My favorite parts were definitely the Crystal Forest and the Drapery Room. The sad part, however, is that because Colossal Cave is a dry cave, the broken stalactites are no longer growing and will not repair themselves.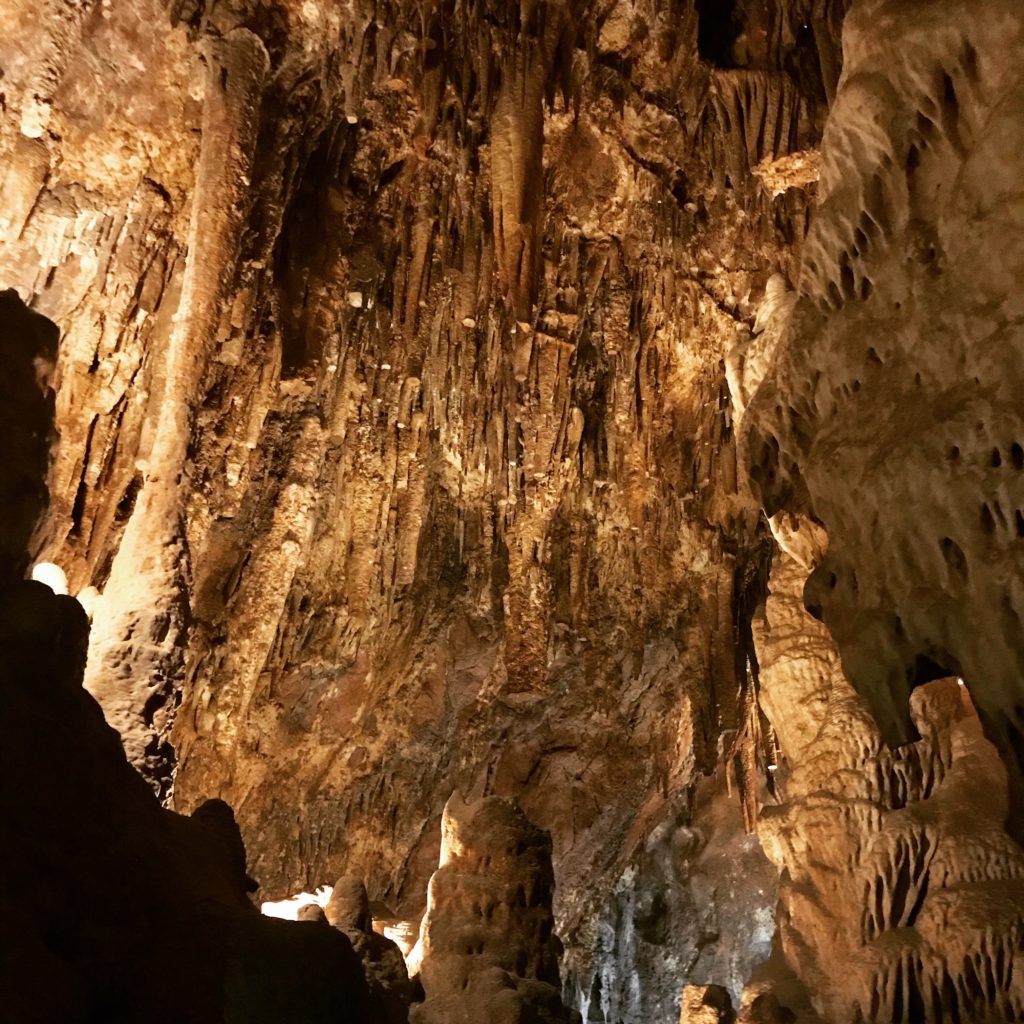 All we can do now is limit additional damage to the cave.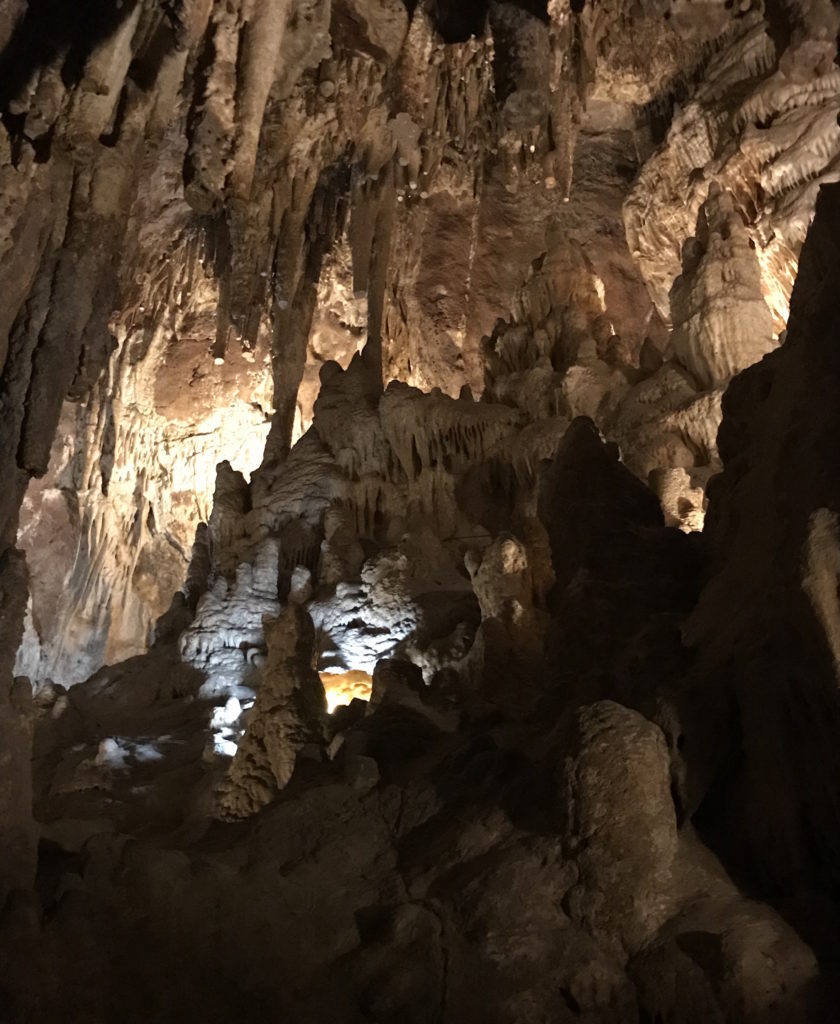 There is also a story of bandits that hid gold in Colossal Cave and then died in a shootout soon after. The gold is worth tens of thousands of dollars, and to this day no one has found it. The tour guide played this story up, although she had the gall to insist that we had to share a cut of the gold with her should we find it.
Other tours and activities at Colossal Cave Mountain Park
The bulk of people take the normal cave tour. However, the park offers a few other levels of cave exploration for the more adventurous types. There is a ladder tour that costs $35 and is 90 minutes long, taking you to places the Classic Cave Tour doesn't. You have to be at least 12 years old and physically able to climb ladders and move through narrow spaces.  For comparison, the normal tour is about 50 minutes long and is all concrete path and stairs.
Adventurous types can also take the Wild Cave Tour that last 3.5 hours and costs $85. Groups are limited to 6 people and require a minimum of 2. Young adults of 16 or 17 can take the tour, but they must be accompanied by an adult. You should be physically fit and need to bring gloves (which you can also purchase there).
Besides the other tours, there is a gift shop, a small "cafe" (it's basically a food stand). We considered eating here but ended up opting for a Mexican restaurant about 15 minutes away.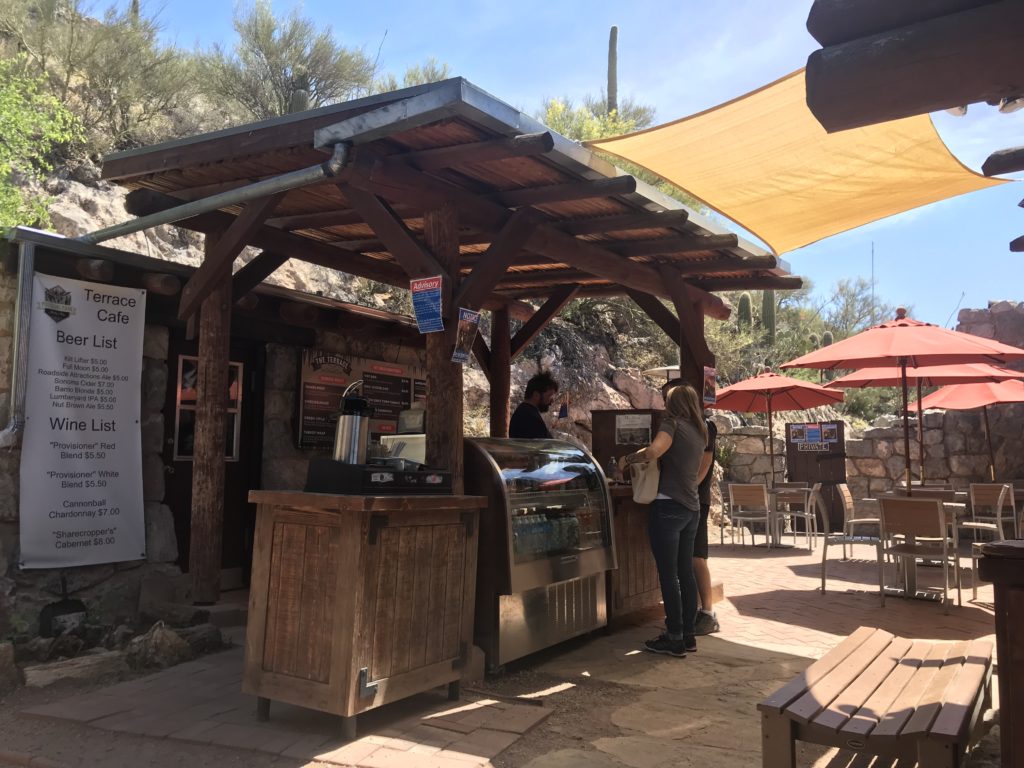 There is also a super short nature trail. If this is your one chance to be up-close-and-personal with some saguaro, I'd take it. Otherwise, I'd pass. There is a lot more to see and enjoy in Saguaro National Park itself.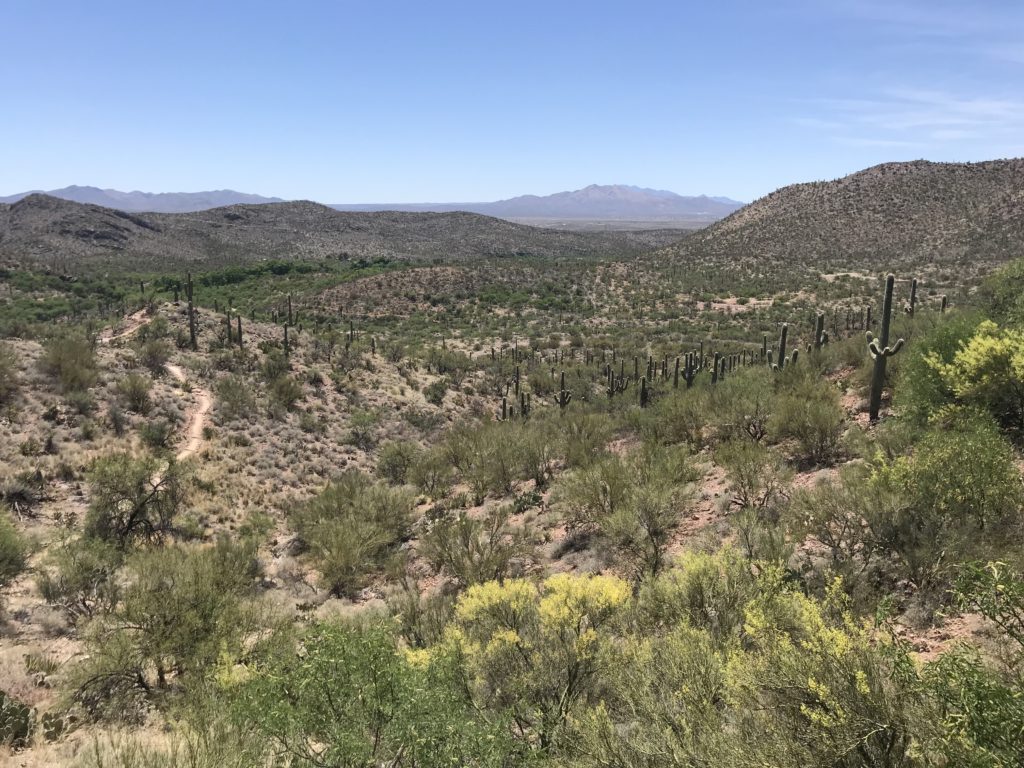 Conclusion
My takeaway is that if you have access to other, larger and more interesting caves, you might want to pass up Colossal Cave Mountain Park. The tour was interesting, but not quite as long or engaging as the tours I've taken at the Oregon Caves. And nothing has beaten my visit to Carlsbad Caverns in terms of size.
But…Colossal Cave Mountain Park does have some things going for it, including the perfect temperature, and the fact that it is a dry cave, which is a bit more rare. It is also within an easy drive of Tucson, so it could be a great place to spend a half a day if you are already in the area.