During our time traversing the Southwest a couple weeks ago, we embarked on four different short hikes in the desert. Well…some of them you really can't call hikes. Even in 100-degree weather, walking 400 yards or so out onto the salt flats at Badwater Basin in Death Valley still doesn't qualify as hiking in my book.
But…it does to some. Including my kids. They weren't ecstatic about my ideas and made their position on hiking quite clear. It took some significant coaxing and prodding to get them out of the car a couple of times. To them it was sooooo miserable that they wanted to stay in the car in 100-degree weather (yes, really).
After all my effort, I thought I'd note down a few tips in case you consider traipsing through the desert with your own brood.
Tip #1 – Reconsider the whole idea
I mean, really. You probably shouldn't go. Unless you enjoy dragging whiny children over sand and rock for a couple hours at a time, this isn't for you. Whether it is their supposedly hurting feet, or the fact that they didn't bring enough water (in other words…they poured it all on the ground…or on a sibling), they will let you know.
At every moment you have to not just urge yourself onward but your children as well. It's like they think they are going to die from a mere 90 minutes of desert exposure. Somehow the kids that were soooo happy to finally be someone warm suddenly think they are going to melt if they have to do something besides splash in the pool in 85 degrees.
Save yourself the pain and just stay home. It'll be better for everyone involved.
Tip #2 – Bring earplugs
If you decide to go against your better judgment and still embark on this fun family outing ridiculous escapade, earplugs might be in order. It'll prevent you from hearing the birds chirping, but you'll also be able to enjoy the beautiful vistas in utter tranquility. Such was life at this moment in Sedona.
But you might not need them anyway id the kids repeat themselves enough. By about the fifth time I'd heard, "I'm dying", I had pretty much tuned it out. So I honestly don't know if if was the fifth time or the twenty-fifth. I do know the first four times had included a quick check of each child: Blood? No. Signs of heat stroke? Negative. Out of water? Possibly, but typically not because they're drinking it. Sweating? Yes, but that just means the cooling system is functioning properly.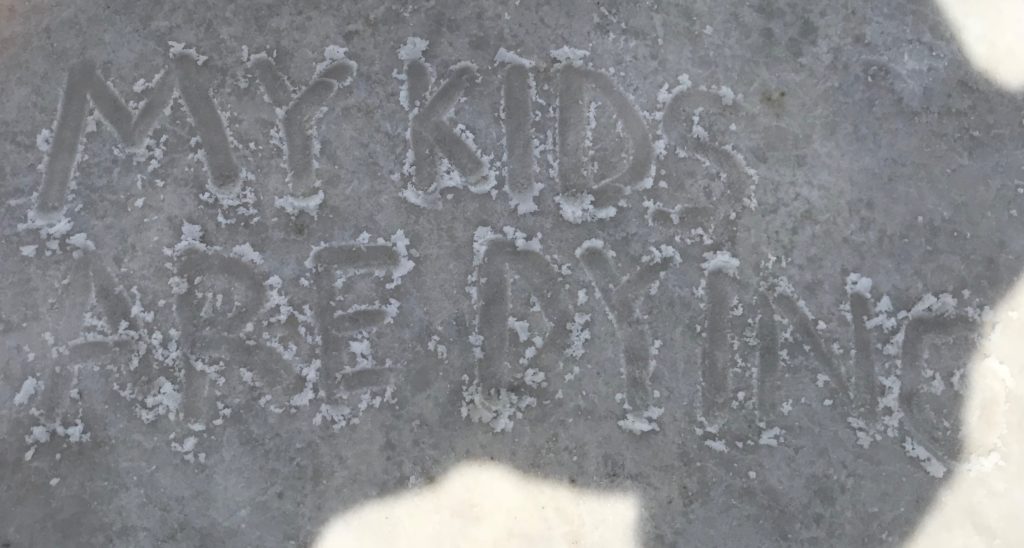 Definitely no signs of dying. . Carry on.
Tip #3 – Just laugh
This was my one consolation. I finally realized how hysterically overdramatic their reactions were. Whenever I'd hear the newest reason as to why we couldn't continue, I'd smile and keep slowly marching along. They'd always eventually follow.
I'd also chuckle when they'd use their water for things like making mud or dumping it on their heads. When they'd invariably run out, I'd happily sip my own. They'd just have to make it the last mile without refreshment.
Death Valley was the best. Although the temperature was pushing 100°F, we could literally see the car from where we'd hiked. And it wasn't very far away. I'd had them hydrate before we got to Badwater Basin, and we each had a water bottle for our short outing. We were prepared for our excursion.
Yet it definitely wasn't their cup of tea. This picture will forever make me giggle.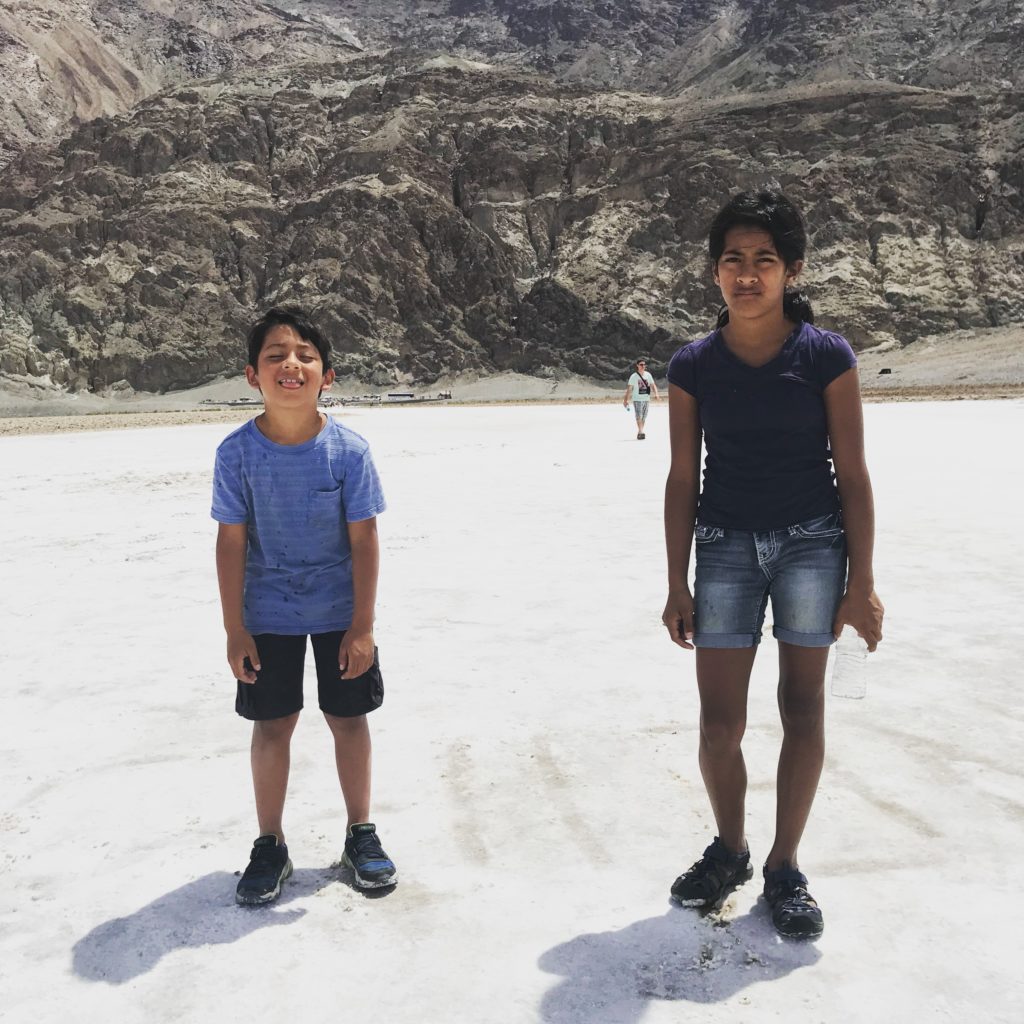 As for my own experience, I'd happily take a walk in full sun on a flat surface in a bone dry 100°F than an ascent at 80°F with any sort of humidity.
Ok…we did have *some* fun
In case you can't tell this is mostly tongue-in-cheek, we did actually have some fun hiking in the desert. I definitely had to keep spurring the kids on at times, but it was a good experience for us overall. They don't have quite the same appreciation of the scenic beauty of the locations we visited, but I am hopeful someday that'll change. They'll have to at least get used to it. Walking and hiking are two of my favorite things to do when traveling.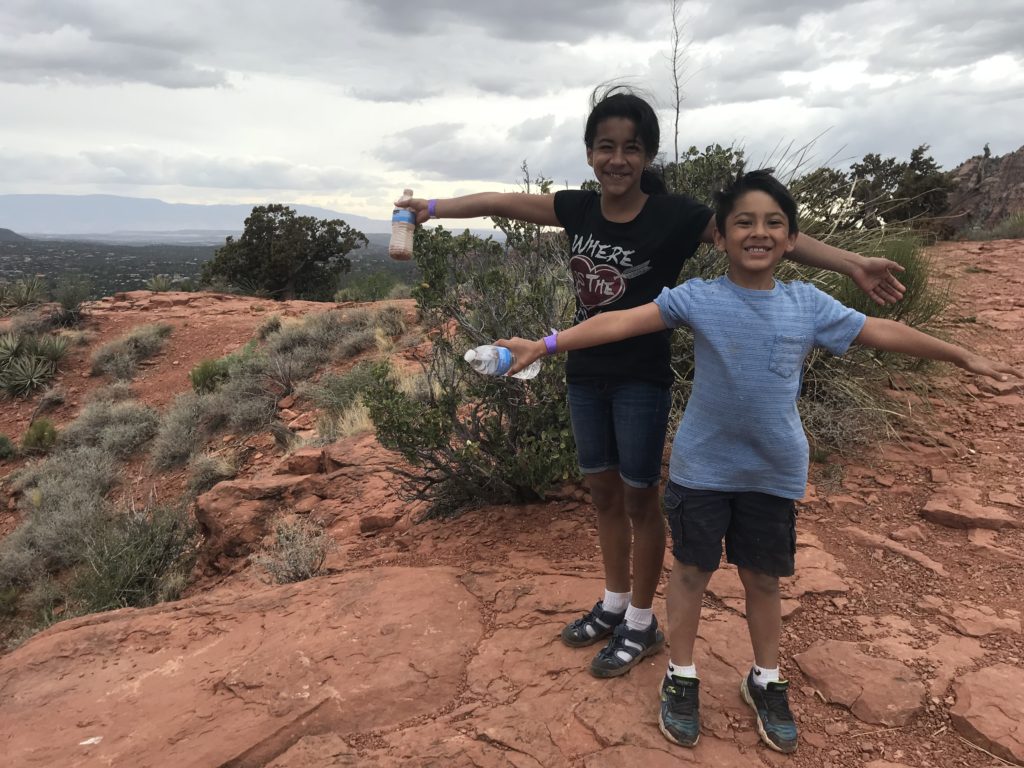 Of our four partial days of hiking, the kids enjoyed the red rocks of Sedona and our short trek to the waterfall at Red Rocks National Conservation Area the most. The latter hike didn't start out all that pleasantly (as they had no idea what was at the end of the trail), but I was smugly satisfied sitting up on a boulder watching them happily toss rocks in the pool and enjoy getting close to the fall. I wish I'd had my camera out to capture the looks of horror when I finally told them we had to head back. Apparently they like the end goal of hiking, just not the process.
Would I take the kids hiking in the desert again? Absolutely. And we I would love every minute of it.