Let's face it…traveling anywhere when you live on the beautiful California Redwood Coast is a chore. I have a love/hate relationship flying out of the Arcata airport. The convenience cannot be understated. But that is when things go smoothly. When things go wrong, and they go wrong far too often, it can be a major pain in the neck (SEE: My Second United Horror Story).
Lately I've taken to booking out of a bigger airport if time is of the essence, typically if I am flying across the country for work. But for our recent trip to the Southwest, convenience won.
Flying out of Arcata Airport worth the deal
For our trip to the Southwest, I booked last minute tickets for a steal: $91 and 22,500 Avianca LifeMiles for all three of us. The beauty of this plan was that we got to fly out of Arcata. The nerve-wracking part of the plan was also that we were flying out of Arcata.
Over a total of about 15 flights that I've flown in or out of Arcata, no fewer than 3 have been canceled. A solid 20% cancellation rate. That's horrible. Delays or cancellation have thrown a wrench in our plans enough times that I literally prefer driving to the Bay to fly most places these days.
Given this experience, there was a bit of trepidation as our trip approached.
Wait…this was an Arcata flight, right?
I kept my eye on the United app during the day of our planned departure. The previous legs serviced by our aircraft were on time, so things were looking good. Our plane landed at the Arcata Airport right on time while we were still driving north. It looked like everything would go smoothly. And there was no fog to stop us this time (SEE: My Second United horror story)!
Boarding was quick in Arcata, as the plane was barely half full. Amazingly, there wasn't any message from the captain stating the SFO tower had requested we stay on the ground. Too often they don't have a spot for us and the flight gets delayed until SFO air traffic control can slip our landing into the incoming traffic. This time we were off the ground well ahead of schedule.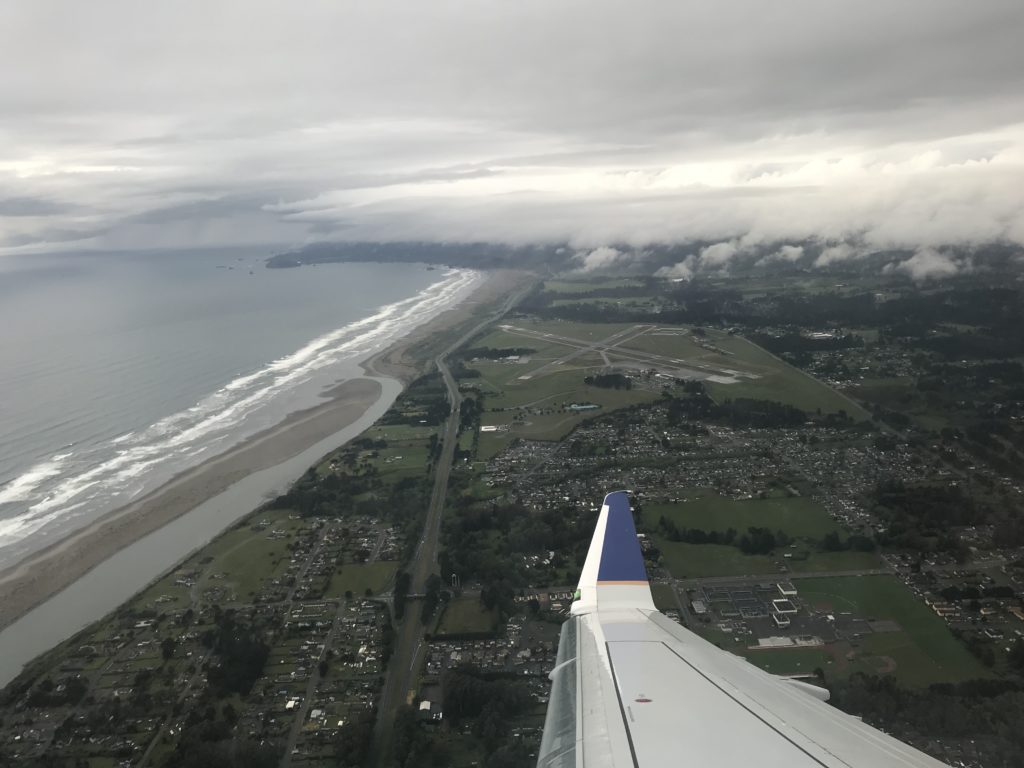 Maybe it was because we'd taken off "backwards". On all other flights in or out of Arcata, the everything is operated off of Runway 32. This time we took off in the opposite direction, from Runway 14. This allowed me to get the shot of the airport as we circled around to the west.
Besides a little turbulence, the flight was fantastic. We were even in economy plus, and I had two seats to myself, so there was room to spare. These ERJ-175s are a much better ride than the tiny CRJs. I couldn't believe it when we arrived in San Francisco a ridiculous 29 minutes early.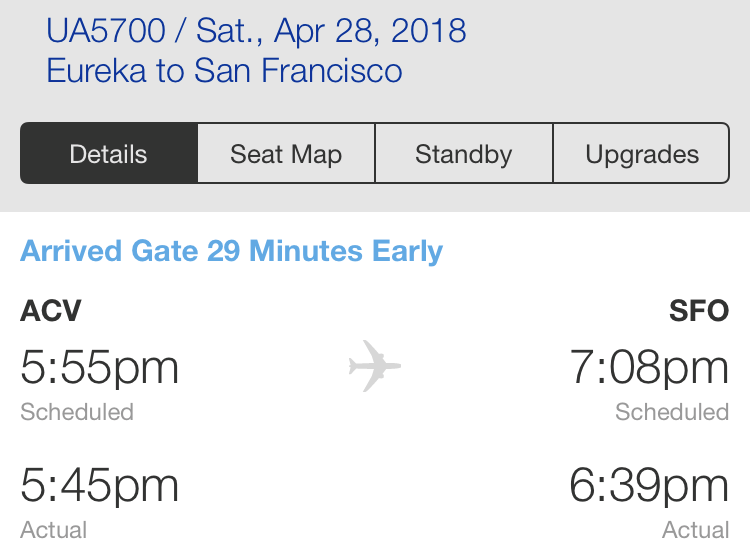 This has never happened on any flight I've taken out of Arcata. I'm pleased if we are even remotely on time. Had we really just flown the same little route that is so constantly plagued by delays???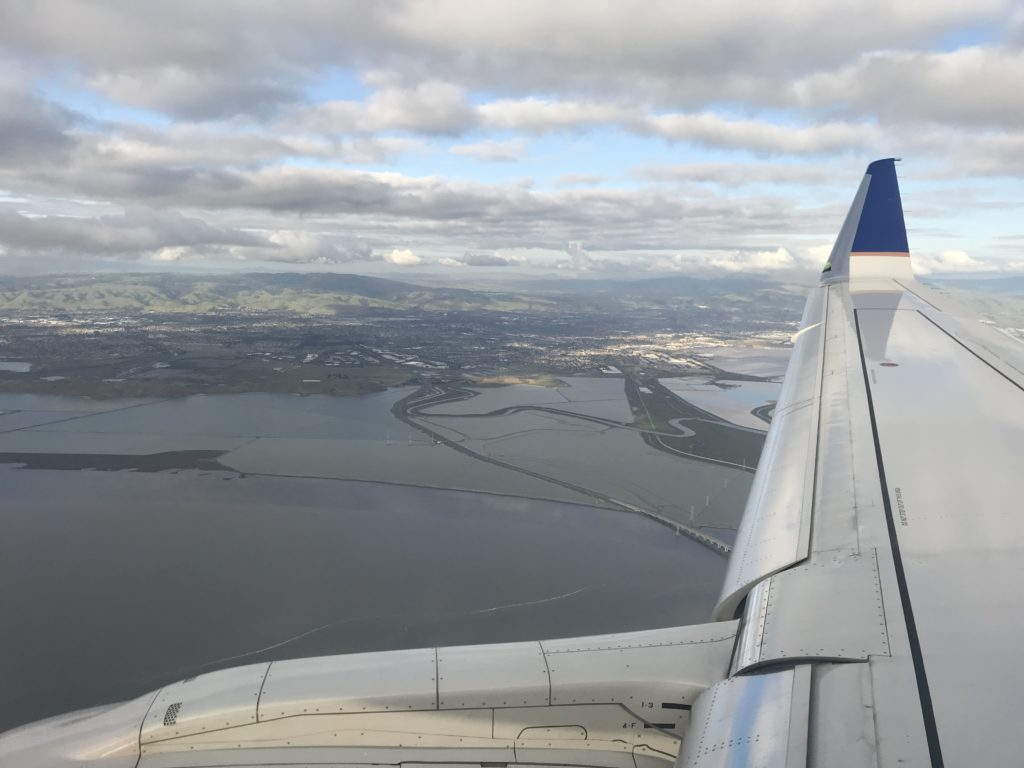 I told the kids this was the best flight I'd ever taken out of Arcata. They didn't seem to care in the slightest. Figures their first time flying outta here would go more smoothly than I've ever experienced.
Being treated like we're in first class
To top things off, the service was ten times better than it's ever been. While the flight attendants pretty much never offer drinks on the short hop to the Bay, they do bring by snacks. The offering consisted of only pretzels…unless you were my kids. The flight attendant offered them the last two stroopwafels from the morning. Lucky ducks. All they did was munch snacks and stare out the windows.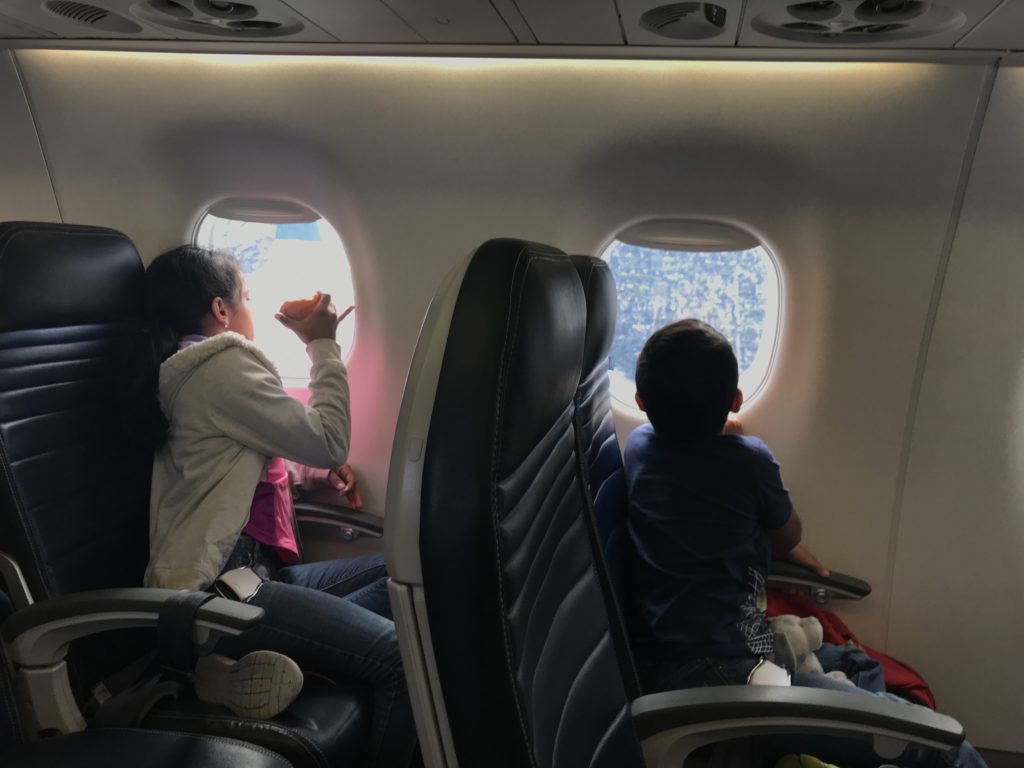 Then near the end of the flight the first-class flight attendant brought me two more snacks: Oreos and gummy bears. Do kids hardly fly? Or do the Skywest FAs single them out for special treatment? I've never really observed either. It's like they knew we try to limit our kids sugar intake and were working against us.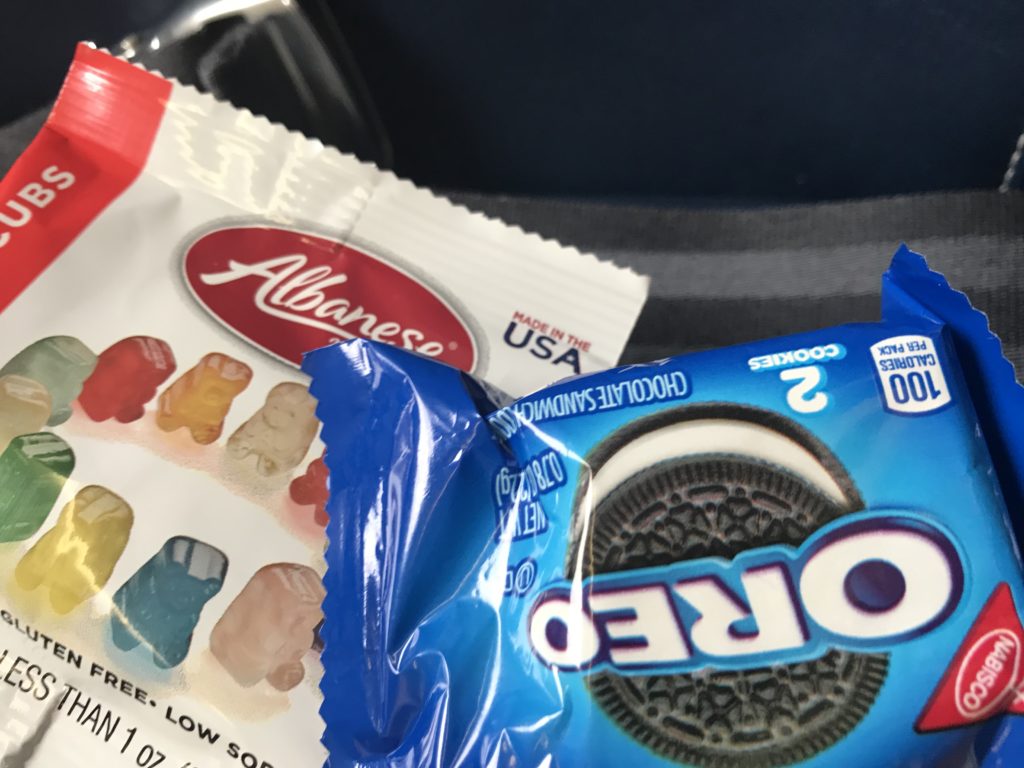 To top it off, the flight attendant on the plane to Tucson handed me an small bag of Haribo gummy bears for the kids. I didn't even know they had these on the plane! Or maybe they were her own. I have no clue. I just know people kept handing me candy for the kids, our flights were empty, and far more ahead of schedule than I've ever seen them. If this is the new United Airlines experience, sign me up every time.
Conclusion
I'm not sure what happened to the old United Airlines I've come to love endure, but this was definitely my best flight ever out of Arcata. And a great start to our week-long road trip.