Since we've had our kids home, we have taken a number of excursions. The most recent was to Disneyland, which was our first trip as an entire family (plus the mother-in-law). Most of the rest of these have been one to three night getaways on which I take just our older two kids.
One thing is always for certain: someone will get sick. And someone will nearly always throw up. Never mind the happy featured photo.
Combating carsickness
Ever since our precious kids first entered our lives back in September 2017, we have been battling carsickness. The complaints are near-constant whenever we drive, ranging from a mild headache to full on you-better-pull-over-i-am-gonna-puke. We had a few instances in Costa Rica where they upchucked, most notably Zion after our day visiting Volcán Irazú (SEE: Visiting Irazu Volcano in Costa Rica).
Locally, they have been doing better. We still get the headaches and mild tummy troubles. But after one bout in November, we haven't had any puking during our normal, everyday driving.
Long car trips are a whole different animal. Here the puking is almost a given. Our first trip included a 5-hour drive to Oakland where we enjoyed some time in the lounge before boarding a tiny plane to go visit my grandparents (SEE: Escape Lounge Oakland Review, and SEE: Boutique Air Flight Review: the closest I'll ever come to flying private).
Along the way we picked up breakfast in Ukiah. This was later deposited in Windsor and Berkeley, as each kid successively expelled it. Fortunately, the drive back a couple days later was free from vomit.
Since then we haven't had a trip without someone puking. Sure, we may be vomit-free on one leg. But it happens at least once, typically on the southbound drive to the Bay or middle of the state.
What do we do?
After our trip to Calistoga for New Year's (SEE: Celebrating New Year's 2018), I emailed my mom, explaining that the only thing that was a real bummer on the trip was both kids puking again. I got a two word response: "USE DRAMAMINE!"
Turns out, I already was. But it doesn't seem to be doing anything for them. They have puked with it and without it. They have also managed fine with and without it. There is no real rhyme or reason.
The only hint I have at a solution is that their tummies seem to do slightly better when full rather than empty. We have tried to leave early in the morning, something I like to do to help the drive pass by more quickly for them. But it is on this leg that someone almost invariably pukes.
Even on our recent trip to Sacramento, the kids couldn't make it. Lion threw up along Highway 101. Then later along Highway 20. Fortunately, they were both hungry when we reached Williams, and we had a nice late breakfast at Granzella's.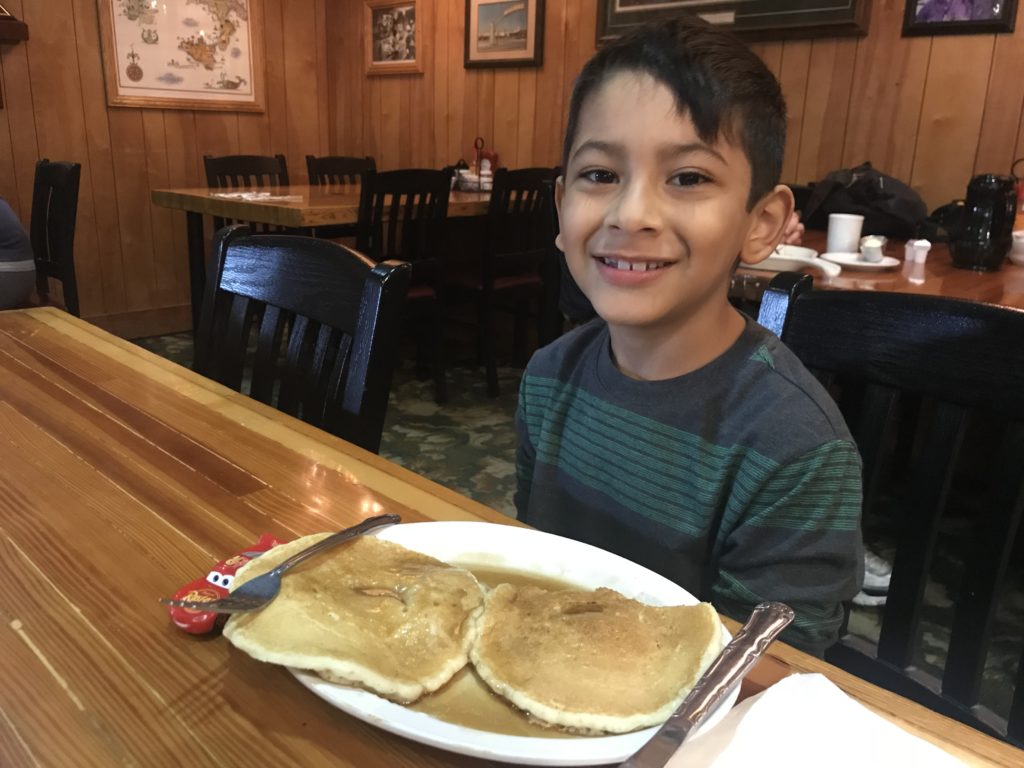 The Sinclair dinosaur also cheered them up.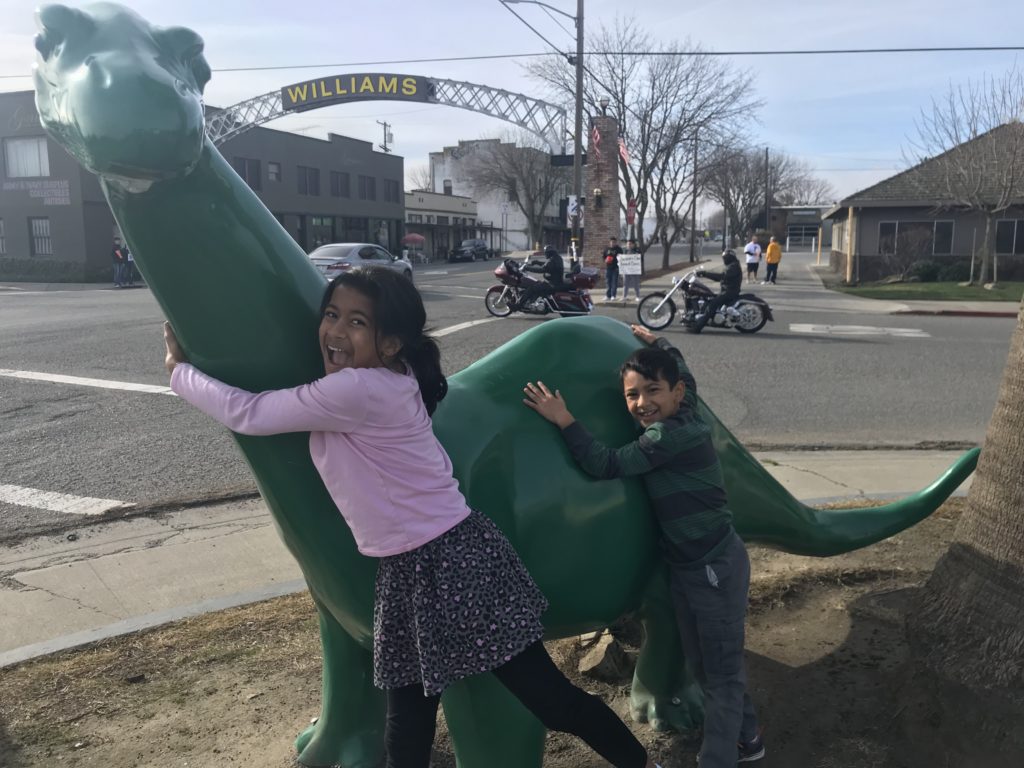 Conclusion
I'm still searching for a silver bullet to help our kids. Having full tummies seems to help, as does slowing down. My wife thinks I drive too fast, and maybe the kids tummies do, too. I'll need to see if this helps much (last trip, it didn't seem to).
For the record, when I was small I did a lot of upchucking when we took family trips, but eventually grew out of this. I hope the same happens with our kids.