Work sent me to Las Vegas for a couple days right at the end of 2017. Well, I actually was headed to Needles, California, but I had to fly into Las Vegas and drive the 2 hours south. Which was an adventure (nightmare?) in itself. When I headed home, I decided to check out the Centurion Lounge Las Vegas.
I have been to the Centurion Lounge SFO (SEE: Centurion Lounge SFO Review) several times and the Centurion Studio SeaTac once. While not the primary reason I picked up a Business Platinum Card from American Express (it was during the 100,000 MR bonus offer), the lounge access it provides has come in handy this year, most recently in Oakland (SEE: Escape Lounge Oakland review). I honestly didn't expect to visit a Centurion Lounge after I won my first access from a Mommy Points giveaway, but I ended up getting the card the next month. Ironically, I'm probably going to drop it soon.
Arriving at the Centurion Lounge Las Vegas
The Centurion Lounge Las Vegas McCarran is located in Terminal 3. I dropped my rental car, quickly passed through security, and was on the tram under to the terminal in no time. Once in Terminal 3, you take the escalators up and turn left to head to the Centurion Lounge Las Vegas.
The front of the lounge is a bit more nondescript than the glass entry, greenery and vertical sign at SFO. I honestly almost missed it.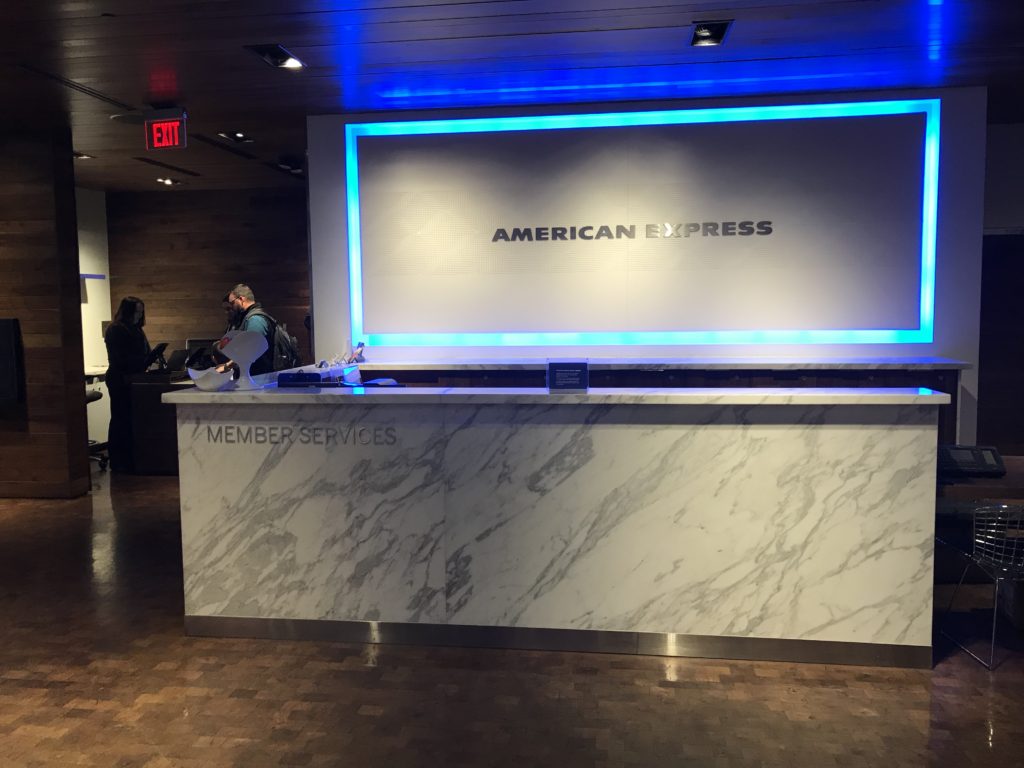 The lady at the front desk was friendly and professional, and she welcomed me as a first-timer to the Las Vegas location after asking whether I had visited previously. She provided a brief description of the facilities and services provided.
The space
The Centurion Lounge Las Vegas feels a bit larger than its counterpart in SFO. The space has similar seating, with some of the same pods and benches featured. I can imagine that all Centurion Lounges likely use the same style furniture.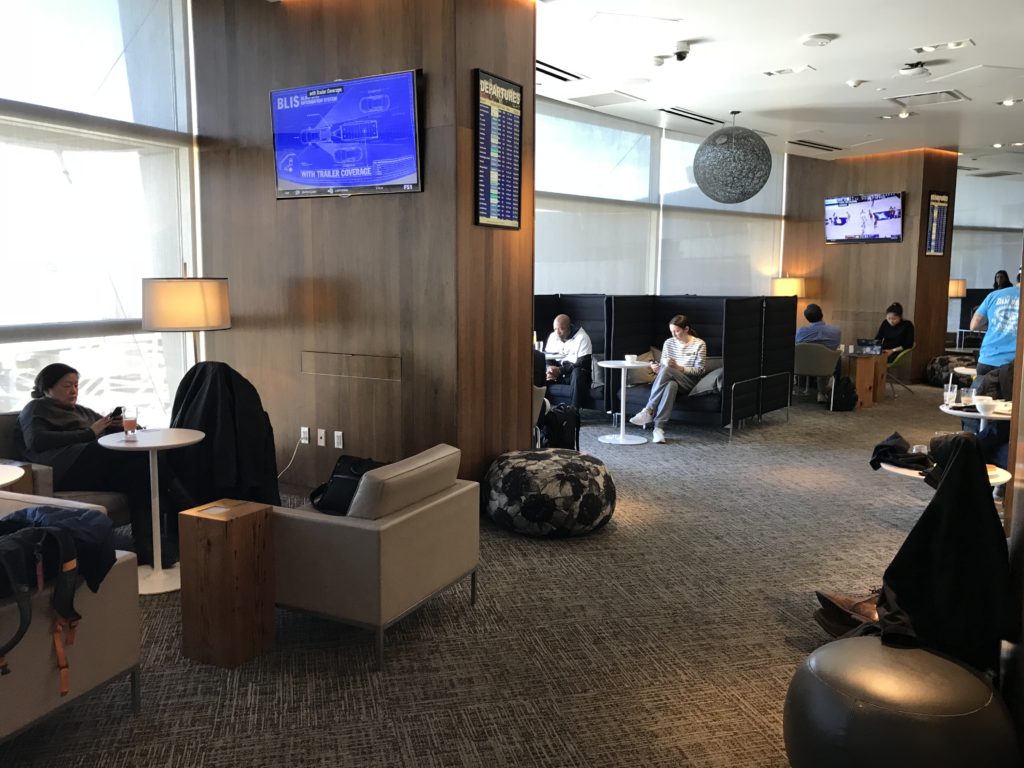 A long wall separates the bar, food, and main dining area from much of the rest of the lounge. Facing the windows on the other side, the wall has several seating alcoves. I chose one of these initially to work from for a while.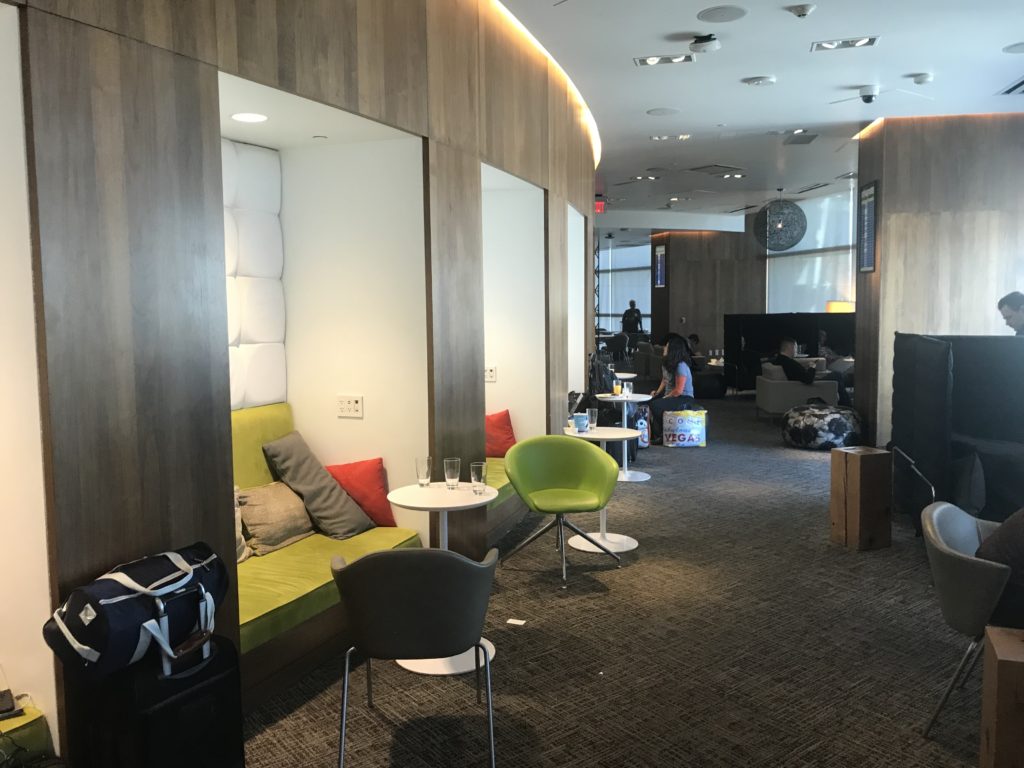 At the end there is a variety of seating. This also seemed like the quietest part of the lounge, as foot traffic is lessened. Had there been any open seats, I would have chosen to sit here.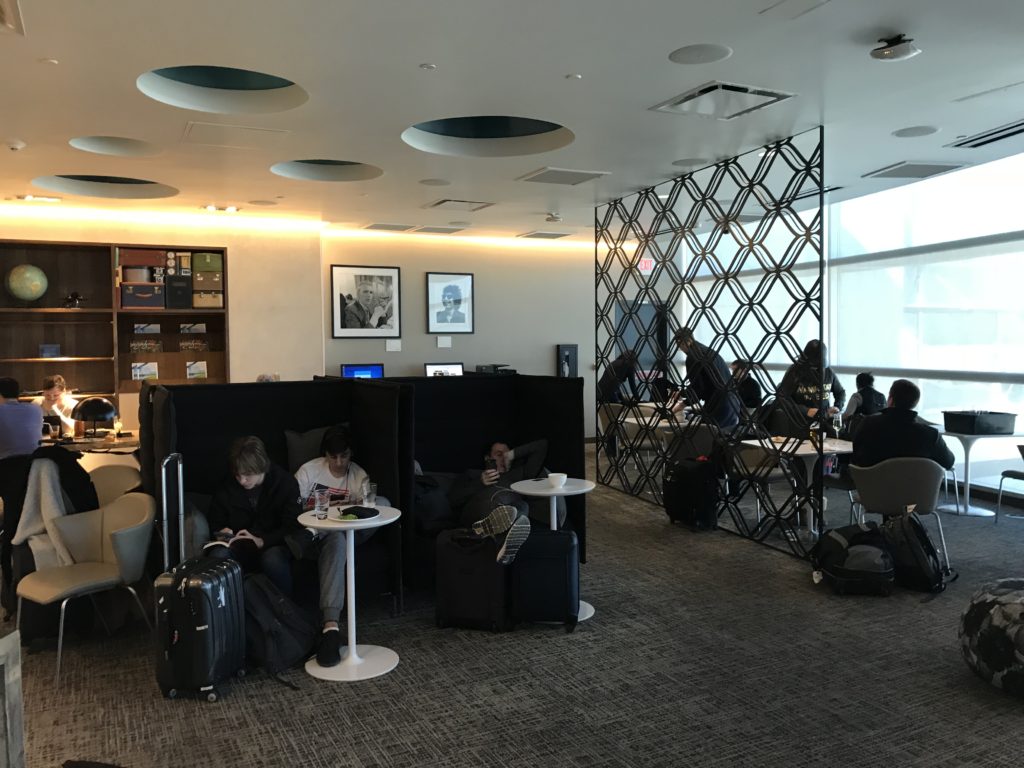 There is a kids room at the Centurion Lounge Las Vegas, just like in San Francisco. It is a bit bigger. If only American Express hadn't changed their entry policy and completely hosed families with more than one kid (SEE: American Express devalues lounge access, sticks it to families). Sigh.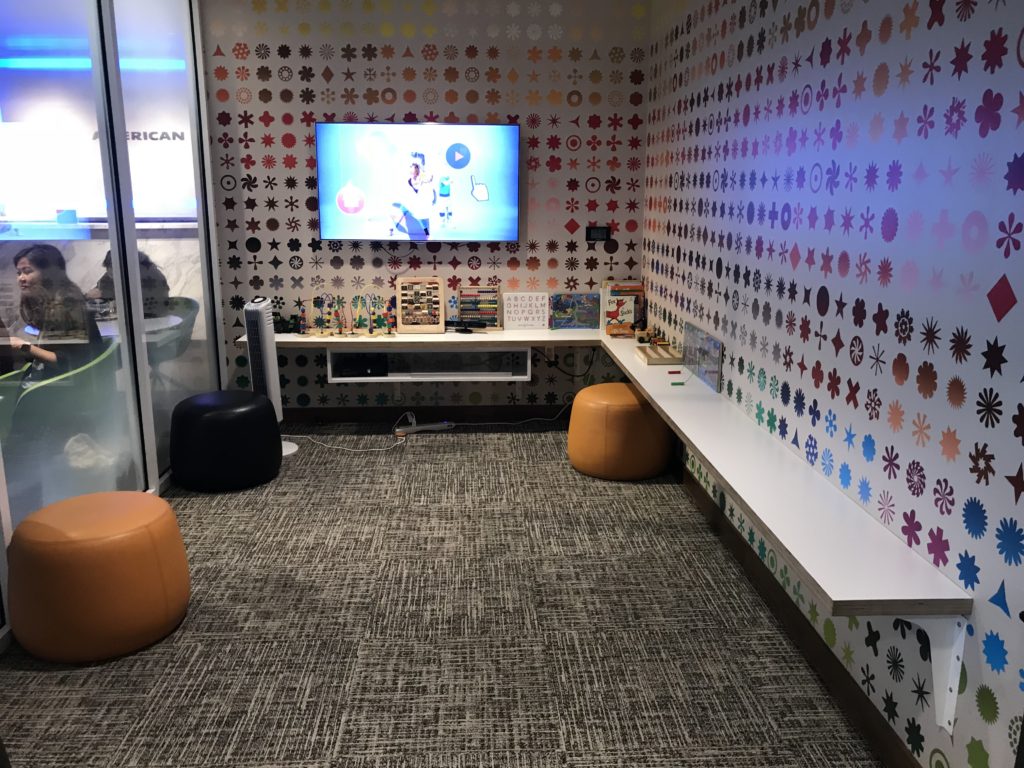 Food at the Centurion Lounge Las Vegas
I didn't bother checking out what the offerings were for breakfast. As I'd arrived at 10:00, it was still running. Instead, I simply got a coffee and sat down to write for a while.
The food changed after 11:00 to the lunch offerings. I eventually joined the line to grab myself a plate.
There was a decent salad selection that included peppers, carrots, cucumbers, cheese, and other items.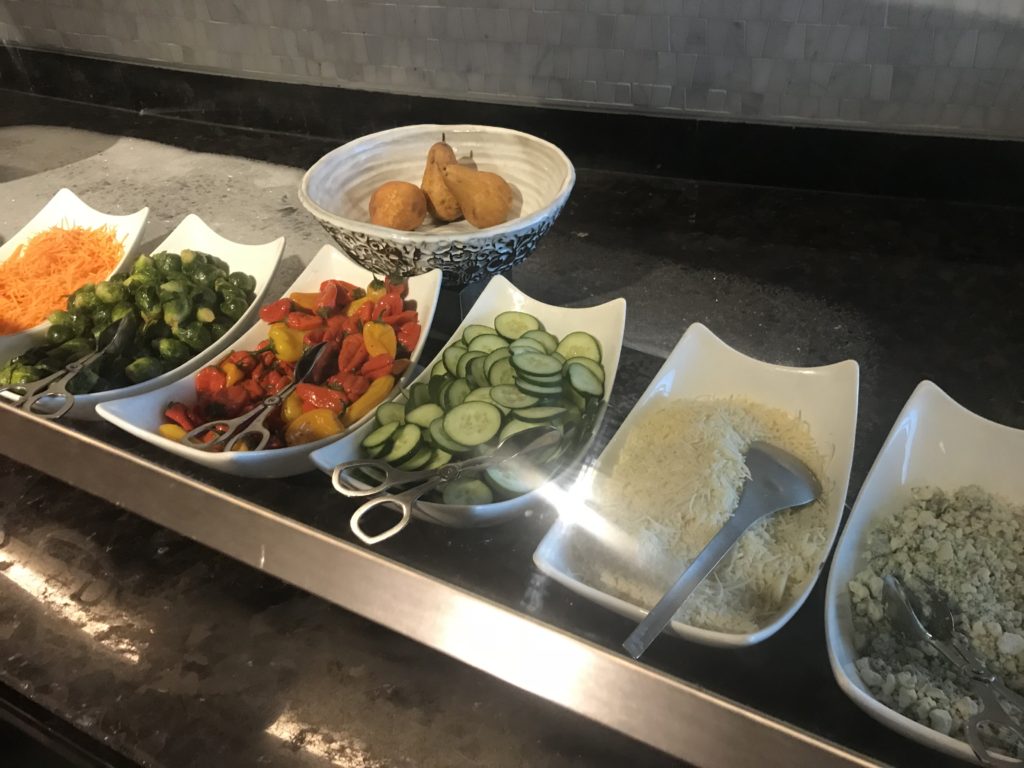 There was some ginger rice that I enjoyed. It was probably the best thing offered. There was also a sweet pea puree that I wasn't keen on.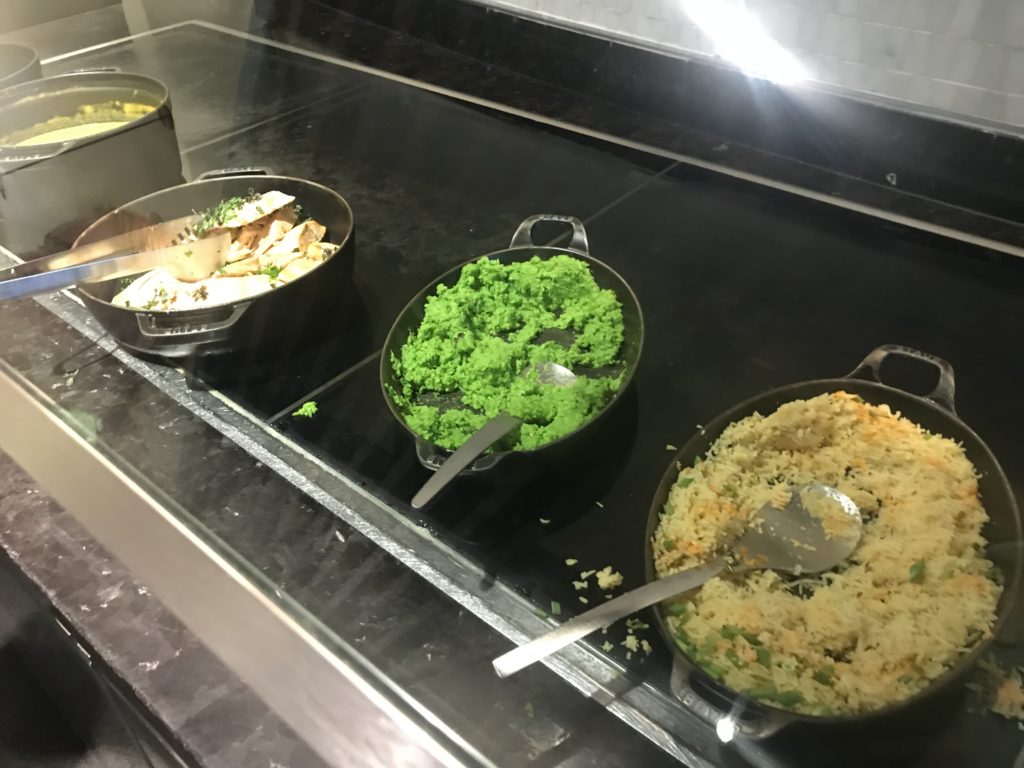 The meat offering was salmon. I found it mediocre. Definitely not full of flavor.
At the end was udon soup, which I didn't try.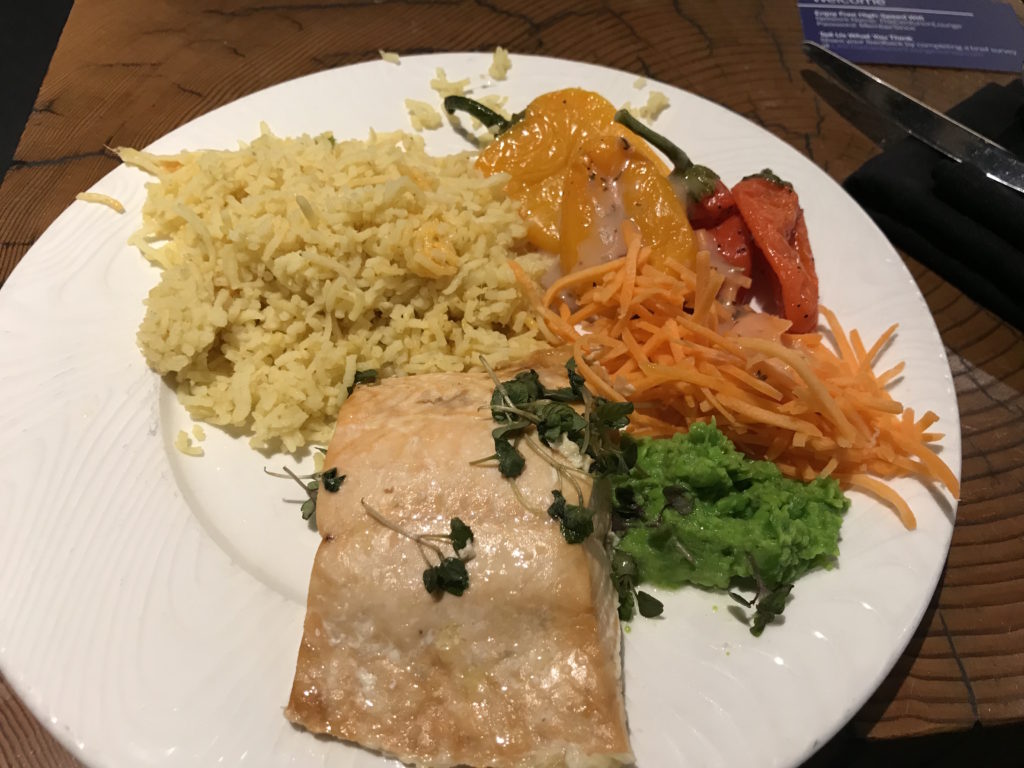 On the whole, the food at the Centurion Lounge Las Vegas wasn't quite as good as what I've had at SFO. It was a decent lunch, but nothing stood out to me.
Per usual, I didn't try anything at the bar. I'm sure it had a good selection of alcoholic beverages.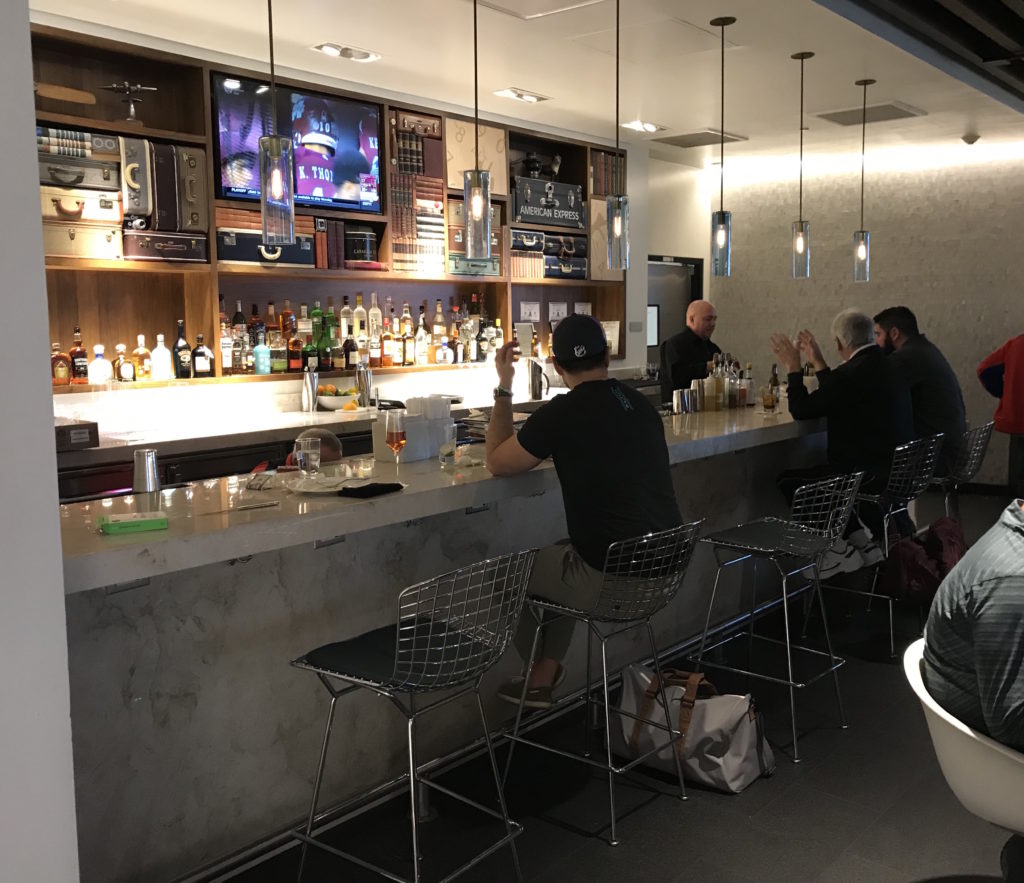 Overall experience
I was happy with the seating, food, and experience overall. The WiFi caused me some issues a few times, but I the root cause might have been my own computer. Each time it would cut out for about 3 minutes, before finally coming back. I would turn my WiFi on and off a few times until it would finally reconnect.
The lounge was fairly crowded when I arrived, and it got an even bit more so as lunchtime approached. I had not expected this, but it rivaled the insanity of the Centurion SFO for a while.
When I got up to go to the bathroom, my seat was occupied when I returned (since I took all my stuff with me), and I had trouble finding another. Things got better after 1:00 p.m. and then even kinda quiet by 2:30.
The line for the food around noon was definitely a turn off. I watched and waited for a good 15 minutes before getting up to grab something to eat.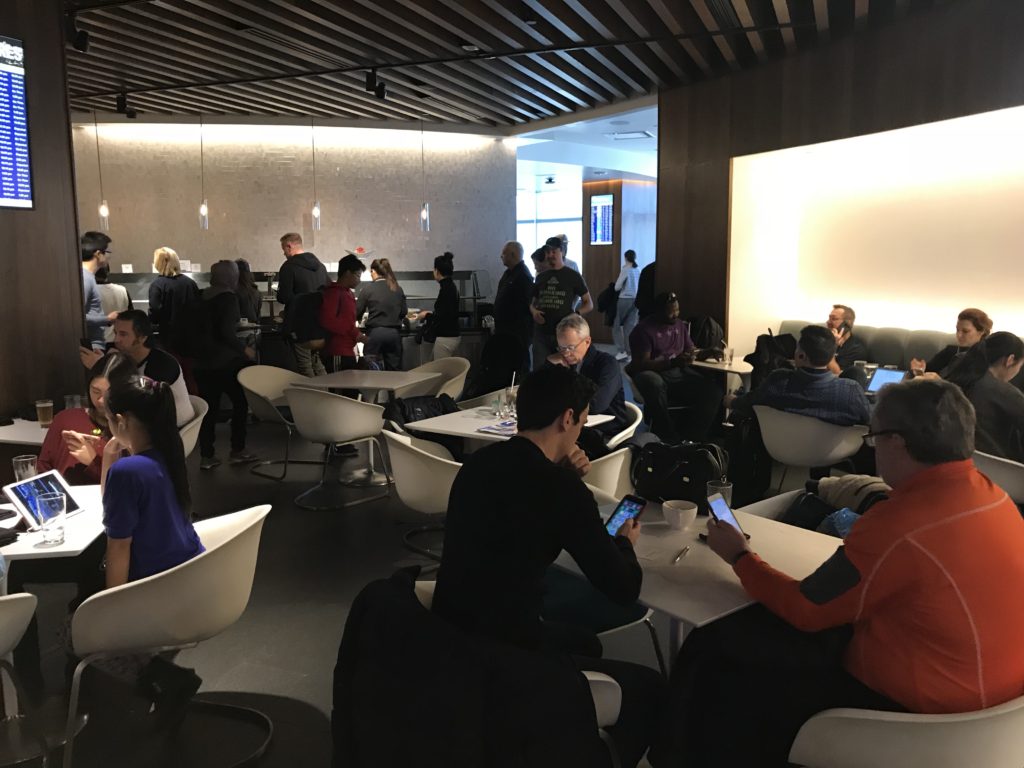 Conclusion
The ability to grab lunch, sit somewhere quiet and comfortable, and be productive for a few hours in the Centurion Lounge Las Vegas was invaluable. It is also nice to have access to better WiFi (except for a few blips) and cleaner bathrooms than in the terminal. Nothing stood out to me as "above and beyond", but the lounge is still definitely a step up from the typical United Club or Delta SkyClub.