On the heels of a miserably long day of travel (for the flight distance) after a canceled flight (SEE: My Second United Horror Story), I had another awesome experience with United. It was deja vu.
Instead of a flight cancellation stranding me hundreds of miles from the next closest airport, however, this was different. I took my first flight to nowhere.
Work isn't the problem, travel is
After finally arriving in Las Vegas at 2:00 a.m. Friday morning, I had to be up and in Needles by 10:00 or so. This allowed me about 5.5 hours of sleep, but it was enough. My day of work went well, and I made it back by evening into Henderson.
Since my flight was middle of the day on Saturday, I got plenty of rest my second night. The morning was leisurely, and I worked a couple hours and got some blog posts written for Points with a Crew from the Centurion Lounge Las Vegas. Then it was time to head to the plane. An uneventful 2 hours later, I stepped off in San Francisco.
From the Centurion Lounge San Francisco and while walking to my gate, I was thinking about how smoothly today had gone compared to Thursday. Except it wasn't over yet.
Flying to nowhere
It all started with some confusion at the gate. I arrived just as boarding was supposed to start, but no one was in line. Gate 84 can be confusing since United parks multiple CRJs at the gate and often boards them back to back.
The fact that it was scheduled boarding time and nothing was happening should have been my first clue that something was amiss. I just chalked it up to a typical United delay. When I finally asked a gate agent what was happening, she said that the flight was delayed due to weather. I only had to assume it was the Arcata weather.
About 20 minutes later we finally boarded. I sat in my tiny window seat on a tiny CRJ-200. This is definitely not my favorite plane (SEE: Argh! I thought I'd seen the last of the United CRJ-200). But seat 2A did give me a great view of the captain when he came back to discuss why we were sitting so long. We were playing the waiting game with the Humboldt fog.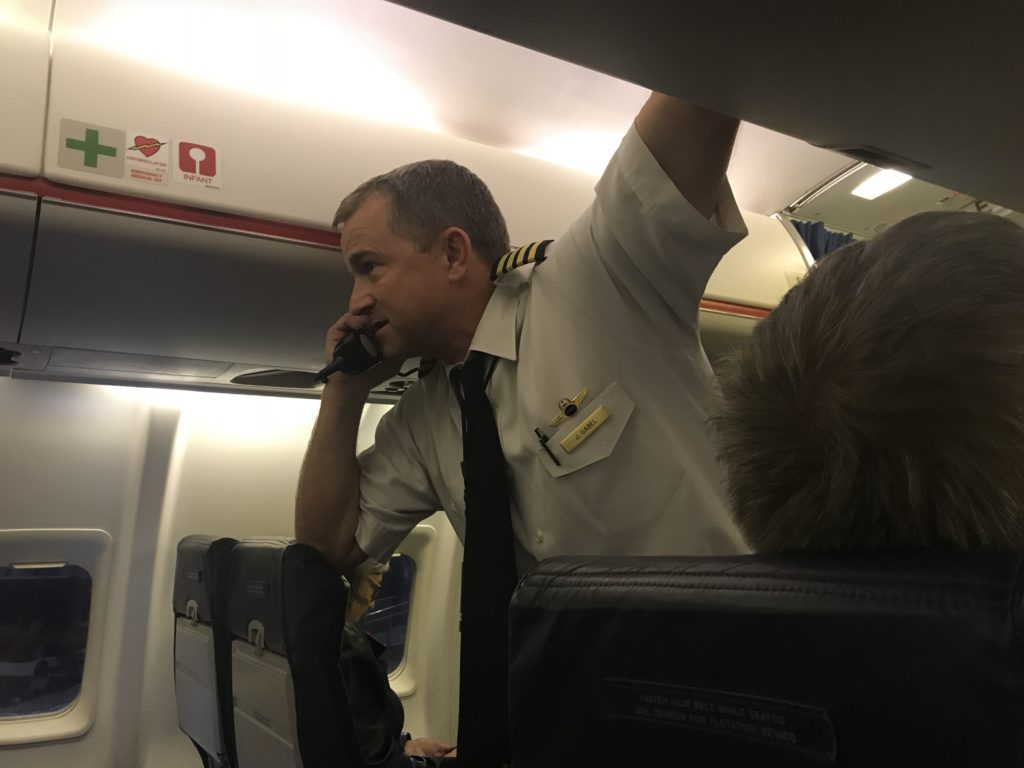 Kudos to the captain for keeping us on the ground as long as he did. It was a serious mark of professionalism for him to come back in person to address everyone. You could tell that this wasn't his first rodeo with the wild SFO-ACV hop.
He finally decided to depart when conditions in Arcata were "improving". We had already sat on the ground for about an hour, and the CRJ-200 had two more flights scheduled that evening, so it had to get going sometime.
Taxi and takeoff were quick, one of the quickest out of SFO I've ever experienced. As we got closer and closer to Arcata, I began to figure all was fine and dandy.
Then the plane started a long, slow bank to the right, and I realized I might not be making it home that night. Back to San Francisco we went. We parked at the same gate. I had literally gone nowhere.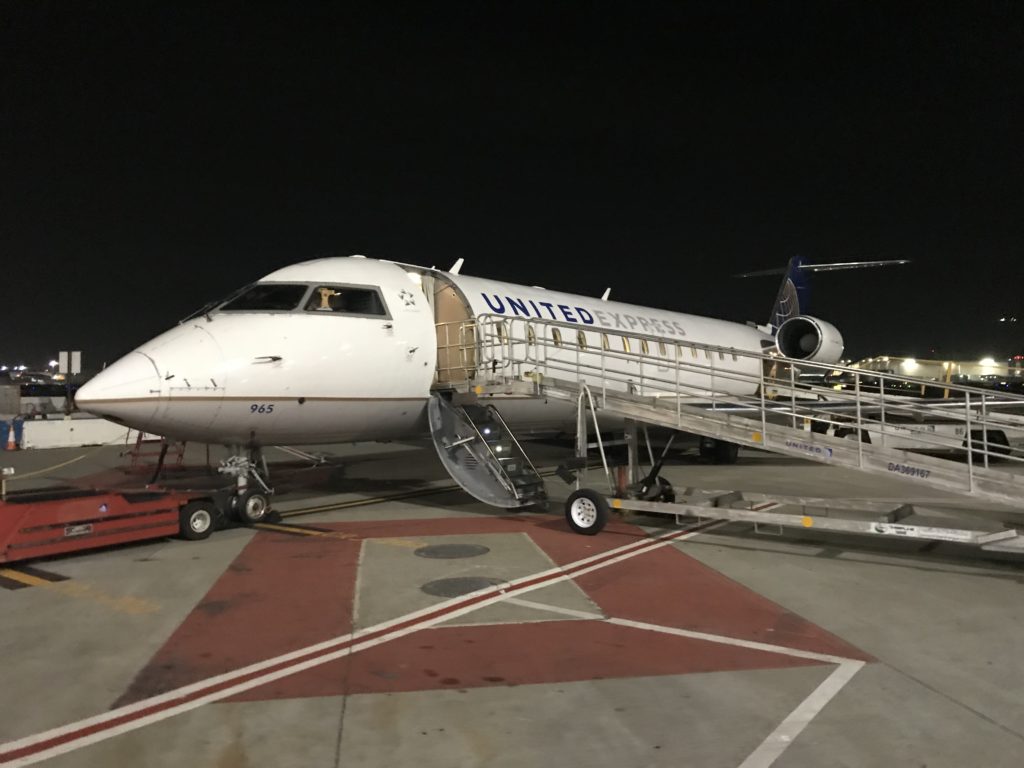 All's well that ends well
After arriving back at SFO, the gate agent printed me a standby ticket and told me to run to gate 77. Which I did. No more running. I'm tired of these United games.
Out of breath, I arrived at the final flight to ACV. Which I almost didn't take. I wanted to get a hotel and get some sleep. The idea of wasting another 2 hours trying again seemed foolish. But the next flight they could get me on happened to be the following day at 7:00 p.m., so I figured I'd give it a shot.
After a long delay, we were finally in the air and headed for Humboldt again. To my astonishment, we didn't turn around this time, and the ERJ-175 touched down smoothly at ACV. Everyone clapped. I can't remember the last time I've heard anyone clap on a domestic flight.
Conclusion
I really have a love-hate relationship with our tiny airport. It's so convenient, but it is so unreliable. The considerable delays and cancellations plus no other airline options is a recipe for disaster. United has left me in the lurch now three times with canceled flights. Two of these involved Arcata Airport. Let's hope this is the last for a while.