On Saturday my wife and I *finally* returned to the U.S. with our kids. The adoption trip was long, and we almost didn't get to come home on the Southwest flights we booked. But in the end it all worked out exactly as we hoped.
The trip was our first time flying with kids. We've traveled plenty as a couple, and at this point the process is routine. But traveling with three children is an entirely different experience. We were a bit worried how our kids would react to their first time on a plane. Overall, our trip went quite well, something for which I am extremely grateful.
Much of our success is likely due to the fact that our children (thankfully) didn't have any severe anxiety about flying and are well behaved on the whole. But part of our success can likely be attributed to some proactive measure we took. Here is the rundown on our first time flying with kids.
Combating kids' fears of flying
Our kids were a bit nervous about their first flight, but they were also excited. I tried to play off the latter as much as possible. Over a few weeks before the trip, I took some time to show them some photos of us on previous flights, some YouTube videos of takeoff, and pictures of airports.
Even with those measures, they still expressed some doubts and fears. The question at the forefront of their minds was the safety of the experience. They seemed a bit incredulous when I explained to them that flying is safer than driving in a car. That age-old issue of perceived versus actual risk.
Since statistics are impossible for them to fully comprehend, I switched to relying on personal experience. I told them that I have flown a good amount (LOL – a mere 120,000 miles) and have never been on a flight that has had serious problems. My one diverted flight doesn't really count since it was due to a medical emergency.
Checking all the baggage and navigating security
We arrived at SJO airport with our six checked bags, one carry on, and five personal items. This was waaaay more luggage than I've ever wanted. We brought FOUR checked bags to Costa Rica. Sadly, we had to buy one more to fit all our kids' stuff. Adding in my mother-in-law's bag finished the half dozen. I hope to never, ever travel with this much luggage again.
Fortunately, we were flying Southwest, so the ridiculous amount of luggage didn't cost us anything. The kids were eager to roll around a bag, so that took one off our hands. The toddler worked against us, though, as he insisted on carrying the backpack we'd (over)packed for him, but needed mom to help hold it up with one hand.
The kids curiosity morphed into restlessness at the check-in counter since things took so long. One bag was 55 pounds, so we had to do the last-minute shuffle with the contents (I'm sure everyone else in line hated us). Since the three kids were pretty much only getting in the way, I finally had them go wait with grandma. This is when I reminded myself that I needed to talk them through everything.
Taking time to explain things
Kids definitely do best when you explain the plan to them ahead of time. It was amazing how much better things went once we got all of us into a routine during our stay in Costa Rica. Knowing what is coming next helps them immensely.
When we are about to do something new (such as flying), I try to explain the situation and experience as much as possible. I also try to brief them on potential problems we may encounter. This is a great thing to do for activities beyond flying, but it definitely helped us during our first time flying with kids.
As we navigated the airport and plane, I did my best to explain each part of the process to them. First, it was the security experience. Then waiting at the gate (or going on little walks in the terminal) before boarding. Finally, boarding the aircraft. Talking them through things really helped everything go smoothly and made our first time flying with kids much easier.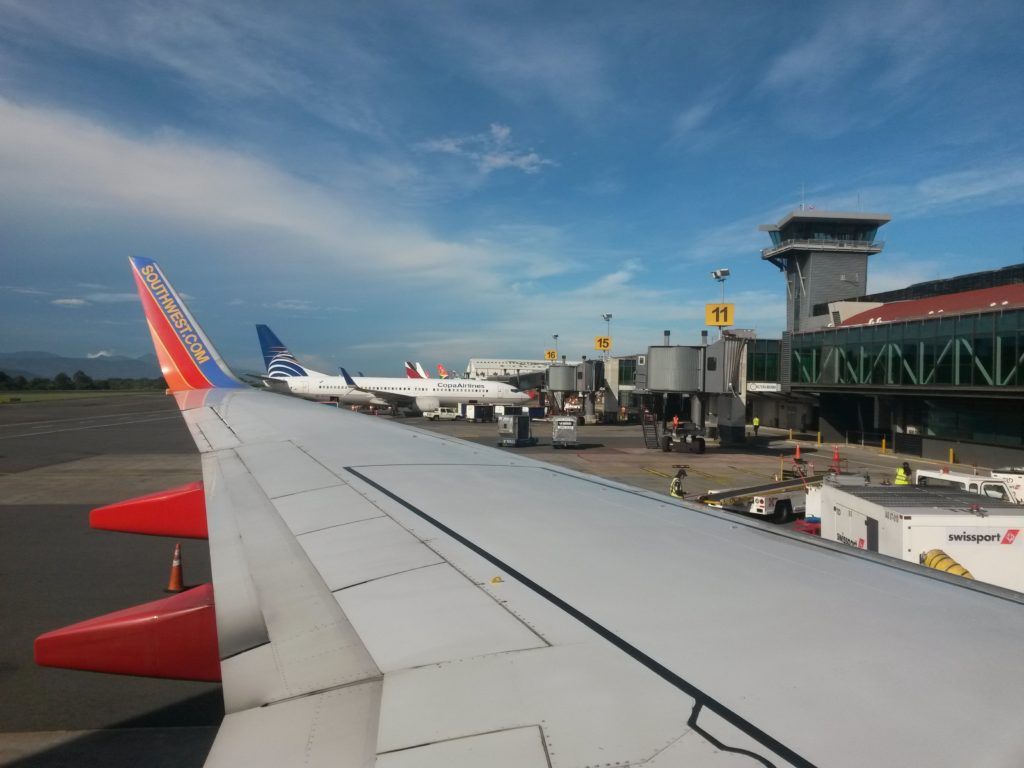 Boarding our first flight!
One of the benefits of flying Southwest is the family boarding process. Even though we were assigned boarding positions in the high Bs, we still took advantage of the Family Boarding offered between the A and B groups. Our kids were 3, 7 (barely), and 10, and going by the book, they should have only let one of us board with the youngest. However, the gate agent was very gracious, and we all boarded together.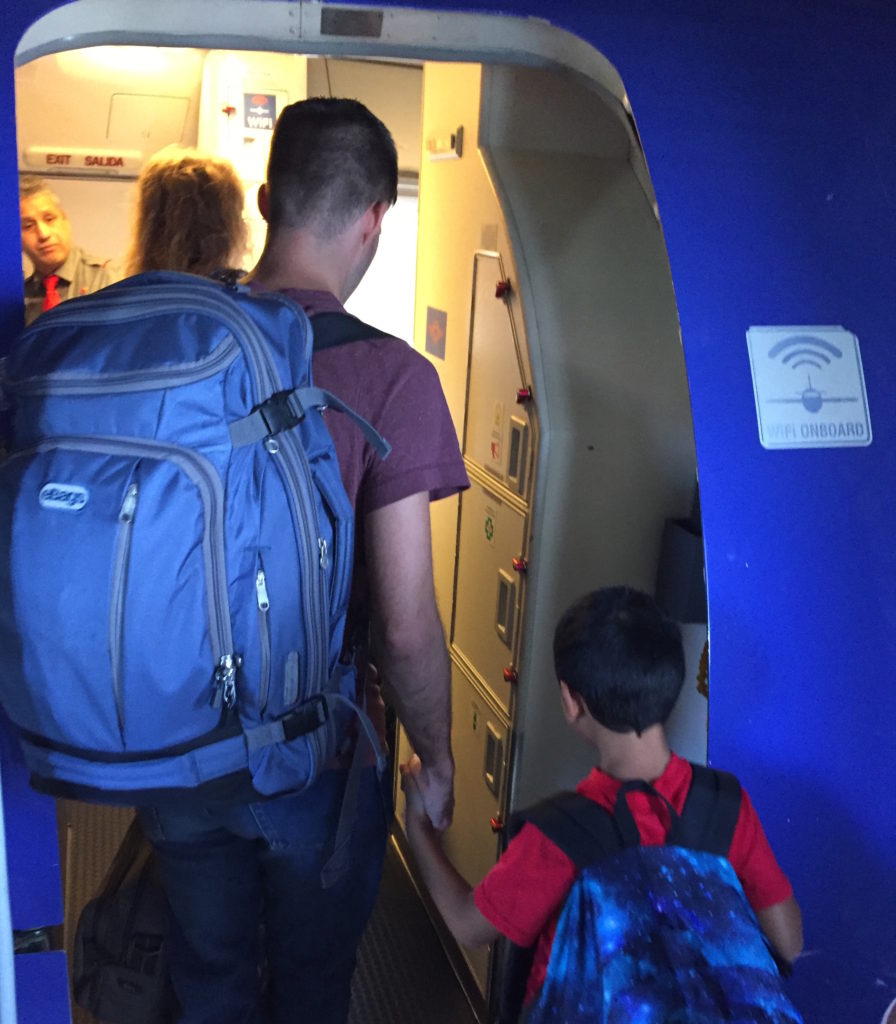 The kids were super excited as we walked the jetway.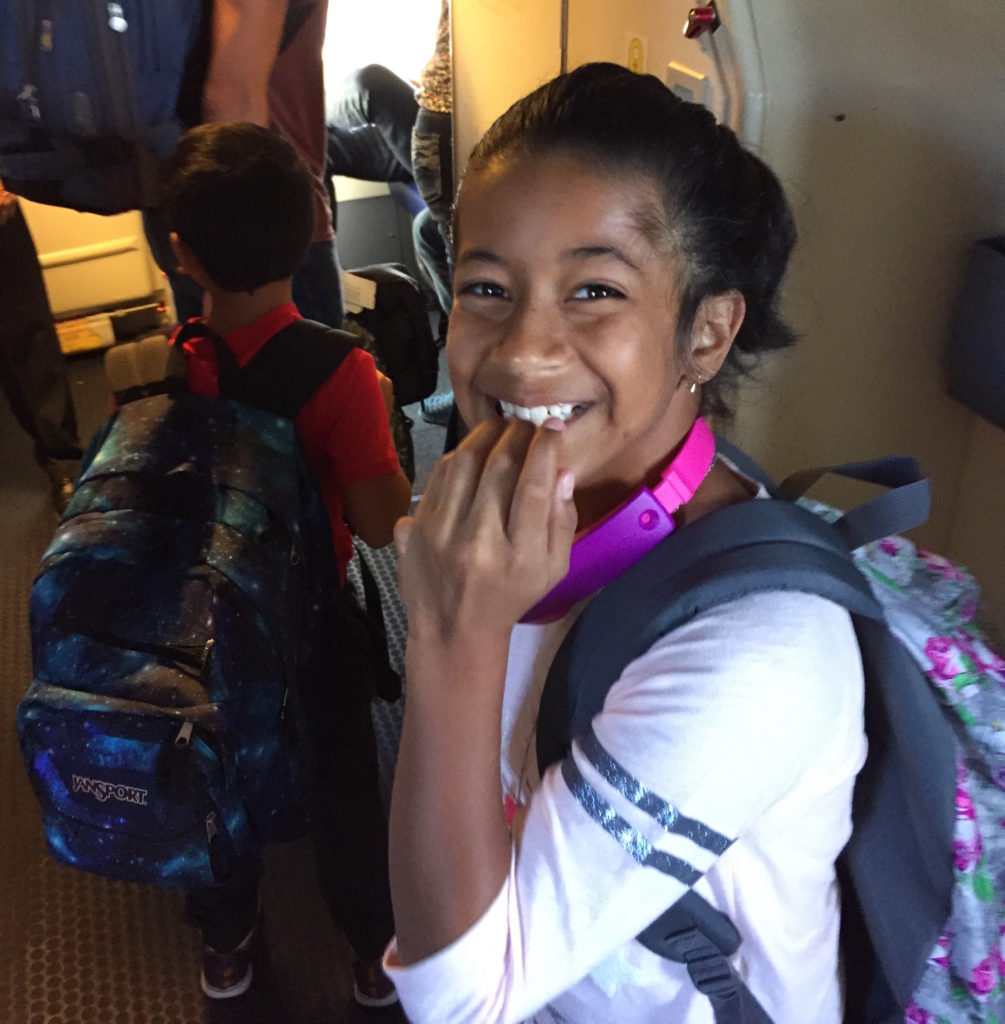 I was ecstatic that this was the dominant reaction instead of fear.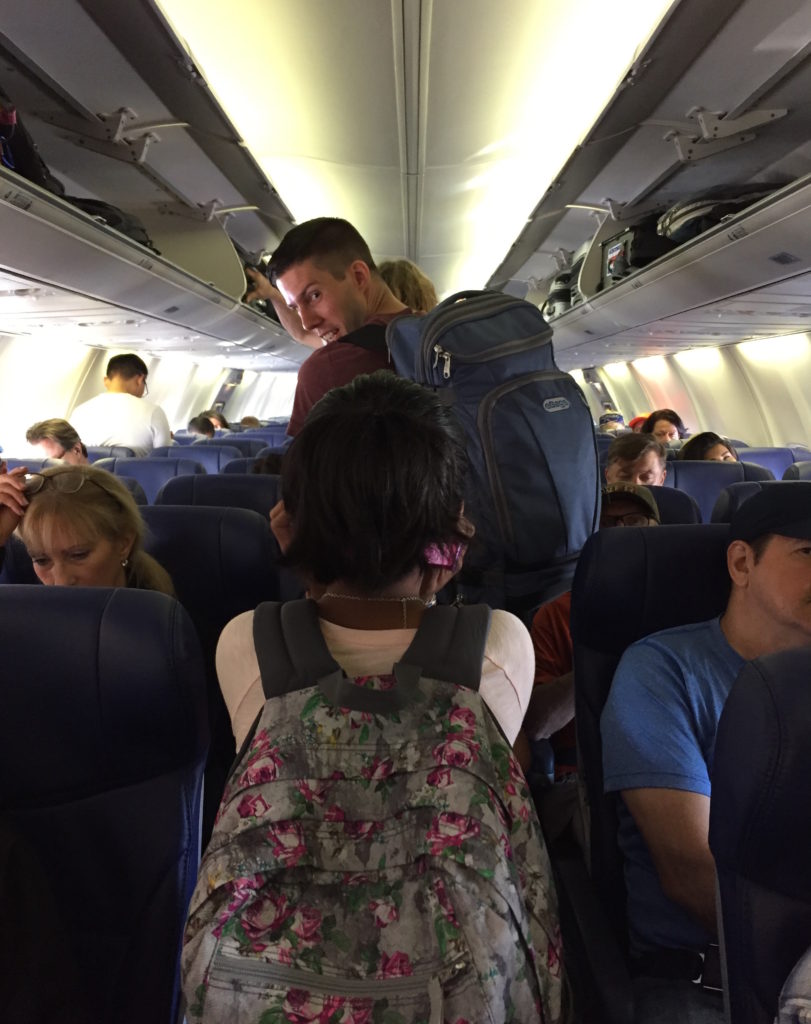 Since there were plenty of empty seats when we boarded, we were able to settle into a single row across the plane. Arranging seats as a group of six on a 737 is easy. I sat with the older two while mom and grandma managed the toddler.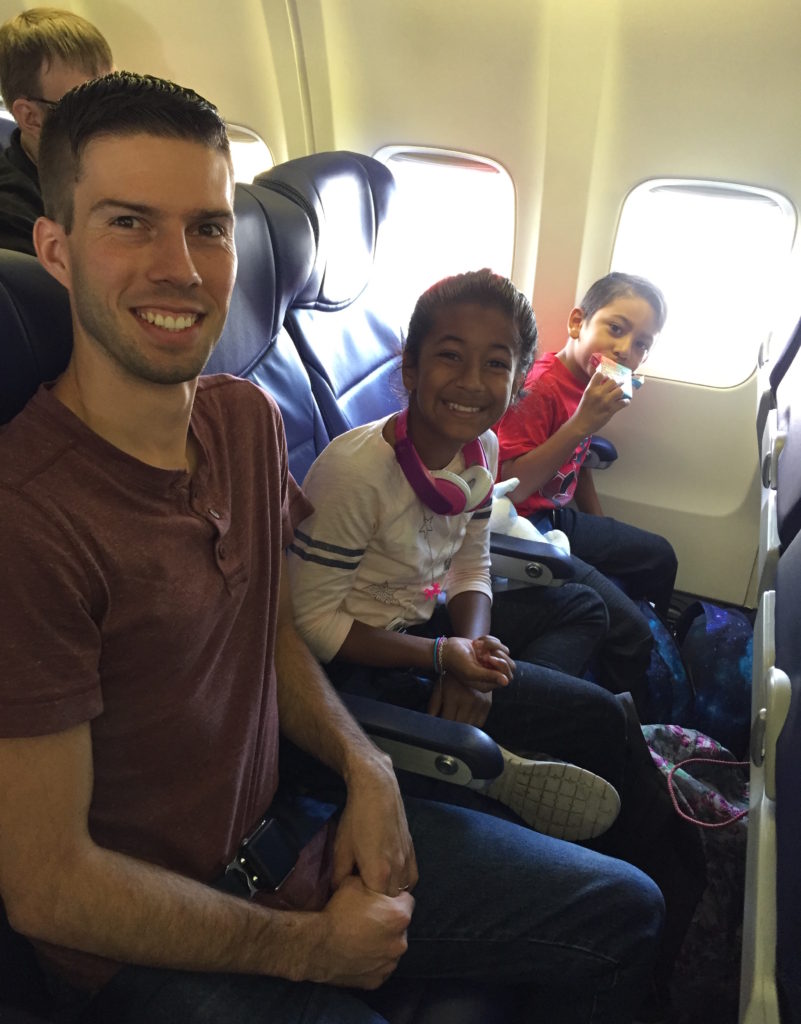 The kids oohed and aahed a bit at the other planes, especially any they saw moving. San José airport isn't all that busy (compared to say, SFO), so we only really got to see one other plane take off.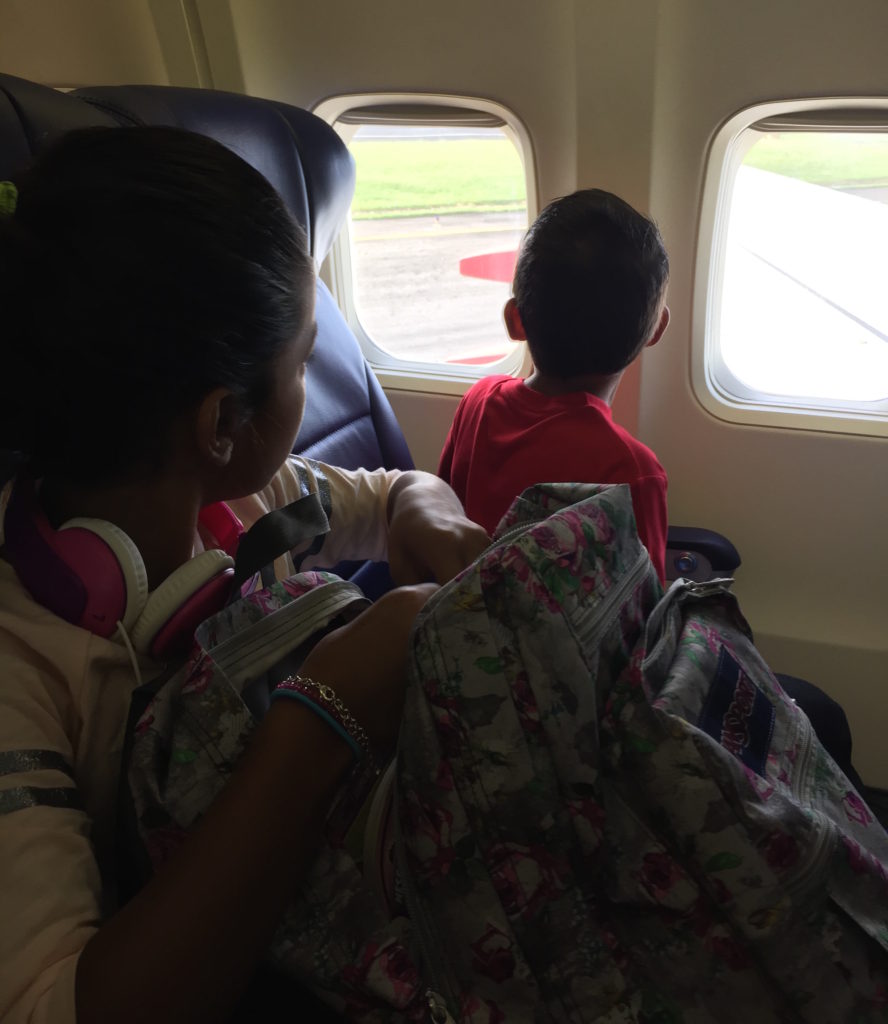 Taxi and takeoff
The kids' excitement went up a few more notches the instant we started moving. They were both glued to the window. I was just as excited, but more so because taking off meant we were actually headed home.
Our three-year-old was hands-down the most excited. He didn't take his eyes off the window. Every single plane he saw as we taxied was just as exciting as the previous one. He probably shouted "avión!" a dozen times.
The looks on the kids' faces was priceless when the plane started accelerating down the runway. Like with everything else, I tried to give the kids a little heads up that we were about to take off and what it would feel like. When the engines spooled up and we started hurtling down the runway, they were all smiles.
Once we were airborne, there was even more excitement as they pointed at the buildings below and at the hills of their beautiful country. With all the change that had happened to them in so short a time, I was thankful to see them smiling and laughing.
Soon we'd climbed into the clouds. With nothing left to view, the kids started digging through their bags for stuff with which to play.
What can you pack besides electronics?
This may be a hard road, but we're trying to heavily limit our kids' electronics intake in general. We had an iPad on hand with a couple movies loaded on it, but we hoped the kids could entertain themselves with other things for most of the flight.
My wife packed all three kids' backpacks with various toys, drawing pads, and snacks. We made sure to hide them so that they would be a surprise for the trip. As we were leaving the hotel, we gave them the backpacks. Even then we made them wait to open them until we were seated at the gate.
The whole idea worked quite well. They *loved* discovering what we had packed for them, and their new toys kept them entertained for quite a while on our flight to Houston. I did break out the iPad for music.
A definite winner was the Boogie Board drawing pad (which I guess is technically electronic). The kids could draw as much as they liked, but without the hassle of pens or pencils and paper. It even allowed us to play several rounds of tic-tac-toe and other games.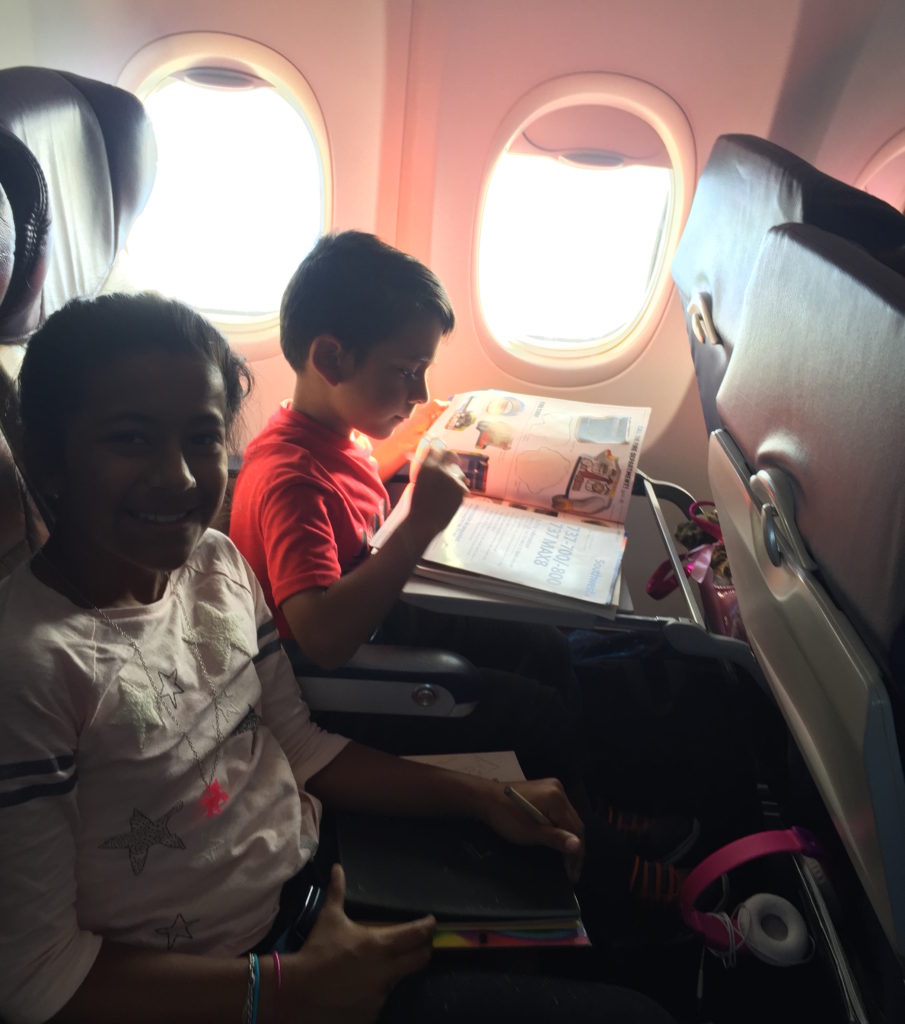 In the air – our first time flying with kids
My biggest concern was our *very* active three-year-old who has trouble sitting still for anything. Two 4-hours flights might have been a very long day.
Things started out well.  The little man had two adults to help entertain him, and he had snacks to eat. I got my hopes up that it might be smooth sailing the whole trip.
Alas, this was too much to ask. About an hour into the flight we had our first round of tears. He was getting squirmy, and mom finally had to hold him for a bit. How upsetting that is. Luckily, he doesn't usually throw a fit for more than minute or two, and soon he was back to playing with his stuffed dinosaur.
There were a couple more incidents of excessive squirming and a few more bouts of tears due to making him sit so long. Fortunately, his crying is subdued enough that I wasn't worried about it bothering other people too much. It wasn't an intentional choice, but we'd also managed to sandwich ourselves between two other families, one of which had a lap child. I'm sure they understood completely, if they even noticed.
When a patch of turbulence hit, I got a bit worried. I thought our kids might freak out. But they really didn't react at all. Granted, it wasn't all that strong, but I was thankful that this wasn't an issue (NOTE: on our second flight, a patch of turbulence did end up making our ten-year-old scream). The more frequent comment we got was that it didn't feel like we were moving at all.
The fact that Southwest also loaded us up with snacks every chance they could (I don't remember this from previous experiences?) really made the kids' day. Sure, we didn't think that a diet of chips and coke is the best thing for them, but hey, we wanted them to enjoy the experience.
My daughter did remark that she enjoyed flying much more than driving (yay!). Why? Apparently, it was because I wasn't telling them "I can't talk right now" at all. San José traffic and Costa Rica's mountain roads often required all my concentration, and this is my standard response when they barrage me with questions.
Teaching our kids basic flying etiquette
I couldn't help myself on this one. As things seemed to be going smoothly enough (i.e. our first time flying with kids was in fun mode and not survival mode), I figured it would be good to start teaching the kids good flying etiquette.
We ran through the basic stuff first: getting out of the aisle, stowing under-seat luggage, not reclining the seat before takeoff. I also ran through seat items such as seatbelt use, air vents (I had to help them, obviously), and the reading light and flight attendant call buttons. I instructed them not to tough the latter.  The older two listened well and did just fine.
Later on, I tackled some other items, such as being gentle when opening and closing the tray table and not using the seats in front of you as a hand hold getting up or down. The latter is a major pet peeve of mine. It turned out that the kids never asked to recline the seat (nor did the people in front of us), so we didn't have to deal with that at all.
They did well, and I'm sure they will get even better on subsequent fights. But on Day 1, I already feel like they are air travel all-stars.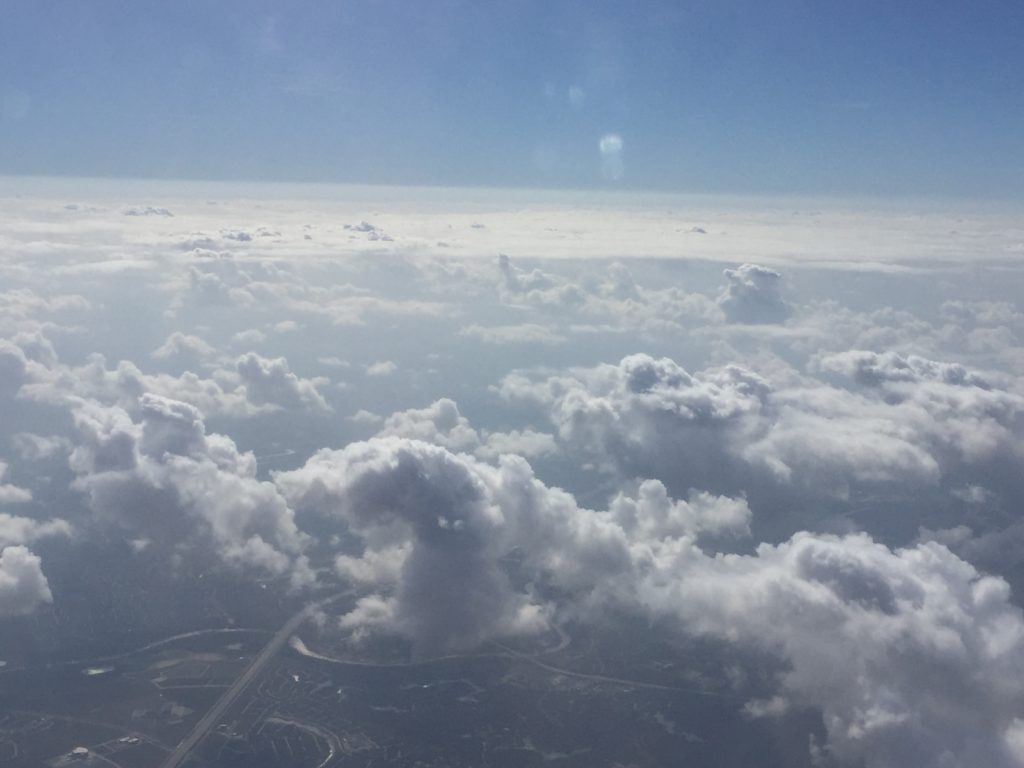 Landing in Houston
The kids became excited as we started to descend. This quickly turned to a bit of anxiety for our eldest. She did *not* like the feeling of descending in the airplane.
We had a brief freak-out moment as the plane touched down, but this quickly turned to relief as we were now back on terra firma. I failed to explain that taxiing and waiting to deplane part, so we did endure some complaining about not getting off the airplane all that quickly.
We did end up with a dirty toddler diaper on the final part of the flight. I figured we could change this quickly before we got to customs. We had no such luck. As this was our kids' formal entry into the U.S., the process took quite a while. Customs at Houston Hobby Airport is still worlds better than customs at George Bush Intercontinental. I'm thankful a 3-hour customs ordeal was *not* part of our first time flying with kids. We'll have to save that for later (or get them all Global Entry).
The final part of our adventure included navigating security, chowing down some pizza, and then rushing to catch our connection to the Bay Area. Five hours later we touched down in California. I never thought I'd ever say I was happy to be back in Oakland.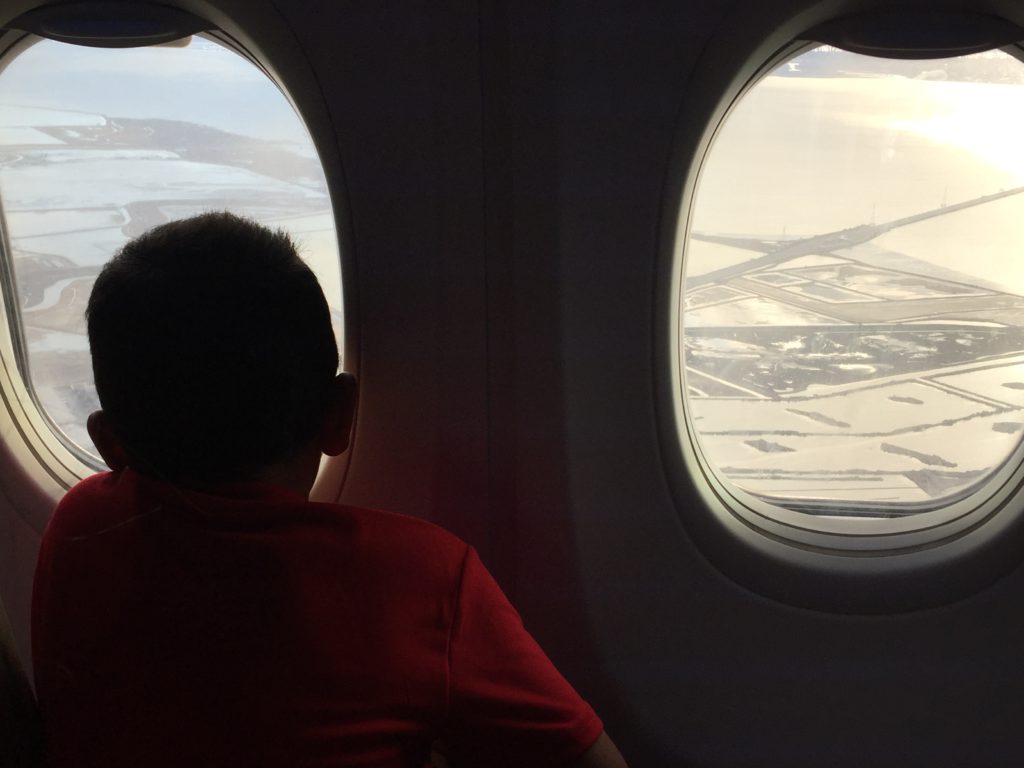 Final thoughts
Overall, our first time flying with kids ended up going about as smoothly as I'd hoped. We prepped them pretty well, and it paid off. The older two thoroughly enjoyed the experience, and I'm certainly not afraid to take our toddler on another flight, either.
Most of all I hope that this means they'll all quickly become great little travelers!