After idyllic Hawaii vacation for cheap (SEE: Best Miles to Hawaii), consider putting your miles to use for a visit to Europe.
With numerous fare sales to Europe, I don't typically recommend burning miles to fly economy. You can score sub-$500 fares from many major hubs these days, and fare sales are frequent.
Still, there can definitely be reasons to burn miles over flexible points. For example, if you live a good distance from a large airport (such is the case with me), tickets can be prohibitively expensive, sometimes well over $1,000. In this case, miles are often the way to go. Here are some of the best airline miles to Europe in economy:
American Airlines for 22,500 miles off-peak
American Airlines has long had great prices for off-peak travel to Europe. During much of the year, their prices are a standard 30,000 miles. But there are plenty of periods where awards are only 22,500 AA miles each way.
That is, if you can find saver space to use those AAdvantage miles. American has been terrible about releasing award space over the past several months. You might find a reasonable amount of space out of their hubs to Europe, but you'll often have issues with domestic connecting flights. Or you'll find that the award that are available are awful red-eyes, have terrible routing, and/or require long layovers.
But it can be done. If you're patient, plan ahead of time, and flexible with your dates, you'll almost certainly find the space you need. Or there may be plenty. Here is off-peak space next month from SFO to LHR: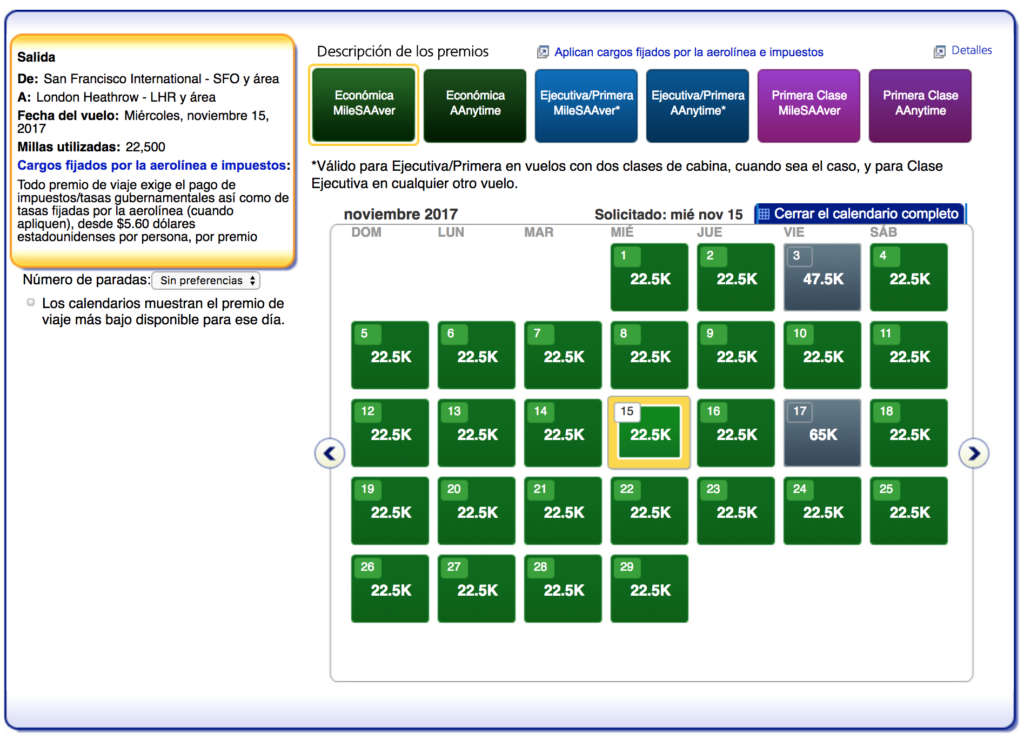 One thing to note is that there the American Airlines award search engine will return a lot of options on British Airways, a Oneworld partner. Avoid these like the plague. All British Airways flights to Europe have hefty fuel surcharges. Fees will be less if you fly on other Oneworld partners, such as Iberia or Finnair.
All things considered, American AAdvantage can be some of the best airline miles to Europe on economy.
Alaska Airlines for 20,000 miles off-peak
Mimicking American Airlines' prices, Alaska has an attractive off-peak chart for a couple partners (Alaska does not fly to Europe themselves).  You can fly American Airlines flights to Europe for only 20,000 miles during off-peak times.
Again, award space on American Airlines will be a limiting factor here, since you'll be using your Alaska miles to book their flights. At least your connections can be on Alaska, which may make it easier to get to an American hub, especially if you live on the west coast.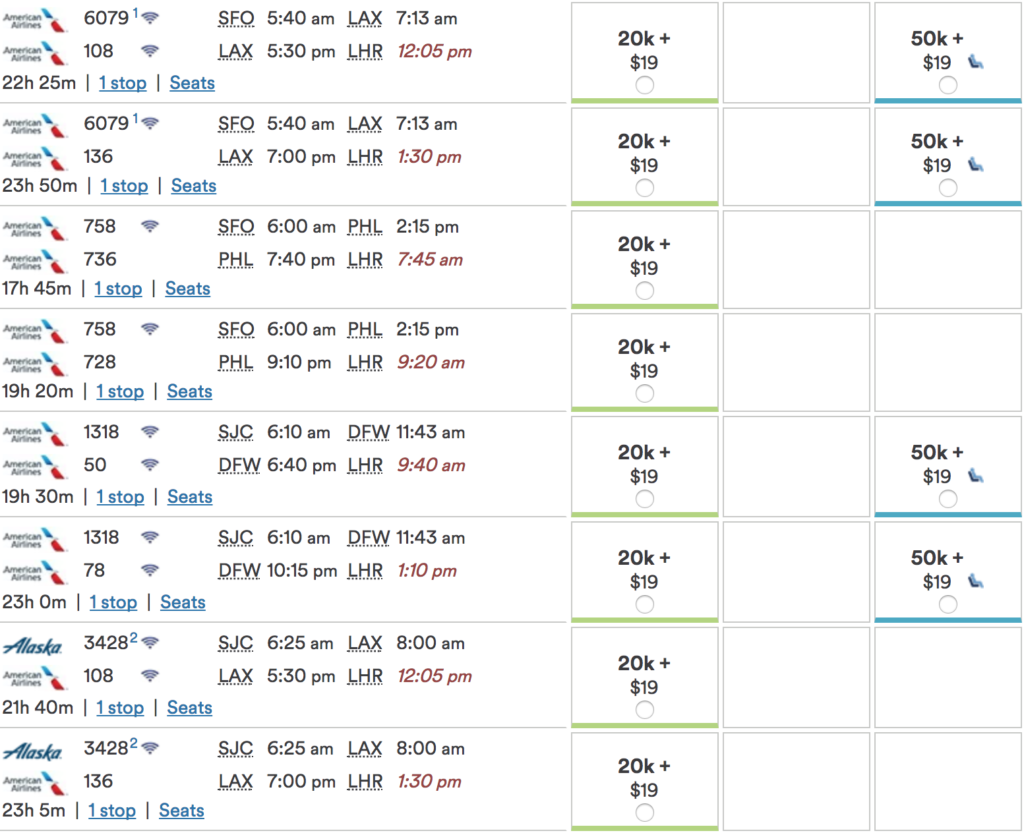 You can also fly Iceland Air to Iceland for 22,500 Alaska miles one-way and 27,500 miles to Europe at times. Iceland Air has multiple tiers of pricing, based on season, however. Another option is Condor for 25,000 miles in economy. Condor flies some unique routes from the U.S. to their Frankfurt hub.
A couple cool ideas: plan a stopover in Alaska before continuing on to Iceland or Europe. Alaska's generous award rules allow a stopover on one-way awards. Or when returning, plan a stopover in one of Alaska Airlines east coast destinations before flying back across the country.
It might seem weird that Alaska miles aren't the first on the list of the best airline miles to Europe since the Alaska (on AA) off-peak award require the fewest out of any currency. But there are simply too many other great uses for Alaska miles that I would hesitate to burn them on this.
Asiana Airlines for 25,000 miles
Asiana is a carrier that many people probably do not recognize, but don't overlook their program. They are one of the best options for StarAlliance flights to Europe. They are also one of the best Asian carriers overall (SEE: Asiana Business Class Review Seoul to Sydney).
You can accrue Asiana miles a couple of ways. They are a 1:1 transfer partner of Starwood Preferred Guest, so you will have enough miles for a round-trip flight to Europe with only 40,000 SPG Starpoints (factoring in the 25% bonus on transfers in 20,000 point increments).
Another option is the Asiana Visa card issued by Bank of America. If you find yourself attracted to the Asiana program, this card is a must-have. The perks include a 30,000 mile sign up bonus,
One thing to keep in mind is that Asiana has a very attractive award chart for premium cabins to Europe. Business class is a mere 40,000 Asiana miles. So it could easily be worth saving up a bit longer to fly in comfort and style. Just remember that Asiana passes along fuel surcharges. If you fly on United metal, though, there won't be any fuel surcharges to pass on, making them the best airline miles to Europe for flying United.
Korean Air SkyPass for 50,000 miles round-trip
Delving into SkyTeam territory we have Korean Air Skypass as a great option. One of the difficulties with SkyTeam awards is that fuel surcharges are passed on in all cases. You can minimize these when flying *to* Europe, but expect to pay high airport fees and moderate surcharges when returning to the U.S.
You can book a round-trip award to Europe for 50,000 miles. Delta charges 60,000 miles for the same ticket. As far as I am aware, Korean Air does not allow one-way awards on partners. But this is still a good deal at 25,000 miles each way.
You can earn Korean SkyPass points by transferring Chase Ultimate Rewards to SkyPass miles, or through Starwood Preferred Guest. There is also a co-branded SkyPass credit card issued by U.S. Bank.
FlyingBlue promo awards
The FlyingBlue promo awards come out every couple months. They are a discount (typically 25%) off of the standard award price of 25,000 miles. Economy will therefore cost you 18,750 FlyingBlue miles each way, plus taxes and surcharges. One downside is that they only apply to AirFrance and KLM flights, so you have to fly out of a large hub served by one of these carriers.
Given that both KLM and AirFrance charge significant fuel surcharges, using miles will only make sense if the cash price of the flight is quite high. But there are instances where even redeeming for the full 25,000 miles could make sense.
Still, I'd personally wait until the promo awards included a city near me, since a price of 18,750 miles each way is pretty phenomenal, and the main reason FlyingBlue makes the list of best airline miles to Europe.
British Airways Avios
British Airways is far down the list of best airline miles to Europe for two reasons: they charge hefty fuel surcharges on their own flights, and their use as a reasonable currency is pretty situational.
One of the best sweet spots, if not one of the most well known, is the 12,500 mile price for flights between Boston and Dublin (or Shannon), Ireland. Since this rings in at just under 3,000 flown miles on British Airways distance-based award chart, you pay the same as most domestic U.S. flights.
The only other good options are honestly flying non-stop out of an AA hub to a destination in Europe. Most of the U.S. will be 20,000 to 25,000 miles each way. But because BA charges you per segment, connections really drive up the price.
Other best airline miles to Europe in economy?
A couple honorable mentions are Lufthansa Miles & More for 25,000 Miles each way. Barclaycard issues a Miles & More co-branded card if you're interested in collecting those miles. Singapore will run you 27,500 miles one-way, which is a slight discount over many other airlines' 30,000 miles in each direction.
I'll also mention United for 30,000 miles, mainly due to the high number of Star Alliance partners available in Europe, and the fact that MileagePlus doesn't apply fuel surcharges.
Honestly, I wouldn't worry about investigating these other programs, as there is an even better solution.
Best option: Use flexible points
I will argue that if you are flexible with carrier, dates, and routing, using a flexible points currency will honestly be the best airline "miles" to Europe for economy flights. With either the Chase Sapphire Preferred card or a Citi ThankYou Premier, your flexible points are worth 1.25 cents each when you book through each bank's travel portal.
If you hold the Chase Sapphire Reserve card, your points are worth 1.5 cents each through the travel portal. Similarly, if you hold a Citi Prestige card, your points are worth 1.33 cents each when booking American Airlines flights.
In my experience, you can fly to most major European destinations for less than $750 these days on full-service carriers, if you plan in advance. You should really be shooting for $500 fares if you live in any sizable hub. Even for your $750 ticket, you'll be spending 60,000 points, which is standard in many programs, plus you will owe a whopping $0 in extra fees.
If you catch a $500 fare sale, you'll be spending a mere 40,000 points. Since these flights will also be earning you miles (nor will you be dependent on available award space), this will likely be the way to go. Research all your options before you transfer your points.
Conclusion
Using flexible points for tickets to Europe will usually be your best option. But if you're intent on using miles for coach travel across the pond, these are pretty much the best airline miles to Europe in economy.