My wife and I are in the process of moving from just the two of us to a family of five. After literally years of waiting, we are now in Costa Rica adopting three beautiful kids. Our focus during these weeks in Costa Rica is on bonding with our kids. But this doesn't mean we can't take them on a few trips to see their own beautiful country. In other words, we're taking a couple overnight trips while we're here, and the first was to Hotel Punta Leona.
Our adoption coordinator set us up with a great rate at the hotel for a couple days midweek. Hotel Punta Leona was running a special, and we were able to book a room for $158 per night, all meals included. For a family of five, this is *amazing*.
Arriving at the Hotel Punta Leona
The Hotel Punta Leona is located on Costa Rica's Pacific coast. It is about an hour and a half drive from SJO airport, and a little bit further than that from San José itself. A good portion of the drive is on Costa Rica's only real freeway, so it is a lot easier to access than many other places in the country.
The turn off to Hotel Punta Leona is a little north of Jacó. Once you turn off the highway, the road is dirt essentially until you arrive at the hotel property.
The facilities reception have a manned security gate. After explaining that we had a reservation, the guard let us through half a minute later. It's not that Costa Rica isn't safe. I've just noticed that many places have manned security or attendants, including parking lots and other places that would be totally mundane in the U.S.
Check-in went smoothly, except for the fact that the hotel was currently without a computerized reservation system. The front desk even had to use one of the ancient, manual sliding credit card machines. With my Chase Sapphire Preferred Visa card that doesn't have a nicely embossed front. Didn't work so well. She had to manually write the numbers and other info.
Selvamar Room…for the 5 of us!
The Selvamar rooms are located a distance from reception and the rest of the facilities, so we had to hop back into the car and drive a couple minutes.
I knew going into this that the room was going to be small. It didn't disappoint.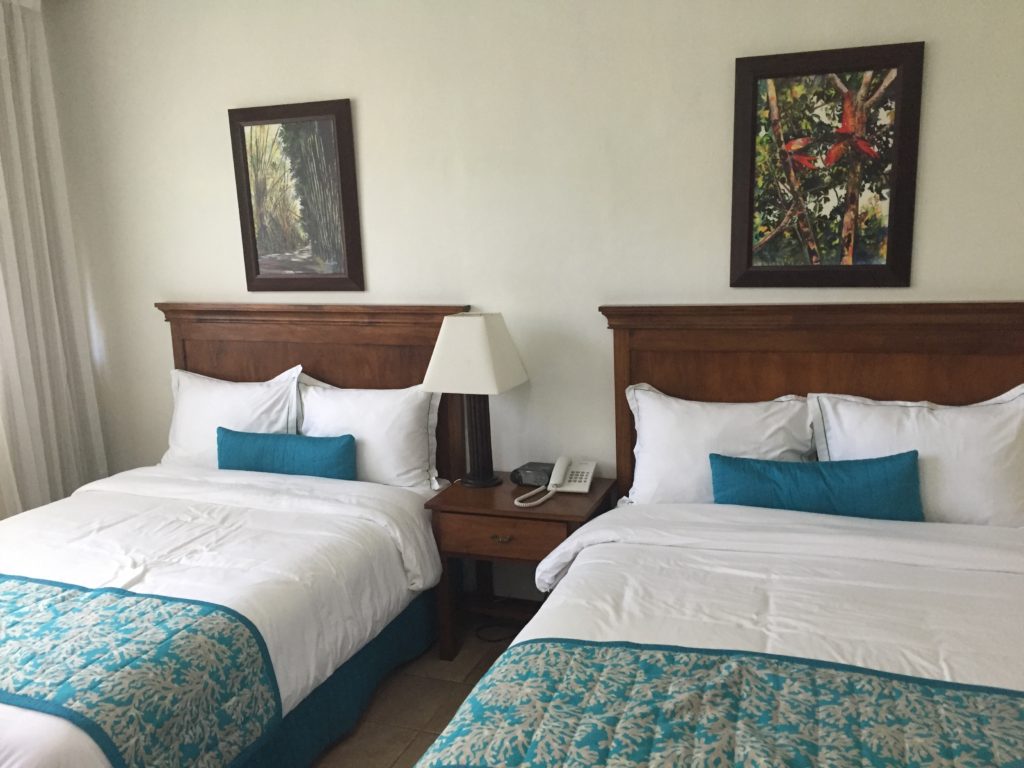 It was a fairly standard hotel room with two full-size beds, a desk, TV, and in-room coffee.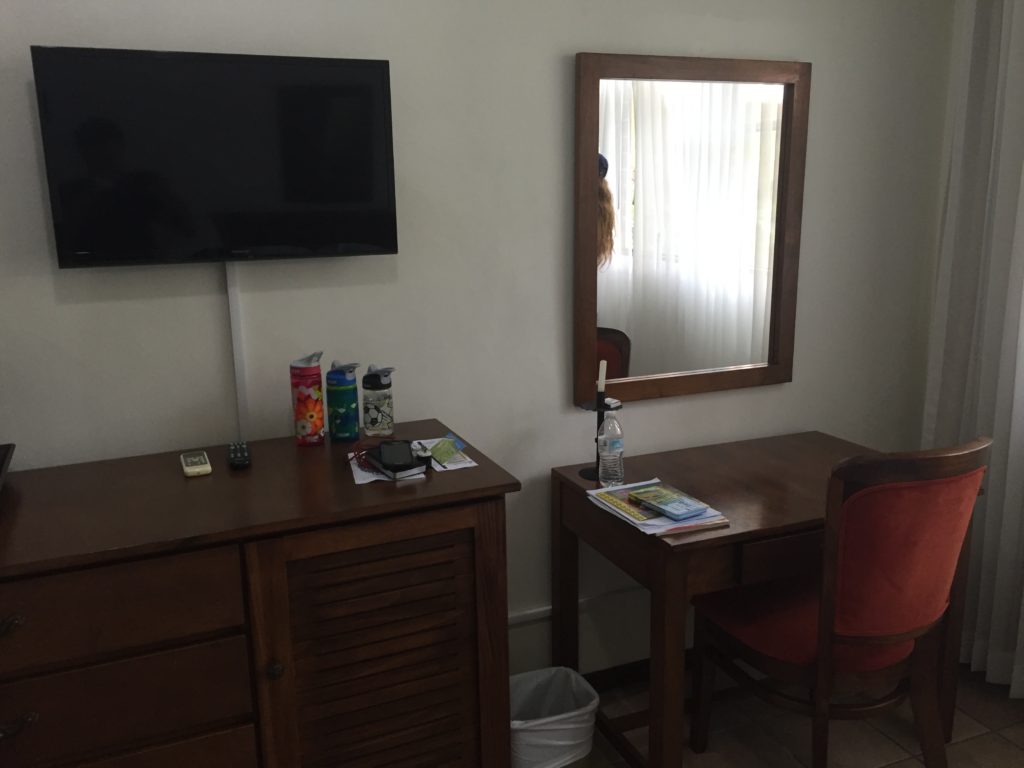 The bathroom was adequate. Overall, it was a tight squeeze for all of us for two days. But it was a deal!
The Selvamar rooms are at least in a nice setting. There rooms are arranged in groups of 4 with walkways and gardens in between. At dusk there were monkeys to watch swinging and climbing through the foliage above.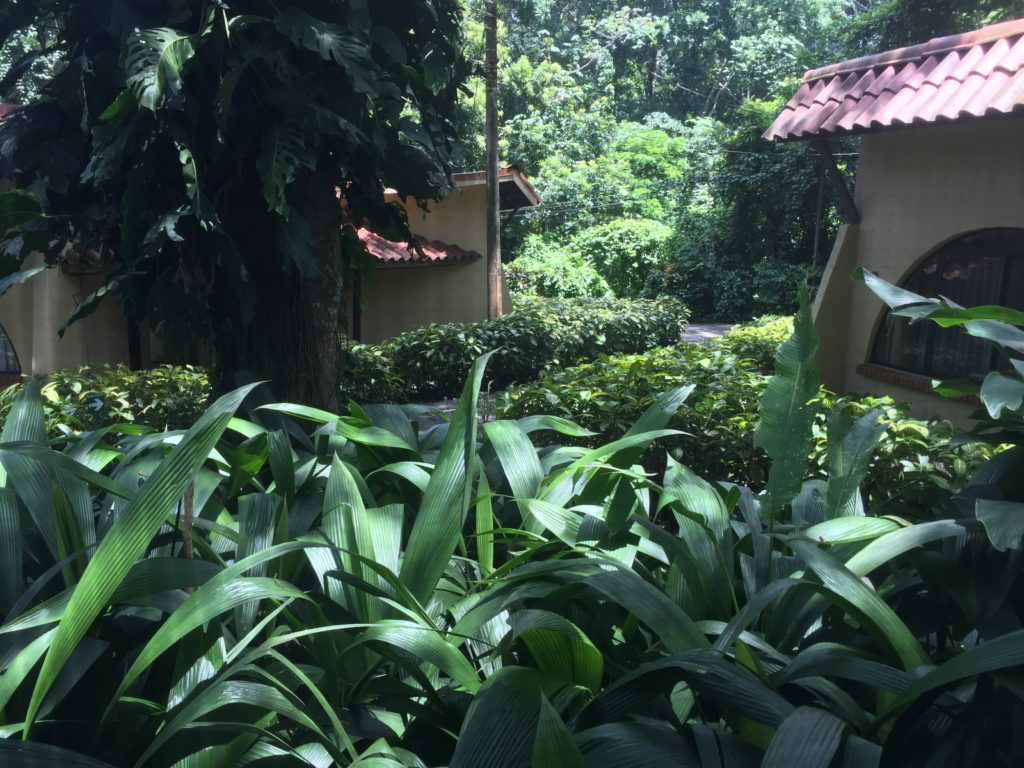 And there were iguanas along the path at times. Even though our daughter is a native Costa Rican, they totally freak her out!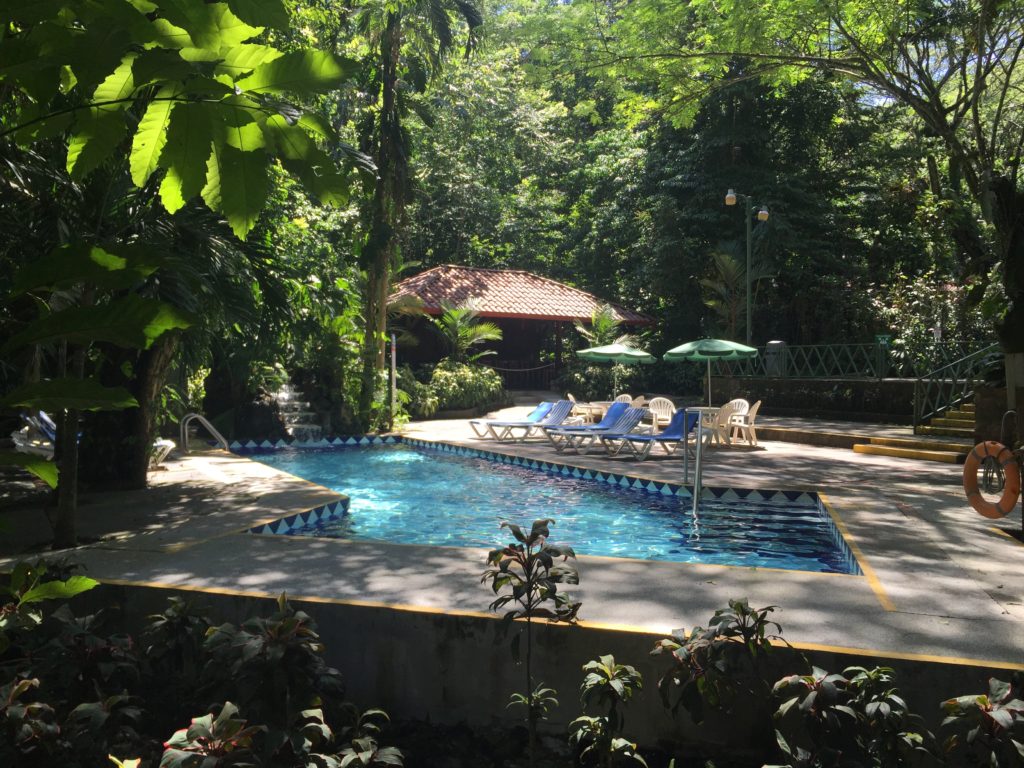 There was also a small pool close to the restaurant and Selvamar rooms. Given the much nicer facilities elsewhere, we never used it.
Hotel Punta Leona Restaurant – Carabelas
Included in our rate were all meals at the restaurant near the Selvamar Rooms. It was a quick two-minute walk away.
Everything at Carabela's is buffet style. I'd rate the food as above average as far as buffets go. Most tasted super fresh. The beef at our first lunch was amazing. There was typically enough variety that anyone would be satisfied.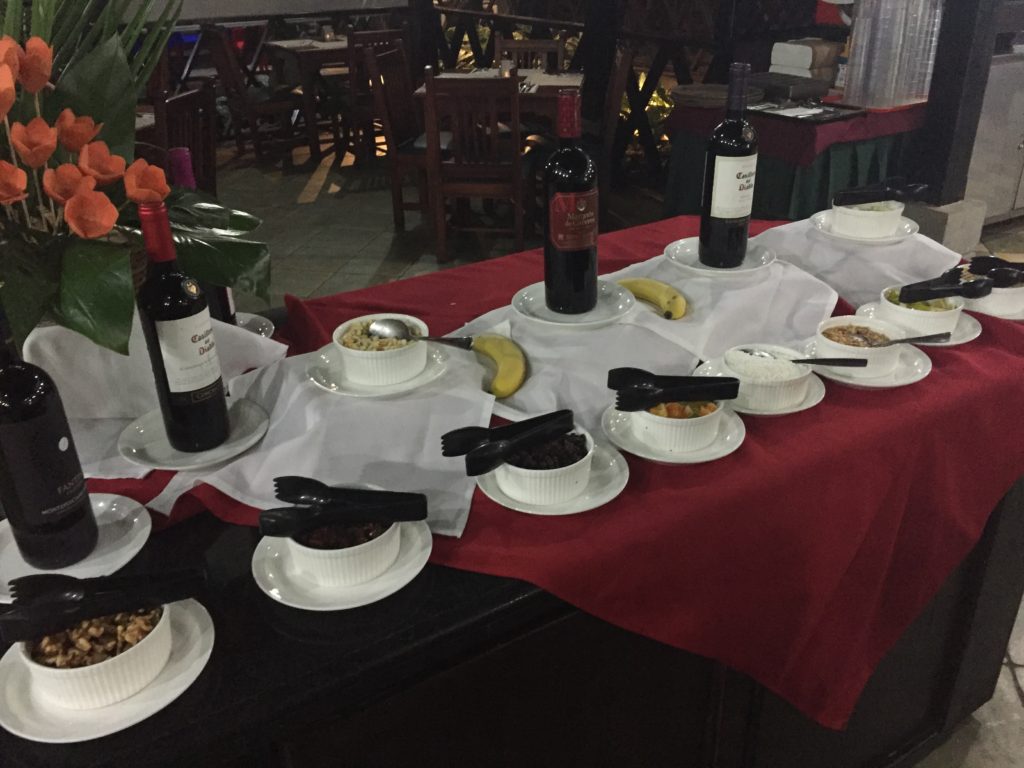 They had starters and a nice salad bar.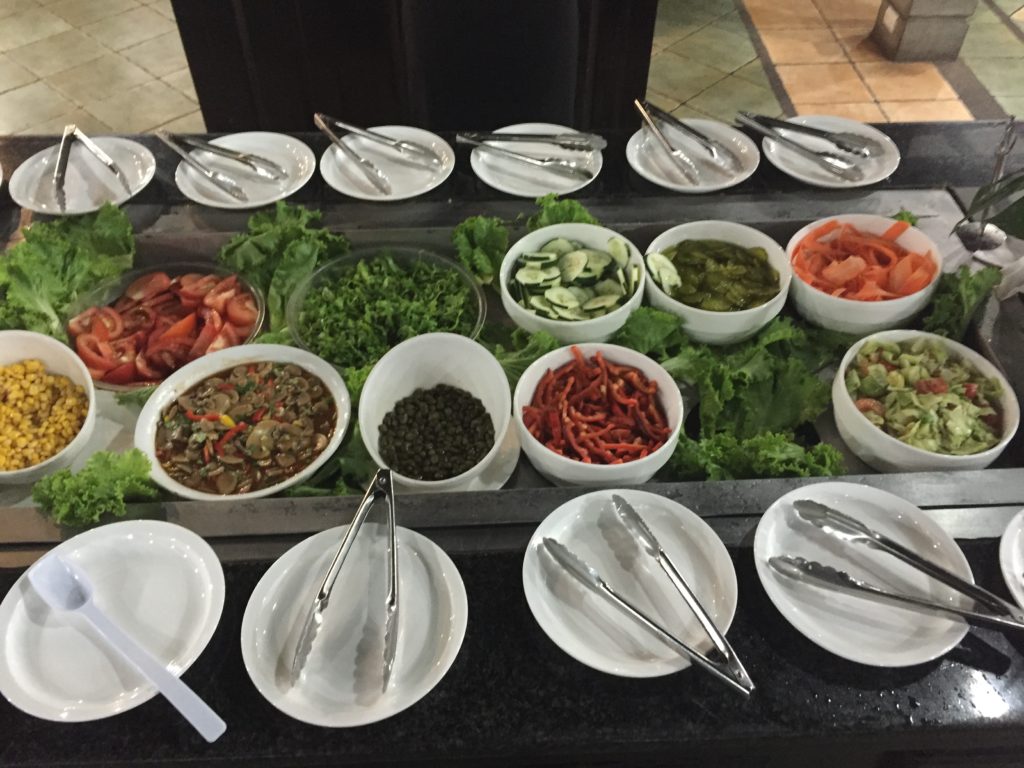 Every meal featured a chef at the grill or stovetop making part of the meal. The first evening it was churrasco.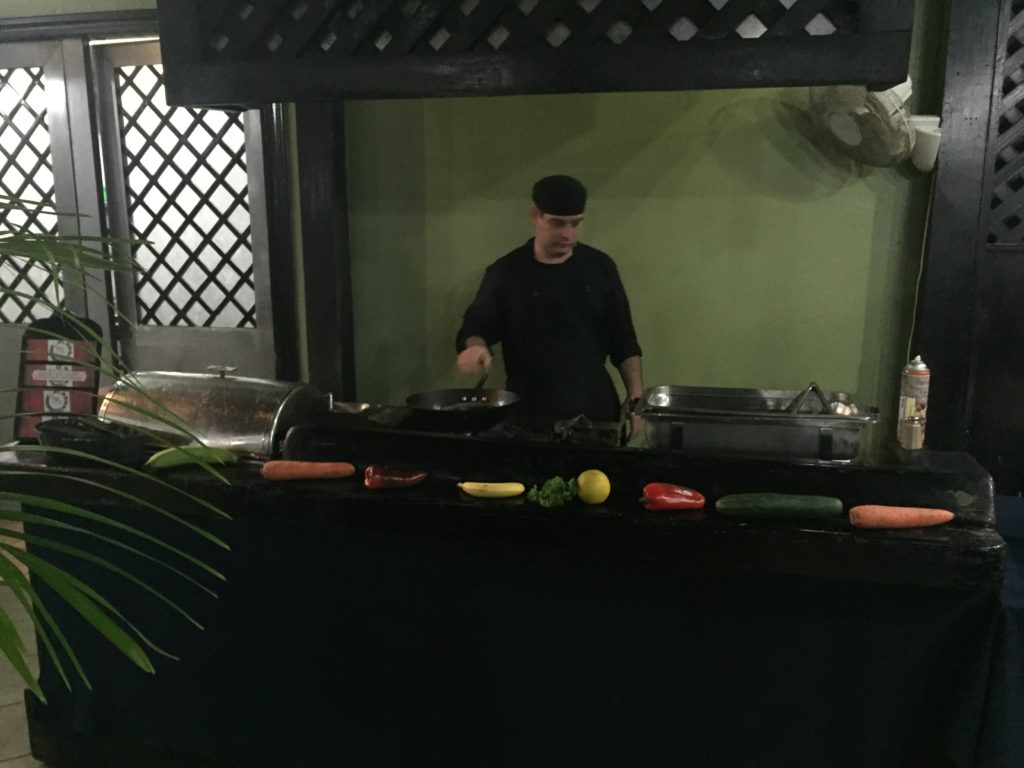 Soup.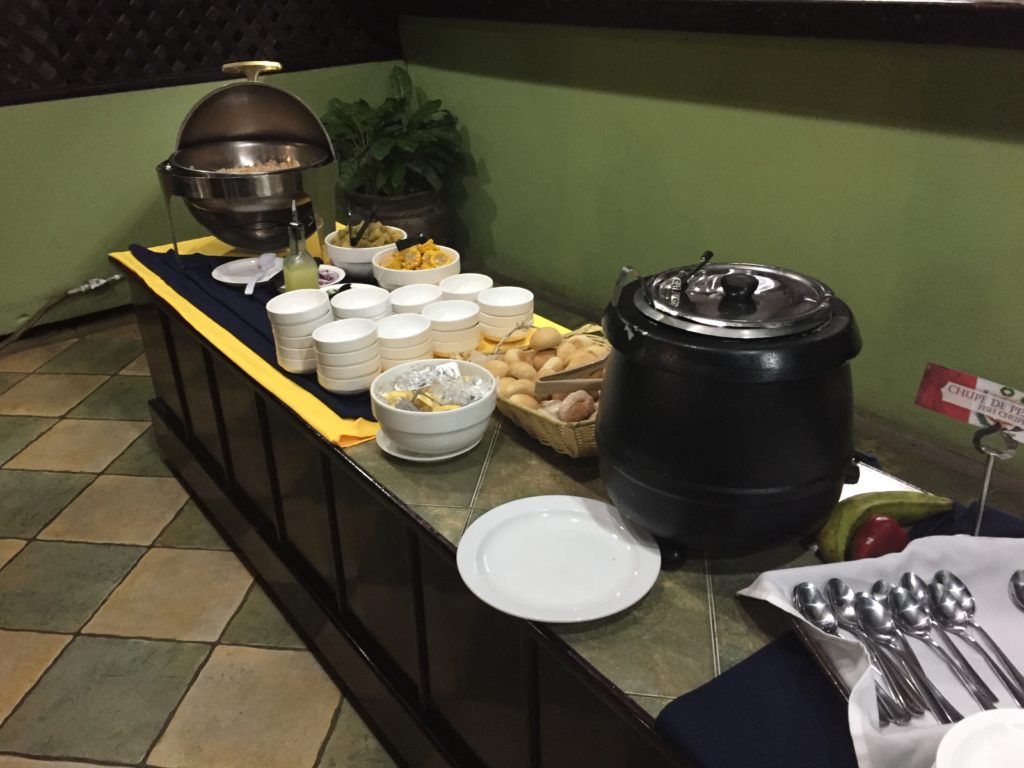 And other entrees and sides.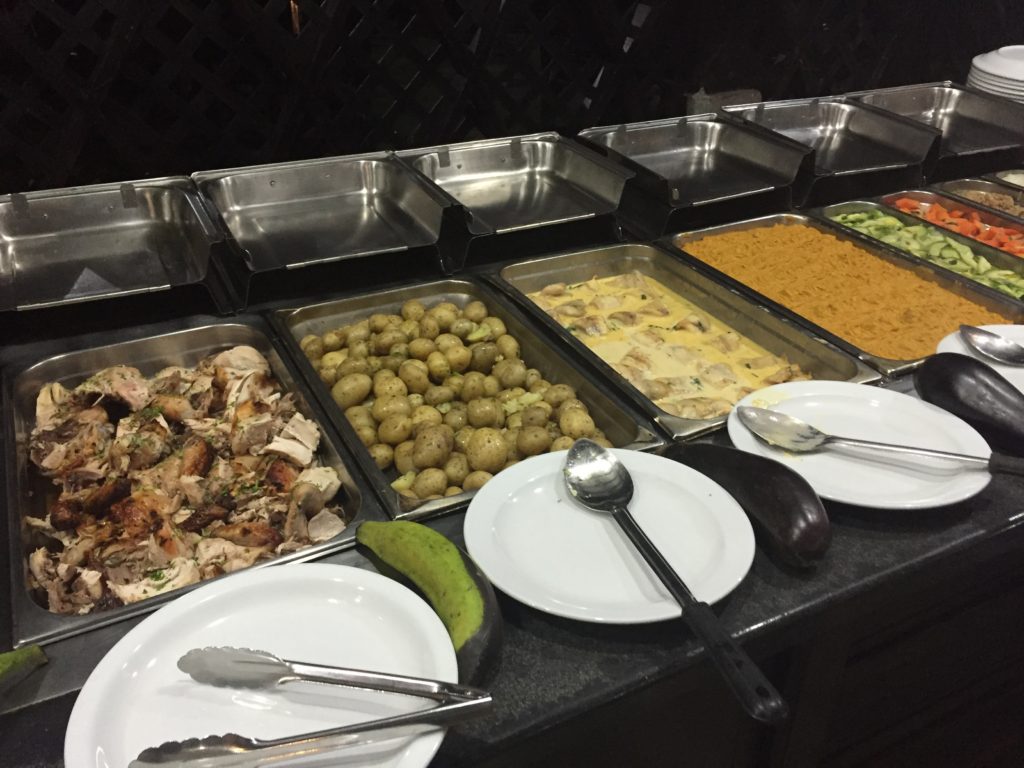 Soft drinks were self serve. You could also order beer or wine. A server kindly offered both evenings, but we declined.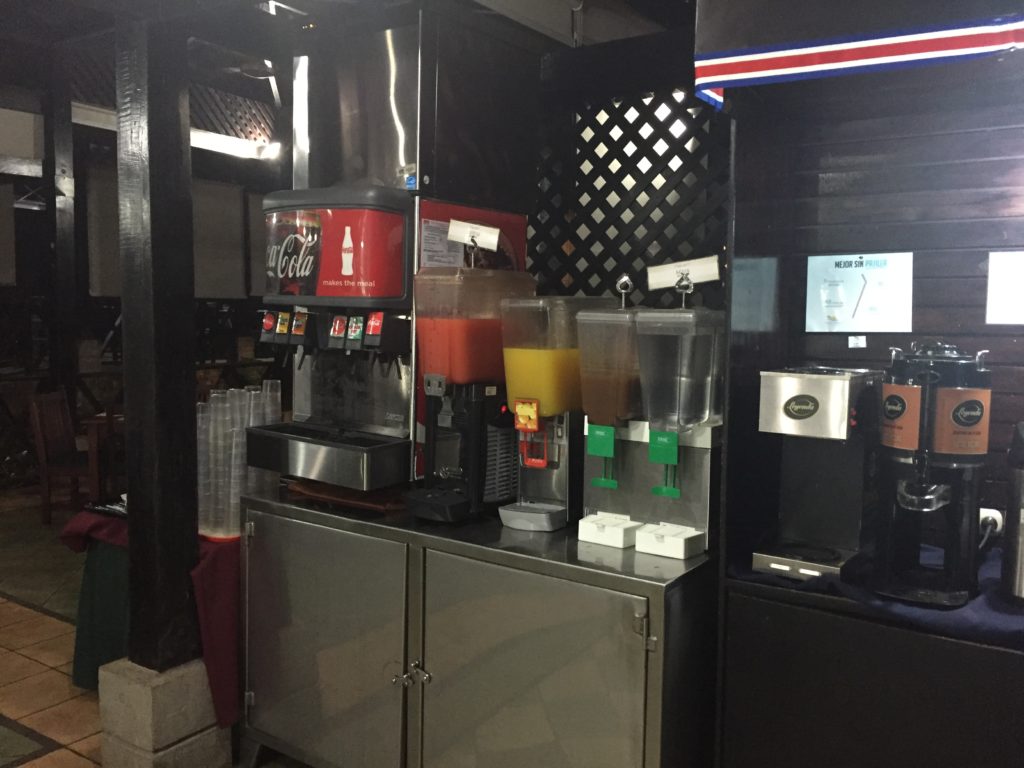 In the mornings we had an immersive breakfast experience with the local wildlife. We were approached by both monkeys and a coatimundi.
I had a good laugh when a monkey stole some food from a guest on our first morning. I wasn't laughing when the same thing happened to me the next day!
Hotel Punta Leona Facilities
The facilities of the Hotel Punta Leona are spread out over a fairly large area. The main highlight for the kids were, of course, the large pools.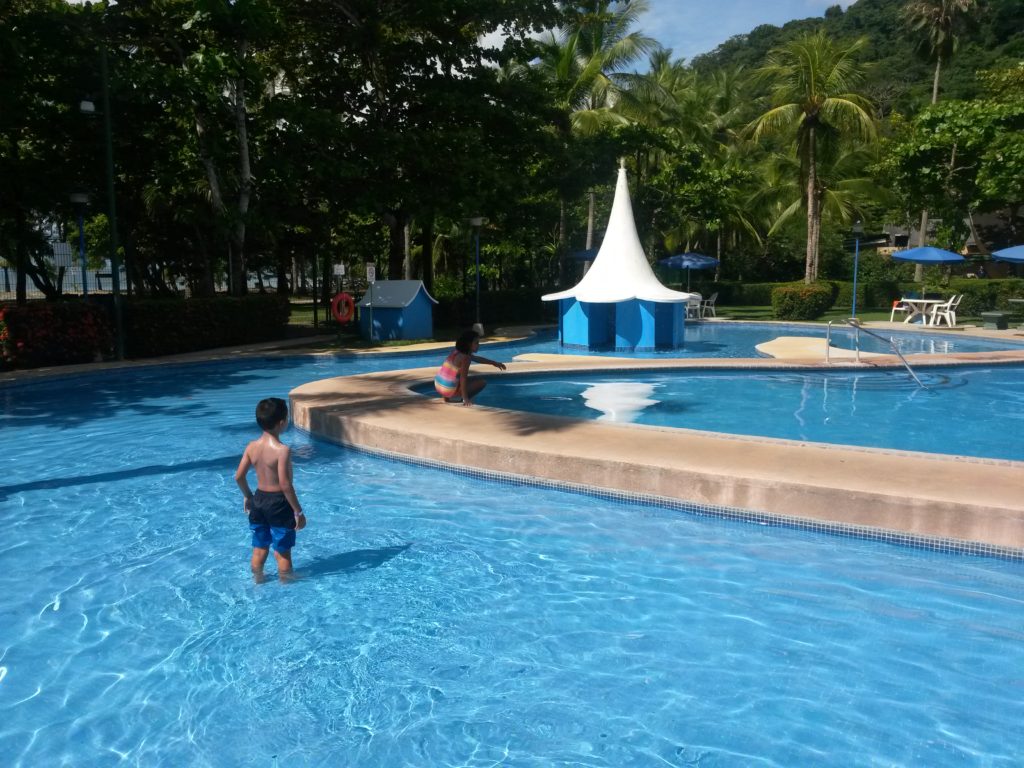 Compared to the other hotel at which we are staying for the bulk of the time in Costa Rica, they were wondrously warm.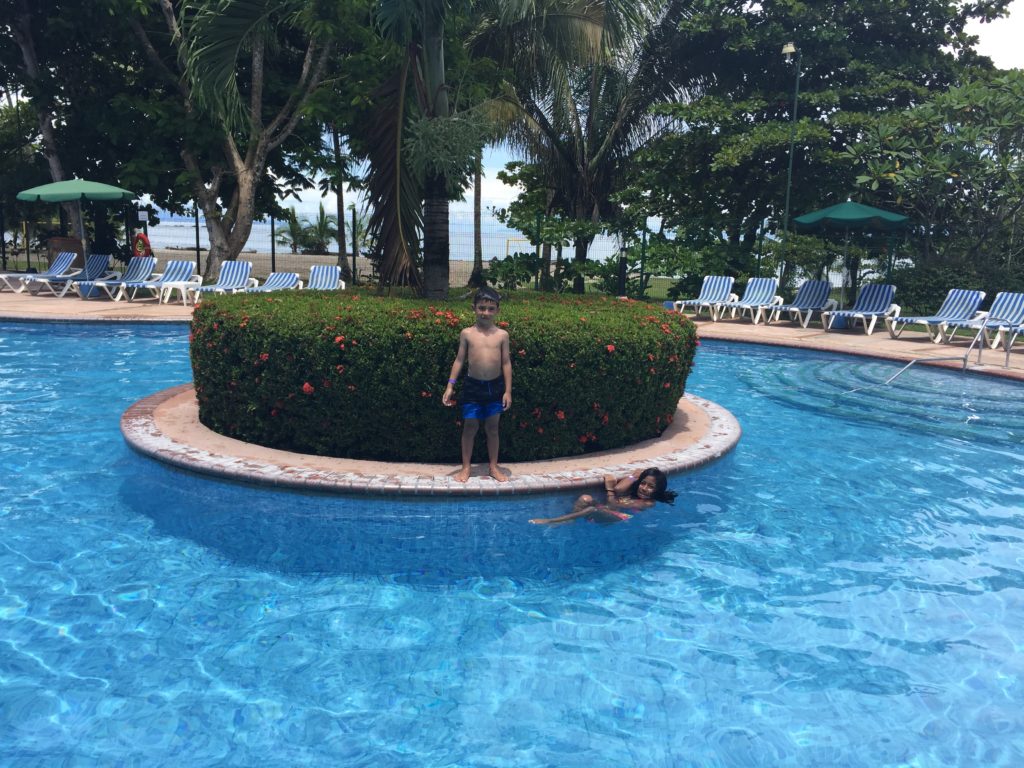 There is also an activity center with foosball and other games if you happen to be at the resort during a downpour. Fortunately, the rain that had been a fixture every afternoon let up for both days we were at the coast. On the other side of the pool there is another restaurant. Our all-inclusive rate included snacks here from 10:00 to 5:00. We enjoyed some pizza the first afternoon, and then a raccoon that got a bit too close for comfort.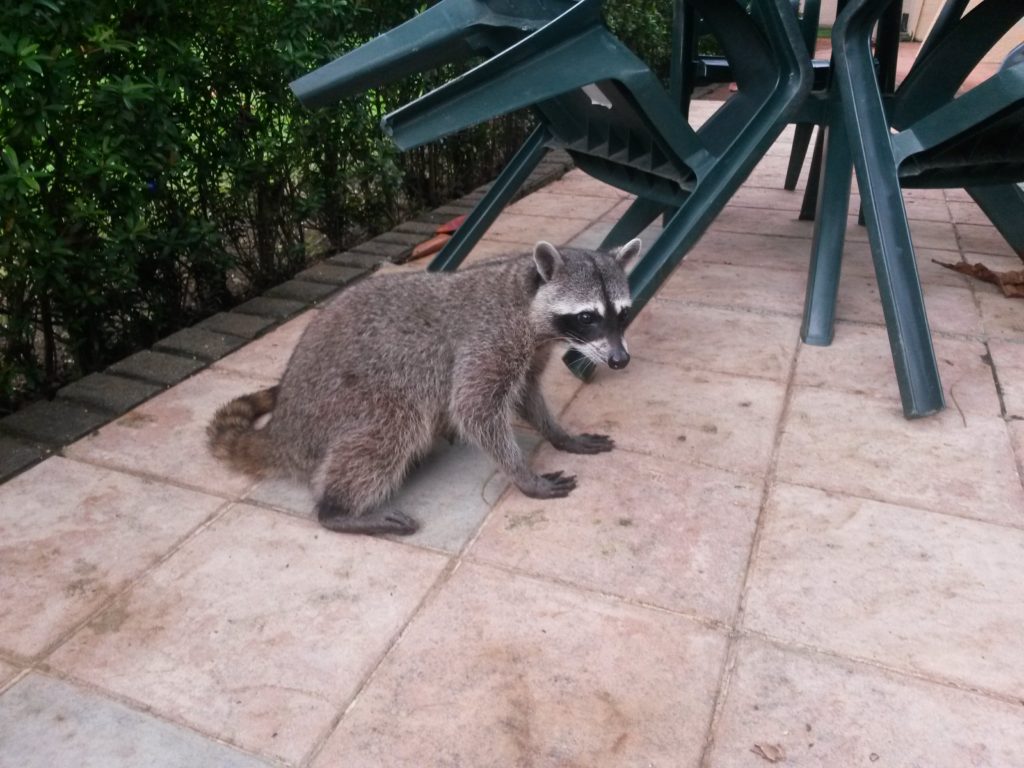 I promised our six-year-old that I'd take him to mini-golf. On our second afternoon we got the chance. What wasn't explained to me was that some of the activities cost extra, and this was one of them. I'd figured that most of the activities listed on the paper given to us at check-in were part of the resort package and included in the rate.
So, we ended up paying about $11 for three of us to play mini-golf. Which ended up being a hysterical experience. After trying for maybe a minute to instruct them (as best I can…I'm no golfer), I gave up. They ended up racing through the entire course is a matter of 15 minutes, often swatting the ball as hard as they could and sending into the grass beyond the hole or onto another section of the course. I was content to watch and laugh while proceeding through the course behind them.
Some of the other activities and facilties offered by the hotel include a butterfly house, a morning nature walk, pool volleyball, and bingo and karaoke in the evenings. We didn't take advantage of any of these. Turns out that basically all kids want to do is swim.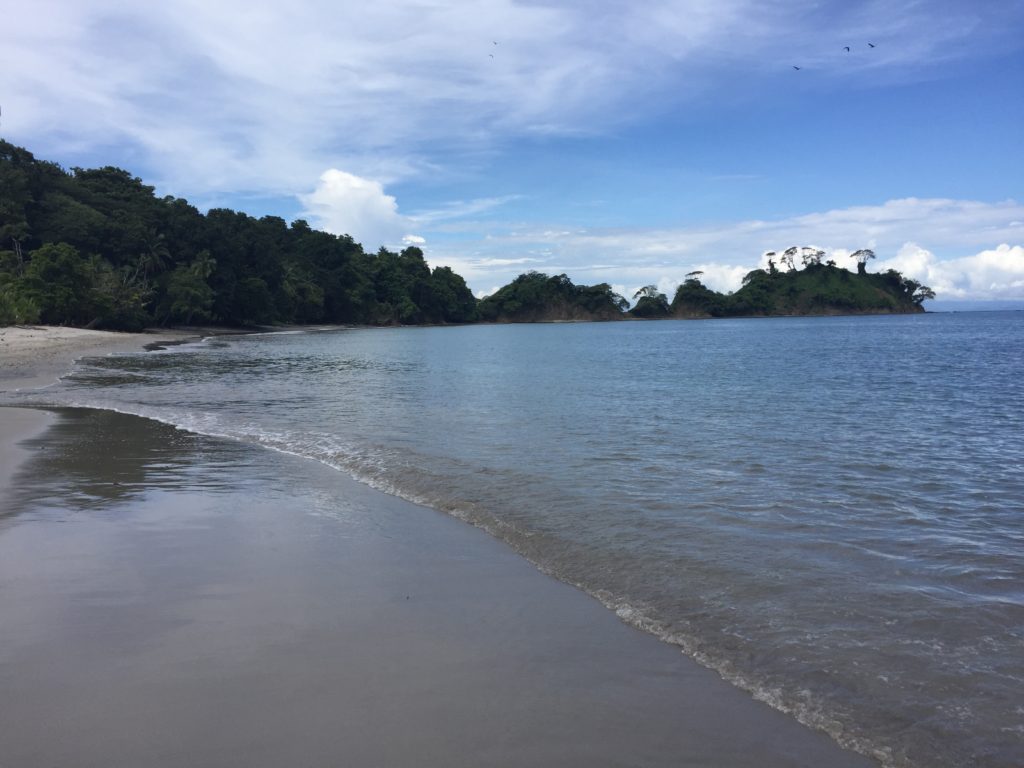 Playa Mantas
The bulk of the fun was had at Playa Mantas over our stay. We went swimming there the afternoon we arrived and the following morning. The waves were super calm, and the water was heavenly. I'd never swam in water so warm.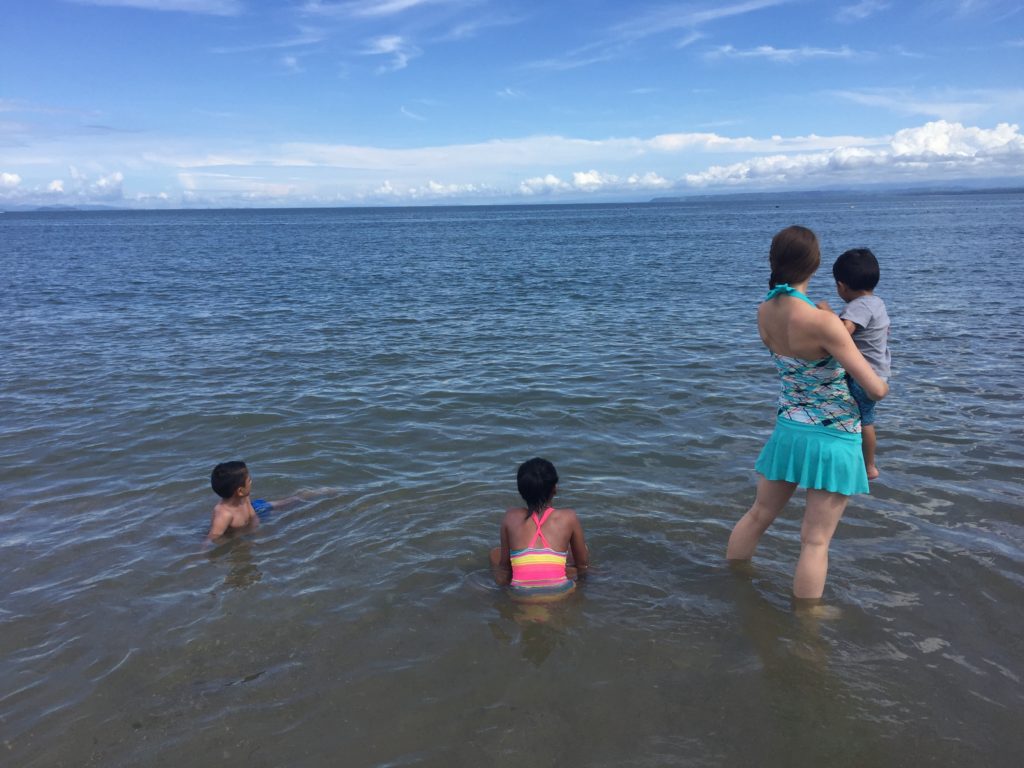 Now I finally understand why people enjoy beach destinations so much. I might have to revise my list of places I want to visit to include some more beach destinations. Growing up on the north coast of California has left me with a poor view of "going to the beach", where the outing typically means a cold breeze and sand flying in my eyes. I'll pass.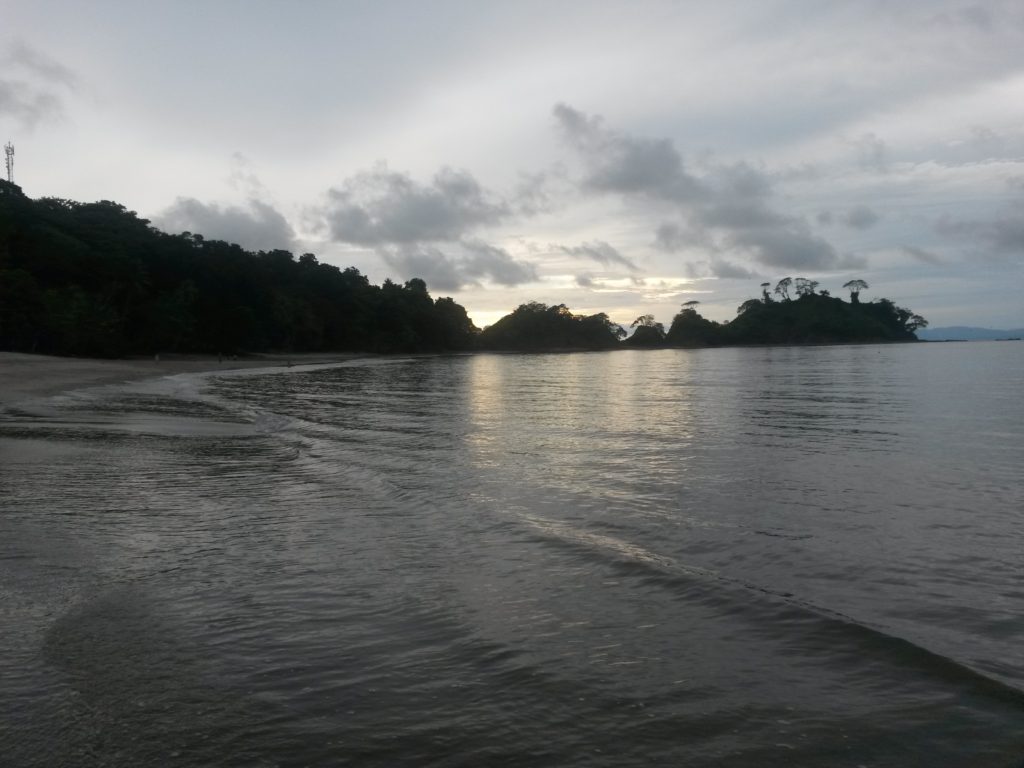 In contrast, this was like a tiny sliver of heaven on earth. I'd enjoyed walking in the surf in Florida in May, but this was even better. I could have swam all day. Unfortunately, swimming ended up resulting in a little incident that cost us a bit of time and money.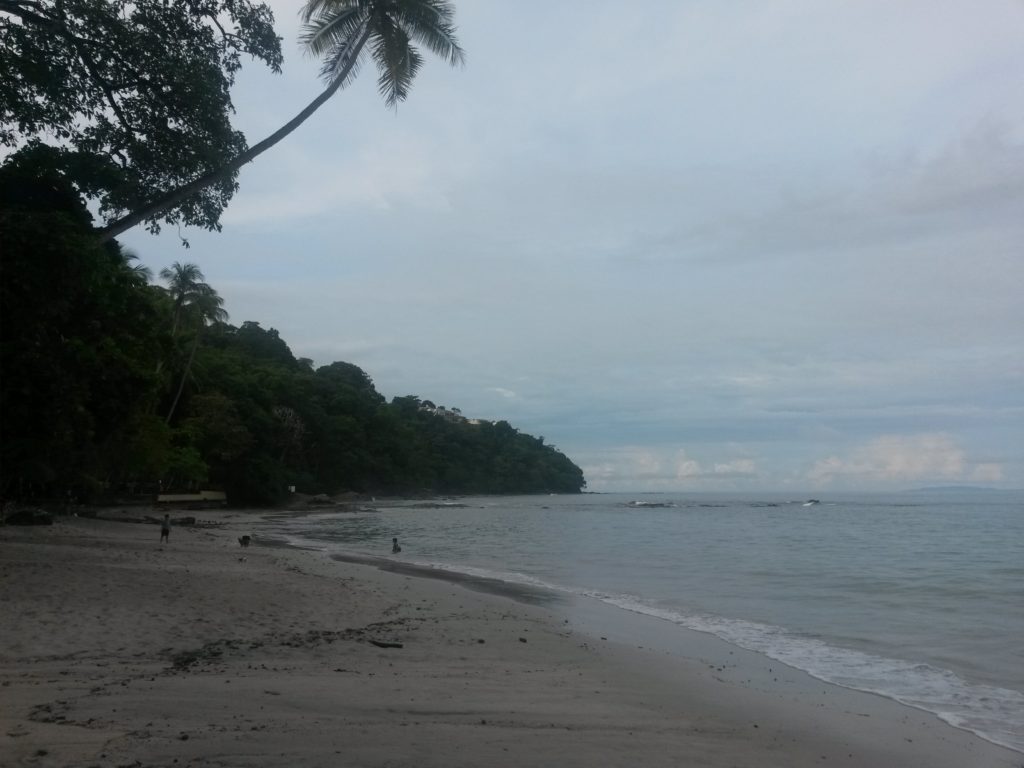 Playa Blanca
The final morning we paid the other beach a quick visit. It is a bit further from the facilities of Punta Leona, but it is a whole lot more beautiful than Playa Mantas.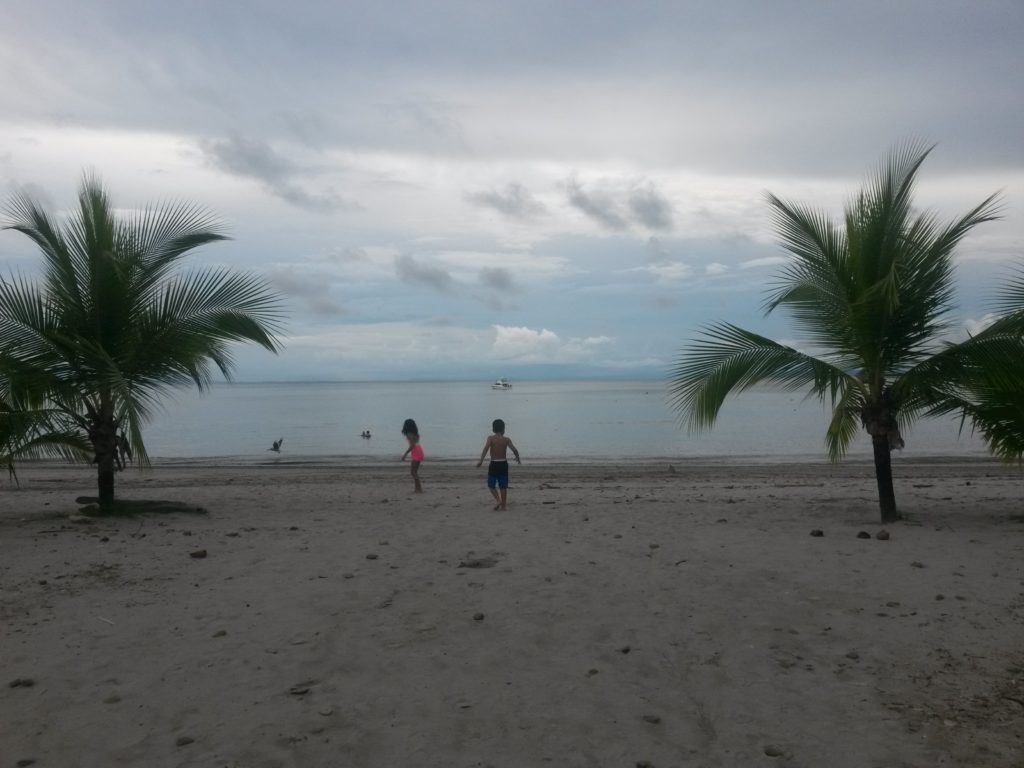 However, there were red flags out warning against swimming. Luckily, we weren't there to swim, but simply to play in the sand for a while and enjoy the beautiful setting. Afterwards we headed back, ate breakfast at Carabelas once again, and then took off.
Conclusion
Overall, we had a good stay. Although it would have been nice to rent a larger room for the 5 of us, we really couldn't beat the rate the hotel gave us for the single room under the September kids promotion. In contrast, I sent the hotel an email asking what the day-use rate would be per person. We realized that it isn't all that far away from San José. I almost spit out my coffee this morning when they quoted me $85 per person over 6 years old!